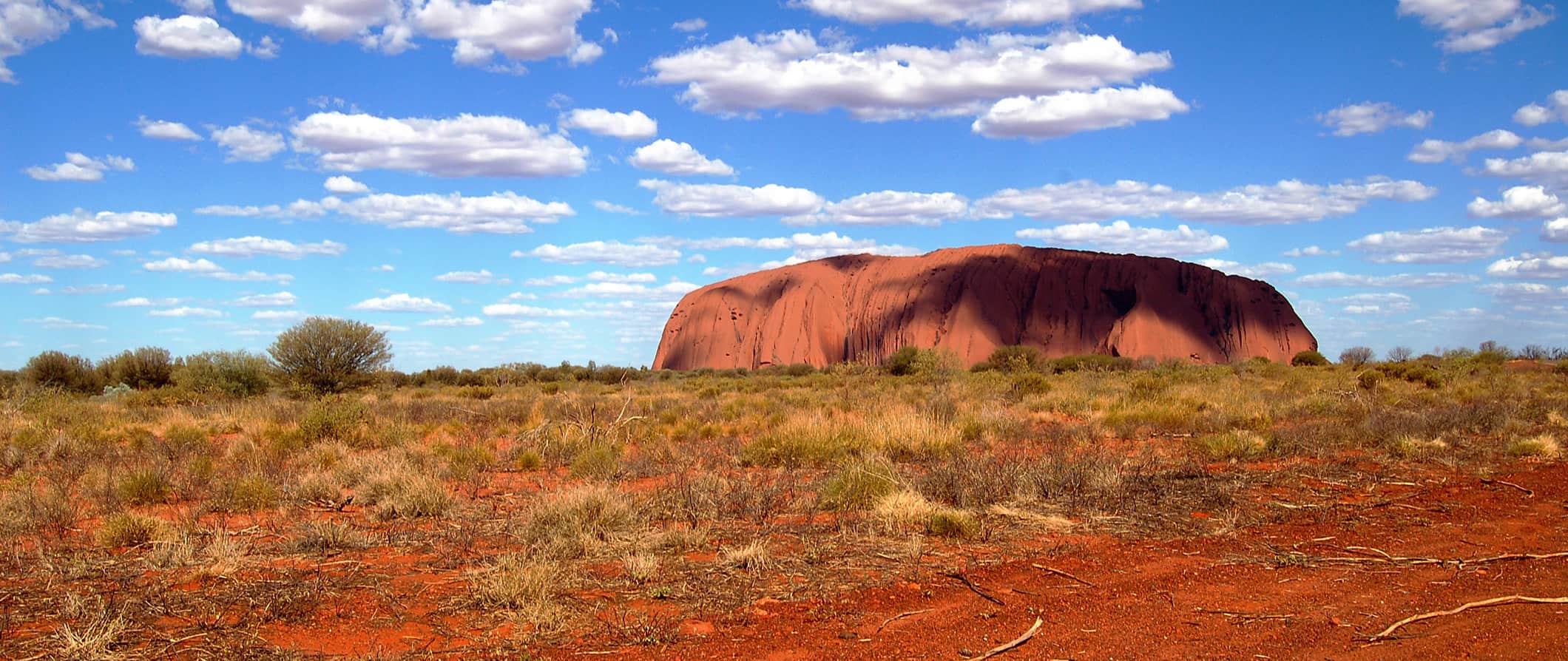 Alice Springs is known as the capital of Australia's "Red Center" and is the launching pad to the popular tourist attractions in the region, which is probably the reason why 99% of people visit this town. The town is full of tremendous natural beauty, offering visitors scenic bushwalking trails, botanic gardens, and historic buildings. I loved Alice — the town had a good, rough, independent feel to it and locals are a lot friendlier than on the coast. Stop and stay in the town for a day or two on your way to Uluru. This is a detour well worth it and this travel guide while help you plan your trip.
Top 5 Things to See and Do in Alice Springs
1. Uluru
This giant rock in the ground is well, a giant rock in the ground, but beautiful nonetheless. It's of great religious importance to the local Aborigines and visitors can walk around on their own or via a guided walk. The best way to see it is by going as part of a multi-day tour of the area or driving on your own.
2. The Reptile Centre
If you're fascinated by these cold-blooded creatures, then a trip here is essential as it's the largest reptile house in Central Australia. Inside you'll find poisonous snakes like Inland Taipans, Death Adders, and Mulgas, as well as lizards like the Perentie Goanna and Thorny Devils. It costs 17 AUD to enter.
3. Hot air ballooning
Get an aerial view of the outback by taking a trip in a hot air balloon. This is a really popular activity, and there are many companies offering ballooning in and around Alice. Expect to pay around 330 AUD for a half-hour journey. (It's not budget friendly but many people rave about it!)
4. Alice Springs Desert Park
Just 15km from the center of town lies this park where you can see hundreds of central Australian species of plants and animals. It's an excellent way to learn about the region's environment. Admission is 32 AUD and it's open daily from 7:30am-6pm.
5. MacDonnell Ranges
The ridges of the MacDonnell Ranges run parallel to the east and west of town and cover 650km of the Outback in central Australia. The West MacDonnell National Park is great for a day of hiking or a longer camping tour. Pretty much every tour operator in town can help you organize your trip.
Other Things to See and Do
(Click the title to expand the text)
1. Cultural museums
Head for the Cultural Precinct where highlights include the Sculpture Garden, the Museum of Central Australia, and the Namatjira gallery that displays the territory's largest collection of original paintings by the famous Aboriginal artist Albert Namatjira. Alice Springs' museums are fairly small so they don't take a lot of time to see but are interesting nonetheless, especially the Museum of Central Australia.
2. Royal Flying Doctor Service
The Flying Doctors were the first aeromedical organization in the world and patrol the outback to provide emergency medical care to the region's remote communities. The short museum tour provides all you need to know about this fascinating and essential service for residents in this part of Australia. As a history buff, I was super enthralled by this museum! Growing up in a big urban area, it's hard to imagine my ambulance being a plane! Admission is 15 AUD and the museum is open 9am-5pm, except for Sundays when it opens at 1pm.
3. Olive Pink Botanical Garden
The Olive Pink Botanical Garden is located close to the scenic Todd River. Stroll through the magnificent landscaped gardens and check out their important collections of exotic plants, mature native trees, and shrubs. It's open 8am-6pm every day. There's no set fee but they do accept donations.
4. The Old Court House
Built in 1928 (which in Australia terms is very old), the Old Courthouse was originally the office of the administrator for this part of Australia, before becoming the courthouse in 1980. It is now home to the National Pioneer Women's Hall of Fame, a small museum immortalizing 100 Australian women who were first in their fields. The museum is open 10am-5pm except on weekends when it closes at 4pm. The cost for admission is 10 AUD.
5. The Larapinta Trail
If you're a hiking enthusiast, this 250km trail through high mountains in a semi-desert area is a challenge for you. Situated within a national park, the area is heavily populated by a range of bird species so you find a lot of bird watchers there. You're in the desert so bring lots of water and gear. It's best hiked in the cooler winter months.
6. Aboriginal Australia Culture Center
This incredible gallery highlights the cultural history of the Aboriginal people of Australia who ruled the land prior to the Europeans. You can listen to traditional music, learn how to play a didgeridoo (indigenous Australian wind instrument), and even try to throw a spear. It has much more robust information than the visitor center at Uluru. It's open Monday-Friday from 9am-5pm.
Typical Costs
Hostel prices
– Hostels cost around 25-30 AUD per night for a dorm room with 6-8 beds. Double occupancy private rooms with shared bathrooms cost around 65 AUD per night, while private rooms with private bathrooms cost around 90 AUD. Most hostels include free linen, free WiFi, and some even include free breakfast. My suggested place is:
Budget hotel prices – You can find a room 2 in a 3-star hotel for as low as 170 AUD, but most are above 200 AUD. Most of these hotels offer a private bathroom, TV, free WiFi, air-conditioning, and many have free breakfast. On Airbnb, a private room in an apartment averages about 70 AUD. You can find a whole apartment for as low as 85 AUD, but most average out to be 130 AUD.
Average cost of food – There are cheap meals for under 14 AUD at many of the grab-and-go and ethnic food shops, but expect to pay around 20 AUD for a meal in a sit-down restaurant. If you cook your own meals, expect to pay 95-108 AUD per week for basic groceries like pasta, vegetables, chicken, and other basic foodstuffs. Food out here tends to be more "pub" based with fewer luxury dining options than other cities.
Transportation costs – Taxis are expensive (fares are a minimum of 4 AUD and cost 2 AUD per km) and since the downtown area is extremely walkable, there's no real reason to get one. Alice Springs does have a public bus system. A single ticket is 3 AUD and gives you three hours of unlimited bus travel. A one-day ticket costs 7 AUD. You can save 10 AUD by getting their "Flexi-Trip" tickets, which give you 10 individual trips good for 3 hours each for 20 AUD or by getting a one-week pass, which is also 20 AUD.
Suggested daily budget
60 AUD / 43 USD. (Note: This is a suggested budget assuming you're staying in a hostel, eating out a little, cooking most of your meals, and using local transportation. This does not include the Uluru tour. Using the budget tips below, you can always lower this number. However, if you stay in fancier accommodation or eat out more often, expect this to be higher!)
Money Saving Tips
Bring food to Uluru – Food at the visitor's café near Uluru is highly overpriced. Try to stock up on snacks from the supermarket before you set off on any adventure in this area.
Go camping – If you intend to spend a few days up at Uluru, camping is an option as the resorts here are expensive. Expect to pay 65 AUD for a site with electricity during the high summer season, 55 AUD during the low winter season.
Combine tours – Combine tours of Uluru, King's Canyon, and Kata Tjuta to save money on the cost of an individual excursion. Expect to pay around 675 AUD for 3 days and 2 nights including accommodation.
Couchsurf – Accommodation in Australia can be quite pricey. If you plan ahead, you can usually find really nice Couchsurfing hosts all throughout the country. This way, you not only have a place to stay, but you'll have a local host that can tell you the best places to go and things to see.
Drink goon (box wine) – Goon is infamous on the Australian backpacker hostel trail. This cheap box of wine is the best way to drink, get a buzz, and save a lot of money at the same time. Four liters of goon typically costs 13 AUD (compared to a six pack of beer for the same price). Drink this before you go out and save on spending money at the bar (where it is about 10 AUD per drink). Also, blow up the bag when you're done and have a little pillow to rest your head on!
Cook and have picnics – Again, eating out is not cheap. The best way to reduce your costs is to cook as many meals as possible. Alice Springs is a great place to bring snacks and meals to. You can make your own picnic out there!
Find free Internet – The internet in Australia is painfully slow and expensive (just ask any Australian how they feel about this), but libraries and McDonalds have free WiFi that you can use.
My Must Have Guides to Travel Australia