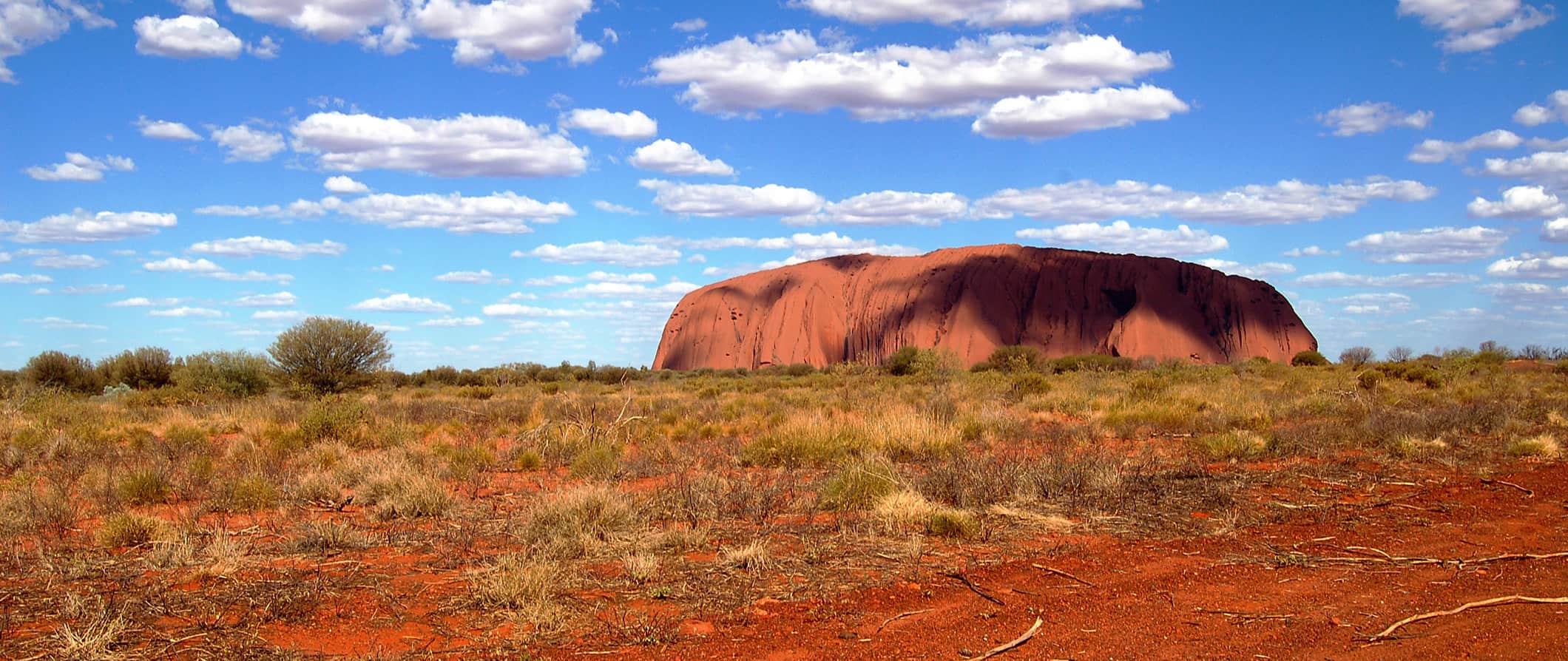 Alice Springs is known as the capital of Australia's "Red Center" and is the launching pad to popular places like Uluru (formerly Ayers Rock) and Kings Canyon. In fact, you'll find that when you visit Alice Springs there's not too much to do here beyond Uluru and the canyon. It's a very small town, home to just 25,000 people.
But the town does have tremendous natural beauty, offering visitors scenic bushwalking trails, beautiful gardens, and lots of historic buildings.
The town has a rough, independent feel and is bursting with small-town charm. I found the locals here a lot friendlier than on the coasts too.
Stop and stay in the town for a day or two on your way to Uluru. This is a detour well worth it.
This Alice Springs travel guide will help you save money and make the most of your time here!
Top 5 Things to See and Do in Alice Springs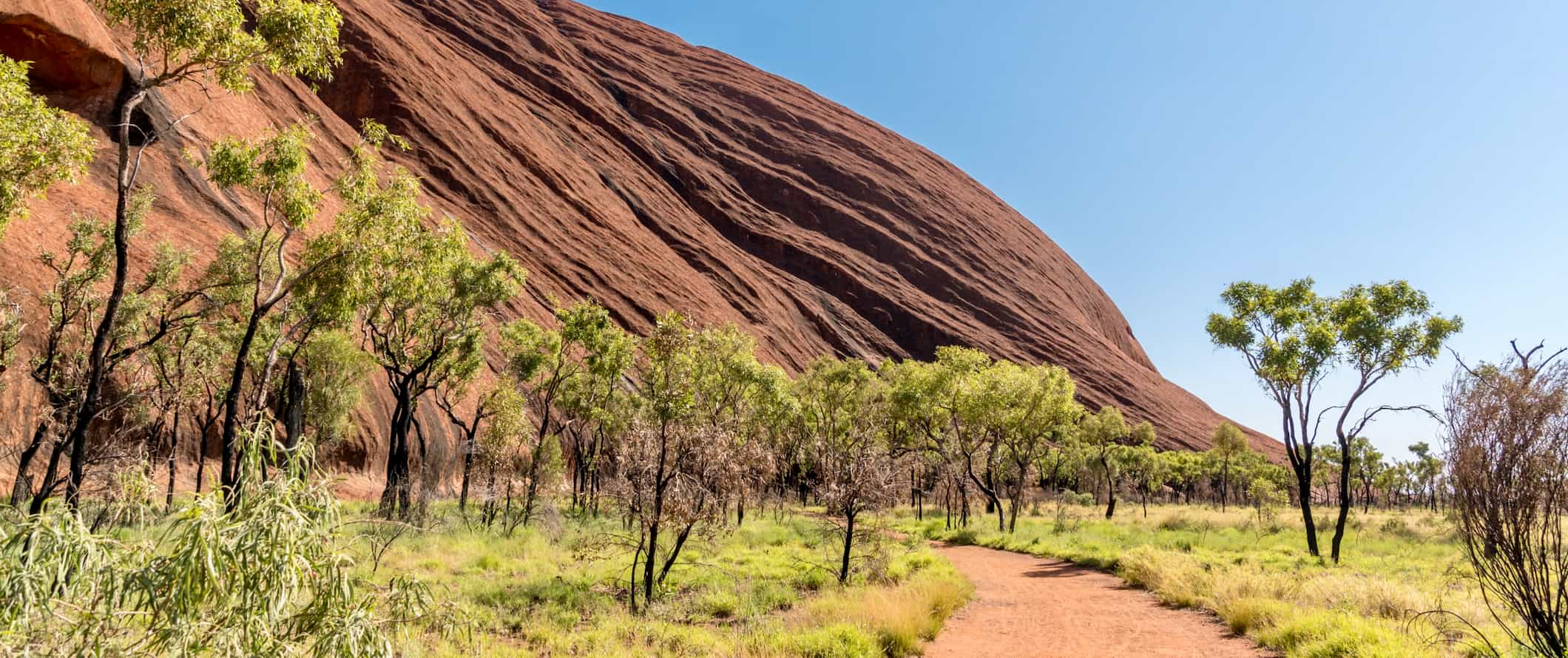 1. See Uluru
This beautiful red rock formed over 550 million years ago. Tourists have been visiting the rock since the 1930s (it was first mapped by Europeans in the 1870s), and it's of great spiritual importance to the local Aboriginals. Formerly known as Ayers Rock (after the Chief Secretary of South Australia Henry Ayers), the best way to visit is by going as part of a multi-day tour of the area or driving on your own. Admission is 38 AUD per person and is valid for 3 days. Just note that climbing on the rock is banned and doing so is considered offensive to the local Aboriginals.
2. Visit the Reptile Centre
This is the largest reptile house in Central Australia and inside you'll find poisonous snakes like Inland Taipans, Death Adders, and Mulgas, as well as lizards like the Perentie Goanna and Thorny Devils. They have a daily reptile show that includes the supervised handling of animals. It's super educational and a good place to visit with kids. Admission is 20 AUD.
3. Go hot air ballooning
Get an aerial view of the outback by taking a trip in a hot air balloon. This is a really popular activity and there are tons of companies offering ballooning in and around Alice. It's not cheap — expect to pay around 315 AUD for a 30-minute flight — but the stunning views are a once-in-a-lifetime experience. You can book hour-long flights for 399 AUD, which is a much better deal if you have the cash to splash out.
4. Wander Alice Springs Desert Park
Just 15 kilometers (9 miles) from the center of town lies this park where you can see hundreds of species of plants and animals such as barking spiders, emus, dingoes, and more! Spanning over 3,000 acres, it's an excellent way to learn about the region's environment. They have information on local wildlife as well as Aboriginal survival, including traditional techniques used for finding food and water. Admission is 37 AUD and children under five enter free.
5. Tour the MacDonnell Ranges
The ridges of the MacDonnell Ranges run parallel to the east and west of town and cover 644 kilometers (400 miles) of the Outback. The park is great for a day of hiking or a longer camping tour. There are over 200 species of birds here, as well as tons of wildlife, including wallabies, red treefrogs, dingoes, and more. Pretty much every tour operator in town can help you organize a trip. Half-day tours start around 70 AUD per person while full-day tours cost around 175 AUD.
Other Things to See and Do in Alice Springs
1. Tour the museums
Head for the Cultural Precinct where highlights include the Museum of Central Australia (8 AUD), which has all kinds of fossils and meteorites; and the Namatjira Gallery, which displays the territory's largest collection of original paintings by the famous Aboriginal artist Albert Namatjira (admission is free). Alice Springs' museums are fairly small so they don't take a lot of time to see.
2. Learn about the Royal Flying Doctor Service
The Flying Doctors were the first aeromedical organization in the world. They patrol the outback to provide emergency medical care to the region's remote communities. The short museum tour provides all you need to know about this fascinating and essential service for residents in this part of Australia. As a history buff, I was enthralled by this museum. Growing up in a big urban area, it's hard to imagine my ambulance being a plane! Admission is 19 AUD.
3. See the Olive Pink Botanical Garden
Opened in 1985, the Olive Pink Botanical Garden is located close to the scenic Todd River. Spanning over 40 acres, here you can stroll through the magnificent landscaped gardens and check out their collections of exotic plants, mature native trees, and shrubs. They specialize in plants native to this arid region of Australia. Admission is free but donations are accepted.
4. Visit the Old Court House
Built in 1928 (which in Australian terms is very old), the Old Courthouse was originally the office of the administrator for this part of Australia before becoming the courthouse in 1980. It then became home to the National Pioneer Women's Hall of Fame, a small museum immortalizing 100 Australian women who were first in their fields. That museum has since evolved into the Women's Museum of Australia, which celebrates "any woman who is a pioneer in her chosen field from settlement to present day." Admission is 16.50 AUD.
5. Hike the Larapinta Trail
If you're a hiking enthusiast, don't miss this 250-kilometer (155-mile) trail through high mountains in a semi-desert. Situated within a national park, the area is heavily populated by a range of bird species so you find a lot of bird watchers there. Most people spend 12-15 days hiking the trail, though it's broken up into 12 sections should you just want to hike part of it. Admission to the trail is free, though there are some fees for camping. A 3-day guided trek costs around 1,895 AUD while a 6-day guided hike is around 3,600 AUD.
6. Hike Kings Canyon
Located just over 300 kilometers (186 miles) from Alice Springs, Kings Canyon is a great place to get out and hike while taking in the amazing natural beauty of the region. The walls of the canyon are over 100 meters (328 feet) high, offering amazing views and great hiking. There are a few short trails you can explore in a couple of hours, as well as a longer full-day trail (the Giles Track is 22 kilometers/14 miles). If you do visit, be sure to stick to the paths. Much of this area is sacred to the Aboriginals and leaving the paths is frowned upon.
For more information on specific cities in Australia, check out these guides:
Alice Springs Travel Costs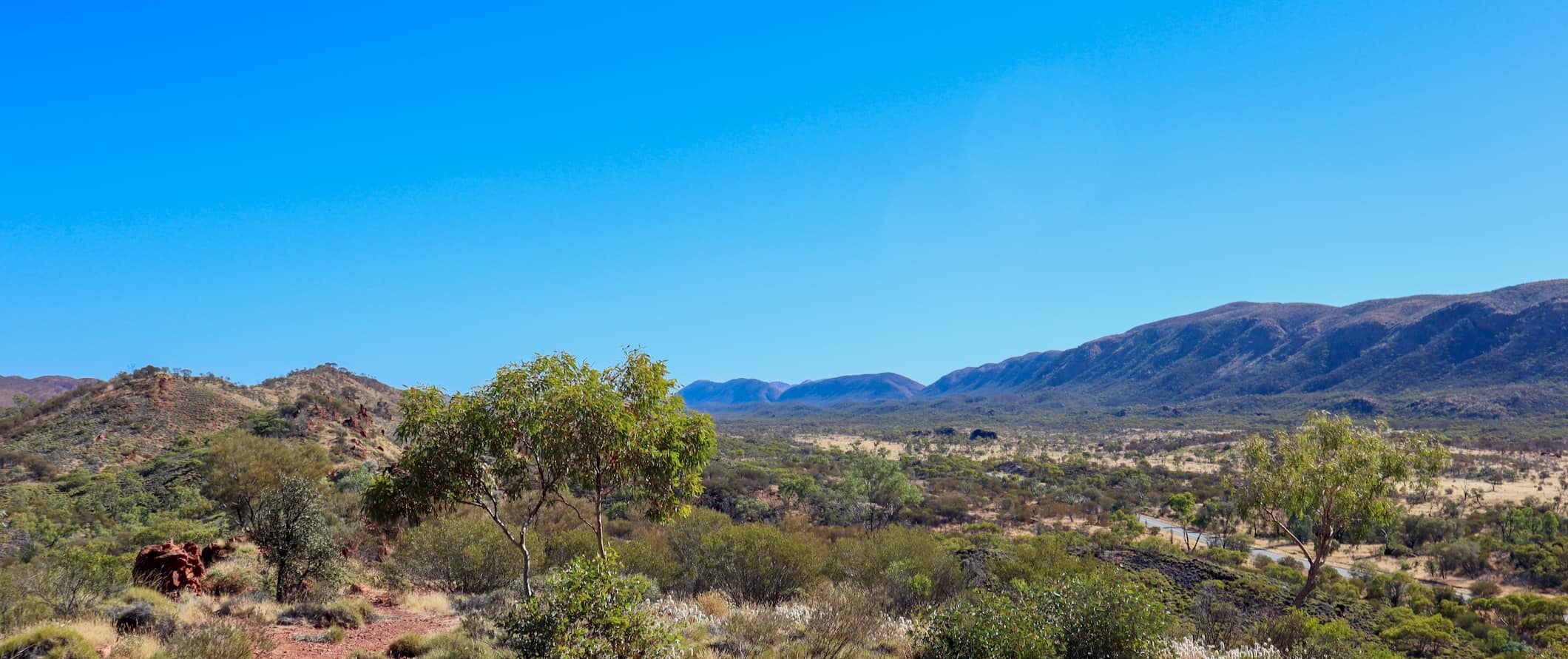 Hostel prices – There are only a few hostels in town, costing 29-37 AUD per night for a dorm bed. Private rooms start around 79 AUD per night. Free Wi-Fi is standard and most hostels here have self-catering facilities.
For those traveling with a tent, you can camp outside town for 25 AUD per night for a basic tent plot without electricity.
Budget hotel prices – Double rooms in a budget hotel or motel start at 100 AUD, but most are closer to 150 AUD. Expect basic amenities like TV, AC, and a coffee/tea marker.
On Airbnb, private rooms average 120 AUD per night, however, if you book in advance you can find them for as little as 70 AUD. Entire homes/apartments start around 130 AUD per night, though they are usually double that if you don't book early. Keep in mind there are very few Airbnb listings here so book in advance if you can.
Food – Food in Australia is diverse, with each region having its own specialities. But it's also expensive since a lot of goods need to be imported. Popular choices around the country include BBQ meat (especially sausages), meat pies, fish and chips, chicken parmigiana (chicken schnitzel topped with tomato sauce, ham and melted cheese), and of course the infamous vegemite on toast.
In Alice Springs, a meal at an inexpensive restaurant costs around 20 AUD. Fast food (think McDonald's) is around 13 AUD for a combo meal. If you want to splash out, a three-course meal costs at least 50 AUD.
Beer is around 10 AUD while a latte or cappuccino is around 5 AUD. Bottle water costs around 2 AUD.
If you cook your meals, expect to pay 70-90 AUD per week for basic staples like pasta, rice, vegetables, and some meat.
Backpacking Alice Springs Suggested Budgets
On a backpacker budget, you can visit Alice Springs for around 90 AUD per day. This assumes you're staying in a hostel, cooking all of your meals, limiting your drinking, using local transportation to get around, and splitting a rental car to see Uluru.
On a mid-range budget of 250 AUD per day, you'll be able to stay in an Airbnb, eat out for some meals, enjoy a drink or two, split a rental car to go to Uluru or take a tour, and pay to visit some of the local museums.
On a "luxury" budget of 425 AUD or more, you can stay in a hotel, eat out for all your meals, drink more, hire a rental car to get around, and do whatever tours you want. This is just the ground floor for luxury though. The sky is the limit!
Accommodation
Food
Transportation
Attractions
Average Daily Cost
Backpacker
30
20
20
20
90
Mid-Range
125
55
30
40
250
Alice Springs Travel Guide: Money Saving Tips
Australia is an expensive place to visit. If you aren't careful, you'll blow through your entire budget in no time flat! Here are some of ways to save money when you visit Alice Springs:
Bring food to Uluru – Food near Uluru is highly overpriced. Stock up on snacks from the supermarket before you set off on an adventure in this area.
Go camping – If you intend to spend a few days up at Uluru, camping is an option as the resorts here are expensive. Expect to pay around 45 AUD per night for a basic plot.
Combine tours – Combine tours of Uluru, Kings Canyon, and Kata Tjuta to save money on the cost of an individual excursion. Expect to pay around 2,700 AUD for four-day excursion.
Stay with a local – If you plan ahead, you can usually find really nice Couchsurfing hosts all throughout the country. This way, you not only have a place to stay, but you'll have a local host that can tell you the best places to go and things to see. Alice Springs doesn't have a huge CS community, but it never hurts to check!
Drink goon (box wine) – Goon is infamous on the Australian backpacker hostel trail. This cheap box of wine is the best way to drink, get a buzz, and save a lot of money at the same time.
Cook your own food – Eating out is not cheap. The best way to reduce your costs is to cook as many meals as possible. Alice Springs is a great place to bring snacks and meals. You can make your own picnic out there!
Share a ride – If you're renting a car, find other travelers to split the price with. Dividing up the rental price and the gas will save you a good chunk of money.
Bring a water bottle – The tap water in Australia is safe to drink. Bring a reusable water bottle to save money and lower your plastic use. Lifestraw is my favorite as it has a built-in filter to ensure your water is always clean and safe.
Where to Stay in Alice Springs
Alice Springs has a few hostels where most budget travelers stay during their visit. Here are my suggested places to stay in Alice Springs:
How to Get Around Alice Springs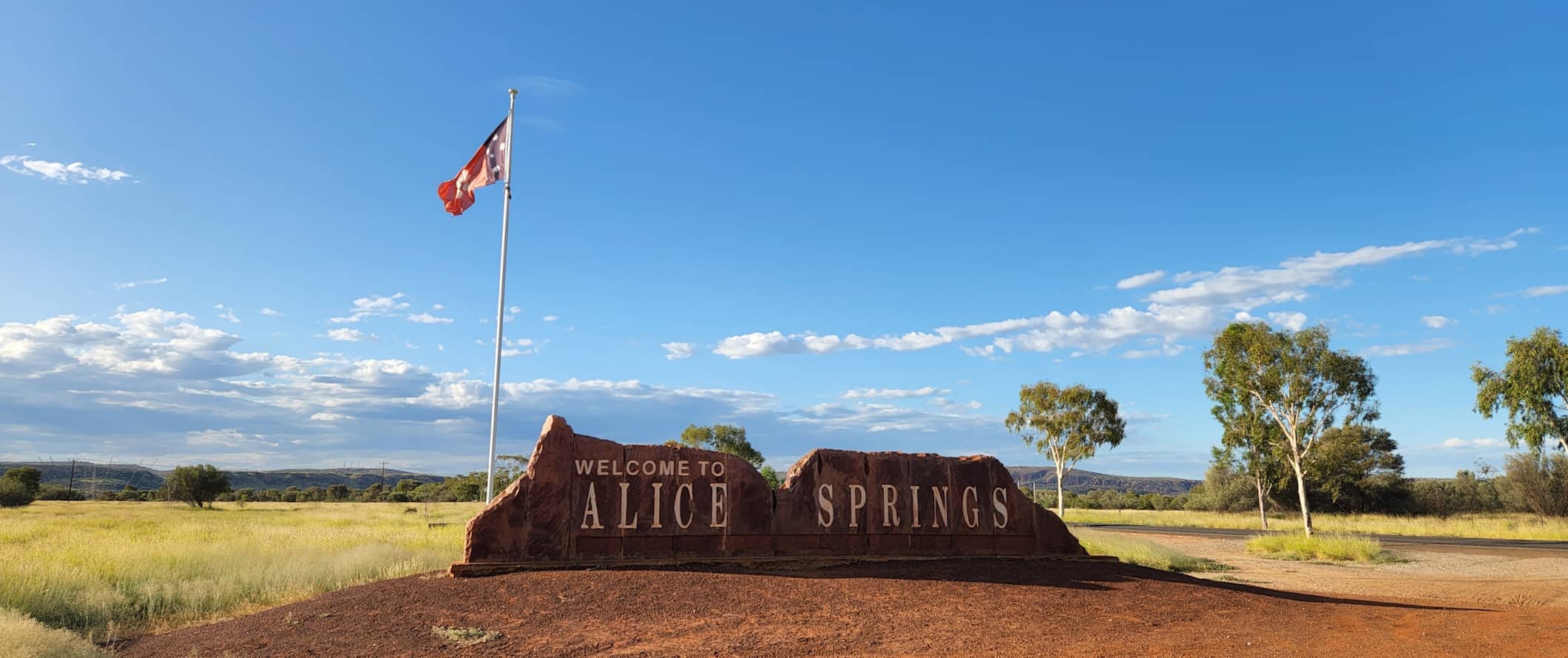 Walk – The downtown area of Alice Springs is incredibly walkable so it's entirely possible to get around without having to spend much on transportation at all.
Public transportation – Alice Springs has a public bus system. A single ticket is 3 AUD and lasts three hours. A single-day pass is 7 AUD. You can also get a 10-trip pass or a week-long pass for 20 AUD.
Taxi – Taxis are expensive. Fares are a minimum of 5 AUD and cost 2 AUD per kilometer so this isn't a budget-friendly option. Skip the taxis if you can!
Bike rental – Bicycle rentals are available in Alice Springs starting at 80 AUD per day. You don't need them to get around town; I'd only rent one if you plan to go biking outside the city.
Car rental – Getting a car rental is one of the most practical ways to get around Alice Springs and the area, and you can find prices starting from about 100 AUD per day. That might be out of budget, but it's cheaper to drive to Uluru than it is to hop on a multi-day tour — especially if you can split the cost of the rental.
For the best prices, use Discover Cars.
Hitchhiking – Hitchhiking in Australia is relatively common, though hikers need to be mindful of the heat and lack of traffic in rural areas. For additional hitchhiking tips and advice, consult Hitchwiki.
When to Go to Alice Springs
Alice Springs' climate can be extreme, with scorching hot summers and cold winters. Summer lasts from December to February, and the average temperatures range from 25-37°C (77-99°F), but sometimes can climb as high as 40°C (104°F). It's dry here most of the year, but January is considered the wettest month.
Winter (June to August) is "cold," with average temperatures between 5-23°C (41-73°F), and July is the coldest month. Temperatures may even drop below zero, making it not the best time to be camping. On the other hand, prices are definitely lowest during the winter.
Spring (September to November) is pleasant with warm temperatures, but fall (March to May) really is the best time to visit. The days are warm and the nights are cool, with temperatures ranging from 12-30°C (54-86°F). This is also a great time to go to Uluru, but it can get a lot colder out there — sometimes dropping as low as 8°C (46°F). Pack plenty of layers.
How to Stay Safe in Alice Springs
Alice Springs is an incredibly safe place to backpack and travel. People are friendly and helpful and you're unlikely to get into trouble.
Most incidents in Alice Springs tend to occur because visitors are not used to the country's unique climate and wilderness. Be sure you have plenty of sunscreen and stay as hydrated as possible. This is especially true if you're driving through the outback. There are long, long distances without any towns in sight, so if you break down, you'll want to be prepared. Make sure your vehicle always has lots of fuel too as you never know where the next gas station will be!
If you're hiking, make sure you know what to expect ahead of time. Be on the lookout for snakes and spiders, and if you're bitten, seek immediate care. Always check the weather before you head out and bring food, water, sunscreen, and a hat.
Solo female travelers should feel safe here, however, the standard precautions apply (never leave your drink unattended at the bar, never walk home alone at night intoxicated, etc.).
If you're worried about travel scams, you can read about common travel scams to avoid here. There aren't many in Australia though.
If you experience an emergency, dial 000 for assistance.
The most important piece of advice I can offer is to purchase good travel insurance. Travel insurance will protect you against illness, injury, theft, and cancellations. It's comprehensive protection in case anything goes wrong. I never go on a trip without it as I've had to use it many times in the past. You can use the widget below to find the policy right for you:
Alice Springs Travel Guide: The Best Booking Resources
These are my favorite companies to use when I travel. They consistently have the best deals, offer world-class customer service and great value, and overall, are better than their competitors. They are the companies I use the most and are always the starting point in my search for travel deals.
Skyscanner – Skyscanner is my favorite flight search engine. They search small websites and budget airlines that larger search sites tend to miss. They are hands down the number one place to start.
Hostelworld – This is the best hostel accommodation site out there with the largest inventory, best search interface, and widest availability.
Booking.com – The best all around booking site that constantly provides the cheapest and lowest rates. They have the widest selection of budget accommodation. In all my tests, they've always had the cheapest rates out of all the booking websites.
Get Your Guide – Get Your Guide is a huge online marketplace for tours and excursions. They have tons of tour options available in cities all around the world, including everything from cooking classes, walking tours, street art lessons, and more!
Rome2Rio – This website allows you to see how to get from point A to point B the best and cheapest way possible. Just enter your departure and arrival destinations and it will give you all the bus, train, plane, or boat routes that can get you there as well as how much they cost. It's one of the best transportation websites out there!
SafetyWing – Safety Wing offers convenient and affordable plans tailored to digital nomads and long-term travelers. They have cheap monthly plans, great customer service, and an easy-to-use claims process that makes it perfect for those on the road.
LifeStraw – My go-to company for reusable water bottles with built-in filters so you can ensure your drinking water is always clean and safe.
Unbound Merino – They make lightweight, durable, easy-to-clean travel clothing.
Top Travel Credit Cards – Points are the best way to cut down travel expenses. Here's my favorite point earning credit cards so you can get free travel!
Alice Springs Travel Guide: Related Articles
Want more info? Check out all the articles I've written on Australia travel and continue planning your trip: