Cairns is Australia's gateway to northern Queensland. Whether you are backpacking around Cairns, come here to dive, just visiting the forests, or heading deeper inland, Cairns is a stop on everyone's list.
From here you can visit the Great Barrier Reef, the Daintree rainforest, the Atherton Tablelands, Cape Tribulation, and much more.
Cairns is a pretty typical tropical city, and life here focuses on taking the time to stop and smell the roses. With so much to see, the city deserves a longer stay than most people give it.
I would stay 3-4 days, which will give you enough time to explore the area, plus spend some time lounging by the awesome city pool.
You don't need a lot of time to visit Cairns but it does make for a good base of opertions for day or overnight trips to the interior or furhter north (spend at least a few nights traveling up there. There's few crowds. It's really an underappreciated part of the country).
This travel guide to Cairns can help you plan your trip so you get the most out of your visit by helping you plan what to see, get a sense of costs, and learn how to save!
Top 5 Things to See and Do in Cairns
1. The Great Barrier Reef
The
Great Barrier Reef
is one of the best places to dive in the world. Cairns is the most popular jumping off point for dive trips to the reef. Trips start around $200 AUD ($140 USD) for the day. I was blown away at the abundant wildlife and coral. It did not disappoint.
2. Daintree Rainforest
The rainforest north of Cairns is the oldest rainforest on the planet, dating back to prehistoric times. There are day trips here, but the best way to optimize your time is to visit on the way north towards Cape Tribulation.
3. Cape Tribulation
Cross the Daintree River and continue up into Cape Tribulation, Cooktown, and Cape York. Few tourists make it up this way. There isn't anything to do up here except relax, enjoy nature, read a book, and avoid the jellyfish. Try to avoid doing a day trip and spend at least one night here.
4. Do extreme sports
If hiking, diving, and swimming are too mundane for you, there's always bungee jumping or sky diving. AJ Hackett also has
a swing
that takes you 100 meters up and then launches you like the pirate ship ride at carnivals! A bungee jump costs $179 AUD ($127 USD), but if you're a student you can jump for $139 AUD ($99 USD). The swing is 209 AUD ($150 USD) and they also have combo deals for skydiving and bungee jumping.
5. Atherton Tablelands
Day tours here are long, (you'll leave early and get back late), but you'll see a ton of stunning waterfalls, including the famous Millaa Millaa Falls (which is crazy beautiful!). If you go, use Uncle Brian's tours. The tour packs a lot in and the drivers are funny and engaging. A one-day tour is $119 AUD ($85 USD).
Other Things to See and Do in Cairns
1. Cairns Wildlife Dome
This exhibit is enclosed by 20m-tall glass dome on top of the Reef Hotel Casino. Quite different than any other zoo experience you may ever have, this exhibit is interesting and suited for those that would rather not adventure through the actual rainforest. This dome is host to a wide range of native animals, from lorikeets and rosellas to frogmouths and kookaburras. Entry costs $24 AUD ($17 USD).
2. Hang out by the lagoon
Just sit around, do nothing, and spend the day relaxing by Cairns' Lagoon (read: really big pool). You can't go swimming in the water off the city because of jellyfish so the town built a giant pool! Most hostels have pools too but if you want to chill at a bigger place, the lagoon is pretty amazing – and you'll find more locals around.
3. White water rafting
There are three major rivers that are all popular among white water rafters. In a tropical region that gets plenty of rain, the rivers are always overflowing, and rafting is a popular activity here. Trips start at around $145 AUD ($105 USD).
4. Participate in an Aboriginal culture walk
There are many Aboriginals in the area, and they have done a great job of setting up an eco-tourism area. You can walk with them and learn about their culture, history, plant life, traditional herbal medicine, and even go traditional Aboriginal spearfishing.
5. Try cable skiing
Used more commonly by the locals, this cable-driven water skiing park is a fun activity, particularly for younger and more active people. When you get tired of sightseeing, this man-made lake might be the place for you. Various jumps and games are set up to keep you entertained for a few hours. I declined to do it but my friends looked like they were having a great time! It's $39 AUD ($28 USD) for a one-hour pass.
6. Meander through the Botanical Gardens
Just 5 minutes from the airport, this is a lovely stop to make on your way out of Cairns. There are several paths to walk along, through the beautiful tropical landscape. The Garden is rich in trees, ferns, plants, and a lake. It's open daily from 7:30am-5:30pm.
For more information on specific cities, check out these guides!
Cairns Travel Costs
Hostel prices – Dorm rooms are quite cheap in Cairns, ranging from $17-30 AUD ($12-21 USD) per night. You can find beds in dorm rooms with 6-8 beds starting at $17 AUD ($12 USD). The smaller dorm rooms (4 beds) will cost around 30 AUD ($30 USD) per night. Private rooms that sleep 2 with a shared bathroom cost about $55-90 AUD ($40-64 USD) on average.
Budget hotel prices – You can find rooms in 3-star hotels that sleep 2 people that start around $185 AUD ($132 USD). Most offer air-conditioning and free WiFi and some include breakfast. On Airbnb, a shared room in a home averages about $50 AUD ($36 USD) and typically offers a bed big enough for two people. You can find whole apartments and houses for around $85 AUD ($60 USD), and some even have access to a swimming pool. (Booking with Airbnb offers the unique opportunity to stay in a local home in Cairns, something you wouldn't typically see if you were staying in a hotel or hostel instead.)
Average cost of food – Cheap meals like sandwiches, take away shops, and Indian can be found for under $14 AUD ($10 USD). Most restaurants meals will cost between $27-40 AUD ($19-29 USD). If you cook your own food, plan to spend between $60-80 AUD ($43-57 USD) per week for basic groceries like pasta, vegetables, chicken, and other basic foodstuffs. There's a lot of good seafood and Asian food here.
Backpacking Cairns Suggested Budgets
How much does it cost to visit Cairns? On a backpacker budget, you can do it for $70-80 AUD ($50-55 USD) per day. This is a suggested budget assuming you're staying in a hostel dorm or camping, cooking almost all of your meals, and using the bus to get around. On this budget, you could stick to mostly free activities or maybe a tour or two.
On a mid-range budget of about $240-255 AUD ($170-180 USD) per day, you'll be able to stay in a private hostel room or at a budget hotel, eating out at the cheaper restaurants, being able to afford a few nights out, and doing some tours or scuba diving while in town.
On a "luxury" budget of $540 AUD ($385+ USD) you can get a nice four-star hotel, eat anywhere you want, hire a car, and do as many activities as you want like bungee jumping or a diving trip in the Great Barrier Reef or an adventure tour or all of the above.
What really drives up the cost of visiting Cairns is not the accommodation or food or drinks. It's the activities. Diving, bungee jumps, day tours – they are not cheap here and the more you do, the more your daily average will go up. Limit those and you can visit Cairns on a budget.
Accommodation
Food
Transportation
Attractions
Average Daily Cost
Backpacker
$15
$10-15
$5
$20
$50-55
Mid-Range
$40-50
$40
$15
$75
$170-180
Luxury
$120
$90
$45
$130
$385+
Cairns Travel Guide: Money Saving Tips
The best way to save money in Carins is to avoid taking lots of expensive tours and trips. If you do that, you'll save a lot. However, there are other ways to lower your costs in this city too. Here are some ways to save in Cairns:
Buy a package – There is a lot to see and do in the area that can really be a drag on your budget. Booking tours together with one company can get you a slight discount.
Eat cheap – Eating out can be very expensive, however, there are a lot of sandwich shops around that can keep your costs down. Avoid the sit-down restaurants, and instead, grab a sandwich or some delicious Asian or Indian food (which tends to be cheaper).
Couchsurf – Accommodation in Australia can be quite pricey. If you plan ahead, you can usually find really nice Couchsurfing hosts all throughout the country. This way, you not only have a place to stay, but you'll have a local host that can tell you the best places to go and things to see.
Drink goon (box wine) – Goon is infamous on the Australian backpacker hostel trail. This cheap box of wine is the best way to drink, get a buzz, and save a lot of money at the same time. Four liters of goon typically costs $13 AUD/$43 USD (compared to a six pack of beer for the same price). Drink this before you go out and save on spending money at the bar (where it is about 10 AUD per drink). Also, blow up the bag when you're done and have a little pillow to rest your head on!
Cook – Again, eating out is not cheap. The best way to reduce your costs is to cook as many meals as possible. ALDI is the cheapest supermarket in the country, followed by Coles and then Woolworths (though sometimes you don't get a choice at which place you can shop it! Some small towns only have one!).
Work for your room – Many hostels offer travelers the chance to work for their accommodation. In exchange for a few hours a day of cleaning, you get a free bed. Commitments vary but most hostels ask you to stay for at least a week.
Get Free WiFi – The internet in Australia is painfully slow and expensive (just ask any Australian how they feel about this), but libraries and McDonalds have free WiFi that you can use.
Save money on rideshares – Uber is way cheaper than taxis and is the best way to get around a city if you don't want to wait for a bus or pay for a taxi. The Uber Pool option is where you can share a ride to get even better savings (though you can get your own car too). You can save $15 off your first Uber ride with this code: jlx6v.
Where To Stay in Cairns
I've been a backpacker in Australia for ages and have accumulated a long list of places to stay. Here are some of my favorite places to stay in Cairns:
How to Get Around Cairns
Bus – Cairns has a good public bus system run by Translink (formerly Sunbus) that will take you just about anywhere you need to go. A single ticket fare for one zone is $4.80 AUD ($3.45 USD), and the prices increase per number of zones you travel (it's $5.80 AUD/$4.17 USD for two zones).
Try to use the Go Card, which is an electronic pre-paid ticket that automatically calculates the cheapest fare for your journey. You'll end up saving up to $1 AUD ($0.72 USD) per trip with this card. For example, your fare for one zone with a Go Card is $3.31 AUD ($2.38 USD), and $2.65 AUD ($1.90 USD) during off-peak hours.
You have to put a minimum of $20 AUD ($14 USD) on the card as well as pay a $10 AUD ($7 USD) deposit, but you can turn in your card before leaving the city and be refunded any unused credit as well as your deposit.
Bicycle – Cairns has an excellent network of cycling paths and circuits, with some of the most popular routes being the Esplanade, Centenary Lakes, and the Botanic Gardens. Some of the hostels rent out bicycles, or you can rent from Cairns Scooter & Bicycle Hire. Rentals start from $15 AUD ($11 USD) per day.
Taxis – A taxi around the city is about $20-27 AUD ($14-19 USD), but taxis can be expensive and I would avoid them. Many of the hostels outside the city center offer free shuttle service in town at regular intervals.
When to Go to Cairns
Cairns' location in North Queensland makes for hot, humid summers and dry, mild winters. The average maximum temperature is 84.2°F (29°C), making Queensland a great place to visit year-round.
Summer (from December to February) is the wettest time of year, and average temperatures are between 75-89°F (25-31°C). It's still nice and warm in the autumn months (March to May), and the rain lets up in April.
Winter (June to August) is peak season in Cairns. The temperatures are slightly cooler (averaging 63.5 – 78.8°F/17.5 – 26°C each day), and there is low rainfall. If you're trying to escape the cold northern hemisphere, this is the time to come. But if your primary goal is to visit the Grand Barrier Reef, spring (September to November) is the best time to visit. The reef really comes to life in November during the annual coral spawning.
How to Stay Safe in Cairns
Cairns is an incredibly safe place to backpack and travel – even if you're traveling solo, and even as a solo female traveler. Violent attacks are rare. People are nice and helpful and you're unlikely to get into trouble. If you're in a big city, take normal precautions like you would anywhere else.
Always trust your gut instinct. If a taxi driver seems shady, stop the cab and get out. If your hotel is seedier than you thought, get out of there. Make copies of your personal documents, including your passport and ID. Forward your itinerary along to loved ones so they'll know where you are.
If you don't do it at home, don't do it when you're in Cairns. Follow that rule and you'll be fine.
Most incidents in Cairns tend to occur because visitors are not used to the region's unique climate and wilderness. Be sure you have plenty of sunscreen, and stay as hydrated as possible. Carry mosquito spray, as there is a risk of Dengue Fever. If you're swimming in the ocean between November to May, only swim where there is a beach stinger net otherwise you risk getting stung by jellyfish.
The most important piece of advice I can offer is to purchase good travel insurance. Travel insurance will protect you against illness, injury, theft, and cancellations. It's comprehensive protection in case anything goes wrong. I never go on a trip without it as I've had to use it many times in the past. You can use the widget below to find the policy right for you:
Cairns Travel Guide: The Best Booking Resources
Below are my favorite companies to use when I travel to Cairns. They are included here because they consistently turn up the best deals, offer world-class customer service and great value, and overall, are better than their competitors. They are always my starting point when I need to book a flight, hotel, tour, train, or meeting people!
Cairns Gear and Packing Guide
If you're heading to Cairns, here are my suggestions for the best travel backpack and tips on what to pack.
The Best Backpack for Cairns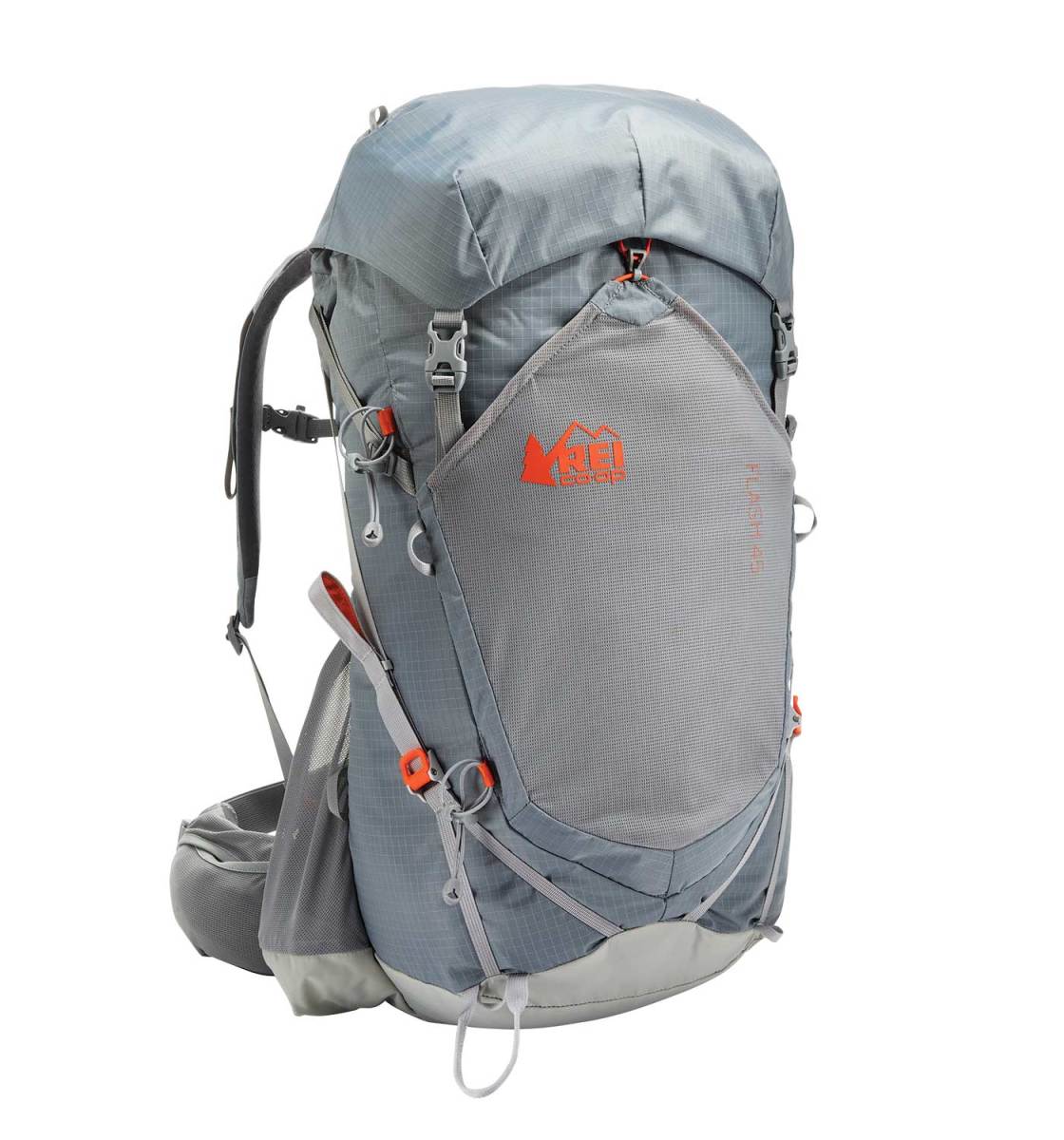 What's the best backpack for traveling around Munich? I recommend the
REI Flash 45 Pack
. It's light and comfy, front loading, and fits perfectly in an airplane's overhead bin.
Size:
45-47L
Straps:
Thick and cushy with compression technology that pulls the pack's load up and inwards so it doesn't feel as heavy.
Features:
Removable top lid, large pocket at the front, hydration compatible, contoured hip belt
If you want something different, refer to my article on how to choose the best travel backpack for other suggestions and tips on how to pick the best one.
What to Pack for Cairns
Clothes
1 pair of jeans (heavy and not easily dried, but I like them; a good alternative is khaki pants)
1 pair of shorts
1 bathing suit
6 T-shirts
1 long-sleeved T-shirt
1 pair of flip-flops
1 pair of sneakers
8 pairs of socks (I always end up losing half)
7 pairs of boxer shorts (I'm not a briefs guy!)
1 toothbrush
1 tube of toothpaste
1 razor
1 package of dental floss
1 small bottle of shampoo
1 small bottle of shower gel
1 towel
Deodorant
Small Medical Kit (safety is important!!!)
Miscellaneous
Female Travel Packing List
I'm not a woman so I don't know what a woman wears, but Kristin Addis, our solo female travel guru, wrote this list as an addition to the basics above:
Clothing
1 swimsuit
1 sarong
1 pair of stretchy jeans (they wash and dry easily)
1 pair of leggings (if it's cold, they can go under your jeans, otherwise with a dress or shirt)
2-3 long-sleeve tops
2-3 T-shirts
3-4 spaghetti tops
1 light cardigan
Toiletries
1 dry shampoo spray & talc powder (keeps long hair grease free in between washes)
1 hairbrush
Makeup you use
Hair bands & hair clips
Feminine hygiene products (you can opt to buy there too, but I prefer not to count on it, and most people have their preferred products)
For more on packing, check out these posts:
My Must Have Guides for Traveling to Cairns
Cairns Travel Guide: Related Articles
Want more info? Check out all the articles I've written on Australia travel and continue planning your trip:
Photo credits: 5