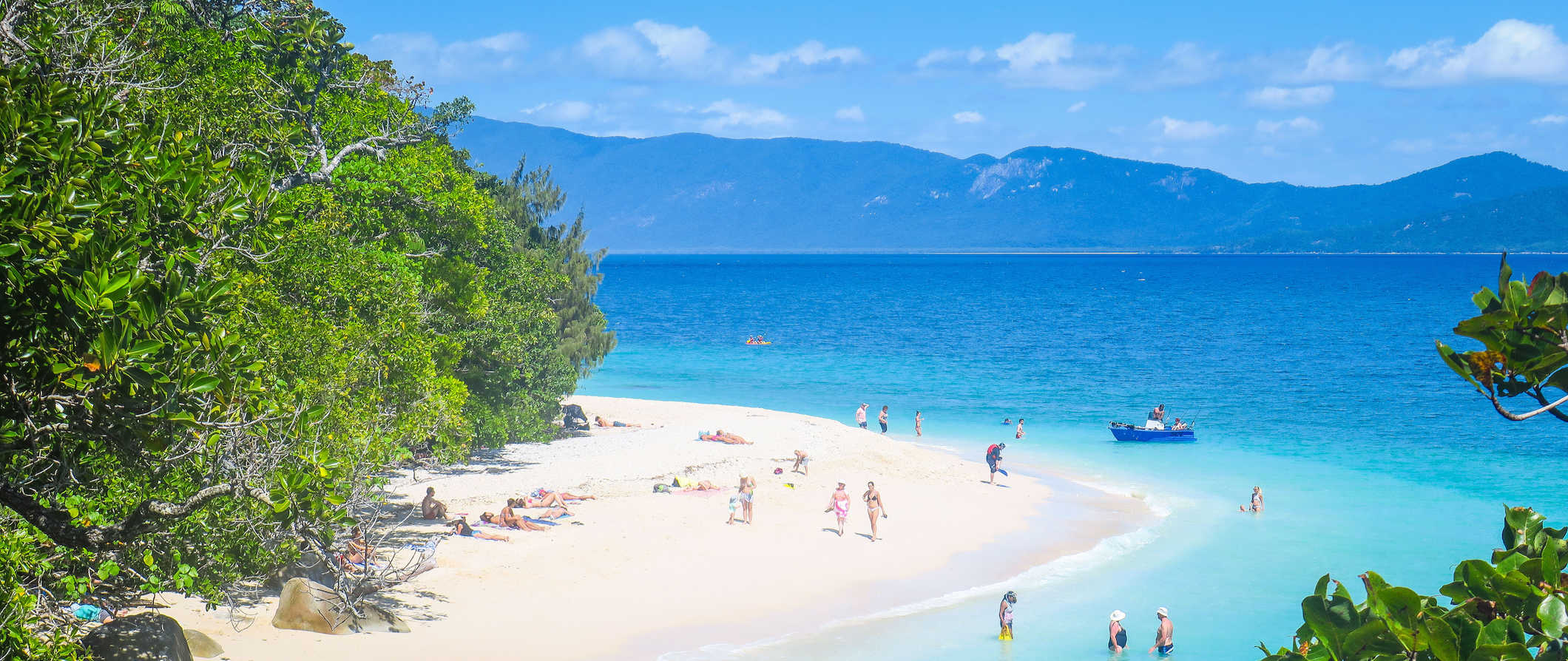 Cairns is Australia's gateway to northern Queensland. Whether you are backpacking around the region, looking to dive, want to visit the forests, or are heading deeper inland, Cairns is a worthwhile stop on everyone's itinerary.
From here you can visit the Great Barrier Reef, the Daintree rainforest, the Atherton Tablelands, Cape Tribulation, and much more.
Cairns is a pretty typical tropical city and life here focuses on taking the time to stop and smell the roses. With so much to see, the city deserves a longer stay than most people give it.
While you don't need a lot of time to visit Cairns, it does make for a good base of operations for day trips to the interior or further north. I suggest staying for around four days. This gives you enough time to explore the city as well as do some tours and excursions from the city.
Be sure to spend at least a few nights traveling up north if you can. There are fewer crowds, tons of beaches, more jungle, and it's just really an under-appreciated – and visited – part of the country.
This travel guide to Cairns can help you plan your trip, save money, and make the most of your time in this incredible area of Australia!
Top 5 Things to See and Do in Cairns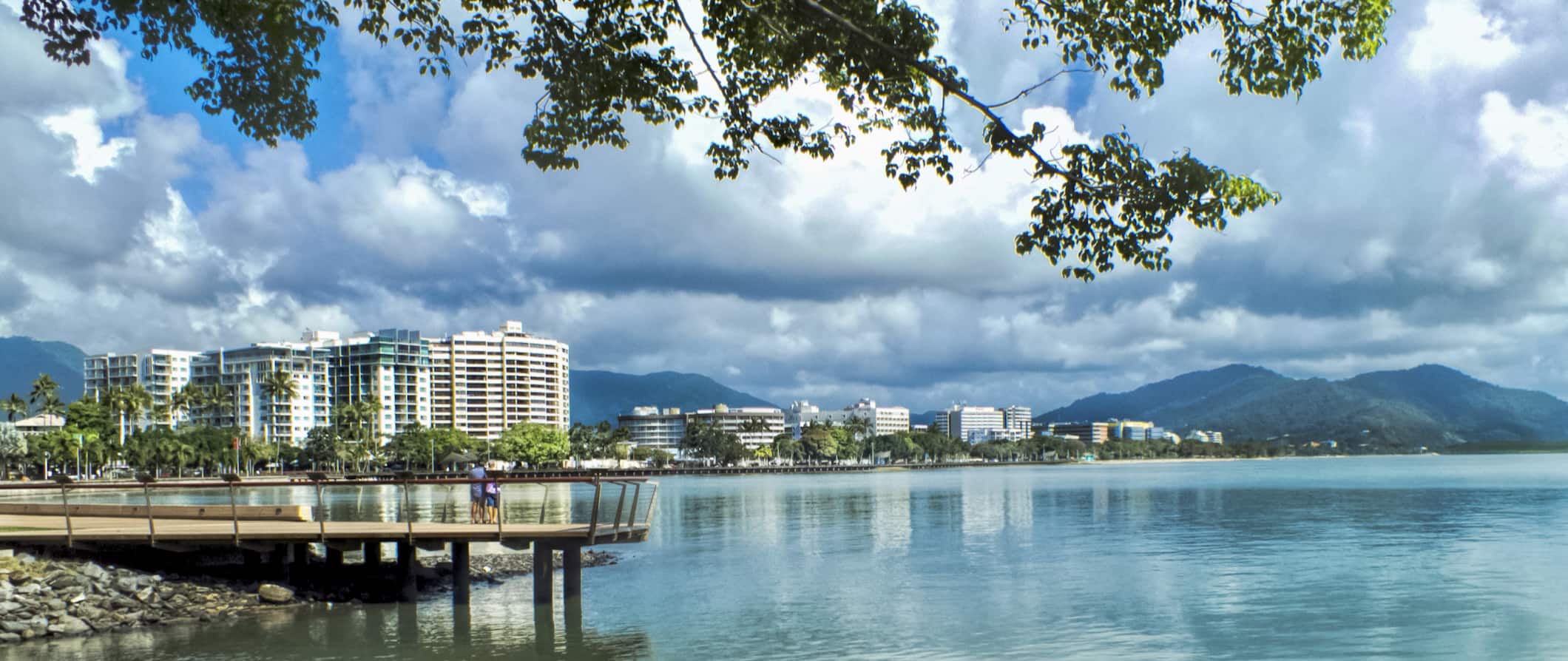 1. See the Great Barrier Reef
The Great Barrier Reef is one of the best places to dive in the world. It's the largest living organism on Earth, spanning some 344,000 square kilometers (133,000 square miles) (you can actually see the reef from space). Naturally, the reef is brimming with wildlife, including giant clams, manta rays, sharks, turtles, clown fish, and more! Cairns is the most popular jumping-off point for dive trips to the reef. I was blown away by the abundant wildlife and coral. It did not disappoint! Dive trips start around 230 AUD.
2. Explore the Daintree Rainforest
While Australia is known for its arid Outback, the continent is also home to rainforests. Daintree stretches over 1,200 square kilometers (460 square miles) and is part of the largest tropical rainforest in Australia. It's also the oldest rainforest on the planet, dating back over 120 million years. There are all kinds of day and multi-day trips available here. Most people visit on their way north to Cape Tribulation. Two-day guided trips cost around 350 AUD per person.
3. Visit Cape Tribulation
Cross the Daintree and continue up into Cape Tribulation, Cooktown, and Cape York. Few tourists make it up this way. There isn't anything to do here except relax, enjoy nature, and swim. Skip doing a day trip and spend at least one night here instead. The stunning landscapes are worth your time and it's just 140 kilometers (87 miles) north of Cairns.
4. Try some extreme sports
If hiking, diving, and swimming are too mundane for you, there's always bungee jumping or sky diving. AJ Hackett, the man who created modern-day bungee jumping, has a a canyon swing here too. A 50-meter (164-foot) bungee jump costs 139 AUD while a tandem skydive from 4,500 meters (15,000 feet) over the Great Barrier Reef is around 310 AUD.
5. See the Atherton Tablelands
The Atherton Tablelands are a mix of rainforest, wetlands, and savanna. Home to wallabies and tree kangaroos, day tours here are long, (you'll leave early and get back late), but you'll see a ton of stunning waterfalls, including the famous Millaa Millaa Falls (which is crazy beautiful!). If you go, use Uncle Brian's tours. Their tour packs a lot in and the drivers are funny and engaging. Day tours cost 129 AUD.
Other Things to See and Do in Cairns
1. Visit the Cairns Wildlife Dome
This wildlife exhibit is located in a 20-meter-tall glass dome on top of the Reef Hotel Casino. The dome is host to a wide range of native animals, from lorikeets and rosellas to frogmouths and kookaburras. They also have an indoor rope course with rope ladders and bridges that let you explore the space. You can also zipline over a crocodile pond. Admission is 26 AUD.
2. Hang out by the lagoon
Spend a few hours relaxing by Cairns' Lagoon (read: really big pool) when the weather is nice. You can't go swimming in the water in the city because of jellyfish so the town built a giant pool. Many hostels have pools too but if you want to chill at a bigger place, the lagoon is pretty amazing — and you'll find more locals around. It's a good place to soak up the sun with a book. Admission is free.
3. Go white water rafting
There are two main rafting rivers that are all popular among adrenaline junkies in Cairns. In a tropical region that gets plenty of rain, the rivers always overflow, and rafting is a popular activity here. Trips include lunch and start at around 130 AUD and go up to 250 AUD depending on what river you want. There are also tubing trips down the rivers too if you want something more laid back.
4. Participate in an Aboriginal culture walk
There are many Aboriginals in the area (they've inhabited the region for over 5,000 years) and they have done a great job of setting up an ecotourism area to highlight their culture to visitors. You can walk with them and learn about their culture, history, plant life, herbal medicine, and even go traditional Aboriginal spearfishing. Tours last 3 hours and cost 140 AUD.
5. Try wake boarding
When you get tired of sightseeing, head to the Cairns Wake Park to try wakeboarding. Various jumps and challenges are set up to keep you entertained for a few hours. It's 39 AUD for a one-hour pass and 54 AUD for a two-hour pass. There's also a section where kids can play in the water on trampolines and inflatable slides (15 AUD).
6. Meander through the Botanical Gardens
Just 5 minutes from the airport, this is a lovely stop to make on your way out of Cairns. There are several paths to walk along and the garden is rich in trees, ferns, plants, and a lake. There are 50 different kinds of birds here too. Admission is free and they also offer free 60-90-minute tours on weekdays.
7. Relax at Palm Cove
This suburb of the city is around 27 kilometers (16 miles) north of Cairns and is home to a lovely stretch of beach. Come here to relax, swim, and escape the city. There's a nice path along the water where you can stroll and lots of upscale places to eat. It makes for a good place to spend half a day when you want to relax and take in the feel of the city.
For more information on other cities in Australia, check out these guides:
Cairns Travel Costs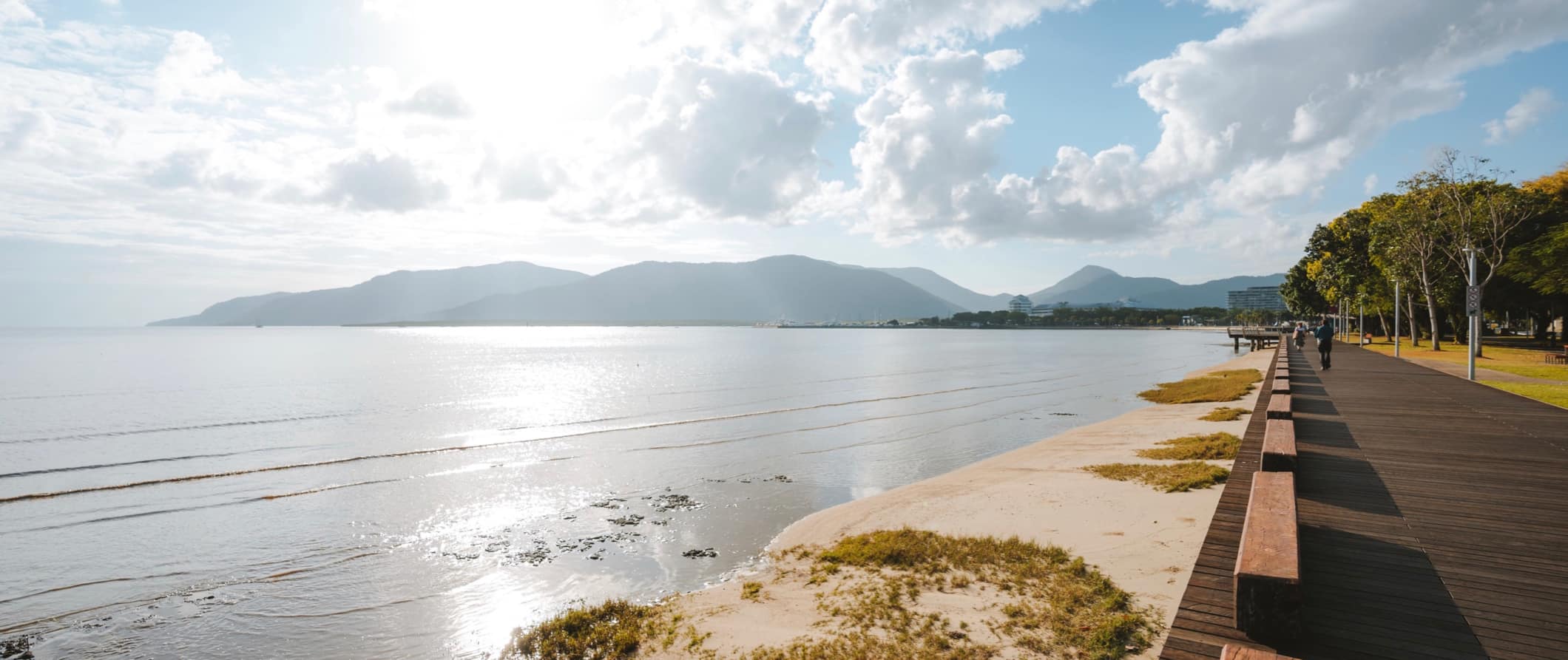 Hostel prices – Dorms are plentiful in Cairns, costing 25-35 AUD per night. Private rooms start at 50 AUD but average closer to 75-110 AUD. Free Wi-Fi is standard and most hostels also include self-catering facilities. Only some include free breakfast so be sure to check before you book.
If you have a tent, you can camp outside the city for under 10 AUD per night for a basic plot without electricity.
Budget hotel prices – Budget two-star hotels start around 100 AUD, though most budget options are closer to 150 AUD. Standard amenities include air-conditioning and free Wi-Fi, and even some include breakfast.
On Airbnb, private rooms start at 50 AUD per night but average closer to 150 AUD. For an entire home/apartment, expect to pay at least 150 AUD (however, prices can be double or even triple if not booked early).
Food – Popular food here is similar to elsewhere in the country. Chicken and lamb are two main staples, with things like burgers, steak, and prawns following close behind. BBQ is super common, and in restaurants, you can usually find all kinds of pasta and seafood dishes as well. Meat pies, fish and chips, seafood, chicken parmigiana (chicken schnitzel topped with tomato sauce, ham, and melted cheese), and of course the infamous vegemite on toast are other common staples.
Cheap meals like sandwiches can be found for under 15 AUD. Most casual restaurant meals cost between 20-30 AUD for a main dish. Fast food (think McDonald's) costs around 15 AUD for a combo meal.
If you want to splash out, an upscale meal with a drink will cost at least 60 AUD. For something like Indian or Chinese food, expect to pay 20-25 AUD for a meal.
Beer costs around 7-8 AUD while a latte/cappuccino is 5 AUD. Bottled water is around 3 AUD.
If you cook your own food, plan to spend between 70-90 AUD per week for basic staples like pasta, rice, seasonal produce, and some meat.
Backpacking Cairns Suggested Budgets
On a backpacker budget, you can visit Cairns for 70 AUD per day. This is a suggested budget assuming you're staying in a hostel dorm, cooking all your meals, limiting your drinking, taking the bus to get around, and sticking to mostly free activities like hiking and enjoying the pool. If you plan on drinking, add 10-20 AUD to your daily budget.
On a mid-range budget of 200 AUD per day or more, you'll be able to stay in an Airbnb, eat out at cheaper restaurants for most meals, enjoy a few drinks at the bar, take the occasional taxi to get around, and do a couple paid activities like visiting the Great Barrier Reef or going bungee jumping.
On a "luxury" budget of 400 AUD or more per day, you can stay in a hotel, eat out anywhere you want, rent a car to get around, drink more, and do as many activities as you want. This is just the ground floor for luxury though. The sky is the limit!
Accommodation
Food
Transportation
Attractions
Average Daily Cost
Backpacker
30
15
10
15
70
Mid-Range
90
50
20
40
200
Cairns Travel Guide: Money-Saving Tips
The best way to save money in Carins is to avoid taking lots of expensive tours and trips. If you do that, you'll save a ton. But that's part of the draw of visiting so here are some other ways to save in Cairns:
Buy a package deal – There is a lot to see and do in the area — at the expense of your budget. Consider booking tours and excursions together with one company as that can often get you a slight discount. Many hostels also have deals so ask them too!
Eat cheap – Eating out can be very expensive, however, there are a lot of sandwich shops around that can keep your costs down. Avoid the sit-down restaurants, and instead, grab a sandwich or pack a lunch for a picnic.
Stay with a local – If you plan ahead, you can usually find a Couchsurfing host to host you during your visit. This way, you not only have a free place to stay, but you'll have a local host that can share their insider tips and advice.
Drink goon (box wine) – Goon is infamous on the Australian backpacker hostel trail. This cheap box of wine is the best way to drink, get a buzz, and save a lot of money at the same time.
Cook your own meals – Eating out is not cheap so the best way to reduce your costs is to cook as many meals as possible. It's not glamorous, but it's cheap!
Work for your room – Many hostels offer travelers the chance to work for their accommodation. In exchange for a few hours a day of cleaning, you get a free bed. Commitments vary but most hostels ask you to stay for at least a week.
Save money on rideshares – Uber is cheaper than taxis and is the best way to get around a city if you don't want to wait for a bus or pay for a taxi.
Bring a water bottle – The tap water in Cairns is safe to drink so bring a reusable water bottle to save money and lower your plastic use. Lifestraw makes durable water bottles with built-in filters to ensure your water is always safe and clean.
Where to Stay in Cairns
Cairns has a plenty of hostels to help you visit on a budget. Here are my favorite places to stay:
How to Get Around Cairns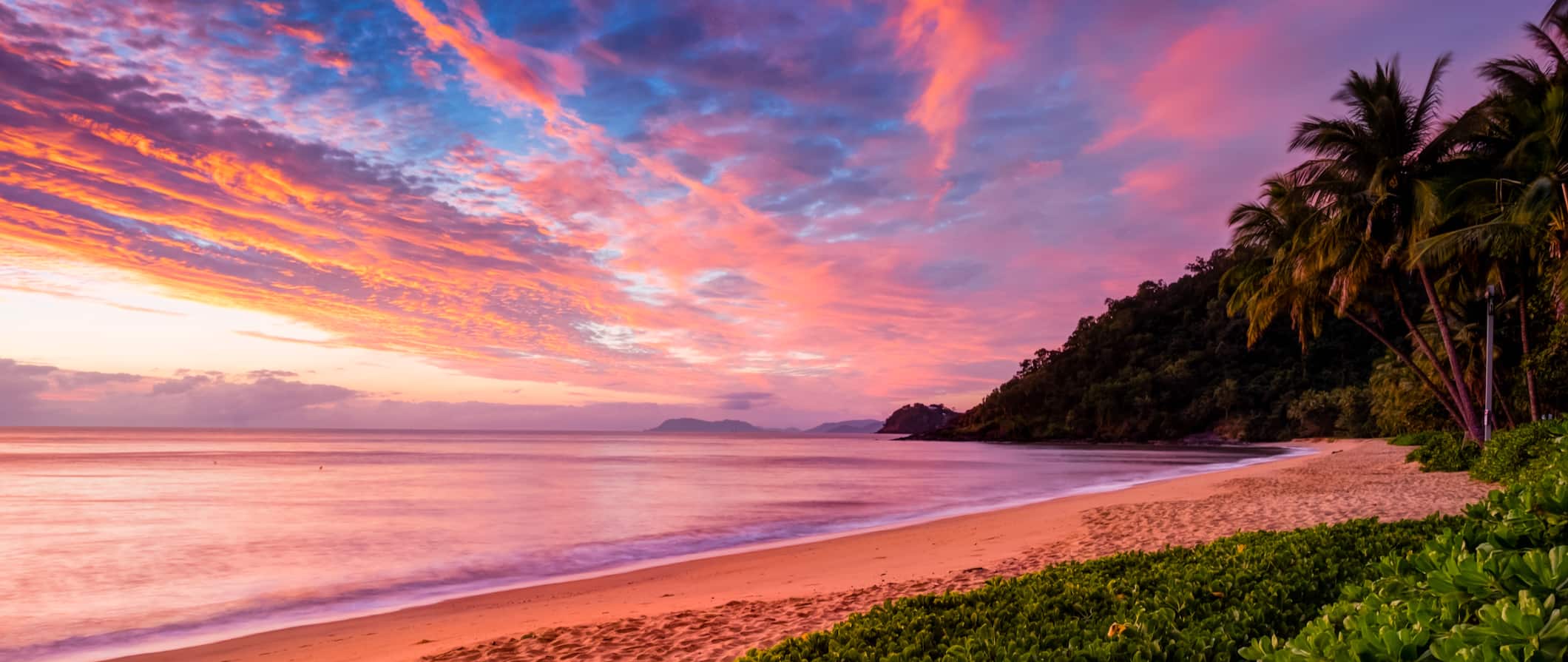 Public transportation – Cairns has reliable public bus system run by Translink that can take you just about anywhere you need to go. A single zone fare starts at 2.40 AUD and goes up from there. A daily single-zone pass starts at 4.80 AUD.
To save money, get a Go Card. It's an electronic pre-paid ticket that saves you around 30% on each ticket. You'll need to load it with 20 AUD but you'll easily use that if you're here for a few days.
Bike rental – Cairns has an excellent network of cycling paths, with some of the most popular routes being the Esplanade, Centenary Lakes, and the Botanic Gardens. Some of the hostels rent out bicycles, or you can rent from Cairns Scooter & Bicycle Hire. Rentals start from 25 AUD per day.
Taxis – Taxis are expensive so I would avoid them. Prices start at 2.90 AUD and go up by 2.30 AUD per kilometer. Skip them if you can!
Ridesharing – Ridesharing apps are available here and are a bit cheaper than taxis.
Car rental – You don't need a car to navigate Cairns, but if you want to get off the tourist trail or travel north, having a car rental is ideal. You can find rentals for around 60 AUD per day for a week-long rental. For the best rental car prices, use Discover Cars.
When to Go to Cairns
Cairns' location in North Queensland makes for hot, humid summers and dry, mild winters. The average daily high in the winter is 26°C (88°F) and 31°C (79°F) in the summer, making Queensland a great place to visit year-round.
Summer (December-February) is the wettest time of year, and average temperatures are between 75-89°F (25-31°C). This is also the busiest time of the year since Australian summer is when most people visit the country.
It's still nice and warm in autumn (March-May), and the rain lets up in April, making this a nice time to visit as well.
If your primary goal is to visit the Great Barrier Reef, spring (September-November) is the best time to visit. The reef really comes to life in November during the annual coral spawning.
To beat the crowds, aim for the shoulder season (April-May or September-October). There will be fewer people and lower prices.
How to Stay Safe in Cairns
Cairns is an incredibly safe place to backpack and travel. Violent attacks are rare and people are friendly and helpful
Most incidents in Cairns tend to occur because visitors are not used to the region's unique climate and wilderness. Be sure you have plenty of sunscreen and stay as hydrated as possible. Carry mosquito spray as there is a risk of Dengue Fever.
If you're swimming in the ocean between November to May, only swim where there is a beach stinger net otherwise you risk getting stung by jellyfish. Always check the weather before you go out hiking as well and make sure to bring water and sunscreen. If you're venturing out of the city, be mindful of wildlife, especially snakes and spiders. If you're bitten, seek immediate care.
Solo female travelers are generally safe here, however, the standard precautions apply (never leave your drink unattended at the bar, never walk home alone at night intoxicated, etc.). Consult other solo female travel blogs for specific advice.
If you're worried about travel scams, you can read about common travel scams to avoid here. There aren't many here though.
If you experience an emergency, dial 000 for assistance.
The most important piece of advice I can offer is to purchase good travel insurance. Travel insurance will protect you against illness, injury, theft, and cancellations. It's comprehensive protection in case anything goes wrong. I never go on a trip without it as I've had to use it many times in the past. You can use the widget below to find the policy right for you:
Cairns Travel Guide: The Best Booking Resources
These are my favorite companies to use when I travel. They consistently have the best deals, offer world-class customer service and great value, and overall, are better than their competitors. They are the companies I use the most and are always the starting point in my search for travel deals.
Skyscanner – Skyscanner is my favorite flight search engine. They search small websites and budget airlines that larger search sites tend to miss. They are hands down the number one place to start.
Hostelworld – This is the best hostel accommodation site out there with the largest inventory, best search interface, and widest availability.
Booking.com – The best all around booking site that constantly provides the cheapest and lowest rates. They have the widest selection of budget accommodation. In all my tests, they've always had the cheapest rates out of all the booking websites.
Get Your Guide – Get Your Guide is a huge online marketplace for tours and excursions. They have tons of tour options available in cities all around the world, including everything from cooking classes, walking tours, street art lessons, and more!
Rome2Rio – This website allows you to see how to get from point A to point B the best and cheapest way possible. Just enter your departure and arrival destinations and it will give you all the bus, train, plane, or boat routes that can get you there as well as how much they cost. It's one of the best transportation websites out there!
SafetyWing – Safety Wing offers convenient and affordable plans tailored to digital nomads and long-term travelers. They have cheap monthly plans, great customer service, and an easy-to-use claims process that makes it perfect for those on the road.
LifeStraw – My go-to company for reusable water bottles with built-in filters so you can ensure your drinking water is always clean and safe.
Unbound Merino – They make lightweight, durable, easy-to-clean travel clothing.
Top Travel Credit Cards – Points are the best way to cut down travel expenses. Here's my favorite point earning credit cards so you can get free travel!
Cairns Travel Guide: Related Articles
Want more info? Check out all the articles I've written on Australia travel and continue planning your trip:
Photo credits: 1 – Tourism Australia, 5 – AJ Hackett