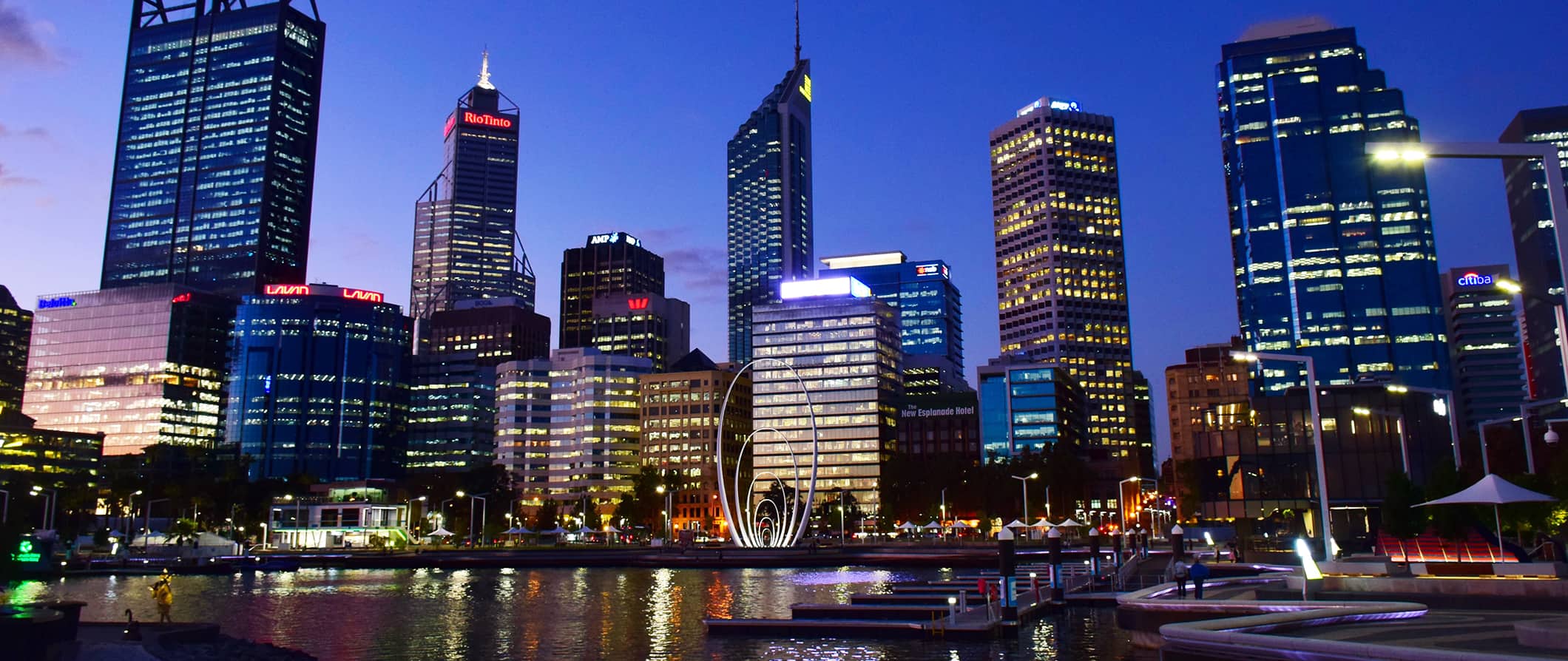 Visiting Perth is not high up on most travelers lists. You don't get a lot of visitors or backpackers.
Perth, Australia is located on the West Coast and far from everything. It's not easy to get to.
To me, it embodies everything that defines Australia—rugged yet sophisticated, modern but rustic, relaxed but bustling.
It was founded on June 12th, 1829 (my birthday) by Captain James Stirling as the center of the Swan River Colony, and it has developed into a clean, friendly, easily accessible, and beautiful city, right on the ocean.
The city is now a hub of activity and growth thanks to mining and off-shore oil drilling. Lots of people have moved here and it has become a vibrant city on its own. It may not be as big or have as many things to do as the places on the east coast but it's like no other place in the country.
This Perth travel guide can help you plan the best trip to the city!
Top 5 Things to See and Do in Perth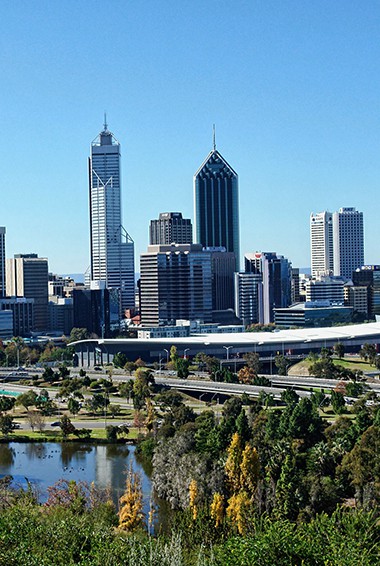 1. Kings Park and Botanic Garden
Kings Park, with its 990 acres of landscaped gardens and bushland, gets impressive views of the city and river. Walk through the eucalyptus tree canopy, explore native habitats, and take in the rich bird life. Kings Park is also host to many music and theater events, so be sure to look out for what's going on.
2. Famous beaches
Perth has a number of good beaches—Cottesloe Beach (one of the most popular), Swanbourne Beach (nude beach), City Beach (also very popular), Scarborough Beach (great for surfing), and Trigg Beach (can't get enough surfing). These beaches alone are one of the top reasons to visit Australia!
3. Rottnest Island
Rottnest Island is the perfect spot for a day trip. In addition to awesome beaches and the native Quokkas, there is snorkeling, bike rentals, camping, restaurants, and plenty of family activities. Avoid "schoolies week" in late November and early December when the island becomes a drinking festival for 18-year-old Aussies.
4. Fremantle
Fremantle makes for a great day trip from Perth. It's only an hour by train and the city has great restaurants, a beautiful water area, and nice parks. Make a visit to Fremantle Prison and Little Creatures, one of the best micro-breweries in Australia.
5. Mandurah Estuary and Peel Inlet
Just an hour south, Mandurah is a hidden gem perfect for boating, fishing, dolphin watching, and crabbing. Head to Dolphin Quay at the Mandurah Ocean Marina and stroll the Mandurah Boardwalk. Be sure to check out the Mandurah Crab Festival if you're in town during March.
Other Things to See and Do in Perth
1. Take in the history
The Perth Royal Mint provides a fascinating demonstration of how to pour liquid gold and transform it into solid gold bars. You'll also learn the story about how the notorious gold fields in Western Australia were discovered, including the harshness of those early Gold Rush days.
2. See the Art Gallery of Western Australia
This gallery was founded in 1895 and houses the state's most distinguished art collection. It includes post-WWII works, as well as Indigenous pieces. It's open Wednesday-Monday from 10am-5pm. Admission is free but donations are accepted.
3. Hang out in Northbridge
Northbridge is the hub of nightlife here and is also home to amazing restaurants and clubs. It's a great place to eat but an even better place to party at night!
4. Visit the Perth's Cultural Center
The center contains an art gallery, museum, the state library, and the Perth Institute of Contemporary Arts. On a rainy day, the museum has a very engaging exhibit on the history of the area.
5. Have a "Sunday Session"
The Aussie tradition of a "Sunday Session" (Sunday drinking) is at its finest in Perth. Perth's Sunday Sessions are famous throughout the whole country — people get dressed up like they are going out on a Saturday night. Make sure you go to the Cottesloe Hotel for the best scene in town.
6. Climb the DNA Tower
From this tower, you can get panoramic views of the city skyline, Swan River, Darling Scarp, and the Indian Ocean. It is the highest point in Kings Park. You only have to walk up 101 steps for the view!
7. Hike the Bibbulmun Track
Stretching over 590 miles (950 kilometers) long, this trail is one of the world's greatest. It winds through karri and tingle forests, down misty valleys and along the coast. Trails vary from one day long to several weeks for the whole hike. Cabins are offered along the entire way for pit stops and rest breaks.
8. Visit Caversham Wildlife Park
Caversham Wildlife Park is a family wildlife park with the largest collection of native wildlife in Western Australia. It's incredibly interactive and the animals are well cared for – there are dingos, llamas, echidnas, wallabies, kangaroos, koalas, and more. You can even feed the kangaroos and wallabies! Admission is $30 AUD ($22 USD).
9. Go wine tasting in Margaret Rver
Margaret River is just three hours south of Perth, and it's world famous for its wines and locally produced food. You can explore here on a tour and visit some big names like the Leeuwin Estate Winery and also smaller vineyards. Keep an eye out for kangaroos – there are tons of wildlife in the area! A half-day wine tour will cost you about $85 AUD ($60 USD).
For more information on specific destinations, check out these guides!
Perth Travel Costs
Hostel prices – This city is one of the more expensive cities in Australia due to the high cost of living from all the mining money in town. Good, central, and cheap accommodations are hard to find. You can find beds in dorm rooms that sleep 10-12 people start around $16 AUD ($12 USD). Smaller dorm rooms (4-6 beds) start around $20 AUD ($14 USD) per night. Private rooms that sleep 2 people with a shared bathroom start around $60 AUD ($43 USD).
Budget hotel prices – Hotel rooms that sleep 2 start around $140 AUD ($100 USD). These hotels usually have air-conditioning, a private bathroom, free WiFi, and most offer free breakfast. On Airbnb, a shared room in a home averages about $26 AUD ($19 USD). You can find whole apartments starting around $85 AUD ($60 USD) per night.
Average cost of food – Restaurants in Perth are really expensive. Most main dishes are $20-30 AUD ($14-22 USD), though cheaper, less fancy restaurants are closer to $15 AUD ($11 USD). If you cook your meals, expect to pay $90 AUD ($65 USD) per week for groceries that will include pasta, vegetables, chicken, and other basic foodstuffs. Grab and go places cost around $8-10 AUD ($6-7 USD) for sandwiches. Fast food is around $15 AUD ($11 USD) for a meal. The best value food are the ethnic restaurants where you can get a really filling meal for $10 AUD ($7 USD)!
Backpacking Perth Suggested Budgets
Perth isn't cheap. Thanks to its mining boom, people moved to the city quickly and prices skyrocketed. It's also very isolated, which drives prices up. Fortunately, there are a lot of free activities in Perth.
On a very strict backpacker budget, you can do it for $75 AUD ($54 USD) per day. You can get by on this budget if you stay in large hostel dorms, cooking a lot of your meals, limiting your drinking, and use the Smartrider pass to get around. You can take advantage of all the free activities or do a few budget activities, like visiting the wilderness park.
On a mid-range budget of about $290 AUD ($208 USD), you can stay in a budget hotel, eat fast food or takeaway ethnic food for your meals, get a bicycle rental, and do some day tours, like wine tasting on the Margaret River.
On a luxury budget of $512+ AUD ($366+ USD), you can book a room at a nice 4-star hotel, eat out for all your meals, and hire a rental car to get around. You can do more sightseeing as well, including a trip to Rottnest Island.
Accommodation
Food
Transportation
Attractions
Average Daily Cost
Backpacker
$12
$20
$10
$12
$54
Mid-Range
$100
$40
$18
$50
$208
Luxury
$150
$70
$35
$80
$335+
Perth Travel Guide: Money Saving Tips
Perth is one of the most expensive cities in Australia but there are a few ways to save money as a traveler if you know a few little acks. Here are are some ways you can cut down on costs in Perth:
Watch for sales – Airfare to Perth is usually very expensive, which is why so few people are able to visit the city. Tigerair has great fares from the east coast – check mid-week when fares are the cheapest.
Couchsurf – Accommodation in Australia can be quite pricey. If you plan ahead, you can usually find really nice Couchsurfing hosts all throughout the country. This way, you not only have a place to stay, but you'll have a local host that can tell you the best places to go and things to see.
Take the ferry – If you are going to Fremantle, take the ferry, which while slower, is also cheaper than the train. Bonus—it's also much more scenic.
Work for your room – Many hostels offer travelers the chance to work for their accommodation. In exchange for a few hours a day of cleaning, you get a free bed. Commitments vary but most hostels ask you to stay for at least a week.
Drink goon (box wine) – Goon is infamous on the Australian backpacker hostel trail. This cheap box of wine is the best way to drink, get a buzz, and save a lot of money at the same time. Four liters typically costs 13 AUD (compared to a six pack of beer for the same price). Drink this before you go out and save on spending money at the bar (where it is about $10 AUD/$7 USD per drink).
Cook often – The best way to reduce your costs is to cook as many meals as possible. ALDI is the cheapest supermarket in the country, followed by Coles and then Woolworths. All hostels have large kitchens.
Seek out free internet – The internet in Australia is painfully slow and expensive (just ask any Australian how they feel about this), but libraries and McDonalds have free WiFi that you can use.
Take a free walking tour – Volunteers from the Perth City Visitor Kiosk lead a variety of free walking tours, including an orientation tour and a street art tour. It's a great way to familiarize yourself with the city!
Save money on rideshares – Uber is way cheaper than taxis and is the best way to get around a city if you don't want to wait for a bus or pay for a taxi. The Uber Pool option is where you can share a ride to get even better savings (though you can get your own car too). You can save $15 off your first Uber ride with this code: jlx6v.
Where To Stay in Perth
Perth has some excellent accommodations. Here are my favorite places to stay in Perth:
How to Get Around Perth
Bus – Perth has a great public bus system run by Transperth. To use it, you'll need to buy a Smartrider card for $10 AUD ($7 USD) and then load it with a $10 AUD ($7 USD) minimum. You can pick one of these up from most convenience stores, newsagents, and some bus and train stations. Fares are between $2.80-4.70 AUD ($2-3.35 USD) per ride, but the Smartrider card caps at $12.60 AUS/$9 USD (meaning you'll basically have unlimited travel for $13 USD/$9 USD per day).
To start your ride, tap your card on the reader when you board your selected mode of transport and be sure to tap off when you disembark.
There's a free bus service (the CAT bus) in the city center and in Fremantle, with multiple bus loops leaving every 5-15 minutes between 6am-7pm. They stop at many of the city's attractions and are handy for getting between Perth or Fremantle's downtown hotels and sights!
Trains – Perth's train system is great for getting around the city and beyond, especially into the suburbs. They work alongside the bus system, so you can use your Smartrider card as you would for the buses. Two of the biggest stations are Perth Station and Elizabeth Quay Station, from which you can get just about anywhere.
Trains in the area between the City West, Elizabeth Quay, and Claisebrook stations are free! You'll still need a Smartrider card to ride, however. A lot of the city's attractions are in the free zone, such as the Western Australia Museum.
Ferries – With your Smartrider card you can take the public ferry across the Swan River from Elizabeth Quay Jetty. It leaves every 15-30 minutes daily between 6:30am-11:30pm.
You can also take a private ferry to visit Rottnest Island. The Rottnest Express costs $81 AUD ($58 USD) return, while the SeaLink Ferry costs between $42-47 AUD ($30-34 USD) return.
Bicycle – Since Perth is so sprawled out, renting a bicycle is a great way to get around if you want some freedom and flexibility. However, rentals aren't cheap – most start at about $25 AUD ($18 USD) for 24 hours. Check out:
Cycle Centre Perth
About Bike Hire
VeloCity Rides
Car Rental – If you want to do some exploring around Perth, a car rental is a great option. You can rent a small vehicle for about $49 AUD ($35 USD) per day.
Taxi – Taxis are crazy expensive so if you aren't going to walk, bus, or train it, use UberX. It's much cheaper. An Uber to the airport is $20 AUD ($14 USD) versus $35 AUD ($25 USD) with a taxi!
When to Go to Perth
September to the end of November are both excellent months for visiting Perth, as winter is transitioning into spring. The weather is comfortable, the wildflowers are in bloom, and the skies are always clear. Temperatures average between 53-73°F (11-23°C), and there's very little rainfall.
December through February is Perth's summer, and the temperature can soar as high as 100°F (38°C)! If you want a beach vacation, however, this might work for you. June through August is Perth's winter, which is low season with chillier temperatures (as low as 46°F/8°C) and lots of rain. It's also the cheapest time to visit, as tourists tend to avoid the city this time of year.
How to Stay Safe in Perth
Perth is an incredibly safe place to backpack and travel. People are quite friendly and helpful and you're unlikely to get into trouble.
When in doubt, always trust your instincts. If a taxi driver seems shady, just stop the cab and get out. If your hotel or accommodation is seedier than you thought, leave and go somewhere else. Make copies of your personal documents, including your passport and ID, before you travel in case of an emergency. Also, forward your travel itinerary to friends or family so they'll know where you are just to be safe.
Although Perth is safe, the Armadale train line is pretty sketchy at night and often has shady characters. It's best to avoid this line unless you're traveling with a group.
Most incidents here tend to occur because visitors are not used to the country's unique climate and wilderness. Be sure you have plenty of sunscreen, and stay as hydrated as possible. Be on the lookout for snakes and spiders, and if you're bitten, seek immediate care. Furthermore, if you're swimming, heed the red and yellow flags. Yellow flags indicate swimming conditions may be dangerous; red flags mean the beach is closed.
As a general rule, if you don't do something at home, don't do it when you're in Perth. Follow that rule and you'll be fine.
The most important piece of safety advice I can offer is to purchase good travel insurance. Travel insurance will protect you against illness, injury, theft, and cancellations. It's comprehensive protection in case anything goes wrong. I never go on a trip without it as I've had to use it many times in the past. You can use the widget below to find the policy right for you:
Perth Travel Guide: The Best Booking Resources
Below are my favorite companies to use when I travel to Perth. They are included here because they consistently turn up the best deals, offer world-class customer service and great value, and overall, are better than their competitors.
Momondo – This is my favorite flight search engine because they search such a wide variety of sites and airlines. I never book a flight without checking here first.
Skyscanner – Skyscanner is another great flight search engline which searches a lot of different airlines, including many of the budget carriers that larger sites miss. While I always start with Momondo, I use this site too as a way to compare prices.
Airbnb – Airbnb is a great accommodation alternative for connecting with homeowners who rent out their homes or apartments. The big cities have tons of listings! (If you're new to Airbnb, get $35 off your first stay!)
Hostelworld – This is the best hostel accommodation site out there, with the largest inventory, best search interface, and widest availability.
Rome 2 Rio – This website allows you to see how to get from point A to point B the best and cheapest way possible. Just enter your departure and arrival destinations and it will give you all the bus, train, plane, or boat routes that can get you there as well as how much they cost. One of the best transportation website out there!
EatWith – This website allows you to eat home cooked meal with locals. Locals post listings for dinner parties and specialty meals that you can sign up for. There is a fee (everyone sets their own price) but this is a great way to do something different, pick a local's brain, and make a new friend.
World Nomads – I buy all my travel insurance from World Nomads. They have great customer service, competitive prices, and in-depth coverage. I've been using them since I started traveling in 2003. Don't leave home without it!
Perth Gear and Packing Guide
In this section, I'll give you my suggestion for the best travel backpack and tips on what to pack when you visit Perth.
The Best Backpack for Perth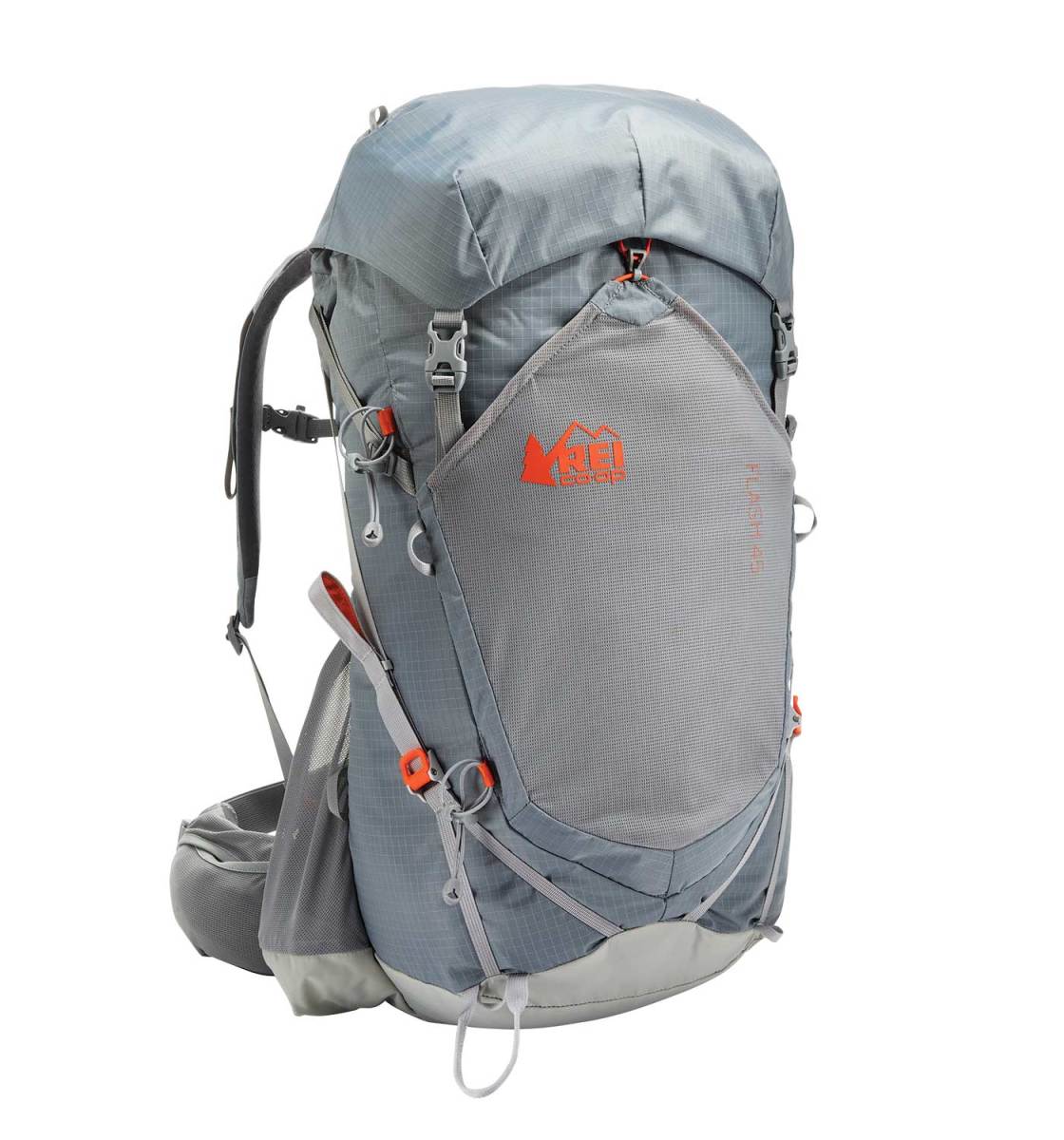 What's the best backpack for traveling around Perth? I recommend the
REI Flash 45 Pack
. It's light and comfy, front loading, and fits perfectly in an airplane's overhead bin.
Size:
45-47L
Straps:
Thick and cushy with compression technology that pulls the pack's load up and inwards so it doesn't feel as heavy.
Features:
Removable top lid, large pocket at the front, hydration compatible, contoured hip belt
If you want something a different backpack, refer to my article on how to choose the best travel backpack with more tips, advice, and backpack suggestions!
What to Pack for Perth
Clothes
1 pair of jeans (heavy and not easily dried, but I like them; a good alternative is khaki pants)
1 pair of shorts
1 bathing suit
6 T-shirts
1 long-sleeved T-shirt
1 pair of flip-flops
1 pair of sneakers
8 pairs of socks (I always end up losing half)
5 pairs of boxer shorts (I'm not a briefs guy!)
1 toothbrush
1 tube of toothpaste
1 razor
1 package of dental floss
1 small bottle of shampoo
1 small bottle of shower gel
1 towel
Deodorant
Small Medical Kit (safety is important!!!)
Miscellaneous
Female Travel Packing List
I'm not a woman so I don't know what a woman wears, but Kristin Addis, our solo female travel guru, wrote this list as an addition to the basics above:
Clothing
1 swimsuit
1 sarong
1 pair of stretchy jeans (they wash and dry easily)
1 pair of leggings (if it's cold, they can go under your jeans, otherwise with a dress or shirt)
2-3 long-sleeve tops
2-3 T-shirts
3-4 spaghetti tops
1 light cardigan
Toiletries
1 dry shampoo spray & talc powder (keeps long hair grease free in between washes)
1 hairbrush
Makeup you use
Hair bands & hair clips
Feminine hygiene products (you can opt to buy there too, but I prefer not to count on it, and most people have their preferred products)
For more on packing, check out these posts:
Miscellaneous
Female Travel Packing List
I'm not a woman so I don't know what a woman wears, but Kristin Addis, our solo female travel guru, wrote this list as an addition to the basics above:
Clothing
1 swimsuit
1 sarong
1 pair of stretchy jeans (they wash and dry easily)
1 pair of leggings (if it's cold, they can go under your jeans, otherwise with a dress or shirt)
2-3 long-sleeve tops
2-3 T-shirts
3-4 spaghetti tops
1 light cardigan
Toiletries
1 dry shampoo spray & talc powder (keeps long hair grease free in between washes)
1 hairbrush
Makeup you use
Hair bands & hair clips
Feminine hygiene products (you can opt to buy there too, but I prefer not to count on it, and most people have their preferred products)
For more on packing, check out these posts:
My Must Have Guides for Traveling to Perth
Australia Travel Guide: Related Articles
Want more info? Check out all the articles I've written on Australia travel and continue planning your trip: