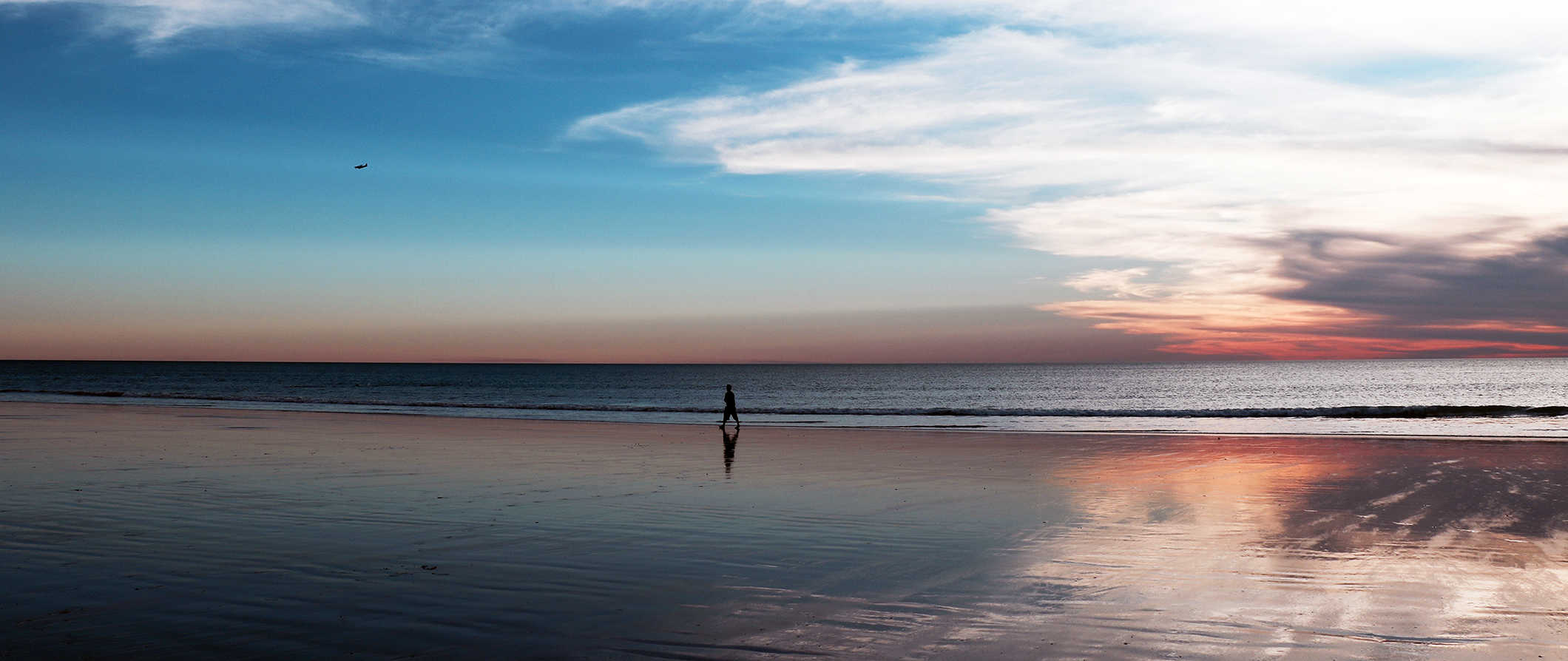 Broome is located in the northern part of Western Australia and is a major stop on the backpacking and RV Australia travel trail.
The city was founded in the 1880s as a pearling town and named after the territory's governor. Today, the area's mining boom has created an influx of people into the city.
When you visit Broome, you'll find a small, sleepy little seaside town with not much to do except lounge around in the sun. It's out of the way nature means it doesn't see a lot of visitors per year (to be fair, neither does most of Western Australia). The heat and humidity here can get unbearable, and the phrase "broometime" is often used to describe the city's sluggish pace.
Admittedly, there's not much to do here. There's a beach, some sites around town, and some good eateries. But the city makes for a good base to see the surrounding Outback.
Use this Broome travel guide to help plan your next trip there.
Top 5 Things to See and Do in Broome
1. Tour the Pearl Farms
Broome used to be the largest Pearling Port in the world, and you can learn all about its rich history at the Pearl Lugger Museum. If you want a more hands-on experience, Willie Creek Pearls also offers a two-hour boat tour for 125 AUD ($95 USD). You'll learn about the risks and challenges of the industry while also getting to hold and touch all kinds of valuable pearls!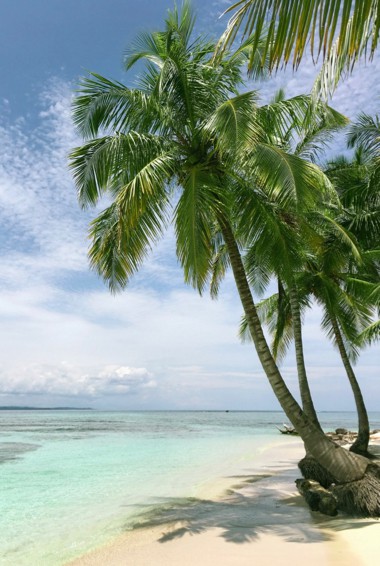 2. Visit Cable Beach
Cable Beach is Broome's biggest attraction: a 14-mile stretch of sandy white beach. Every day, the high tides wash the sand clean, making it one of the most pristine beaches in Australia. It faces west, so there's an incredible sunset every day. You can fish, kayak, swim, surf, or just relax. There's also nudist beach nearby too!
3. See Dinosaur Footprints
Broome has the largest and most diverse dinosaur footprints in the world and when the tide below Gantheaume Point gets low enough you can see some of them. Many are over 130 million years old. If you want a real in-depth experience, hire a trained guide. The tours aren't cheap (136 AUD/$102 USD), but the guides are excellent and provide a lot of context.
4. Spend Time in the Kimberley
Broome is also close to the Kimberley, an outback region 3x bigger than England filled with stunning gorges, beautiful waterfalls, and a vast desert landscape. There are all kinds of day trips and hikes here that you can do solo, as well as multi-day guided tours. Expect to pay around 900 AUD ($680 USD) for a 3-day guided excursion.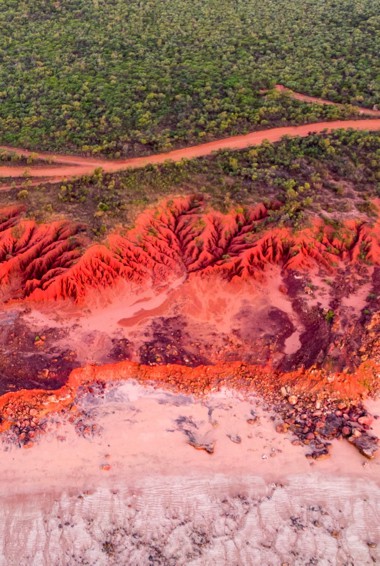 5. See James Price Point
If you're heading to the Kimberley, don't miss the stunning landscapes of James Price Point. It's a vivid headland just 52km north of Broome and home to some stunning rock formations and towering red cliffs. It's absolutely beautiful.
Other Things to See and Do in Broome
1. Relax at Riddell Beach
Riddell Beach isn't as well known as Cable Beach, but it's located only about 5 miles (8km) outside of Broome between Riddell Point and Gantheaume Point. Like Gantheaume Point, Riddell Beach has gorgeous red pindan cliffs set against the Indian Ocean. It's rockier than Cable Beach, but the landscape is more interesting (and less crowded).
2. See the Staircase to the Moon
You'll have to nail the timing to see this one, but it's worth it. During the dry months, the rising full moon creates an optical illusion of a staircase leading up to it over the exposed mudflats of Roebuck Bay. It's such a popular event for the locals that there's even a market set up for it. You can usually see it a few times a month between March-October.
3. Go Fishing
In Broome, you can fish for tuna, mud crab, and even barramundi (and a whole lot more!). Roebuck Bay is especially a popular area for fishing, and you can arrange a fishing charter trip, heli-fishing (yes, that's a thing), kayak fishing, and even spearfishing. Plus, while you're out in Roebuck Bay, you can keep an eye out for the rare Snubfin Dolphin. Expect to pay around 340 AUD ($257 USD) for a shared fishing charter.
4. Watch a Film Outdoors
Sun Pictures is a heritage-listed movie theater and it's the oldest operating outdoor theater in the world! It still shows new release movies and it has retained much of its original character. Relaxing in one of the well-worn deck chairs while eating hot popcorn under the starry sky and watching a film is one of the best things you can do in Broome. The theater was opened in 1903, and if you're inclined, you can take a history tour for 5 AUD ($3.50 USD). Tickets for a movie are 17.50 AUD ($13.25 USD).
5. Visit the Broome Historical Museum
This is a small historical museum run by a group of volunteers but it's full of artifacts, old photography, and tons of pearling memorabilia from Broome's past. The Sailmaker's Shed is especially interesting, as it was once the home of Charles Bagge's sailmaking business. It won't take long to see everything, but it's worth a visit to get a sense of the region's past. Admission is 12 AUD ($9 USD).
6. See the Buddha Sanctuary
The Buddha Sanctuary at Cable Beach is a wonderful ornamental garden that invites guests to relax, meditate, practice yoga, or simply just enjoy the space. Opened in 2003 as a community space, it has a deck platform, landscaped gardens, lots of shade to relax in, and a 3-meter crystal Buddha statue here too. It's free to visit, or you can sign up for a yoga class for 20 AUD ($15 USD) (mats and blocks are included).
7. Visit the Japanese Cemetery
This tranquil cemetery is dedicated to the memory of the Japanese who lost their lives to Broome's pearling industry in the early 20th century. Harvesting pearls and operating luggers was risky business, and many foreigners died as a result. Others suffered from the bends (diver's paralysis). The cemetery is peaceful and beautiful, with more than 900 graves marked by pink beach rocks and stones inscribed in Japanese.
8. See the Crocodiles at Malcolm Douglas Crocodile Park
Named for Australian wildlife filmmaker Malcolm Douglas, here you can see crocodiles, dingoes, kangaroos, wallabies, emus, giant snakes, and lizards. It's very much a family place (lots of children!) but it's a good way to see some unique wildlife. In the shop, you can watch some vintage footage of Malcolm's documentaries. Admission is 35 AUD ($19 USD).
10. Wander the Broome Courthouse Markets
The Broome Courthouse Markets are held every Saturday morning in the heritage-listed gardens of the Courthouse. What started as a small group of locals trading local products 25 years ago has now turned into dozens of stalls chock full of food, arts, and crafts. There's always a really upbeat vibe here and it makes for a great place to do a bit of shopping or sampling local food. The market is also open on Sundays from April-October.
11. Take an Aboriginal Walking Tour
Broome and the surrounding area has a rich Aboriginal history, and you owe it to yourself (and the locals) to learn a little about this fascinating culture. You can join Bart Pigram from Narlijia Cultural Tours on a tour where he'll tell you all about the history of the region as well as stories from the pearling industry and its Aboriginal role. He'll also talk about how the Yawuru people made use of the surrounding landscape. It's 75 AUD ($57 USD) per person and there are also several other tour options available (like a cultural catamaran tour).
For more information on specific cities in Australia, check out these guides:
Broome Travel Costs
Hostel prices – There are only a few hostels in Broome, but they're all really good. Dorm rooms average about 24-32 AUD ($18-24 USD) per night for a bed in a 4-6-bed dorm. Private rooms start at 80 AUD ($61 USD) per night per person. Free Wi-Fi is standard and a couple of hostels also include free breakfast.
Camping costs between 20-30 AUD ($15-22 USD) per night for a basic tent plot without electricity.
Budget hotel prices – For budget hotels, you are looking to spend at least 150 AUD ($113 USD) for a double room. There aren't a lot of budget hotel options here so be sure to book in advance if you want a hotel.
Airbnb only has a few options available here as well, with private rooms starting at 100 AUD ($75 USD) per night. Entire homes/apartments are even less common, starting at 170 AUD ($128 USD) per night. Unless you're splitting costs, Airbnb isn't a budget-friendly choice here.
Food – Food isn't cheap in Broome. Its out-of-the-way location makes importing food pretty expensive. Compared to other parts of Australia, you'll spend a lot more here than you would elsewhere. Most restaurant entrees cost at least 20 AUD ($15 USD), although you can find grab and go options (like cheap sandwiches) for around 8-10 AUD ($6-7 USD). Fast food like McDonald's costs 13 AUD ($10 USD) for a combo meal while a three-course meal at a restaurant serving more traditional Australian cuisine costs around 30 AUD ($23 USD).
Beer costs around 12 AUD ($9 USD) while a bottle of water is 2 AUD ($1.50 USD). For a cappuccino or latte, expect to pay 5 AUD ($4 USD).
If you cook your meals, expect to pay 105 AUD ($80 USD) per week for groceries that will include pasta, vegetables, chicken, and other basic foodstuffs.
Backpacking Broome Suggested Budgets
How much does it cost to visit Broome? On a backpacker budget, you can do it for around 75-90 AUD per day. This is a suggested budget if you're staying in a hostel dorm or Couchsurfing, cooking all of your meals, limiting your drinking, and using the bus to get around. On this budget, you'll need to stick to mostly free activities in town too. If you wanted a little more flexibility, I'd add another 10-15 AUD per day.
On a mid-range budget of 220 AUD per day or more, you'll be able to stay in a private hostel room or Airbnb, eat out for a few meals, have a couple of drinks, rent a bicycle to get around, and enjoy some tours (like the Aboriginal walking tour or the camel ride at sunset on Cable Beach). If you want to rent a car to explore or enjoy a few nights out at the bar, add another 30 AUD per day.
On a luxury budget of 450 AUD or more, you can get stay in a hotel, rent a car for a few days, eat out for all your meals, enjoy a few nights out, and do guided tours and hiking excursions. This is just the ground floor for luxury, of course. The sky is the limit!
To give you an idea of what you'll need to budget, here are some suggested guidelines. Prices are in AUD:
Accommodation
Food
Transportation
Attractions
Average Daily Cost
Backpacker
25
20-25
15
15-25
75-90
Mid-Range
90
50
30
50
220
Luxury
175
125
50
100
450
Broome Travel Guide: Money Saving Tips
Broome can be a very, very expensive place to visit. If you aren't careful, you'll blow through your entire budget in no time flat! Here are a lot of ways to save money when you visit Broome:
Get a phone plan – The telephone company Optus has good coverage and cheap prices. Go with them if you're getting a phone plan.
Drink goon (box wine) – Goon is infamous on the Australian backpacker hostel trail. This cheap box of wine is the best way to drink, get a buzz, and save a lot of money at the same time.
Cook often – Eating out is not cheap. The best way to reduce your costs is to cook as many meals as possible. Stay in a hostel or Airbnb with a kitchen to ensure you can skip the restaurants.
Car share – Australia is a big country that can be expensive to get around. If you are traveling with friends, it's smart to buy a used car or campervan (or rent a new one from one of the many rental companies in the country) and split the costs of gas. You can also hitch a ride with other travelers using sites like Gumtree, Jayride, or a hostel message board.
Book tours as a package – This country has a lot of exciting activities and tours that eat into any budget. Booking activities together through a hostel or tour agency will get you a discount and save you hundreds of dollars as a repeat customer.
Work for your room – Many hostels offer travelers the opportunity to work for their accommodation. In exchange for a few hours a day of cleaning, you get a free bed to sleep in. Commitments vary but most hostels ask that you stay for at least a week.
WWOOF it! – WWOOFing is a program that allows you to work on organic farms in exchange for free room and board. Everyone I've met who stays in the country long term does it for at least one month. You don't even need to know anything about farming – you're mostly picking fruit the whole time! It's a great way to reduce your expenses and make an impact on the local environment.
Couchsurf – Accommodation in Broome can be quite pricey. If you plan ahead, you can usually find a Couchsurfing host. This way, you not only have a place to stay but you'll have a local host that can tell you the best places to go and things to see.
Fill up your water bottle – The tap water is clean and safe to drink in Australia. Ditch the single-use plastic to save money and the environment.
Go in November – November is the hottest month, but if you can deal with the humidity, it's the cheapest time to visit outside of the wet season. You'll find better airfare and accommodation rates.
Where To Stay in Broome
I've been a backpacker in Australia for ages and have accumulated a long list of places to stay. Here are some of my favorite places to stay in Broome:
How to Get Around Broome
Public Bus – The Broome Explorer Bus is the best way to get around Broome (and is really the only public transportation in town). It runs every day of the week and stops near all accommodations in town as it makes its way through Town Beach, Chinatown, Boulevard Shops, and Cable Beach. A 24-hour pass is 15 AUD ($11 USD), and a 72-hour pass is 35 AUD ($27 USD). You can also get a 10-ride pass for 34 AUD ($26 USD). Otherwise, a one-way fare is 4 AUD ($3 USD).
Bicycle Rentals – The terrain around Broome is flat and easy to navigate on a bicycle. Broome Cycles has bicycle rentals in two different locations (in town and at Cable Beach), including children's bikes and fat-tire bikes for riding on the beaches. It's 30 AUD ($23 USD) per day for a standard bike, and 60 AUD ($46 USD) per day for a fat tire bike. The more days you rent, the cheaper it gets. They also have electric bikes.
Taxis – While convenient, taxis are also expensive. In general, fares start at 4.25 AUD ($3.25 USD) and then 2 AUD ($1.50 USD) per kilometer. There is no Uber here; taxis are your only private rideshare option.
Car Rental – Car rentals cost around 70 AUD ($55 USD) per day, but if you want a 4WD vehicle for getting off-road expect to pay more than double that. If you can find other travelers to split the expenses with, rentals can be worthwhile.
When to Go to Broome
The best time to visit Broome is during the dry season which lasts from May to October. The weather is the best during this time, with warm days and nights, and clear skies nearly every day. The average temperature each day during this time is about 86°F (30°C) or higher, while the nights are about 111°F (22°C).
The wet season usually lasts from November to April. It gets hot during this period and temperatures can get as high as 86°F (44°C) but it usually averages around 90°F (32°C). Thunderstorms and torrential downpours can occur, especially during January and February when monsoons and cyclones are more common. Getting into the Kimberley area is not recommended during this time due to flooding and other hazards.
Most people prefer to come just after the Wet Season when things are lush and green, but not yet overrun with travelers. In other words, avoid the wet season!
How to Stay Safe in Broome
Broome is an incredibly safe place to backpack and travel — even if you're traveling solo, and even as a solo female traveler. Violent attacks and petty theft are rare. People are nice and helpful and you're unlikely to get into trouble.
Always trust your gut instinct. If a taxi driver seems shady, stop the cab and get out. If your hotel is seedier than you thought, get out of there. Make copies of your personal documents, including your passport and ID. Forward your itinerary along to loved ones so they'll know where you are.
If you don't do it at home, don't do it when you're in Broome. Follow that rule and you'll be fine.
Most incidents in Broome tend to occur because visitors are not used to the region's unique climate and wilderness. Be sure you have plenty of sunscreen and stay as hydrated as possible. If you're hiking, make sure you know what to expect ahead of time. Be on the lookout for snakes and spiders, and if you're bitten, seek immediate care. (Don't worry though — all those horror stories about giant spiders and vicious animals are pretty rare!)
Furthermore, if you're swimming, heed the red and yellow flags. Yellow flags indicate swimming conditions may be dangerous; red flags mean the beach is closed.
The climate during Broome's wet season can be quite severe, with unpredictable weather and heavy rainfall that may cause flooding and impassable roads. This is especially true of the Kimberley area. You also have to be aware of jellyfish during the wet season: the large Box Jellyfish and the smaller Irukandji jellyfish are found off the coast of Broome from November to May. They're dangerous, and you do not want to be stung by one!
Mother nature in Broome is NOT a force to reckoned with.
The most important piece of advice I can offer is to purchase good travel insurance. Travel insurance will protect you against illness, injury, theft, and cancellations. It's comprehensive protection in case anything goes wrong. I never go on a trip without it as I've had to use it many times in the past. You can use the widget below to find the policy right for you:
Broome Travel Guide: The Best Booking Resources
These are my favorite companies to use when I travel. They consistently have the best deals, offer world-class customer service and great value, and overall, are better than their competitors. They are the companies I use the most and are always the starting point in my search for travel deals.
Skyscanner – Skyscanner is my favorite flight search engine. They search small websites and budget airlines that larger search sites tend to miss. They are hands down the number one place to start.
Hostelworld – This is the best hostel accommodation site out there with the largest inventory, best search interface, and widest availability.
Booking.com – The best all around booking site that constantly provides the cheapest and lowest rates. They have the widest selection of budget accommodation. In all my tests, they've always had the cheapest rates out of all the booking websites.
Intrepid Travel – If you want to do group tours, go with Intrepid. They offer good small group tours that use local operators and leave a small environmental footprint. And, as a reader of this site, you'll get exclusive discounts with them too!
Get Your Guide – Get Your Guide is a huge online marketplace for tours and excursions. They have tons of tour options available in cities all around the world, including everything from cooking classes, walking tours, street art lessons, and more!
Rome2Rio – This website allows you to see how to get from point A to point B the best and cheapest way possible. Just enter your departure and arrival destinations and it will give you all the bus, train, plane, or boat routes that can get you there as well as how much they cost. It's one of the best transportation websites out there!
SafetyWing – Safety Wing offers convenient and affordable plans tailored to digital nomads and long-term travelers. They have cheap monthly plans, great customer service, and an easy-to-use claims process that makes it perfect for those on the road.
Broome Gear and Packing Guide
If you're heading on the road and need some gear suggestions, here are my tips for the best travel backpack and for what to pack!
The Best Backpack for Travelers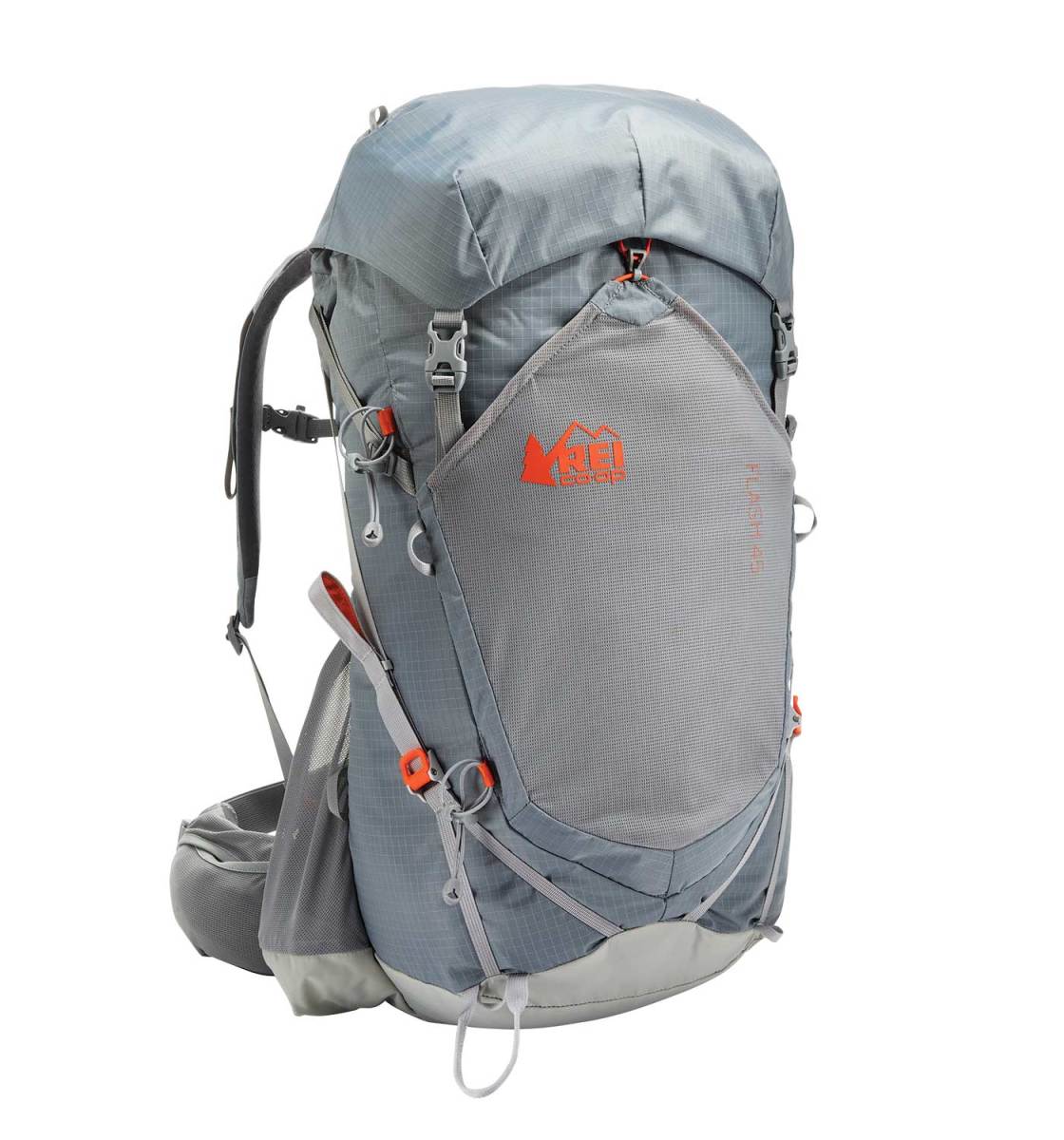 What's the best backpack for traveling long-term? I recommend the
REI Flash 45 Pack
. It's light and comfy, top loading, and fits perfectly in an airplane's overhead bin.
Size:
45-47L
Straps:
Thick and cushy with compression technology that pulls the pack's load up and inwards so it doesn't feel as heavy.
Features:
Removable top lid, pocket at the front, hydration compatible, contoured hip belt
If you want something different, refer to my article on how to choose the best travel backpack for tips on picking a pack and other backpack suggestions.
What to Pack for Your Trip
Clothes
1 pair of jeans (heavy and not easily dried, but I like them; a good alternative is khaki pants)
1 pair of shorts
1 bathing suit
5 T-shirts (Unbound Merino is my preferred company. If you're a member of NM+, you can get 15% off your purchase)
1 long-sleeved T-shirt
1 pair of flip-flops
1 pair of sneakers
6 pairs of socks (I always end up losing half)
5 pairs of boxer shorts (I'm not a briefs guy!)
1 toothbrush
1 tube of toothpaste
1 razor
1 package of dental floss
1 small bottle of shampoo
1 small bottle of shower gel
1 towel
Deodorant
Small Medical Kit (safety is important!!!)
Miscellaneous
Female Travel Packing List
I'm not a woman, so I don't know what a woman wears, but Kristin Addis, our solo female travel guru, wrote this list as an addition to the basics above:
Clothing
1 swimsuit
1 sarong
1 pair of stretchy jeans (they wash and dry easily)
1 pair of leggings (if it's cold, they can go under your jeans, otherwise with a dress or shirt)
2-3 long-sleeve tops
2-3 T-shirts
3-4 spaghetti tops
1 light cardigan
Toiletries
1 dry shampoo spray & talc powder (keeps long hair grease-free in between washes)
1 hairbrush
Makeup you use
Hair bands & hair clips
Feminine hygiene products (you can opt to buy there too, but I prefer not to count on it, and most people have their preferred products)
For more on packing, check out these posts:
Broome Travel Guide: Related Articles
Want more info? Check out all the articles I've written on Australia travel and continue planning your trip: