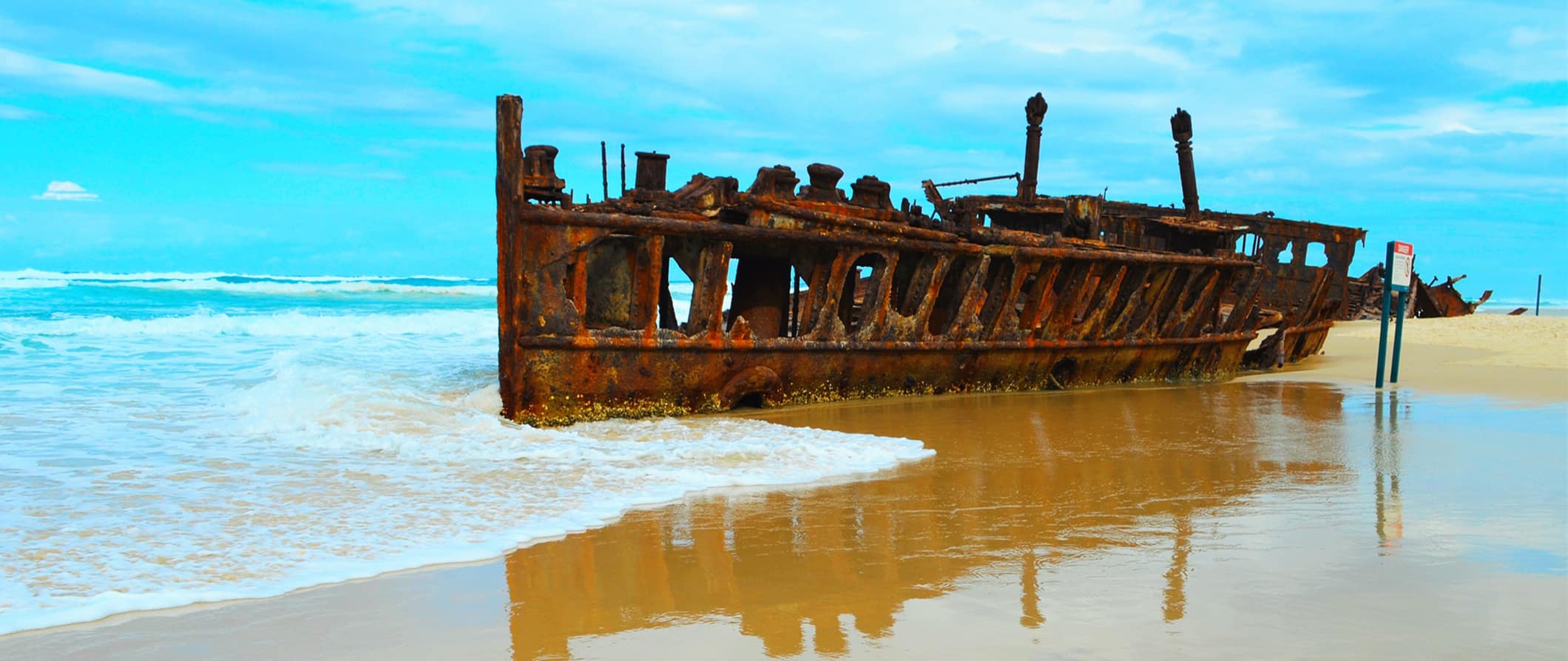 Fraser Island, in Queensland, is the largest sand island in the world!
Fraser Island is a place of exceptional beauty, with its long uninterrupted white beaches that are flanked by strikingly colored sand cliffs and 100 freshwater lakes.
Backpacking Fraser Island is one of the "must dos" on the Australian travel travel and you'll find a ton of people camping here.
But you'll also find a lot of locals here.
It's close proximity to the mainland makes it a popular destination for backpackers and locals alike, especially for those that love 4×4 drives and multi-day camping activities.
You definitely don't want to skip this place (but avoid the weekends when locals crowd the campgrounds and the small island seems like a small city).
You really only need a couple days there and this Fraser Island travel guide can help you plan your trip to this beautiuful part of Australia.
Top 5 Things to See and Do in Fraser Island
1. Lake MacKenzie
The jewel of the island, Lake MacKenzie, is a large lake with crystal blue waters and white shimmering sand. It's known as a "perched" lake, meaning it exists above the water table and is made up of pure rainwater only. No plant or animal life can exist in it. It's a natural wonder!
2. Maheno Shipwreck
In 1935, the retired passenger steamer Maheno was being towed to Japan for scrap when a storm forced it ashore. It was used for bombing tests during World War II and is now a rusty hunk of metal that's best seen during times of low-tide.
3. Seventy-Five Mile Beach
This length of beach stretches along the entire eastern side of the island and is considered the main road. Many of the island's best sights, such as the Coloured Sands, Eli Creek, and the Maheno Ship Wreck can be seen along the beach. You can see the entire stretch from Indian Head or up close while 4WD driving.
4. Indian Head
The rocky outcrop at the northern end of the main beach is great to climb, and then look down into the ocean to spot sharks, rays, and turtles. It's only a 20-minute walk to the top, but you should wear appropriate footwear as there is some loose rock and sometimes the trail is slippery. The view is worth it!
5. Lake Wabby
Wabby is a dark green colored lake about 20 minutes from the beach, with a large sand dune that is slowly encroaching upon the lake, and will eventually swallow the lake entirely. Freshwater turtles and fish can sometimes be seen swimming in the lake if you're lucky.
Other Things to See and Do in Fraser Island
1. Bathe in Champagne Pools
North of Indian Heads, these rock pools provide a safe place to bathe in the ocean — there are too many sharks around to do so safely otherwise! Their name is derived from the froth created when waves break over the edge and into the pools.
2. Eli Creek
This freshwater creek midway along the main beach is where swimmers can float down with the current (bring an inner tube if you can!). A boardwalk provides easy access to the top of the creek. It's also a popular spot for picnicking.
3. Hammerstone Sandblow
This huge sand dune will make you suddenly feel like you are in a desert. It just seems to go on forever and begins in a section of rainforest and ends at Lake Wabby. This trek is definitely better–suited for those who are athletic and fit due to the softness of the sand. It's about a 3-mile (4.6 kilometers) trek, return.
4. Wanggoolba Creek
In the middle of the rainforest, the Wanggoolba Creek runs crystal clear and is surrounded by rare King Ferns that are said to have existed here for over 2,500 years! Unfortunately, due to human destruction, only 60 are left but that's still enough for you to earn some appreciation for their beauty! This site is sacred to the Butchulla people as a birthing area for the women. It's peaceful and the trail along the creek makes for a serene walk.
5. Look for dingos
Fraser Island has a healthy dingo population of about 200. They're beautiful animals, native to Australia, and they're a protected species. Seeing them in their natural habitat is certainly a privilege – and no, you shouldn't be afraid of them (but you shouldn't approach them either). Observe from afar, and enjoy their presence!
For more information on specific destinations, check out these guides!
Fraser Island Travel Costs
Hostel prices – There are no hostels on Fraser Island — only resorts, and they are stupidly overpriced. There are hostels nearby on the mainland with beds from $26 AUD ($18 USD), and they have organized tours to the island. The majority of people camp out on Fraser Island, which you can do all over the island. You'll need a camping permit ($6.15 AUD/$4.35 USD per night) from the Department of National Parks, Recreation, Sport, and Racing, which you can get before you go.
Budget hotel prices – Hotels are pretty expensive on Fraser Island, starting around $128 AUD ($90 USD) and becoming increasingly more expensive especially when it comes to resorts. If you're booking through a search engine like Booking.com, make sure the accommodation is actually on the island first. Most listings include the mainland.
Average cost of food – You'll need to brng your own food unless you are staying at the resorts, where it is provided for you. Groceries in this part of Australia cost about $70 AUD ($50 USD) a week, but if you are splitting the cost of a few days camping, this is the way to go. You'll also need to factor in bringing your own water. You can eat at the resort restaurants even if you're not a guest, but even the most casual places will have burgers or pizzas costing between $20-45 AUD ($14-32 USD).
Backpacking Fraser Island Suggested Budgets
How much does it cost to visit Fraser Island?
Once you're on the island, all the activities are free! Your largest expenses will come from whether you rent a 4WD vehicle or if you choose to hop on an organized tour. A boat tour from Hervey Bay to Fraser Island starts from $177 AUD ($125 USD), while a two-day trip starts from about $400 AUD ($285 USD).
On a backpacker budget, you can do it for $190 AUD ($135 USD) per day. This is if you're booking a 4WD for three people (approximately $160 AUD/$115 USD per person per day for the rental, ferry crossing, and estimated fuel costs), camping, and cooking at the campsite.
On a mid-range budget of about $200 AUD ($143 USD) per day, you can hop on a two-day tour organized from the mainland. This will be fairly no frills, but it'll cover all the big expenses like the ferry crossing and getting around. For the sake of convenience, it's a great idea! I recommend Kingfisher Tours or Fraser Explorer Tours.
On a luxury budget of $690+ AUD/$495+ USD, you can stay at one of the resorts, rent a 4WD to get around, and eat at restaurants for all your meals (although some resorts will include your food).
Accommodation
Food
Transportation
Attractions
Average Daily Cost
Backpacker
$5
$15
$115
$0
$135
Mid-Range
$0
$0
$0
$143
$143
Luxury
$135
$60
$300
$0
$495+
Fraser Island Travel Guide: Money Saving Tips
Fraser Island is definitely not a cheap place to visit, especially if you're stayin at a resort or doing a tour. However, if you go on your own and with friends, there are lots of ways to lower costs and split expenses. Here are some ways to save money when you visit Fraser Island:
Drink goon (box wine) – Goon is infamous on the Australian backpacker hostel trail. This cheap box of wine is the best way to drink, get a buzz, and save a lot of money at the same time. 4 liters typically costs $13 AUD/$10 USD (compared to a six pack of beer for the same price).
Cook often – Again, eating out is not cheap. The best way to reduce your costs is to cook as many meals as possible. Pick up all your supplies before you cross over to the island (including water).
Split expenses for a 4WD – You need to have a 4WD to explore Fraser Island, but those aren't cheap. Make some new friends to split the expenses with, and you'll save a fortune.
Book tours as a package – If you're traveling solo, an organized tour is actually one of the more affordable ways to see Fraser Island.
Go during low season – Prices are always more expensive during peak season, including the barge crossing with your 4WD ($200 AUD/$152 USD instead of $175 AUD/$125).
Where To Stay on Fraser Island
Here are some of my recommended places to stay on/near Fraser Island:
How to Get Around Fraser Island
The only ways to get around the island are with a 4WD vehicle or as a part of a guided tour. The lowest price you'll find for a 4WD rental is $180 AUD ($128 USD) per day. You can take the Kingfisher Bay Ferry departing at River Heads from Hervey Bay, which takes about 50 minutes. It's not cheap. The standard price is $175 AUD ($124 USD) per 4WD vehicle during low season (including up to 3 passengers) and $199 AUD ($141 USD) during peak season. Walk on is $60 AUD ($43 USD) return.
You can book a 4WD with a regular car hire company like Avis, but there's also a smaller family-owned operation in Hervey Bay named Aussie Trax.
Note: It's recommended to book your ferry passage with Kingfisher Bay Ferry in advance!
There are lots of guided tour options for backpackers, and hostels on the mainland will often help you arrange your booking. They can range from day trips to multi-day trips. They're not cheap, but they cover all the essentials: your crossing to the island, accommodations, activities, etc. I recommend Kingfisher Tours or Fraser Explorer Tours.
When to Go to Fraser Island
Fraser Island is warm year-round. Winter is from May to August, with temperatures ranging from 55-77°F (14-25°C). It's driest during this time, so the chances of experiencing rainfall are slim. The summer season is from September until the end of April, where temperatures climb into the high 80s°F (30s°C). Because the island has a subtropical climate, occasional storms are sometimes a risk. Be prepared for ferry delays or getting stuck on the island (e.g. have some spare cash on hand).
While the summer months will be the warmest, they will also be the busiest. Consider going in the shoulder season so you can enjoy warmer temperatures without the crowds. Prices are cheaper in the off-season too; even the fare for the ferry is lower during this time.
How to Stay Safe in Fraser Island
Fraser Island is an incredibly safe place to backpack and travel.
Most incidents on Fraser Island tend to occur because visitors are not used to the island's unique climate and wilderness. Be sure you have plenty of sunscreen, and stay as hydrated as possible. If you're hiking, make sure you know what to expect ahead of time. Be on the lookout for snakes and spiders, and if you're bitten, seek immediate care. (Don't worry though – all those horror stories about giant spiders and vicious animals are pretty rare!) Furthermore, if you're swimming, heed the red and yellow flags. Yellow flags indicate swimming conditions may be dangerous; red flags mean the beach is closed.
There's a slim chance you may encounter wild dingos on your visit – keep your distance, respect their territory, and don't run away. The Department of National Parks advises facing the dingo(s) and backing away slowly, and if you're traveling with another person, stand back to back.
Mother nature on Fraser Island is NOT a force to reckoned with.
The most important piece of advice I can offer is to purchase good travel insurance. Travel insurance will protect you against illness, injury, theft, and cancellations. It's comprehensive protection in case anything goes wrong. I never go on a trip without it as I've had to use it many times in the past. You can use the widget below to find the policy right for you:
Fraser Island Travel Guide: The Best Booking Resources
Below are my favorite companies to use when I travel to Fraser Island. They are included here because they consistently turn up the best deals, offer world-class customer service and great value, and overall, are better than their competitors.
Fraser Island Gear and Packing Guide
If you're heading to Fraser Island, here are my suggestions for the best travel backpack and tips on what to pack.
The Best Backpack for Fraser Island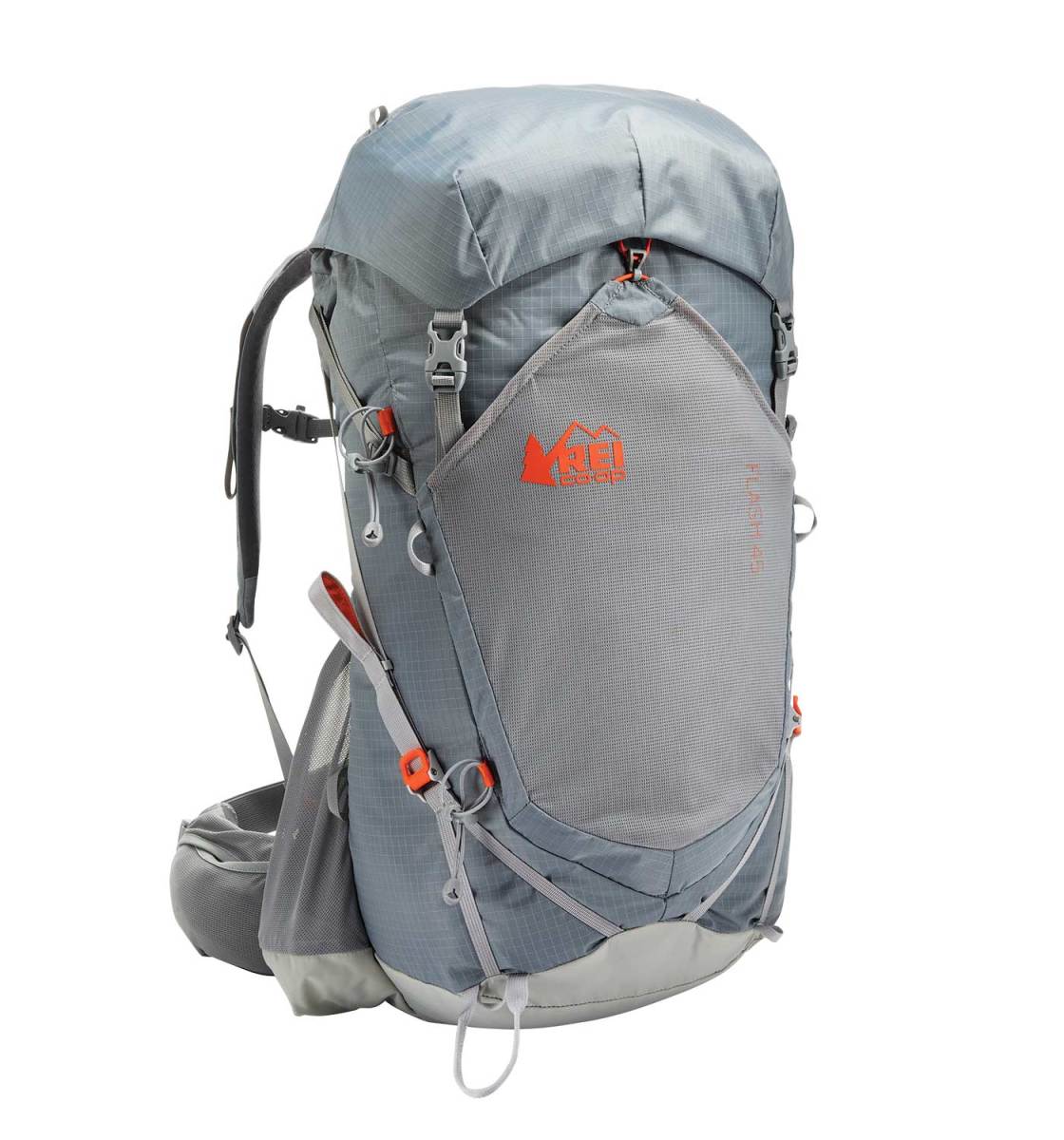 What's the best backpack for traveling around Fraser Island? I recommend the
REI Flash 45 Pack
. It's light and comfy, front loading, and fits perfectly in an airplane's overhead bin.
Size:
45-47L
Straps:
Thick and cushy with compression technology that pulls the pack's load up and inwards so it doesn't feel as heavy.
Features:
Removable top lid, large pocket at the front, hydration compatible, contoured hip belt
If you want something different, refer to my article on how to choose the best travel backpack for other suggestions and tips on how to pick the best one.
What to Pack for Fraser Island
Clothes
1 pair of jeans (heavy and not easily dried, but I like them; a good alternative is khaki pants)
1 pair of shorts
1 bathing suit
6 T-shirts
1 long-sleeved T-shirt
1 pair of flip-flops
1 pair of sneakers
6 pairs of socks (I always end up losing half)
5 pairs of boxer shorts (I'm not a briefs guy!)
1 toothbrush
1 tube of toothpaste
1 razor
1 package of dental floss
1 small bottle of shampoo
1 small bottle of shower gel
1 towel
Deodorant
Small Medical Kit (safety is important!!!)
Miscellaneous
Female Travel Packing List
I'm not a woman so I don't know what a woman wears, but Kristin Addis, our solo female travel guru, wrote this list as an addition to the basics above:
Clothing
1 swimsuit
1 sarong
1 pair of stretchy jeans (they wash and dry easily)
1 pair of leggings (if it's cold, they can go under your jeans, otherwise with a dress or shirt)
2-3 long-sleeve tops
2-3 T-shirts
3-4 spaghetti tops
1 light cardigan
Toiletries
1 dry shampoo spray & talc powder (keeps long hair grease free in between washes)
1 hairbrush
Makeup you use
Hair bands & hair clips
Feminine hygiene products (you can opt to buy there too, but I prefer not to count on it, and most people have their preferred products)
For more on packing, check out these posts:
My Must Have Guides for Traveling to Fraser Island
Australia Travel Guide: Related Articles
Want more info? Check out all the articles I've written on Australia travel and continue planning your trip: