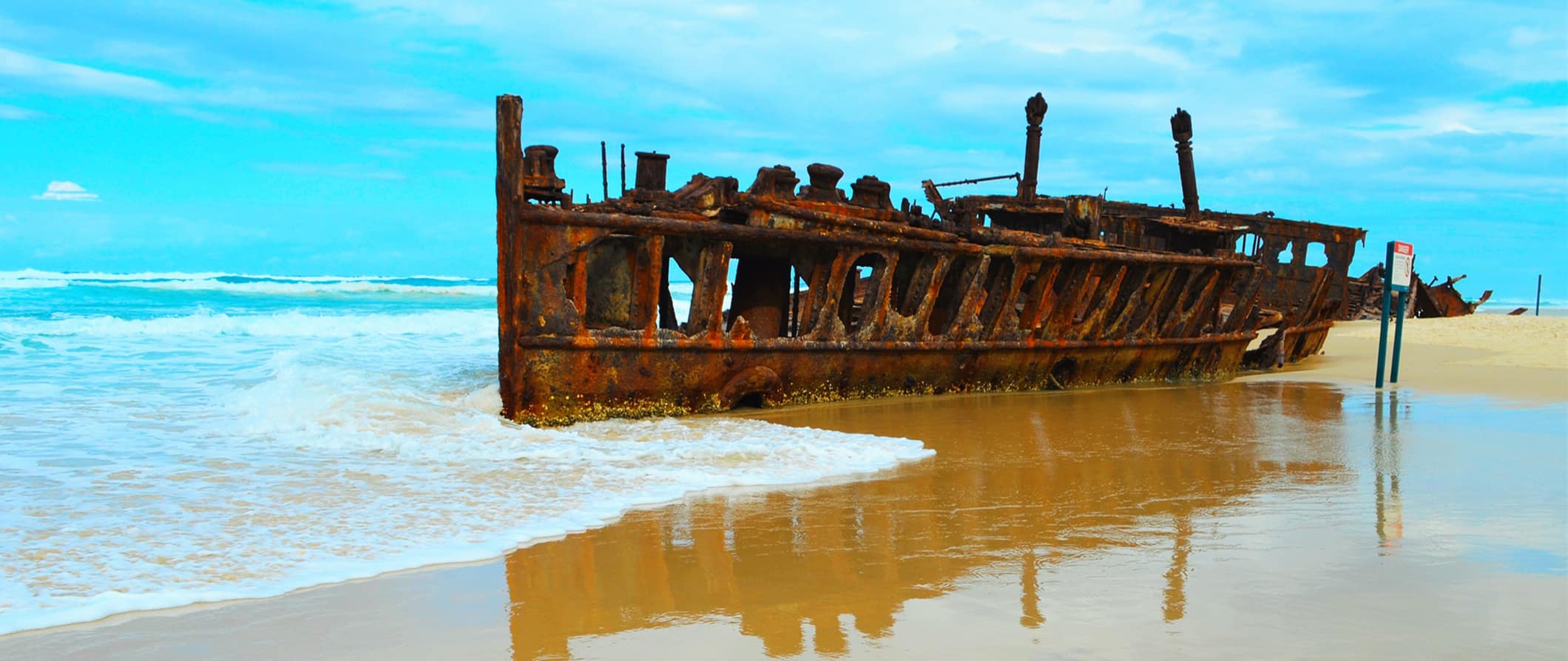 Fraser Island, in Queensland, is the largest sand island in the world! Fraser is a place of exceptional beauty, with its long uninterrupted white beaches that are flanked by strikingly colored sand cliffs and 100 freshwater lakes. It is a very popular destination for backpackers and locals alike, especially for those that love 4×4 drives and multi-day camping activities. Just watch out for all the wild dingos! You definitely don't want to skip this place (but avoid the weekends when locals crowd the camp ground and the small island seems like a small city).
Top 5 Things to See and Do on Fraser Island
1. Lake MacKenzie
The jewel of the island, Lake MacKenzie, is a large lake with crystal blue waters and white sand. Because of its beauty and popularity, it can get crowded during the middle of the day during peak season.
2. Maheno Shipwreck
In 1935, the retired passenger steamer Maheno was being towed to Japan for scrap when a storm forced it ashore. It was used for bombing tests during World War II and is now a rusty hunk of metal that's best seen during times of low-tide.
3. Seventy-Five Mile Beach
This length of beach stretches along the entire eastern side of the island and is considered the main road. Many of the island's best sights, such as the Coloured Sands, Eli Creek, and the Maheno Ship Wreck can be seen along the beach. You can see the entire stretch from Indian Head or up close while 4WD driving.
4. Indian Head
The rocky outcrop at the northern end of the main beach is great to climb, and then look down into the ocean to spot sharks, rays, and turtles.
5. Lake Wabby
Wabby is a green colored lake about 20 minutes from the beach, with a large sand blow that is slowly encroaching upon the lake. Freshwater turtles and fish can sometimes be seen swimming in the lake if you're lucky.
Other Things to See and Do
(Click the title to expand the text)
1. Bathe in Champagne Pools
North of Indian Heads, these rock pools provide a safe place to bathe in the ocean — there are too many sharks around to do so safely otherwise! Their name is derived from the froth created when waves break over the edge and into the pools.
2. Eli Creek
This freshwater creek midway along the main beach is where bathers can float down with the current. A boardwalk provides easy access to the top of the creek.
3. Hammerstone Sandblow
This huge sand dune will make you suddenly feel like you are in a desert. It just seems to go on forever and begins in a section of rainforest and ends at Lake Wabby. This trek is definitely better–suited for those who are athletic and fit.
4. Wanggoolba Creek
In the middle of the rainforest, the Wanggoolba Creek runs crystal clear and is surrounded by rare King Ferns that are said to have existed here for over 2,500 years! Unfortunately, due to human destruction, only 60 are left but that's still enough to give you an idea!
Typical Costs
Hostel prices
– There are no hostels, only resorts on the island (they are stupidly overpriced). The majority of people come here to camp, which you can do all over the island. You'll need a camping permit (5.95 AUD per night) from the Department of National Parks, Recreation, Sport, and Racing, which you can get before you go.
Budget hotel prices – Hotels are pretty expensive on actual Fraser Island, starting around 350 AUD.
Average cost of food – Plan on bringing your own food unless you are staying at the resorts, where it is provided for you. Groceries in this part of Australia cost about 70 AUD a week, but if you are splitting the cost of a few days camping, this is the way to go. You'll also need to factor in bringing your own water.
Transportation costs – The only ways to get around the island are with a 4-WD vehicle or as a part of a guided tour. The lowest price you'll find for a 4WD rental is 180 AUD per day.
Suggested daily budget
30 AUD / 22 USD (Note: This is a suggested budget assuming you're splitting the cost of camping, bringing your own meals, and walking around. Using the budget tips below, you can always lower this number. However, if you stay in fancier accommodation or eat out more often, expect this to be higher!)
Money Saving Tips
Take a guided tour – There are only two ways to see Fraser Island due to its remote nature: You can visit the island through a 1 or 2 day guided tour. These tours leave from Hervey Bay or Rainbow Beach and drive you around in a 4WD bus to see all the major sites. They typically start around 190 AUD and include hotel picks, food, accommodation, park fees, and a guide. You can read about my island tour here.
Travel in groups – The most popular way, to visit the island is through a 4WD self-drive. For about 200 AUD, you'll join a group of other travelers for a 3-day, 2-night driving tour of the island. These tours let you choose where and when you go. If you are traveling alone, don't worry as you'll be put into a group of other travelers.
Drink goon (box wine) – Goon is infamous on the Australian backpacker hostel trail. This cheap box of wine is the best way to drink, get a buzz, and save a lot of money at the same time. Four liters of goon typically costs 13 AUD (compared to a six pack of beer for the same price). Drink this before you go out and save on spending money at the bar (where it is about 10 AUD per drink). Also, blow up the bag when you're done and have a little pillow to rest your head on!
My Must Have Guides For Traveling to Australia