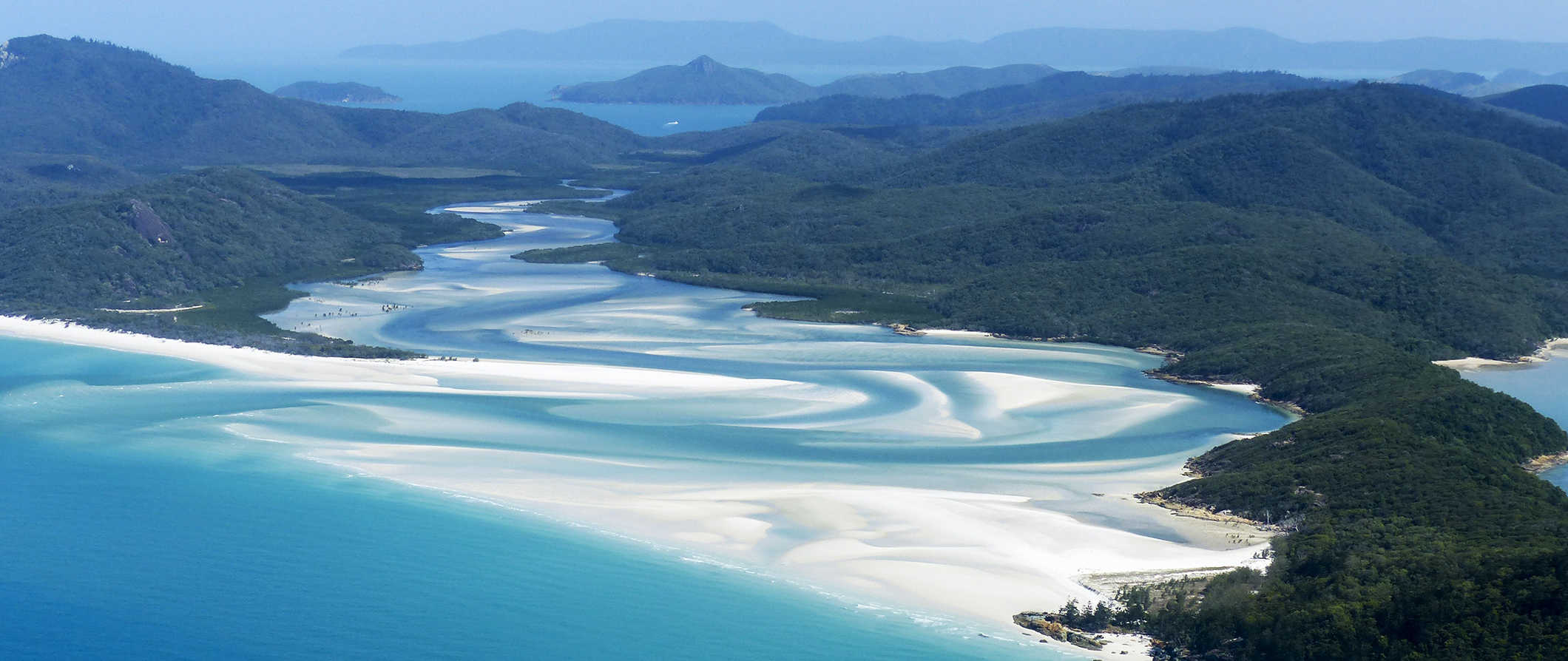 The Whitsunday Islands are a collection of islands off the central coast of Queensland, Australia that forms part of the Great Barrier Reef. The vast majority of these islands are designated national parks and major attractions include access to coral reefs for snorkeling and diving, pristine beaches (especially Whitehaven Beach), and clear aquamarine warm waters. The most popular way to see the islands is via a multi-day sailing tour (which is what I did). You go from island to island and sleep on a mono-haul sailboat. It was an incredible experience, especially the diving in the area! I love the Whitsundays and can easily see why half a million people visit a year.

The Whitsunday Islands
Top 5 Things to See and Do in the Whitsunday Islands
1. Whitehaven Beach
Whitehaven Beach is by far the most recognized beaches in the world. It stretches about 3 miles and consists of fine, brilliant white sand that's straight off a tourism brochure. It's one of the most beautiful beaches I've ever seen. It lives up to every expectation and I spent a lovely day enjoying this beach.
2. Birdwatch
Hook is the second largest island in the Whitsundays and a great place to see birds and wildlife. It is a frequent stop while on many of the boat tours that sail around the islands.
3. Scuba dive
The islands are known for their amazing diving, though reefs are best viewed during the summer time as the rainy season makes the water murky and visibility gets pretty bad. However, if you can see in front of you, you'll be able to spot a wide array of vibrant fish, coral, and sea turtles.
4. Hamilton Island
If you're looking to spend some time at a resort, this island is pretty developed and you'll find a lot of options here and plenty of companies offer you day tours. Personally, I found it too developed for me but I can see how it would be romantic if you were!
5. Explore Whitsunday Island
The largest island in the archipelago is home to the famous Whitehaven Beach. Most day trips come here to explore the dozens of little coves and inlets where people with yachts or boats can pull in away from it all. Many boats also go to Tongue Point, where there is a trail that leads to a lookout over Whitehaven.
Other Things to See and Do
(Click the title to expand the text)
1. Visit during Hamilton Island Race Week
During August, Race Week kicks off as hundreds of yachts — from 30-foot boats rented for the week to billion-dollar super yachts — compete in some serious racing. It's one of the biggest events of the year and attracts thousands of people coming to enjoy the festivities related to the event.
2. Explore Reef World
Located along a platform on the Great Barrier Reef, Reef World is basically a party on the water — complete with a submarine, undersea windows, a diving and snorkeling center, and even a helicopter platform. There are waterslides, swimming areas, and a restaurant. It's kind of a cheesy place to go, but it's cheesy fun where you can unleash your inner 6-year-old!
3. Take a resort vacation
The beauty of these islands has encouraged many resorts to pop up where you can enjoy an array of included accommodations. Many resorts offer package deals with sailing trips, swimming pools, golfing, arcades, snorkeling tours — the list is endless. There is a package for just about every price range and activity interest. It's Australia's version of a tropical island paradise.
Typical Costs
Hostel prices
– There are no hostels on the islands since people either stay in hotels or sail around on boats.
Budget hotel prices – Some of the larger islands have hotels, but they are not budget friendly. The hotels here are more like resorts and will cost a lot of money (200+ AUD per night). A more economical way to see the islands is to do a sailing tour which will include food and accommodation—and be a much more unique experience. A 2-day, 2-night sailing tour starts around 450 AUD. A 3-day, 2-night sailing trip starts around 540 AUD. The best way to save money on accommodation, by far, is Airbnb. On Airbnb, a private room in a home starts around 72 AUD. You can find entire homes starting around 100 AUD.
Average cost of food – If you're sailing, all food is provided on the boat. If you go on your own, you can buy food at the resorts and hotels, but at a high price. Most meals start at 20 AUD!
Transportation costs – Sailing trips leave daily from Airlie beach and usually include meals. You can take longer or shorter tours if you want, but a 2-day/2-night sailing tour starts around 450 AUD and a 3-day, 2-night sailing trip starts around 540 AUD. Read about my 3-day sailing trip for more details!
Suggested daily budget
$60-80 AUD / 43-57 USD (Note: This is a suggested budget assuming you're staying in a hostel, eating out a little, cooking most of your meals, and using local transportation. This also depends greatly on the number of tours you do! Using the budget tips below, you can always lower this number. However, if you stay in fancier accommodation or eat out more often, expect this to be higher!)
Money Saving Tips
Travel by ferry – Ferries are a good option if you plan to visit just one island. However, since there are mostly luxury resorts on the larger islands, it's still a better value to hop on a boat cruise. Plus, it's much more exciting!
BYOB – With the exception of day trips on large boats with licensed bars, you can bring your own alcohol on board — keep in mind though that most sailboats prohibit glass. To stick to your budget, most travelers bring a box of goon for the trip.
Couchsurf – Accommodation in Australia can be quite pricey. If you plan ahead, you can usually find really nice Couchsurfing hosts all throughout the country. This way, you not only have a place to stay, but you'll have a local host that can tell you the best places to go and things to see.
Camp out – If you enjoy being outdoors, there are about 21 campgrounds on the islands, and all you need is a camping permit that costs about 8 AUD per person per night. However, you'll need your own boat to get to these sites, and will also have to provide your own food.
My Must Have Guides For Traveling to Australia