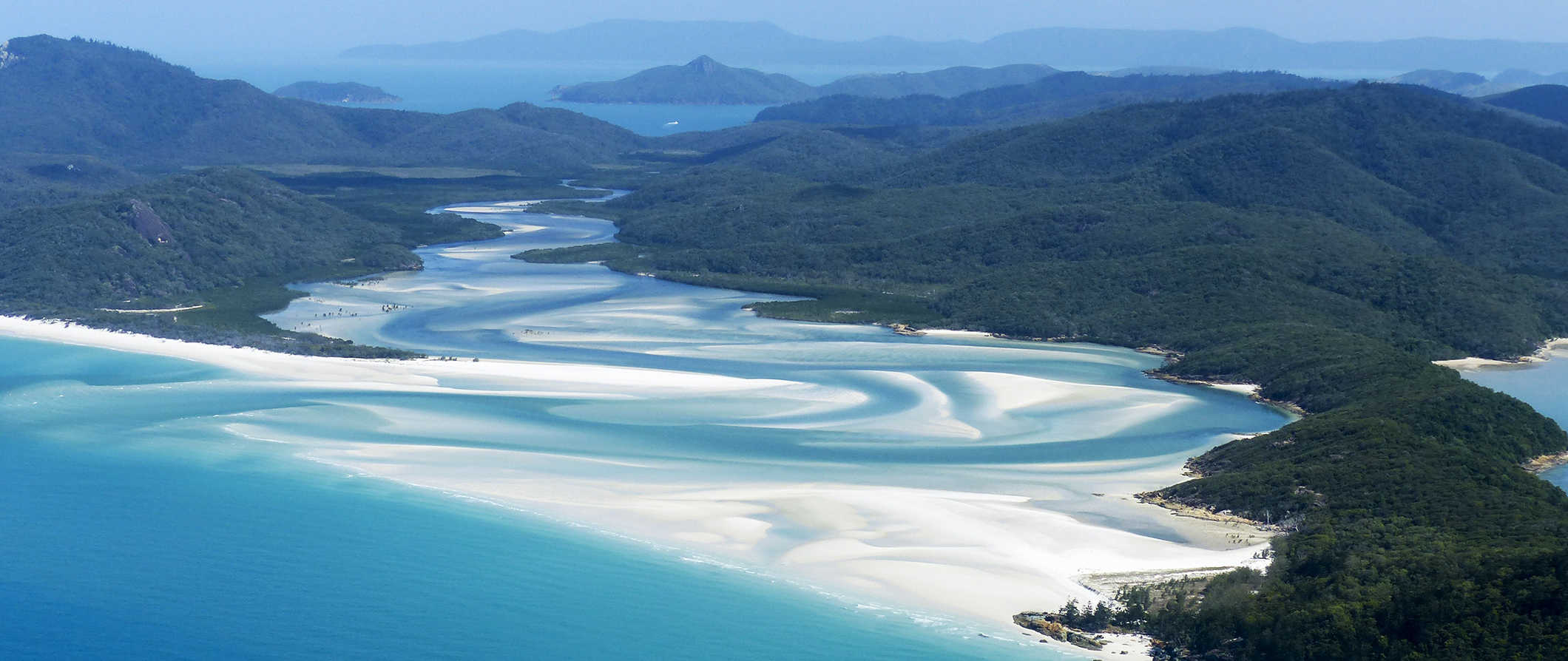 The Whitsunday Islands are a collection of islands off the central coast of Queensland, Australia and one of the most popular destinations in the country.
From backpackers visiting the islands on 2-3 day sailing trips to people traveling the Whitsundays on their own boat to those just staying at some of the resorts that dot the islands, anyone who goes up the east coast of Australia tends to stop here for a bit of time.
Since the vast majority of these islands are designated national parks, you're going to find some of the most pristine beaches and dive sites here. The coral reefs provide incredible snorkeling and diving, Whitehaven Beach is everything it's cracked up to be, and clear aquamarine warm waters are perfect for a swim.
I loved my multi-day sailing trip around the Whitsundays but no matter how you plan to visit these islands, this travel guide can help you determine what to see, how long to go for, how to save money, and everything in between!
Top 5 Things to See and Do in the Whitsunday Islands
1. Attend Race Week
During August, Hamilton Island's Race Week kicks off as hundreds of yachts — from 30-foot boats rented for the week to billion-dollar super yachts — compete in some serious racing. It's one of the biggest events of the year and attracts thousands of people coming to enjoy the festivities related to the event.
2. Go Birdwatching
The islands are home to many nesting sites and exotic bird species, like the curlew and the brolga. The brolga is the official state bird emblem of Queensland. Also keep an eye out for sulphur-crested cockatoos, terns, tattlers, reef egrets, sooty oyster-catchers, and white-bellied sea eagles (one of Australia's largest raptors).
3. Scuba dive
The islands are known for their amazing diving (reefs are best viewed during the summer time as the rainy season makes the water murky and visibility gets pretty bad). However, if you can see in front of you, you'll be able to spot a wide array of vibrant fish, coral, and sea turtles. A dives start from about $209 AUD ($150 USD).
4. Hamilton Island
If you're looking to spend some time at a resort, this island is pretty developed and you'll find a lot of options here and plenty of companies offer day tours. Personally, I found it too developed for me but I can see how it would be romantic if you were!
5. Explore Whitsunday Island
The largest island in the archipelago is home to the famous Whitehaven Beach. Most day trips come here to explore the dozens of little coves and inlets where people with yachts or boats can pull in away from it all. Many boats also go to Tongue Point, where there is a trail that leads to a lookout over Whitehaven.
Other Things to See and Do in the Whitsunday Islands
1. Explore Reef World
Reef World is basically a party on the water. It has a submarine, undersea windows, a diving and snorkeling center, and even a helicopter platform. There are waterslides, swimming areas, and a restaurant. It's like a water park but in the actual ocean, and sure, it's kind of a cheesy place, but it's cheesy fun. Unleash your inner 6-year-old! A day trip from the mainland starts from $273 AUD ($195 USD).
2. Take a resort vacation
The beauty of these islands has encouraged many resorts to pop up in the last decade. Most resorts offer package deals with sailing trips, swimming pools, golfing, arcades, and snorkeling tours. If you aren't interested in sailing around the island and would rather just stay in one place and take small side trips to the other islands, the resorts are your best bet. Live in luxury for a bit!
3. Fly over Heart Reef
Ever see that famous photo of a reef shaped like a heart? Well, that's here! While definitely not a budget activity, booking a helicopter tour over the reef is something special. A ride will cost you about $500 AUD ($358 USD). Otherwise, a small plane tour will cost about $250 AUD ($178 USD).
4. Hike to Passage Peak
There aren't a whole lot of walking trails in the Whitsundays as it's mostly a place for water-based activities but, if you want to get some exercise, head to the top of Passage Peak on Hamilton Island. It's an easy 45-minute trek, and the view at the top of the island chain is perfect. It's the best hike in the Whitsundays.
5. Go Sailing
Visiting the Whitsundays on a sailboat is one of the best ways to experience the islands. You'll get to poke around in a lot of remote places, including some ideal snorkeling spots. Prices start at about $165 AUD ($118 USD) for a full-day tour, or you can choose a liveaboard dive option starting from about $350 AUD ($250 USD) for 2 days 1 night. You can book tours on the mainland from Airlie Beach.
Whitsunday Islands Travel Costs
Hostel prices – There are no hostels on the islands since people either stay in hotels or sail around on boats. (When you're searching for hostels, you're likely to come across some on Airlie Beach as the main launching point for visiting the Whitsundays, but it isn't actually in the islands!)
You can camp on the islands though. There are about 21 campgrounds on the islands. A camping permit costs $6.55 AUD ($4.70 USD) per person per night. However, you'll need your own boat to get to these sites, and will also have to provide your own food.
Budget hotel prices – Some of the larger islands have hotels, but they are not budget friendly. The hotels here are more like resorts and most start at $200 AUD ($143 USD) per night on Hamilton Island.
A more economical way to see the islands is to do a sailing tour which will include food and accommodation — and it'll be a much more unique experience. A 2-day, 1-night sailing tour starts around $350 AUD ($250 USD). A 3-day, 2-night sailing trip starts around $540 AUD ($386 USD). Usually, these tours start from Airlie Beach on the mainland.
Even Airbnb is expensive here as there are very few single rooms available, and full apartments start around $200 AUD ($178 USD) per night.
Average cost of food – If you're sailing, all food is provided on the boat, but you'll have to bring your own alcohol. If you go on your own, you can buy food at the resorts and hotels. Most meals start at $20 AUD ($14 USD) on Hamilton Island! However, there are also a few casual and take-away spots where you can grab a sandwich or a bagel for between $10-12 AUD ($7-9 USD). If you are sailing around, it's best to bring your own food from the mainland.
Backpacking the Whitsunday Islands: Suggested Budgets
The cheapest way to see the Whitsundays is by hopping on a sailing trip, which works out to be about $180 AUD ($128 USD) per day (based on a 3-day, 2-night sailing trip). This covers your transportation from Airlie Beach, food, all sightseeing and activities (like snorkeling), and basically everything you need to have an amazing time in the Whitsunday Islands. (Remember: booze isn't included in your sailing trip. Pick up a box of goon!)
This how most backpackers get around and, while it's not cheap, most travelers plan in advance for this and splurge on this activity.
On a mid-range budget of about $395 AUD ($277 USD), you can take a ferry from Airlie to Hamilton Island, stay in a resort or rent an Airbnb apartment, eat takeaway food or grab meals at local cafes (combined with cooking some of your meals, if possible), and even do a full-day sailing tour from your hotel.
On a luxury budget of $875+ AUD ($611+ USD), you can take a ferry from Airlie to Hamilton Island, book a stay in a super high-end resort, eat out for all your meals (and have a cocktail with your dinner), and hire a buggy to get around Hamilton. You can also participate in just about any tour you want: a full-day sailing trip, a flight over the Heart Reef, or even learn how to dive. At this price point, the biggest expensive is accommodation and tours/diving. If you lower your activities, you can save some money but, then again, if you're here to live the good life, saving money isn't your highest priority, I bet?
Accommodation
Food
Transportation
Attractions
Average Daily Cost
Backpacker
$0
$0
$0
$180
$180
Mid-Range
$143
$30
$44
$60
$277
Luxury
$300
$80
$53
$178
$611+
Whitsunday Islands Travel Guide: Money Saving Tips
The Whitsunday Islands are definitely not a budget destination. A visit here requires lots of planning and preparation. However, there are some ways to save money in the Whitsunday Islands:
Travel by ferry – Ferries are a good option if you plan to visit just one island. However, since there are mostly luxury resorts on the larger islands, it's still a better value to hop on a boat cruise. (See the next section for costs.)
BYOB – With the exception of day trips on large boats with licensed bars, you can bring your own alcohol on board. To stick to your budget, most travelers bring a box of goon (cheap wine) for the trip.
Couchsurf – Accommodation in Australia can be quite pricey. If you plan ahead, you can usually find a couple of Couchsurfing hosts in the Whitsunday Islands.
Camp – If you enjoy being outdoors, there are about 21 campgrounds on the islands. It's the cheapest ways to see stay on the islands! However, you'll need your own boat to get to these sites, and will also have to provide your own food.
Where To Stay in the Whitsunday Islands
There are no hostels in the Whitsunday Islands. If you want to stay at a resort on the cheaper end (which still starts from $320 AUD/$230 USD), here are a few recommendations:
How to Get Around the Whitsunday Islands
Sailing – Sailing is the best way, hands down, to see the Whitsunday Islands. Sailing trips leave daily from Airlie beach and usually include meals. You can take longer or shorter tours if you want, but 2-day, 1-night sailing tour starts around $350 AUD ($250 USD), while a 3-day, 2-night sailing trip starts around $540 AUD ($386 USD). Read about my 3-day sailing trip for more details!
Ferry – Cruise Whitsundays is the main ferry operator running transfers in the Whitsundays, providing transfers between Daydream Island, Hamilton Island, and Airlie Beach (on the mainland). The ferry between the Airlie and the Hamilton Island costs $62 AUD ($44 USD) each way and the ferry between the Whitsunday airport (yes, there's a small airport here) and the Hamilton Island is $83 AUD ($59 USD).
Buggy Rental – On Hamilton Island, you can rent buggies to get around. Prices start at $59 AUD ($42 USD) for two hours, $69 AUD ($49 USD) for four hours, or $87 AUD ($62 USD) per 24 hours.
When to Go to the Whitsunday Islands
The best time of year to visit the Whitsunday Islands is in September, when there's near constant sunshine, very little rainfall, and the temperature maxes out at 79°F (26°C). The humidity isn't too high, and the water is ideal for watersports (like snorkeling and swimming). (A lot of people prefer to do sailing trips during this time.)
The winter months (from June through August) is also a good time to visit, with comfortable temperatures hovering around 75°F (24°C) each day. However, the water can be quite chilly. If you're not too keen on spending time in the water, this shouldn't be a problem.
Australia's summer months are hot and humid, so most people prefer to avoid the islands during this time. Temperatures are high from December through February, and there is the possibility of cyclones. October through May is also known as "stinger season," when the box jellyfish and the Irukandji are abundant and can give you a potentially fatal sting. (Protective suits are available if you need one.)
How to Stay Safe in the Whitsunday Islands
The Whitsunday Islands are very safe. Your problem won't be scams or theft or anything like that.
It's going to be nature.
The Whitsunday Islands' unique climate and wilderness does offer some potential risks. October through May is known as "stinger season," when the box jellyfish and the Irukandji are plentiful and can deliver a seriously painful sting (or even a potentially fatal one). Be sure you have plenty of sunscreen, and stay as hydrated as possible. Bring mosquito repellant. Be on the lookout for snakes and spiders, and if you're bitten, seek immediate care. Furthermore, if you're swimming, heed the red and yellow flags. Yellow flags indicate swimming conditions may be dangerous; red flags mean the beach is closed.
The tropical climate here means unexpected storms may pop up, including cyclones. Be sure to check the weather forecast in advance before you do any activities. You do not want to be stranded in a tropical storm!
The national park services also advise against swimming in Cid Harbour, as a number of shark attacks have been reported there in recent years.
The most important piece of safety advice I can offer is to purchase good travel insurance. Travel insurance will protect you against illness, injury, theft, and cancellations. It's comprehensive protection in case anything goes wrong. I never go on a trip without it as I've had to use it many times in the past. You can use the widget below to find the policy right for you:
The Whitsunday Islands Travel Guide: The Best Booking Resources
Below are my favorite companies to use when I travel to Australia and the Whitsunday Islands. They are included here because they consistently turn up the best deals, offer world-class customer service and great value, and overall, are better than their competitors.
Momondo – This is my favorite flight search engine because they search such a wide variety of sites and airlines. I never book a flight without checking here first.
Skyscanner – Skyscanner is another great flight search engline which searches a lot of different airlines, including many of the budget carriers that larger sites miss. While I always start with Momondo, I use this site too as a way to compare prices.
Booking.com – The best all around booking site that constantly provides the cheapest and lowest rates. They have a no money down policy, great interface, and the widest selection of budget accommodation. In all my tests, they've always had the cheapest rates out of all the booking websites.
Airbnb – Airbnb is a great accommodation alternative for connecting with homeowners who rent out their homes or apartments. There may not be a lot of Airbnb options in the Whitsunday Islands, but you never know when you might score a great deal. (If you're new to Airbnb, get $35 off your first stay!)
Rome 2 Rio – This website allows you to see how to get from point A to point B the best and cheapest way possible. Just enter your departure and arrival destinations and it will give you all the bus, train, plane, or boat routes that can get you there as well as how much they cost. One of the best transportation website out there!
hamiltonisland.co.au – This is a booking portal for many accommodations and activities in the Whitsunday Islands, and sometimes they offer special discounts or packages. You can sign up for the newsletter ahead of time!
World Nomads – I buy all my travel insurance from World Nomads. They have great customer service, competitive prices, and in-depth coverage. I've been using them since I started traveling in 2003. Don't leave home without it!
The Whitsunday Islands Gear and Packing Guide
In this section, I'll give you my suggestion for the best travel backpack and tips on what to pack when you visit the Whitsunday Islands.
The Best Backpack for the Whitsunday Islands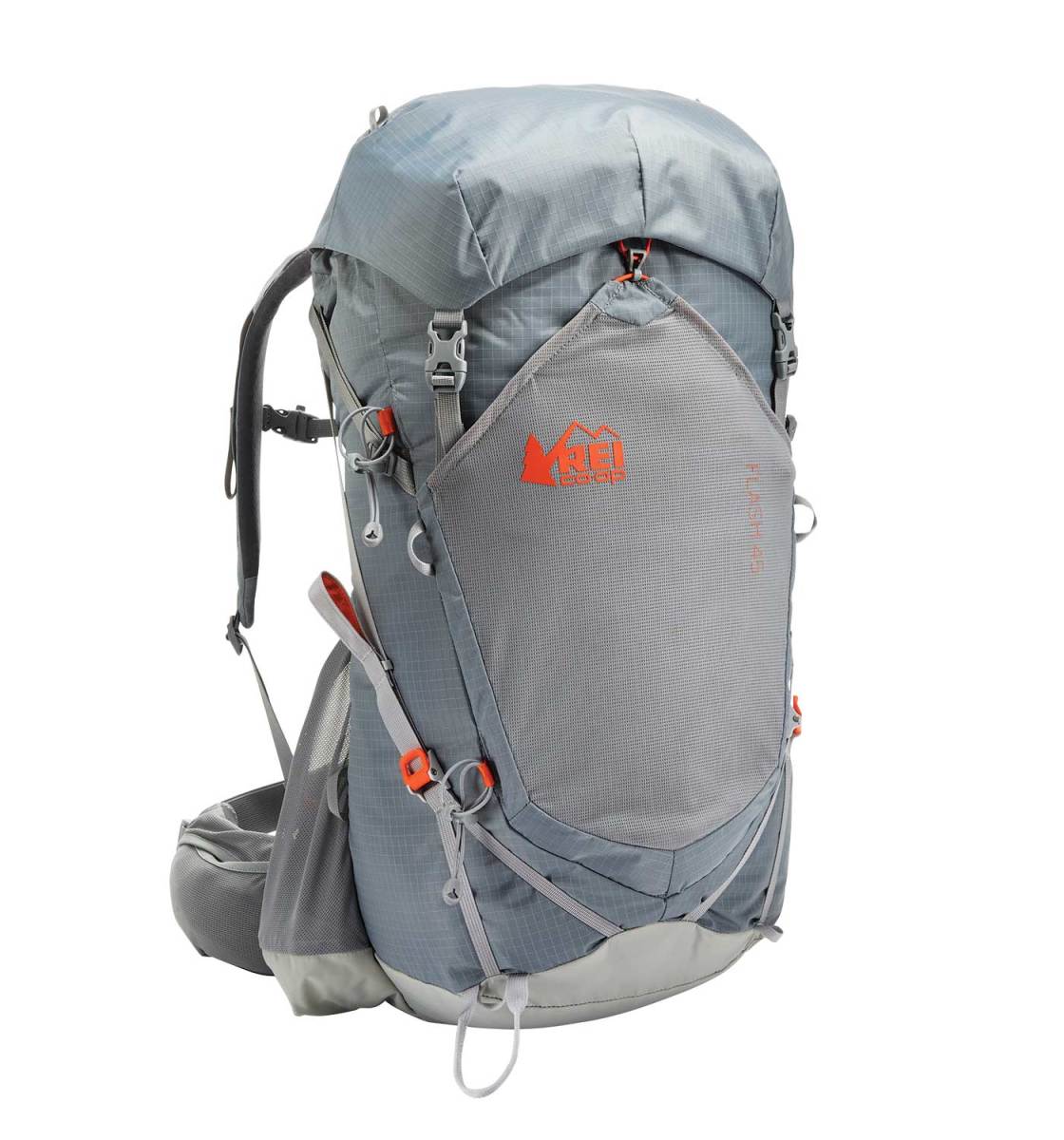 What's the best backpack for traveling around the Whitsunday Islands? I recommend the
REI Flash 45 Pack
. It's light and comfy, front loading, and fits perfectly in an airplane's overhead bin.
Size:
45-47L
Straps:
Thick and cushy with compression technology that pulls the pack's load up and inwards so it doesn't feel as heavy.
Features:
Removable top lid, large pocket at the front, hydration compatible, contoured hip belt
If you want something a different backpack, refer to my article on how to choose the best travel backpack with more tips, advice, and backpack suggestions!
What to Pack for the Whitsunday Islands
Clothes
1 pair of jeans (heavy and not easily dried, but I like them; a good alternative is khaki pants)
1 pair of shorts
1 bathing suit
6 T-shirts
1 long-sleeved T-shirt
1 pair of flip-flops
1 pair of sneakers
4 pairs of socks (I always end up losing half)
3 pairs of boxer shorts (I'm not a briefs guy!)
1 toothbrush
1 tube of toothpaste
1 razor
1 package of dental floss
1 small bottle of shampoo
1 small bottle of shower gel
1 towel
Deodorant
Small Medical Kit (safety is important!!!)
Miscellaneous
Female Travel Packing List
I'm not a woman so I don't know what a woman wears, but Kristin Addis, our solo female travel guru, wrote this list as an addition to the basics above:
Clothing
1 swimsuit
1 sarong
1 pair of stretchy jeans (they wash and dry easily)
1 pair of leggings (if it's cold, they can go under your jeans, otherwise with a dress or shirt)
2-3 long-sleeve tops
2-3 T-shirts
3-4 spaghetti tops
1 light cardigan
Toiletries
1 dry shampoo spray & talc powder (keeps long hair grease free in between washes)
1 hairbrush
Makeup you use
Hair bands & hair clips
Feminine hygiene products (you can opt to buy there too, but I prefer not to count on it, and most people have their preferred products)
For more on packing, check out these posts:
My Must Have Guides for Traveling to the Whitsunday Islands
The Whitsunday Islands Travel Guide: Related Articles
Want more info? Check out all the articles I've written on Australia travel and continue planning your trip: