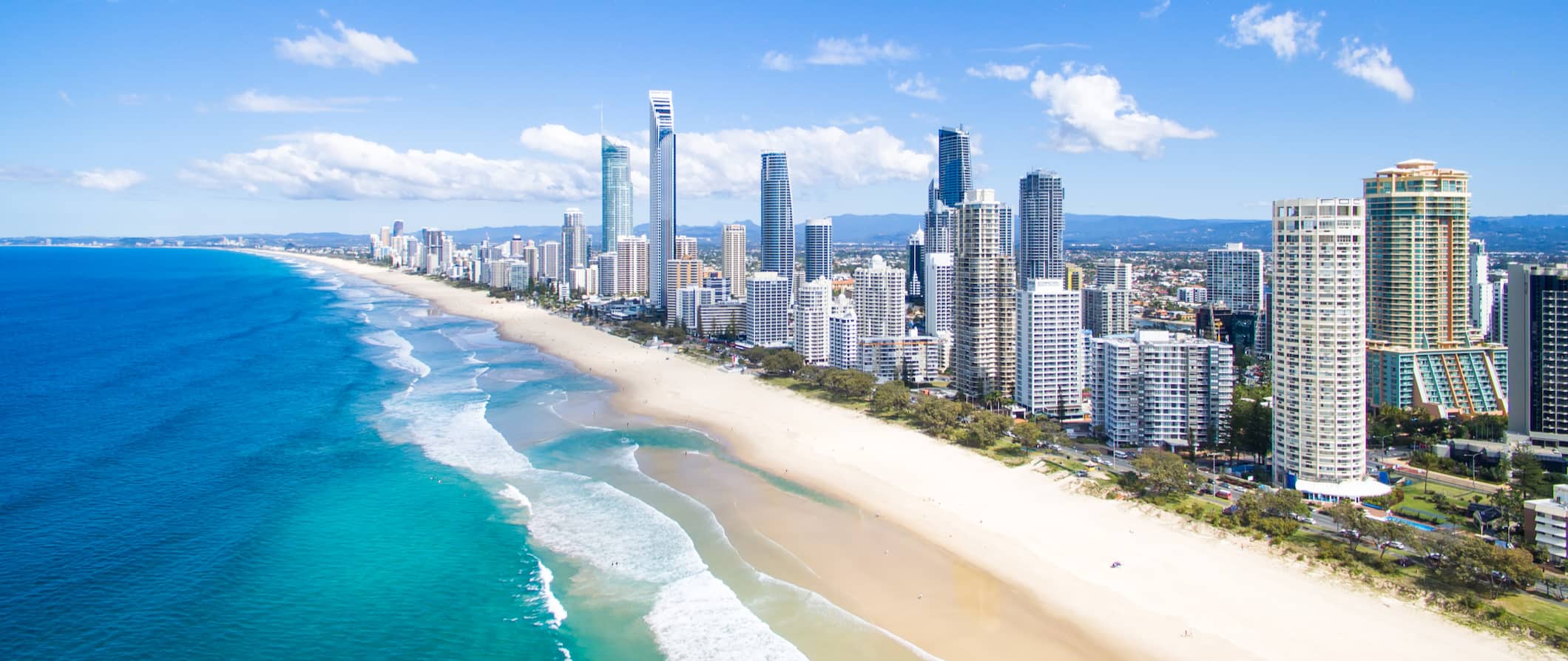 The Gold Coast, Australia is east of Brisbane and is know for its sunny subtropical climate, surfing, beaches, a rainforest hinterland, and wild nightlife.
For most travelers, visiting the Gold Coast means spending time in the most famous city in the area, Surfers Paradise (a name which dates all the way back to 1917). This is a major stop for travelers and backpackers looking to get some sun, surf, and spend time partying.
Surfers (as it's colloquially known) is a fun place to visit but my advice is to avoid spending a lot of time here and head to some of the better, less crowded cities like Burleigh Heads and Coolangatta instead. When you get out of the city, you get to see a lot of nicer beaches, watering holes, local spots, and places with cheaper prices (and fewer tourists).
This Gold Coast travel guide will help you plan your trip, save money, and make the most of your time in the popular getaway destination!
Top 5 Things to See and Do on the Gold Coast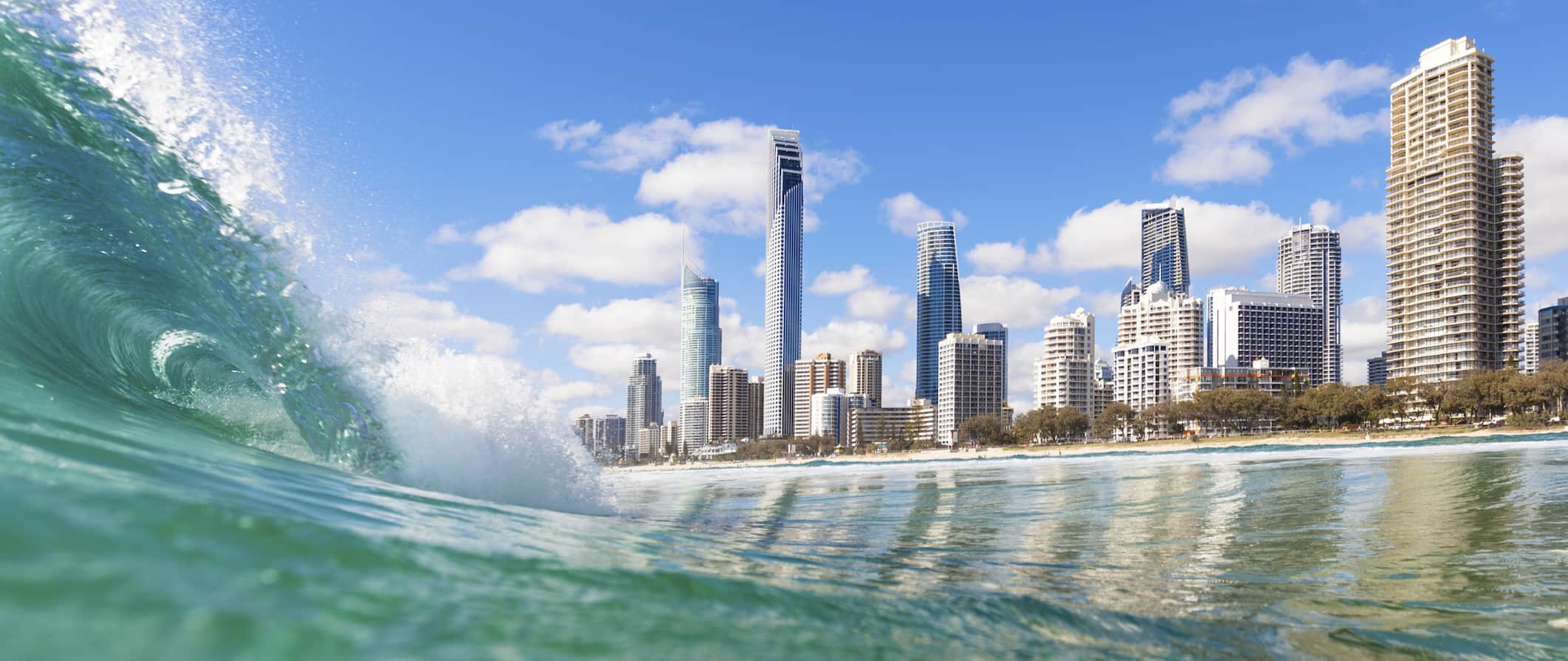 1. Learn to surf
It isn't called "Surfers Paradise" for no reason! Up and down the coast, you'll find some of the best surfing in Australia. Even if you don't know how to surf, you'll be able to find cheap lessons anywhere along the coast. A two-hour group lesson costs around 75 AUD. If you don't need lessons and just want to surf, you can rent a board for around 60 AUD per day. Rainbow Bay, Greenmount, and Burleigh Heads and some of the best surf spots for beginners in the area.
2. Visit the Q1
Opened in 2005, this supertall skyscraper was once the world's tallest residential tower (it was the tallest from 2005 to 2011). Today, it's the 13th tallest residential tower in the world as well as the tallest building in Australia at 322 meters (1,058 feet). For views overlooking the coast, this place can't be beaten. Admission to the SkyPoint Observation Deck, which offers 360-degree views, is 29 AUD.
3. Explore the hinterland
There is more to the Gold Coast than beaches. Head into the "hinterland" for great rivers, swimming holes, hiking, and parks. During the weekend, you can snap up some local produce at a farmer's market or tackle one of the many rainforests walks available on Tamborine Mountain. Some suggested hikes include Curtis Falls and Lower Creek Circuit (easy), Knoll Walking Track and Cameron Falls (easy), and Palm Grove Circuit to Jenyns Circuit Loop (moderate).
4. See the Currumbin Wildlife Sanctuary
This massive compound spans almost 70 acres and is home to aviaries, crocodiles, dingos, emus, wombats, and more! A part of the Queensland heritage Register, the sanctuary opened in 1947 and has a mini railway so you can easily explore and navigate the park. A huge free-flying population of lorikeets (colorful parrots) visits daily and you can watch the birds eat and fly around. Admission is 54.95 AUD for adults and 41.95 AUD for kids under 13.
5. Hit the beaches
The region has more than 70 kilometers (43 miles) of fantastic beaches and Surfers Paradise is home to some of the "best beaches in the world" according to some. Popular beaches include Southport, Broadbeach, Nobby's, and Coolangatta. I personally like Coolongatta the best.
Other Things to See and Do on the Gold Coast
1. Walk the Burleigh Hill
Make like the locals and stretch your legs along Burleigh's esplanade before heading around the hill. The track, located halfway between Surfers Paradise and Coolangatta, is bordered by lush rainforest on one side and stunning views north to Surfers Paradise and south over Tallebudgera Creek. It takes around 45-minutes to walk (it's only 2.3 kilometers).
2. Go whale watching
Between June and October, humpback whales make their migratory journey from the Antarctic to warmer waters where they mate and give birth. Later in the season, the whales make their return journey, swimming with their calves beside them. It's also common to see bottlenose dolphins, huge loggerhead turtles, and orcas. Tours start at about 89 AUD.
3. Experience the nightlife
"The Goldie" is one of the biggest party destinations in Australia. There are countless bars, clubs, and pub crawls here. Surfers Paradise has the biggest nightlife and is where most people party, but Coolangatta is just as good and less touristy (and cheaper).
4. Explore Infinity
If you are looking to do something completely different, check out Infinity Attraction. This mirror and sensory maze is filled with funky music, dazzling lights, sound effects, and mirror illusions. It's like a super fun carnival maze but way more interactive and high-tech, with 20 different rooms to explore. It's a good activity to do with kids. Admission is 28.90 AUD.
5. Check out the Currumbin Valley rock pools
At the end of the drive through Currumbin Valley, you'll find an easy pathway through the rainforest leading you to some rock pools. Fresh mountain water flows over the hills of boulders and it makes for the perfect place to have a swim and cool off (especially in the hot summer months). There are picnic tables, rope swings, bathrooms, and even a snack bar to get something to eat.
6. Hike the Lost World Valley
Although it's only a short drive from Surfers Paradise, the Lost World Valley is an off-grid, deep-in-the-jungle hiking trail in Lamington National Park, a World Heritage Site that spans 206 square kilometers (80 square miles). At the end of your rainforest trek, you'll find private swimming holes and waterfalls. There are dozens of hikes here. Some of the most popular are the Coomera Circuit (moderate), Morans Falls (moderate), and the Green Mountains Albert River Circuit Loop (hard).
7. Hang out at Miami Marketta
This diverse food market is home to pretty much every type of cuisine there is. You can find Thai food, tapas, and everything in between. There are also all kinds of events and live music here too (tickets required). The market is open Wednesdays, Fridays, and Saturdays from 5pm until late. Bring an appetite!
8. Visit the Jellurgal Aboriginal Cultural Centre
At the Jellurgal Aboriginal Cultural Centre you can hire an Indigenous guide to lead you through Burleigh Head National Park. You'll hear traditional stories and learn about the historical sites used by the Yugambeh people, allowing you to connect with some of Australia's most fascinating indigenous cultures. Walkabouts start at 39 AUD.
9. See Twin Falls
Twin Falls is considered one of the most beautiful waterfalls in South East Queensland, located in Springbrook National Park. It only takes 15 minutes of hiking to get there, and it's actually best to visit after heavy rainfall. All you need to do is follow the road through the Settlement Camping area and then just beyond Canyon Lookout for the road leading to the Twin Falls Circuit.
For more information on other cities in Australia, check out these guides:
Gold Coast Travel Costs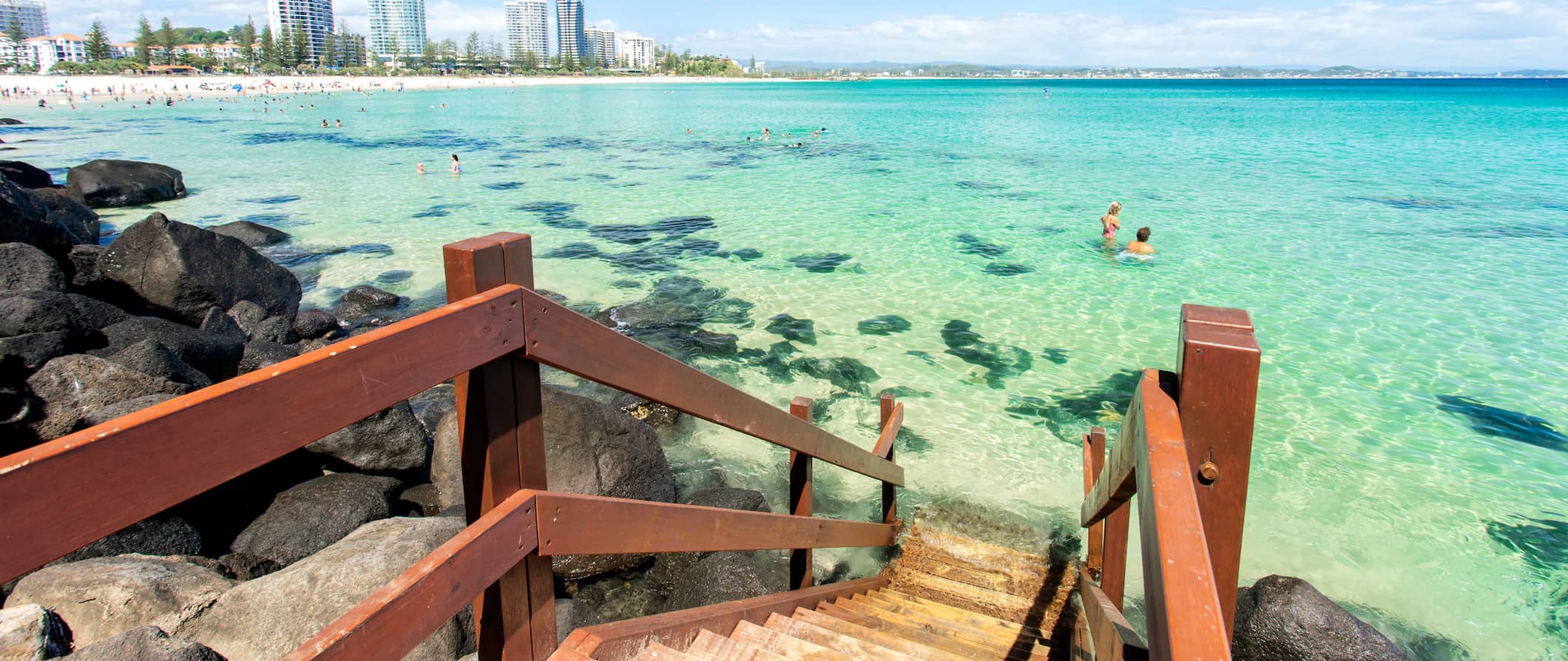 Hostel prices – Dorms with 4-8 beds start at 40-53 AUD per night. There aren't really any larger dorms here. Private rooms start at 85 AUD per night. Free Wi-Fi is standard and most hostels have self-catering facilities so you can cook your own food.
For those traveling with a tent, a basic plot without electricity costs around 30 AUD per night for two people.
Budget hotel prices – Budget hotels start at 120 AUD, though options are limited for two-star hotels. Expect the standard amenities like Wi-Fi, TV, and AC. Most hotels in the region are three-star and up, costing closer to 200 AUD per night.
For Airbnb, private rooms start at 75 AUD but average closer to 150 AUD per night. For an entire home or apartment, expect to pay at least 150 AUD (though prices average triple that so be sure to book early).
Food – Most meals at a restaurant cost 20-30 AUD. For a three-course meal with a drink, expect to pay around 50 AUD. Fast food (think McDonald's) is around 13 AUD for a combo meal while a medium pizza is 17 AUD. If you want international food like Thai, Chinese, or Indian, meals cost between 15-20 AUD for a main dish.
Beer is around 8-9 AUD while a cappuccino or latte is 5 AUD. Bottles of water cost 2.50 AUD.
If you cook your meals, expect to pay 75-90 AUD per week for staples like pasta, vegetables, chicken, and other basic foodstuffs.
Backpacking the Gold Coast Suggested Budgets
On a backpacker budget of 75 AUD per day, you can stay in a hostel dorm, cook all of your meals, limit your drinking, use public transportation to get around, and stick to mostly free activities like lounging on the beach, swimming, and hiking. If you plan on drinking more, add 10-20 AUD to your daily budget.
On a mid-range budget of 225 AUD per day, you'll be able to stay in a private Airbnb room, eat out most of your meals, do a couple of paid activities (like surfing), take the occasional taxi to get around, and enjoy a few drinks at the bar. You won't live large but you'll be comfortable.
On a "luxury" budget of 475 AUD or more per day, you can stay at a hotel, eat out for every meal, drink all you want, do more expensive tours (like whale watching), and hire a rental car to get around. This is just the ground floor for luxury though. The sky is the limit!
Accommodation
Food
Transportation
Attractions
Average Daily Cost
Backpacker
40
15
10
10
75
Mid-Range
120
60
20
25
225
Gold Coast Travel Guide: Money-Saving Tips
The Gold Coast can be very expensive (it's a popular tourist getaway after all) to visit. Fortunately, there are still some ways to save here. Here are ways to cut down your costs so you don't break the bank:
Free transport – Some accommodation provides free transport to and from the airport. If you are going to Surfers Paradise, they might also pick you up for free at the bus station. Book accommodation with a shuttle to save a few bucks.
Eat cheap – Eating out can be very expensive; however, there are a lot of sandwich shops around that can keep your costs down. Avoid the sit-down restaurants, and instead, grab a sandwich or some delicious Asian or Indian food (which tends to be a little cheaper).
Stay with a local – Accommodation on the Gold Coast is pricey. If you plan ahead, you can usually find a Couchsurfing host. This way, you not only have a place to stay, but you'll have a local host that can share insider tips and advice.
Drink goon (box wine) – Goon is infamous on the Australian backpacker hostel trail. This cheap box of wine is the best way to drink, get a buzz, and save a lot of money at the same time.
Work for your room – Many hostels offer travelers the chance to work for their accommodation. In exchange for a few hours a day of cleaning, you get a free bed. Commitments vary but most hostels ask you to stay for at least a week.
Cook your own meals – The best way to reduce your costs is to cook as many meals as possible. Book a hostel or Airbnb with a kitchen so you can save money on food costs. It's not glamorous but you'll save a fortune!
Book tours as a package – This country has a lot of exciting activities and tours that eat into any budget. Booking activities together through a hostel or tour agency may get you a discount and save you hundreds of dollars. Always ask if there are package deals available.
Bring a water bottle – The tap water in Australia is safe to drink. Bring a reusable water bottle with you to save money and lower your plastic use. LifeStraw makes a bottle with a built-in filter so you can be sure your water is always clean and safe.
Where to Stay on the Gold Coast
There are only a handful of hostels along the Gold Coast so be sure to book early. Here are my suggested places to stay at:
How to Get Around the Gold Coast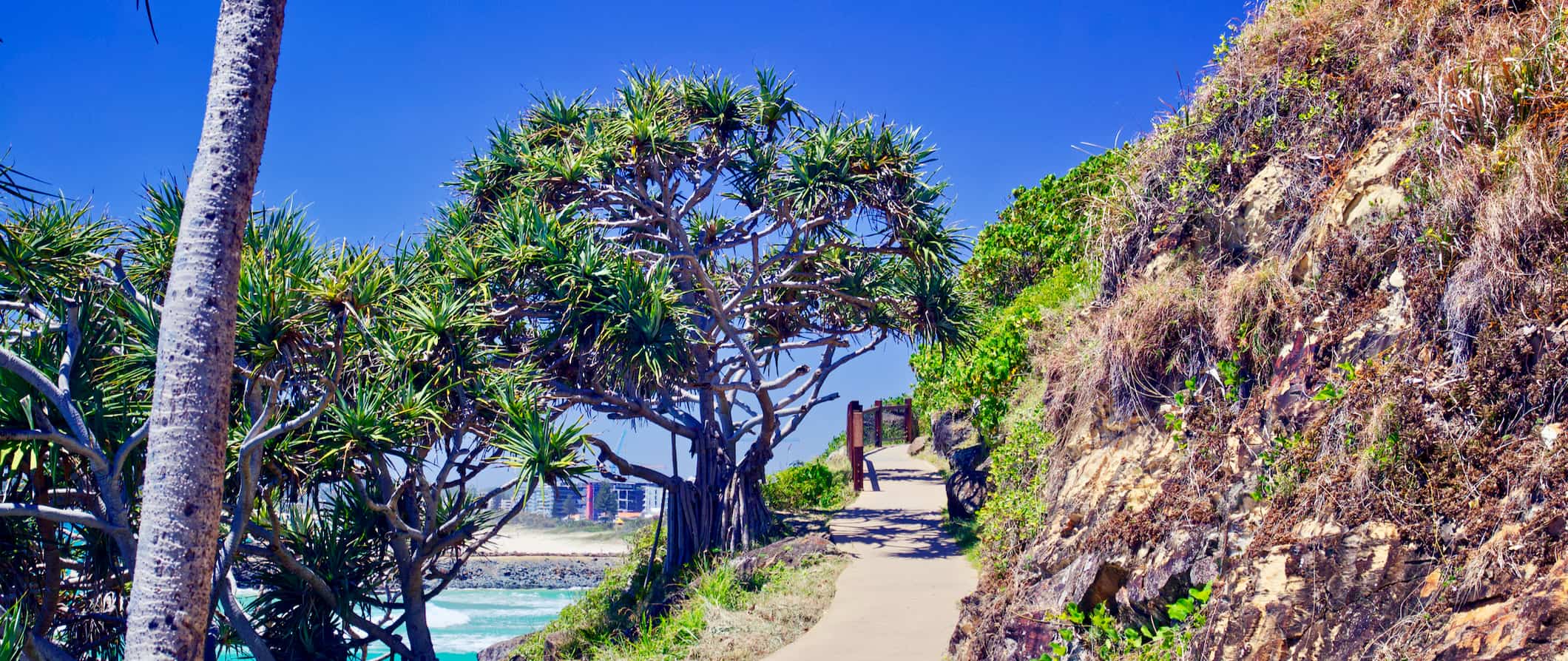 Buses – Buses can get you just about everywhere you need to go on the Gold Coast. TransLink is the largest public transit operator and has buses that run from the south to the north side of the coast (and beyond). There's also a NightLink night bus service for buses after midnight.
Fares start at 2.76 AUD and go up depending on how far you travel and whether you're traveling off-peak or on-peak. Make sure you get a reloadable Go Card to save money as fares are much cheaper with one. Cards cost 10 AUD and are refundable.
Unlimited travel on Translink is 10 AUD per day.
Light rail – G:link, the regions light rail, runs along the Gold Coast highway. You'll be able to reach all the main tourist spots and the fares are the same as the Translink public bus system. As with the bus, the Go Card will save you money on fares.
Ferries – You can explore the Gold Coast's waterways (including Stradbroke Island) by using the region's ferry and water taxi services. The vehicle ferry to Stradbroke Island costs around 88 AUD while the pedestrian ferry is 18 AUD return.
Taxi – Taxis are expensive here and should be avoided. Prices start at 4.50 AUD and go up by 2.50 AUD per kilometer. Skip them if you can!
Ridesharing – DiDi is the main ridesharing app here and is cheaper than taxis.
Bike rental – There are tons of bicycle trails around the Gold Coast! Daily rates per bicycle rental start around 35 AUD.
Car rental – You can get just about anywhere along the Gold Coast via public transit, but if you want to get off the tourist trail or travel inland, having a car rental is ideal. You can find rentals for around 60 AUD per day for a week-long rental.
For the best rental car prices, use Discover Cars.
When to Go to the Gold Coast
The Gold Coast is busy year-round thanks to its consistent weather and nearly 300 days of sunshine per year. That's what makes it such a great place to visit!
One of the best times to visit is near the end of April throughout May because the average daily temperature is between 17-27°C (62-80°F), making it one of the most comfortable times to be here. There aren't too many crowds during this time and hotel prices are lower.
Mid-November to early December should be avoided if possible due to Schoolies Week, when students and their parents take holidays. The beaches get crowded, as do all the attractions. This extends through summer (which, in Australia, lasts until February). Daily highs hover around 27°C (80°F).
In October there's the Gold Coast 600 (a car race), which brings in some 200,000 people — with inflated prices to boot. Be sure to book early if you're visiting during this time.
How to Stay Safe on the Gold Coast
The Gold Coast is an incredibly safe place. People are friendly and helpful and you're unlikely to get into trouble. Violent crime here is rare. Theft is rare but it does occur. When you go to the beach, leave your valuables at home just in case.
Most incidents tend to occur because visitors are not used to the country's unique climate, so be sure you have plenty of sunscreen and stay as hydrated as possible. If you're venturing out of the city, be mindful of wildlife, especially snakes and spiders. If you're bitten, seek immediate care.
If you're swimming, heed the red and yellow flags. Yellow flags indicate swimming conditions may be dangerous; red flags mean the beach is closed.
Solo female travelers generally feel safe here. However, the standard precautions apply (never leave your drink unattended at the bar, never walk home alone at night intoxicated, etc.). For more information, check out one of the many solo female travel blogs on the web that can help more!
If you're worried about travel scams, you can read about common travel scams to avoid here. There aren't many in Australia though.
If you experience an emergency, dial 000 for assistance.
When in doubt, always trust your instincts. If a taxi driver seems shady, get out. If your hotel or accommodation is seedier than you thought, go somewhere else. Make copies of your personal documents, including your passport and ID, in case of an emergency.
The most important piece of safety advice I can offer is to purchase good travel insurance. Travel insurance will protect you against illness, injury, theft, and cancellations. It's comprehensive protection in case anything goes wrong. I never go on a trip without it as I've had to use it many times in the past. You can use the widget below to find the policy right for you:
Gold Coast Travel Guide: The Best Booking Resources
These are my favorite companies to use when I travel. They consistently have the best deals, offer world-class customer service and great value, and overall, are better than their competitors. They are the companies I use the most and are always the starting point in my search for travel deals.
Skyscanner – Skyscanner is my favorite flight search engine. They search small websites and budget airlines that larger search sites tend to miss. They are hands down the number one place to start.
Hostelworld – This is the best hostel accommodation site out there with the largest inventory, best search interface, and widest availability.
Booking.com – The best all around booking site that constantly provides the cheapest and lowest rates. They have the widest selection of budget accommodation. In all my tests, they've always had the cheapest rates out of all the booking websites.
Get Your Guide – Get Your Guide is a huge online marketplace for tours and excursions. They have tons of tour options available in cities all around the world, including everything from cooking classes, walking tours, street art lessons, and more!
Rome2Rio – This website allows you to see how to get from point A to point B the best and cheapest way possible. Just enter your departure and arrival destinations and it will give you all the bus, train, plane, or boat routes that can get you there as well as how much they cost. It's one of the best transportation websites out there!
SafetyWing – Safety Wing offers convenient and affordable plans tailored to digital nomads and long-term travelers. They have cheap monthly plans, great customer service, and an easy-to-use claims process that makes it perfect for those on the road.
LifeStraw – My go-to company for reusable water bottles with built-in filters so you can ensure your drinking water is always clean and safe.
Unbound Merino – They make lightweight, durable, easy-to-clean travel clothing.
Top Travel Credit Cards – Points are the best way to cut down travel expenses. Here's my favorite point earning credit cards so you can get free travel!
Australia Travel Guide: Related Articles
Want more info? Check out all the articles I've written on Australia travel and continue planning your trip: