The Gold Coast, Australia is east of Brisbane and full of sun, surf, and sand!
It's known for its sunny subtropical climate, surfing, beaches, a rainforest hinterland, and wild nightlife.
For most travelers, visiting the Gold Coast means spending time in the most famous city in the area, Surfers Paradise. This is a major stop for travelers and backpackers looking to get some sun, surf, and spend time partying.
It's a fun place but my advice is to avoid spending a lot of time there and head to some of the better, less crowded cities like Burleigh Heads and Coolangatta.
Traveling the Gold Coast is a lot more than just seeing Surfers and, when you get out of the city, you get to a lot nicer beaches, watering holes, local spots, and places with cheaper prices.
This Gold Coast travel guide will help you figure out where to go, what to see, and how to save money in this region of Australia.
Top 5 Things to See and Do on the Gold Coast
1. Learn to surf
It isn't called "Surfers Paradise" for no reason. Up and down the coast, you'll find some of the best surfing in Australia. Even if you don't know how to surf, you'll be able to find cheap lessons anywhere along the coast. A 90-minute private lesson starts at $85 AUD ($60 USD), a 2-hour group lesson starts from $40 AUD ($29 USD).
2. Visit the Q1
The world's tallest residential tower is also the only observation deck in Australia by the beach. The landmark Q1 lets you gaze at the length of the coastline, which stretches out as far as the eye can see in both directions. The SkyPoint Observation Deck opens daily starting at 7am, and costs $27 AUD ($20 USD).
3. Get off the beach
There is more to the Gold Coast than beaches. Head into the "hinterland" for great rivers, swimming holes, hiking, and parks. During the weekend, you can snap up some local produce at a farmer's market or tackle one of the many rainforest walks available on Tamborine Mountain.
4. The Currumbin Wildlife Sanctuary
This compound is massive and is home to aviaries, open displays, reptiles, and more. Since there is so much to see, including wildlife presentations held throughout the day, a guided train tour is available with purchase of admission ticket ($50 AUD/$35 USD). It's open daily from 8am-5pm.
5. Hit the beaches
The region has more than 43 miles (70 kilometers) of fantastic beaches, and Surfers Paradise is home to the "best beach in the world" according to some. Other beaches include Southport, Broadbeach, Nobby's, and Coolongatta. I personally like Coolongatta the best!
Other Things to See and Do on the Gold Coast
1. Walk the Burleigh Hill
Make like the locals and stretch your legs along Burleigh's esplanade before heading around the hill. The track is bordered by lush rainforest on one side and stunning views north to Surfers Paradise and south over Tallebudgera Creek.
2. Whale watching
Between June and October, humpback whales make their migratory journey from the Antarctic to warmer waters where they mate and give birth. Later in the season, the whales are on their return journey, swimming with their calves beside them. Also spotted on these cruises are bottlenose dolphins, huge loggerhead turtles, and orcas. Tours start at about $100 AUD ($70 USD).
3. Experience the nightlife
"The Goldie" is one of the biggest party destinations in Australia. There are countless bars, clubs, and pub crawls here. Surfers Paradise has the biggest nightlife (but it's not really fun unless you want to get reaaaaaalllly drunk), but Coolangatta is just as good and less touristy (and cheaper).
4. The Infinity Maze
If you are looking to do something that you've never done before, the Infinity Maze is an intriguing place to start. This winding walk is filled with funky music, sound effects, and illusions—all you need to do is strap on some cotton gloves and socks and feel your way through. Admission is $27 AUD/$19 USD (but you can save $2 AUD/$1.80 USD by purchasing ahead of time online). It's open daily from 10am-10pm.
5. Check out the Currumbin Valley rock pools
At the end of the drive through Currumbin Valley you'll find an easy pathway through the rainforest leading you to some rock pools. Fresh mountain water flows over the hills of boulders, and it makes for the perfect place to have a swim and cool off (especially in the hot summer months).
6. Hike the Lost World Valley
Although it's only a short drive from Surfers Paradise, the Lost World Valley is an off-grid, deep-in-the-jungle hiking trail in Lamington National Park. At the end of your rainforest trek you'll find private swimming holes and waterfalls. Bring lots of water!
7. Hang out at Miami Marketta
Peruse the food stalls lined with fairy lights at the Miami Marketta in the Miami suburb, where you'll be able to sample just about every type of food you want. There's a nice bar to stop for a cocktail, and other stalls sell clothing and artwork. Live music takes place on Wednesdays and each night on the weekend.
8. Visit the Jellurgal Aboriginal Cultural Centre
At the Jellurgal Aboriginal Cultural Centre you can hire an Indigenous guide to lead you through Burleigh Head National Park. You'll hear traditional stories and learn about the historical sites used by the Yugambeh people, allowing you to connect with some of Australia's most fascinating Indigenous cultures. A Walkabout starts from just $30 AUD ($21 USD).
9. Go to Twin Falls
Twin Falls is considered to be one of the most beautiful waterfalls in South East Queensland, located in Springbrook National Park. It only takes 15 minutes of hiking to get there, and it's actually best to visit after a heavy rainfall. All you need to do is follow the road through the Settlement Camping area and then just beyond Canyon Lookout for the road leading to the Twin Falls Circuit.
For more information on specific destinations, check out these guides!
Gold Coast Travel Costs
Hostel prices – Since the region is so popular among travelers, prices here tend to be a lot higher than elsewhere in the country. The average cost for a hostel bed in Surfers Paradise is $32 AUD ($23 USD) while a private room is between $70-90 AUD ($50-64 USD). In Coolangatta, you'll find dorm beds as low as $26 AUD/$19 USD (4-6 beds) with privates around $80 AUD ($57 USD).
Budget hotel prices – Most of the hotels on the Gold Coast are expensive, but you can find a couple hotels (or motels) that sleep two starting around $95 AUD ($68 USD), but the average price is about $195 AUD ($140 USD) for a double room. Alternatively, you can find lots of beautifully furnished apartments and homes to rent. On Airbnb, a shared room in a home starts around $30 AUD ($22 USD). You can find whole apartments for two guests starting at $85 AUD ($65 USD) per night.
Average cost of food – Most meals at a restaurant cost $34 AUD ($25 USD) or more, not including alcoholic drinks. If you cook your meals, expect to pay $100 AUD ($71 USD) per week for basic groceries like pasta, vegetables, chicken, and other basic foodstuffs. An average restaurant meal will run you about $20-28 AUD ($14-20 USD) for no-frills eating. If you are staying in hostels, most offer family-style meals each night for around $8 AUD ($6 USD).
Backpacking the Gold Coast Suggested Budgets
The Gold Coast is one of Australia's most popular travel destinations, so prices here are often higher than elsewhere in the country.
On a backpacker budget, you can do it for $87 AUD ($62 USD) per day. This is a suggested budget assuming you're staying in a large hostel dorm, cooking some of your meals with the occasional eating out option (like group dinners at your hostel), and using a go explore card. On this budget, you could stick to mostly free outdoor activities or other light tours, like an Indigenous Walkabout.
On a mid-range budget of about $220 AUD ($157 USD) per day, you'll be able to stay in a private hostel room or at a cheap hotel/motel, eat fast food or takeaway ethnic food for most of your meals, use an unlimited pass to get all around the region, and enjoy more activities like visiting the wildlife sanctuary.
On a "luxury" budget of $490+ AUD ($350+ USD), you can stay at a four star hotel, eat out for every meal, drink all you want, do more expensive tours (like whale watching tours), and hire a rental car to get around. The sky is the limit!
Accommodation
Food
Transportation
Attractions
Average Daily Cost
Backpacker
$20
$15
$7
$20
$65
Mid-Range
$70
$45
$7
$35
$157
Luxury
$150
$75
$25
$100
$350+
Gold Coast Travel Guide: Money Saving Tips
The Gold Coast can be very expensive. Here are ways to cut down your costs when visiting the Gold Coast:
Free transport – Some hostels provide free transport to and from the airport. If you are going to Surfers Paradise, they will also pick you up for free at the bus station.
Eat cheap – Eating out can be very expensive; however, there are a lot of sandwich shops around that can keep your costs down. Avoid the sit-down restaurants, and instead, grab a sandwich or some delicious Asian or Indian food (which tends to be cheaper).
Couchsurf – Accommodation on the Gold Coast can be quite pricey. If you plan ahead, you can usually find really nice Couchsurfing hosts all throughout the country. This way, you not only have a place to stay, but you'll have a local host that can tell you the best places to go and things to see.
Drink goon (box wine) – Goon is infamous on the Australian backpacker hostel trail. This cheap box of wine is the best way to drink, get a buzz, and save a lot of money at the same time. Four liters of goon typically costs $13 AUD/$9 USD (compared to a six pack of beer for the same price). Drink this before you go out and save on spending money at the bar (where it is about $10 AUD/$7 USD per drink). Also, blow up the bag when you're done and have a little pillow to rest your head on!
Get a phone plan – The telephone company Telstra has really improved their service and offers great phone packages that have great coverage throughout the country. Their call/text rates aren't that high either, so the credit will last you a while. Vodafone has amazing deals (sometimes better) too but they have more limited coverage around the country.
Work for your room – Many hostels offer travelers the chance to work for their accommodation. In exchange for a few hours a day of cleaning, you get a free bed. Commitments vary but most hostels ask you to stay for at least a week.
Cook often – The best way to reduce your costs is to cook as many meals as possible. ALDI is the cheapest supermarket in the country, followed by Coles and then Woolworths (though sometimes you don't get a choice at which place you can shop it! Some small towns only have one!)
Book tours as a package – This country has a lot of exciting activities and tours that eat into any budget. Booking activities together through a hostel or tour agency will get you a discount and save you hundreds of dollars as a repeat customer.
Get free internet – The internet in Australia is painfully slow and expensive (just ask any Australian how they feel about this), but libraries and McDonalds have free WiFi that you can use.
Go on a pub crawl – In Surfers Paradise, Aquarius backpackers organizes a Big Night Out on Wednesdays and Saturdays. For about $30 AUD ($22 USD) you'll get several free drinks, entry passes to four nightclubs, free pizza, and cheap drinks all night long.
Where To Stay on the Gold Coast
I've been a backpacker here for ages. Here are my favorite places to stay on the Gold Coast:
How to Get Around the Gold Coast
Buses – Buses will get you just about everywhere you need to go on the Gold Coast. TransLink is the largest public transit operator, while Surfside Buslines is a local operator. Both have buses that run from the south to the north side of the coast (and beyond). There's also a NightLink night bus service for buses after midnight.
The cost of your fare depends on how many zones you travel through. Fares start from $3.31 AUD ($2.35 USD) for one zone and increase from there, although it's cheaper with a go card (starting from $2.65 AUD/$1.90 USD). You can get all the way from Surfers Paradise to Coolangatta (a two zone journey) for just $5.80 AUD ($4.15 USD) one way.
Travelers can pick up a go explore card for unlimited travel on the public bus and light rail system for just $10 AUD ($7 USD) per day.
Light Rail – Newly opened in 2014, the Gold Coast now has a light rail system (called the G:link) that runs along the Gold Coast highway. You'll be able to reach all the main tourist spots from here! The fares are the same as the Translink public bus system, starting from $3.31 AUD ($2.35 USD) per one zone, or from $2.65 AUD ($1.90 USD) with a go card.
Ferries – You can explore the Gold Coast's waterways (including Stradbroke Island) by using the region's ferry and water taxi services. The most common one is Broadwater Taxi, although the prices aren't cheap. Getting to Strandbroke Island costs $50 AUD ($36 USD) one way or $90 AUD ($65 USD) for an open ended return, and it's the same price to reach Wavebreak Island and the campgrounds on Currigee. Getting to Couran Cove and Couran Point is $80 AUD ($57 USD) one way, or $150 AUD ($107 USD) with an open ended return.
Bicycle – There are over 370 miles (600 kilometers) of bicycle trails on the Gold Coast! Daily rates per bicycle rental start around $15 AUD ($11 USD). Two rental companies include:
Cheap as Bike Rentals
Beach Bikes Bike Hire
Mobike, a bike sharing service, is also available in many areas. You can reserve a bicycle from the mobile app, find a docking station, and then get on your way. It's $25 AUD ($18 USD) for unlimited rides each month, or about $2.50 AUD ($1.80 USD) per 30-minute ride.
Car Rental – You can get just about anywhere along on the Gold Coast via public transit, but if you want to get off the tourist trail or travel inland, having a car rental is ideal. During the off-season you can find rentals for as low as $35 AUD ($25 USD), but during peak-season it can climb as high as $80 AUD ($57 USD) a day.
Taxi – Taxis are expensive here and should be avoided.
When to Go to the Gold Coast
The Gold Coast is pretty busy year round thanks to its consistent weather and nearly 300 days of sunshine per year. That's what makes it such a great place to visit!
One of the best times to visit is near the end of April throughout May because the average daily temperature is between 62-76°F (17-25°C), making it one of the most comfortable times to be there. There aren't too many crowds during this time and hotel prices are lower.
Mid-November to early December should be avoided if possible due to Schoolies Week, when students and their parents take holidays. The beaches get crowded, as do all the attractions. In October there's the 600 race, which also brings large crowds and inflated prices. June to August is also a very busy time on the Gold Coast.
How to Stay Safe on the Gold Coast
The Gold Coast is an incredibly safe place to backpack and travel – even if you're traveling solo, and even as a solo female traveler. People are quite friendly and helpful and you're unlikely to get into trouble.
When in doubt, always trust your instincts. If a taxi driver seems shady, just stop the cab and get out. If your hotel or accommodation is seedier than you thought, leave and go somewhere else. Make copies of your personal documents, including your passport and ID, before you travel in case of an emergency. Also, forward your travel itinerary to friends or family so they'll know where you are just to be safe.
Furthermore, if you're swimming, heed the red and yellow flags. Yellow flags indicate swimming conditions may be dangerous; red flags mean the beach is closed.
As a general rule, if you don't do something at home, don't do it when you're on the Gold Coast. Follow that rule and you'll be fine.
The most important piece of safety advice I can offer is to purchase good travel insurance. Travel insurance will protect you against illness, injury, theft, and cancellations. It's comprehensive protection in case anything goes wrong. I never go on a trip without it as I've had to use it many times in the past. You can use the widget below to find the policy right for you:
Gold Coast Travel Guide: The Best Booking Resources
Below are my favorite companies to use when I travel to the Gold Coast. They are included here because they consistently turn up the best deals, offer world-class customer service and great value, and overall, are better than their competitors.
Momondo – This is my favorite flight search engine because they search such a wide variety of sites and airlines. I never book a flight without checking here first.
Skyscanner – Skyscanner is another great flight search engline which searches a lot of different airlines, including many of the budget carriers that larger sites miss. While I always start with Momondo, I use this site too as a way to compare prices.
Airbnb – Airbnb is a great accommodation alternative for connecting with homeowners who rent out their homes or apartments. The big cities have tons of listings! (If you're new to Airbnb, get $35 off your first stay!)
Hostelworld – This is the best hostel accommodation site out there, with the largest inventory, best search interface, and widest availability.
Rome 2 Rio – This website allows you to see how to get from point A to point B the best and cheapest way possible. Just enter your departure and arrival destinations and it will give you all the bus, train, plane, or boat routes that can get you there as well as how much they cost. One of the best transportation website out there!
EatWith – This website allows you to eat home cooked meal with locals. Locals post listings for dinner parties and specialty meals that you can sign up for. There is a fee (everyone sets their own price) but this is a great way to do something different, pick a local's brain, and make a new friend.
World Nomads – I buy all my travel insurance from World Nomads. They have great customer service, competitive prices, and in-depth coverage. I've been using them since I started traveling in 2003. Don't leave home without it!
Gold Coast Gear and Packing Guide
In this section, I'll give you my suggestion for the best travel backpack and tips on what to pack when you visit the Gold Coast.
The Best Backpack for the Gold Coast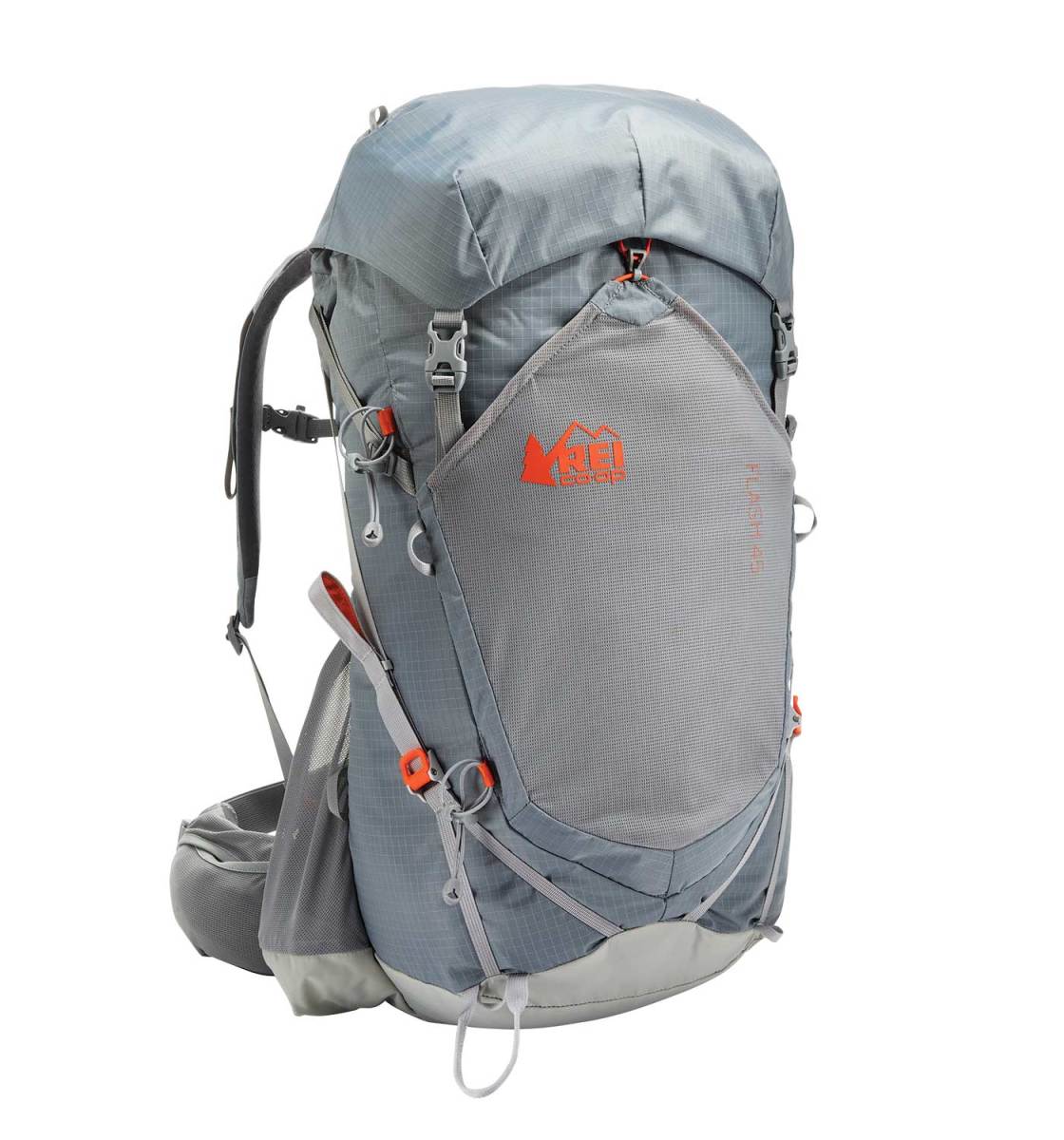 What's the best backpack for traveling around the Gold Coast? I recommend the
REI Flash 45 Pack
. It's light and comfy, front loading, and fits perfectly in an airplane's overhead bin.
Size:
45-47L
Straps:
Thick and cushy with compression technology that pulls the pack's load up and inwards so it doesn't feel as heavy.
Features:
Removable top lid, large pocket at the front, hydration compatible, contoured hip belt
If you want something a different backpack, refer to my article on how to choose the best travel backpack with more tips, advice, and backpack suggestions!
What to Pack for the Gold Coast
Clothes
1 pair of jeans (heavy and not easily dried, but I like them; a good alternative is khaki pants)
1 pair of shorts
1 bathing suit
6 T-shirts
1 long-sleeved T-shirt
1 pair of flip-flops
1 pair of sneakers
8 pairs of socks (I always end up losing half)
5 pairs of boxer shorts (I'm not a briefs guy!)
1 toothbrush
1 tube of toothpaste
1 razor
1 package of dental floss
1 small bottle of shampoo
1 small bottle of shower gel
1 towel
Deodorant
Small Medical Kit (safety is important!!!)
Miscellaneous
Female Travel Packing List
I'm not a woman so I don't know what a woman wears, but Kristin Addis, our solo female travel guru, wrote this list as an addition to the basics above:
Clothing
1 swimsuit
1 sarong
1 pair of stretchy jeans (they wash and dry easily)
1 pair of leggings (if it's cold, they can go under your jeans, otherwise with a dress or shirt)
2-3 long-sleeve tops
2-3 T-shirts
3-4 spaghetti tops
1 light cardigan
Toiletries
1 dry shampoo spray & talc powder (keeps long hair grease free in between washes)
1 hairbrush
Makeup you use
Hair bands & hair clips
Feminine hygiene products (you can opt to buy there too, but I prefer not to count on it, and most people have their preferred products)
For more on packing, check out these posts:
My Must Have Guides for Traveling to the Gold Coast
Australia Travel Guide: Related Articles
Want more info? Check out all the articles I've written on Australia travel and continue planning your trip: