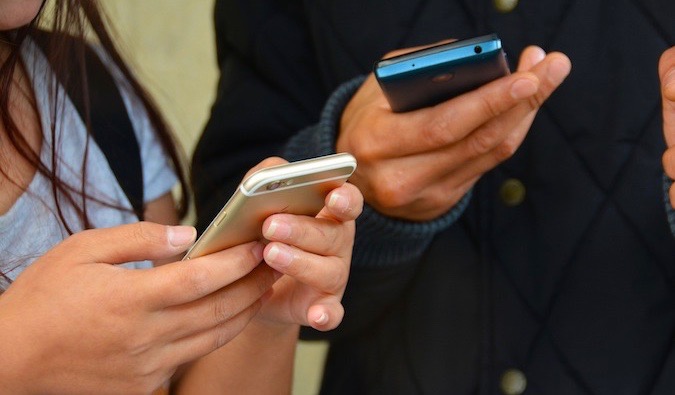 Last Updated: 11/9/22 | November 9th, 2022
If you're like the rest of the world, you wrestle every day with addiction. It's an addiction that's become built into our culture, one that has sunk its teeth into every facet of modern-day life.
It's an addiction to our phones.
We use them for work, sharing memes, communication, watching movies, reading books, listening to podcasts, meditation timers, and everything else under the sun.
We do everything on them.
How many times are you out to dinner and everyone is checking their phones?
How many times do you walk into a glass door because you are looking intently at the phone? (Not saying I did this recently..)
How often do you talk to someone while staring at the phone ("I'm paying attention, I swear!")?
When I first started traveling in 2006, if a hostel had a computer, it was a big deal. I remember taking pictures and going to Internet cafés to upload them to my MySpace page or waiting for my turn at the hostel computer to check my email.
No one I knew traveled with a phone. If you made plans to meet someone in another city, you just had to hope they would stick to them or wouldn't get delayed. You were connected sparingly, but that never seemed to matter. You wanted to be disconnected because that was the whole point. You traveled to break away and explore the world.
But, over the last few years, I've seen a remarkable shift in social interactions among travelers. Now, it's all like "This hostel's Wi-Fi doesn't even reach my dorm room! I'm leaving!" People are more concerned with their phone than with meeting people.
While hostels are still the best places to meet people, they aren't as incredible as they used to be, because everyone is on their phone, computer, or iPad watching Netflix, working, or checking Facebook.
No one is just hanging out and interacting with each other like before. I find this depressing.
I'm not against technology or all this beautiful Wi-Fi. We now have Google Maps and can book rooms and flights from our phones, stay in touch easier, and communicate better. It's certainly made life easier for me as someone who works remotely.
Wondering why your friend isn't at the appointed meeting spot on time? No problem! Now you can just ping them a message on WhatsApp. Problem solved!
Technology has made finding cheap flights easier.
It's made learning languages easier.
And thanks to the sharing economy, it's made connecting with locals easier too.
But, as much as technology has helped us, I think we've really lost one of the most beautiful aspects of travel. Constant distraction keeps us from observing the place we are at and being present in the moment.
Too often we're glued to the phone Instagramming that moment but never really being in it. We're in a hostel reading the news online or chatting with our friends back home instead of meeting new people.
We're at dinner looking up Facebook "for just a second," wondering how many people liked our last photo.
Or we're on some once-in-a-lifetime adventure activity but we're Snapchatting the experience.
A few years ago, I read the book What Got You Here Won't Get You There. In it, the author Marshall Goldsmith talked about how if you are doing something else while talking to someone, you are subtly signaling to them that they aren't important, even if you can parrot back everything they said.
I thought about that and realized I did that all the time. I was only ever half there.
That book made me rethink how I interact with people. It taught me to put away my phone, make better eye contact, and focus on the people around me.
It was a very hard thing to do, as I was totally addicted to my phone.
Last year, as part of my anxiety-reducing initiative, I cut down on the amount of work I do when I travel. When I go someplace new, I put the computer away. If I'm not going for a "workcation" or a conference, the computer is off.
I write this from Malta. During my four-day jaunt around the island with friends, I didn't open my computer. I didn't write. There were a few tweets and posted pictures, and when someone was caught on their phone, my group reminded each other to put it down.
We focused on enjoying the destination and being present.
I don't want this to be a "get off my lawn" kind of post, but think about it. How often and how long do you go without your phone?
When you travel, how many times are you "pulled away" from the experience while commenting on someone's last post?
Did you travel around the world so you can check on what your friends back home are doing, or did you go for the adventure?
This year, as we travel, let's pledge to put our damn phones away. Let's not retreat into our safe zone when we feel slightly uncomfortable around strangers or in silence. Let's interact with the people and places we are visiting.
Observe the amazing scenes around you.
Say hello to someone new.
Give yourself 15-30 minutes max — and then put the computer or phone away, step out the door, and take in the world!
If you're traveling with someone, tell them to remind you to put the phone away. Eventually, you'll break your habit. If you are traveling alone, leave your phone in your dorm when you go downstairs. You'll be forced to interact with people.
The magic of travel only happens when you are fully outside your comfort zone but if you're always on your phone, connected to back home, you'll never be unconnected. You'll never be able to grow because you'll never get outside your comfort zone.
The phone is the enemy of the travel experience.
Let's make this the year we stop curating our lives, cut the umbilical cord to home, put away our phones, and enjoy the moment and beauty in front of us.
After all, that's why you wanted to go away in the first!


Book Your Trip: Logistical Tips and Tricks
Book Your Flight
Find a cheap flight by using Skyscanner. It's my favorite search engine because it searches websites and airlines around the globe so you always know no stone is being left unturned.
Book Your Accommodation
You can book your hostel with Hostelworld. If you want to stay somewhere other than a hostel, use Booking.com as it consistently returns the cheapest rates for guesthouses and hotels.
Don't Forget Travel Insurance
Travel insurance will protect you against illness, injury, theft, and cancellations. It's comprehensive protection in case anything goes wrong. I never go on a trip without it as I've had to use it many times in the past. My favorite companies that offer the best service and value are:
Want to Travel for Free?
Travel credit cards allow you to earn points that can be redeemed for free flights and accommodation — all without any extra spending. Check out my guide to picking the right card and my current favorites to get started and see the latest best deals.
Ready to Book Your Trip?
Check out my resource page for the best companies to use when you travel. I list all the ones I use when I travel. They are the best in class and you can't go wrong using them on your trip.