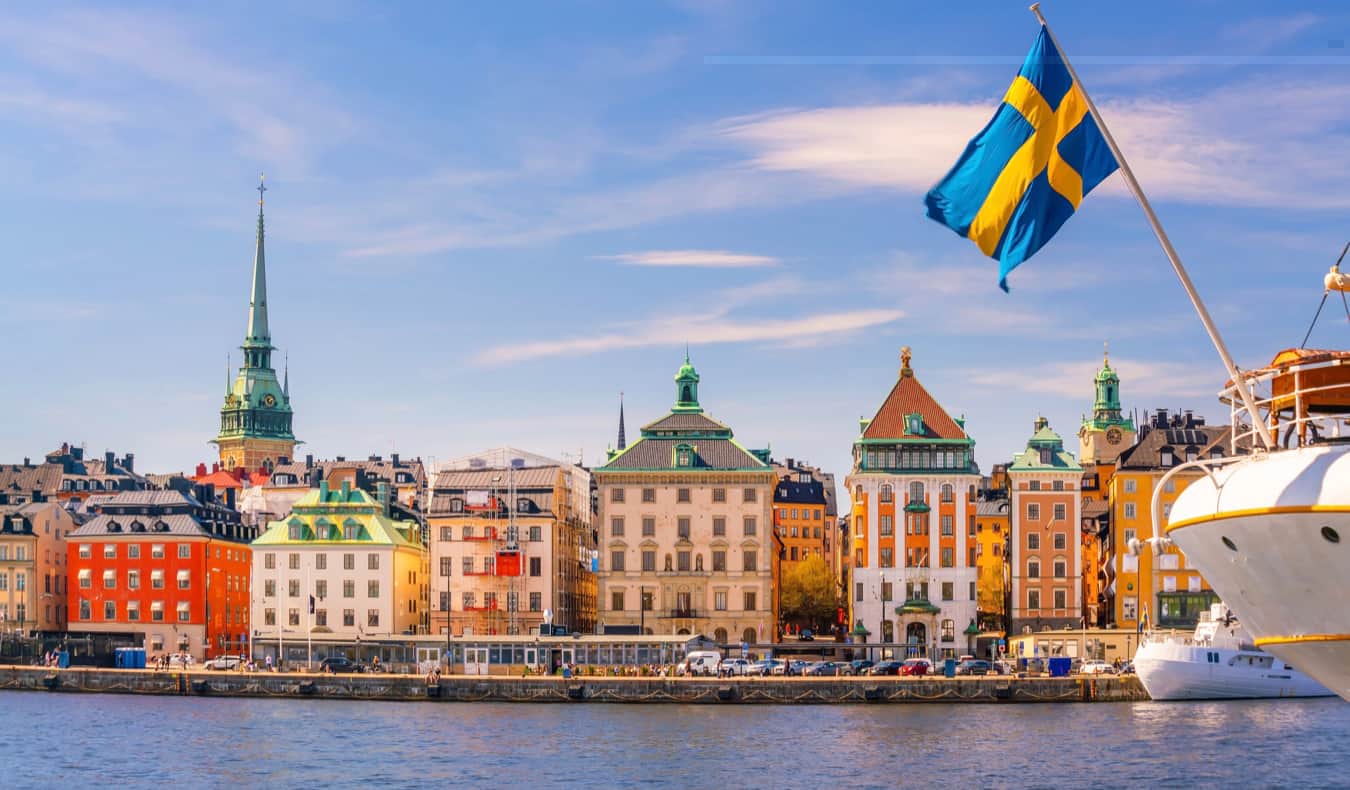 Last Updated: 3/30/22 | March 30th, 2022
Sweden is one of the most beautiful destinations in the world. I fell in love with it so much, I ended up moving there for a summer.
But it's also one of the most expensive places to visit.
Most backpackers and budget travelers skip Sweden (and Scandinavia in general) because of its cost. If they do visit, they usually just pop into Stockholm for a couple of days before retreating to more affordable destinations.
That's understandable but also unfortunate because Sweden has a lot to offer.
While the country is expensive, there are plenty of ways to save money and visit on a budget.
Here's a summary of one of my trips, what I spent (as well as updated costs/prices) to help you plan your trip, and ways to save money. Because it's definitely possible to go to Sweden without breaking the bank — you just need to get creative.

How much did I spend?
I was in Sweden for 19 days, and I spent a total of 11,357 SEK (Swedish kronor) or $1,892.83 USD — roughly $100 USD per day (the exchange rate was about 6 SEK to 1 USD; it varies and now stands around 9 or 10 to $1 USD). The numbers break down this way:
Accommodation: 2,320 SEK
Food: 2,289 SEK
Alcohol: 3,072 SEK
Transportation: 1,898 SEK
Attractions: 100 SEK
Phone: 549 SEK
Miscellaneous 1,129 SEK
Total: 11,537 SEK
My spending was pretty high for one simple reason: I went out a lot. My friends in Stockholm took me out most nights, so a large portion of my budget went toward that.
When every beer you have is 54 SEK ($9 USD), even having only two or three really adds up. (I should also note that most clubs have entrance fees, so about 500 SEK of my "alcohol" budget went to that.)
Moreover, while I ate cheaply, I only cooked my own meals three times during my trip. Cooking would have lowered my costs significantly, but friends were always taking me places to eat.
Lastly, I also stayed with friends for most of my trip. Had I paid for accommodation every night, my accommodation costs would have risen a lot more.

How much do you need?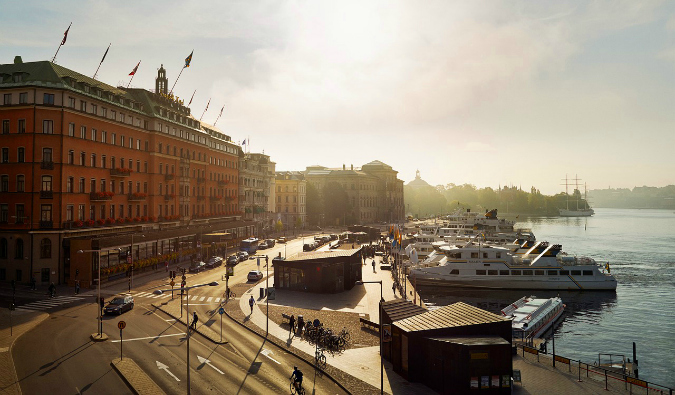 While I spent $100 USD per day, you can do it cheaper. It will never be a super budget-friendly country, but it definitely doesn't need to cost a fortune.
If you stick to free or cheap activities, like enjoying nature and taking free walking tours, you can keep your daily spending low without missing out.
Moreover, if you Couchsurf or camp, skip the alcohol, and cook all or most of your meals, you can lower this even further!
To help you plan your trip, here are some typical prices in Sweden:
Hostel dorm: 250 SEK<
Camping & national parks: Free
Casual restaurant meal: 125–250 SEK
Cheap restaurant meal: 75-100 SEK
Pizza: 65-99 SEK
Cheap hot dogs and sausages: 20-35 SEK
Fast-food combo: 85 SEK
Beer: 65 SEK
Bottled water: 25 SEK<
Stockholm transit: 38 SEK one-way, 160 SEK for a 24-hour pass, 415 SEK for a 7-day pass
Bike rentals: 200-250 SEK per day
Ferry to Gotland: 295 SEK (one-way)
Stockholm-Gothenburg train: 185-330 SEK (one-way)
Museums: 80-195 SEK
Liseberg (theme park): 95 SEK
If you're on a backpacker budget, you'll need around $80 USD per day for food, accommodation, and some cheap activities. If you camp, skip the booze, or Couchsurf you can lower this quite a bit.
If you're a mid-range traveler looking to stay in a Airbnb or hotel, eat out for most meals, go out a few times, and visit some attractions, you'll want to budget around $175 USD per day.

Budget Tips for Sweden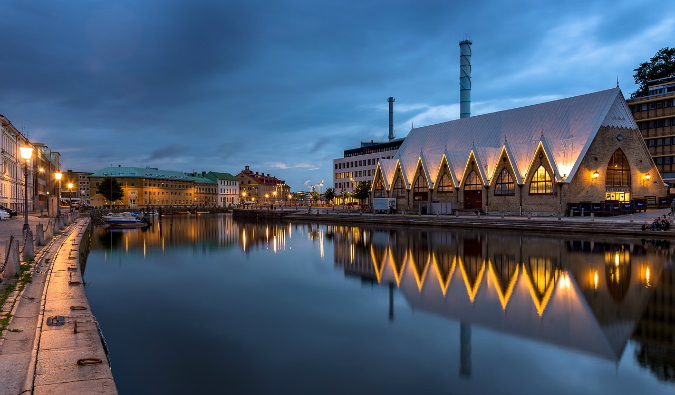 There are ways to make Sweden cheap, but they take some work. Since food and accommodation are very expensive, Couchsurfing or cooking your meals are the most obvious ways to cut down your costs.
But if staying with strangers or cooking isn't your thing, here are some other ways to save money:
1. Drink beer – Alcohol isn't cheap in Sweden, as it's heavily taxed. However, beer is quite cheap. If you stick to beer, you can save yourself a lot of money when you go to the bars.
Additionally, you can buy your own alcohol from Systembolaget (the government-run liquor store chain), which will be much cheaper than buying drinks at the bar or club.
2. Avoid clubs – Most clubs have a cover 200 SEK (or more). Don't waste your money!
3. Limit how often you eat out – Eating out is very expensive, especially at sit-down restaurants. If you want to eat out without spending a lot of money, stick to Thai, Middle Eastern, and pizza places.
4. Refill your water – The tap water here is some of the cleanest in the world, so bring a reusable water bottle so you can ditch the single-use plastic and save money in the process. LifeStraw is my go-to bottle, since it has a built-in filter to ensure your water is always clean and safe.
5. Book in advance – Booking trains or buses 3-4 weeks in advance can get you around 40–50% off the price. Last-minute tickets are always super expensive, so don't leave your purchase to the last minute.
The cheapest train company is MTR, while Flixbus will have the cheapest prices for buses.
6. Buy a rail pass – If you plan to do a lot of traveling around, buy a rail pass before you get to the country. You'll end up saving a few hundred dollars off the high cost of travel.
This can be a good alternative to booking in advance if you're like me and plan everything at the last minute.
7. Purchase a Stockholm Card – This pass gives you access to the city's public transportation system and free entrance to 99% of the museums and canal tours, over 60 attractions. It's well worth the money and will definitely save you a lot more than it costs if you plan to see a lot of sites while in Stockholm. It is 669 SEK for a one-day pass or 1,569 SEK for a five-day pass (which is a much better deal).
8. Get a metro card – If you don't plan to get the Stockholm Card, make sure you get a week's metro pass. At 415 SEK for a week's worth of public transportation, it's a better deal than paying per ticket (Göteborg and Malmö also offer multiday passes)
9. Avoid taxis – Public transportation is excellent in Sweden. With a little planning, you can avoid the overpriced taxis, as they will ruin your budget in a flash.
10. Enjoy the free outdoors – Hiking and camping are free in Sweden. You can pretty much pitch a tent anywhere, thanks to the country's Freedom to Roam laws. If you're an avid outdoorsy person, that means you can pay virtually nothing for accommodation.
11. Stick to buffets – Lunch is the best time to eat out in Sweden. Buffets and restaurants have set meals for around 105 SEK. It's the best deal you can find and one utilized a lot by locals. (Don't miss Hermitage in Stockholm for a cozy, home-cooked meal!)
12. Take a free walking tour – Free Tour Stockholm runs the best walking tour in the city. It covers all the highlights and lasts around two hours, so you can see everything on a budget. Just remember to tip your guide at the end!
13. Visit the free museums – The National Museum, the History Museum, and the Medieval Museum in Stockholm are free to enter, as is the Natural History Museum in Göteborg. Many museums are also free to students and people under 20, so be sure to ask if there are discounts!
***
Like the rest of Scandinavia, Sweden isn't the most budget-friendly destination. But it has so much to offer, including some of the most beautiful landscapes in Europe, that you really shouldn't pass it up.
By following the tips above, you can make a visit here much more affordable. It will take some planning, but it's definitely worth the effort. After all, I tried to move here for a reason!


Get Your In-Depth Budget Guide to Europe!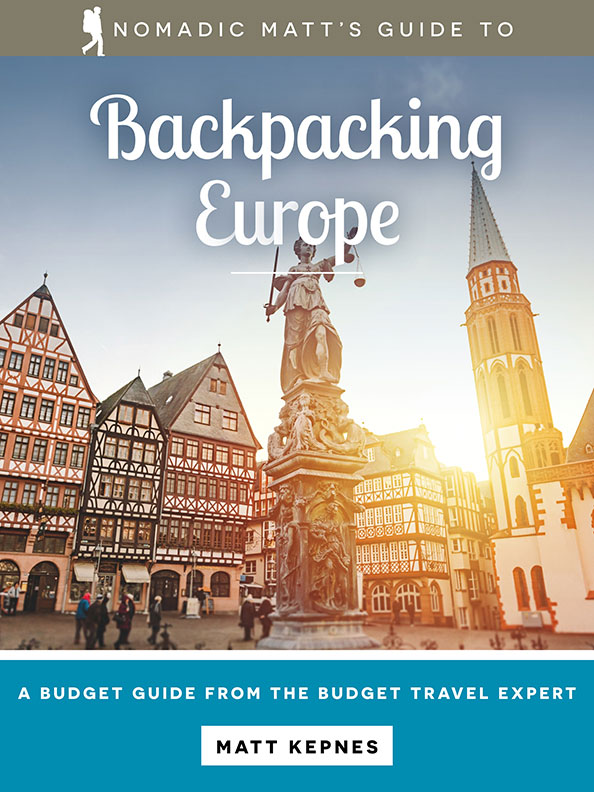 My detailed 200+ page guidebook is made for budget travelers like you! It cuts out the fluff found in other guides and gets straight to the practical information you need to travel while in Europe. It has suggested itineraries, budgets, ways to save money, on and off the beaten path things to see and do, non-touristy restaurants, markets, bars, safety tips, and much more! Click here to learn more and get your copy today.
Book Your Trip to Sweden: Logistical Tips and Tricks
Book Your Flight
Use Skyscanner to find a cheap flight. It is my favorite search engine because it searches websites and airlines around the globe, so you always know no stone is being left unturned!
Book Your Accommodation
You can book your hostel with Hostelworld as it has the biggest inventory and best deals. If you want to stay somewhere other than a hostel, use Booking.com as it consistently returns the cheapest rates for guesthouses and hotels.
If you're looking for more places to stay, here for my favorite hostels in Stockholm.
If you're wondering what part of town to stay in, here's my neighborhood breakdown of Stockholm.
Don't Forget Travel Insurance
Travel insurance will protect you against illness, injury, theft, and cancellations. It's comprehensive protection in case anything goes wrong. I never go on a trip without it, as I've had to use it many times in the past. My favorite companies that offer the best service and value are:
Looking for the Best Companies to Save Money With?
Check out my resource page for the best companies to use when you travel. I list all the ones I use to save money when I'm on the road. They will save you money too.
Want More Information on Sweden?
Be sure to visit our robust destination guide on Sweden for even more planning tips!