Sweden isn't the cheapest country in the world to visit. Its high prices keep many people from visiting, which is a shame, because this is one of the world's most beautiful and interesting countries. That's a bold statement, but I've been to Sweden twice before and am constantly amazed at the beautiful landscape and cities. Moreover, the people (besides making the rest of the world look ugly) are incredibly friendly to visitors. I've come to realize that while the country is expensive, there are plenty of ways to save money and visit on a budget.
How Much Did I Spend?
I was in Sweden for 19 days, and I spent a total of 11,357 SEK or $1,892.83 USD or (roughly) $100 USD per day (the ex-change rate was about 6 SEK to 1 USD). The numbers break down this way:
Accommodation: 2,320 SEK
Food: 2,289 SEK
Alcohol: 3,072 SEK
Transportation: 1,898 SEK
Attractions: 100 SEK
Phone: 549 SEK
Miscellaneous 1,129 SEK
Total: 11,537 SEK
My spending was pretty high for one simple reason: I went out a lot. My friends in Stockholm took me out most nights, so a large portion of my budget went to that. When every beer you have is 54 SEK ($9 USD), even having only two or three really adds up. (I should also note that most clubs have entrance fees and about 500 SEK of my "alcohol" budget went to that.)
Moreover, while I ate cheap, I only cooked my own meals three days during my trip. Cooking would have lowered my costs even further, but I couldn't be bothered, and friends were always taking me places to eat. Lastly, I also stayed with friends for most of my trip. Had I paid for accommodation every night, my accommodation costs would have risen a lot more.
How Much Do You Need?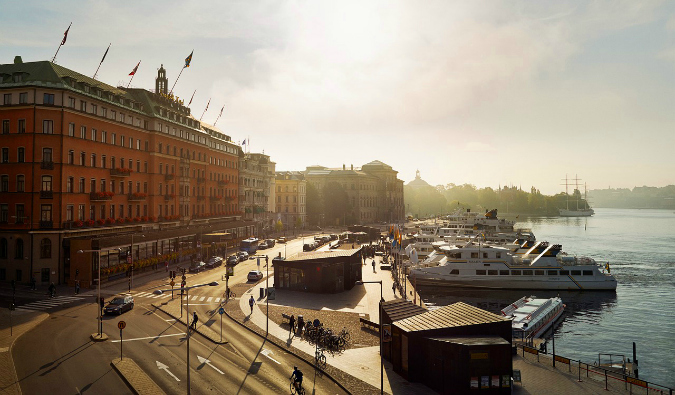 While I spent $100 USD per day, I think you can do it cheaper. Just don't go out as much. On my cheapest day, I spent $50 USD and that was simply on accommodation and food. While there are ways to save money (see below), the reality is that Sweden is expensive, and there's very little you can do about it if you aren't staying in places for free or cooking 100% of your meals. If you want a bare-bones budget of just food, accommodation, and transportation, you'll need around $60 USD per day (360 SEK). Add in some museums, and you'll need around $70 USD per day (420 SEK). If you're the average "stay in a hostel/hotel, eat cheap, go out a few times" traveler, then you should budget around $90 USD per day (540 SEK). (Cutting nights out from my budget would have reduced it by $20 USD per day!)
Some typical costs for Sweden are:
Hostel dorm: 220 SEK
Restaurant meal: 150–200 SEK
Beer: 55 SEK
Mixed drink: 100 SEK
Stockholm train: 40 SEK one way, 180 SEK for eight trips, 260 SEK for a week's unlimited pass
Pizza: 60 SEK
McDonald's: 60 SEK
Water: 18 SEK
Cheap hot dogs and sausages: 15–25 SEK
Ferry to Gotland: 230 SEK each way
Train to Gothenburg: 350 SEK
Museums: 60–100 SEK
Budget tips for Sweden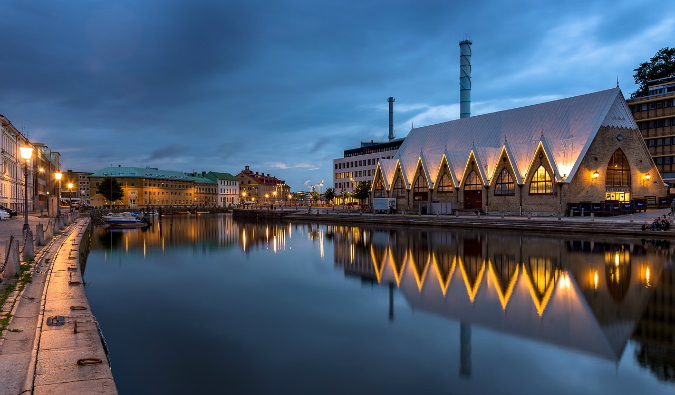 There are ways to make Sweden cheap, but they take some work. Since food and accommodation are very expensive, Couchsurfing or cooking your meals are the most obvious ways to cut down your costs. These are generic tips that will save you lots of money. But if staying with strangers or cooking isn't your thing, here are some other ways to save money:
Drink beer. Alcohol isn't cheap in Sweden as it's heavily taxed. However, beer is quite cheap. If you stick to beer, you can save yourself a lot of money when you go to the bars.
Book in advance. My trip to the Stockholm train station taught me that travel around Sweden is expensive, especially if you're booking only a day or two beforehand. Prices can vary wildly, even with just the difference of a day. Booking trains or buses three to four weeks in advance can get you around 40–50% off.
Buy a rail pass. If you plan to do a lot of traveling around, buy a rail pass before you get to the country. You'll end up saving a few hundred dollars off the high cost of travel. This can be a good alternative to booking in advance if you're like me and plan everything last minute.
Purchase a Stockholm Card. This pass gives you access to the city's public transportation system and free entrance to 99% of the museums and canal tours. It's well worth the money and will definitely save you a lot more than it costs if you plan to see a lot of sites while in Stockholm.
Skip the restaurants. Eating out in Sweden is very expensive, especially at sit-down restaurants. If you want to eat out without spending a lot of money, stick to the outside food vendors you see on the street. You can find a decent variety (I found a Thai one once), and they're only about 50 SEK per meal. You can also get cheap hot dogs and sausages for about 25 SEK.
Avoid clubs. Most clubs have a 200 SEK cover. Don't waste your money.
Get a metro card. If you don't plan to get the Stockholm Card, make sure you get a week's metro pass. At 260 SEK for a week's worth of train rides, it's a better deal than the 40 SEK it costs for a single ticket.
Refill your water. Water is about 20 SEK ($3.50 USD) per bottle. Buy one, reuse the bottle, and save money. Plus, you help save the environment too!
Avoid taxis. With the subway open all night long, don't take cabs. A typical ride is 200 SEK or more and not worth the price. Unless you're far from the train and it's snowing out, the price is hard to justify.
Note: Visit Stockholm gave me a free city pass for all the museums and three nights of free accommodation.
Get My Complete Guide for Budget Travelers!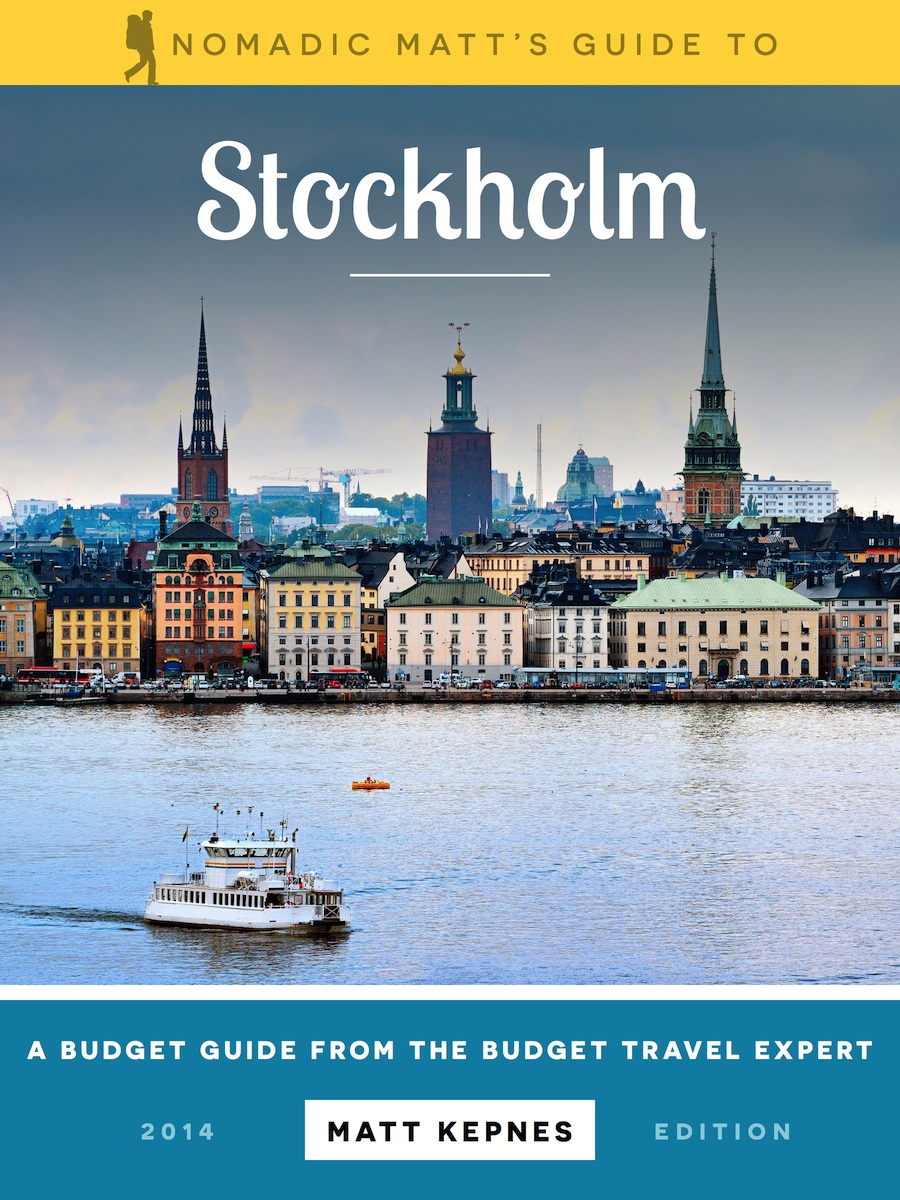 For more in-depth coverage of Stockholm, my 80-page guidebook is perfect for budget travelers like you! It cuts out the fluff found in other guides and gets straight to the practical information you need to travel and save money in one of the most beautiful cities in the world. You'll find suggested itineraries, budgets, ways to save money, on- and off-the-beaten-path things to see and do, nontouristy restaurants, markets, and bars, and much more! Click here to learn more and purchase the book.