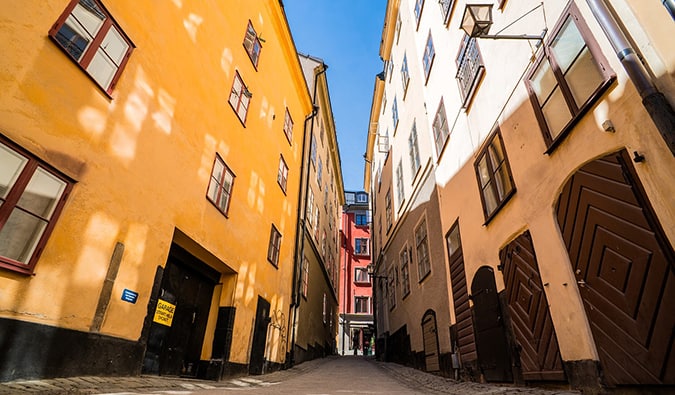 One of my favorite places in the world is Stockholm (I even attempted to live there last year). I love the city's historical beauty, the natural beauty of the archipelago, and the beautiful people. Throw in lots of parks, delicious cafés, and bars, and you have the recipe for one of the greatest destinations in the world.
Over the years, I've developed a good network of friends in Stockholm, and I've been there so much I feel like I know it like a local. If Stockholm didn't suffer from arctic winter conditions (OK, a slight exaggeration), it would be the most perfect city in the world.
A lot of travelers skip the city because it's expensive. There's no denying that Stockholm is really expensive compared to other cities around Europe. But a visit there doesn't need to break your budget, and by doing just a few simple things, you can drastically cut your expenses without much effort and make your visit here a lot more affordable:
Take a free walking tour – Like most major cities in Europe, there's a free walking tour, here run by Free Tour Stockholm. The tour will take you around the old city (Gamla Stan) and provide some context and history of the city. They also offer a tour of the main modern city center. Each tour lasts a couple of hours.
Cut your food budget – While groceries costs are comparable to most major cities in the world, eating out in Stockholm is incredibly expensive. I try to avoid dining out as much as possible as a result. Here are a few ways to cut your food budget:
Cook: Groceries in Stockholm can cost 415 SEK ($63 USD) per week per person, which is a great value when the average prepared meal is around 100–200 SEK ($15–30). It's much less expensive to cook your own food than eat out at the restaurants. Moreover, most hostels offer free pasta, so, while not the healthiest option, taking advantage of this perk can cut down on your food budget even more.
Avoid sit-down restaurants: If you still want to eat out, try to stick to the small outdoor stalls you see on the side of the street. You can get everything from hotdogs ($3) to Thai food ($10) to burgers ($10). It's a much more economical way to eat. Additionally, skip anything on Drottninggatan (the city's main shopping street) and in Gamla Stan. Both places are very overpriced.
Try the lunch buffets: Lunch buffets at the local restaurants are also another budget-friendly way to eat out, costing around 100 SEK ($15). They're a popular option with locals and are dotted around the city. Ask the staff where you're staying for the closest buffet. One of my favorite places is Hermans. Their buffet costs 98 SEK ($15). Though vegetarian, the food is always delicious, and you won't even care about the lack of meat. It's one of my favorite places in the city.
Refill your water bottle: A bottle of water costs about 20 SEK ($3). The tap water in the city is safe to drink, so buy a reusable bottle (or bring your own) and just fill that. Plus, you'll help save the environment! Win-win.
Take advantage of the free parks


The parks in Stockholm are free, and in the winter, there's free ice skating. You can also wander Gamla Stan and Södermalm and just take in the city's beauty. My favorite parks are Djurgarden, Langholmen, Gärdet, and Ralambshovsparken. They have huge open spaces and are good for a number of outdoor activities or lounging around.
Three free museums – Museums in Stockholm are not cheap (costing around $15 per visit), but there are a few that are free or at least offer free hours. They include the following:
Be sure to check with the local tourism office to see if any other museums are offering free hours or exhibits. There are many free art exhibits and events that come to town, and they'll have a list of them all.
Manage your alcohol consumption – Alcohol is not cheap in Sweden. If you want to destroy your budget, drink. If you want to have your money last a little longer, cut down on alcohol. Avoid wine (way overpriced), skip the clubs (overpriced), and stick to beer, which is the cheapest alcohol you can get. Try to drink during the happy hours when beer is as cheap as 35 SEK ($5 USD). If you do want to "get wasted," be sure to buy your liquor at Systembolaget, the Swedish government's liquor store (your only option). Prices are cheapest there.
See the archipelago on the cheap


The Swedish archipelago is beautiful. Thousands of islands dot the archipelago, and there are many tours from the city that will take you around during the day (or during sunset). But those tours are expensive. If you want to see and experience the archipelago cheaply, take the ferries to the outer islands. Tickets are 50–150 SEK ($8–23 USD) depending on what island you visit (by comparison, day tours are 240 SEK). Use Waxholmsbolaget for the most affordable tickets. From October to March, tickets are half off.
Get transportation passes – Stockholm metro tickets are costly (36 SEK per ticket), but you can buy a transportation card for 300 SEK ($45) that's valid for seven days (50 SEK per day) and unlimited use. There's also a 72-hour pass for 230 SEK ($36). While the city is incredibly walkable (I rarely, if ever, take the train), if you plan on taking the subway or buses, be sure to get a pass. All you need to do is use the train twice a day to make the pass a better value than individual tickets. And chances are, if you use the train once, you'll use it twice.
Use hotel points – Got hotel points? Use them! Marriott, Starwood, and Hilton hotels all have locations here in the city that can be booked with points. Free is always better than spending money.
Stay at Interhostel – Interhostel might not be the best hostel in the city (it's actually one of the worst) but it's the cheapest, and if you want a cramped, cheap dorm, this is the place to be. They're the cheapest and most centrally located hostel in the city. Dorms start at 149 SEK ($22) per night.
Use a hospitality network – Since accommodation is expensive in Stockholm, you should consider Couchsurfing, a site that connects travelers with locals who offer a free place to stay. You can cut out your accommodation costs and get to know the local culture, since there are a lot of hosts here who take part in a very active Couchsurfing community. They organize a lot of meet-ups, and this is a great way to make some friends.
Visiting Stockholm doesn't need to bust your budget completely. There are many ways to save money in this expensive city. I return here year after year, and while it's never the cheapest destination in the world, I always find ways to make the trip affordable. And with the tips above, so can you. Stockholm is one of the best places on earth — don't let the prices keep you away!
Get the In-Depth Budget Guide to Stockholm!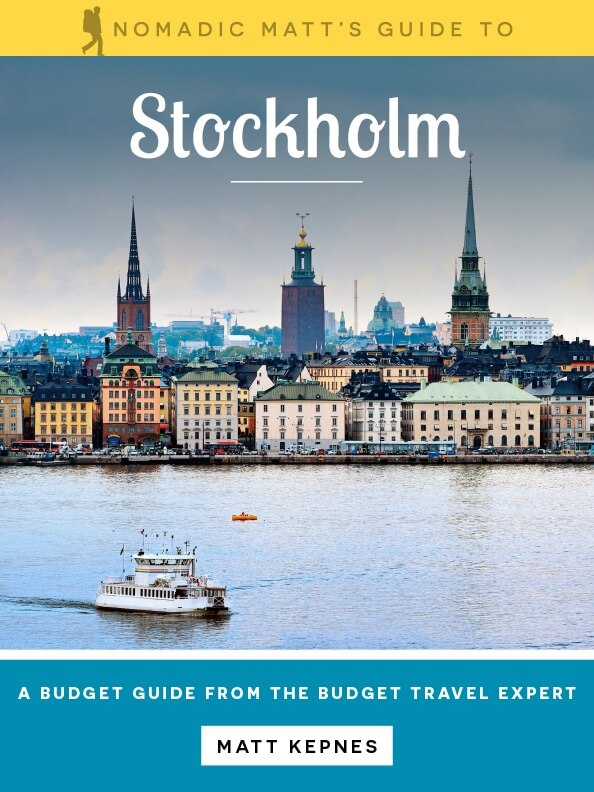 For more in-depth coverage of Stockholm, my 80 page guidebook is perfect for budget travelers like you! It cuts out the fluff found in other guides and gets straight to the practical information you need to travel and save money in one of the most beautiful cities in the world. You'll find suggested itineraries, budgets, ways to save money, on and off the beaten path things to see and do, non-touristy restaurants, markets, and bars, and much more!! Click here to learn more and get started.
Book Your Trip to Stockholm: Logistical Tips and Tricks
Book Your Flight
Find a cheap flight to Stockholm by using Skyscanner or Momondo. They are my two favorite search engines. Start with Momondo.
Book Your Accommodation
You can book your hostel in Stockholm with Hostelworld. If you want to stay elsewhere, use Booking.com as they consistently return the cheapest rates. (Here's the proof.)
Don't Forget Travel Insurance
Travel insurance will protect you against illness, injury, theft, and cancellations. I never ever go on a trip without it. I've been using World Nomads for ten years. You should too.
Need Some Gear?
Check out our resource page for the best companies to use!
Want More Information on Stockholm?
Be sure to visit our robust destination guide on Stockholm for even more planning tips!