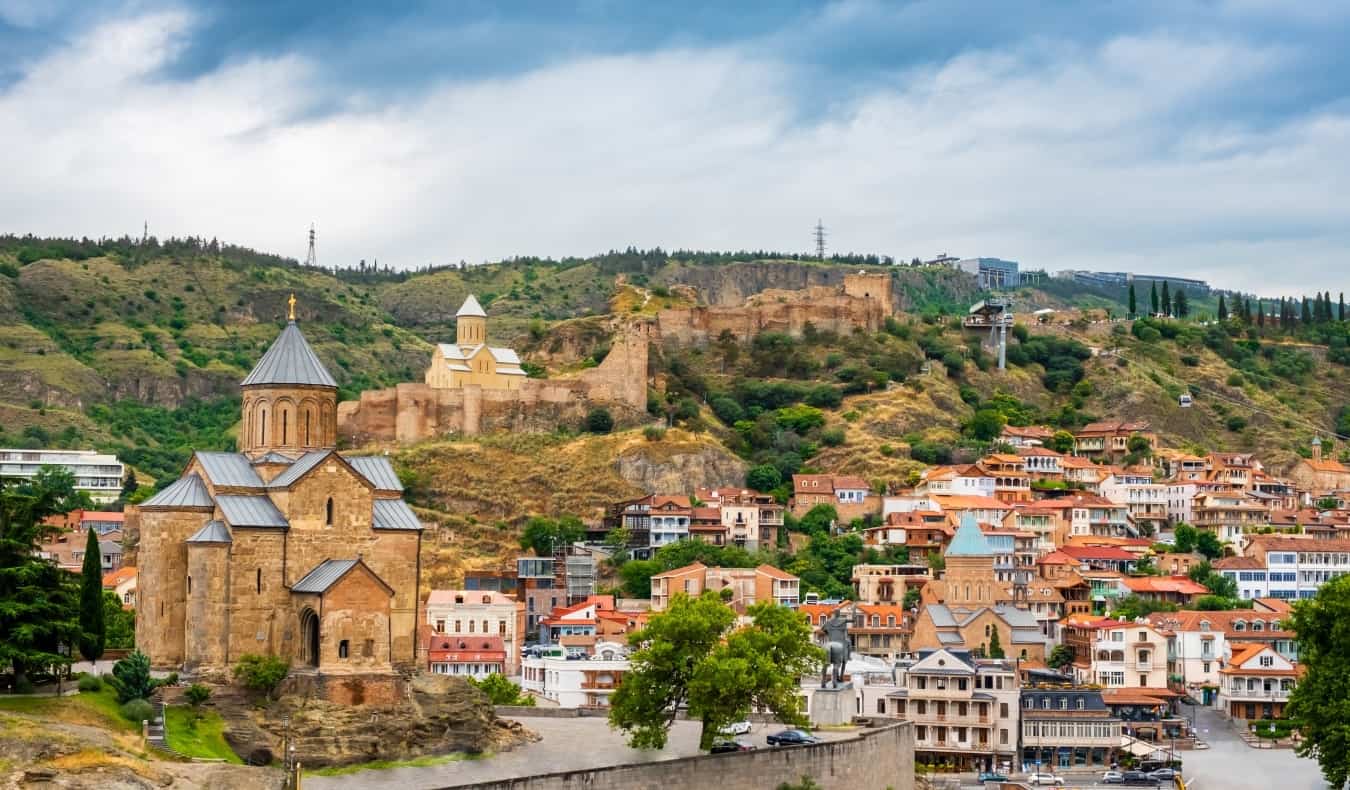 Last Updated: 9/4/23 | September 4th, 2023
In recent years, there have been a handful of countries that have emerged as exciting up-and-coming travel destinations. These are destinations that are affordable, interesting, unique, and most importantly, free from the hordes of tourists that have clogged the cultural arteries of cities like Barcelona, Amsterdam, and Venice.
One of those countries is Georgia.
Formerly part of the Soviet Union, Georgia has become a popular destination in the region for both backpackers and digital nomads alike. Tourist numbers are climbing fast, with over nine million foreigners visiting Georgia in 2019 before the pandemic. While the majority of them come from neighboring countries, it's also a destination that is quickly becoming popular with western tourists, too.
Tbilisi, the country's capital, sees the most visitors — and for good reason. It's a stunning city with a picturesque Old Town that has been colorfully restored in recent years. There is also lots to see and do in and around the city, like exploring the Narikala fort ruins, seeing the Jvari Monastery on the nearby mountaintop, and visiting the many beautiful cathedrals and churches that dot the city.
Outside of Tbilisi, travelers can explore the mountains and caves of Georgia's picturesque landscapes, and if you like wine, you'll be happy to learn that Georgia is actually one of the oldest wine regions in the world!
Best of all, Georgia is super cheap (a huge plus in my book)!
But is Georgia safe?
While there was some danger a decade back during the Russo-Georgian War, Georgia is now a safe country to visit. Even the US Department of State rates Georgia at 1: exercise normal precautions, on their travel advisory scale. (For reference, even Western European countries that most Americans normally consider safe, like Spain and France, rank higher at 2: exercise increased caution.)
But because many people don't know much about Georgia, I still get some messages from people asking about the safety concerns there.
So, what do you need to think about before you go to Georgia? Are there any places you shouldn't go? In this post, I'll share everything you need to know to have fun and stay safe in Georgia!
8 Safety Tips for Georgia
1. Avoid South Ossetia and Abkhazia – The regions of South Ossetia (on the Russian border, north of Tbilisi) and Abkhazia (bordering Russia and the Black Sea in the far west of Georgia) are not safe to visit. These are Russian-occupied regions of Georgia that have experienced high conflict in recent years.
There are still car bombs and other terrorist attacks reported periodically in Abkhazia and South Ossetia, and there are unexploded landmines too. Even US government officials are prohibited from traveling here.
Just don't visit the areas, and you'll be fine. Also, don't try to travel through them into Georgia from Russia, as doing so is illegal.
2. Stay alert – Like in any country where the locals see the tourists as being wealthier, petty theft can happen. It's a lower risk than in many countries but it's still important to take precautions. Don't wear flashy jewelry or watches or flaunt large amounts of cash. Keep an eye on your bags at all times too.
The most common incidents occur in busy tourist areas or on crowded public transportation. If you can keep your guard up in these places, you'll be fine.
3. Beware of the bar scam – There have been reports of tourists in Tbilisi being scammed by locals who invite them into a bar for food and drinks and then force them to pay a really high bill. It's not super common but it's something to be aware of.
For other travel scams, check out this article on the topic for more info.
4. Be wary of demonstrations or protests – It's quite common for political demonstrations to take place in Tbilisi and sometimes other parts of Georgia, though they most commonly happen outside the parliament on Rustaveli Avenue in Tbilisi. While the most likely problem is just an interruption to public transport you should always be aware that protests can turn violent and it's probably safer to stay away.
5. Be careful when driving – Unfortunately, the road conditions in much of Georgia aren't great. When combined with reckless driving from the locals, traffic accidents are common. Sometimes road markings are lacking and there is often confusion about which driver has the right of way.
When in a car, always wear a seatbelt. Additionally, avoid driving after dark. The lack of good lighting makes it even more dangerous.
If you drive here, use caution and be sure that your travel insurance covers rental cars. Use Discover Cars to find the best rental car deals.
6. Learn a few words or have a translation app ready – Georgians are usually really friendly, but not many of them speak English. If something goes wrong they are always happy to help you out, but you might need a few words of the local language or a good translation app to help you explain what you need.
The Georgian language is pretty special; it's one of the oldest in the world and it has a unique script. If you can learn a few words before you go. There are lots of free resources online and you can download Google Translate just in case you need to translate on the go.
7. Be cautious in the mountains – Georgia's beautiful alps make it a popular destination for skiing and mountaineering. But at the moment, it's still hard to get up-to-date, accurate information about the weather conditions there, so you need to be cautious. If in doubt, skip the adventure for the day.
Also, although they're improving, the safety standards for adventure sports in the mountains in Georgia are still lower than you might expect. If you're having doubts about an activity, try using a specialist guide and check reviews for safety levels before you go.
8. Buy travel insurance – I never leave home without travel insurance. While most trips are uneventful, it's important to be prepared just in case. Travel insurance can save you hundreds and thousands of dollars and provide critical assistance in an emergency. Remember, it's always better to be safe than sorry!
I recommend SafetyWing for travelers under 70, while Insure My Trip is the best choice for travelers over 70.
You can use this widget to get a quote for SafetyWing:
For more information on travel insurance, check out these posts:
Is Georgia Dangerous to Visit?
Most parts of Georgia are extremely safe to visit. However, you should definitely avoid the South Ossetia and Abkhazia regions on the border with Russia. You should also be aware that the Pankisi Gorge area (north-east of Tbilisi) has been known for terrorist training and activity in the past, although recent reports seem to suggest that it is currently safe to visit.

Is Tbilisi a Safe City?
The Georgian capital, Tbilisi, is generally a very safe place to visit. Be aware that the drivers can be a little erratic so you need to have your wits about you as a pedestrian. There are also some reports of petty crime against tourists like pickpocketing in the main tourist areas, so keep an eye on your belongings, but the risk is lower than in many other European cities.

Is the Tap Water Safe in Georgia?
While it can be reasonably safe to drink the tap water in some parts of Georgia where it comes from freshwater sources in the mountains, there have been incidents of travelers picking up giardia during their travels. Unfortunately, this means it's best to avoid the tap water while you're here.
The best way to make sure your drinking water is safe is to bring a LifeStraw for your reusable water bottle. This way you'll be able to purify the tap water so you don't get sick and avoid using single-use plastic bottles in the process.

Are the Taxis Safe in Georgia?
Taxis are a common way to get around in Georgia and are usually quite safe. Just make sure you wear your seatbelt as drivers here can be aggressive and the rules of the road are interpreted more as suggestions than law.
Be aware that taxis here don't have meters, so you'll need to agree on a price in advance. Ask your hostel or hotel staff for advice about how much you should expect to pay before you catch a ride. That way, you can avoid getting overcharged (one of the most common travel scams to watch out for in Georgia). Alternatively, you can use Bolt, the local ride-hailing equivalent of Uber (which doesn't work here).
If you're a solo female traveler, I'd avoid taking taxis alone at night (but that's my advice for pretty much every city).

Is Georgia Safe for Solo Female Travelers?
Given how safe Georgia is in general, it's probably no surprise to hear that yes, Georgia is safe for solo female travelers. The usual rules apply, though: don't walk alone at night, beware of strangers offering your drinks or food (especially in bars in Tbilisi), and never leave your drink unattended. While it's rare, there have been incidents of drink spiking in Georgia.
In short, as long as you use the common-sense practices you use at home you should have no problems here.
Here are helpful posts on safety written by our solo female travel experts:
***
So, should you visit Georgia? Yes! It might be a relatively unknown destination to travelers but that doesn't mean it's dangerous. Be aware of lower driving and road standards and take the usual precautions with your belongings — especially when you're in a more crowded tourist area.
Do that, and you'll have a fun and safe trip to this amazing and underrated country!
Book Your Trip to Georgia: Logistical Tips and Tricks
Book Your Flight
Use Skyscanner to find a cheap flight. They are my favorite search engine because they search websites and airlines around the globe so you always know no stone is left unturned!
Book Your Accommodation
You can book your hostel with Hostelworld as they have the biggest inventory and best deals. If you want to stay somewhere other than a hostel, use Booking.com as they consistently return the cheapest rates for guesthouses and cheap hotels. My favorite places to stay are:
Don't Forget Travel Insurance
Travel insurance will protect you against illness, injury, theft, and cancellations. It's comprehensive protection in case anything goes wrong. I never go on a trip without it as I've had to use it many times in the past. My favorite companies that offer the best service and value are:
Looking for the Best Companies to Save Money With?
Check out my resource page for the best companies to use when you travel. I list all the ones I use to save money when I'm on the road. They will save you money when you travel too.
Want More Information on Georgia?
Be sure to visit our robust destination guide on Georgia for even more planning tips!