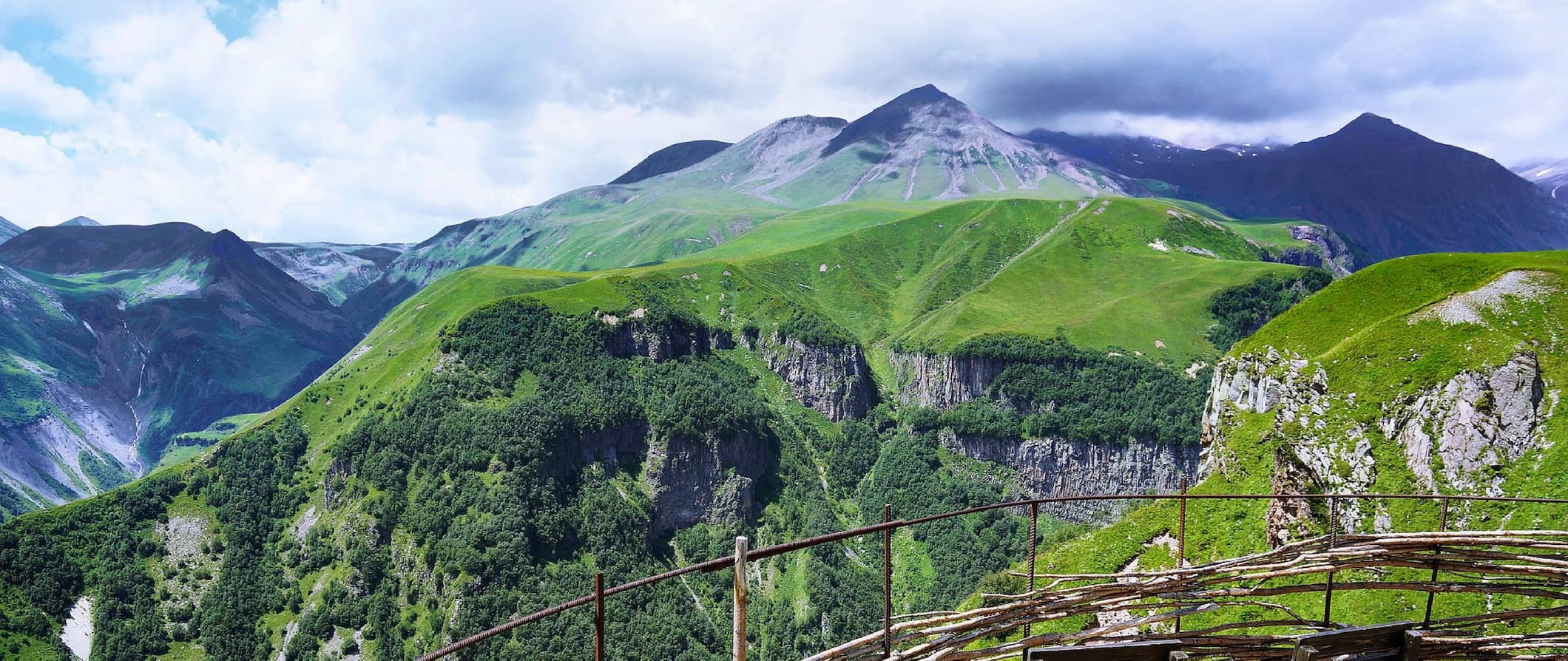 Backpacking Georgia was everything I thought it would be.
For years, I'd heard from my more well-traveled friends that Georgia was the place to be; it's cheap, has delicious food and wine, incredible hikes and mountain scenery, and is devoid of huge numbers of tourists.
When I finally traveled around Georgia, I found they were right. I loved Georgia. It was better than I thought it could possibly be.
The country is in the Caucasus region and has a rich history, owing to its location at the intersection of Europe and Asia. It's long been a cultural crossroads. Artifacts, including evidence of wine production, date to 6000 BCE, earning Georgia the nickname the "Cradle of Wine."
From ancient monasteries to vineyards to tiny mountain towns to the Black Sea beaches, Georgia has it all — without the prices or crowds of Europe. The capital, Tbilisi, known for its diverse architecture and maze-like cobblestone streets, has a hip art and robust foodie scene. (I loved Tbilisi so much I extended my time there.)
This travel guide to the country of Georgia can help you plan your trip, save money, and make the most of your visit!
Top 5 Things to See and Do in Georgia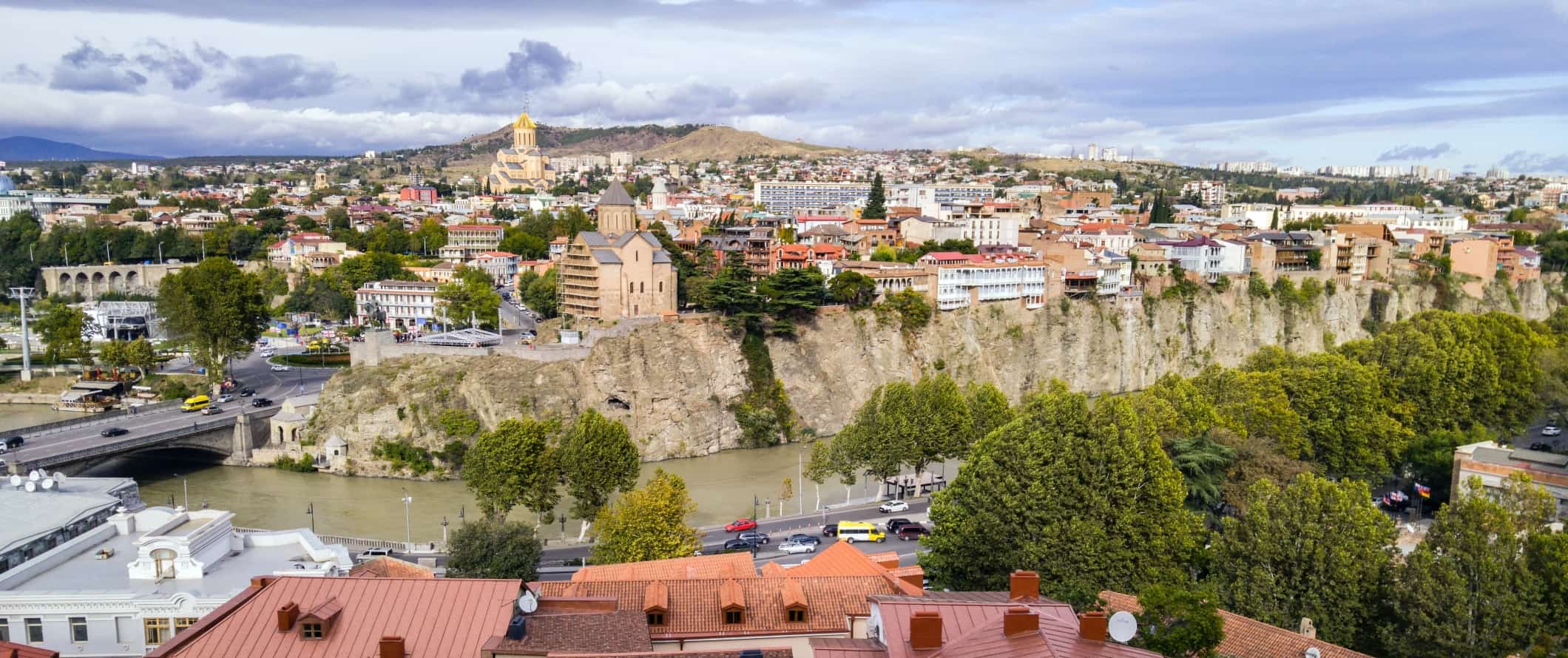 1. Explore Tbilisi
Tbilisi, the capital of Georgia, is incredible. Its cobblestoned old town has ancient streets, beautiful buildings, and thermal baths. Its modern district is filled with old Soviet buildings turned into co-working and art spaces. It's a fun, youthful, energetic city. Stay awhile.
2. Check out Batumi
Batumi is the country's famous Black Sea resort and port city, with a beautiful waterfront promenade, parks, and beaches. The towering Alphabetic Tower, adorned with Georgian script, has a seaside observation deck at the top (10 GEL). The old town district is lined with renovated 19th-century buildings.
3. Explore Stepantsminda
Located on the Georgian Military Highway, Stepantsminda is a valley town at the foot of Mount Kazbek. Often referred to as Kazbegi (its former name), it's home to the famous hilltop silhouette of Tsminda Sameba Church. It makes a great base for hiking, climbing, and mountain-biking.
4. See Mtskheta
Mtskheta, the country's former capital, is one of the oldest cities of Georgia. As the birthplace and one of the most vibrant centers of Christianity in Georgia, Mtskheta was declared as the "Holy City" by the Georgian Orthodox Church in 2014. It's another must see place in the country.
5. Tour Gelati Monastery
One of the most spectacular monasteries in the country is the Gelati Monastery outside of Kutaisi. It is widely regarded as a masterpiece of Georgian's Golden Age. It's one of my favorite places in the entire country — it's just beautiful. Free admission.
Other Things to See and Do in Georgia
1. Visit Vardzia Cave Monastery
This unique monastery was built into the side of Erusheli mountain during the Georgian Golden Age (11th-13th century) for Queen Tamar the Great as a sanctuary to hide from invaders. The fortress contains 6,000 apartments as well as a throne room, 25 wine cellars, a bakery, and a large church. Today, the monastery is occupied by a small number of monks with about 300 of the original 6,000 apartments in use. It is easy to get here by marshrutka (minibus) from Akhaltsikhe. The journey takes about 1.5 hours. Admission is 15 GEL.
2. Wander the Batumi Botanical Garden
Located 9 kilometers (5.5 miles) from Batumi, these expansive gardens are located on a hillside overlooking the sea, covering over 275 acres. The main trail takes about 1.5 hours, on which you can see a diverse range of flora and fauna as well as waterfalls and a river in which you can swim. There are nine sections to the park, including areas dedicated to plants from the Caucasian subtropics, the Himalayas, the Mediterranean, New Zealand, East Asia, and more. The entrance fee is 8 GEL and camping overnight is possible for 20 GEL (includes admission).
3. Take a day trip to the town in a cave
Founded in the late Bronze Age, Uplistsikhe Cave Town is an ancient rock-hewn town located outside Gori. The area has been inhabited for thousands of years, and between the 6th century BCE and the 11th century CE, this was one of the most important political and religious centers in the country. The town was abandoned in the 13th century after multiple invasions by the Mongols. Admission is 15 GEL.
4. Soak in the sulfur baths
Mineral sulfur baths are central to the history and culture of Georgia's capital. In fact, Tbilisi comes from the word for "warm place." Although there were once 63 bathhouses in Tbilisi, sadly, there are now only a handful left. The baths are still wildly popular and are supposed to have healing powers and be good for your skin. The historic bathhouses straddle a small river that feeds them and then meanders through a canyon leading to the amazing Dzveli Tbilisi sulfur waterfall. Prices for an hour soak start at 20 GEL at public facilities and go all the way up to 200 GEL for a private room in fancier bathhouses. You can also opt to get a scrub down for an additional 10-20 GEL.
5. Visit Svaneti and the Caucasian Mountains
One of the most visited places in the mountains is Svaneti, thanks to its hundreds of ancient watchtowers dotted around the landscape. Historically, these watchtowers were used to keep citizens safe from invaders. While you can fly there, I'd recommend taking the long winding road through the mountains. It's more scenic and there are lots of great photo ops.
6. Explore the Caves of Gareji
Located on the border with Azerbaijan, the David Gareji monastery complex consists of hundreds of rooms and churches, constructed on the side of the hilly landscape. Due to ongoing border disputes with Azerbaijan, only half of the complex is open to visitors. You can easily visit as a day trip from Tbilisi for around 108 GEL or you can travel by bus and stay locally. The entrance fee is 7 GEL, with an audio guide costing an additional 10 GEL.
7. Go Skiing
Thanks to the high Caucasus mountains, there is some really underrated skiing in the country. The most popular resorts are Gudauri, Bakuriani, and Mestia. Expect to pay around 40-50 GEL for a day pass. You can find accommodation from 140 GEL a night.
8. Visit the Georgian National Museum
One of the best museums in Tbilisi, this massive museum complex consists of several museums wrapped in one. It has a wealth of pre-Christian gold, silver, and precious stonework from burials in Georgia going back to the 3rd millennium BCE. Most stunning are the fabulously detailed gold adornments from Colchis (western Georgia). On the top floor, the Museum of Soviet Occupation focuses in copious detail on Soviet repression and resistance to it. Admission to all the museums in the complex costs 20 GEL.
9. Enjoy Mtatsminda Park
Mtatsminda Park sits at the top of Mount Mtatsminda overlooking Tbilisi. It's a famous amusement park with a killer view from the highest point in Tbilisi and is worth the funicular trip just for the view. The park costs nothing to enter, but if you want to go on the rides you need to buy a card for 2 GEL and then top it up to pay. Rides include a Ferris wheel, carousels, water slides, and a roller coaster.
10. See Katskhi Pillar
The Katskhi Pillar is a 40-meter (130-foot) limestone monolith with the ruins of a small medieval hermitage at the top. The site was used between the 9th-13th centuries by an early Christian group called the "Stylites" who were known as "pillar monks." They would spend long periods of time sitting (or standing) on top of pillars as they believed the practice would bring them closer to God. You cannot ascend the pillar, but it makes for gorgeous views and photos.
11. Visit the Stalin Museum
Stalin's birthplace of Gori, Georgia, is now home to a weird museum that pays homage to his life (and forgets all the bad stuff he did). The museum takes you through Stalin's life, from his early years growing up in Gori to his leadership of the USSR and finally his death in 1953. It's a whitewashed exhibition but worth a visit as it's a weird experience. Admission is 15 GEL including an English-speaking guide.
12. Explore the Tusheti region
The Tusheti region is located in the northeast of Georgia on the northern slopes of the Caucasus Mountains. If you want to go hiking in Georgia and get off the beaten path, head here. It's incredibly beautiful and panoramic, and many people hike village to village to stay in guesthouses. The Omalo Loop Trek is a good one, although long (it takes several days). If you're just looking to do some day hikes, do Omalo to Diklo Fort (4 hours) or Ghele to Parsma (8-9 hours).
Georgia Travel Costs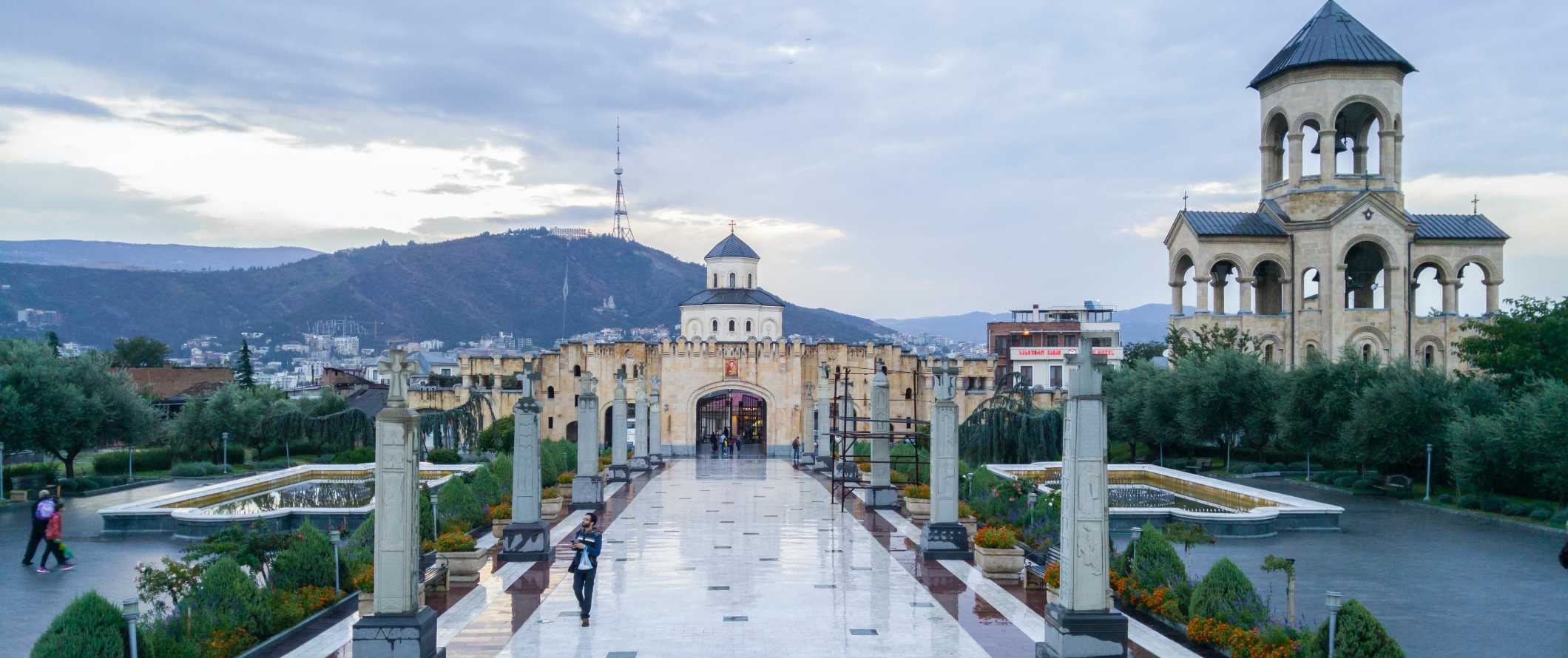 Accommodation – Georgia is a great budget backpacker destination, with a ton of cheap accommodation options. A bed in a 4-6-bed dorm costs around 15-20 GEL per night. For a private room in a hostel, expect to pay around 50-80 GEL per night. Free Wi-Fi is standard and most hostels also have self-catering facilities.
Budget hotels cost between 40-67 GEL per night and come with basic amenities like Wi-Fi, TV, and coffee/tea makers. Mountain guesthouses start from 55-67 GEL and often require a minimum stay of 2-3 nights. Airbnb is another great budget option, with private rooms starting at 45 GEL per night. Entire apartments start at around 60-90 GEL.
Camping is available around the country. There are a few hundred campgrounds scattered around, with prices costing around 10-25 GEL per night for two people and a tent. Wild camping is legal in Georgia as long as you're not camping on someone's private property.
Food – Georgian cuisine is a flavorful and healthy mix of meats, produce, fresh cheeses, and lots of spices. Soups and salads are plentiful, as are all kinds of fresh bread. Be sure to try khachapuri (a gooey, cheesy bread), khinkali (Georgian dumplings), bean soup, and sulguni (a popular local cheese). Wine, of course, is the drink of choice and can be found everywhere for incredibly affordable prices.
Overall, food is very cheap in Georgia — especially if you stick to eating the local cuisine. For an inexpensive lunch at a restaurant serving traditional Georgian cuisine, expect to pay around 20 GEL. Fast food (think burger and fries) is around 15 GEL while a medium pizza is 14 GEL.
If you want to splash out, a nicer meal at a mid-range restaurant costs around 35-40 GEL, including a drink.
Expect to pay around 4-5 GEL for a beer and 5-7 GEL for a glass of wine. A latte/cappuccino is around 6 GEL.
If you are planning to cook your own food, a week's worth of groceries costs between 68-95 GEL. This gets you basic stapes like rice, pasta, seasonal produce, and some meat.
Backpacking Georgia Suggested Budgets
If you are backpacking Georgia, my suggested budget is 70 GEL per day. This covers the cost of a hostel dorm, eating only cheap meals but mostly your own food, limiting your drinking, using public transportation to get around, and sticking mostly to free and cheap activities like free walking tours and hiking.
On a mid-range budget of about 185 GEL per day, you can stay in a private Airbnb, eat out for most of your meals, enjoy a few drinks, take the occasional taxi, and do more paid activities like visiting museums or doing a guided hike.
On a "luxury" budget of 360 GEL per day or more, you can stay in a hotel, eat out for all your meals, rent a car or hire a driver to explore, enjoy more drinks, take taxis when you need to, and do whatever tours and activities you want. This is just the ground floor for luxury though. The sky is the limit!
Accommodation
Food
Transportation
Attractions
Average Daily Cost
Backpacker
20
25
15
10
70
Mid-Range
40
60
35
50
185
Georgia Travel Guide: Money-Saving Tips
Georgia is a great place for backpackers as both food and accommodation are affordable. However, there are still ways you can cut costs even further. Here are some tips on how to save money in Georgia:
Take a free walking tour – Tbilisi Free Walking Tour offers free walking tours which are a great way to get familiar with the city and the culture. Just be sure to tip your guide at the end!
Drink the tap water – The water in Georgia is perfectly safe to drink, so an easy way to save money is to bring a reusable water bottle. LifeStraw is my go-to brand since their bottles have built-in filters that ensure your water is always clean and safe.
Wild camp – If you really want to save money in Georgia, bring a tent. Camping is perfectly legal on public land.
Cook your own meals – Many hostels here include kitchen facilities, so if you want to save money, book accommodation with a kitchen. Buying your own groceries may not be as glamorous as going out to eat, but it definitely saves money!
Stay with a local – Staying with a local via Couchsurfing (or similar sharing economy sites) is a great way to save money and meet a knowledgeable local who can share their insider tips and advice.
Walk everywhere – All of the major towns and cities in Georgia are quite walkable, so skip the public transportation (and the taxis) if you want to save a few extra Lari.
Where to Stay in Georgia
You can find some incredibly cheap accommodation options throughout Georgia. These are some of my suggested places to stay in Georgia:
How to Get Around Georgia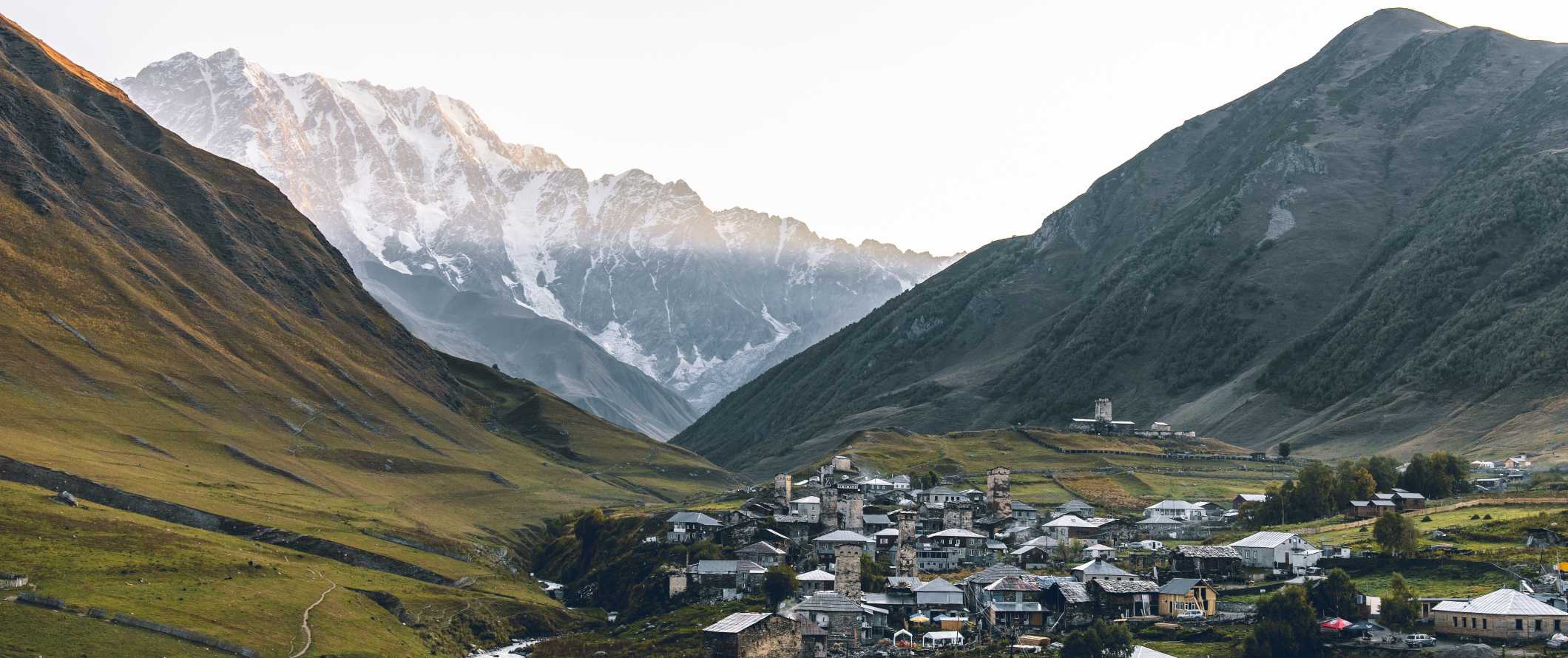 Public Transportation – Larger cities in Georgia are served by buses, mini-buses, and taxis. Tbilisi is the only city that has a metro system, costing 0.5 GEL per ride. You can also get a "Metromoney" card for 2 GEL that gives discounts on Tbilisi public transport and can be topped up as you go.
Public transportation prices vary by city but expect to pay around 0.5 GEL for a standard adult ticket. Most cities are walkable, although Tbilisi, with the exception of the old town, is pretty spread out so you may want to try and navigate the city's public transport system.
If you need to take a taxi, prices start around 3 GEL and cost around 0.60 GEL per kilometer. Be sure to negotiate a fare before you get in.
Alternatively, if you are in Tbilisi and don't want to take the bus then you can use Yandex, which is Georgia's answer to Uber. You can download the app and use it to book a driver. Most journeys cost no more than 5 GEL.
Trains – Train travel within Georgia is slow and most of the trains are old and don't have AC. If you do decide to travel by train and are traveling in high season, you need to book at least a day or two in advance or risk your train being sold out.
If you are entering or leaving Georgia by train, you can find direct routes from Armenia and Azerbaijan. Prices are very budget friendly with the overnight train from Baku in Azerbaijan costing from 62 GEL for a second-class ticket to Tbilisi. The journey is around 13 hours, so it may be worth paying a little extra for first class (around 100 GEL).
Bus – Buses, known locally as a marshrutka, are the best way to get around the country on a budget. Expect to pay 35 GEL to get from Tbilisi to Yerevan in Armenia.
Airlines – You can fly between Tbilisi and Batumi. Flights cost anything from 215-1,078 GEL so this is not the most economical option. I'd only recommend it if you're short on time and have lots of money to spend.
Car rental – One of the best ways to see Georgia is by renting a car. This way you are free to roam without restrictions. Car rentals can be as low as 94 GEL per day for a multi-day rental. However, the roads in Georgia really aren't the best and accidents are common so you'll need to drive carefully. An International Driving Permit (IDP) is required for renting a vehicle.
Hitchhiking – While many people do, I wouldn't hitchhike here. I personally don't think it's very safe, especially around the big cities. Doing it in some of the small mountain towns is a bit safer, but I still wouldn't do it. If you want to learn more, Hitchwiki has additional info and tips.
When to Go to Georgia
The best time to visit Georgia is during the spring or autumn. Georgia can get extremely hot during the summer months and winters can be bitterly cold, making the shoulder seasons the best time to visit.
As the weather begins to get warmer from April to June, the cities come alive with people taking advantage of the weather. The temperatures also make hiking and outdoor activities more pleasant; the summer can be too warm to hike comfortably. Expect spring and autumn daily highs around 18°C (65°F).
The ski season in Georgia is from December through to April. Expect temperatures to hover around freezing. If you don't plan on skiing or doing other winter sports, I'd avoid a winter visit to Georgia.
How to Stay Safe in Georgia
Georgia is a very safe country and violent crime against travelers is rare. The only areas to be avoided are the Russian-occupied areas of Georgia in the north (Abkhazia and South Ossetia) where things are still a bit rough and contentious.
As in any destination, don't flash your valuables and keep an eye out for pickpockets in busy tourist areas and on crowded public transportation.
Solo female travelers should feel safe here, though the standard precautions apply (don't leave your drink unattended at the bar, don't walk home alone intoxicated, etc.).
Road accidents are very common so be sure to always wear your seatbelt when in a vehicle and always look twice when crossing busy streets. If you rent car, make sure you don't leave any valuables in it overnight. Break-ins are rare but it's always better to be safe than sorry.
Scams here are rare, but you can read about common travel scams to avoid if you're concerned.
If you experience an emergency, dial 112 for assistance.
Always trust your gut instinct. Make copies of your personal documents, including your passport and ID. Forward your itinerary along to loved ones so they'll know where you are.
The most important piece of advice I can offer is to purchase good travel insurance. Travel insurance will protect you against illness, injury, theft, and cancellations. It's comprehensive protection in case anything goes wrong. I never go on a trip without it as I've had to use it many times in the past. You can use the widget below to find the policy right for you:
Georgia Travel Guide: The Best Booking Resources
These are my favorite companies to use when I travel. They consistently have the best deals, offer world-class customer service and great value, and overall, are better than their competitors. They are the companies I use the most and are always the starting point in my search for travel deals.
Skyscanner – Skyscanner is my favorite flight search engine. They search small websites and budget airlines that larger search sites tend to miss. They are hands down the number one place to start.
Hostelworld – This is the best hostel accommodation site out there with the largest inventory, best search interface, and widest availability.
Booking.com – The best all around booking site that constantly provides the cheapest and lowest rates. They have the widest selection of budget accommodation. In all my tests, they've always had the cheapest rates out of all the booking websites.
Get Your Guide – Get Your Guide is a huge online marketplace for tours and excursions. They have tons of tour options available in cities all around the world, including everything from cooking classes, walking tours, street art lessons, and more!
SafetyWing – Safety Wing offers convenient and affordable plans tailored to digital nomads and long-term travelers. They have cheap monthly plans, great customer service, and an easy-to-use claims process that makes it perfect for those on the road.
LifeStraw – My go-to company for reusable water bottles with built-in filters so you can ensure your drinking water is always clean and safe.
Unbound Merino – They make lightweight, durable, easy-to-clean travel clothing.
Top Travel Credit Cards – Points are the best way to cut down travel expenses. Here's my favorite point earning credit cards so you can get free travel!
Georgia Travel Guide: Related Articles
Want more info? Check out all the articles I've written on backpacking/traveling Georgia and continue planning your trip: