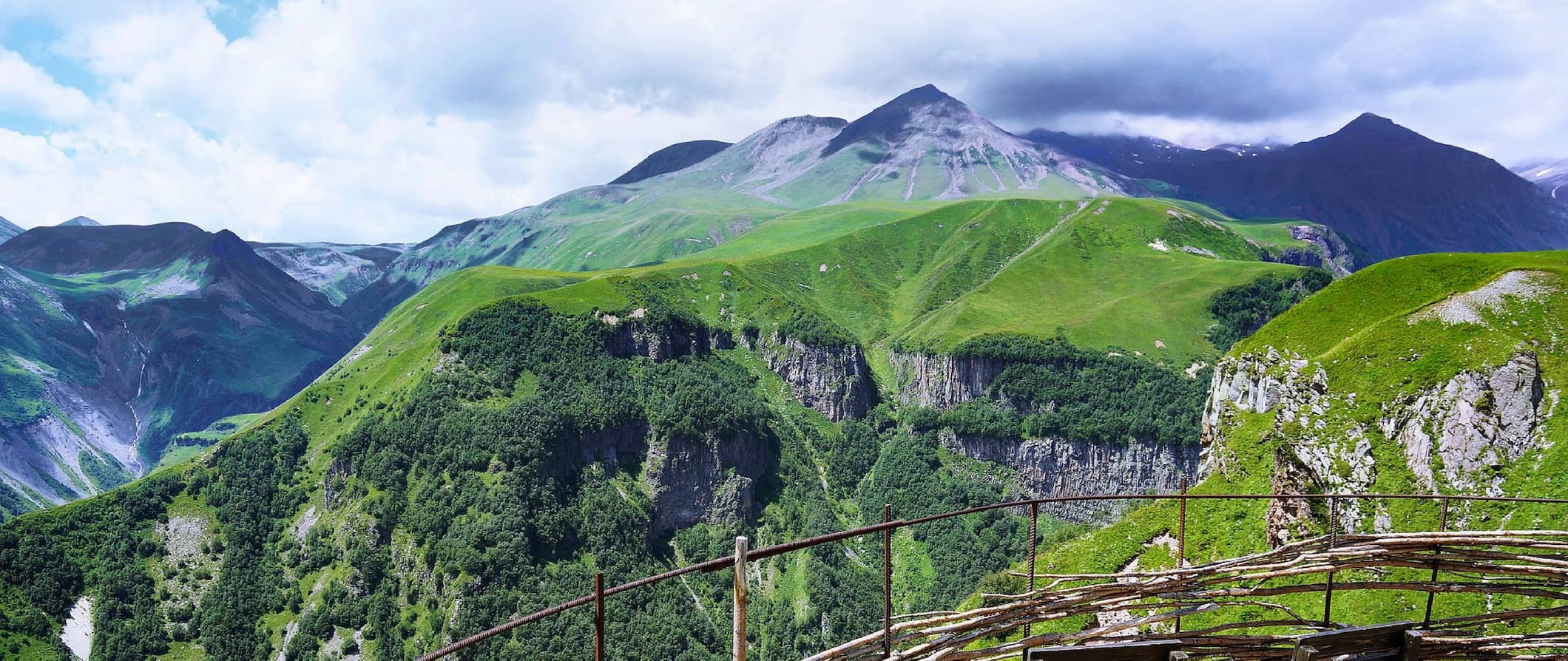 Backpacking Georgia was everything I thought it would be.
For years, I'd heard from my more well traveled friends that Georgia was the place to be: it was cheap, had delicious food and wine, incredible hikes and mountain scenery, and was devoid of huge numbers of tourists.
When I finally traveled around Georgia, I found they were right. I loved Georgia. It was better than I thought it could possibly be.
Georgia has a rich history. The country is at the intersection of Europe and Asia and has long been at the crossroads of history. People have been living here for thousands of years. It is supposedly where wine was invented.
From ancient monasteries to vineyards to tiny mountain towns to the Black Sea beaches and wonderful day hikes, Georgia has it all – without the prices or crowds of Europe. The capital, Tbilisi, known for the diverse architecture and maze-like cobblestone streets, has a hip art and robust foodie scene. (I loved Tbilisi so much I extended my time there.)
And, while hard on the exterior, Georgians warm up quickly.
This Georgia travel guide will give you everything you need to know about visiting the country. Trust me, it's better than you imagine!
Top 5 Things to See and Do in Georgia
1. Visit Tbilisi
Tbilisi, the capital of Georgia, is incredible. Its cobblestoned old town has ancient streets, beautiful buildings, and working thermal baths. Its modern district is filled with old Soviet buildings turned into co-working and art spaces. It's fun, youthful, energetic city. Stay awhile.
2. Check out Batumi
Batumi is the country's famous Black Sea resort and port city, with a beautiful waterfront promenade, parks, and beaches. The 130m-high Alphabetic Tower, adorned with Georgian script, also has a seaside observation deck and the old town district is lined with renovated 19th-century buildings. It's one of the best places to visit on the country's coast.
3. Explore Stepantsminda
Located on the Georgian Military Highway, Stepantsminda is a valley town in at the foot of Mount Kazbek. You will likely hear the town referred to as Kazbegi (its former name). As well as the famous hilltop silhouette of Tsminda Sameba Church, it makes a great base for hiking and mountain-biking.
4. Mtskheta
Mtskheta is one of the oldest cities of Georgia. As the birthplace and one of the most vibrant centers of Christianity in Georgia, Mtskheta was declared as the "Holy City" by the Georgian Orthodox Church in 2014. It's another must see place in the country.
5. Gelati Monastery
One of the most spectacular monasteries in the country is the Gelati Monastery outside of Kutaisi. It is widely regarded as a masterpiece of Georgian's Golden Age. It's one of my favorite things in the entire country. It's just beautiful.
Other Things to See and Do in Georgia
1. Visit Vardzia Cave Monastery
This was built during the Georgian Golden Age for Queen Tamar the Great as a sanctuary to hide from invaders and is built into the side of Erusheli mountain. The fortress contains 6000 apartments as well as a throne room, 25 wine cellers, a bakery, and a large church. Today, the monastery is occupied by a small number of monks with about 300 of the original 6,000 apartments in use. It is easy to get here by Marshutka to either Miramkhani or Vardzia from Akhaltsikhe. The journey takes about 1.5 hours.
3. Wander around the National Botanical Garden
Located 9km from Batumi, these gardens are located on a hillside overlooking the sea. The main trail takes about 1.5 hours to complete. You'll see some of a diverse range of flora and fauna as well as waterfalls and a river you can swim in. The entrance fee is 8 GEL ($3 USD) and camping overnight is possible for a fee of 20 GEL ($7.50 USD).
4. Take a day trip to the town in a cave
Founded in the late Bronze Age, Uplistsikhe Cave Town is an ancient rock-hewn town located outside Gori. Between the 6th century BC and the 11th century AD, this was one of the most important political and religious centers in the country. The town was abandoned in the 13th century after multiple invasions by the Mongols. The entrance fee is 7 GEL ($3 USD).
5. Soak in the sulfur baths
Although there were once 63 bathhouses in Tbilisi, sadly, there are now only a handful left. The baths are still wildly popular and you can still go inside them. They are supposed to have healing powers and be good for your skin. These bathhouses straddle a small river that feeds them and then meanders through a canyon that you can follow to the amazing Dzveli Tbilisi sulfur waterfall.
6. Visit Svaneti and the Caucasian Mountains
One of the most visited places in the mountains is Svaneti thanks to its hundreds of ancient watchtowers dotted around the landscape. Historically, these watchtowers were used to keep citizens safe from invaders. While you can fly there, I'd recommend taking the long winding road through the mountains. It's more scenic and there are lots of great photo ops.
7. Explore the Caves of Gareji
Close to the border with Azerbaijan, you'll find the David Gareji monastery complex constructed on the side of the hilly landscape. The David Gareji complex consists of hundreds of rooms and churches. To get here you can easily take a day trip from Tbilisi for around 108 GEL ($40 USD) or you can travel there by bus and stay locally. The site opens from 10am-7pm daily and the entrance fee is 7 GEL ($3 USD), and an additional 10 GEL ($4 USD) if you want an audio guide.
8. Go Skiing
Thanks to the high Caucasus mountains, there is some really underrated skiing in the country. The most popular resorts are Gudauri, Bakuriani, and Mestia. Expect to pay anything from 5.50-540 GEL ($2-200 USD) for a pass and you can easily find accommodation from 40 GEL ($15 USD) a night.
10. Visit the Georgian National Museum
One of the best museums in Tiblisi, this massive museum has a wealth of pre-Christian gold, silver and precious-stone work from burials in Georgia going back to the 3rd millennium BC. Most stunning are the fabulously detailed gold adornments from Colchis (western Georgia). On the top floor, the Museum of Soviet Occupation has copious detail on Soviet repression and resistance to it. Admission is 5 GEL ($2 USD).
11. Mtatsminda Park
At the top of Mount Mtatsminda overlooking Tbilisi, you will find Mtatsminda Park, a famous amusement park with a killer view. It's the highest point in Tbilisi and worth the trip just for the view. The park costs nothing to enter, if you want to go on the rides you will need to buy a plastic card for 2 GEL ($1 USD) and then top it up to pay.
12. Katskhi Pillar
The Katskhi Pillar marks the site of a small church that was first to be built in the country during the 7th century. It sits on top of a pillar was once used by a Christian group called the "Stylites". These early Christians were known as "pillar monks" as they would spend long periods of time sitting (or standing) on top of pillars as they believed it would bring them closer to God.
13. Visit the Stalin Museum
Stalin was born in the town of Gori, Georgia. It's a weird museum that pays homage to his life (and forgets all the bad stuff). The museum takes you through Stalin's life: from his early years growing up in Gori to his leadership of the USSR and finally his death in 1953. It's a whitewashed experience that's worth a visit. It's a weird experience. Admission is 10 GEL ($4 USD) including an English speaking guide.
14. Visit the Tusheti region
In the northeast of Georgia, you will find the Tusheti region on the northern slopes of the Caucasus Mountains. If you want to go hiking in Georgia and get off the beaten path, this is the region to go to. It's incredibly beautiful and panoramic, and many people hike village to village to stay in guesthouses. The Omalo Loop Trek is a good one, although long — if you're just looking to do some day hikes, do Omalo to Diklo Fort or Ghele to Parsma. On the Ghele to Parsma, you'll be following the ridge of the Pirikiti range!
Georgia Travel Costs
Accommodation – Georgia is a great budget backpacker destination because it has a ton of cheap accommodation. Hostel dorms in some of the smaller cities like Kutaisi begin at 13 GEL ($5 USD) for a larger dorm. But, in most bigger cities, like Tbilisi, dorm beds are between the 22-27 GEL ($8-10 USD) range per night. For a private room in a hostel, expect to pay between 67-80 GEL ($25-30 USD) per night in Tbilisi and about 54 GEL ($20 USD) per night outside the capital.
Two star hotels will cost between 40-67 GEL ($15-25 USD) per night for a double or twin and come with basic amenities. These are actually lovely to stay in, however, and offer good value for your money. Mountain guesthouses start from 67 GEL ($25 USD). Airbnb is another great budget option, with shared accommodation starting at 27 GEL ($10 USD) per night. For an entire home or apartment, expect to pay around 243 GEL/$90 USD).
Camping is available around the country. There are a few hundred campgrounds scattered around, with prices costing around 20 GEL ($7 USD) per night for two people and a tent (closer to 25 GEL/$9 USD) during peak season). Wild camping is also legal in Georgia as long as you're not camping on someone's private property.
Food – Food is very cheap in Georgia, especially if you stick to eating the local cuisine. For an inexpensive lunch at a local restaurant, expect to pay at least 17 GEL ($7 USD). Fast food is also around 13 GEL ($5 USD) while a nicer meal at a mid-range restaurant will cost around 50 GEL ($19 USD). Expect to pay around 2.45 GEL ($1 USD) for a beer. If you are planning to cook your own food, a week's worth of groceries will cost between 68-95 GEL ($25-$35 USD).
Activities – Georgia is a country steeped in history. Most buildings are free to enter which is great to keep costs down. Hiking in Georgia's Caucasian mountains is also free. If you want to do a guided hike, one day will cost you about 145 GEL ($54 USD), but a multi-day hike (e.g. 2 nights and 3 days) costs 540 GEL ($200+ USD). Museum admission starts around 5 GEL ($2 USD). If winter sports are your preference, lift passes start at just 43 GEL ($15 USD) for the day.
Backpacking Georgia Suggested Budgets
If you are backpacking Georgia, my suggested budget is 121 GEL ($45 USD). This will cover the cost of a hostel dorm even in bigger cities, eating only cheap meals but also mostly cooking at the hostel, limiting your drinking, taking advantage of free walking tours, and checking out one attraction per day (like a museum). You'll also use local transportation to get around all day.
On a mid-range budget of about 295 GEL ($110 USD), you can stay in a hostel private a budget 1-star hotel, or an Airbnb. You can eat out for about half of your meals (and enjoy some drinks!), take one guided day hiking trip, drink more, and take some private taxis. Other than the guided hike, you can also see about 2-3 attractions per day. Overall, this budget gives you a lot more wiggle room to enjoy yourself without going too crazy on the spending!
If you want to travel Georgia in luxury, you can expect to pay around 780 GEL ($290 USD) per day. While the country isn't expensive, there are a lot of nice accommodation options here, especially on the resort focused coast, or you can rent a full Airbnb apartment. On this budget, you can stay at a nice 4-star hotel or resort, do multi-day guided hikes (or other guided activities, like a food tour), eat out for all your meals, take a taxi about twice a day, and, generally, live the high life.
You can use the chart below to get some idea of how much you need to budget daily, depending on your travel style. Keep in mind these are daily averages – some days you'll spend more, some days you'll spend less (you might spend less everyday). We just want to give you a general idea of how to make your budget. Prices are in USD.
Accommodation
Food
Transportation
Attractions
Average Daily Cost
Backpacker
$10
$10
$10
$15
$45
Mid-Range
$25
$20
$15
$50
$110
Luxury
$90
$40
$50
$100
$280
Georgia Travel Guide: Money Saving Tips
Georgia is a great place for backpackers as both food and accommodation are so cheap. However there are still some ways you can keep costs even further down. Here are my tips on saving money when you visit:
Take a free walking tour – Tbilisi offers a handful of free walking tours which are great ways to get familiar with the city and the culture. (Just be sure to tip!).
Drink the tap water – The water in Georgia is perfectly safe to drink, so an easy way to save money is to make sure you have a reusable water bottle and save on the bottled water.
Wild camp – If you really want to save money in Georgia, camping is perfectly legal on public land.
Cook your own meals – Many hostels here include kitchen facilities, so if you want to save money make sure you book accommodation with a kitchen. Buying your own groceries may not be as glamorous as going out to eat, but it will definitely save you money!
Stay with a local – Staying with a local via Couchsurfing (or similar sharing economy sites) is a great way to not only save money but its a great way to meet a knowledgeable local who can help you better understand the city and its people.
Walk everywhere – All of the major towns and cities in Georgia are quite walkable, so skip the public transportation if you want to save a few extra Lari.
Have an ISIC Card – You can save 20-50% on the cost of admission to museums and other tourist attractions with this card!
Where To Stay in Georgia
You can find some incredibly cheap accommodation options throughout Georgia. These are some of my favorite places to stay in Georgia:
How to Get Around Georgia
Public Transportation – Larger cities in Georgia are served by buses, mini-buses and taxis. In addition, Tbilisi is the only city that has a metro system costing around 0.5 GEL ($0.20 USD) per ride.
Public transportation prices will vary by city, but expect to pay around 0.5 GEL ($0.25 USD) for a standard adult ticket. Most cities are walkable, although Tbilisi, with the exception of the old town, is pretty spread out so you may want to try and navigate the public transport system here.
If you need to take a taxi, prices start around 3 GEL ($1.20 USD) and cost around 0.60 GEL ($0.25 USD) for every 1km. Be sure to negotiate a fair before you get in.
Alternatively, if you are in Tbilisi and don't want to take the bus then you can use Yandex, which is Georgia's answer to Uber. You can download the app and use it to book a driver. Most journeys will cost no more than 5 GEL ($2 USD).
Trains – Train travel within Georgia is slow and most of the trains are old and without AC. If you do decide to travel by train and are traveling in high season, you will need to book at least a day in advance or risk your train being sold out.
If you are entering or leaving Georgia by train, you can find direct routes from Armenia and Azerbaijan. Prices are very budget friendly with the overnight train from Baku in Azerbaijan costing from 54 GEL ($20 USD) for a second class ticket. Although the journey is around 13 hours so it may be worth paying a little extra for first class.
Bus – Buses, known locally as a Marshrutka, are the best way to get around the country. Expect to pay 35 GEL ($13 USD) to get from Tbilisi to Yerevan in Armenia.
Budget Airlines – You can fly between Tbilisi, Batumi, and Kutaisi. Flights cost anything from 215-1078 GEL ($80-400 USD) so this is not the most economical option. I'd only recommend it if you're short on time.
Ridesharing – You can also try the ride-sharing app, BlaBlaCar. You can usually find rides for popular routes here, though there is a nominal fee.
Car Rental – One of the best ways to see Georgia is by hiring a car, this way you are free to roam without restrictions. However the roads in Georgia really aren't the best and accidents are common. If you're driving, make sure to buy an International Driving Permit (IDP) – you'll need one for any car rental! It costs about 44 GEL ($20 USD) and is valid for one year after the date of issue (plus it's valid in 150 countries). Car rentals can sometimes be as low as 94 GEL ($35 USD) per day, but this certainly isn't the most economical way to get around.
Hitchhiking – While many people do, I wouldn't hitchhike here. I personally don't think it's very safe. If you get stuck in some of the small mountain towns, you'll be safer but I wouldn't do it around the big cities.
When to Go to Georgia
The best time to visit Georgia is during the spring or autumn. During the summer months, Georgia can get extremely hot and winters can be bitterly cold. As the weather begins to get warmer from April to June the cities become more alive with people taking advantage of the warmer weather. The temperatures also make hiking and outdoor activities more pleasant, the summer can be too warm to hike comfortably.
The exception to this is if you intend on traveling to Georgia to ski. The ski season in Georgia is from December through to April.
How to Stay Safe in Georgia
Georgia is a very safe country, especially for solo travelers. The revolution of 2008 is firmly in the past and the country is growing and developing each year. The only areas to be avoided are the Russian-occupied areas of Georgia in the north (Abkhazia and South Ossetia) where things are still a bit rough and contentious.
You are very unlikely to encounter any common scams or petty crime while in Georgia. The one thing you will need to be aware of though is Georgian driving. Road accidents are very common so be sure to always wear your seatbelt.
You can read about the 14 travel scams to avoid right here.
Always trust your gut instinct. If a taxi driver seems shady, stop the cab and get out. If your hotel is seedier than you thought, get out of there. Make copies of your personal documents, including your passport and ID.
If you don't do it at home, don't do it in Georgia!
The most important piece of advice I can offer is to purchase good travel insurance. Travel insurance will protect you against illness, injury, theft, and cancellations. It's comprehensive protection in case anything goes wrong. I never go on a trip without it as I've had to use it many times in the past. You can use the widget below to find the policy right for you: