Paris, France is a world center for business, culture, and fashion. It's hard not to fall in love with this magical city that exudes history, sophistication, and style. There's just something about Paris. Its museums and monuments are among some of the best in the world. The food, the music, the wine – Paris has a lot to offer. Those cobblestone streets and sidewalk cafes! Paris is simple amazing and, with thousands of years of history, so you'll never see it all in one visit. But that's fine with me because after one visit, I can never get enough of the city I love it. I think it's even better than the movies make it out to be and, hopefully, you'll feel the same way after your visit.
Typical Costs
Hostel prices – Hostels in Paris aren't cheap. Dorm rooms cost between 20-40 EUR per night. During the summer high season and on weekends, prices tilt towards the higher end. Private double rooms begin at 80 EUR per night. There aren't many good hostels in the city but I like St. Christopher's and 3 Ducks!
Budget hotel prices – Budget hotels start at 50 EUR per night. If you want something close to the center, you're looking at prices closer to 75 EUR. For anything above two stars, you're going to spend at least 120 EUR per night. If you aren't into hostels, I find Airbnb apartment rentals a more affordable and comfortable option than a budget hotel!
Average cost of food – Expect to pay between 25-40 EUR for dinner at nice restaurant including wine. Try to avoid the tourist areas, where prices around about 10-30% higher, if you want to save money. Luckily, buying your own food is cheap. There are many bread, cheese, markets, and meat shops throughout the city. It's common to pick up some ingredients and have a picnic in one of the city's many parks. Creating your own meal will cost around 9-15 EUR, depending on what you buy and if you get wine. Eating pre-made sandwiches from the city's take-away shops, crepes, or fast food generally costs between 6-10 EUR.
Transportation costs – The Paris public transport system is one of the world's most comprehensive and efficient. Every other block has a subway stop. A single-use metro/bus ticket costs 1.80 EUR.  A "carnet" of 10 single-use tickets costs about 14.10 EUR, or you can get a day pass on the metro for around 11.15 EUR. Taxis in the city are expensive and, with the metro running late into the night, there's little reason to take them. The train to the airport is about 10 EUR.
Money Saving Tips
Discounts at The Louvre – The Louvre is free after 6pm on Fridays and on the first Sunday of October to March. It is closed on Tuesdays. It's located in the center of the city and has two metro stops – both marked "Louvre." Get off at either one. If you enter from the Louvre stop, you'll be able to skip the line.
Buy a metro card – Paris has over 300 subway stations, so it is easy to get around the city. A day pass is only 11.15 EUR. Moreover, if you buy 10 tickets or a "carnet", it only costs about 14.10 EUR, much cheaper than the 1.80 EUR an individual ticket costs.
Have a picnic – With so many beautiful parks and outdoor gardens, it would be hard not to take advantage of this. Eating in Paris is cheap when you do your own shopping. Buy some bread, cheese, and meat at the local shops and have an outdoor picnic. It's fun and will cost you a fraction of what a restaurant would.
Paris Museum Pass – This is a prepaid card that gets you access to over 70 museums and monuments around Paris. A two-day one is 42 EUR, a 4 day pass is only 56 EUR, and a 6 day pass is only 69 EUR. This is perfect for the museum hopper and for anyone that wants to save money and get ahead in line. Since most people visit lots of museums in the city, you're pretty much guaranteed to save money.
Free museum admission – All national museums are free admission on the first Sunday of every month. If you happen to hit this day, be aware of potentially large crowds and long lines.
Dine out during lunch – Food in Paris is not cheap. It will cost you an arm and a leg to eat here but during lunch, restaurants do a pre-fixe menu for between 10-15 Euros. It's the same food you would buy for dinner but at half the cost. When I eat out in Paris, I do so during lunch so I can still eat amazing French food without it eating my entire wallet!
Top Things to See and Do in Paris
Stand under the Arc De Triomphe – This monument stands in the center of the Place Charles de Gaulle and is one of the most famous landmarks in Paris. Visitors can climb 284 steps to reach the top of the Arc where they will get information about the city's history, as well as some panoramic views. It's one of my favorite spots to see the city.
Walk the Champs Elysees – This is a very prestigious avenue in Paris with cinemas, cafes, luxury specialty shops. It's also one of the most famous streets in the world, running down from the Arc de Triomphe to the Louvre. It is always busy and always expensive, but it's a great place to club hop at night or snap photos during the day. Come in the very early morning to see the place utterly deserted. It makes for great photos.
Explore the Louvre – The Louvre is the biggest museum in the world with thousands of square feet of space and millions of works. It houses pieces from classical times to the 19th century. Be prepared to spend hours here and not even see it all. To really appreciate the Louvre, you'll need at least two full days, but if you're focused, you can do it in a full afternoon. Read more: Take a virtual tour of the Louvre here.
Go museum hopping – The Louvre might get most of the attention, but there are plenty of other great museums in the city. Make sure you especially check out the Musee D'Orsay for great impressionist work, the amazing Rodin museum, Holocaust museum (one of the best in the world), Musee D'Orangerie (more impressionist work), and the interesting sewer museum to start. There's so many museums in the city that you won't run out of something to see!
Take in the Latin Quarter – A historic area near the Notre Dame, the Latin Quarter is filled with tiny, winding streets that turn at weird angles to open into little cafe-lined squares. There are a lot of bars here and it's very popular with students at night.
Relax in Jardin Du Luxembourg – The Jardin du Luxembourg is the largest public park in Paris. The garden contains just over a hundred statues, monuments, and fountains, all scattered throughout the grounds. In the morning, you'll see lots of runners. At lunch on a nice day, a park full of people having a picnic (which is something I highly recommend you do!).
View the city from Montemartre – The home to starving artists for decades, this area gives you a stunning view of Paris. It's home to the only winery within the city limits, and is great for those wanting to visit the hang out spots of folks like Hemingway and Gertrude Stein.
Scale the Eiffel Tower – Visiting Paris without glimpsing the Eiffel Tower is unthinkable. Built for the 1889 World Fair, the 300-meter (985 feet) tower is a radical engineering feat. At first, Parisians hated it and called it "the metal asparagus," but over time it grew on them. Get there early to get to the top as the lines are long, especially on a nice day where your line of vision may stretch for over 40 miles.
Notre Dame – Paris's Gothic masterpiece was constructed between 1163-1334. Climb from the north tower to the south to appreciate the masonry, and get a close-up view of the Gallery of Chimeras, the fantastic birds and beasts gazing over the balustrade. The outside facade has been cleaned up in recent years but the inside has a bit of that old Gothic grimy charm.
Visit Sainte Chapelle – I think this Gothic church is far more beautiful the nearby Notre Dame. It's very tiny but the stained glass and decoration are exquisite and much more inspiring than Notre Dame. There's usually a long lineup to get in.
Head to the Palace of Versailles – A visit to the palace of the kings of France requires a whole day. It gets very crowded but that mostly means you have people in your pictures, not that you are pushed into other rooms. The palace is opulent and makes you see why the French revolted! Make sure you visit Marie Antoinette's home and spend time walking the huge and spacious gardens. Summer weekends are the best time to see the garden, as the fountains are set to music. Read more: Tour of the Palace of Versailles. Here is a video too:
Celebrate Bastille Day – Every July 14th, a group of spectacular events in Paris celebrates the the infamous storming of the Bastille during the French Revolution. There is a huge, televised parade and an amazing, renowned fireworks display. This is French independence day and one of liveliest days in the country.
Experience the Cinema en Plein Air – Every July, Paris rolls out the inflatable screen in the Parc de la Villete for this major outdoor cinema event in the 9th arrondissement. It's hugely popular with locals who tend to bring food and wine!
Visit Maison du Victor Hugo — This beautiful apartment dates to 1605. Its most famous resident was the writer Victor Hugo, who moved here when he was 30. His old apartment is now a museum dedicated to his life and writing. The museum is quite small, but Hugo (like me) lovers will find it very interesting.
Visit Sainte-Chapelle — This is my favorite church in Paris. I find this Gothic church to be far more beautiful than the nearby Notre-Dame. It's tiny, but the (mostly) original interior and stained glass and décor are exquisite, and one of the few remaining examples of original stained glass in the world. There's usually a long line to get in but museum pass holders can skip it.
Climb through the Paris Catacombs – Underneath the city of Paris, you'll find a honeycomb of tunnels. The French resistance used these tunnels during World War II, and rave parties flourished there during the 90s. Within this maze of tunnels, lie the famous Catacombs of Paris. Here you can visit the tunnels and see the old burial sites of the city. It's one of the freakiest and coolest sites in Paris, often times missed by tourists. Read more about the Catacombs of Paris
Dance the night away – Whether it's modern clubs you like or classic jazz joints, you shouldn't leave Paris without tasting the music that attracted some of the best musicians and artists to the city. There is an especially abundant amount of good jazz clubs in the city.
Get the In-Depth Budget Guide to Paris!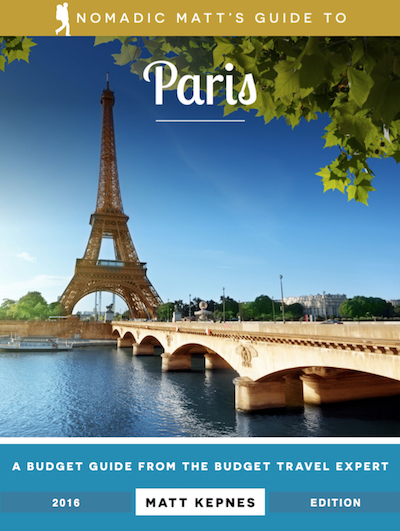 For more in-depth information, check out my guidebook to Paris written for budget travelers like yourself! It cuts out the fluff found in other guides and gets straight to the practical information you need to travel and save money in one of the most beautiful and romantic cities in the world. You'll find suggested itineraries, budgets, ways to save money, on and off the beaten path things to see and do, non-touristy restaurants, markets, and bars, and much more!! Click here to learn more and get started.