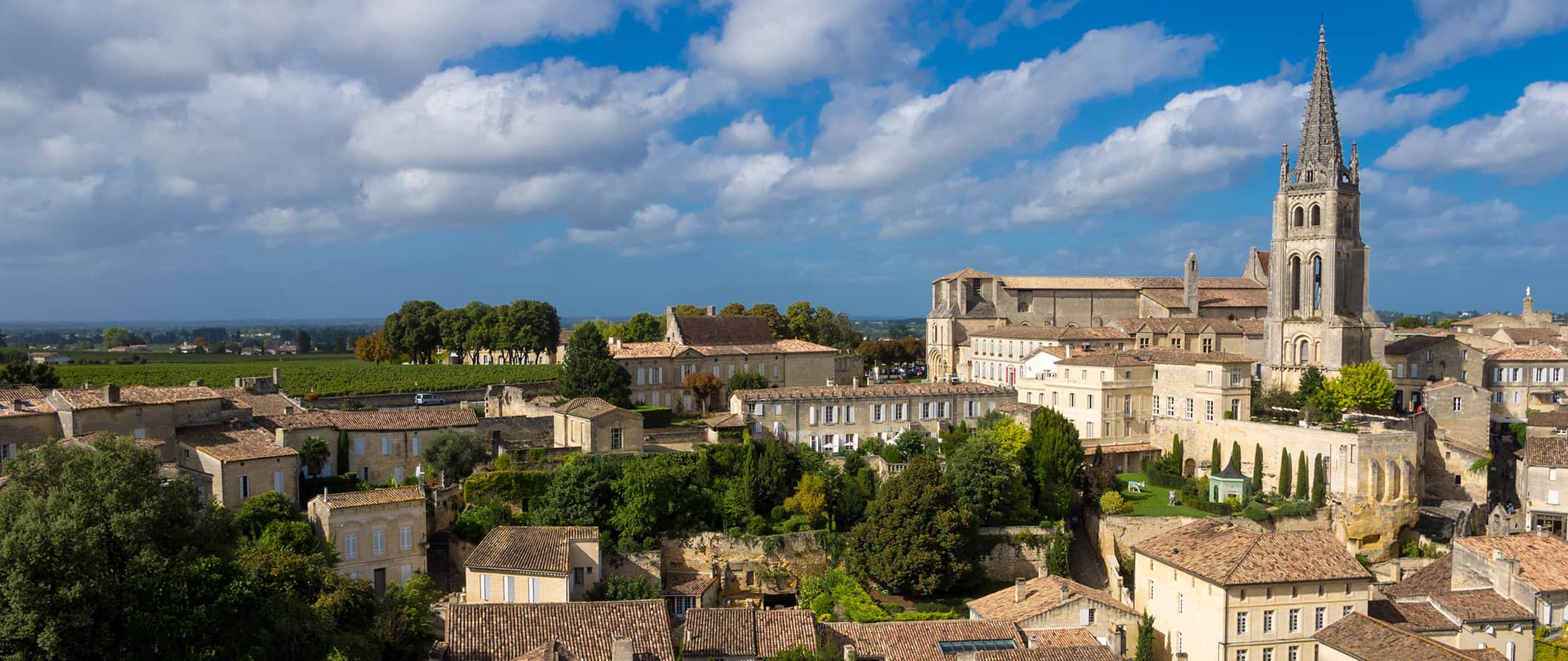 Bordeaux, a port city in southwestern France, is a wine lovers' dream (at least, this wine lover)! The historic part of the city is on the UNESCO World Heritage thanks to its very intact 18th-century city architecture making it one of the most quintessentially French cities to walk around. What you imagine France to be based off pop culture and movies is what Bordeaux is. However, Bordeaux is also an upscale place – a city for luxury shopping, drinking, and eating. It sits in the center of the world famous wine region that bears its name and, thus just like the Napa Valley in California or the Hunter in Australia, prices here reflect that commercial reality (people come here to spend money) so don't expect a cheap visit to the city but, despite its costs, it's one of the most beautiful cities and regions in France. Don't miss it — especially if you love wine!
Top 5 Things to See and Do in Bordeaux
1. Go on a wine tour
Take full-day or half day tours and venture outside of the immediate areas of Bordeaux. Depending on the length of your tour, you'll visit two to four wineries where you get to sample wine at each. (The cheapest tours start at 45 EUR. However, discounts are available if you have the city pass).
2. Wander through Saint Emilion
This village has a strong connection to red wine production, and vineyards have existed here since Roman times. Even if you aren't on an organized wine tour, a visit to this village and an afternoon walking through its streets can be a peaceful way to spend a day.
3. Day trip to Dune de Pyla
This sand dune is located an hour outside Bordeaux in Pyla Sur Mer, a resort town where many of France's well to do "summer." It's the largest sand dune in Europe and the result of winds eroding one shore of the bay and blowing sand over. The dune has pretty amazing views of the area and bay.
4. Walk around
Most buildings in Bordeaux are extremely well preserved. Walk through the Quartier Saint-Eloi, continue along the Victor Hugo Avenue, see the Porte de Bourgogne, a huge stone arch that was once the entrances to the city, and walk around the Palace Royale. Built in 1755, this building is a fine example of French classical architecture.
5. Musée des Beaux-Arts
This museum is housed in an interesting building itself – the 18th century Hotel de Ville. Some of the main work featured here includes pieces by Flemish, Italian, and Dutch artists of the 17th century. Tickets are good for up to 48 hours and cost 10 EUR.
Other Things to See and Do
(Click the title to expand the text)
1. Visit Rue Sainte-Catherine
For the walkers and the shoppers, this shopping street is about 1 mile long so it's perfect for a shopping trip or people watching stroll.
2. Visit Old Town Bordeaux
Home to one of the largest 18th-century architectural urban areas in all of Europe, its amazing level of preservation have led to the old town being added to the UNESCO World Heritage List. Two famous attractions are the Grand Théâtre, which was built in 1780, and the infamous Cathédrale Saint-André de Bordeaux. The cathedral was impressive to see, though the recent cleaning restoration got rid of its old, Gothic charm.
3. Museum hop
Bordeaux has several very renowned museums. There is the Vinorama, a talking wax museum that chronicles the history of Bordeaux wine, or the Bordeaux Wines Museum, which exhibits the history of the city's wine merchants.
4. Musee D'Art Contemporain
Definitely worth a visit if you are interested in Modern Art. The Richard Long slate line-up on the roof is a permanent feature. The museum is closed on Mondays. You can get a guided tour if you go on Saturday or Sunday at 4pm for the price of regular admission. It costs 4 EUR for the permanent collection, 6.50 EUR for the permanent collection and temporary exhibits.
5. Les Quais
The Quays of Bordeaux follow the shores of the Garonne. They used to be a harbor, but have been renovated for visitors to walk around. Walking here is super scenic because you have amazing views of the landscape and the unique Aquitaine bridges. This is also a popular nightlife and club area if that is your thing!
6. La Victoire
This used to be the center of suburbia in ancient Bordeaux, but it is now one of the most popular areas of the city. Lots of young people hang out here at night, as there are lots of bars and clubs.
7. Victory Arch
In the center of La Victoire stands this amazing piece of Roman architecture. It is a great example of the Roman roots that helped form the city.
8. Jardin Botanique
This big park north of the center is the city's large public garden. There are a ton of walking paths, places to watch ducks, or just sit around on a nice day and have a picnic. There are guided tours for those looking to learn about all flowers in the garden. Admission is free.