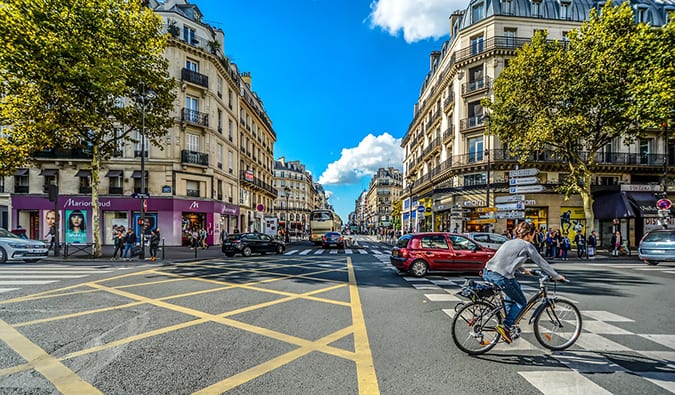 Last Updated: 4/14/23 | April 14th, 2023
Paris. The City of Light. With 20 arrondissements (neighborhoods), incredible historic attractions spreadout throughout the city, and thousands of hotels, hostels, and apartments to choose from, finding the best place to stay can be a challenge for first-time visitors.
Over the course of dozens of visits to Paris (and several months living there), I've stayed in every area and in all types of different accommodations. Each neighborhood in Paris has its own unique personality and its own pros and cons. There's always a trade-off to be made here.
To help you figure out where the best place to stay for your trip is, I've created this detailed guide on where to stay in Paris. I've included a brief description of each area, why I like it, and my favorite accommodations in that neighborhood.
Arrondissements
1st Arrondissement: Louvre
2nd Arrondissement: Bourse
3rd Arrondissement: Temple
4th Arrondissement: Hôtel-de-Ville
5th Arrondissement: Panthéon
6th Arrondissement: Luxembourg
7th Arrondissement: Palais-Bourbon
8th Arrondissement: Élysée
9th Arrondissement: Opéra
10th Arrondissement: Entrepôt
11th Arrondissement: Popincourt
12th Arrondissement: Reuilly
13th Arrondissement: Gobelins
14th Arrondissement: Observatoire
15th Arrondissement: Vaugirard
16th Arrondissement: Passy
17th Arrondissement: Batignolles-Monceau
18th Arrondissement: Butte-Montmartre
19th Arrondissement: Buttes-Chaumont
20th Arrondissement: Ménilmontant
Second, we here are the most asked questions I get on Paris (if you don't want to read this entire post):
What is the best neighborhood in Paris for budget travelers?
Montmartre is one of the cheapest neighborhoods in the city for budget travelers. It's located in the 18th arrondissement and offers some of the best views of the entire city (especially at sunset).
What is the best neighborhood in Paris for families?
Montparnasse is both quiet and affordable, making it a good choice for traveling families.
What is the best neighborhood in Paris for first-time visitors?
If it's your first time visiting Paris, stay in the Le Marais.
What is the best neighborhood in Paris for shopping?
Champs-Élysées is world-famous for its luxury shopping. You'll find all the best brands in the world here. It's located in the 8th arrondissement.
What is the best neighborhood in Paris for partying?
Le Marais is one of the best neighborhoods to stay in if you want to party and enjoy Paris' nightlife. It's located in the 4th arrondissement and has lots of great cafes, restaurants, and shops. Bastille also has a great nightlife scene as well.
What is the best neighborhood in Paris overall?
The Latin Quarter and Le Marais are my favorite neighborhoods in Paris. They both offer visitors lots of things to see and do, places to eat and drink, and are lively beautiful neighborhoods. Stay there!
So, with that said, here's an overview of the main arrondissements to help you find the best neighborhood for your trip:
Bastille (11th arrondissement)
Bastille straddles the 4th, 11th, and 12th arrondissements and takes its name from the famous prison that used to occupy this neighborhood (the storming of which started the French Revolution in 1789). Today, the prison is gone, and this animated and lively district has become known for its bars and clubs that are popular with Parisian youth.
If you are looking for a fun arrondissement to stay in, I'd recommend this one. It's centrally located, and the tiny cobblestone streets give it a classic Parisian feel!
Best places to stay in Bastille
BUDGET: Auberge Internationale des Jeunes (International Youth Hostel) – This is a safe and well-maintained hostel, but the amenities are basic: there is no kitchen for cooking your own meals, but there is a microwave and free breakfast is served daily 7am-9:45am. There is also a common room with vending machines where people like to hang out, and a secure luggage storage area. Since this is a youth hostel, you have to be under 30 years old to stay here.
MID-RANGE: Paris Bastille – Located right across from the Opera House and near the Gare de Lyon, the Paris Bastille is an elegant, quiet hotel with soundproofed rooms and large walk-in showers. They have free Wi-Fi and a breakfast buffet every morning as well.
LUXURY: Hôtel l'Antoine – This 4-star boutique hotel was once a 17th century convent, but its modern décor of brightly patterned cement tiles and wallpapers make it an eccentric space. No two rooms are alike here. There's also a snack bar, lounge, and offer free breakfast each morning. The fitness room has a sauna with a cold shower too!
Latin Quarter (5th arrondissement)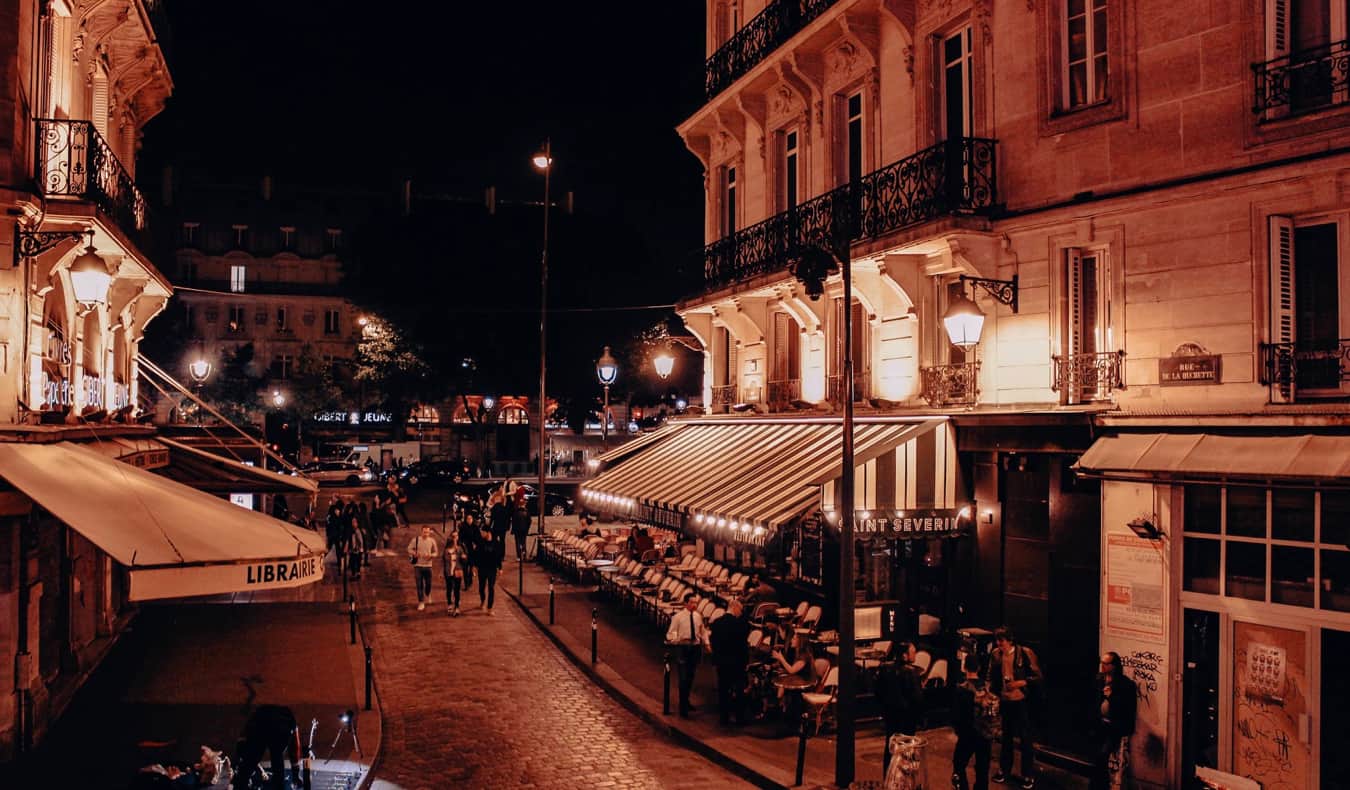 The Latin Quarter, one of my favorite areas of Paris, is filled with narrow streets that turn at weird angles and open onto little café-lined squares. I love wandering around here: it always feels like you're stepping back a few hundred years in history. It's located in the 5th arrondissements and is a bustling neighborhood. It's not as quiet as other sections of Paris — there are a lot of restaurants, bars, and jazz clubs — but you'll be in the middle of the action!
Best places to stay in the Latin Quarter
BUDGET: Young & Happy Hostel – This hostel has pretty simple rooms but comfy beds, small but well-cleaned showers, and a large kitchen space. The common room is an old cellar lined with stone, making for a cozy and unique spot to hang out. The staff will sometimes host evening events, and there's a daily happy hour for mingling with other travelers. They also offer a free breakfast of croissants, coffee, and juice.
MID-RANGE: Hôtel Minerve – On a quiet street near Notre Dame and the Sorbonne, Hôtel Minerve is housed inside a historic 1864 Haussmannian building complete with flowered balconies. This place has been recently renovated to give it some charm, including exposed stone walls, visible beams, and original artwork throughout. There's a large central courtyard as well. You can get a decent breakfast spread each morning for 9 EUR and they also offer an airport shuttle (not free).
LUXURY: Grand Hôtel Saint Michel – Grand Hôtel Saint Michel is within walking distance to the some of the area's best attractions, like the Jardin du Luxembourg and the Panthéon. It caters mostly to business travelers, but it isn't stuffy and the location is unbeatable. There are a bunch of high-end services on-site, like a concierge, a fitness center, spa, and even a hammam!
Champs-Élysées (8th arrondissement)

The most famous and upscale street in Paris is lined with cinemas, cafés, luxury specialty shops, big brand-name stores, and chain restaurants. Located in the 8th arrondissement, it's a fun place to club-hop at night or snap photos and shop during the day. The area surrounding the street is one of the most upscale and luxurious in Paris.
If you stay off the main street, you'll find it to be very quiet. It's nice and centrally located to everything, but there are not a lot of "cool" things to do in the area. It's also going to be more expensive.
Best places to stay in Champs-Élysées
BUDGET: BVJ Champs-Elysées – This hostel in a former mansion is one of the most historic in Paris, having been around since 1948. They have a free French breakfast each morning, free luggage storage, and a sunny private courtyard to hang out in.
MID-RANGE: Hôtel Magda Champs Elysées – This hotel has modern, clean, and stylish rooms. The bar makes for a good spot to work while having a cocktail (or some complimentary coffee). They even put smartphones in the room so you can make free phone calls, watch Netflix, and more. There's an excellent courtyard here too.
LUXURY: Marquis Faubourg Saint-Honoré – This is a chic hotel! The rooms are super plush (if not a bit small) with marble fixtures and clawfoot bathtubs. Skip the breakfast; it's overpriced.
Le Marais (4th arrondissement)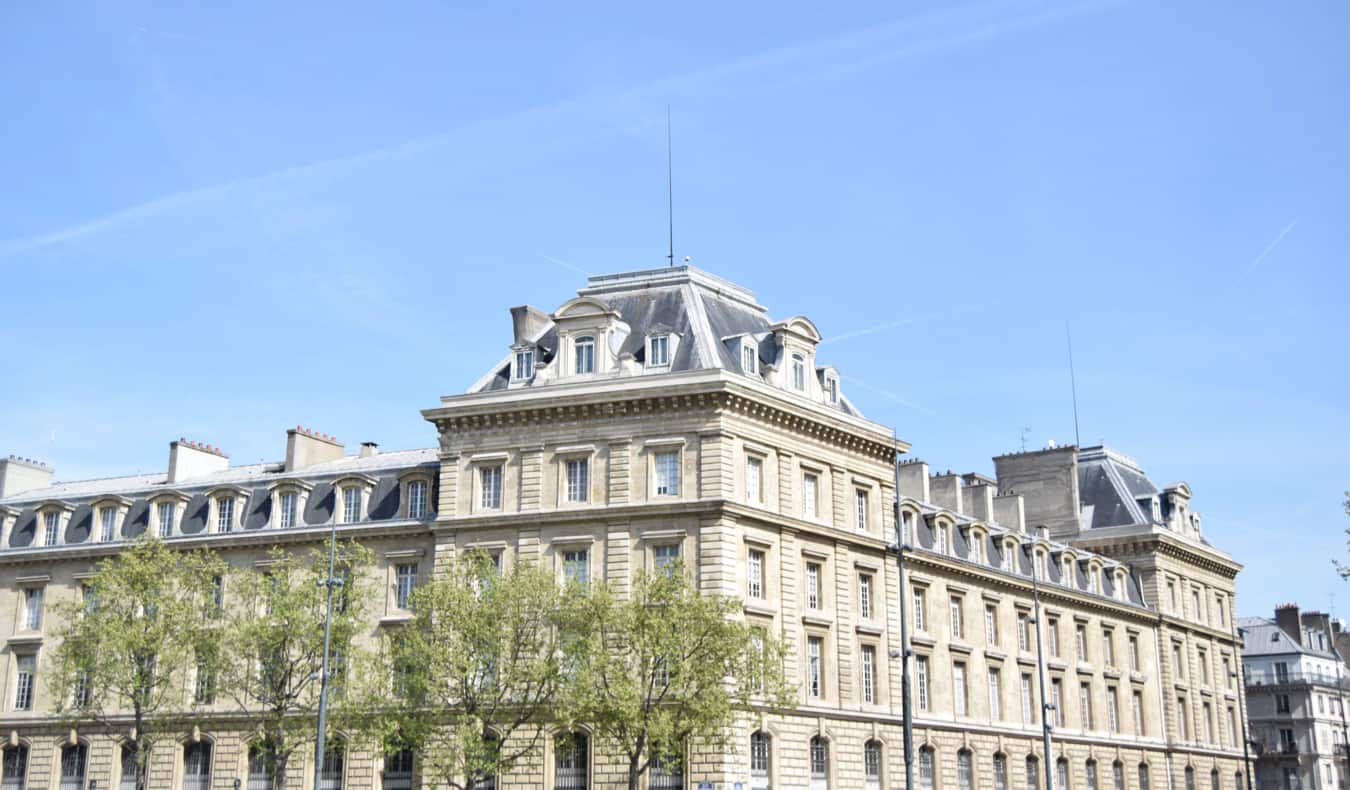 Le Marais (meaning "the marsh") has been revitalized in the last few years and is now a stylish, lively area filled with hip art galleries, boutiques, and cafés. The tight, winding streets are lined with old architecture, half-hidden courtyards, and quite a few museums. You'll also find some of the best restaurants and bars in town here. It's my favorite area of Paris.
Additionally, it's the center of Paris's gay life, so you'll be able to find a lot of gay bars, cafés, and shops here too.
Best places to stay in Le Marais
BUDGET: MIJE Marais – This is a unique budget hostel, as it's three 17th century buildings renovated to create a hostel trio: MIJE Fourcy, Fauconnier, and Maubuisson. The rooms are pretty basic, but there's a free breakfast, free Wi-Fi, and a beautiful outdoor courtyard.
MID-RANGE: Villa Beaumarchais – This tiny and attractive hotel is on a quiet side street within walking distance of the Opéra Garnier and Place de la Madeleine. The rooms have an antique feel to them, with a lot of wood furniture and floral wallpaper. It's very cozy. Try to get a room that overlooks the interior courtyard. They also offer an American-style breakfast buffet and have free Wi-Fi as well as a fitness center.
LUXURY: Pavillon de la Reine – Pavillon de la Reine is in the Place des Vosges, one of the most beautiful and oldest squares in the world. The vine-covered building is gorgeous and the rooms have amazing, unique décor with antique furnishings and enormous windows. There's a spa and a fitness center on-site as well. This is a wonderful little hideaway. Fun fact: Queen Anne of Austria actually stayed here once. Eat at Restaurant Anne if you feel like splurging.
Montmartre (18th arrondissement)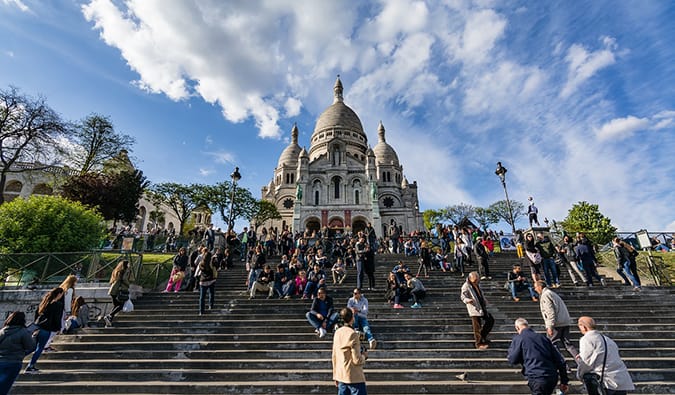 Home to starving artists for decades, Montmartre offers a stunning view of overlooking the city. The district is home to arty cafés and bars, cobblestone streets, and the only winery within the city limits. It's one of the hipper parts of Paris, even if it has lost some of its old grandeur.
It's also home to a lot of students, as the rents in this part of town are much cheaper than elsewhere. It's also pretty loud at night since there are usually lots of students and tourists about. Try to stay on one of the beautiful side streets if you're looking for a quieter stay.
Best places to stay in Montmartre
BUDGET: Le Village Montmartre By Hiphophostels – This small, cozy hostel with a view of Sacré-Coeur is literally surrounded by bars, restaurants, and supermarkets. There's a French breakfast each morning for 6 EUR, or you can just take advantage of the large kitchen to cook your own meals.
MID-RANGE: Le Relais Montmartre – This hotel is on a quiet street in Montmartre. It offers great value and the rooms have a rustic charm with exposed beams and vintage furniture. Check out the breakfast — it's really good — and the cellar restaurant is unique if you're looking to indulge.
LUXURY: Terrass" Hôtel – The hotel bar's views of Paris are stunning, and the sunset from here is spectacular. The rooms are larger than most in town and have beautiful décor in a classic Parisian style. The hotel offers yoga classes and spa treatments. Make sure to have brunch on the terrace.
Île de la Cité and Île Saint-Louis (4th arrondissement)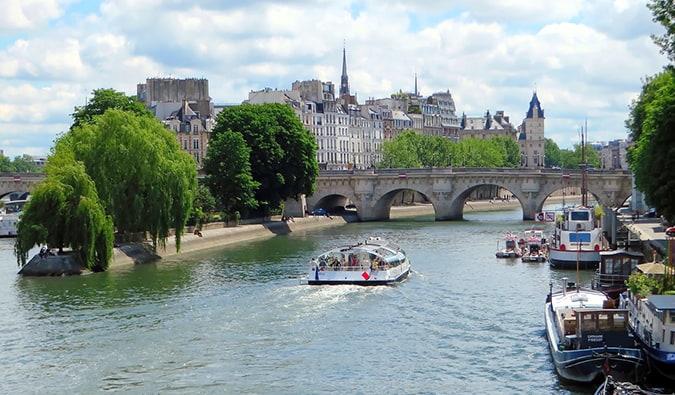 These two islands in the Seine are the historic center of Paris. The Romans set up camp on Île de la Cité in 52 BC, and the island is now home to Notre-Dame, Sainte-Chapelle, administrative buildings, and the Conciergerie. It's also super loud and bustling with people day and night.
Île Saint-Louis, on the other hand, is a quiet neighborhood home to Paris's rich and powerful, filled with well-preserved historic homes and streets. If you want luxury and quiet, stay here. It's fancy hotels and little else.
Best places to stay in Île de la Cité and Île Saint-Louis
BUDGET: HA! That doesn't exist here!
MID-RANGE: Hôtel De Lutèce – Notre-Dame – This is surprisingly affordable, considering it's on Île Saint-Louis. It's on the smaller side, but with a lot of cozy touches, like working fireplaces. There are only 23 rooms, but each one is air-conditioned and soundproofed. It feels more like a house than a hotel.
LUXURY: Hôtel Saint-Louis en L'Isle – This hotel is located in a 17th-century townhouse that has retained most of its original charm, like exposed wooden beams and stone walls. The rooms are spacious and regal. It's one of the most luxurious hotels in the area and will make you feel like royalty. They even serve breakfast in the stone-vaulted cellar.
Montparnasse (14th arrondissement)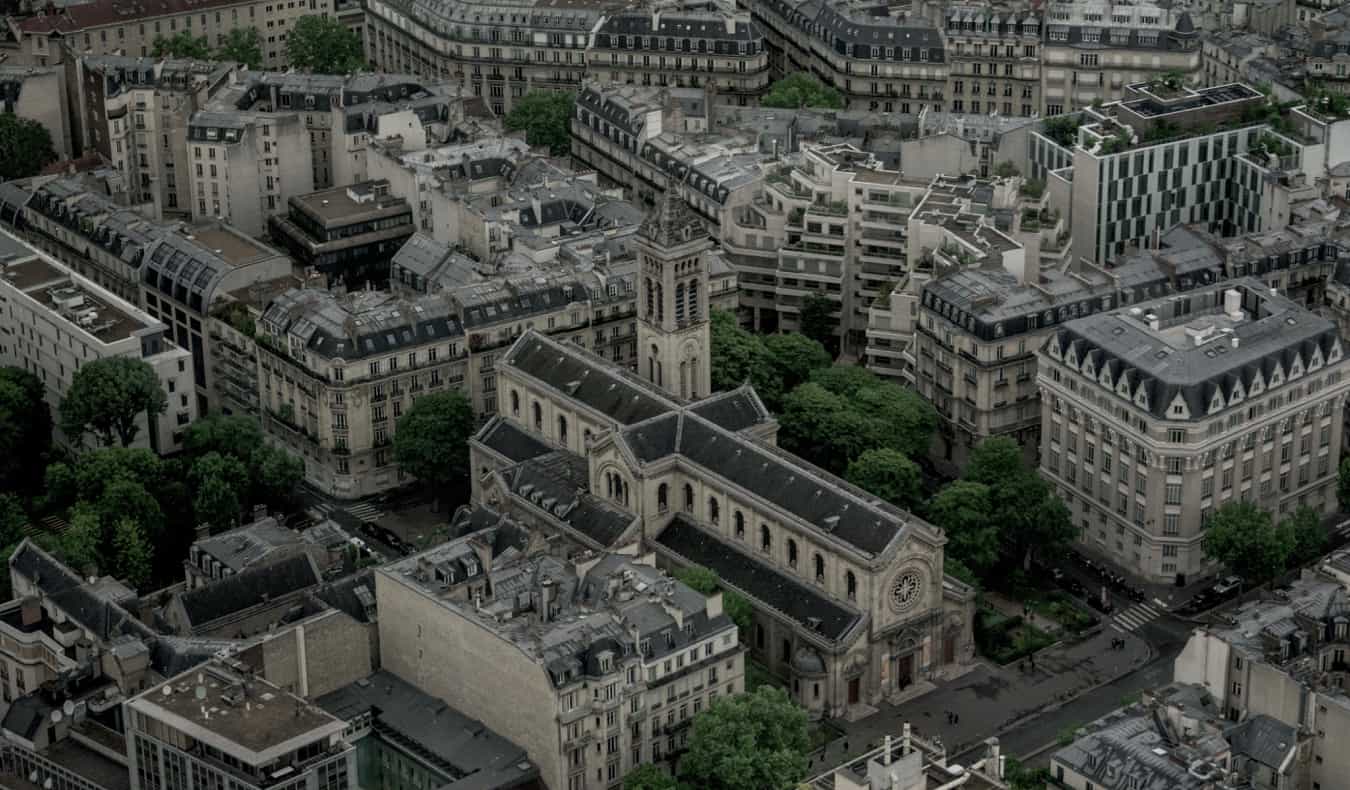 Montparnasse is one of the more modern parts of Paris, with a lot of more office buildings, new apartments, and a more local feel to it. Located in the 14th arrondissement near the train station of the same name, Montparnasse has inexpensive accommodations and a good number of restaurants. It's not as classically pretty as other parts of town, but it's a lot more "local" than other districts — and much more affordable too!
Best places to stay in Montparnasse
BUDGET: FIAP Jean Monnet – This is not a party hostel – there are often school groups, and it is similar to a hotel conference center. It's in a quiet neighborhood. However, you can't bring in your own food (they check!). Dorms are available only those 18 to 30 years old.
MID-RANGE: Novotel Paris Centre Gare Montparnasse – This comfortable, business-style chain hotel has everything you'd expect from a chain. The rooms have large walk-in showers and memory foam mattresses. It's modern and bright. They offer free coffee and tea, and if you have kids, they'll love the balloon animals the staff make!
LUXURY: Niepce Paris Hotel – This small boutique hotel is charming. It's a new hotel, so everything is still shiny. Some rooms have outside patios with jacuzzi tubs, but even the junior rooms are modern and luxurious. The restaurant serves unique Japanese/French fusion cuisine.
Les Halles (1st arrondissement)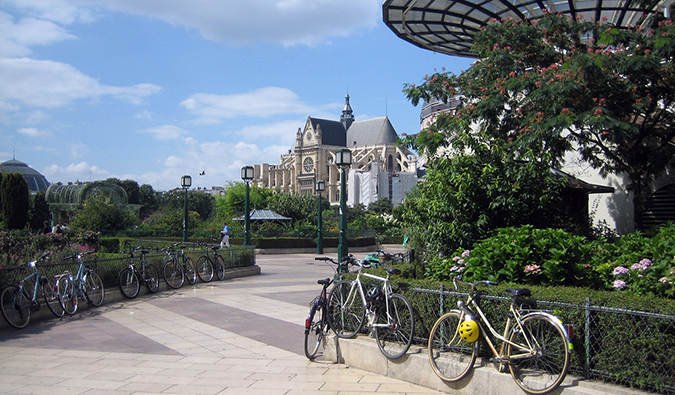 This chic, bustling neighborhood is centered around Paris's former central marketplace, Les Halles (pronounced lay-AL), which was torn down in 1971. The market was "the stomach of Paris" for centuries. Now there's an underground shopping mall, and the surrounding streets are filled with designer stores, cafés, and artisanal food shops. Staying here puts you in the center of all the action (over 150,000 people visit the mall every day!).
Best places to stay in Les Halles
BUDGET: Hôtel de Roubaix – Located just two minutes from the metro, this budget hotel offers excellent value. It's just 1.5km from the Louvre, includes a continental breakfast, and the rooms are clean and spacious. There are lots of cafes and restaurants nearby and the staff are super friendly too.
MID-RANGE: Hôtel du Cygne – Hôtel du Cygne will make you feel like you're staying with family. The owner's mother has hand-sewn all of the bed linens and curtains so it has a very DIY/homey feel to it. There are just a few tiny rooms in this hotel, but it's a comfortable spot and located just a quick walk to the Etienne-Marcel Metro Station. There's a breakfast each morning (which you have to pay for).
LUXURY: Novotel Paris Les Halles – Air-conditioned rooms, 24-hour room service, giant beds — what's not to love? Novotel Paris Les Halles is next to the big shopping areas (like Rue de Rivoli) and also within walking distance of the Louvre. There's a lovely patio where you can enjoy traditional French meals or cocktails, or you can hang out in the lounge and unwind after a day of exploring.
Saint-Germain-des-Prés (6th arrondissement)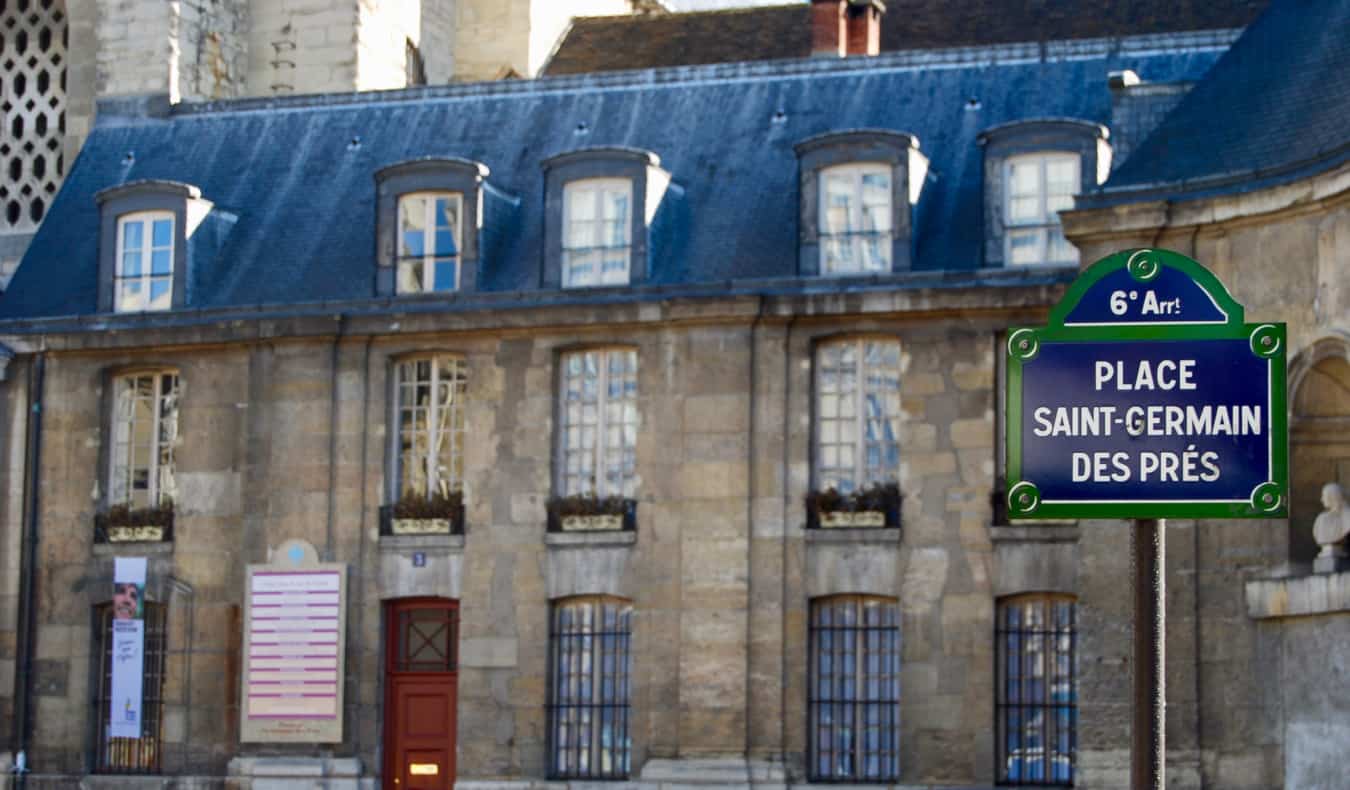 Saint-Germain-des-Prés used to be home to artists, writers, and thinkers. Now it's one of the most expensive and trendy neighborhoods in Paris. These days, the neighborhood is home to celebrities, high-priced art galleries, designer shops, and fancy restaurants.
It's not cheap to stay in, but it's a beautiful area to walk through. It's everything you imagine Paris to be.
Best places to stay in Saint-Germain-des-Prés
BUDGET: Hôtel de Nesle – There are unfortunately not too many budget accommodations in this part of town. If you like kitsch, Nesle is the place for you! There's hardly a single wall that isn't covered in some kind of adornment. Some rooms have private bathrooms with showers, while others are shared. There's an inner garden where you can relax.
MID-RANGE: Hôtel Moderne Saint Germain – This boutique hotel is super stylish, and each air-conditioned room is decorated with bright pops of color! Some rooms have small balconies. There's a delicious breakfast here too.
LUXURY: Hôtel Récamier – The staff is extremely helpful with arranging any outings you'd like to do, and the complimentary afternoon tea is a nice touch. The rooms are spacious and air-conditioned (I also love the mattresses), and the building is historic and beautiful.
Belleville (20th arrondissement)
Belleville is definitely one of the grittier parts of town. It's home to a hectic Chinatown and is something of a melting pot of different cultures. The center of Paris's immigrant community, Belleville is slowly becoming popular with hipsters and younger kids since it is more affordable.
Some of the best ethnic food is food here; there's an awesome street market, and it's right next to the Le Marais, so you can always walk over and get some fancy French food. I find myself staying in this part of town more and more.
Best places to stay in Belleville
BUDGET: Les Piaules – This new-ish hostel has a fantastic chimney lounge and a rooftop space. The bar/restaurant on the ground floor is popular with locals and groups, so it's always a fun time. The rooms are super modern and the beds comfy. It's one of my favorite hostels in town (whenever I host a meet-up in Paris, it's usually held here).
MID-RANGE: Hôtel des Pyrénées – While nothing really stands out about this hotel, it has recently undergone some big renovations so you'll find sleek and modern rooms at affordable prices. There are family rooms for up to four people as well, making it a reasonably-priced option for familes.
LUXURY: Hôtel Scarlett – This is a trendy, refurbished hotel with seriously beautiful spaces. The beds are large and comfortable, and each room comes with a flat-screen TV. Their knowledgeable concierge can help you find your way around the city and plan your trip too.
Eiffel Tower/Champs de Mars (7th arrondissement)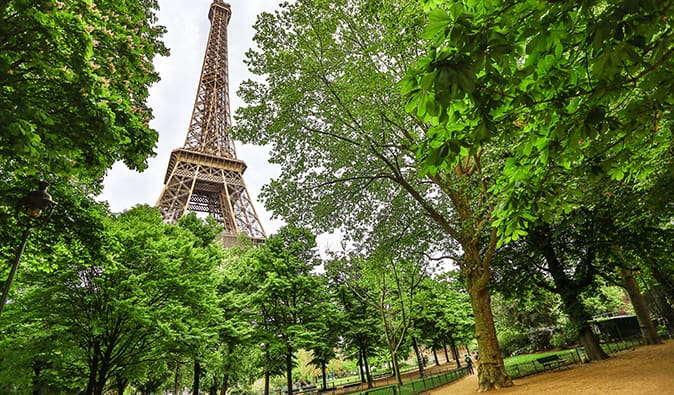 As you might have guessed, Eiffel Tower/Champs de Mars is the place to be if your main reason for visiting Paris is to see the iconic Eiffel Tower (and to have easy access to some other huge attractions). Other than the impressive architecture, there are several great natural history and modern art museums to check out, as well as the sprawling Parc du Champ-de-Mars. Located in the 7th arrondissement, this is going to be a busy and touristy (read: expensive) area to stay, but you can't beat it for convenience!
Best places to stay in Eiffel Tower/Champs de Mars
BUDGET: 3 Ducks Hostel – A 10-minute walk from the Eiffel Tower, 3 Ducks has one of the best locations in town. The staff is friendly, the rooms are small but comfortable, and the showers are clean. This is a more upscale hostel with recently revamped décor. it's one of my favorites in the city too.
MID-RANGE: Hôtel Eiffel Kensington – A no-frills hotel, but it's meters from the Eiffel Tower, and you can get private single rooms at decent prices. The rooms are on the smaller side but they are spacious enough and come with a small desk. It's a good budget option for the location.
LUXURY: Pullman Paris Tour Eiffel – The rooms here are all modern and minimalist, with leather furniture and sleek finishings. Most have a desk and a little couch. There's a fitness room and a really nice terrace for dining. Each room comes with amazing views over the city, and some come with balconies looking onto the tower.
***
No matter where you choose to stay in Paris, you can't go wrong. It's well connected via metro, there's no such thing as an area with bad food, and every area is beautiful (it is Paris after all!).
For me, Le Marais, the Latin Quarter, Bastille, and Saint-Germain-des-Prés are the four best neighborhoods to stay in when visiting Paris.
But every neighborhood has something for someone, so just pick the one that suits your needs. I promise you won't be disappointed!


Get Your In-Depth Budget Guide to Paris!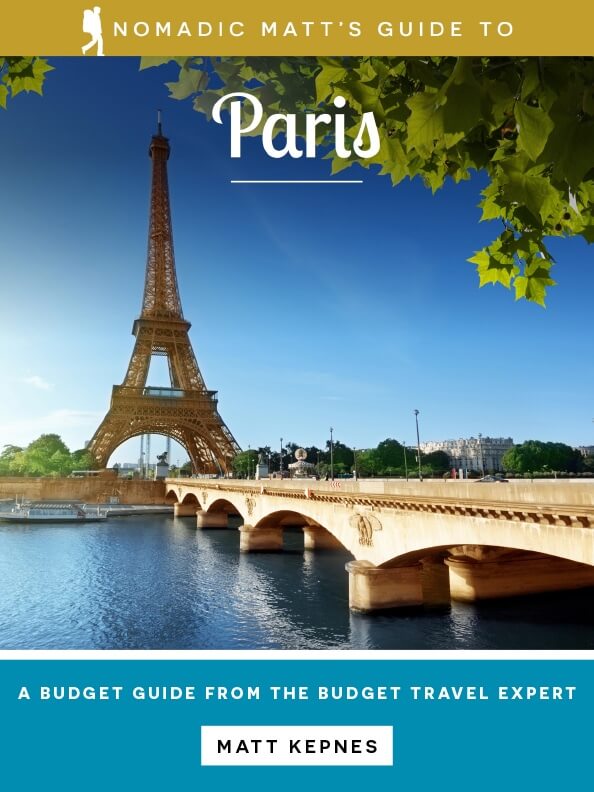 For more in-depth information, check out my guidebook to Paris written for budget travelers like you! It cuts out the fluff found in other guides and gets straight to the practical information you need to travel around Paris. You'll find suggested itineraries, budgets, ways to save money, on- and off-the-beaten-path things to see and do, non-touristy restaurants, markets, bars, transportation and safety tips, and much more! Click here to learn more and get your copy today!
Book Your Trip to Paris: Logistical Tips and Tricks
Book Your Flight
Use Skyscanner or Momondo to find a cheap flight. They are my two favorite search engines because they search websites and airlines around the globe so you always know no stone is left unturned. Start with Skyscanner first though because they have the biggest reach!
Book Your Accommodation
You can book your hostel with Hostelworld as they have the biggest inventory and best deals. If you want to stay somewhere other than a hostel, use Booking.com as they consistently return the cheapest rates for guesthouses and cheap hotels. My favorite places to stay are:
If you're looking for more places to stay, here for my favorite hostels in Paris.
Don't Forget Travel Insurance
Travel insurance will protect you against illness, injury, theft, and cancellations. It's comprehensive protection in case anything goes wrong. I never go on a trip without it as I've had to use it many times in the past. My favorite companies that offer the best service and value are:
Looking for the Best Companies to Save Money With?
Check out my resource page for the best companies to use when you travel. I list all the ones I use to save money when I'm on the road. They will save you money when you travel too.
Need a guide?
Paris has some really interesting tours. My favorite company is Take Walks. They have expert guides and can get you behind the scenes at the city's best attractions. They're my go-to walking tour company!
If you want a bike tour, use Fat Tire Tours. They have the best and most affordable bike tours in the city.
Want Information on Paris?
Be sure to visit our robust destination guide on Paris for even more planning tips!