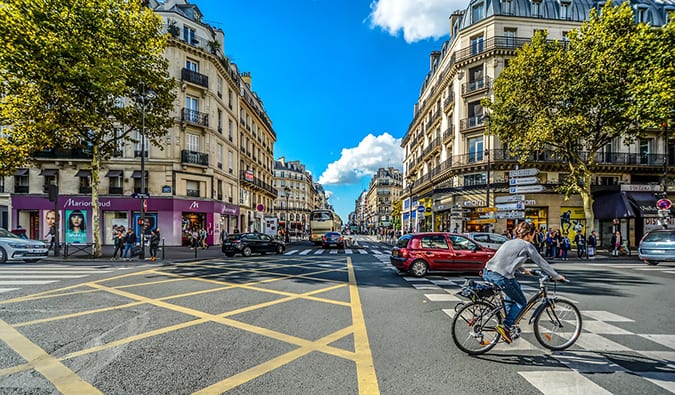 Last Updated: 7/15/2023 | July 15th, 2023
Paris. The City of Light. With 20 arrondissements (neighborhoods), incredible historic attractions spread out throughout the city, and thousands of hotels, hostels, and apartments to choose from, finding the best place to stay can be a challenge for visitors.
Over the course of dozens upon dozens of visits to Paris over the years (and several months living there), I've stayed in every area of town and in all types of different accommodations. Each neighborhood in Paris has its own unique personality and its own pros and cons. There's always a trade-off to be made here.
To help you figure out where the best place to stay for your trip is, I've created this detailed guide on where to stay in Paris. I've included a brief description of each area, why I like it, and my favorite accommodations in that neighborhood.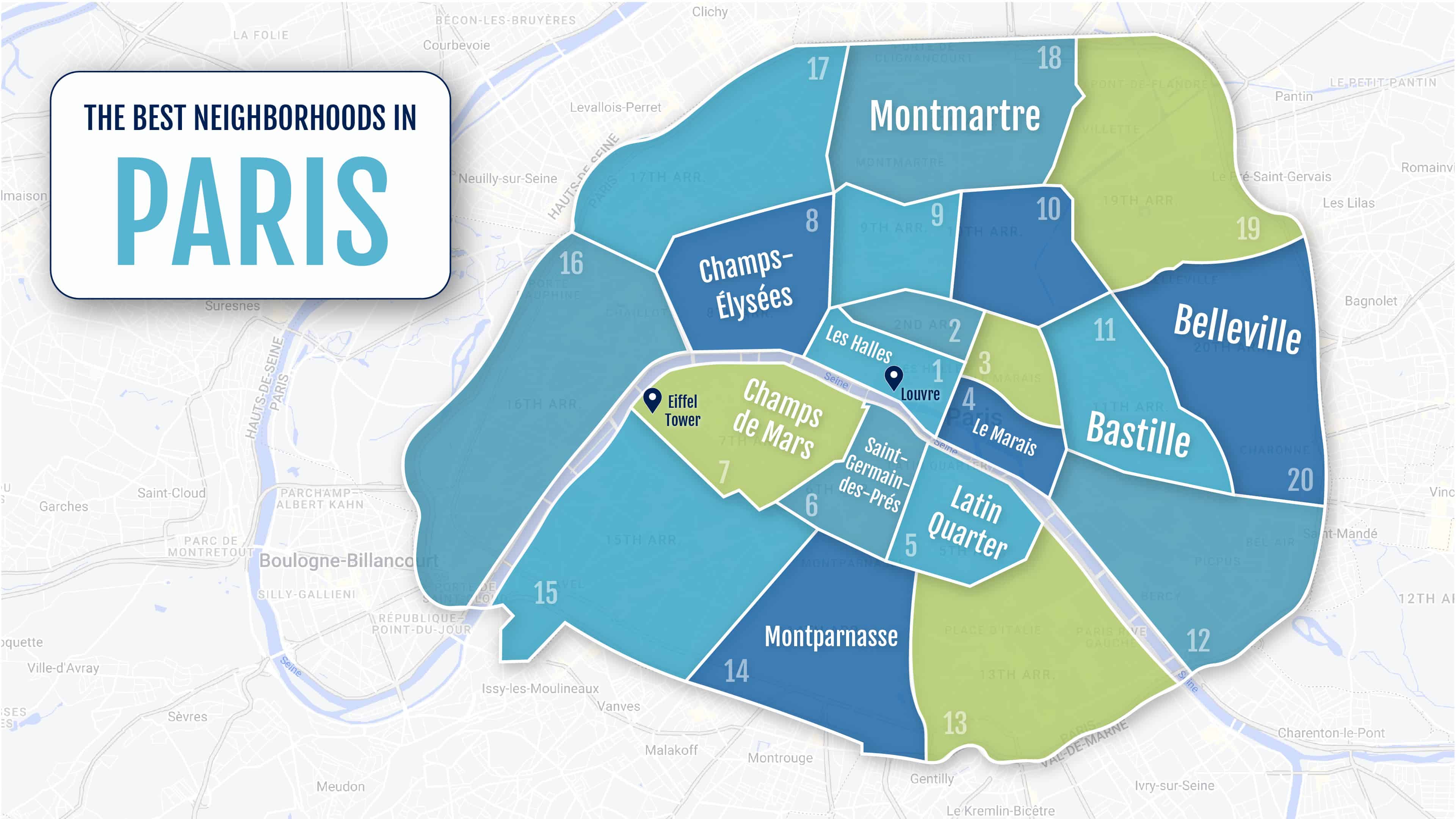 So, with that said, here's an overview of the main arrondissements to help you find the best neighborhood for your trip:
Best for Partying: Bastille (11th arrondissement)
Bastille takes its name from the famous prison that used to occupy this neighborhood (the storming of which started the French Revolution in 1789). Today, the prison is gone, and this animated and lively district has become known for its bars and clubs that are popular with Parisian youth. If you are looking for a fun arrondissement to stay in, I'd recommend this one. It's centrally located, there are lots of subway connections, there's a lot of bars and clubs, and, of course, great restaurants.
Best places to stay in Bastille
Best for Student Vibes: Latin Quarter (5th arrondissement)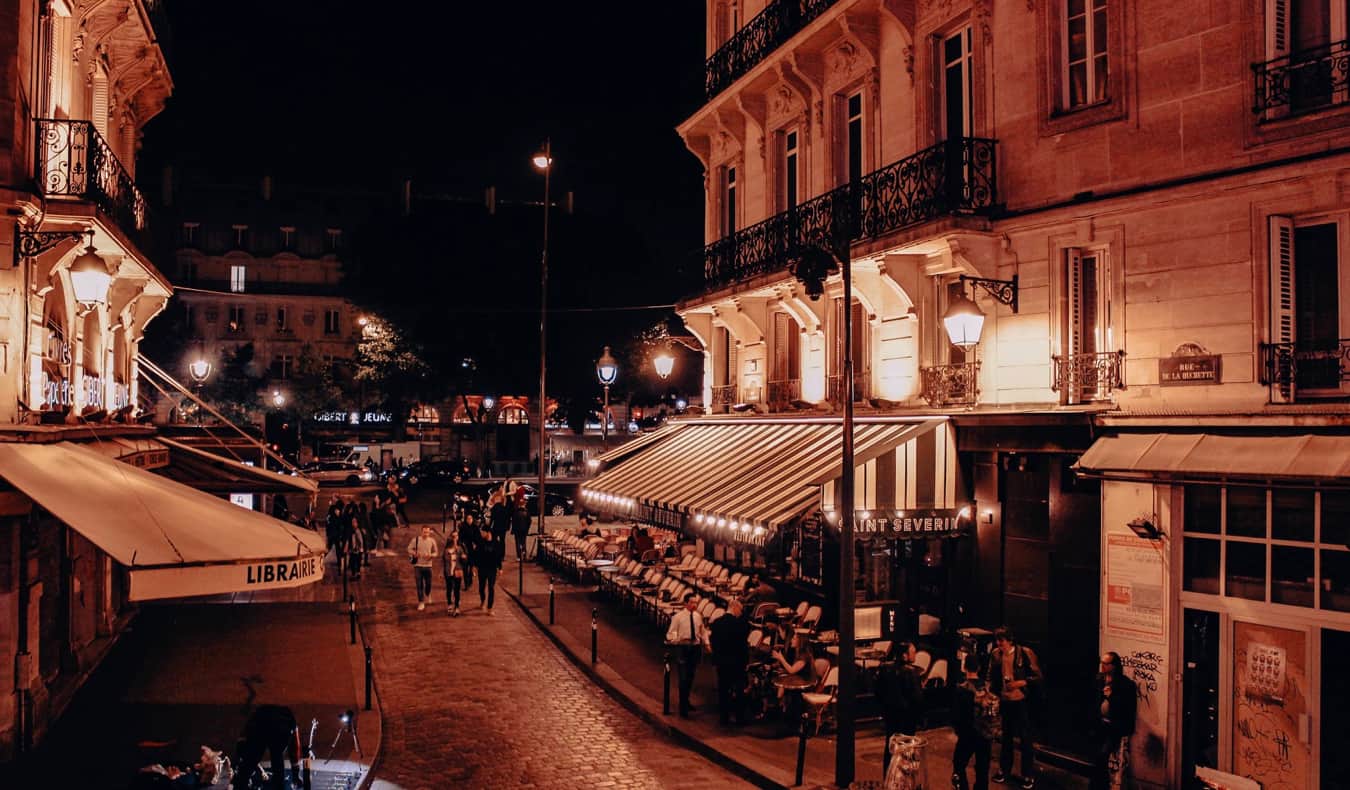 The Latin Quarter, one of my favorite areas of Paris, is filled with narrow streets that turn at weird angles and open onto little café-lined squares. I love wandering around here: it always feels like you're stepping back a few hundred years in history with all the cobblestone streets and old homes. This area is a big student area and, given it's proximity to the Seine, very bustling with people. You'll be in the middle of the action when you stay here.
Best places to stay in the Latin Quarter
Best Overall: Le Marais (4th arrondissement)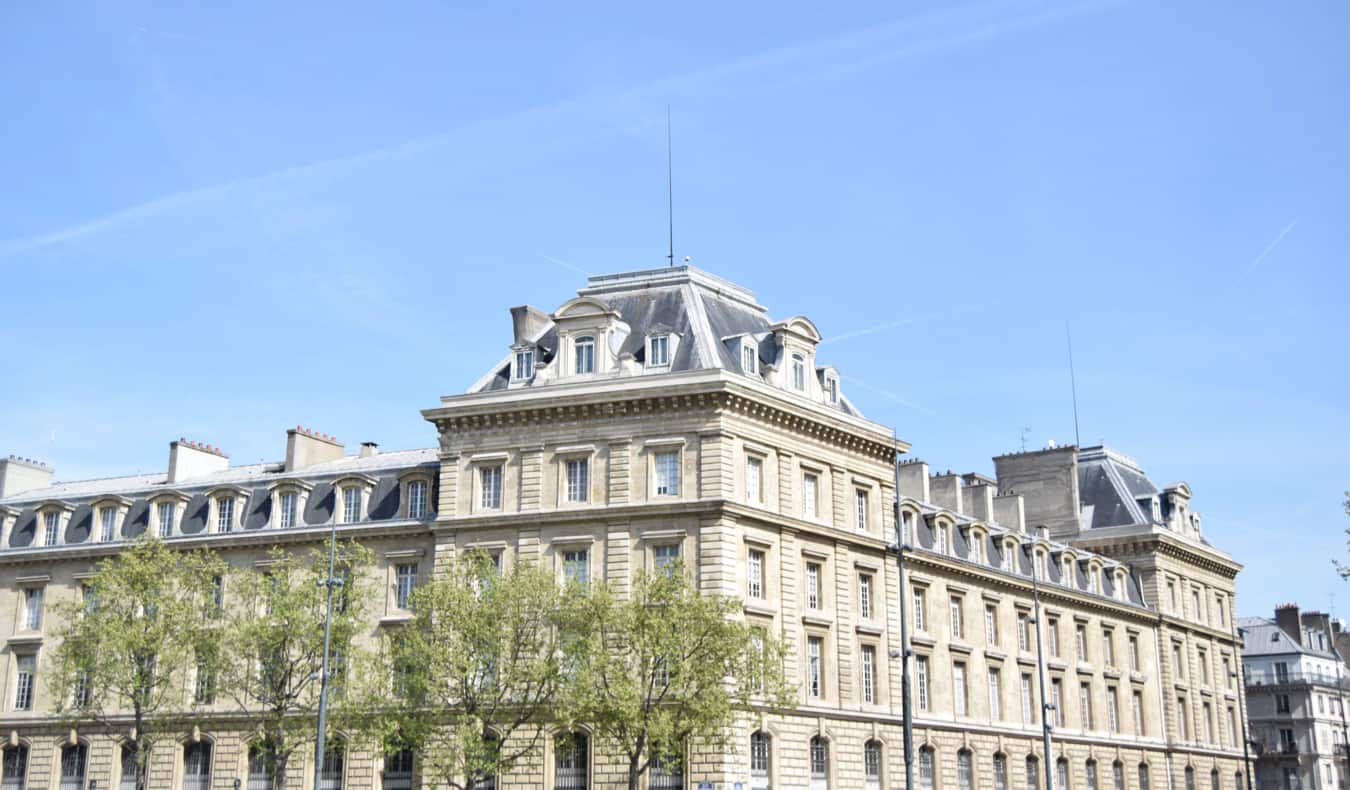 Le Marais (meaning "the marsh") was revitalized about a decade ago and is now a stylish, lively area filled with hip art galleries, boutique shops, café, and amazing restaurants. The tight, winding streets are lined with old architecture, half-hidden courtyards, and quite a few museums. It's a hugely popular area with locals and toursits alike. It's my favorite area of Paris to wander around.
(Additionally, it's the center of Paris's gay life, so you'll be able to find a lot of gay bars, cafés, and shops here too.)
Best places to stay in Le Marais
Best for Price: Montmartre (18th arrondissement)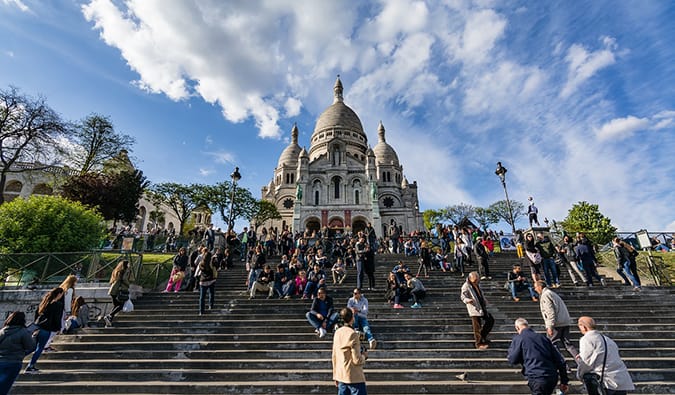 Home to starving artists for centuries, Montmartre is home to arty cafés and bars, cobblestone streets, and the only winery within the city limits (though the wine isn't great). It's also home to a lot of students, as the rents in this part of town are much cheaper than elsewhere. It's also pretty loud at night since there are usually lots of students and tourists about. Try to stay on one of the beautiful side streets if you're looking for a quieter stay in the area.
Best places to stay in Montmartre
Best for Quiet: Montparnasse (14th arrondissement)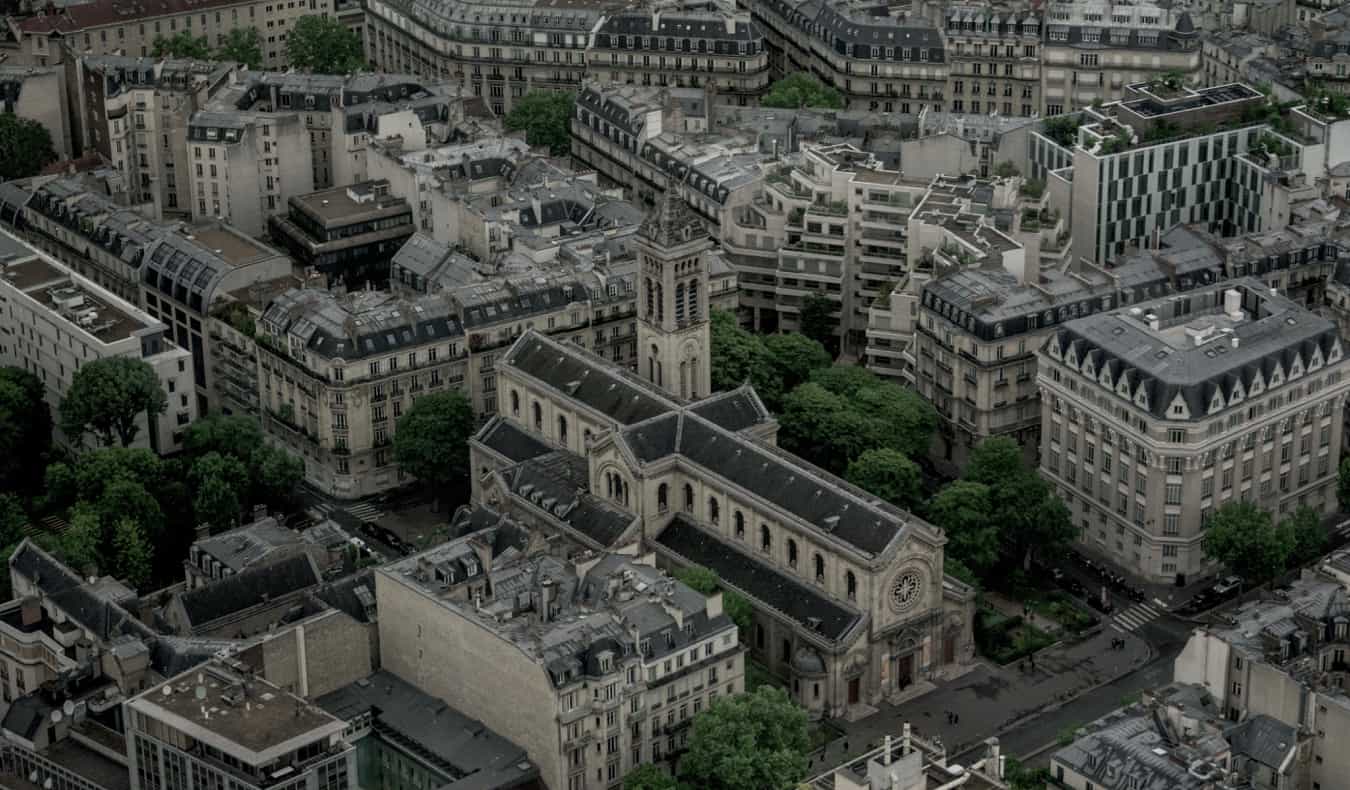 Montparnasse is one of the more modern parts of Paris, with a lot of more office buildings, new apartments, and a more local / lived in feel to it rather than a place full of tourists. Montparnasse has inexpensive accommodations and a good number of restaurants. It's not as classically pretty as other parts of town, but it's a lot more "local" than other districts so if you want to get away from the madness in the heart of the city but not be too far from the action, this area is a one of the best to stay in.
Best places to stay in Montparnasse
Best for Being Central: Les Halles (1st arrondissement)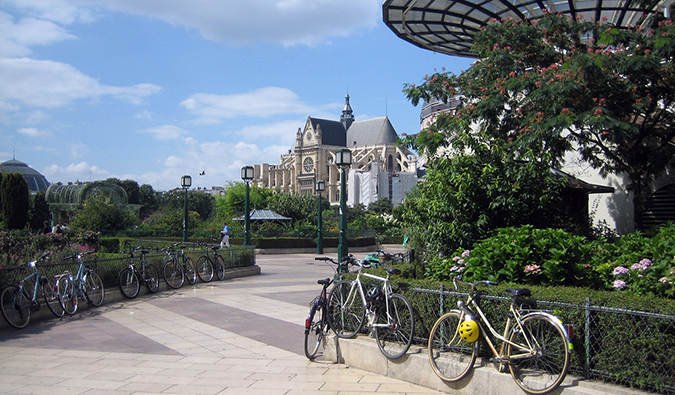 This chic, bustling neighborhood is centered around Paris's former central marketplace, Les Halles (pronounced lay-AL), which was torn down in 1971. The market was "the stomach of Paris" for centuries. Now, there's an underground shopping mall, and the surrounding streets are filled with designer stores, cafés, and artisanal food shops. Staying here puts you in the center of all the action as you are super close to the Louvre, Paris' Chinatown, the Champ Elysse, and so much more! You are in the heart of it if you stay here!
Best places to stay in Les Halles
Best for Location: Saint-Germain-des-Prés (6th arrondissement)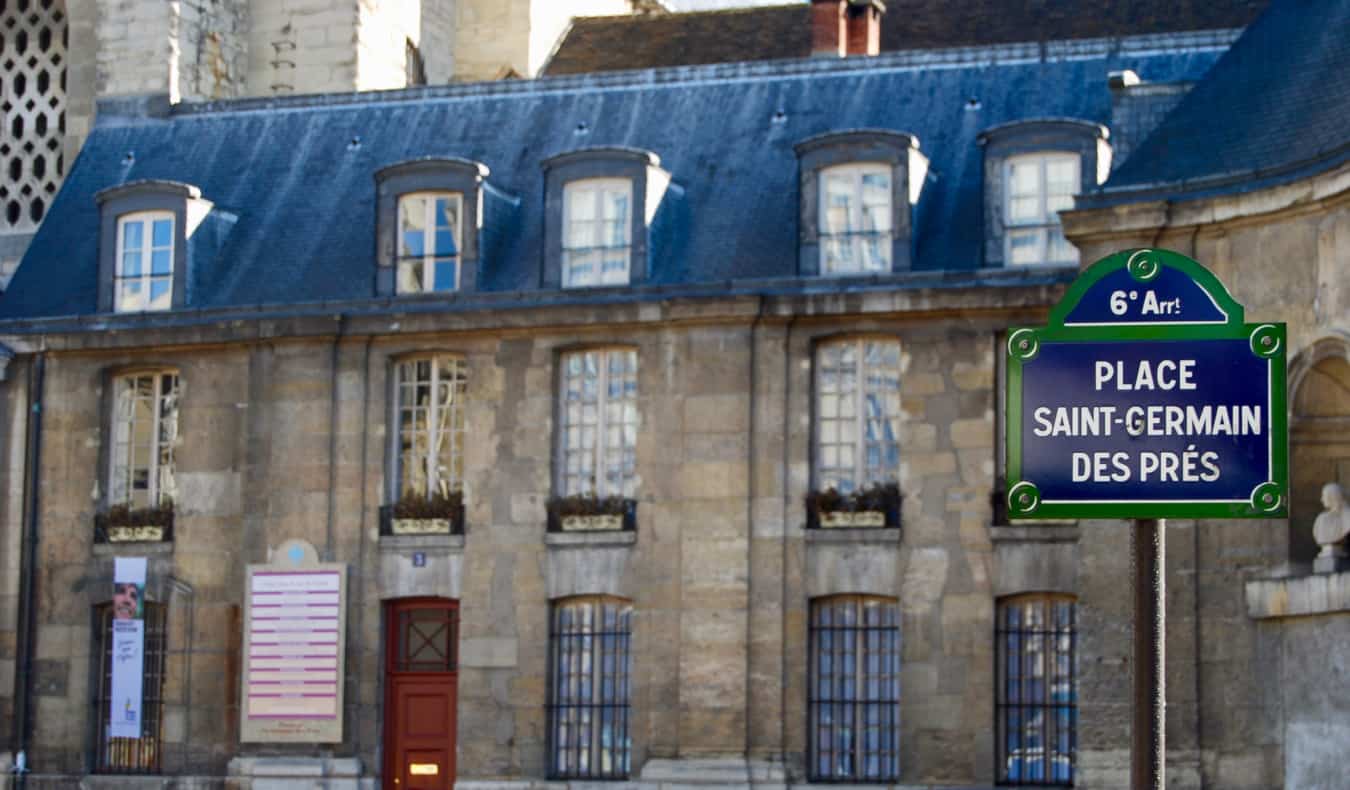 Saint-Germain-des-Prés used to be home to artists, writers, and thinkers. Now, it's one of the most expensive and trendy neighborhoods in Paris and home to celebrities, high-priced art galleries, designer shops, and fancy restaurants. It's not cheap to stay in but it's a beautiful area to walk through. You'll find beautiful boulvards, antique homes, gardens, and old churhces. It's everything you imagine Paris to be. I love this area and it's close to everything too. Hotels here are more expensive than elsewhere but location is everything, right?
Best places to stay in Saint-Germain-des-Prés
Best for Locals: Belleville (20th arrondissement)
The center of Paris's immigrant community, Belleville is slowly becoming popular with hipsters and younger kids since it is more affordable. It's home to a hectic Chinatown and is something of a melting pot of different cultures. Some of the best Middle Eastern, North African, and Chinese food in the city is found here, there's an awesome street market on the main street, and there's tons of quirky bars and wine shops. I find myself staying in this part of town more and more as I love the "I'm in real Paris" feel to the area.
Best places to stay in Belleville
Best for Scenic Charm: Eiffel Tower/Champs de Mars (7th arrondissement)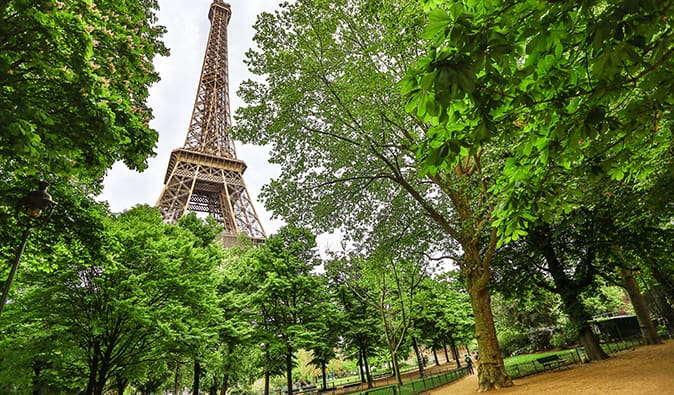 As you might have guessed, Eiffel Tower/Champs de Mars is the place to be if your main reason for visiting Paris is to see the iconic Eiffel Tower (and to have easy access to some other huge attractions). Other than the impressive architecture, there are several great natural history and modern art museums to check out, as well as the sprawling Parc du Champ-de-Mars. This is going to be a busy and touristy (read: expensive) area to stay, but you can't beat it for convenience!
Best places to stay in Eiffel Tower/Champs de Mars
Where Not to Stay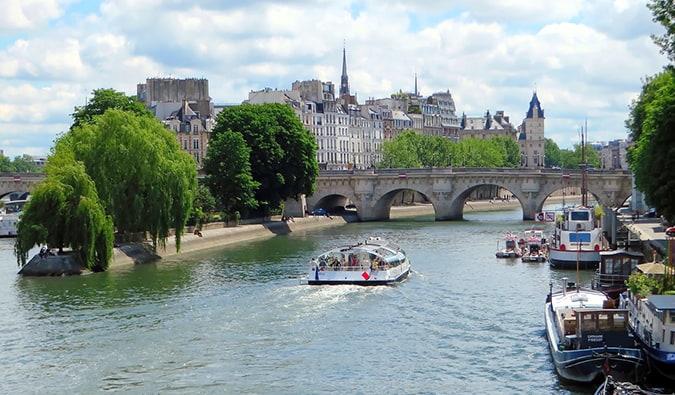 These two islands in the Seine are the historic center of Paris. Île de la Cité is now home to Notre-Dame, Sainte-Chapelle, administrative buildings, and the Conciergerie. It's super loud and bustling with people day and night. Île Saint-Louis, on the other hand, is a quiet neighborhood home to Paris's rich and filled with well-preserved historic homes and streets. They are good sightseeing areas but they aren't great places to stay. There's not much going on and they are very expensive. Skip staying here.
Additionally, I would avoid staying in Champs-Élysées. There's a lot of high end hotels in the area and, if that's your thing, well, why are you on a budget travel website? Go stay there! Otherwise, I wouldn't stay here because the area is expensive and there's not a lot of "real" Paris here. It's just touristy clothing stores and big name stores. Don't waste your time or money.
***
Everything in Paris is well connected via metro, there's no such thing as an area with bad food, and every area is beautiful (it is Paris after all!). For me, Le Marais, the Latin Quarter, Bastille, and Saint-Germain-des-Prés are the four best neighborhoods to stay in when visiting Paris.
But every neighborhood has something for someone, so just pick the one that suits your needs. You can't really gone wrong in a city like Paris.


Get Your In-Depth Budget Guide to Paris!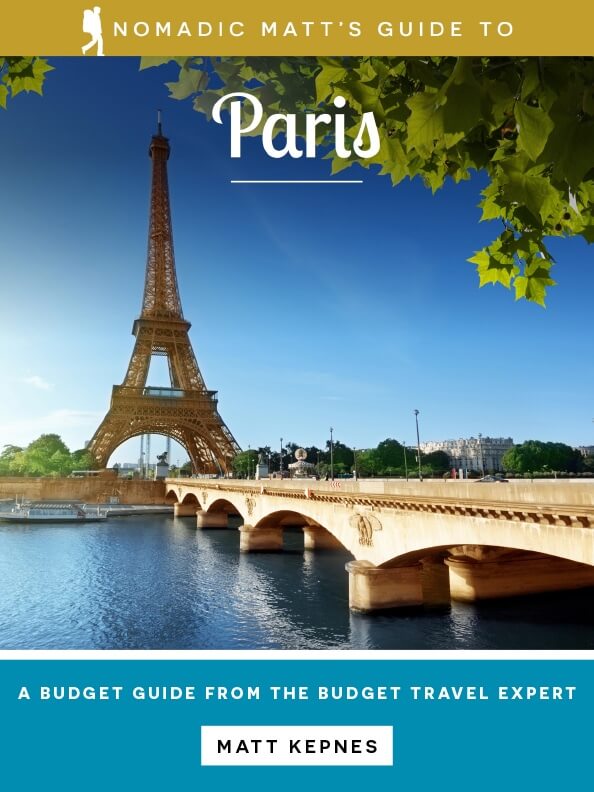 For more in-depth information, check out my guidebook to Paris written for budget travelers like you! It cuts out the fluff found in other guides and gets straight to the practical information you need to travel around Paris. You'll find suggested itineraries, budgets, ways to save money, on- and off-the-beaten-path things to see and do, non-touristy restaurants, markets, bars, transportation and safety tips, and much more! Click here to learn more and get your copy today!
Book Your Trip to Paris: Logistical Tips and Tricks
Book Your Flight
Use Skyscanner to find a cheap flight. They are my favorite search engine because they search websites and airlines around the globe so you always know no stone is left unturned.
Book Your Accommodation
You can book your hostel with Hostelworld as they have the biggest inventory and best deals. If you want to stay somewhere other than a hostel, use Booking.com as they consistently return the cheapest rates for guesthouses and cheap hotels.
If you're looking for more places to stay, here for my favorite hostels in Paris.
Don't Forget Travel Insurance
Travel insurance will protect you against illness, injury, theft, and cancellations. It's comprehensive protection in case anything goes wrong. I never go on a trip without it as I've had to use it many times in the past. My favorite companies that offer the best service and value are:
Looking for the Best Companies to Save Money With?
Check out my resource page for the best companies to use when you travel. I list all the ones I use to save money when I'm on the road. They will save you money when you travel too.
Need a guide?
Paris has some really interesting tours. My favorite company is Take Walks. They have expert guides and can get you behind the scenes at the city's best attractions. They're my go-to walking tour company!
If you prefer food tours, Devour is the best company in the city. I always learn a ton and eat incredible food on their tours!
Want Information on Paris?
Be sure to visit our robust destination guide on Paris for even more planning tips!