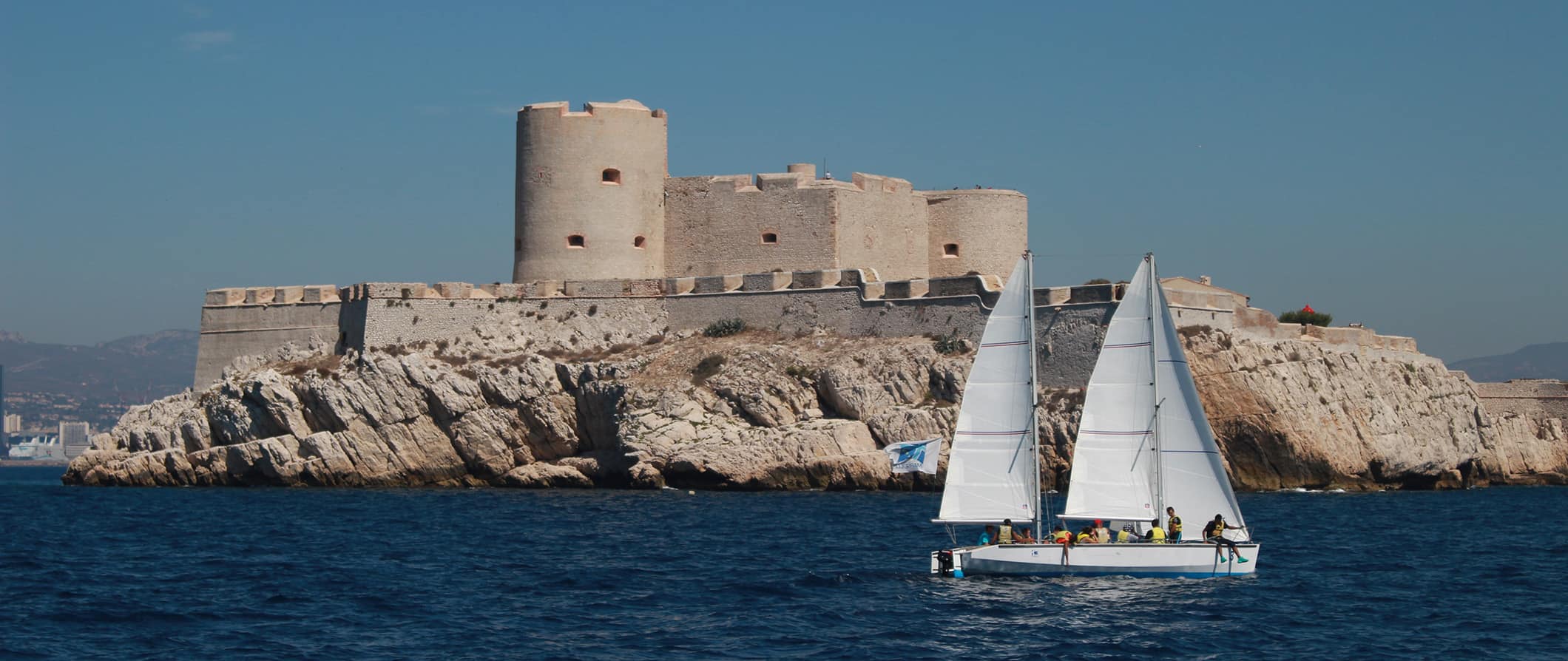 Marseille is located in southeastern France and is one of France's largest cities – the second behind Paris. It is a metropolitan city that also has a rich and eclectic history. This port city has seen a mix of people and cultures for thousands of years. Modern Marseille is filled with nightlife, great restaurants, theaters, museums, and even an international soccer stadium. Many say that Marseille is not the kind of city you will fall in love with as it is too industrial, but, while the city is a bit gritty, I think the beautiful waterfront and stunning building make it an easy city to love.
Top 5 Things to See and Do in Marseille
1. Le Vieux Port
This is an old port where you can watch the fisherman sell their stock by auction, have great seafood, or hire a boat for the day. You can cross the harbor via boat for 10.80 EUR round-trip. Or, if you'd rather, simply sit, read a book, eat, and gaze at all the expensive yachts in the harbor.
2. Notre Dame de la Garde
Known as the big church, this church overlooks the city and is one of the best views to take in or to photograph. Old fisherman used to have their boats blessed in this church.
3. Vieille Charite
Now host to a museum, this building was originally built in the 17th century as a place for the homeless, sick, and old people. The architecture is amazing—there is a pantheon-like church and a three-story building. Closed on Mondays.
4. Walk La Corniche
This walkway by the sea provides lovely views of the sea, the Chateau d'If, and les Calanques to the east. It's a good way to spend a few hours!
5. Château d'If (If Castle)
This small island off the city was a penal colony. It is famous from the novel of Alexandre Dumas, The Count of Monte-Cristo, and you can get a sense of what it was like to be a prisoner in old France. Tourist boats leave from the Old harbor. The castle is closed on Mondays. Admission is 5.50 EUR.
Other Things to See and Do
(Click the title to expand the text)
1. Le Cours Julien and La Plaine
This is known as the trendy part of Marseille and is full of bookstores, cafes, fountains, and tons of walking space. Every Thursday and Saturday morning, the Plaine market takes place here and offers the best opportunity to shop for bargains.
2. Borely Park
A beautiful park only about 1,000 feet from the ocean. You can go there to have a nap, meditate, have a picnic, play some sports, or venture down for an afternoon drink in any of the numerous restaurants or bars on the beach.
3. Le Panier
This is the oldest area in Marseille and in French its name means "the basket." While you are here, be sure to gaze at the Vielle Charite, an old monument that now has museums and exhibitions.
4. La Place Castellane
This roundabout has a magnificent fountain surrounded in columns and sculptures. On the street are excellent cinemas and cafes. This is a pretty neat place to check out.
5. Mazargues War Cemetery
On the way to Luminy, you'll come across this cemetery, which is dedicated to martyrs from the WWI and WWII Allied nations. This place is very serene — perfect for reflection and some down time.
6. Palais de Longchamp
This is a quiet, public garden in the center of Marseille that dates back to the mid-19th century. There is a stunning fountain here, and the Durance river is nearby, and everywhere you can see gorgeous symbolic figures.
7. Fort St. Nicolas
Built between 1660-1664, this fort was used to aid in the protection of the port of Marseille. Today it is separated into two parts. Beyond the fort to the northwest is the Park of the Pharo.
8. Eat in Noailles
This area of the city (around the Noailles subway station) is known for its Arab, Indian and Chinese influence. As such, it has some great places to eat ethnic food for a reasonable price.
9. Go diving
Diving may not be the first thing that comes to mind when you think of France, but Marseille is trying to make a name for itself as the country's diving capital. If you've been to world-class dive sites, this won't be for you, but it's a great opportunity for beginner divers to gain exposure to the underwater world. Snorkeling and other dive activities start at 23 EUR.
Typical Costs
Hostel prices – There are only a handful of hostels in Marseille. You can find some dorm beds for around 18-25 EUR per night in the city center. You can find private rooms starting at 44 EUR. You can book your hostel with Hostelworld.
Budget hotel prices – Two-star hotels start at about 50 EUR per night for a double room. Use Booking.com as they consistently return the cheapest rates. On Airbnb, you can find shared rooms in apartments for an average of 25 EUR per night and entire apartments/homes for an average of 50 EUR per night.
Average cost of food – Pick up some ingredients at one of the many bread, cheese, and meat shops and have a picnic in the park. If you're looking to cook, a week of groceries will cost around 40 EUR (they'll be way less if you get them at a discount grocer like Aldi or Lidl). Eating pre-made sandwiches and fast food will cost between 4-7 EUR each sitting. A nice restaurant dinner will cost around 27 EUR including a glass of wine. To save money, try doing a "prix-fixe" meal. It's a set menu that offers you a deal on a 2-3 course meal. At lunch, you're looking at about 15-20 Euros.
Transportation costs – Marseille is well-covered by buses, trams, and the metro. Tickets for the bus and the metro can be bought in the cafes, at the subway stations, or on the bus. It's best to buy groups of tickets at 3 EUR (two trips) or 13.40 EUR (10 trips) to save a bit (prices on board the bus cost 1.90 per trip). A 1-day pass costs 5.20 EUR and a 3-day pass costs 10.80 EUR. Most public transportation stops running regularly around 9pm, so consider taking an Uber or a taxi. For getting around the area (and the country!) you can also use the ride-sharing app BlaBlaCar. It's is a great way to travel around Europe on a budget.
Suggested daily budget
40-50 EUR / 41-52 USD (Note: This is a suggested budget assuming you're staying in a hostel, eating out a little, cooking most of your meals, and using local transportation. Using the budget tips below, you can always lower this number. However, if you stay in fancier accommodations or eat out more often, expect this to be higher!)
Money Saving Tips
Pack a picnic lunch – As in the rest of France, restaurant food can be expensive. Fortunately, the country caters to DIY-meals, especially lunches. It's really easy to buy some meat, cheese, and a baguette at local shops for under 7 EUR, and top it off with an inexpensive bottle of wine for 2-5 EUR. Find a park or a quiet spot to enjoy it and watch the world pass by, just like the locals do.
Get the set lunch menu – If you eat out, do so at lunch and get the prix fixe menu (two- or three-course set menu). Restaurants throughout town offer this set menu during lunch, and with prices between €10 and €20, it's a way better deal than the regular dinner menu!
Couchsurf – Nothing's cheaper than sleeping for free. Couchsurfing connects you with locals who will give you not only a free place to stay, but also a local tour guide who can introduce you to all the great places to see.
Save money on rideshares – Uber is way cheaper than taxis and are the best way to get around a city if you don't want to wait for a bus or pay for a taxi. The Uber Pool option is where can you share a ride to get even better savings (though you can get your own car too). You can save $15 off your first Uber ride with this code: jlx6v.
My Must Have Guides For Traveling to Marseille
Photo credits: 4