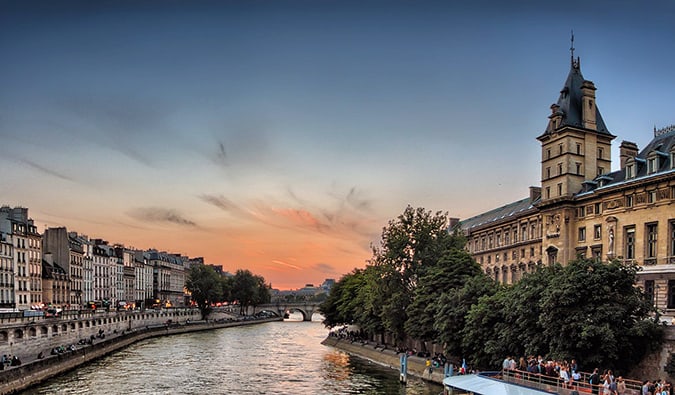 Updated: 1/10/2019 | January 10th, 2019
Paris. It's a city on everyone's bucket list. I've been dozens of times, and my love for the city is well known to you all. I can't imagine a year in which I don't go even for a little bit. To me, Paris has it all: music, history, food, culture, and beautiful architecture. It's got that special something. I dream of moving to Paris to live out that writer cliché…if only for a while!
As a visitor to Paris, knowing where to stay can be difficult. There are lots of arrondissements (neighborhoods). Which is the best?
For a tourist, there's really no bad neighborhood. Nowhere you stay is going to be too far or unsafe (forget what you hear about in the news). Paris's metro goes everywhere and stays open late.
However, that said, Paris has thousands of hotels and hostels. How do you know which are the best ones? The city is expensive, and as someone who has stayed in some less-than-stellar accommodations for way too much money, I know the price of making the wrong decision.
I've been visiting Paris for a decade and have stayed in dozens upon dozens of places. That's why I wrote this post on the best hostels in town, to make choosing easy.
Before you go: things to consider when picking a hostel in Paris
I've stayed in thousands of hostels in my life. There are a lot of things to consider when selecting a hostel. The top three, when picking the best hostel in Paris, are:
Location – Paris is huge and, while the metro does go everywhere, it can take some time to get around. Pick a place that is central to the sites and nightlife you want to see. All the hostels listed here are in central locations.
Price – In Paris, you really get what you pay for, so if you go with a really cheap one, you're probably going to get a hostel that is small, cramped, and doesn't offer great service.
Amenities – Every hostel in the city offers free Wi-Fi, and most have a free breakfast, but if you want more than that, be sure to do your research to find the hostel that best meets your needs!
Staff – All the hostels listed here have amazing staff! They are super friendly and knowledgeable. Even if you don't end up staying at one of the places listed below, be sure to look up reviews to ensure you end up somewhere where the staff is helpful and friendly! They can make or break a hostel!
So where should you stay in Paris? Well, without further ado, here is my list of…
The 15 Best Hostels in Paris
1. St. Christopher's Canal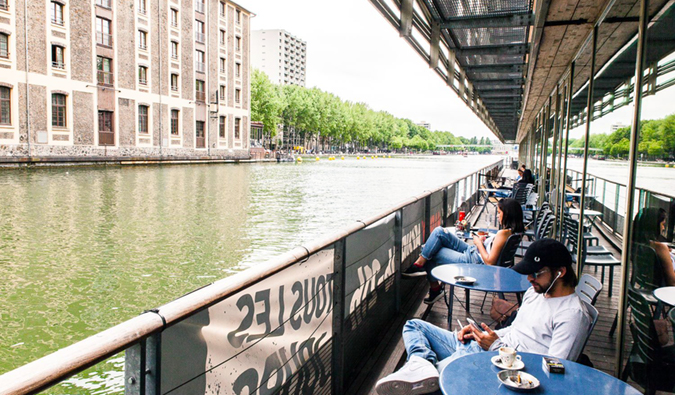 I love the St. Christopher's chain. It has two hostels in Paris (see below for the other one). This location has Wi-Fi, comfy beds, lockers, clean showers, free breakfast, and a lively bar. It's very popular among backpackers and is in a relaxing and beautiful part of the city. The view of the canal is incredible, and during the summer months, the terrace is hopping! This is one of my favorite hostels in Paris.
Beds from 18 EUR/$20.50 USD.
—-> Book your stay at St. Christopher's Canal!
2. The Loft Boutique Hostel & Hotel

The Loft is located in the diverse and historic neighborhood of Belleville. It's an up-and-coming immigrant neighborhood that is super fun to hang out in. The area has a lot to offer, including many ethnic food options. The hostel itself has an awesome outdoor patio, a bar, and a cute cat, Espiga. It's small and cozy, with friendly staff too!
Beds from 18.95 EUR/$22 USD, private rooms from 74.95 EUR/$86 USD.
—-> Book your stay at The Loft Boutique Hostel & Hotel!
3. Les Piaules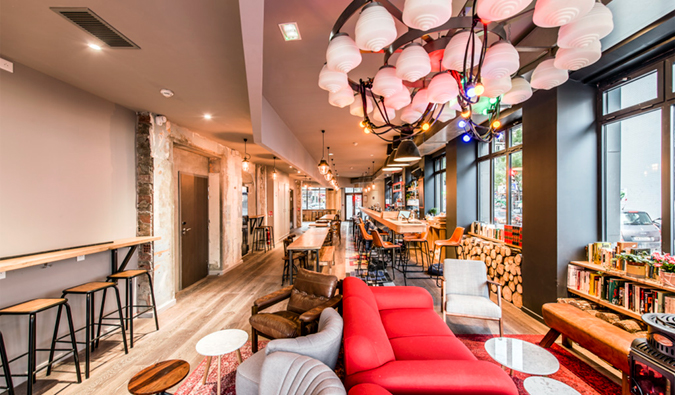 This hostel has a fantastic chimney lounge, a cool bar, and a rooftop space. The bar/restaurant on the ground floor is popular with locals too (I saw a paint-and-drink club here). The rooms are super modern and the beds comfy. It's my favorite hostel in Paris and one of the best places to meet people! I can't recommend it enough!
Beds from 19 EUR/$22 USD, double rooms from 100 EUR/$114 USD.
—-> Book your stay at Les Piaules!
4. Generator Hostel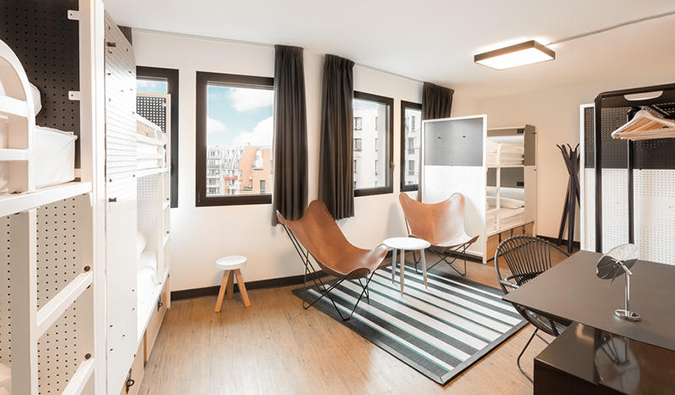 In this emerging district, the Generator Hostel has a chic array of stylish rooms with comfortable beds, high-speed Wi-Fi, and friendly staff. Its private rooms even have terraces! There is also a lively bar, a common area, and female-only dorms. This is one of my favorite chains in Europe.
Beds from 30 EUR/$34 USD.
—-> Book your stay at Generator Hostel!
5. St. Christopher's Gare du Nord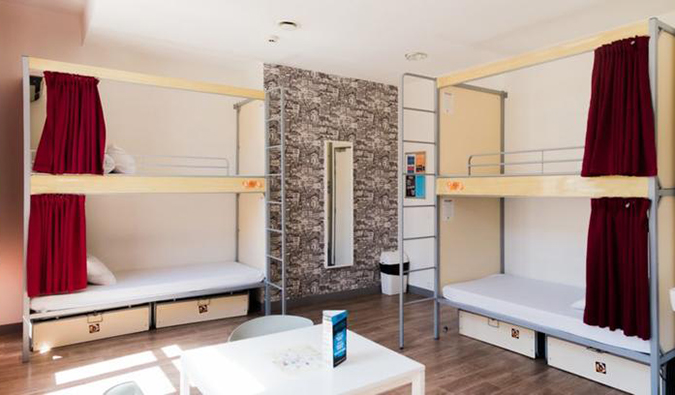 This backpacker base opened in 2013 and is close to the Gare du Nord train station, making it easy to get to the airport. It's the most convenient hostel in town. It has Wi-Fi, comfy beds, clean showers, free breakfast, and a bar that features live music too. It's really popular with many of the backpacker tours that come through Paris. Try to get a room facing the street, as the interior courtyard rooms are loud from the downstairs bar.
Beds from 24 EUR/$27 USD.
—-> Book your stay at St. Christopher's Gare du Nord!
6. Enjoy Hostel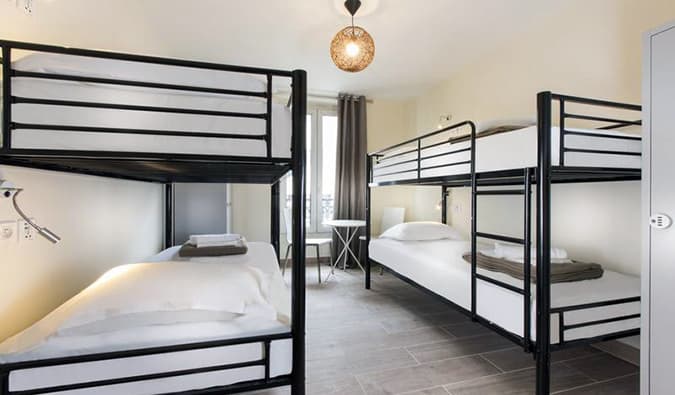 This hostel is in the residential/business neighborhood of Montparnasse in the south part of the city. There are lots of restaurants, bars, and supermarkets in the area. It's much more "local" than other neighborhoods in town. The hostel provides a free basic breakfast. If you get there early, try to get a top bunk, as the bottom ones have very little headspace. This also is a great choice if you have an early or late train, as it is close to the Montparnasse station.
Beds from 24 EUR/$27 USD.
—-> Book your stay at Enjoy Hostel!
7. Woodstock Montmartre

This 1970s-themed hostel has been around for more than 20 years. It's a much more old-school hostel experience! It offers free breakfast and an in-house bar. This is a great option for couples and singles, as the private rooms are pretty inexpensive when compared to other hostels. You'll never lack for something to do, as it is near Sacré-Coeur and Montmartre, one of Paris's best neighborhoods. It's action-packed and fun! If you're looking for a good time, stay here.
Beds from 24.30 EUR/$27.75 USD, privates from 48.60 EUR/$55.47 USD.
—-> Book your stay at Woodstock Montmartre!
8. Le Montclair Montmartre

Also located in Montmartre, Montclair is a fun hostel with soft beds, group activities, and a spacious common room. The staff is super friendly, and the hostel is pretty big, with lots of beds. This is the most popular hostel in the area.
Beds from 25 EUR/$28.53 USD.
—-> Book your stay at Le Montclair Montmartre!
9. Yves Robert Hostel (Hostelling International)

This eco-friendly hostel is in an old warehouse and boasts a bar, restaurant, and theater. There is a garden, free Wi-Fi, bicycle rentals/storage, a kitchen, and a book swap. Very low-key and quiet, it's is perfect for families, groups, and seniors (or those not looking for the noise of the other youth hostels).
Beds from 27 EUR/$31 USD, double rooms from 68 EUR/$77.60 USD. Discounts for HI members.
—-> Book your stay at the Yves Robert Hostel!
10. Arty Hostel Paris

Located in Montparnasse, a historic artists' district, this hostel is near many theaters and restaurants. It's small, but the artistic décor is lovely. The beds are pretty average, but the pillows are really great! If you're looking for a small, quiet place to stay, this is it!
Beds from 33 EUR/$38 USD.
—-> Book your stay at Arty Hostel Paris!
11. Perfect Hostel

This "old Paris"-themed hostel is in the lively Montmartre neighborhood and has something that is hard to find in hostels: an elevator. If you get a private room, ask for one with a balcony and enjoy the great views. While the toilets and showers are small, there are sinks in your room. There's free breakfast too!
Beds from 34 EUR/$39 USD, private rooms from 64 EUR/$73 USD.
—-> Book your stay at Perfect Hostel!
12. FIAP Jean Monnet

This hostel is huge and modern and filled with fun activities, and there are often school groups here. Breakfast is included, and there is a cafeteria where you can get other meals. But it's not a party hostel: it's in a quiet neighborhood. This is somewhere else you can stay if you're looking for something quiet and relaxing. Dorms are available only for 18-to-30-year-olds.
Beds from 36 EUR/$41 USD, private rooms from 77 EUR/$88 USD.
—-> Book your stay at FIAP Jean Monnet!
13. Hôtel d'Angleterre Étoile

This family-friendly hotel is only a few minutes walk from Place de l'Étoile, the Arc de Triomphe, and the Champs-Élysées. There are a couple of great restaurants and bars nearby, as well as museums like, the Musée d'Art Moderne. All rooms are super quiet and have private bathrooms.
Rooms from 87 EUR/$100 USD.
—-> Book your stay at Hôtel d'Angleterre Étoile!
14. 3 Ducks Hostel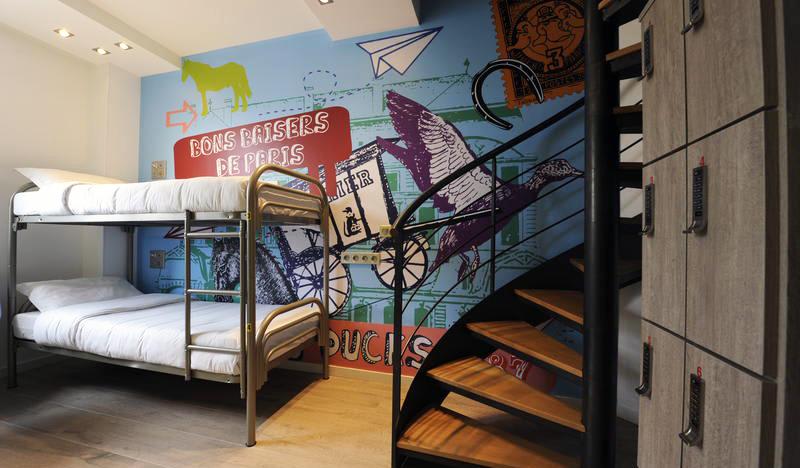 A 10-minute walk from the Eiffel Tower, 3 Ducks has one of the best locations in town. The staff is friendly, the rooms are small but comfortable, and the showers are clean. It has one of the cheapest bars in Paris (which slightly offsets the expensive dorm prices). This is a more upscale hostel, with a recently revamped décor. It's my second-favorite hostel in the city!
Beds from 31 EUR/$35 USD, private rooms from 109.50 EUR/$124 USD (sleeps two).
—-> Book your stay at 3 Ducks Hostel!
15. Oops Hostel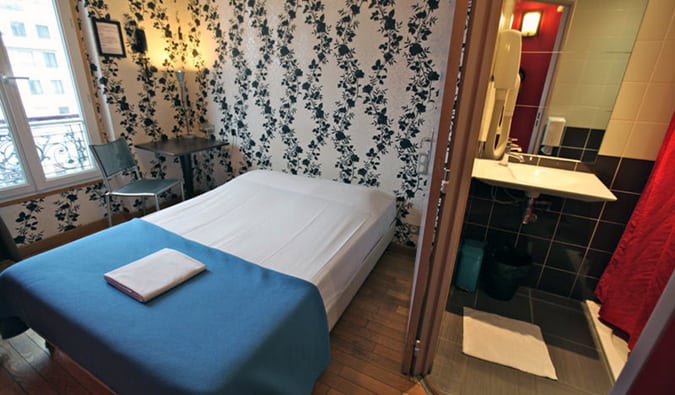 Oops Hostel is right next to Paris's Latin Quarter, one of the city's best hubs for nightlife, dining, and shopping options. It's actually my favorite part of town! Dorms are small and cozy but feature great amenities like en suite bathrooms, free Wi-Fi, and individual reading lamps.
Beds from 27 EUR/$31 USD, private rooms from 70 EUR/$80 USD.
—-> Book your stay at Oops Hostel!
***
Whichever one of these hostels you choose, you're going to meet a lot of people and friendly staff, and have a good night's sleep in a clean room. You just need to pick the hostel that matches your personality. These are all easy to get to using public transportation, and several offer airport transportation (for a fee). These are the best places hostels in Paris (remember
Les Piaules
is my number one pick), and you won't go wrong with any of them.
Get Your In-Depth Budget Guide to Paris!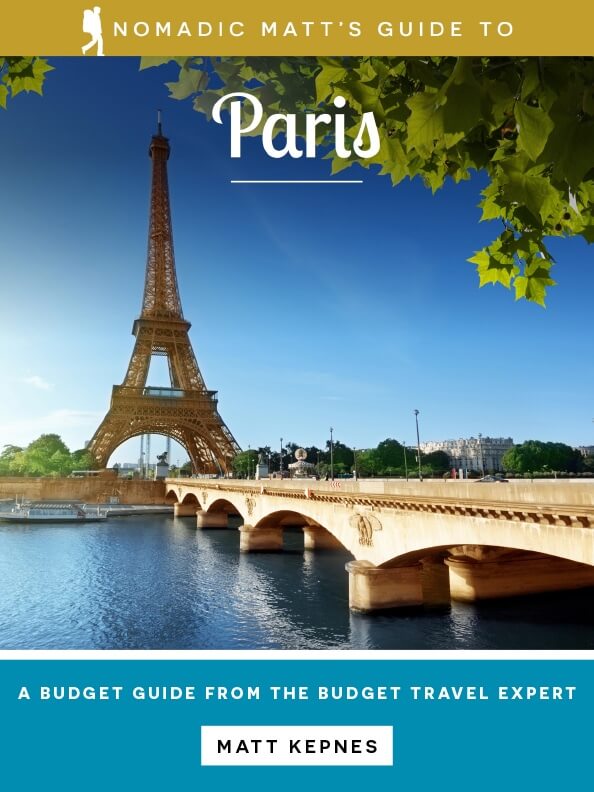 For more in-depth information, check out my guidebook to Paris written for budget travelers like yourself! It cuts out the fluff found in other guides and gets straight to the practical information you need to travel and save money in one of the most beautiful and romantic cities in the world. You'll find suggested itineraries, budgets, ways to save money, on- and off-the-beaten-path things to see and do, and non-touristy restaurants, markets, and bars, plus much more! Click here to learn more and get started.
Book Your Trip to Paris: Logistical Tips and Tricks
Get Your Guidebook to Paris!!
Check out my detailed guidebook to planning a visit to Paris, with suggested itineraries and information on places to stay, things to do, where to eat, and how to get around. It has all my secrets to having a fun and inexpensive trip there! Just click here to get the guide and continue planning today!
Book Your Flight
Find a cheap flight by using Skyscanner or Momondo. They are my two favorite search engines, because they search websites and airlines around the globe, so you always know no stone is beinkg left unturned.
Book Your Accommodation
You can book your hostel with Hostelworld as they have the biggest inventory out there. If you want to stay somewhere other than a hostel, use Booking.com as they consistently return the cheapest rates for guesthouses and hotels.
If you're wondering what part of town to stay in, here's my neighborhood breakdown of the city!
Don't Forget Travel Insurance
Travel insurance will protect you against illness, injury, theft, and cancellations. It's comprehensive protection in case anything goes wrong. I never go on a trip without it, as I've had to use it many times in the past. I've been using World Nomads for ten years. My favorite companies that offer the best service and value are:
Looking for the best companies to save money with?
Check out my resource page for the best companies to use when you travel! I list all the ones I use to save money — and I think they will help you too!
Photo credits: 2, 3, 4, 5, 6, 7, 8, 9, 10, 11, 12, 13, 14, 15, 16