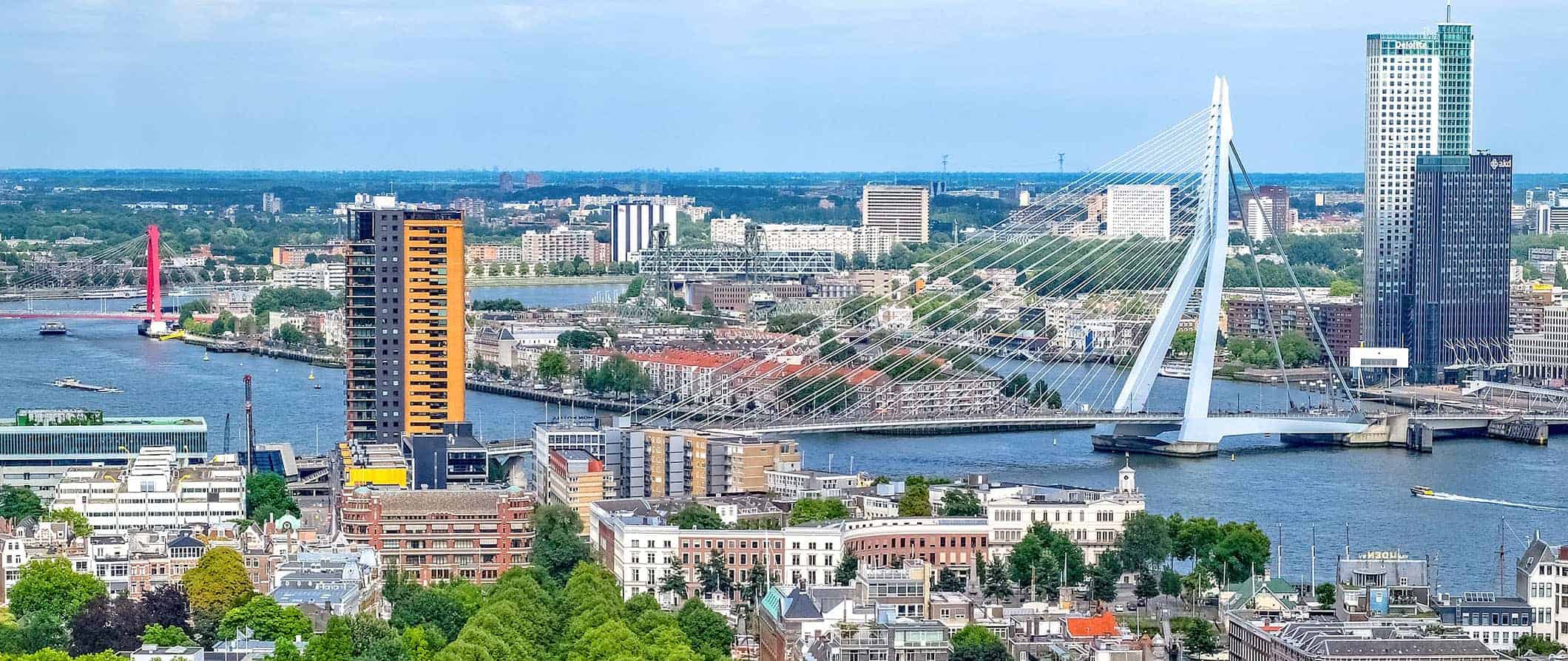 Often overshadowed by Amsterdam (they have an intense rivalry), Rotterdam is a funky little port town that prides itself on its unique architecture, cool art, amazing food, and massive harbor. The city is one of the most multicultural in the country and hosts an array of festivals and concerts throughout the year.
Often overlooked, I really enjoyed Rotterdam. It was a laid-back contrast to the wild, canal-lined streets of Amsterdam. Plus, the parks here are plentiful and the city comes to life in the summer with festivals, concerts, and other free events.
This Rotterdam travel guide can help you plan your trip to what remains one of my favorite countries in the world. It's a really underappreciated destination!
Top 5 Things to See and Do in Rotterdam
1. See the Erasmus Bridge
This bridge (nicknamed "The Swan") resembles a harp and towers over Europe's largest harbor. From the bridge, you can spot the iconic Cube Houses as well as the art nouveau style Witte Huis. Walk a little further and you can explore the charming Delfshaven neighborhood.
2. Walk the harbor
Rotterdam has the largest and busiest harbor in all of Europe. Wander around and watch all the boats coming and going or take a stroll through the piers and check out luxurious yachts. I enjoyed eating lunch at the cafes and watching the world go by wondering "where is that ship going?"
3. Go up the Euromast tower
The tower has a rotating elevator that takes you 185 meters in the air. There's also a restaurant at the top (but it's a bit expensive). Thanks to the flat landscape, the picturesque views go on forever. If you like adventure, you can abseil down from the top! Admission is 10.50 EUR and abseiling is 57.50 EUR.
4. Visit the Cube Houses
Rotterdam is known for its modern, cutting-edge architecture. A great example of this are the quirky Cube Houses, a row of 38 small cube-shaped houses. They were designed by Dutch architect Piet Blom and built in the 1980s. One of the houses is open to the public for 3 EUR.
5. Relax in the park
Located near the Euromast, Het Park is a gigantic park perfect for strolls, picnics, and sports. (Don't tell the people in Amsterdam, but I enjoyed it more than Amsterdam's famed Vondelpark.) I highly recommend spending some time here. It was designed in the 1850s to look and feel like a traditional English garden.
Other Things to See and Do in Rotterdam
1. Attend the Rotterdam Summer Carnival
Rotterdam has a thriving community of local artists. That's best reflected in the many festivals that take place in the port city, especially in the summer. The annual Rotterdam Summer Carnival, which is the last weekend of July, includes a full lineup of dancing, parties, and colorful parades. It's the largest street party in the Netherlands with over 2,500 dancers, 25 carnival groups, and 30 floats on display. If possible, try to see the Battle of the Drums at the beginning of the carnival — the streets become filled with Caribbean brass bands all competing for the "Golden Drum" award.
2. Visit the Museum Boijmans Van Beuningen
The museum, founded in 1849, houses a rich collection of masterpieces such as Pieter Brueghel the Elder's The "Little" Tower of Babel (1563). In addition to a large permanent collection of works by the Dutch masters, there's a broad collection of surrealism, featuring Salvador Dalí and René Magritte. While under renovation (expected to be completed in early November 2021), many items are accessible at other Rotterdam museums.
3. See City Hall
Built in 1914, the Rotterdam City Hall is one of the few buildings that survived the destruction of World War II (the Netherlands were officially neutral, however, the Nazis carpet-bombed Rotterdam and invaded the country anyway). There are several large statues outside the building, including the touching Memorial to the Fallen featuring four bronze figures meant to commemorate the victims of the war (900 people were killed and 85,000 were left homeless after just one day of bombing). Most of the notable architecture and monuments are on the exterior, but if you'd like a tour inside, you can book one from the local tourist office. You simply have to show up and ask about a tour.
4. Peek in the Oude Kerk
This is another one of the few buildings that survived wartime bombings and destruction. The Old Church, also called the Pilgrim Fathers Church, is one of the major sights in the Delfshaven neighborhood. Although the neighborhood is surrounded by the Red Light District, it's nevertheless quite peaceful and quiet. The church dates to 1306 and is home to several artifacts, including a huge organ and the tombs of several noteworthy individuals, including Rembrandt's wife. The church is said to be the site where the Pilgrims last prayed prior to leaving for the Americas. It's 12 EUR to visit.
5. See the Rotterdam Walk of Fame
This walkway, similar to the one found in Hollywood, is home to handprints of various stars and starlets from around the world. It's located next to the Zuidplein Mall. Some of the international celebrities you can spot along the Walk of Fame include Bon Jovi, Ray Charles, and Tina Turner.
6. Do a harbor tour
If you enjoyed wandering the harbor and want to learn more about it, do a harbor tour. The harbor in Rotterdam is one of the largest and busiest in the entire world. Dutch history is inherently intertwined with the sea, so hopping on a boat tour is a great way to view some of the action. You'll get to soak in the view of the city's skyline while also viewing the shipyards, docks, and the many giant shipping containers. Tours cost 15.25 EUR and last 75 minutes.
7. Visit the Kunsthal Rotterdam
For fans of contemporary art, the Kunsthal Rotterdam museum hosts temporary art exhibitions. While there is no permanent collection at the gallery, the space regularly attracts well-known artists. There is also a nice restaurant and a small garden and grounds to explore. Admission is 16.50 EUR and the museum is open daily when exhibitions are on. Check the website to see what's on during your visit.
8. Grab a bite to eat at the Markthal
The Markthal is a large indoor market hall. Its impressive exterior is shaped like a horseshoe while the interior boasts over 100 different food stalls and restaurants. There's also a supermarket and even a free historical exhibition space showcasing archaeological finds discovered during its construction. There's a large mural of food, flowers and insects covering the vaulted interior too. It's a great place to snack and people-watch.
9. Explore the Het Nieuwe Instituut
The Museum for Architecture, Design, and Digital Culture offers a unique take on modern society. With exhibitions focusing on the three themes (design, architecture, and culture), it's an insightful place to learn more about Rotterdam's contemporary architecture. The Sonneveld House nearby, built in the modernist Dutch Functionalist style, is part of the museum's collection and can be visited with the same admission ticket of 14 EUR.
10. Wander the Rotterdam Zoo
Rotterdam Zoo is one of the Netherlands' oldest zoos and is considered one of the best zoos in Europe (it opened in 1857). Spanning over 60 acres, visitors can take a tour "around the world" through the various animal exhibitions and see giraffes, polar bears, elephants, and more. There's also a relaxing botanical garden and an aquarium here as well. Admission is 23.50 EUR.
11. See Grote of Sint-Laurenskerk
This medieval Protestant church is the only remaining late Gothic building in Rotterdam, which was originally a medieval city. During World War II, the church was bombed, leaving only the walls intact. It was one of the few buildings in the city to be restored rather than replaced. There's a tower that you can climb in spring/summer and three huge organs – including the largest organ in the Netherlands. Admission is 3 EUR and it costs another 6 EUR to climb the tower.
12. Tour the Maritime Museum
This museum is the oldest and largest museum in the Netherlands. It's an immersive experience that covers six centuries of maritime history via its functional historic vessels and cranes. Some of the interactive exhibits include a trip offshore and learning about the drug trade (much of the world's drugs are trafficked by ship). Tickets cost 14 EUR.
13. Explore the SS Rotterdam
The former flagship of the Holland America Line is now not only an attraction offering tours but you can actually sleep on board as well. Between 1959 and 1971, the ship ran transatlantic journeys between Europe and America. After flights put transatlantic boat trips out of business, it transitioned into a five-star cruise liner. It is now moored at the quayside in Rotterdam. Audio tours last 1 or 2 hours and cost between 12.95-16.50 EUR. Staying overnight costs around 80 EUR.
For more information on other cities in the Netherlands, check out these guides!
Rotterdam Travel Costs
Hostel prices – Hostels start at 24 EUR for 8-10 bed dorms and 33 EUR for 4-6 bed dorms. A basic private room with a private \ bathroom starts at 75 EUR. Prices don't change much between peak and off-peak seasons but some hostels close in the off-season.
For those traveling with a tent, camping is available outside the city. A basic plot for 1 person without electricity costs around 12.50 EUR.
Budget hotel prices – Centrally located two-star hotels begin at 70 EUR per night for a double private room with a private bathroom and free Wi-Fi. Off-season, prices start at 55 EUR per night for the same type of room.
Rotterdam has lots of Airbnb options, although it has become more tightly regulated in recent years. A private room can be as low as 40 EUR per night with a shared bathroom, even in peak season, but they average closer to 70 EUR. An entire apartment averages about 90 EUR per night, with off-season prices costing around 5-10 EUR less per night.
Food – Dutch cuisine typically involves lots of vegetables, bread, and cheeses (gouda originated here). Meat, while historically not as prominent, is a staple of dinner meals. Breakfast and lunch usually involve open-faced sandwiches, often with cheeses and cold cuts. Dinners are very much a "meat and potatoes" meal, with meat stews and smoked sausage being two popular choices. For those with a sweet tooth, the stroopwafel (a waffle cookie with a syrup filling) is the go-to choice, though apple tarts/pies are also local favorites.
If you're on a budget, falafel and shawarma shops are your best bet for cheap food. Meals here cost around 5-10 EUR. Cheap meals at fast food joints or places like Maoz or Walk to Wok cost around 10 EUR. Cheap fast food (think fries and burgers) at the famous FEBO kiosks are under 7 EUR but don't expect anything fancy (FEBO is Dutch drunk food).
Restaurant meals average around 15 EUR for a main dish of more traditional Dutch cuisine. In a mid-range restaurant, a three-course menu with a drink costs at least 30 EUR.
Pizza costs around 9-12 EUR while Chinese food is around 8-11 EUR for a main dish. Beer is 6 EUR while a latte/cappuccino is 3 EUR. Bottled water is 2 EUR.
If you cook your meals, expect to pay 50-60 EUR per week for groceries that include pasta, rice, vegetables, and some meat.
Backpacking Rotterdam Suggested Budgets
If you're backpacking Rotterdam, expect to spend about 65 EUR per day. This budget covers staying in a hostel dorm, limiting your drinking, taking public transit to get around, cooking your meals, and sticking to mostly free activities like walking tours and exploring the market. If you plan on drinking, add 10-20 EUR more per day to your budget.
On a mid-range budget of about 130 EUR per day, you can stay in a private hostel room or Airbnb, have a drink or two, eat out at cheap fast food stalls and cook some meals, take the occasional taxi to get around, and do more paid activities like a harbor tour and visiting some museums.
On a "luxury" budget of about 285 EUR or more per day, you can stay in a hotel, eat out for all your meals, drink more, take more taxis and rent a bike to get around, and do whatever tours and activities you want. This is just the ground floor for luxury though. The sky is the limit!
You can use the chart below to get some idea of how much you need to budget daily, depending on your travel style. Keep in mind these are daily averages – some days you spend more, some days you spend less (you might spend less every day). We just want to give you a general idea of how to make your budget. Prices are in EUR.
Accommodation
Food
Transportation
Attractions
Average Daily Cost
Backpacker
25
20
10
10
65
Mid-Range
55
40
15
20
130
Rotterdam Travel Guide: Money-Saving Tips
The Netherlands is not a cheap destination and Rotterdam is no expception. However, there are plenty of ways to save money in Rotterdam if you look for them. Here are some tips to help you get started:
Rent a bicycle – The easiest and cheapest way to get around the city (besides walking) is to rent a bike. Donkey Republic is an app that has locations all over the city. You can get a bike with them for around 3.30 EUR per hour or 13 EUR per day.
Eat cheap – Rotterdam has a lot of cheap snack and falafel shops that cost 5-10 EUR. Additionally, buying food at the market is a great way to stock up on groceries for the week.
Get the Welcome Card – If you plan to do a lot of sightseeing, get the city tourist card. It offers discounts on most attractions (and some are free) as well as three days' worth of travel on the train and bus system. It's a bargain if you are going to stay in the city for a while and see a lot. The 24-hour pass is just 12.50 EUR.
Stay with a local – Couchsurfing is a service that lets travelers stay with locals for free. You'll get to connect with a local who can share their insider tips and advice, making this an amazing platform to use to get travel tips. Just be sure to send your requests early as there are not many hosts here.
Get the Museumkaart (Museum Card) – Good for one month for non-residents, this card gets you into museums in the Netherlands for only 64.90 EUR. With the Museum Card, you get access to more than 400 museums throughout the Netherlands (the temporary card available to tourists can only be used at a maximum of 5 different museums, however). Depending on your trip, though, it can save you money if you choose your museums wisely.
Take a free walking tour – If you want an overview of the city, take a free walking tour with Free Walking Tour Rotterdam. They offer insightful tours that can help you learn about the city on a budget. Just be sure to tip!
Cook your own meals – I'll be honest, Dutch food isn't going to win any culinary awards. Try a few places if you want but, if you're on a budget, cook your own food. Doing so will save you a fortune!
Save money on rideshares – Uber is cheaper than taxis here and is the best way to get around a city if you don't want to wait for a bus or pay for a taxi.
Bring a water bottle – The tap water here is safe to drink so bring a reusable water bottle to save money and reduce your plastic use. LifeStraw is my go-to brand as their bottles have built-in filters to ensure your water is always clean and safe.
Where to Stay in Rotterdam
Rotterdam doesn't have many hostel options but there are still a handful of budget-friendly accommodations to choose from. Here are some of my favorite places to stay in Rotterdam:
How to Get Around Rotterdam
Public Transportation – Rotterdam has an extensive public transport system of buses, trams, and a metro run by RET. A single journey up to 2 hours is 4 EUR so it's a lot cheaper to buy a day pass for 8.50 EUR if you're moving around a lot. If you need a 2- or 3-day pass, it's cheaper to buy the multi-day Rotterdam Welcome Card.
Note: cash is not accepted on public transportation. You need to purchase an OV chip card to ride. They come in reloadable and non-reloadable versions.
Bicycle – Like other cities in the Netherlands, cycling is one of the most popular ways to get around. Donkey Republic has stations all over the city with prices starting at 3.30 EUR per hour and 13 EUR per day.
Taxi – It's probably not necessary to take taxis to get around Rotterdam as bikes, walking, and public transport can get you anywhere you need to go. However, if you do need a ride prices start at 4 EUR and go up 2 EUR per kilometer. Skip them if you can as those prices add up fast!
Ridesharing – Uber is available in Rotterdam but again public transportation goes everywhere so skip them if you can.
Car rental – Car rentals begin at 30 EUR per day for a multi-day rental. However, you won't need a car unless you're planning to leave the city and explore the region.
When to Go to Rotterdam
Rotterdam's peak season is July-August. This is when the city is liveliest and when you'll find most of the festivals and events. It's also when the city is busiest so be sure to book your accommodation early since there isn't a ton of hostels here.
However, the weather is mild during the off-season (late spring and early fall) and prices are a little cheaper. If you're on a tight budget, this is a good time to visit. The average daily summer temperature in Rotterdam is around 72°F (22°C), but it can get a lot hotter than that during July and August.
The average daily temperature in the winter is 45°F (7°C) so dress warmly if you visit during that time. Generally, I would say avoid visiting in the winter unless you come around Christmas as the city lights up with holiday markets and festivities.
How to Stay Safe in Rotterdam
Rotterdam is an incredibly safe place to backpack and travel, even if you're traveling solo. Pick-pocketing, while rare, can still occur though so keep an eye on your belongings when on crowded public transit.
There are a few common scams to be aware of here as well, such as people trying to sell you public transit tickets that actually have already been used. Also, be wary of purchasing a really cheap bike from someone off the street as it has likely been stolen.
For more scams to keep an eye out for, here's a list of the most common travel scams.
Always trust your gut instinct. If your hotel is seedier than you thought, get out of there. Make copies of your personal documents, including your passport and ID.
Remember: if you wouldn't do it at home, don't do it in Rotterdam! 
The most important piece of advice I can offer is to purchase good travel insurance. Travel insurance protects you against illness, injury, theft, and cancellations. It's comprehensive protection in case anything goes wrong. I never go on a trip without it as I've had to use it many times in the past. You can use the widget below to find the policy right for you:
Rotterdam Travel Guide: The Best Booking Resources
These are my favorite companies to use when I travel. They consistently have the best deals, offer world-class customer service and great value, and overall, are better than their competitors. They are the companies I use the most and are always the starting point in my search for travel deals.
Skyscanner – Skyscanner is my favorite flight search engine. They search small websites and budget airlines that larger search sites tend to miss. They are hands down the number one place to start.
Hostelworld – This is the best hostel accommodation site out there with the largest inventory, best search interface, and widest availability.
Booking.com – The best all around booking site that constantly provides the cheapest and lowest rates. They have the widest selection of budget accommodation. In all my tests, they've always had the cheapest rates out of all the booking websites.
HostelPass – This new card gives you up to 20% off hostels throughout Europe. It's a great way to save money. They're constantly adding new hostels too. I've always wanted something like this and glad it finallt exists.
Intrepid Travel – If you want to do group tours, go with Intrepid. They offer good small group tours that use local operators and leave a small environmental footprint. And, as a reader of this site, you'll get exclusive discounts with them too!
Get Your Guide – Get Your Guide is a huge online marketplace for tours and excursions. They have tons of tour options available in cities all around the world, including everything from cooking classes, walking tours, street art lessons, and more!
Eurail – If you are going to Europe and taking a lot of high speed or long distance trains, get a rail pass. I've used a rail pass three times and saved hundreds of dollars each time. The math just works.
The Man in Seat 61 – This website is the ultimate guide to train travel anywhere in the world. They have the most comprehensive information on routes, times, prices, and train conditions. If you are planning a long train journey or some epic train trip, consult this site.
Rome2Rio – This website allows you to see how to get from point A to point B the best and cheapest way possible. It will give you all the bus, train, plane, or boat routes that can get you there as well as how much they cost.
FlixBus – Flixbus has routes between 20 European countries with prices starting as low 5 EUR! Their buses include WiFi, electrical outlets, a free checked bag.
SafetyWing – Safety Wing offers convenient and affordable plans tailored to digital nomads and long-term travelers. They have cheap monthly plans, great customer service, and an easy-to-use claims process that makes it perfect for those on the road.
BlaBlaCar – BlaBlaCar is a ridesharing website that lets you share rides with vetted local drivers by pitching in for gas. You simply request a seat, they approve, and off you go! It's a cheaper and more interesting way to travel than by bus or train!
Rotterdam Gear and Packing Guide
If you're heading on the road and need some gear suggestions, here are my tips for the best travel backpack and for what to pack!
The Best Backpack for Travelers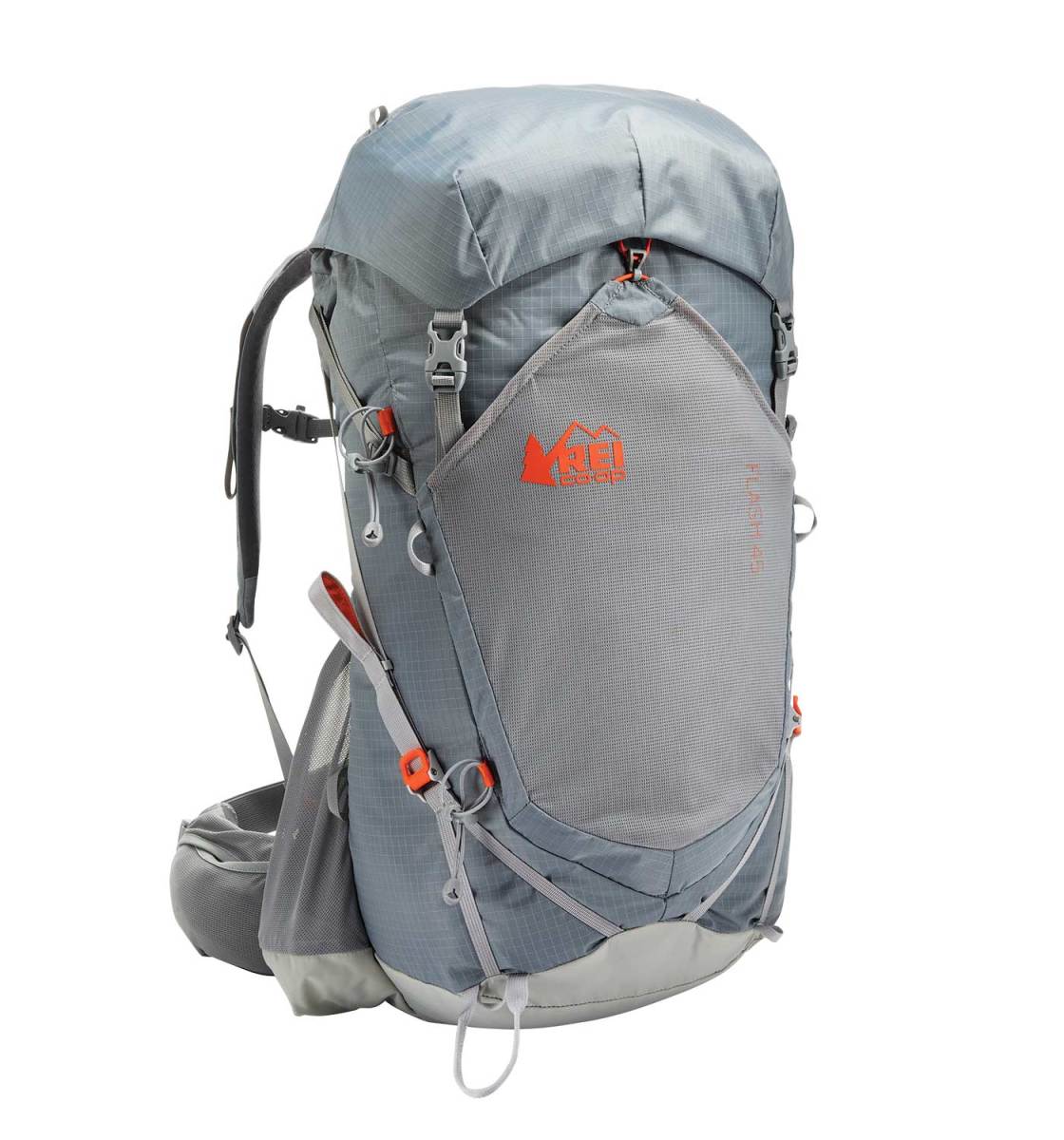 What's the best backpack for traveling long-term? I recommend the
REI Flash 45 Pack
. It's light and comfy, top loading, and fits perfectly in an airplane's overhead bin.
Size:
45-47L
Straps:
Thick and cushy with compression technology that pulls the pack's load up and inwards so it doesn't feel as heavy.
Features:
Removable top lid, pocket at the front, hydration compatible, contoured hip belt
If you want something different, refer to my article on how to choose the best travel backpack for tips on picking a pack and other backpack suggestions.
What to Pack for Your Trip
Clothes
1 pair of jeans (heavy and not easily dried, but I like them; a good alternative is khaki pants)
1 pair of shorts
1 bathing suit
5 T-shirts (Unbound Merino is my preferred company. If you're a member of NM+, you can get 15% off your purchase)
1 long-sleeved T-shirt
1 pair of flip-flops
1 pair of sneakers
6 pairs of socks (I always end up losing half)
5 pairs of boxer shorts (I'm not a briefs guy!)
1 toothbrush
1 tube of toothpaste
1 razor
1 package of dental floss
1 small bottle of shampoo
1 small bottle of shower gel
1 towel
Deodorant
Small Medical Kit (safety is important!!!)
Miscellaneous
Female Travel Packing List
I'm not a woman, so I don't know what a woman wears, but Kristin Addis, our solo female travel guru, wrote this list as an addition to the basics above:
Clothing
1 swimsuit
1 sarong
1 pair of stretchy jeans (they wash and dry easily)
1 pair of leggings (if it's cold, they can go under your jeans, otherwise with a dress or shirt)
2-3 long-sleeve tops
2-3 T-shirts
3-4 spaghetti tops
1 light cardigan
Toiletries
1 dry shampoo spray & talc powder (keeps long hair grease-free in between washes)
1 hairbrush
Makeup you use
Hair bands & hair clips
Feminine hygiene products (you can opt to buy there too, but I prefer not to count on it, and most people have their preferred products)
For more on packing, check out these posts:
Rotterdam Travel Guide: Related Articles
Want more info? Check out all the articles I've written on backpacking/traveling Europe and continue planning your trip: