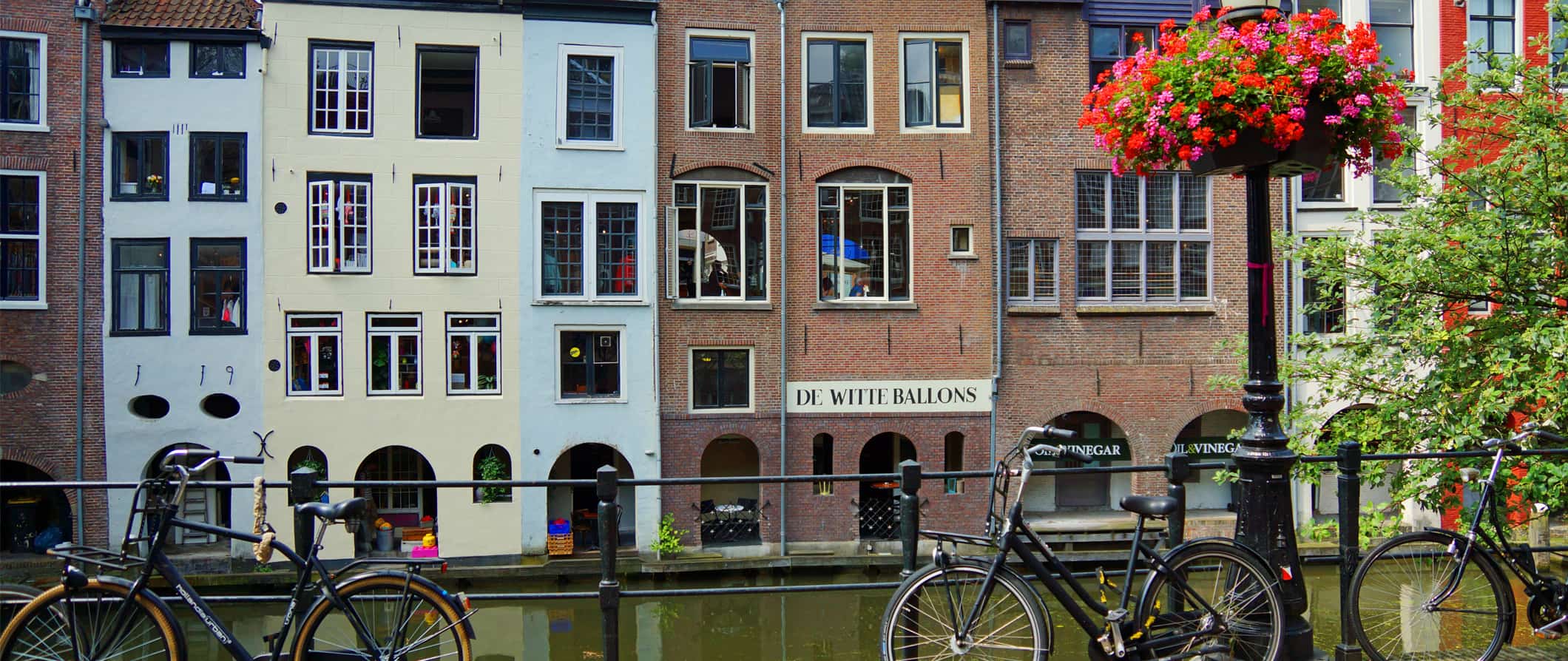 Located 45 minutes south of Amsterdam, Utrecht is an underrated city fast becoming one of the best places to visit and backpack in the Netherlands.
I first ended up in Utrecht because a friend lived here. To be honest, the city wasn't on my travel list (it often gets overshadowed by Amsterdam and Rotterdam). But I was blown away by how cool and interesting the city was.
Utrecht is like a mini-Amsterdam. It's similar in design and vibe but lacks the overbearing crowds. The old city is centered around a historic church and there are tons of fantastic places to eat and drink around the city owing to its student population.
I think Utrecht is an underrated place to visit, especially since it's so close to Amsterdam. It makes an easy day trip for anyone looking to escape the overbearing hustle and bustle of Amsterdam.
This Utrecht travel guide can help you plan your trip to the city and show you what to see, do, where to stay, and how to save money.
Top 5 Things to See and Do in Utrecht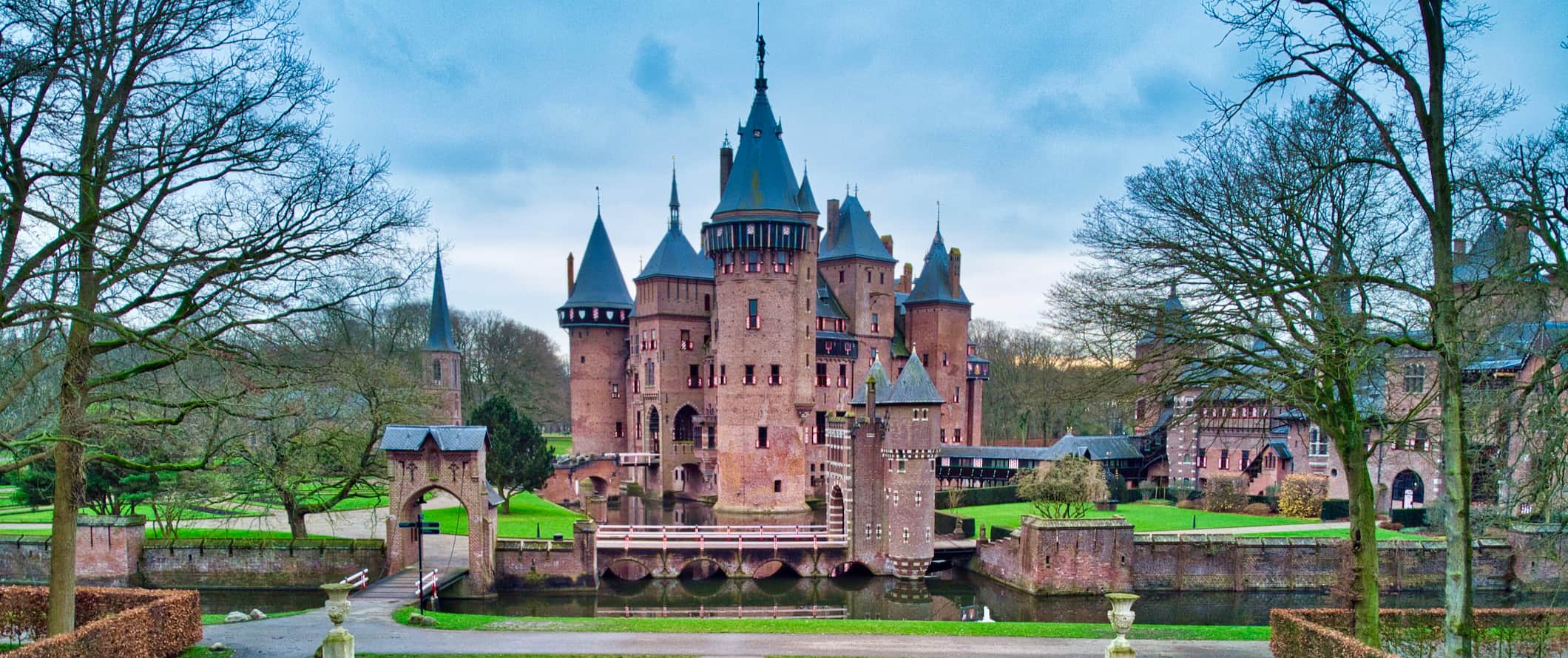 1. See the Dom
Utrecht is centered around St. Martin's Cathedral. This Gothic cathedral dates back to the 14th century. It has a beautiful exterior, though the interior isn't super impressive. On Saturdays you can attend Zaterdagmiddagmuziek, a free concert held at 3:30PM.
2. Visit the Domtoren
In the 1600s, the Dom cathedral and tower were part of the same building, but a flood knocked out the area between them, creating the modern-day plaza. The tower can be seen from anywhere in the city. You have to take a guided tour to climb it. It costs 10 EUR (15 EUR if you take the lift) and takes an hour.
3. Hang out on the Old Canal
The main area of town is centered near the Oudegracht, or "Old Canal." It's the main canal in town and along its edge are all kinds of shops and restaurants. In the 12th century, Utrecht's citizens dug tunnels from the dock to their canal houses, which resulted in its layered double dock design.
4. Visit the Railway Museum
The railway museum is located inside one of the city's old railway stations. The museum is super informative and interactive. You can ride a mine lift, see the first Dutch steam locomotive, and watch actors play scenes about the Orient Express in a large auditorium. Tickets are 17.50 EUR.
5. Explore Castle de Haar
This is actually the Netherlands' biggest and most luxurious castle, showcasing the wealth of history and art that once belonged to the Van Zuylen family. It's a medieval fortress complete with towers, moats, ramparts, and drawbridges. Admission is 18 EUR.
Other Things to See and Do in Utrecht
1. Take a free walking tour
The first thing I do when I get to a new destination is take a free walking tour. It's the best way to learn about a new city on a budget. You'll get an introduction to the history and culture while also meeting a local expert guide who can answer any and all of your questions. Free Walking Tours Utrecht offers regular free tours that can introduce you to the city and show you the main sites. Just be sure to tip your guide at the end!
2. Find De Letters van Utrecht
De Letters van Utrecht is one of the most unique art projects in the world. It's a "poem for the future" that grows every year along the stones of a canal path. It's written one character at a time, one letter per week, and it's meant to go on for centuries. The lines are being written by different poets from the Guild of Poets, and each Saturday a stonemason pulls out the next stone from the canal path for the poet to etch a letter. The poem is in Dutch, but you can find the English translation online.
3. See the Centraal Museum
This is the city's main museum. It was established in 1838 and features a sizeable collection of artwork from well-known artists like Gerard Van Honthorst, Abraham Bloemaert, and Hendrick ter Brugghen. It's also home to the largest collection of Rietvald pieces in the world (a famous Dutch furniture designer and architect). Admission is 15 EUR.
4. Spend an afternoon at the Museum Speelklok
This museum is home to all kinds of self-playing instruments. It's super quirky and neat (it's great for kids). Music boxes and clocks and other self-playing instruments originated in the 17th century and this museum showcases their development and evolution. Make sure you see Violina, an impressive self-playing violin orchestra. Admission is 14 EUR.
5. Peruse the street markets
Utrecht's bustling street markets are really fun to explore on foot. On Saturdays, there's a colorful Flower Market at Janskerkhof selling everything from roses to sunflowers. On Breedmarkt, there's an affordable fabric market (the largest and oldest in the country). If you'd rather sample lots of food or shop for fun souvenirs, check out the market on Vredenburg every Wednesday, Friday, and Saturday. It's a great place to wander, people watch, and snack as you explore.
6. Travel underground at DOMunder
You can go underneath the Dom Tower at DOMunder to retrace the city's history all the way back to 2,000 years ago when the Roman army first built a garrison here. The exhibition is super interactive and requires you to use a flashlight to navigate around. Tours cost 12.50 EUR and take 75 minutes but are only available in Dutch (they say they will have English tours soon).
7. See what's on at TivoliVredenburg
This huge contemporary music complex has six individual concert halls designed to feature genres from pop to jazz music and everything in between. You can find just about any type of show here, whether it's a children's concert, a heavy metal show, or a techno rave. The best way to find out what's on is to visit the official website where they have a schedule. There's something every night of the week! Tickets start at 10 EUR.
8. Hang out in Park Lepelenburg
Park Lepelenburg is a relaxing park not far from Utrecht's city center. It dates to the 19th century (before which it was part of a fortification) and forms a part of the sprawling canal-side Zocherpark (a larger park). Locals come here to lounge around in the summer and have picnics and barbecues. There are lots of events here throughout the year too, including theater and live music. Bring a book and spend some time relaxing like a local.
9. See Rietveld-Schröderhuis
This small house is a UNESCO-recognized monument. It was built in 1924 by the famous Dutch designer Gerrit Rietveld. It's hard to describe how futuristic this place is, but the walls literally move. Rietveld built the house based on the principles of De Stijl, a unique art movement start began in 1917. It's one of the only true De Stijl buildings in the world. There's also a lot of reds, blues, and yellows throughout (primary colors are a key element of the style). You have to book in advance if you want to visit, and admission is 18 EUR.
10. Visit the Botanic Gardens
The Utrecht University Botanic Gardens, located in Fort Hoofddijk, is a 22-acre garden home to a diverse collection of plants from all over the world. There's a tropical greenhouse, a birders den, beehives, a rock garden, and endless stretches of green space to explore. Admission is 8.50 EUR. The gardens are closed from December to March.
For more information on other cities in the Netherlands, check out these guides!
Utrecht Travel Costs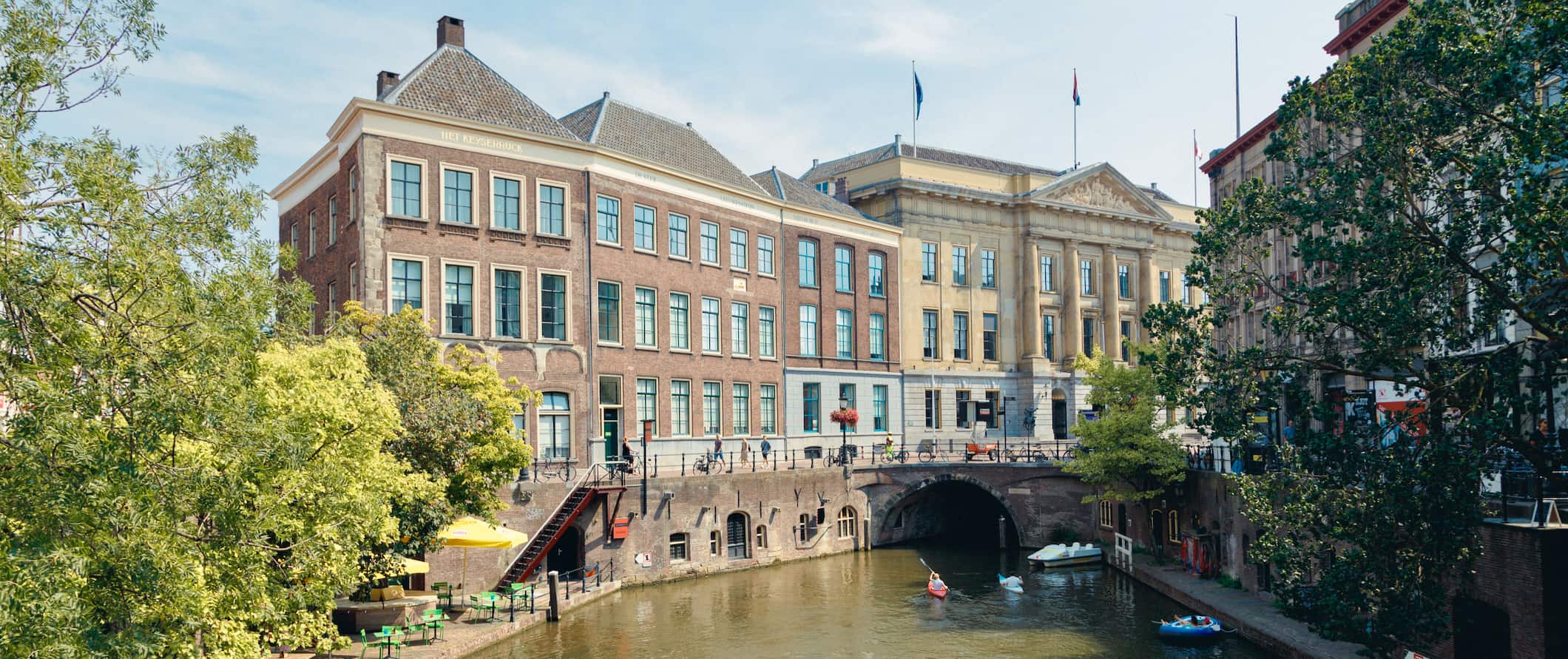 Hostel prices – There are only a few hostels in Utrecht and a hostel dorm bed typically costs between 20-35 EUR per night for a room with 6-8 beds. Private rooms start at around 59 EUR per night. Free Wi-Fi is standard but only a couple of hostels have self-catering facilities.
For those traveling with a tent, a basic plot without electricity can be found outside the city for as little as 7 EUR per night for one person.
Budget hotel prices – Budget hotels cost 55-75 EUR per night. Expect basic amenities like free Wi-Fi, TV, and AC.
Airbnb is also an option around the city, with entire homes/apartments starting at 65 EUR per night (closer to 100 EUR if you want to stay near the city center). Private rooms start at 45 EUR per night.
Average cost of food – Dutch cuisine typically involves lots of vegetables, bread, and cheeses (gouda originated here). Meat, while historically not as prominent, is a staple of dinner meals. Breakfast and lunch usually involve open-faced sandwiches, often with cheeses and cold cuts. Dinners are very much a "meat and potatoes" meal, with meat stews and smoked sausage being two popular choices. For those with a sweet tooth, the stroopwafel (a waffle cookie with a syrup filling) is the go-to choice, though apple tarts/pies are also local favorites.
Cheap meals at fast food joints like McDonald's cost around 8 EUR for a combo meal. For a casual meal of traditional Dutch cuisine, expect to pay 15-25 EUR for a main dish with a drink. For a multi-course meal with an appetizer, main, dessert, and a drink, you'll likely pay at least 35-40 EUR.
Chinese food costs between 10-15 EUR while a large pizza costs around 13 EUR.
Beer is around 5 EUR while a latte/cappuccino is 3.50 EUR. Bottled water is 1-2 EUR.
If you cook your own meals, expect to pay 40-50 EUR per week for groceries. This gets you basic staples like pasta, rice, vegetables, and some meat.
Backpacking Utrecht Suggested Budgets
If you're backpacking Utrecht, expect to spend about 60 EUR per day. This budget covers staying in a hostel dorm, taking public transit, cooking most of your meals, limiting your drinking, and doing free activities like walking tours and lounging in the parks. If you plan on drinking, add at least 5-10 EUR per day to your budget.
A mid-range budget of about 150 EUR covers staying in a budget hotel or private Airbnb, eating out at cheap local restaurants, having a few drinks, taking the occasional taxi to get around, and doing more paid activities like visiting museums or the castle.
On a "luxury" budget of about 280 EUR or more per day, you can stay in a hotel, eat out whenever you want, drink as much as you'd like, take more taxis, rent a bike or car for exploring outside the city, and do whatever tours and activities you want. This is just the ground floor for luxury though. The sky is the limit!
Accommodation
Food
Transportation
Attractions
Average Daily Cost
Backpacker
25
15
10
10
60
Mid-Range
60
45
20
25
150
Utrecht Travel Guide: Money-Saving Tips
While not the most expensive city in the Netherlands, Utrecht isn't super cheap either. Thankfully, since it's a university town, there's a lot of cheap eats, free attractions, and places to drink in the city. Here are some ways to save money in Utrecht:
Get the Museumkaart (Museum Card) – This card gets you into several museums in Utrecht and beyond for only 64.90 EUR. With the Museum Card, you get access to more than 400 throughout the Netherlands. It's also good for repeat visits as well. If you plan on visiting a lot of museums, this card might save you money.
Bike – Biking is the cheapest form of transportation around Utrecht. You can rent a bike for just a few euros a day. Utrecht is also very small and easily walkable too if you don't want to bike.
Attend a free festival – During the summer, everyone is outside. Check with the local tourism board and with your hostel/hotel staff for a list of free concerts, festivals, shows, and markets. Once the weather gets warm, the social calendar fills up!
Stay with a local – Couchsurfing is a platform that lets travelers stay with locals for free. You get a free place to stay and get to connect with a local who can share their insider tips and advice. Since a lot of travelers use this service, make your requests for hosts early.
Cook – Dutch food isn't going to win any culinary so cook your own food to save money. Eating out can really destroy your budget!
Take a free walking tour – Free walking tours are a great way to meet people and to quickly get your bearings in any city. Utrecht Free Tours offers free walking tours several few times a week. You get a great overview of the city and can get insider tips from your guide.
Bring a water bottle – The tap water here is safe to drink so bring a reusable water bottle to save money and reduce your plastic use. LifeStraw is my go-to brand as their bottles have built-in filters to ensure your water is always clean and safe.
Where to Stay in Utrecht
There are not too many hostel options in Utrecht so you'll want to book your stay early. Here are some suggested places to stay in Utrecht:
How to Get Around Utrecht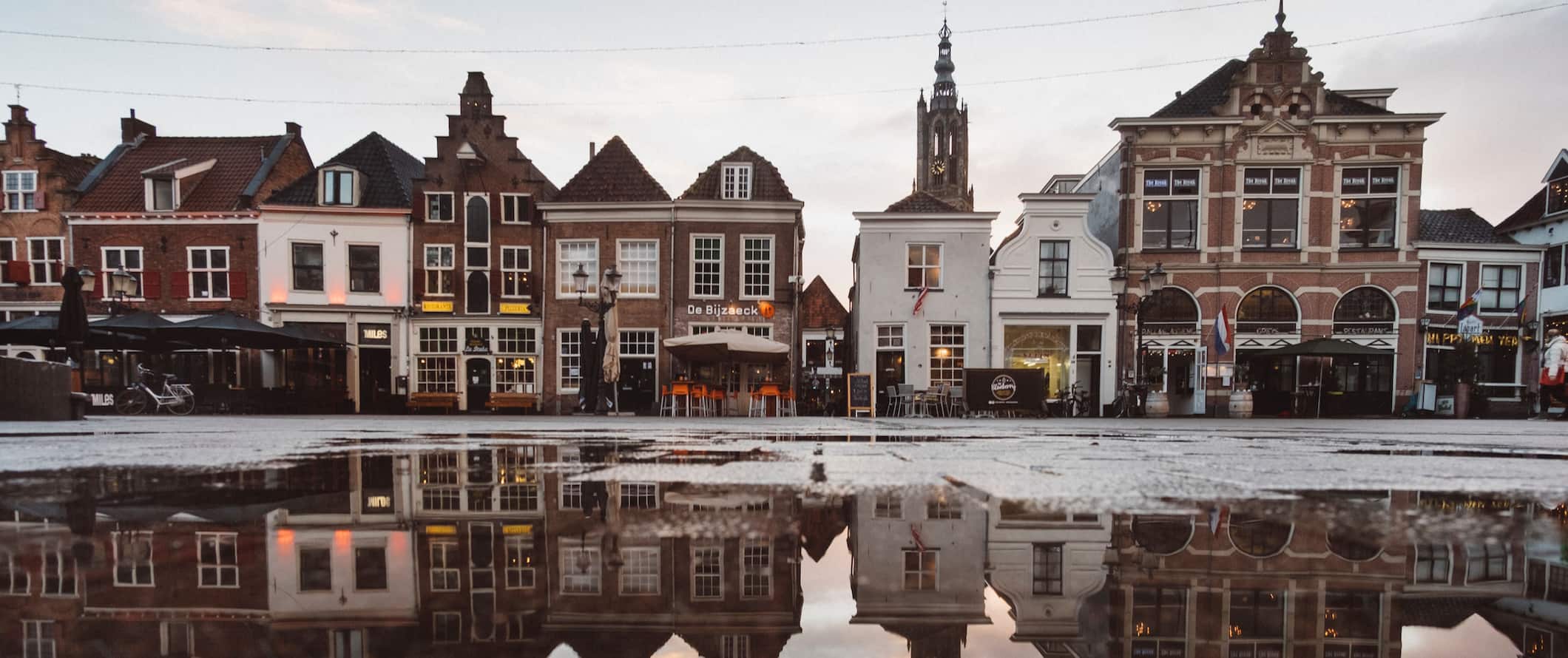 Public Transportation – Utrecht is well connected by train, tram, and bus. Tickets cost 2.80-6.40 EUR depending on how far you're traveling.
If you've already been traveling around the Netherlands and have a reloadable OV-chipkaart, you can use this same card on the Utrecht system as well. It's used for all modes of transport, you just have to load money onto it. With the card, you pay a starting rate of 0.90 EUR and then 0.14 EUR per kilometer.
The Utrecht Region Pass is a similar card. It's a pay-as-you-go public transport pass linked to your credit card (so you don't have to worry about topping up). You can use the card all over the Utrecht region. The card itself is 6.50 EUR and the travel charges vary by distance. It also offers discounts on some museums and bike rentals too.
Bicycle – If you're not walking everywhere, a bicycle rental is the way to go. Utrecht's aim is to be the most bike-friendly city in the world, and it seems to be working. There are many businesses renting bicycles — you can even rent one from the tourist office from 10 EUR a day. Bicycle rentals through Black Bikes cost 7.50 EUR per 3 hours. There's also Donkey Republic, which is an app with locations all over the city. You can rent a bike with them for around 3.30 EUR per hour or 13 EUR per day.
Taxis – Taking taxis is not advised. They're very expensive AND the city is small enough you can walk everywhere. Skip them!
Ridesharing – Uber is available here, but it's also not super cheap. If you can, skip the ridesharing.
Car rental – You don't need a car to get around the city, however, if you want to explore the region outside Utrecht you can find rentals for as little as 30 EUR per day for a multi-day rental.
When to Go to the Utrecht
The busiest and most popular time to visit Utrecht is between July and August. The weather hovers around 23°C (74°F) and there are lots of events and activities. While the city is busy, it's not nearly as crowded as Amsterdam.
Overall, the weather is never very extreme, and visiting during the shoulder season is also ideal. There will be fewer people around and prices will be a little bit cheaper.
The average daily temperature in the winter is 2°C (35°F). While not my favorite time to visit, Utrecht is still a lovely place to visit in the winter months. You'll just want to make sure you dress warmly.
How to Stay Safe in Utrecht
Utrecht is an incredibly safe place to backpack and travel – even if you're traveling solo, and even as a solo female traveler. Violent attacks and petty theft are rare.
There are a few common scams to be aware of, such as people trying to sell you expired public transit tickets. Be wary of purchasing a really cheap bike from someone off the street as well — it's likely been stolen.
If you go out to the bar, make sure you always keep an eye on your drink. Additionally, avoid walking home alone at night if you're intoxicated.
If you experience an emergency, dial 112 for assistance.
You you're worried about other travel scams, you can read about 14 common travel scams to avoid here.
Always trust your gut instinct. If a taxi driver seems shady, stop the cab and get out. If your hotel is seedier than you thought, get out of there. Make copies of your personal documents, including your passport and ID. Forward your itinerary along to loved ones so they know where you are.
The most important piece of advice I can offer is to purchase good travel insurance. Travel insurance protects you against illness, injury, theft, and cancellations. It's comprehensive protection in case anything goes wrong. I never go on a trip without it as I've had to use it many times in the past. You can use the widget below to find the policy right for you:
Utrecht Travel Guide: The Best Booking Resources
These are my favorite companies to use when I travel. They consistently have the best deals, offer world-class customer service and great value, and overall, are better than their competitors. They are the companies I use the most and are always the starting point in my search for travel deals.
Skyscanner – Skyscanner is my favorite flight search engine. They search small websites and budget airlines that larger search sites tend to miss. They are hands down the number one place to start.
Hostelworld – This is the best hostel accommodation site out there with the largest inventory, best search interface, and widest availability.
Booking.com – The best all around booking site that constantly provides the cheapest and lowest rates. They have the widest selection of budget accommodation. In all my tests, they've always had the cheapest rates out of all the booking websites.
HostelPass – This new card gives you up to 20% off hostels throughout Europe. It's a great way to save money. They're constantly adding new hostels too. I've always wanted something like this and glad it finallt exists.
Intrepid Travel – If you want to do group tours, go with Intrepid. They offer good small group tours that use local operators and leave a small environmental footprint. And, as a reader of this site, you'll get exclusive discounts with them too!
Get Your Guide – Get Your Guide is a huge online marketplace for tours and excursions. They have tons of tour options available in cities all around the world, including everything from cooking classes, walking tours, street art lessons, and more!
Eurail – If you are going to Europe and taking a lot of high speed or long distance trains, get a rail pass. I've used a rail pass three times and saved hundreds of dollars each time. The math just works.
The Man in Seat 61 – This website is the ultimate guide to train travel anywhere in the world. They have the most comprehensive information on routes, times, prices, and train conditions. If you are planning a long train journey or some epic train trip, consult this site.
Rome2Rio – This website allows you to see how to get from point A to point B the best and cheapest way possible. It will give you all the bus, train, plane, or boat routes that can get you there as well as how much they cost.
FlixBus – Flixbus has routes between 20 European countries with prices starting as low 5 EUR! Their buses include WiFi, electrical outlets, a free checked bag.
SafetyWing – Safety Wing offers convenient and affordable plans tailored to digital nomads and long-term travelers. They have cheap monthly plans, great customer service, and an easy-to-use claims process that makes it perfect for those on the road.
BlaBlaCar – BlaBlaCar is a ridesharing website that lets you share rides with vetted local drivers by pitching in for gas. You simply request a seat, they approve, and off you go! It's a cheaper and more interesting way to travel than by bus or train!
Utrecht Gear and Packing Guide
If you're heading on the road and need some gear suggestions, here are my tips for the best travel backpack and for what to pack!
The Best Backpack for Travelers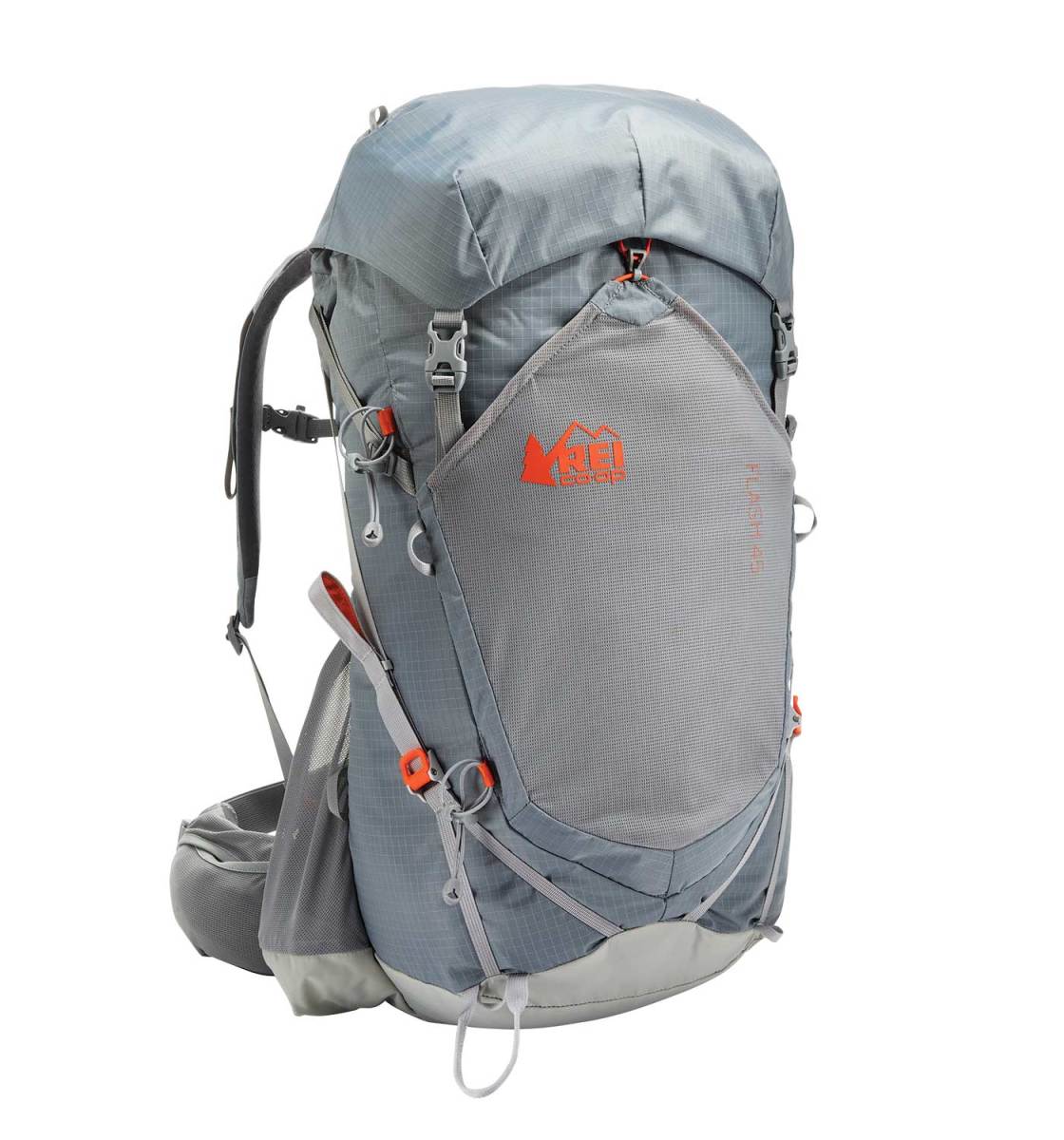 What's the best backpack for traveling long-term? I recommend the
REI Flash 45 Pack
. It's light and comfy, top loading, and fits perfectly in an airplane's overhead bin.
Size:
45-47L
Straps:
Thick and cushy with compression technology that pulls the pack's load up and inwards so it doesn't feel as heavy.
Features:
Removable top lid, pocket at the front, hydration compatible, contoured hip belt
If you want something different, refer to my article on how to choose the best travel backpack for tips on picking a pack and other backpack suggestions.
What to Pack for Your Trip
Clothes
1 pair of jeans (heavy and not easily dried, but I like them; a good alternative is khaki pants)
1 pair of shorts
1 bathing suit
5 T-shirts (Unbound Merino is my preferred company. If you're a member of TNN+, you can get 15% off your purchase)
1 long-sleeved T-shirt
1 pair of flip-flops
1 pair of sneakers
6 pairs of socks (I always end up losing half)
5 pairs of boxer shorts (I'm not a briefs guy!)
1 toothbrush
1 tube of toothpaste
1 razor
1 package of dental floss
1 small bottle of shampoo
1 small bottle of shower gel
1 towel
Deodorant
Small Medical Kit (safety is important!!!)
Miscellaneous
Female Travel Packing List
I'm not a woman, so I don't know what a woman wears, but Kristin Addis, our solo female travel guru, wrote this list as an addition to the basics above:
Clothing
1 swimsuit
1 sarong
1 pair of stretchy jeans (they wash and dry easily)
1 pair of leggings (if it's cold, they can go under your jeans, otherwise with a dress or shirt)
2-3 long-sleeve tops
2-3 T-shirts
3-4 spaghetti tops
1 light cardigan
Toiletries
1 dry shampoo spray & talc powder (keeps long hair grease-free in between washes)
1 hairbrush
Makeup you use
Hair bands & hair clips
Feminine hygiene products (you can opt to buy there too, but I prefer not to count on it, and most people have their preferred products)
For more on packing, check out these posts:
Utrecht Travel Guide: Related Articles
Want more info? Check out all the articles I've written on backpacking/traveling the Netherlands and continue planning your trip: