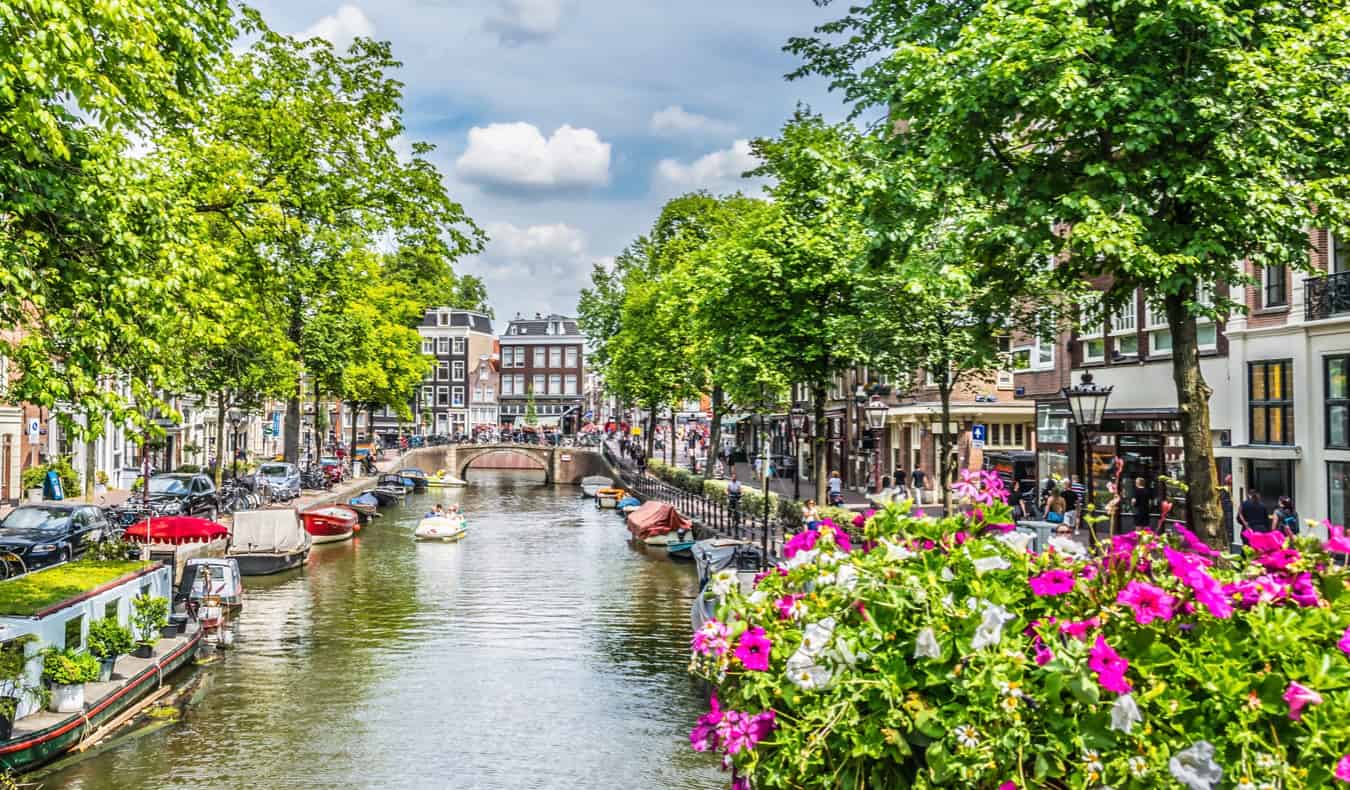 Last Updated: 9/12/2023 | September 12th, 2023
Amsterdam is one of my favorite cities in the world. I've been visiting it regularly for over a decade and even spent some time living there. It's a city with a misunderstood reputation, often glossed over as simply a place to party and partake in the illicit Red Light District.
But Amsterdam has so much more to offer.
If you want to explore the city, there are really only two ways to get around: biking and walking. And fortunately, for those who like to walk (and/or bike) the Dutch capital offers a legion of picturesque strolls: along leafy canals, past centuries-old churches and cozy canal houses, and down narrow cobblestoned lanes.
To really get a glimpse below the city's surface, take a walking tour. I take them in every city I visit. They're the best way to learn about the history and culture while connecting with an expert local guide who can share their tips and insight.
Amsterdam, unsurprisingly, offers an array of unique tours: from sex worker-led tours through the famed Red Light District to tours that explore the city's recreational drug culture to strolls that focus on the history of the city.
To help you decide which ones to take, here's my list of the best walking tours in Amsterdam!

For more suggestions, here's a few other walking tours worth checking out in Amsterdam:
1. Amsterbike
This tour with AmsterBike a perfect way to connect with the local pace of life. AmsterBike offers a few different types of tours, including a cycling tour around the canals and tours out into the countryside.
For their Amsterdam city tour, spend three hours pedaling along canals and down narrow atmospheric streets of this loveable city, learning the history of the place as you go along while stopping at some of the city's most iconic spots.
Tours from 34.50 EUR.
Book your tour here!
2. Free Food Tour Amsterdam
Dutch gouda cheese, scrumptiously sweet and gooey stroopwafels, deep-fried savory bitterballen, and fresh herring are all on offer during this free two-hour walking tour that explores the food of Amsterdam. The expert local guides give a nice overview of the history and culture of Dutch cuisine while you nibble on samples of traditional foods. And yes – you really do get free food on the tour (just be aware that these are tasting bites, don't expect to get full here). Just tips the guide at the end.
Book your tour here!
3. Hungry Birds
For nearly a decade this female-owned tour company has been feeding hungry visitors with knowledge and food of Amsterdam. "Mother birds," as they refer to their guides, lead food-loving visitors around this charming Dutch metropolis for 4.5 hours, snacking on all manner of edible Dutch delights. Tour-goers get the chance to sample street food, traditional Dutch fare including herring and stroopwafels, some non-Dutch treats like Surinamese and Indonesian cuisine, as well as food at an old-school atmospheric food market.
Tours from 79 EUR.
Book your tour here!
4. HistoryWalks
Despite the country's neutrality during World War II, the Nazis invaded the Netherlands in 1939 shortly after the war broke out. Led by a retired history professor, their "World War II and the Holocaust in Amsterdam" tour takes visitors on a whirlwind around the city viewing it through the lens of World War II. It's a fascinating three hours and the guides really know their stuff. If you're a history buff like me — or if you just want to learn more about the war from a Dutch perspective — this is the tour for you.
Tours from 40 EUR.
Book your tour here!
5. Ultimate Party Amsterdam
These wild, party-themed pub crawl tours are festive and fun. Hop on the Red Light District pub crawl where the tour begins with unlimited vodka shots for the first 30 minutes (and then at every stop you get another free shot of booze). The tour concludes with free entry into Amsterdam's biggest nightclub. This tour isn't all just about getting drunk (though that's a big part of it) but is a good way to discover some cool party spots so you can come back later and explore more on your own. It's a great way to meet people too if you're traveling solo.
Tours from 25 EUR.
Book your tour here!
6. Eating Europe
Started in Italy a decade ago, Eating Europe now has tours in many big European cities, including Amsterdam. The local guides know how to eat — and where! The food tour through the hip neighborhood of Jordaan gives a great taste of the amazing food scene there. The 3.5-hour walking tour hits some of the coolest spots in the neighborhood, plus street food and food markets to sample traditional and creative takes on Dutch food as well as some great international food. The knowledgeable guides also give a great account of the history of Dutch cuisine and the history and culture of feasting in Amsterdam.
Tours from 94 EUR.
Book your tour here!
7. O My Amsterdam Tours
Amsterdam is famous for its tolerance of recreational drug culture, particularly marijuana. In certain cafes, it's totally fine to light up a joint and get higher than a kite. This 2.5-hour tour takes a bong-sized hit of drug culture and history in Amsterdam, leading curious visitors to cannabis grow rooms and the marijuana museum, among other spots, all the while explaining drug culture here. The guide even explains the difference between bad weed and good weed. It's a real trip!
Tours from 25 EUR.
Book your tour here!
8. Prostitute Information Center Tours
The Prostitute Information Center, or PIC, in Amsterdam aims to dispel some myths and misconceptions about prostitution, in general, and in Amsterdam, in particular. Every Wednesday to Saturday at 5pm, a current or former sex worker leads tours around the Red Light District, explaining the practices of the trade and taking tour-goers into an actual room where prostitutes entertain customers. And of course, you can ask a lot of questions. It's everything you ever wanted to know about sex work but were afraid to ask.
Tours from 25 EUR.
Book your tour here!
9. AllTourNative Amsterdam
This Dutch metropolis has a huge alternative culture scene. And the best introduction to it is to take a guided walking tour. AllTourNative Amsterdam's "Street Art and Alternative Amsterdam" tour takes visitors to see some of the city's best street murals, galleries, and coffeehouses that support and create alternative culture in Amsterdam. The 2.5-hour tour will definitely take you to spots you would not normally have heard of as a tourist. They even have a street art bike tour for a different perspective of the city's vibrant murals.
Tours from 20 EUR.
Book your tour here!
***
Amsterdam is an amazing city that really does have something for everyone — and every budget. Whether you want to learn about the drug scene and the Red Light District or have tamer tastes and are interested in the city's storied past, there's a walking tour for you. Start with Take Walks and go from there!