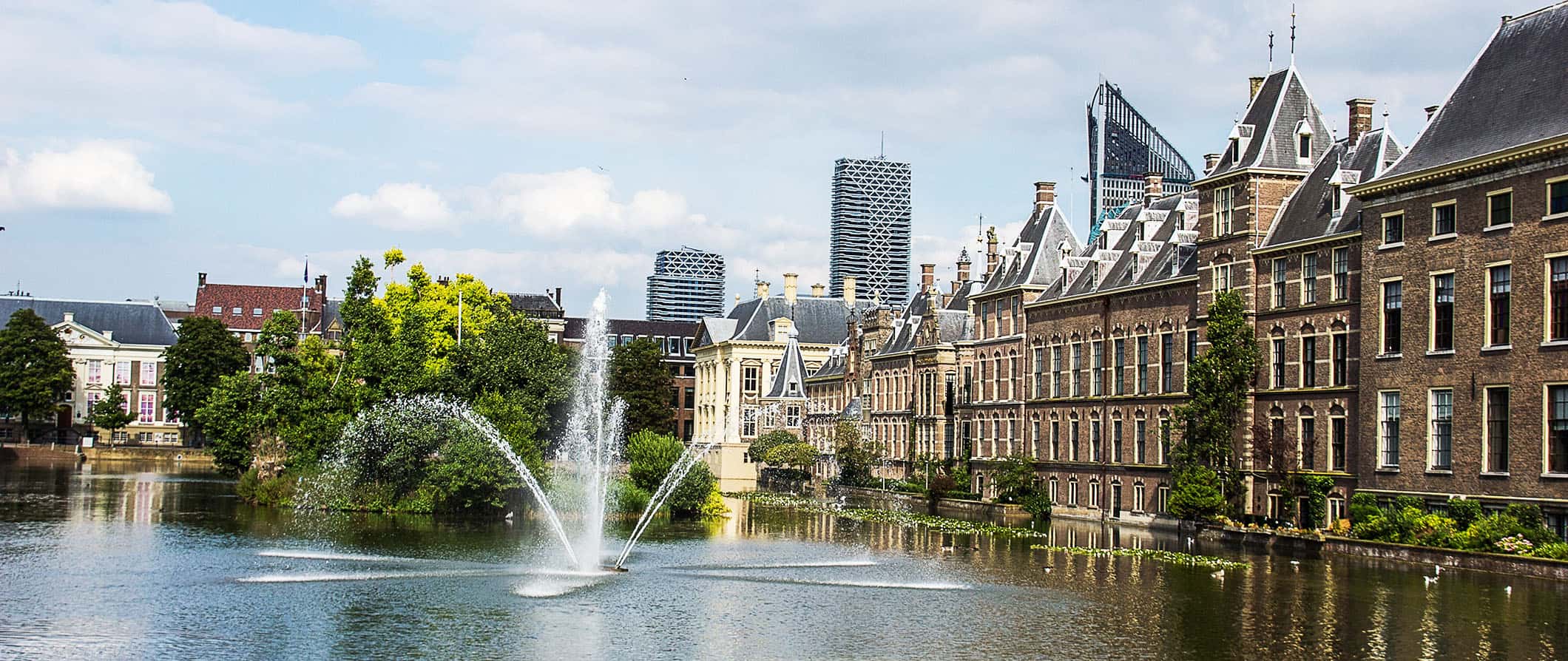 The Hague (in Dutch it's Den Haag) is home to many of the Netherland's judicial and administrative buildings as well as the International Criminal Court. As such, this is a very government-oriented town, and many residents work for either the Dutch government or the ICC.
While that can make it a "stuffy" place to visit, the city has fascinating architecture, an amazing array of parks, museums, and even a beach that is hugely popular in the summer (head there for some tasty seafood restaurants on the boardwalk any time of the year). The Hague may be more "stuffy" than youthful Amsterdam, but it is no less interesting.
This travel guide to the Hague can help you plan your trip to what is a really underappreciated destination.
Click Here for City Guides

The Hague
Top 5 Things to See and Do in the Hague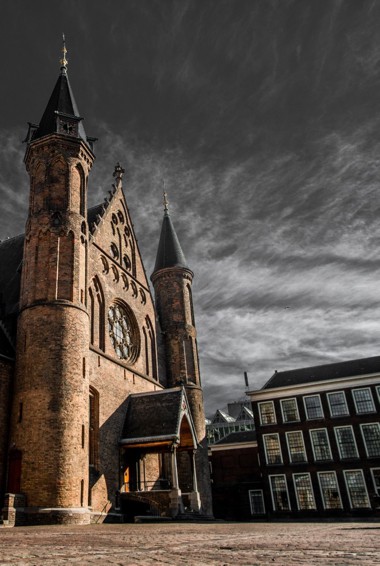 1. Walk around the Plein
This square is filled with medieval and historic buildings, like the Binnenhof (meeting place of the States General), the House of Representatives, and Mauritshuis art museum. The north side of the square is hopping during the summer months and lined with restaurants, bars, and shops.
2. Tour Mauritshuis
Although the tour of this art museum won't take more than an hour, the art museum includes works by Vermeer, Rembrandt and even Andy Warhol. Pay €15.50 ($17 USD) which includes a visit to the Prince William V Gallery just down the street.
3. Visit the Binnenhof
The Binnenhof is where the Dutch government resides, where the Dutch throne is located and where the Queen delivers her speech to parliament every year. A tour here is a fascinating way to learn about the inner workings of the Netherlands. It's free but requires registering online in advance.
4. Go to the beach
The Hague is right near the water and during the summer months, the beach is a cheap and popular thing to do. Scheveningen beach is always very crowded in the summer (and there are plenty of good restaurants and activities available there).
5. See Madurodam
This miniature version of Holland showcases everything ranging from Amsterdam's canals and church spires from Utrecht and Den Bosch, to modern architecture from Rotterdam and the enormous Delta works that protect the country. Admission is €19.50 ($21 USD), but you can save €3 ($3.30 USD) by booking online.
Other Things to See and Do in the Hague
1. Shop along Denneweg
Although some of the restaurants in this area are pretty upscale, it's one of the oldest streets in The Hague and many of the buildings date back to the 18th century. Because the Denneweg has been a shopping street for centuries, many of the shops sell antiques, and on every summer Thursday and Sunday there is an open-air antique and book market.
2. Relax in Westbroekpark
If you want to get away from the touristy parts of the city, come to this serene park, which has over 20,000 types of roses that bloom from June through November. Designed in the 1920s, the park is popular with people of all ages and there are a few cafes on the site to grab a cool drink or snack.
3. Visit the Hague Municipal Museum
If you're an art lover, don't miss the Kunstmuseum Den Haag. It contains some of the early works of Picasso, Monet, and van Gogh, but it's best known for its collection of Dutch artists, including van Gogh and Piet Mondriaan. The museum also has one of the largest collections of the iconic Dutch Delftware in a permanent exhibition highlighting the Dutch "Golden Age." The museum is open daily (except Mondays) from 10am-5pm. Admission is €16 ($17.50 USD).
4. Visit the Museum de Gevangenpoort
From the 15th century to the 19th century, that place operated as a prison. You can walk through and learn about medieval torture practices, and the types of punishment for different crimes committed in Medieval Holland. Admission to the Prison Gate Museum is €15 ($16 USD), or you can buy a combo ticket to also get entrance to the nearby art collection in the Prince William V Gallery for €17.50 ($19 USD).
5. Check out the Escher Museum
M. C. Escher was a Dutch graphic artist whose modern art style is famous all over the world. This museum is dedicated entirely to his life and work, featuring over 150 prints. Famous for his graphic work, optical illusions and mathematical tessellations, the second floor of the museum includes more interactive displays. Admission is €10 ($11 USD).
6. Walk through the Japanese garden
Originally designed and constructed during the 1870s and located in Clingendael Park, the Japanese gardens include a tea-house, beautiful rocks laid out in manicured areas, Japanese lanterns and statues, and plenty of idyllic pathways lined by flowers. There are clear pathways through the garden to keep the exotic and perfectly presented gardens safe. Admission is free.
7. Visit the Ridderzaal Knights Hall
Originally built between the 13th and 14th centuries, this castle once belonged to the Earls of Holland. Part of the Binnenhof building complex, the Ridderzal Knights Hall is especially interesting with a beautiful interior made of wood carvings, reminiscent of Dutch ship-building (a staple of the economy for centuries). Guided tours are necessary to visit and cost €5.50 ($6 USD).
8. Visit the Peace Palace
Home to the International Court of Justice (the judicial body of the United Nations), the Palace is a working court, but the Visitors Center provides an important look into the building and its role in history. There is a video and audio tour through the exhibition space, which includes information on the judicial bodies that work in the Peace Palace, as well as the history of the courts and their role in international affairs. Admission is free.
9. See contemporary sculptures
Just along the seaside, the Beelden aan Zee museum has a subterranean exhibition space with a large sculpture garden. The sculpture museum exhibits contemporary international and national artists and is one of the only museums in the Netherlands that solely shows sculpture. The exhibition space is really impressive, with works from the likes of Mark Quinn and Atelier van Lieshout, and it's an easy cultural activity to take advantage of near the beach. It's €16 ($18 USD) to visit.
10. Hang out in the Malieveld
The large field and park in the city center of The Hague, Malieveld is the busiest spot of the city, especially in the summer. Because there are many government buildings in The Hague (despite Amsterdam being the official capital), there are often protests and demonstrations taking place in the city center and, specifically, at Malieveld. It's opposite the main train station, so it's worth checking out to see if there are any special demonstrations or events you might be interested in. From the field, you can easily walk (or cycle) along several walking paths through the forested park at the northern edge.
11. Visit the Prince William V Gallery
Prince William V of Oranje-Nassau built this room in 1774 to show off his priceless painting. The walls were entirely covered in artwork, including the likes of The Garden of Eden with the Fall of Man by Peter Paul Rubens. There are more than 150 masterpieces on display, enhanced by the room's opulent decor of silk wall coverings and crystal chandeliers. It's €15.50 ($17 USD) to visit.
For more information on specific cities in the Netherlands, check out these guides!
The Hague Travel Costs
Hostel prices – Dorms in The Hague cost between €21-28 ($23-26 USD) per night and because there aren't too many accommodation options, private rooms in hostels go for almost €70 ($76 USD) per night. In the winter, you'll find fewer options available, but prices are a little cheaper, from €17 ($18.50 USD) per night in a dorm (while private rooms stay about the same).
There aren't a lot of options for private rooms in hostels in the city though (no matter the season) so it's best to book in advance, especially during peak months.
Budget hotel prices – You can find a room at a 2-star hotel that's centrally located for between €85-100 ($93-109 USD) per night. Prices are consistent year-round. Budget hotels in The Hague include free wifi, private bathrooms, and air-conditioning.
On Airbnb, you can find shared rooms between €20-35 ($22-38 USD) and entire homes around €45-60 ($49-65 USD) per night. Because this is a government city and many people visit here for business, hotel prices tend to be on the higher end of the spectrum. That being said, if you have extra money to spend, there are a lot of beautiful bed and breakfasts in The Hague, and some nice affordable options near the beach, too.
Food – Falafel and shawarma shops are your best bet for cheap food. Quick meals here will cost around €5 ($6 USD). Cheap meals at fast food joints or places like Maoz or Walk to Wok cost around €10 ($12 USD). There are a lot of international food options in The Hague because of the international workers and government buildings in the city.
For a meal in a restaurant, you'll spend about €20 ($22 USD) for a main dish and drink. In a high-end restaurant, meat entrees alone cost around €30 ($33 USD) and you can expect to pay more for seafood (a specialty in The Hague). Some nice restaurants do have happy hour with drinks as low as €5 ($5.50 USD) and sometimes even with €1.50 ($1.65 USD) oysters.
If you cook your meals, expect to pay up to €50 ($55 USD) per week for groceries that will include pasta, vegetables, chicken, and other basic foods.
Backpacking the Hague Suggested Budgets
If you're backpacking The Hague, expect to spend about €50 ($55 USD) per day. This budget covers staying in a hostel dorm, public transit, cooking some of your meals, cheap local eats, free tours, and limited attractions.
A mid-range budget of about €150 ($165 USD) will cover staying in a private hostel room or a budget hotel, eating out all of your meals, a few attractions per day, a bicycle rental, and some drinks.
On a luxury budget of about €350 ($380 USD) or more per day, you can get an excellent four-star hotel, any meal you want, drinks, tours, and a few Uber rides. If you want to spread out your budget, you can take advantage of free things to do in The Hague, such as aa beach day or cycling through some of the parks (some hotels provide free bike rentals based on availability).
You can use the chart below to get some idea of how much you need to budget daily, depending on your travel style. Keep in mind these are daily averages – some days you'll spend more, some days you'll spend less (you might spend less every day). We just want to give you a general idea of how to make your budget. Prices are in USD.
Accommodation
Food
Transportation
Attractions
Average Daily Cost
Backpacker
$25
$15
$10
$15
$55
Mid-Range
$75
$50
$10
$30
$165
Luxury
$200
$100
$30
$50
$380
The Hague Travel Guide: Money Saving Tips
Like other cities in The Netherlands, The Hague can be relatively expensive, especially considering the fact it's a government city with many professional and business visitors from around the world. Budget accommodation is scarce and will probably be your biggest expenses. Here are some other ways to save money in The Hague:
Skip the restaurants – Eating out in this city can be pretty expensive. All those European officials drive up prices. Save yourself some money and eat at little sandwich shops and small takeaways or buy your own groceries.
Rent a bicycle – Bikes are a big part of Dutch culture and most people use them to get around. You can rent a bike starting at €7.50 ($8 USD) for a full day. Like many Dutch cities, The Hague is relatively small and easily walkable.
Get the Museumkaart (Museum Card) – Good for one month for non-residents, this card gets you into museums in the Netherlands for only €64.90 ($71 USD). With the Museum Card, you get access to more than 400 museums throughout the Netherlands, though the temporary card available to tourists can only be used at a maximum of 5 different museums. Depending upon your trip through The Netherlands, though, it can save you money if you choose which museums to use it at wisely.
Use Couchsurfing – It's a service that lets travelers stay with locals for free. Since a lot of travelers use this service, make your requests for hosts early.
Buy combo museum tickets – Many of the museums in The Hague offer combined ticket prices with other museum partners and venues; you just need to know which museums offer which deals. The Combined ticket for the Mauritshuis Museum, Photo Museum, and GEM (Museum of Contemporary Art) for example, gets you access to all three for just €23 ($25 USD).
Cook – Dutch food isn't going to win any awards. Try a few places but cook often (or at least make lots of sandwiches). Eating out in the city isn't cheap and if you're paying a lot for your accommodation, your daily costs can shoot through the roof. Head to the supermarket and get some food to cook! You're not missing out on anything.
Take a free walking/bicycle tour – If you want an overview of the city, take one of the free walking tours via The Hague Greeters. This is a network of local volunteers who want to show you around their city. You can request a walking or bike tour, just be sure to plan one at least two weeks in advance through their site. You'll get paired with a local that will show you the hidden gems of The Hague.
Save money on rideshares – Uber is way cheaper than taxis and are the best way to get around a city if you don't want to wait for a bus or pay for a taxi. The Uber Pool option is where can you share a ride to get even better savings (though you can get your own car too). You can save $15 off your first Uber ride with this code: jlx6v.
Where To Stay in the Hague
The Hague doesn't have as many hostel options as other Dutch cities, but there are still a handful of budget-friendly places to stay. Choosing where to stay can make or break your trip. Here are some of my favorite places to stay in The Hague:
How to Get Around the Hague
Public Transport – The Hague has a reliable public transit system of buses and tram lines. The buses and trams run on a network called HTM, while a light rail network part of the Hague's public transport is called RandstandRail. You can buy a day ticket for getting around the Hague for €7.10 ($7.75 USD) or single tickets for €4 ($4.30 USD).
Bicycle – Like other cities in The Netherlands, cycling is one of the most popular ways to get around. You can rent bikes starting around €7.50 ($8 USD) per day (but most places require a deposit that is returned to you when you return the bike).
Taxi – Taxis cost a minimum of €3.20 ($3.50 USD) and fares are €2.05 ($2.25 USD) per kilometer.
Uber – Uber is available in The Hague but again public transportation goes everywhere, including the beach. You can save $15 off your first Uber ride with this code: jlx6v.
When to Go to the Hague
The Hague's peak season is in the summer, from July to August. However, the weather is always pretty mild (even in the winter months) and visiting during the off-season or shoulder season is much more affordable, though you might miss out on the best beach days then. In June, the city comes alive with the annual Holland Festival—an international performing arts festival that takes place across the Hague, Rotterdam, and Utrecht. Expect lots of street art performers and fringe shows during the same period; it's a fun time to visit if you're interested in art and culture.
The average daily summer temperature in The Hague is around 65°F (18°C). The average daily temperature in the winter is 40°F (4°C).
How to Stay Safe in the Hague
The Hague is an incredibly safe place to backpack and travel – even if you're traveling solo. Pickpocketing is your biggest concern and it's most likely to happen on public transit or the beach. Keep your belongings close if you're sitting on one of the free public beaches.
There are a few common scams around as well, such as people trying to sell you public transit tickets that actually have already been used. Be wary of purchasing a really cheap bike from someone off the street as well as it likely means it's already been stolen.
Always trust your gut instinct. If your hotel is seedier than you thought, get out of there. Make copies of your personal documents, including your passport and ID. Forward your itinerary along to loved ones so they'll know where you are.
The most important piece of advice I can offer is to purchase good travel insurance. Travel insurance will protect you against illness, injury, theft, and cancellations. It's comprehensive protection in case anything goes wrong. I never go on a trip without it as I've had to use it many times in the past. You can use the widget below to find the policy right for you:
The Hague Travel Guide: The Best Booking Resources
These are my favorite companies to use when I travel to the Hague. They are included here because they consistently find deals, offer world-class customer service and great value, and overall, are better than their competitors. They are the ones I use the most and are always the starting points in my search for travel deals.
Momondo – This is my favorite booking site. I never book a flight without checking here first.
Skyscanner – Skyscanner is another great flight search engline which searches a lot of different airlines, including many of the budget carriers that larger sites miss. While I always start with Momondo, I use this site too as a way to compare prices.
Airbnb – Airbnb is a great accommodation alternative for connecting with homeowners who rent out their homes or apartments.
Hostelworld – This is the best hostel accommodation site out there, with the largest inventory, best search interface, and widest availability.
Couchsurfing – This website allows you to stay on people's couches or spare rooms for free. It's a great way to save money while meeting locals who can tell you the ins and outs of their city. The site also lists events you can attend to meet people (even if you're not staying with someone).
Booking.com – The best all around booking site that constantly provides the cheapest and lowest rates. They have a no money down policy, great interface, and the widest selection of budget accommodation. In all my tests, they've always had the cheapest rates out of all the booking websites.
Eurail – If you are going to Europe and taking a lot of high speed or long distance trains, get a rail pass. I've used a rail pass three times and saved hundreds of dollars each time. The math just works.
Intrepid Travel – If you want to do a group tour around Europe, go with Intrepid Travel. They offer good small group tours that use local operators and leave a small environmental footprint. If you go on a tour with anyone, go with them. And, as a reader of this site, you'll get a discount when you click the link!
The Man in Seat 61 – This website is the ultimate guide to train travel anywhere in the world. They have the most comprehensive information on routes, times, prices, and train conditions. If you are planning a long train journey or some epic train trip, consult this site.
Rome 2 Rio – This website allows you to see how to get from point A to point B the best and cheapest way possible. It will give you all the bus, train, plane, or boat routes that can get you there as well as how much they cost.
FlixBus – German based Flixbus has routes between 20 European countries with prices starting as low €5 ($5.50 USD)! Their buses include WiFi, electrical outlets, and up to three 3 free bags.
Bla Bla Car – BlaBlaCar is a ridesharing website that lets you share rides with vetted local drivers by pitching in for gas. You simply request a seat, they approve, and off you go! It's a cheaper and more interesting way travel than by bus or train!
EatWith – This website allows you to eat home cooked meal with locals. Locals post listings for dinner parties and specialty meals that you can sign up for. There is a fee (everyone sets their own price) but this is a great way to do something different, pick a local's brain, and make a new friend.
World Nomads – I buy all my travel insurance from World Nomads. They have great customer service, competitive prices, and in-depth coverage. I've been using them since I started traveling in 2003. Don't leave home without it!
The Hague Gear and Packing Guide
If you're heading on the road and need some gear suggestions, here are my tips for the best travel backpack and for what to pack!
The Best Backpack for Travelers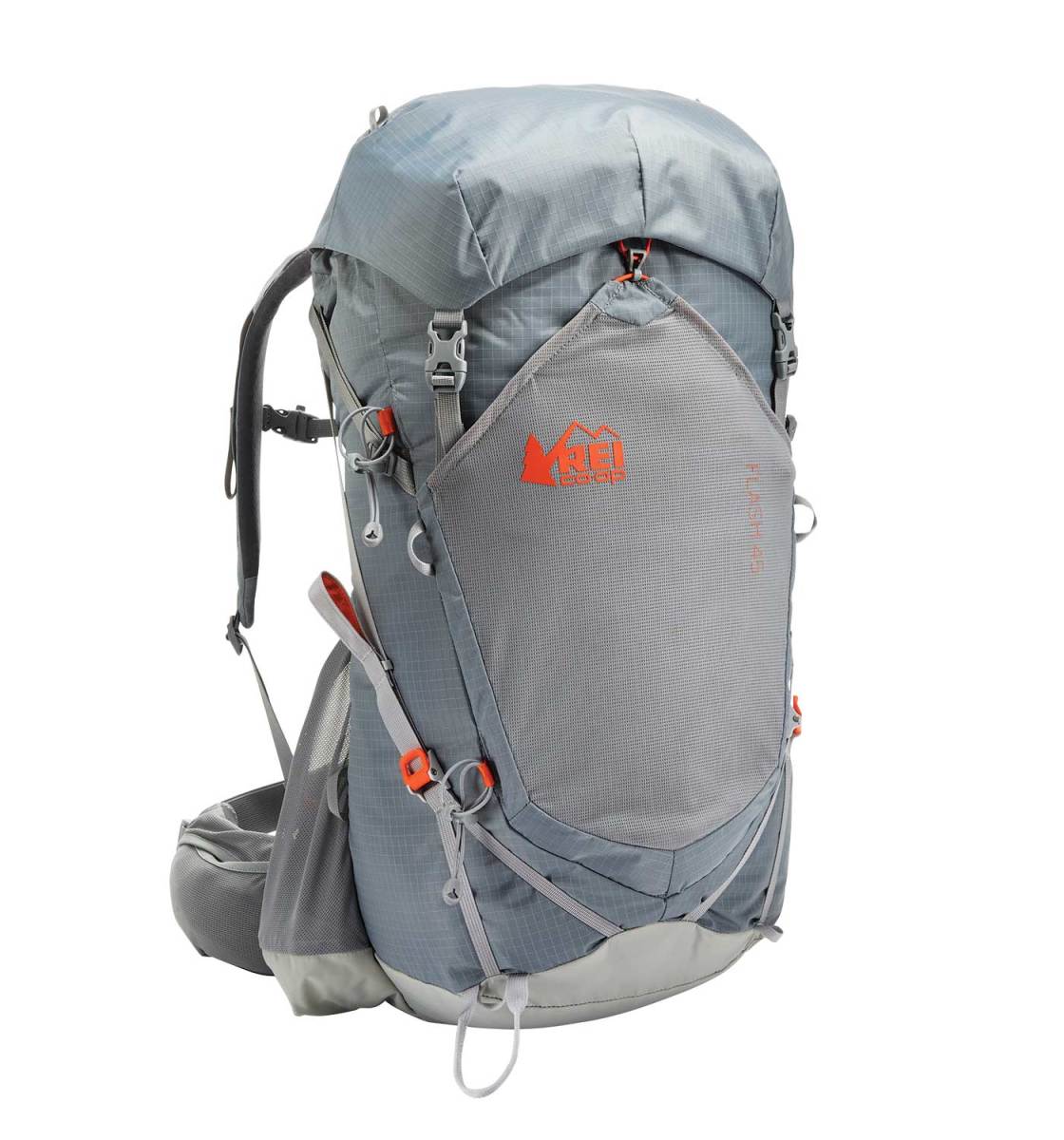 What's the best backpack for traveling long-term? I recommend the
REI Flash 45 Pack
. It's light and comfy, front loading, and fits perfectly in an airplane's overhead bin.
Size:
45-47L
Straps:
Thick and cushy with compression technology that pulls the pack's load up and inwards so it doesn't feel as heavy.
Features:
Removable top lid, large pocket at the front, hydration compatible, contoured hip belt
If you want something different, refer to my article on how to choose the best travel backpack for tips on picking a pack and other backpack suggestions.
What to Pack for Your Trip
Clothes
1 pair of jeans (heavy and not easily dried, but I like them; a good alternative is khaki pants)
1 pair of shorts
1 bathing suit
5 T-shirts (Unbound Merino is my preferred company. If you're a member of NM+, you can get 15% off your purchase)
1 long-sleeved T-shirt
1 pair of flip-flops
1 pair of sneakers
6 pairs of socks (I always end up losing half)
5 pairs of boxer shorts (I'm not a briefs guy!)
1 toothbrush
1 tube of toothpaste
1 razor
1 package of dental floss
1 small bottle of shampoo
1 small bottle of shower gel
1 towel
Deodorant
Small Medical Kit (safety is important!!!)
Miscellaneous
Female Travel Packing List
I'm not a woman, so I don't know what a woman wears, but Kristin Addis, our solo female travel guru, wrote this list as an addition to the basics above:
Clothing
1 swimsuit
1 sarong
1 pair of stretchy jeans (they wash and dry easily)
1 pair of leggings (if it's cold, they can go under your jeans, otherwise with a dress or shirt)
2-3 long-sleeve tops
2-3 T-shirts
3-4 spaghetti tops
1 light cardigan
Toiletries
1 dry shampoo spray & talc powder (keeps long hair grease-free in between washes)
1 hairbrush
Makeup you use
Hair bands & hair clips
Feminine hygiene products (you can opt to buy there too, but I prefer not to count on it, and most people have their preferred products)
For more on packing, check out these posts:
The Hague Travel Guide: Related Articles
Want more info? Check out all the articles I've written on backpacking/traveling the Netherlands and continue planning your trip: