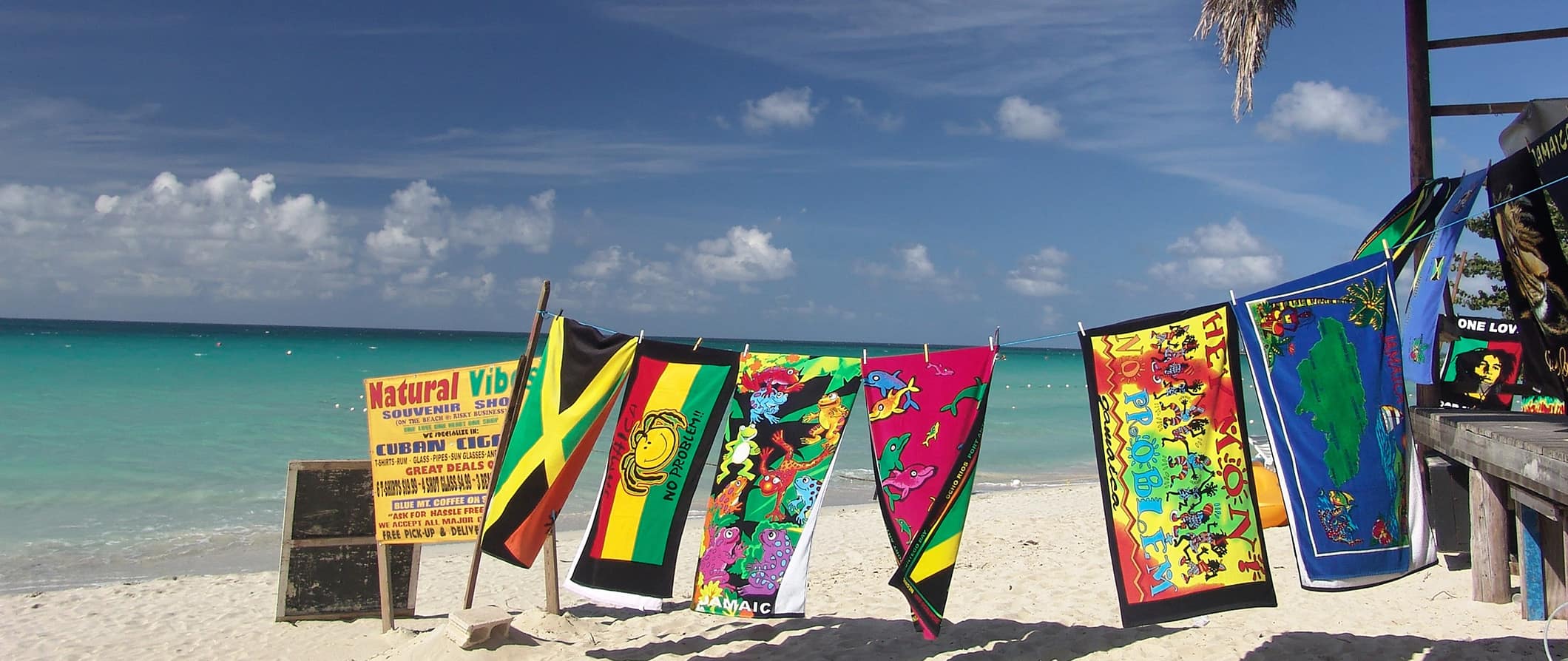 With its slow pace, long sandy beaches, lush rainforests, stunning waterfalls, and great music scene (Reggae started here!), Jamaica is exactly what the doctor ordered for a tropical vacation. This Caribbean island has plenty to offer travelers of all kinds – from those seeking resorts, a party scene, a relaxing holiday, or a more local look at the culture. Whatever you want, Jamaica has you covered! Although it would be very easy to spend most of your time on beaches, try to experience the local music scene and Rastafarian culture. Avoid going during spring break when college students swarm the island and prices skyrocket.
Top 5 Things to See and Do in Jamaica
1. Rick's Cafe
This is a popular place for locals and visitors alike. There are huge cliffs to jump off and many people even leap from the trees. It's about 35 feet to the water, so if the height is too much for you, you can at least enjoy the sun and people-watching.
2. Go on a rum tour
Rum is another one of Jamaica's best-enjoyed exports. Take a tour of the Appleton Sugar Plantation and the Appleton Rum Factory. The Appleton estate is open daily (except Sundays) from 9am-4pm and the 2-hour tour costs $25 USD per person.
3. Visit the Bob Marley Museum
Without a doubt, Bob Marley is one of Jamaica's biggest exports. Make the pilgrimage to his museum to learn more about the iconic Rastafarian's greatest influences. The museum is open daily (except Sundays) from 9:30am-4pm. Admission is $25 USD.
4. Lose yourself in the clouds
Holywell National Park lies in the Blue Mountain region of Jamaica. Walk along the mountain's edge and find yourself in a sea of clouds, with birds and monkeys screeching around you. A short drive from Kingston, this tropical park can easily be visited in an afternoon. Park entrance is $10 USD and the park is open daily from 8am-6pm.
5. Explore Montego Bay
Montego Bay is the center of tourism in this country. Take a trip here to load up on your shopping and souvenirs. Visit the City Centre Plaza or the main Crafts Market for some good buys. It's a center for bars, international restaurants, parties, and spring break.
Other Things to See and Do
(Click the title to expand the text)
1. Go rafting
Head to the Port Antonio area and take a trip down the Rio Grande River on a bamboo raft. Rafting is one of the best ways to see the numerous caves, waterfalls, and crystal springs that are tucked away throughout the island. Raft rentals run about $70 USD.
2. Go snorkeling
Put on that sunscreen, and spend a couple of blissful hours uncovering the deep blue on a snorkeling trip. Go to the Northern coast where you can see a wide array of sea life, coral reefs, sponges, and caves. Snorkeling trips start around $35 USD.
3. Go caving
There are he 1,000+ caves dotting the island. While you can't go spelunking them all, there are plenty you can visit. To start, head to the Green Grotto Caves on the north coast. The Green Grotto Caves are open daily from 9am-4pm and entry costs $20 USD per person.
4. Tour the plantations
Visit the Sun Valley Plantation in Ocho Rios and learn about the island's slave history and what life was like on a plantation. It's a somber reminder of the origins of the island's population. Sun Valley is open daily 9am-4pm and the tour costs $8 USD.
5. Walk around Kingston
Kingston is a city full of important landmarks such as Devon House, King's House, and the prime ministers' house. The capital of the country, this is a rough and tumble place. There's not a lot to see here and I wouldn't recommend staying long but it is worth at least a day trip!
6. Climb the Dunn's River Falls
Located in Ocho Rios, these falls are 600 feet up and are absolutely stunning. For those who are adventurous enough, you can actually climb up them—but for everyone else, you should at least take a look. Entrance is $20 USD.
7. Birdwatch at Cockpit Country
Just southeast of Montego Bay lies an area known for birds. Over 70 different species have been found here. It is very scenic, with interesting pockets and sinkholes of dissolved limestone, as well as many rivers.
8. Explore Port Royal
This used to be the pirate capital of the Caribbean. Now, visitors are free to check out Fort Charles, the St. Peter's Church, and the naval cemetery. Additionally, there are potential plans for a tourist redevelopment, which will include a theme park, pier, arcade, museum, and more.
9. Dive the Blue Hole
Blue Hole is one of the less touristy swimming spots on the island. You'll pay a small fee to enter the park ($10 USD) as well as a "tip" your guide whoo will walk you to the top of the falls when you can jump off varying sized waterfalls. There is also a rope swing and cliff to jump off of. (Word of caution: There's not anywhere you can store your bags, so if you don't have in a car to keep your belongings, bring a waterproof bag you can keep your stuff in while you swim.)
10. Day trip to Portland
Take a day trip Portland, visit the Blue Lagoon, Somerset Falls, and find the best jerk at Boston Jerk Center. It's an area off the tourist trail and a nice alternative to the crowds on the coast.
Typical Costs
Accommodation
– A night in a hostel dorm starts around $15 USD, while a private room that sleeps two is about $45 USD. You can book your hostel with
Hostelworld
. A night in a 2-star budget hotel in a room that sleeps two starts around $66 USD. Included in this price are basic hotel amenities, like a private bathroom, free WiFi, air-conditioning, and television. Use
Booking.com
as they consistently return the cheapest rates. On
Airbnb
, you can rent entire homes (usually studio apartments) starting around $20 USD per night.
Food – Fish is a big staple of Jamaican food and will be served everywhere. Red beans and rice, jerk chicken or pork, sweet potato pudding, meat pies are also typical Jamaican dishes. While you're there, make sure to try their world-renowned Blue Mountain coffee. Lunch and casual meals cost around $4.50 USD, while dinner will be about $10 USD. Expect to pay $65 USD per week for groceries if you plan on cooking. That price includes foods like pasta, vegetables, chicken, along with other basic foods.
Transportation – Buses are the best way to get around Jamaica. The trip from Kingston to Montego Bay takes 5 hours and costs $24 USD. Negril to Montego Bay is 2 hours and costs $10 USD. For transportation within a city, the buses in Jamaica are extremely inexpensive, under $1 USD per trip. Taxis, on the other hand, are expensive. Expect $18 USD for a 10-mile trip. Uber, the taxi alternative, is available in Kingston.
Activities – Expect to pay $35-75 USD for 1-2 hours of snorkeling and $23 USD for the Bob Marley Museum.
Suggested daily budget
$50-80 USD (Note: This is a suggested budget assuming you're staying in a hostel or cheap guesthouse, cooking a few meals, sticking to local restaurants and dishes, and using local transportation. Using the budget tips below, you can always lower this number but if you stay in a resort, drink a ton, or eat more Western food, expect your budget to be higher!)
Money Saving Tips
Shop around – If you're going snorkeling, shop around for the best price as equipment and tours can vary widely even along one beach front.
Route taxis – Taxis can be shared between many people, all following the same route. This works out to be much cheaper than private taxis.
Avoid spring break – If you visit during the American spring break season in March, you'll pay 25% or more for everything (not to mention have to have to deal with all shenanigans those kids cause).
Get food at the supermarkets – Buy food in the supermarkets, and cook your own meals. Restaurants are expensive here as they cater mostly towards travelers with a large budget.
My Must Have Guides For Traveling to Jamaica