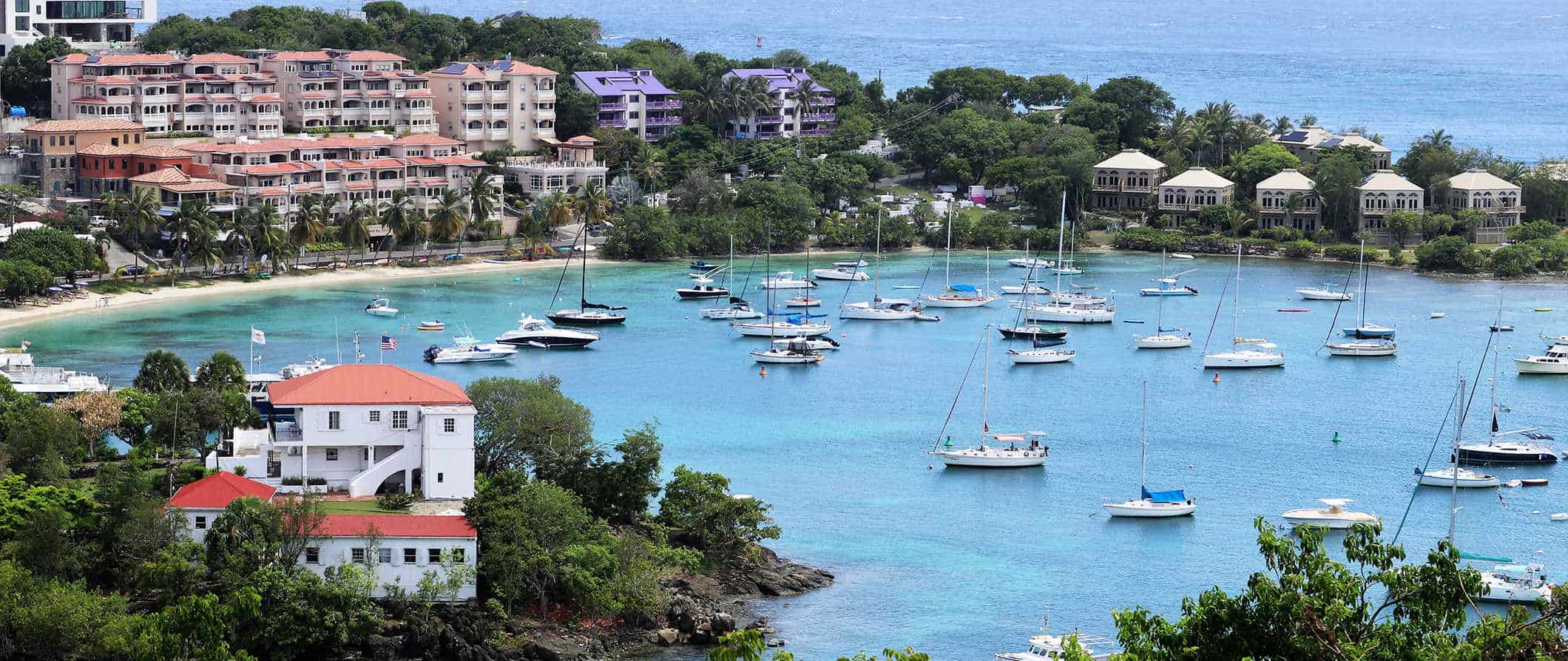 Saint John is one of the U.S. Virgin Islands, a U.S. territory located in the Caribbean. Saint John is the smallest of the three main islands, with no airport (though there is a regular ferry service from nearby Saint Thomas).
The U.S. Virgin Islands have been inhabited since at least 1000 CE (you can still view vestiges from that time in the form of petroglyphs). Christopher Columbus arrived on the present-day USVIs in 1493 and is responsible for their current names. The Netherlands, France, Spain, and Britain each ruled over the island at various points, leaving their mark on the island's history and culture.
Today, most of Saint John is a national park, which provides opportunities for lots of trekking and wildlife spotting. Out of the three U.S. Virgin Islands, visiting Saint John was the highlight for me: there are lots of trails to hike, tons of beaches to enjoy, plentiful snorkeling opportunities, delicious and affordable food, and a rocking nightlife.
It's also the most budget-friendly of the U.S. Virgin Islands.
With only about four thousand people living on the island, the small community here really knows each other. You'll run into people over and over again. It has the most laid-back feel and is the one USVI island you'll probably want to spend the most time on!
This Saint John travel guide can help you plan your trip, save money, and make the most of your visit.
Top 5 Things to See and Do on St. John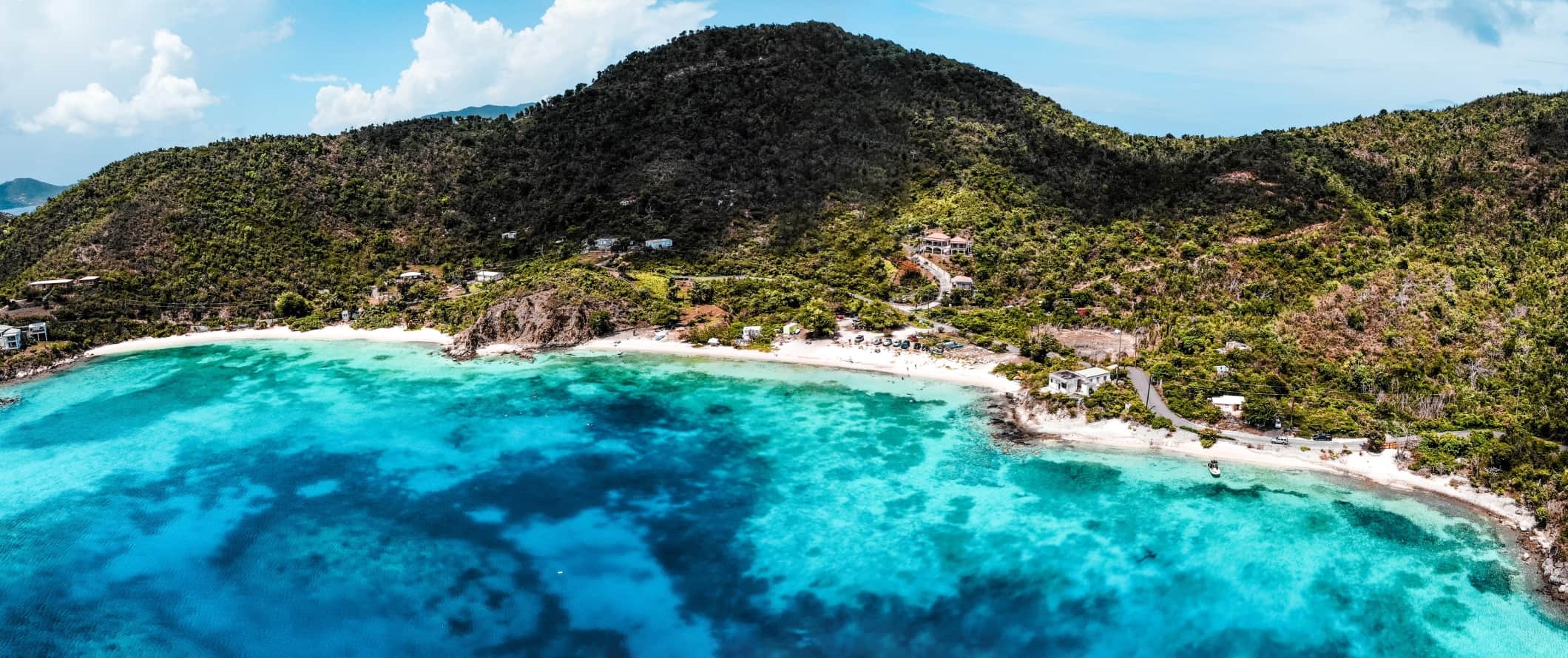 1. Visit the beaches
If you want to hang out with other travelers, head to Trunk Bay ($5 USD). You can also go snorkeling in the crystal-clear waters around Hawksnest and Watermelon, soak up the calm and quiet of Maho, or enjoy the tire swing at Oppenheimer Beach.
2. Visit Annaberg Plantation
This historic sugar mill and former plantation is located on the north side of the island (it's located down a great walking trail and past a few sparking bays). The site is small but gives you a sense of what the mills looked like back then, with dilapidated ruins and schooner drawings dating back more than 100 years.
3. Go hiking in Virgin Islands National Park
St. John is two-thirds national park and there are ton of trails that criss-cross the entire island. The Reef Bay hike consists of a three-mile downhill trek through tropical forests and plantation ruins to the swimming beach at Reef Bay. Bring lots of water!
4. Go sailing
If you want to appreciate the Caribbean beauty around St. John, hop on a sailing tour for a day of snorkeling and soaking up the sun. Most full-day tours provide food and unlimited booze (but half-day tours don't). Cruz Bay Watersports has day sails starting from $120 USD per person.
5. Go diving
The island has a lot of dive spots here. The warm, crystal-clear water provides great opportunities to see tropical fish and coral as well octopuses, moray eels, and sea turtles. A PADI certification is about $470 USD while a two-tank dive costs $145 USD.
Other Things to See and Do on St. John
1. Enjoy some water sports
There are all kinds of watersports on St. John. You can windsurf, jet-ski, kitesurf, snorkel, sail, kayak, and more. Really, there's nothing you can't do on this touristy island. Virgin Islands Ecotours is a good company to go with for some light adventure, like a kayaking trip to Henley Cay for $89 USD or a Honeymoon Beach Day Pass, which includes all kinds of rentals for kayaks, stand-up paddleboards, snorkel gear, and more, for $49 USD.
2. Visit Catherineberg Ruins
This historic plantation site is a former 18th sugar and rum factory. There is not a huge amount to see, but it's worth a visit if you're hiking in the area. The ruins are well preserved, so you get a good sense of how sugar was harvested and refined on the island. Admission is free.
3. Celebrate Carnival
St. John's Carnival takes place in late June and traditionally culminates in a 4th of July parade as islanders celebrate the United States' Independence Day. Festivities include mocko jumbies (stilt walkers/dancers), calypso music, and the crowning of Ms. St. John and the Carnival King. Spectacular fireworks are shot into the air to mark the end of the festival.
4. Drink at the Tap Room
St. John's flagship brewery, The Tap Room, is in Mongoose Junction, a shopping and dining complex located in Cruz Bay. Choose from the likes of Tropical Mango Pale Ale and Sunshine Belgian Wheat Ale (my favorite). This is the best place to get a beer on the island!
5. Explore Coral Bay
Located on the far end of the island, Coral Bay is a quiet community that was described to me as "St. John before the tourists came to Cruz." This is a tiny community where most restaurants and bars shut early, usually around 8pm. Be sure to eat at Skinny Legs while you're over here.
6. Explore Hurricane Hole
This bay on the eastern side of the island is protected by the many mangrove trees growing here. It's an amazing place to snorkel because there is a diverse and colorful habitat of fish in the water beneath the trees. You'll likely see snappers, starfish, barracuda, sea anemones, and much more. You can do a full day kayaking and snorkeling tour for about $120 USD.
7. Party hard with the locals
St. John is the party island of the region. If you are coming to the USVIs and looking for cheap drinks, late nights, and live music then St. John is for you (if you're not into that, don't worry. It's super easy to get away from that and relax). Cruz Bay has the most bars and clubs. Beach Bar and Joe's Rum Hut always guarantee a good time!
8. Hunt for petroglyphs
Hike the lush Reef Bay Trail to view petroglyphs that date to 900-1400 CE. These rock carvings were created by the Taíno, indigenous people who inhabited the island long before Columbus arrived. There are a variety of carvings, from faces to glyphs that are thought to mean water, as they are located by a deep pool and waterfall. Once you've seen the petroglyphs, you can keep hiking to Reef Bay Sugar Mill ruins along the water. To return, hike back along the same trail. The entire hike is about 4.5 miles (7.2 kilometers) roundtrip.
9. Eat tacos on the ocean
Located in Coral Harbor, LimeOut is a floating taco boat that's only accessible by sea! If you want to eat some tacos and have a beer or craft cocktail while floating in the warm Caribbean water, this is your spot. The boat is eco-friendly too, as it's run entirely on solar power.
For information about other Caribbean destinations, check out these guides:
St. John Travel Costs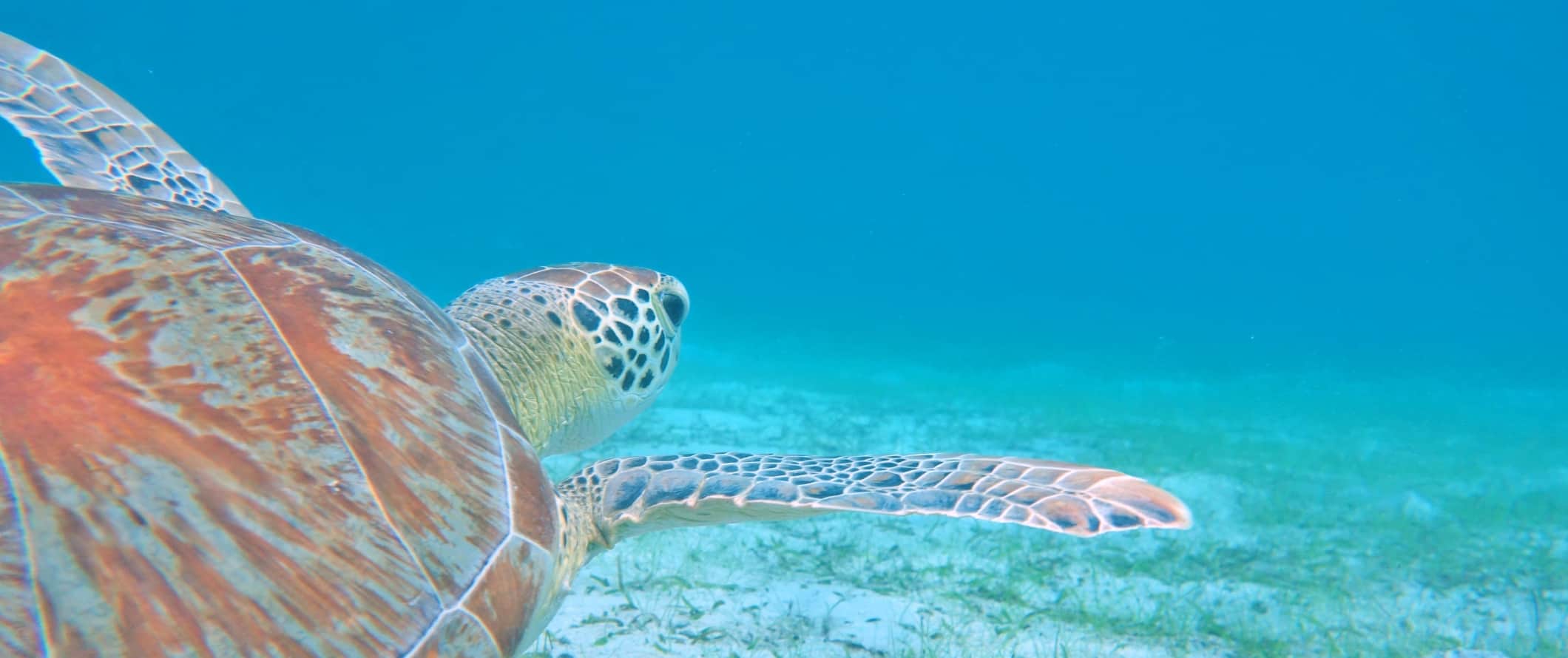 Hostel prices – There are no hostels on Saint John, and unfortunately, Hurricane Irma has shut down the only budget-friendly campground on the island. Until Cinnamon Bay reopens, you'll have to find an affordable hotel or Airbnb property.
Budget hotel prices – The most affordable hotel rooms on St. John start from a pricey $229 USD per night during the low season. Prices shoot up an extra $100 per night in high season. Expect amenities like free Wi-Fi, AC, TV, and often free breakfast.
Airbnb is widely available on St. John, with private rooms costing about $110 USD. A full apartment starts at $150 USD per night.
Food – Traditional cuisine on Saint John relies heavily on seafood, though the island has a unique mix of dishes owing to its colonial past. Fish and fungi (pronounced foon-ji) is the national dish, which combines cornmeal dumplings with fish fillets (traditionally, it would be salted fish, owing to the island's Danish heritage). Johnnycakes, conch fritters, roti, cow heel soup (a soup made with cow's feet), and callaloo (a West African stew) are other popular dishes.
If you're on a budget, there are a lot of roadside stalls serving fruits, veggies, grilled foods, and other meals for $6-7 USD. In general, $12 USD gets you a fish or chicken plate or a burger. A meal of conch fritters costs $11 USD while rice and beans (a Caribbean staple) or a fast-food meal is at least $9 USD.
For main courses, steak, fish, or seafood, you're looking at $25 USD or more in a mid-range restaurant. At an upscale restaurant (like at a resort), expect to pay upwards of $50 for a dish like swordfish or lobster, and a glass of wine is another $10 USD.
A cappuccino is generally around $5 USD while beer is $4-6 USD.
My favorite places to eat on St. John are Skinny Legs and Woody's Seafood Saloon.
Groceries tend to be relatively expensive here because they have to be imported. A week's worth of groceries, including pasta, meat, and some produce, costs $75-100 USD.
Backpacking St. John Suggested Budgets
If you're backpacking St. John, my suggested budget is around $155 USD per day. This budget covers a private Airbnb room, taking the bus, cooking your own meals, and taking advantage of free activities like swimming and lounging on the beach. If you plan on drinking, you'll need to add $5-15 USD to your daily budget.
A mid-range budget of $260 USD covers staying in a private Airbnb apartment, eating out for some of your meals, taking a couple of taxis, enjoying a few drinks, and doing the occasional paid activity like kayaking or diving.
For a "luxury" budget of about $515 USD or more per day, you can stay in a hotel, eat out for all your meals, get a rental car, drink more, and do whatever tours and activities you want. This is just the ground floor for luxury though. The sky is the limit!
Accommodation
Food
Transportation
Attractions
Average Daily Cost
Backpacker
$110
$25
$5
$5
$155
Mid-Range
$150
$55
$30
$25
$260
Luxury
$250
$110
$80
$75
$515
St. John Travel Guide: Money-Saving Tips
St. John can really add up if you're not careful, but it's not nearly as expensive as other islands in the Caribbean. If you stick to the free hikes, cook your meals, stay in budget-friendly accommodation, and stick to the happy hours, you'll get by without breaking the bank. It won't be cheap, but it won't cost an arm and a leg either. Here are some ways to save money on St. John:
Stay with a local – Use hospitality networks like Couchsurfing to stay with locals for free. There are a handful of hosts on the island and people are very welcoming!
Drink during happy hour – Happy hour usually run from 4pm-6pm, with $1 USD drinks, 2-for-1 specials, and half price appetizers. Take advantage of them to save big!
Hitchhike on boats – Want to go from island to island? Hitchhike on the boats and save thousands of dollars. Here is how to do it.
Bring your own snorkel gear – At $10 USD per rental, it's cheaper to buy snorkel gear before you get to the island.
Book accommodation in advance – Last minute accommodation bookings cost a fortune. Whenever possible, book as far in advance as possible. Space is limited here!
Use hotel points – Got hotel points? Use them! Marriott has hotels all over the Virgin Islands that can be booked with points. Free is always better than spending money.
Travel with friends – Since accommodation is so expensive, I wouldn't recommend going to these islands alone. If you do, your expenses are going to skyrocket. It's much better to go with someone so you can split costs.
Get dropped off – Taking a day sail but planning on heading to the next island afterward? Most tour companies will drop you off at no extra charge if the island is nearby. It's a free ferry!
Bring a water bottle – The tap water here is not safe to drink so bring a reusable water bottle with a filter to save money and reduce your plastic use. LifeStraw is my go-to brand as their bottles have built-in filters to ensure your water is always clean and safe.
Where to Stay on St. John
St. John does not currently have any hostels or campgrounds, so the only way to find affordable accommodations is by booking an Airbnb or finding a Couchsurfing host. If neither of those options interest you, here are some affordable recommendations for places to stay in St. John:
How to Get Around St. John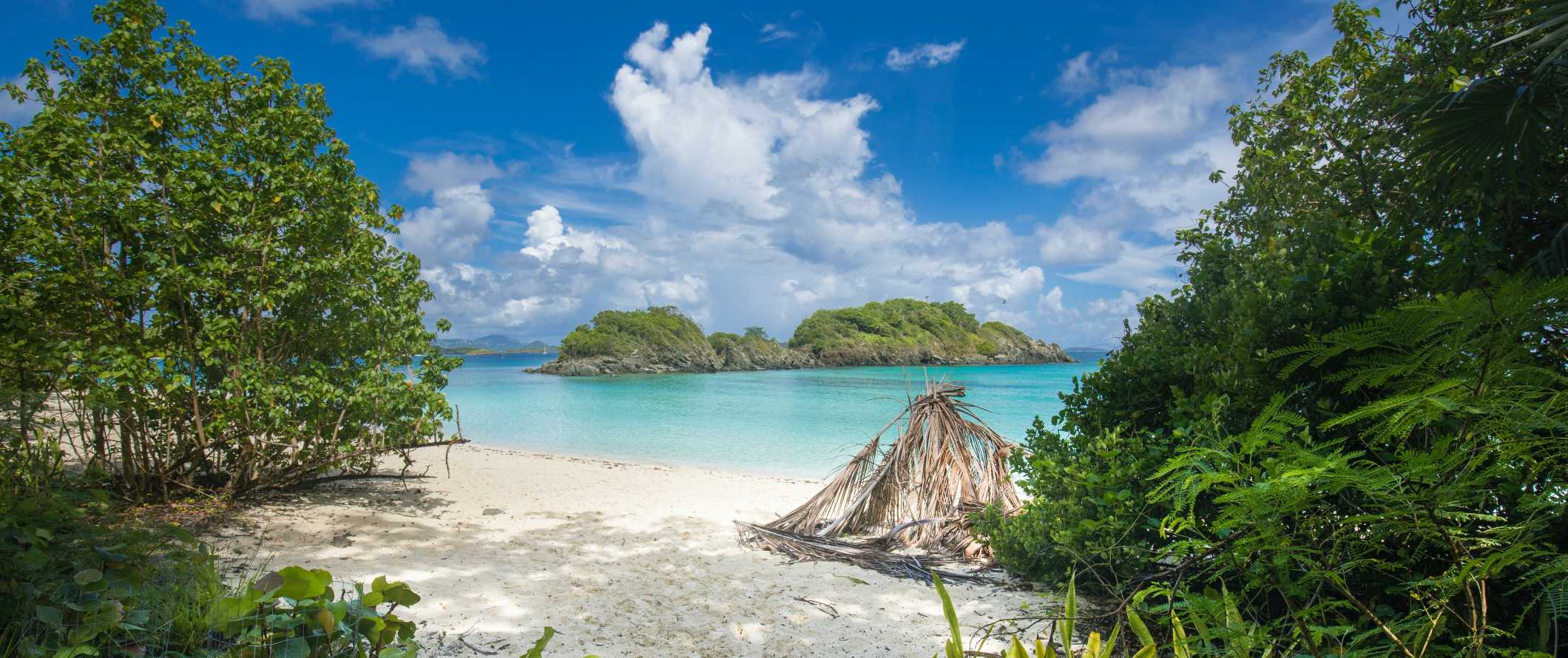 Bus – Buses on St. John go from one end of the island to the other and cost $1 USD. They run on Centerline Road (from the Cruz Bay ferry dock through Coral Bay and to Salt Pond Bay). Check Vitranvi.com for schedules.
Note: These don't really run on time, so be prepared to wait.
Car Rental – A car rental is the most efficient way to get around the island, although it's not the most economical (unless you're traveling with friends). Two of the best car rental services include Courtesy Car and Jeep Rental, and St. John Car Rental, Inc. Rentals start at $80 USD per day.
Taxis – Taxi prices are standardized by the government with set rates, with most rides costing between $5-14 USD. A taxi from Cruz Bay to Trunk Bay costs $5.50 USD, while Cruz Bay to Salt Bay or Hurricane Hole are both $14 USD each. Prices are subject to change, however, so ask your driver about the fare beforehand.
Bicycle and Moped Rentals – Many hotels around St. John rent bicycles and mopeds. Keep in mind that St. John is hilly, so cycling can be challenging. Daily costs average about $30 USD per day for bicycles and $45 USD per day for mopeds.