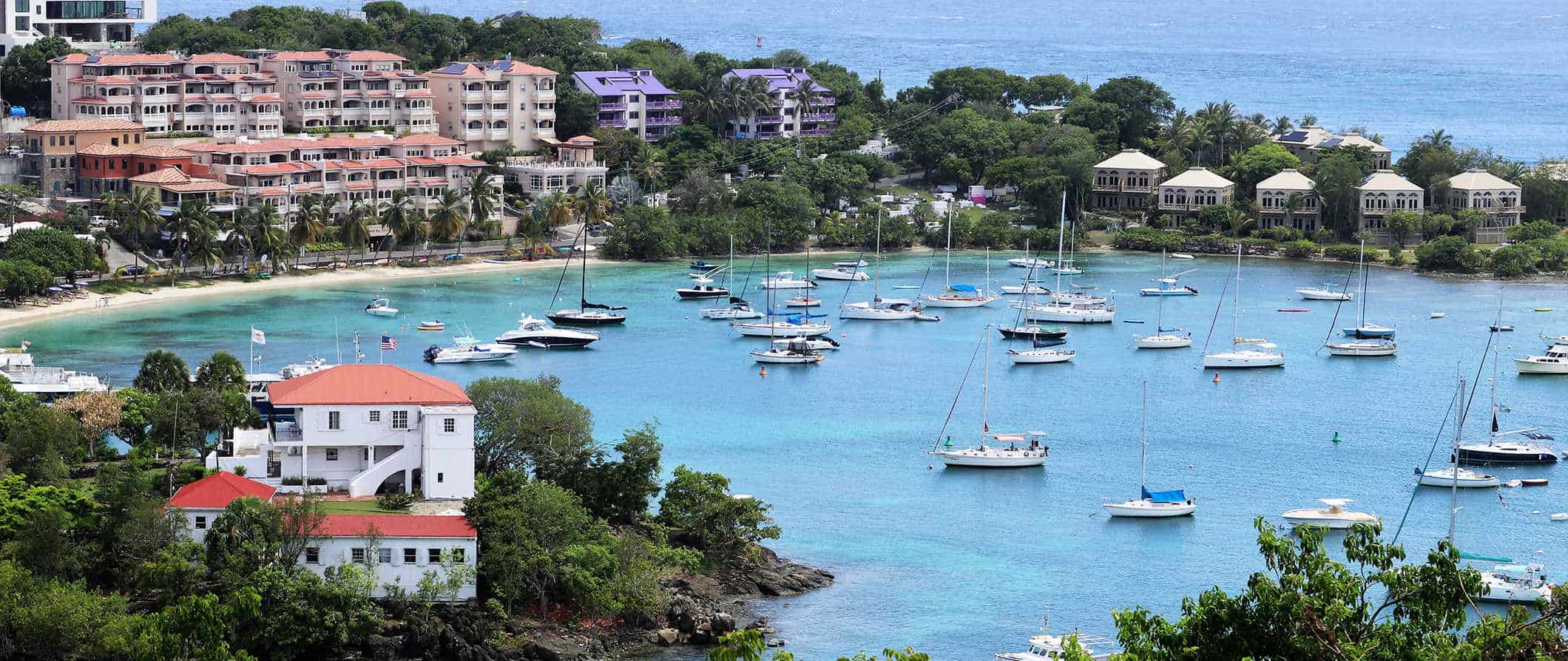 Saint John is one of the U.S. Virgin Islands and the majority of the island is a national park, which provides opportunities for lots of trekking and wildlife spotting. Out of the three U.S. Virgin Islands, this one is my favorite – you have lots of trails to hike in the park, tons of beaches, snorkeling opportunities, delicious and affordable food, and great nightlife. It's also the most budget friendly of the Virgin Islands. With only about two thousand people living on the island, it's a small community that really knows each other. You'll run into people over and over again. It has the most laid back feel and the one you'll probably want to spend the most time on! Let this travel guide to the island help you plan the perfect trip! Note: The island was severely damaged from back to back hurricanes. The information here might be out of date as the island repairs and changes. We're doing our best to keep it updated.
Top 5 Things to See and Do in Saint John
1. Visit the beaches
Trunk Bay is the main tourist beach, while Solomon's Beach is famous for nudity. Honeymoon beach is nearby and small, Hawknest and Watermelon have good snorkeling, you can rent tents or bungalows at Cinnamon Bay, Maho is calm and quiet, and Oppenheimer beach is deserted (with a tire swing)!
2. Visit Annaberg Plantation
Once an active sugar producing factory, all that is left of this 518-acre plantation is ruins. They are protected by the Virgin Islands National Park, and are open to the public. The windmill is of particular interest and was built between 1810 and 1830.
3. Go hiking in the national park
The Virgin Islands National Park covers two-thirds of the island and has 20 miles of hiking trails. The Leinster Bay trail will bring you past swamps and coral inlets with markers to help you identify animals and plant life. A very popular hike is the Reef Bay Hike. The best trail is the Ram's Head Trail. Don't miss out on that one!
4. Go sailing
Renting a boat lets you visit the island on your own terms. You can bring some snorkeling equipment, though most have the full day provide them. Day sails will also provide food and unlimited booze (though half day sails don't). My favorite day sail company is Sail Safaris. A half-day trip starts at $85 USD.
5. Visit Catherineberg Ruins
This site is a sugar and rum factor from the 18th century. Admission is free, and there is not a huge amount to see, but it's worth a visit if you're hiking in the area. The ruins are really well preserved so you get a good sense of how sugar was harvested and refined on the island. There's a few historical signs.
Other Things to See and Do
(Click the title to expand the text)
1. Enjoy some water sports
There are all kinds of watersports on St. John. You can windsurf, jet-ski, kite-surf, snorkel, sail, or kayak. Really, there's nothing you can't do on this touristy island.
2. Go diving
The island has a lot dive spots around it. The warm, crystal-clear water provides great opportunities to see tropical fish and coral. If you don't know how to dive, there are a lot of dive schools here that will teach you. A PADI course is about $350 USD.
3. Attend a festival
St. John's Carnival takes place in late June and traditionally culminates with a 4th of July parade. Most of the events occur in Cruz Bay. There is also an annual Blues Festival is held on the island from the 16th to the 20th of March.
4. Drink at the Tap Room
St. John's flagship brewery, The Tap Room, is located in Mongoose Junction in Cruz Bay. Choose from the likes of Tropical Mango Pale Ale and Sunshine Belgian Wheat Ale (my favorite). This is only tap room in all of the Virgin Islands and the best place to get a beer.
5. Explore Coral Bay
Located on the far end of the island, Coral Bay is a quiet community that was described to me as "St. John before the tourists came to Cruz." This is a tiny, tiny community with most restaurants and bars shutting early. Be sure to eat at Skinny Legs while over here. Note: Coral Bay is currently rebuilding after the hurricane. Many businesses and buildings are currently closed.
6. Explore Hurricane Hole
This bay is protected by the arms of the many mangrove trees that grow in it. It is an amazing place to go snorkeling because there is a beautiful and wildly colorful nursery of fish, nestled in the water beneath the trees.
7. Party hard with the locals
St. John is the party island of the region. If you are coming to the USVIs and looking for cheap drinks, late nights, and live music then St. John is for you (if you're not into that, don't worry. It's super easy to get away from that and relax).
Typical Costs
Accommodation
– St. John doesn't have any hostels, but campsites are popular and cost around $30 USD per night for a bare site or $60 USD for a cabin. Guesthouses are another budget option, and prices begin at $80 USD per night. Hotels start around $200 USD per night. Use
Booking.com
as they consistently return the cheapest rates.
Airbnb
is another good option here as there are lots of hosts. On Airbnb, you can rent entire homes (usually studio apartments) starting around $100 USD per night, although you'll find a lot more inventory starting at $200 USD and up.
Food – Most casual meals (burgers, salads, and sandwiches) cost between $10-15 USD. Dinner with wine will cost about $35 USD as most mains cost around $20 USD. Groceries will cost around $100-140 USD per week as most food has to be imported (unless you want to live on pasta and canned food – then you'll spend about $40 USD per week). Most hotels and resorts do provide free breakfast, though, so get your fill for the day. Beers costs between $3-6 USD and cocktails around $8 USD. Skinny Legs, Rhumb Line, The Tap Room, and La Tapa are all delicious places to eat.
Transportation – There aren't many ways to get around the island. Renting a car will cost about $60 USD per day. Taxi prices are regulated by the government and are between $5-15 USD depends on distance. There is also a bus system run by Vitran that infrequently runs from one end of the island to the other for $1 USD.
Activities – Diving is likely to be the most expensive thing you will do on this island – expect to pay $90 USD per tank dive. Day sails are around $100 USD for a day trip that usually includes food.
Suggested daily budget
$70-150 USD (Note: This is a suggested budget assuming you're staying at the camp ground or a cheap hotel, eating cheap, hitting the happy hours, doing the free activities, and using local transportation. Prices vary wildly here so unless you're going to do a bare bones trip, expect costs to come in towards the higher end.)
Money Saving Tips
Go camping – The least expensive way to visit St. John is to stay on a campsite. These are well equipped with amenities. There is one camp site at Cinnamon Bay, but it is currently closed due to hurricane damage.
Couchsurf – Use hospitality networks like Couchsurfing to stay with locals for free. There are a lot of hosts on the island and people are very welcoming!
Take in happy hour – Happy hour runs from 4-6 on the island and you'll find $1 USD drinks, 2-for-1 specials, and half price appetizers. Take advantage of it!
Have a BBQ – Food on the island is expensive, but there are a few BBQs dotted about the island that offer a chance to cook for relatively little money.
Hitchhike – This is the easiest way to get around the island. Lots of locals do it, it's very safe, and you can easily find rides!
Bring your own snorkel gear – At $10 USD a rental, it's cheaper to buy snorkel gear before you get to the island.
GO DEEPER: Nomadic Matt's In-Depth Budget Guide to the British Virgin Islands!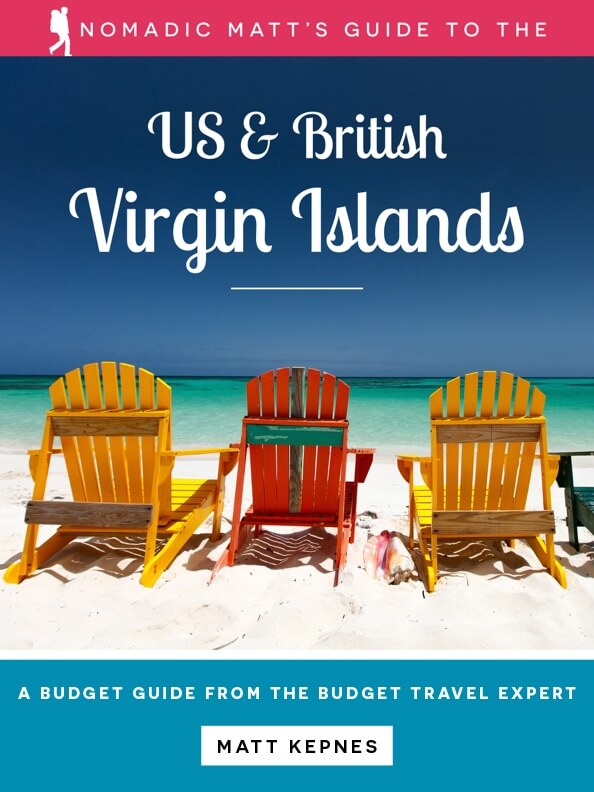 My detailed, 60+ page guidebook is made for budget travelers like you! It cuts out the fluff found in other guidebooks and gets straight to the practical information you need to travel and save money while in the Virgin Islands, a country I enjoyed traveling through so much. You'll find suggested itineraries, budgets, ways to save money, on and off the beaten path things to see and do, non-touristy restaurants, markets, and bars, and much more!! Click here to learn more and get started.