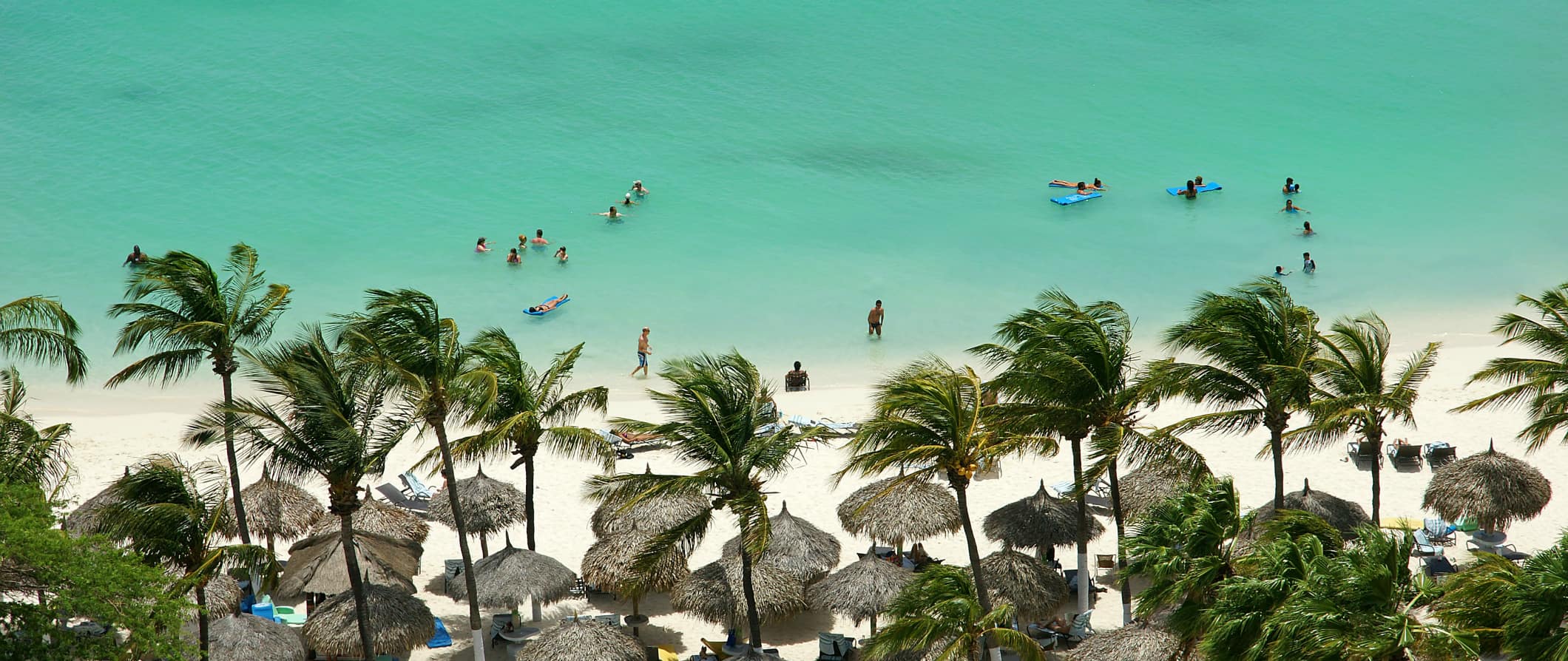 Aruba, located in the Netherlands Antilles, is filled with white sandy beaches, clear water, colorful fish, and picturesque views. Pastel-colored Dutch houses juxtaposed against the natural backdrop transport you to a tropical version of Amsterdam.
Visiting Aruba is the quintessential Caribbean experience.
But, like most other Caribbean islands, Aruba is very expensive. This is a destination where grandparents and honeymooners go to relax so the island caters to luxury end of the tourism spectrum. You'll pay a premium for hotels, food, and activities in Aruba.
That doesn't mean it's not impossible to visit Aruba on a budget. It's just a lot harder. By eating local food, staying in cheaper guesthouses, and cutting a few other expenses, you can make your trip to paradise a bit more affordable.
But, no matter your budget, this Aruba travel guide will give you all the practical information you need to help you plan your visit so you can make the most of what the island has to offer!

Aruba
Top 5 Things to See and Do in Aruba
1. Go Snorkeling
Snorkeling is the number one thing to do on the island. The shores are filled with brightly colored coral, angel fish, clown fish, and even the occasional octopus. Many hotels offer their guests free use of snorkeling equipment. For a snorkeling cruise, expect to pay at least 90 AWG ($50 USD) per adult.
2. Explore Oranjestad
Aruba's capital city is styled in Dutch architecture, with homes featuring curved roofs and plenty of pastel colors. The downtown area is home to the shopping district, as well as the National Archaeological Museum and the Historical Museum of Aruba.
3. Sail around
Sailing is also very popular. You can find snorkeling, sunset, dinner, and party cruises. Depending on your budget, you can opt for a more inclusive cruise (all the drinks!) like The Tranquilo, which comes with refreshments and lunch for 153 AWG ($85 USD). Pelican Adventures offers a more basic cruise at 100 AWG ($56 USD).
4. Go diving
Aruba has lots of dive sites, including the Antilles wreck and sunken airplanes just off Renaissance Island. You'll encounter stingrays, moray eels, and yellow tail snappers here. A one tank dive starts from about 153 AWG ($85 USD). I suggest going with Aruba Watersports Center.
5. Hike Hooiberg
Also known as Haystack Mountain, Hooiberg stands over 500 feet tall in the center of Aruba and is the perfect lookout for panoramic views over the island. On a clear day, you can see to the coast of Venezuela. Bring lots of water as it's a steep climb to the top!
Other Things to See and Do in Aruba
1. Relax on a beach
Aruba's powdery soft beaches and clear waters make for excellent days full of sunbathing, snorkeling, and swimming. Eagle Beach is the most popular, and its wide stretches of sand mean it's never too crowded. Then there's Flamingo Beach on Renaissance Island, where you'll get to hang out with actual flamingos, or Drulf Beach, which is easily accessible from Oranjestad. If you want more solitude and quiet, head to Andicuri Beach where rocky cliffs frame a wide swath of beachfront extending into the turquoise sea.
2. Go kayaking
For a relaxing way to explore Aruba's coast, hop in a kayak. Most hotels offer their guests free use of kayaks. Otherwise, expect to pay around 45 AWG ($25 USD) per hour for a rental. The coastline has a lot of little coves to explore, so take your time. Conversely, you can take a tour with Clear Kayak Aruba. Their clear-bottomed kayaks let you see the reefs and coral beneath you. A two-hour paddle costs 108 AWG ($60 USD).
3. Rent a quad
A quad lets you get off the beaten track and explore some of the smaller beaches and jungles on the island. While getting a guide is a better option, you are also free to roam around the island on your own. A half-day rental from Arubiana is 198 AWG ($110 USD), while it's 234 AWG ($130 USD) for the full day. Pretty much any tour starts from 216 AWG ($120 USD) per person. Around Aruba and Action Tours are my two recommended companies.
4. Go golfing
Expensive holiday resorts and golf go hand in hand, right? Expect to pay up to 180-285 AWG ($90-158 USD) per round at the island's championship course, Tierra Del Sol, with its 18-hole course right on the ocean. For something cheaper, you can do a round of 18 holes at the Aruba Golf Club for 55 AWG ($30 USD).
5. Visit the Archaeological Museum
This former family home has been transformed into a museum displaying a variety of stone, shell, and ceramic artifacts from Aruba's history, dating back to 2,500 BC. If you want a better understanding of the island's history, stay and watch the documentary film on ancient Amerindian Indigenous life. Admission is free.
6. Find tranquility at the Peace Labyrinth
The Peace Labyrinth sits atop a bluff overlooking the Caribbean. Next to a small chapel, walk mindfully through the intricate outdoor labyrinth of stone, which is meant to serve as a sort of meditation. The grounds are free to wander. The entire Labyrinth fell to disrepair in recent years, but in 2019 volunteers gave it an overhaul so it looks great again.
7. Visit the Donkey Sanctuary
Once a major mode of transportation, donkeys have lived on the island of Aruba for over 500 years. After cars came to Aruba, donkeys became less needed, and the population hit record lows. Now, donkeys live primarily in this non-profit sanctuary. This is a fun place to spend the afternoon, especially if you have kids, as you're invited to feed and care for the donkeys (no riding is allowed). Admission is free, but donations are welcome.
8. Visit the Collapsed Natural Bridge
Once extending over 100 feet across and 25 feet high, this "bridge" was naturally carved into the coral by the sea until it collapsed in 2005. It's still a top-rated tourist attraction, serving as a scenic viewpoint and lookout.
9. Take a tour by jeep
One of the best ways to view the island is by taking a 4×4 tour that allows you to see parts of Aruba that lie off the beaten track, including the rugged north coast. ABC Tours has several different tour options that offer quite an adrenaline rush as you tear up the backcountry, pause to visit caves and go for a swim or explore hidden beaches. Tours start from 125 AWG ($69 USD).
For information about other Caribbean destinations, check out these guides:
Aruba Travel Costs
Hostel prices – Aruba has very few hostels. A bed will cost about 54 AWG ($30 USD) per night for a room with four-six beds. A dorm with eight beds or more costs from 36 AWG ($20 USD) per night.
A small double or twin bed with an ensuite bathroom costs about 72 AWG ($40 USD) per night for one person, or 90 AWG ($50 USD) for two people.
Camping is not available on Aruba.
Budget hotel prices – Nightly rates for a budget two or three-star hotel room with a private ensuite bathroom start at about 180 AWG ($100 USD) in Oranjestad, but start at about 216 AWG ($120 USD) near beach resort areas.
There are a handful of Airbnb properties in Aruba, with shared accommodation (like a bed in a dorm) starting at 60 AWG ($34 USD) per night. For a private room expect to pay from 72 AWG ($40 USD) per night, while a full apartment averages about 270 AWG ($150 USD) per night.
Average cost of food – Most hotels offer free breakfast for guests. Breakfast spots around Oranjestad offer breakfast for as little as ($5 USD). A bagel sandwich at a café starts from about 7 AWG ($4 USD), while you can grab a ham-and-cheese sandwich at Superfoods for 4.40 AWG ($3 USD). A meal at McDonald's costs about 14 AWG ($8 USD).
Dinner at an inexpensive restaurant will cost you around 22 AWG ($12 USD). Dinner at an upscale restaurant will cost about 54 AWG ($30 USD) for a seafood entree, although the more top rated places can cost up to 108 AWG ($60 USD).
A beer to go with it will cost 7 AWG ($4 USD), while a glass of wine is double that.
Basic groceries for the week (milk, eggs, bread, chicken, fruit, and veggies) will set you back about 108 AWG ($60 USD). Tap water here is safe to drink.
If you get a chance, order seafood at Zeerovers. They charge by the pound, and you can get a hearty meal for 27 AWG ($15 USD) or less.
Backpacking Aruba Suggested Budgets
If you're backpacking Aruba, my suggested budget is around 126 AWG ($70 USD) per day. This budget will cover a hostel dorm, local buses, grab and go meals, cooking most of your food, free attractions, and a paid activity or two.
A mid-range budget of about 261 AWG ($145 USD) will cover staying in a private Airbnb room, eating at inexpensive restaurants, a few drinks, and more activities (including a sailing trip).
For a luxury budget of about 639 AWG ($355 USD) per day or more, you will stay in a nice resort, eat out for all your meals, enjoy some drinks, and do lots of activities like diving or sailing. After that, the sky is the limit!
You can use the chart below to get some idea of how much you need to budget daily, depending on your travel style. Keep in mind these are daily averages – some days you'll spend more, some days you'll spend less (you might spend less every day). We just want to give you a general idea of how to make your budget. Prices are in USD.
Accommodation
Food
Transportation
Attractions
Average Daily Cost
Backpacker
$20
$20
$5
$25
$70
Mid-Range
$40
$35
$10
$60
$145
Luxury
$170
$70
$30
$85
$355
Aruba Travel Guide: Money Saving Tips
Aruba caters pretty heavily to vacationers and luxury travelers, so there are not a ton of options here for cutting your budget. Here are the few ways to save money in Aruba:
Eat local fish – You're on an island, so local specialties such as grouper, mahi-mahi, and snapper are less expensive than other seafood options (and it's fresh)! At the Daily Fish market, you can get calamari rings for 8 AWG ($4.50 USD), or a fried cod filet for 10.50 AWG ($6 USD).
Get the VisitAruba Plus Card – The tourism board has a visitor's program where you can get discounts and special offers at more than 85 locations in Aruba, including restaurants, shops, activities, and attractions. For example, you can get 15% off diving packages with some of their dive partners. The card is 31 AWG ($17 USD) plus a 7 AWG ($4 USD) delivery fee to your hotel or home address.
Enjoy nature – Relax on the beach, go for a hike, or take in a sunset. Aruba's natural beauty is breathtaking – and FREE!
Book online – If you're planning on going diving, or doing any other expensive activities, be sure to check online for discounts before. Some companies offer discounts for direct bookings.
Couchsurf – There are a surprising number of Couchsurfing hosts in Aruba. This way, you not only have a place to stay, but you'll have a local host that can tell you the best places to go and things to see.
Drink the tap water – Tap water is safe here! There's no need to purchase bottled water.
Where To Stay in Aruba
There are only few hostels in Aruba, but those that are available often come with extra perks like swimming pools. My suggested places to stay in Aruba (all located in Oranjestad) are the following:
How to Get Around Aruba
Bus – Arubus is the public bus in Aruba, and this will get you everywhere you need to go (Aruba is a very small island). Their website, Arubus.com, has a full list of schedules and routes. You can purchase a return ticket for 8.75 AWG ($5 USD), or an unlimited day pass for 17.50 AWG ($10 USD). You'll pay the driver when you board.
Trolley – Oranjestad has a free open-air trolley that runs the length of downtown's main street. It runs on limited hours between 10AM-5PM.
Taxis – Taxis in Aruba are safe and reliable, but they do not have meters as rates are set by the government. The minimum fare is 10 AWG ($6 USD), but you should ask your driver beforehand what the total amount will be. A taxi to or from the airport costs about 54 AWG ($30 USD).
Hitchhiking – Hitchhiking is safe to do on the island, but you'll likely end up waiting a while as most people don't pick up people. HitchWiki is the best website for hitchhiking info.
Photo credits: 6 – Todd42013