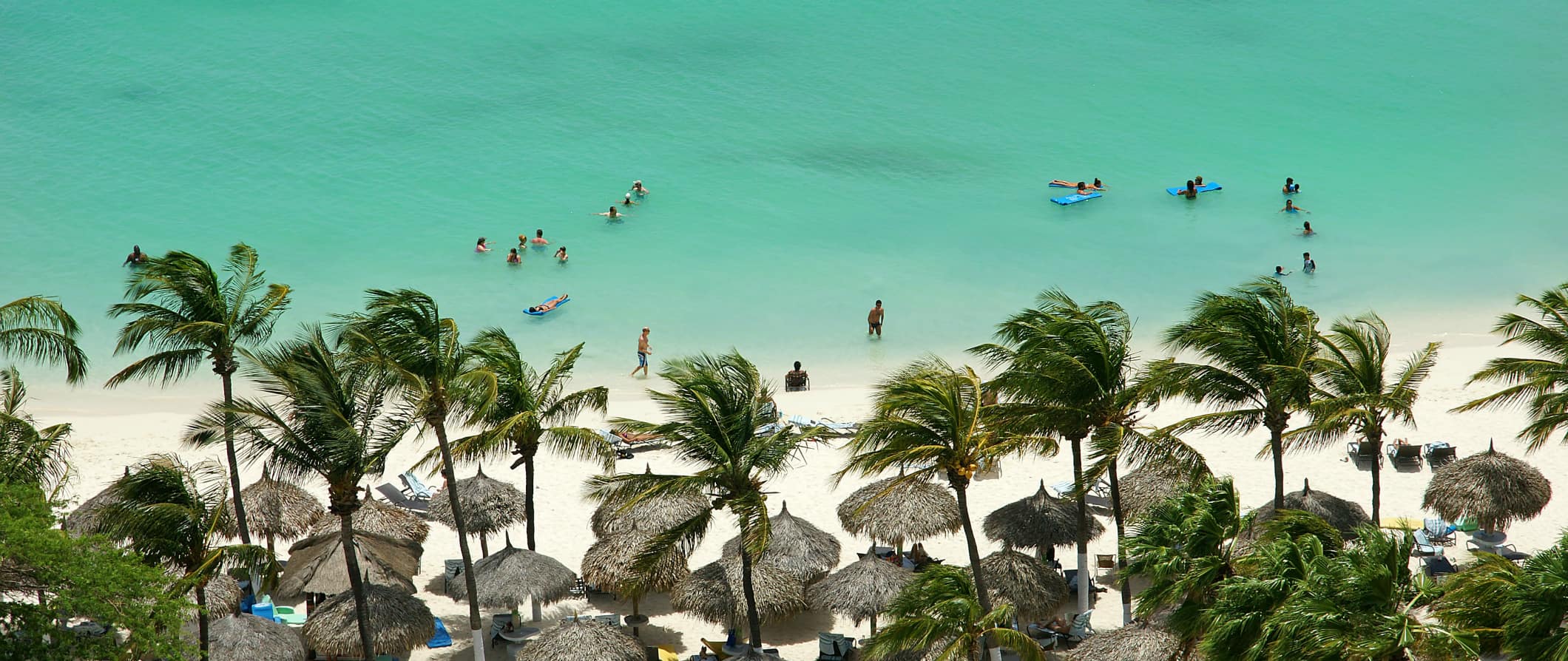 Located in the Netherlands Antilles, Aruba is home to white sandy beaches, crystalline waters, colorful fish, and picturesque ocean views. It's one of the most popular tropical getaways in the world and a favorite of travelers who visit the Caribbean.
Here you'll find pastel-colored Dutch houses juxtaposed against the natural island backdrop, transporting you to a tropical version of Amsterdam. Aruba's not limited to the beaches and towns, though. Since it doesn't get a ton of rain, the arid landscape has huge boulders and cactus forests scattered across it.
Like most other Caribbean islands, Aruba is expensive. This is a destination where honeymooners and luxury travelers go to relax so you'll pay a premium for hotels, food, and activities in Aruba.
That doesn't mean it's not impossible to visit Aruba on a budget though — it's just a lot harder.
But, no matter your budget, this Aruba travel guide has all the practical information you need to help you plan your visit so you can make the most of your time in this island paradise!
Top 5 Things to See and Do in Aruba
1. Go Snorkeling
Snorkeling is the number one thing to do on the island. The shores are filled with brightly colored coral, angelfish, clownfish, and even the occasional octopus. Many hotels offer their guests free use of snorkeling equipment. Expect to pay at least 90 AWG per person.
2. Explore Oranjestad
Aruba's capital city is styled in Dutch architecture, with homes featuring curved roofs and plenty of pastel colors. The downtown area is home to the shopping district, as well as the National Archaeological Museum and the Historical Museum of Aruba.
3. Sail around
Sailing is very popular and you can find snorkeling, sunset, dinner, and party cruises here. Depending on your budget, you can opt for a more inclusive cruise like The Tranquilo, which comes with refreshments and lunch for 180 AWG. Pelican Adventures offers a more basic cruise at 105 AWG.
4. Go diving
Aruba has lots of dive sites, including the Antilla wreck (from 1940) and sunken airplanes just off Renaissance Island. There are stingrays, moray eels, yellowtail snappers, and more to be seen. Single-tank dives start from 152 AWG.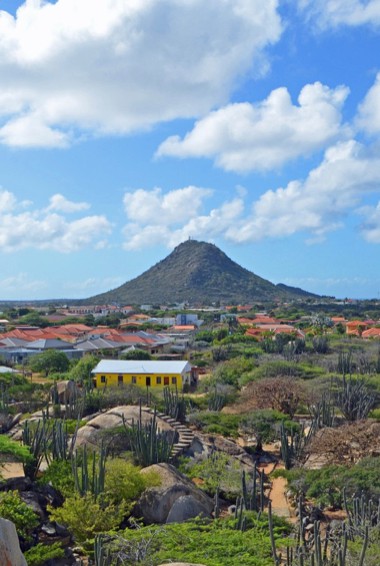 5. Hike Hooiberg
Also known as Haystack Mountain, Hooiberg stands over 500 feet tall in the center of Aruba and is the perfect lookout for panoramic views over the island. On a clear day, you can see to the coast of Venezuela! Bring lots of water and a hat as it's a steep climb to the top!
Other Things to See and Do in Aruba
1. Relax on a beach
Aruba's powdery soft beaches and clear waters make for excellent days full of sunbathing, snorkeling, and swimming. Eagle Beach is the most popular, and its wide stretches of sand mean it's never too crowded. Then there's Flamingo Beach on Renaissance Island, where you can hang out with actual flamingos; or Drulf Beach, which is easily accessible from Oranjestad. If you want more solitude and quiet, head to Andicuri Beach, where rocky cliffs frame a wide swath of beachfront extending into the turquoise sea. There's also Boca Prins Beach, which can be found in Arikok National Park (it has incredible views but watch out for the strong waves).
2. Go kayaking
For a relaxing way to explore Aruba's coast, hop in a kayak. Most hotels offer their guests free use of kayaks. Otherwise, expect to pay around 45 AWG per hour for a rental. The coastline has a lot of little coves to explore, so take your time. Conversely, you can take a tour with Clear Kayak Aruba. Their clear-bottomed kayaks let you see the reefs and coral beneath you. A two-hour guided paddle costs 233 AWG.
3. Rent a quad
A quad (ATV) lets you get off the beaten track and explore some of the smaller beaches and jungles on the island. While getting a guide the best option, you can also explore the island on your own. A half-day rental from Arubiana is 199 AWG, while it's 229 AWG for the full day. Tours start from 215 AWG per person.
4. Go golfing
Expensive holiday resorts and golf go hand in hand, right? Unfortunately, golf here isn't a budget-friendly activity. If you want to hit the links, expect to pay 160-300 AWD per round at the island's championship course, Tierra Del Sol. Its gorgeous 18-hole course is right on the ocean.
5. Visit the Archaeological Museum
Aruba has a complex history as it has been invaded by several colonial powers throughout the centuries. This former family home has been transformed into a museum displaying a variety of stone, shell, and ceramic artifacts from Aruba's distant past, dating all the way back to 2,500 BCE. If you want a better understanding of the island's long history, stay and watch the documentary film on ancient indigenous life. Admission is free.
6. Find tranquility at the Peace Labyrinth
The Peace Labyrinth sits atop a bluff overlooking the Caribbean. Next to a small chapel, here you can walk mindfully through the intricate outdoor labyrinth of stone, which is meant to serve as a sort of meditation. The entire Labyrinth fell to disrepair in recent years, but in 2019 volunteers gave it an overhaul so it looks great again. The grounds are free to wander.
7. Visit the Donkey Sanctuary
Once a major mode of transportation, donkeys have lived on the island of Aruba for over 500 years. After cars arrived, donkeys became less needed and their population hit record lows. Now, donkeys live primarily in this non-profit sanctuary. It's a fun place to spend the afternoon, especially if you have kids, as you're invited to feed and care for the donkeys (no riding is allowed). Admission is free, but donations are welcome.
8. Visit the Collapsed Natural Bridge
Once extending over 100 feet across and 25 feet high, this "bridge" was naturally carved into the coral by the sea until it collapsed in 2005. It's still a top-rated tourist attraction, serving as a scenic viewpoint and lookout.
9. Take a jeep tour
One of the best ways to view the island is by taking a 4×4 tour that allows you to see parts of Aruba that lie off the beaten track, including the rugged north coast. ABC Tours has several different tour options that offer an adrenaline rush as you tear up the backcountry, pause to visit caves and go for a swim, and explore hidden beaches. Tours start from 110 AWG.
10. Explore Arikok National Park
Located in the north-eastern part of the island, you can find most of Aruba's flora and fauna in Arikok National Park. At 34 square kilometers, it makes up around one-fifth of Aruba and has lots of different geological features, including volcanic hills and limestone rocks formed from fossilized coral. The park has a couple of stunning beaches, as well as Conchi, a natural pool that's only accessible on foot, on horseback, or in a 4×4. Arikok is also home to Cunucu Arikok and Fontein Cave, where you can see rock paintings left behind by the indigenous Caquetío. A day pass costs around 20 AWG.
11. Climb California Lighthouse
You can get amazing views of the west coast beaches and the coral shorelines from the top of this lighthouse. It was named after the S.S. California, which sunk before the lighthouse was built in 1910. It's located in the northwest of Aruba in the area known as "Hudishibana." Go at dusk for one of the best sunsets on the island. Admission is 9 AWG.
For information about other Caribbean destinations, check out these guides:
Aruba Travel Costs
Hostel prices – Aruba has very few hostels. A bed in a dorm costs about 35 AWG per night while private rooms cost closer to 80 AWG per room. Free Wi-Fi is standard though currently, the hostels in Aruba are closed for COVID.
Camping is not available on Aruba.
Budget hotel prices – Budget two- and three-star hotels start at 150 AWG in Oranjestad but are closer to 200 AWG near beach resort areas. Free Wi-Fi is standard and many budget hotels also have pools.
On Airbnb, private rooms start at 80 AWG per night while entire homes/apartments average closer to 200 AWG per night.
Average cost of food – The cuisine in Aruba is a mix of Dutch, Caribbean, and South American flavors. Seafood, of course, is king, with mahi-mahi, red snapper, and grouper all being commonly caught around the island. Fresh fruit is also super popular. Be sure to try cool soup (a cold soup made from fruits), sopi mondongo (a stew made with tripe or bone marrow), cala (a spicy fried snack), and fried plantains.
For a casual seafood restaurant meal at a restaurant, expect to pay around 30 AWG. For fast food (think McDonald's), a combo meal costs around 17 AWG.
If you want to splash out, a mid-range three-course meal with a drink costs around 75 AWG (upscale places cost over 100 AWG).
Beer is 8-9 AWG while a latte or cappuccino is 6 AWG. Bottled water costs around 2-3 AWG.
If you plan on cooking your own food, a week's worth of groceries costs around 130 AWG. This gets you basic staples like rice, pasta, seasonal produce, and some meat or seafood.
If you get a chance, order seafood at Zeerovers. It's delicious (cash only).
Backpacking Aruba Suggested Budgets
If you're backpacking Aruba, my suggested budget is 105 AWG per day. This assumes you're staying in a hostel dorm, cooking all of your meals, limiting your drinking, taking the bus to get around, and doing mostly free activities like swimming and relaxing on the beach. If you plan on drinking, add another 10-20 AWG to your daily budget.
On a mid-range budget of 230 AWG per day, you can stay in a private Airbnb, eat out for a couple of meals, enjoy some drinks, take the occasional taxi to get around, and do some paid activities like go diving or take a snorkeling tour.
On a "luxury" budget of 420 AWG or more per day, you can stay in a hotel, eat out for all your meals, drink as much as you want, rent a car or quad to get around, and do whatever tours and activities you want. This is just the ground floor for luxury though. The sky is the limit!
You can use the chart below to get some idea of how much you need to budget daily, depending on your travel style. Keep in mind these are daily averages – some days you spend more, some days you spend less (you might spend less every day). We just want to give you a general idea of how to make your budget. Prices are in AWG.
Accommodation
Food
Transportation
Attractions
Average Daily Cost
Backpacker
40
25
20
20
105
Mid-Range
80
65
35
50
230
Aruba Travel Guide: Money-Saving Tips
Aruba caters to vacationers and luxury travelers, so there are not a ton of options here for cutting your budget. Here are the few ways to save money in Aruba:
Eat local fish – You're on an island, so local specialties such as grouper, mahi-mahi, and snapper are less expensive than other seafood options (plus, they're fresh)!
Get the VisitAruba Plus Card – The tourism board has a visitor's program that offers discounts at more than 85 locations in Aruba, including restaurants, shops, activities, and attractions. The card is 31 AWG plus a 7 AWG delivery fee to your hotel or home address.
Enjoy nature – Relax on the beach, go for a hike, or take in a sunset. Aruba's natural beauty is breathtaking — and free!
Book online – If you're planning on going diving, or doing any other expensive activities, be sure to check online for discounts before. Some companies offer discounts for direct bookings.
Stay with a local – There isn't a huge Couchsurfing scene here but if you can find a host that can let you stay for free you'll be able to cut your costs drastically. It's a great way to meet locals too!
Bring a water bottle – The tap water here is safe so bring a reusable water bottle to save money and reduce your plastic use. LifeStraw is my go-to brand as their bottles have built-in filters to ensure your water is always clean and safe.
Cook your own food – Eating out adds up, so book accommodation with a kitchen so you can buy groceries and cook your own meals. It won't be luxurious but it will be cheaper!
Where to Stay in Aruba
There are only few hostels in Aruba so you'll want to book early if you're on a budget. Here are my suggested places to stay in Aruba (all located in Oranjestad) are:
How to Get Around Aruba
Public transportation – Arubus is the public bus in Aruba, and it gets you everywhere you need to go. Their website, Arubus.com, has a full list of schedules and routes. You can purchase a return ticket for 8.75 AWG, or an unlimited day pass for 17.50 AWG. You pay the driver when you board.
Oranjestad has a free open-air trolley that runs the length of downtown's main street. It runs every 25 minutes between 10am-5pm.
Taxis – Taxis in Aruba are safe and reliable, but they do not have meters as rates are set by the government. The minimum fare is 12.60 AWG, but you should ask your driver beforehand what the total amount will be. A taxi to or from the airport costs anything from 32-89 AWG.
Car rental – Cars can be rented here for around 75 AWG per day for a multi-day rental. You don't need an International Driving Permit (IDP) to rent a car here but drivers must be at least 21 and have had their license for two years.
Hitchhiking – Hitchhiking is safe here but it's not very common. You'll want to be flexible with your schedule as waits will likely be long. Check Hitchwiki for more tips and advice.
When to Go to Aruba
Peak season is January to March when temperatures average in the high 20s°C (mid-80s °F). Expect room prices to soar and for the island to be full and lively.
I think April to August is the best time to visit Aruba, as this is considered the off-season and prices decrease during this time (there are fewer tourist crowds also). Aruba isn't part of the Caribbean's hurricane belt, so there's not much risk of tropical storms either.
This is the hottest time of year, with temperatures averaging 32°C (90°F). Fortunately, Aruba is usually pretty breezy, so there's some relief from the humidity.
How to Stay Safe in Aruba
Aruba is considered one of the safest places to visit in the Caribbean as it's a small island with a low crime rate. However, it's still best to not leave your valuables out and unattended at the beach (or anywhere) to avoid petty theft.
As in any destination, keep your valuables secure and out of sight when on crowded public transportation.
The San Nicolas area is best avoided at night if you're alone.
If you are traveling during COVID and need a Health Visa, this post has more information on that process.
When out at the bar, never leave your drink unattended. Also, never walk home alone if you're intoxicated.
Scams here are rare, but if you're worried about getting ripped off, you can read about common travel scams to avoid right here.
If you experience an emergency, dial 911 for assistance.
Remember to always trust your gut instinct. Avoid isolated areas at night, and be aware of your surroundings at all times. Make copies of your personal documents, including your passport and ID.
If you wouldn't do it at home, don't do it in Aruba! Follow that rule, and you'll be fine.
The most important piece of advice I can offer is to purchase good travel insurance. Travel insurance protects you against illness, injury, theft, and cancellations. It's comprehensive protection in case anything goes wrong. I never go on a trip without it as I've had to use it many times in the past.
Aruba Travel Guide: The Best Booking Resources
These are my favorite companies to use when I travel. They consistently have the best deals, offer world-class customer service and great value, and overall, are better than their competitors. They are the companies I use the most and are always the starting point in my search for travel deals.
Skyscanner – Skyscanner is my favorite flight search engine. They search small websites and budget airlines that larger search sites tend to miss. They are hands down the number one place to start.
Hostelworld – This is the best hostel accommodation site out there with the largest inventory, best search interface, and widest availability.
Booking.com – The best all around booking site that constantly provides the cheapest and lowest rates. They have the widest selection of budget accommodation. In all my tests, they've always had the cheapest rates out of all the booking websites.
Intrepid Travel – If you want to do group tours, go with Intrepid. They offer good small group tours that use local operators and leave a small environmental footprint. And, as a reader of this site, you'll get exclusive discounts with them too!
Get Your Guide – Get Your Guide is a huge online marketplace for tours and excursions. They have tons of tour options available in cities all around the world, including everything from cooking classes, walking tours, street art lessons, and more!
SafetyWing – Safety Wing offers convenient and affordable plans tailored to digital nomads and long-term travelers. They have cheap monthly plans, great customer service, and an easy-to-use claims process that makes it perfect for those on the road.
Aruba Gear and Packing Guide
If you're heading on the road and need some gear suggestions, here are my tips for the best travel backpack and for what to pack!
The Best Backpack for Travelers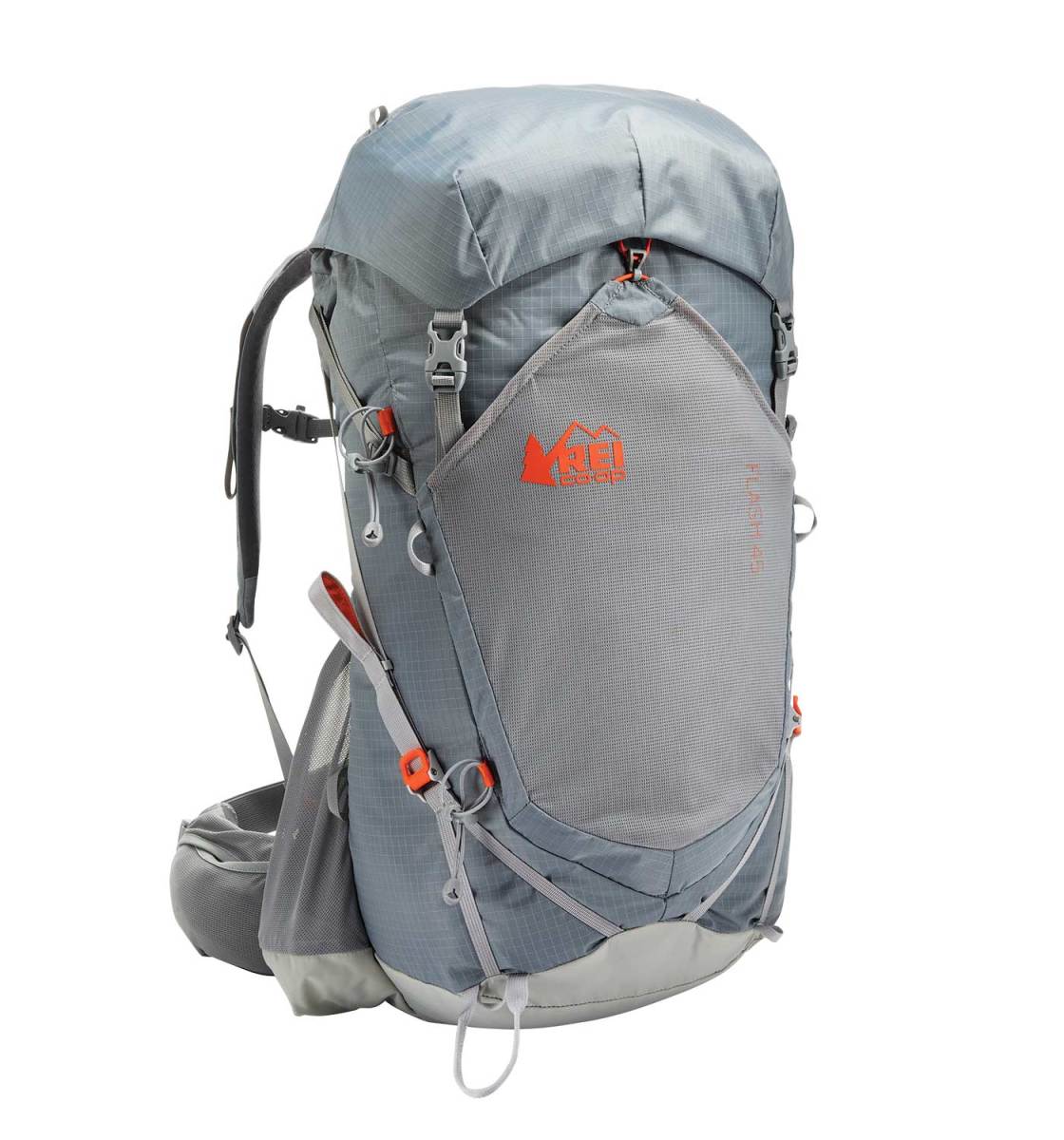 What's the best backpack for traveling long-term? I recommend the
REI Flash 45 Pack
. It's light and comfy, top loading, and fits perfectly in an airplane's overhead bin.
Size:
45-47L
Straps:
Thick and cushy with compression technology that pulls the pack's load up and inwards so it doesn't feel as heavy.
Features:
Removable top lid, pocket at the front, hydration compatible, contoured hip belt
If you want something different, refer to my article on how to choose the best travel backpack for tips on picking a pack and other backpack suggestions.
What to Pack for Your Trip
Clothes
1 pair of jeans (heavy and not easily dried, but I like them; a good alternative is khaki pants)
1 pair of shorts
1 bathing suit
5 T-shirts (Unbound Merino is my preferred company. If you're a member of NM+, you can get 15% off your purchase)
1 long-sleeved T-shirt
1 pair of flip-flops
1 pair of sneakers
6 pairs of socks (I always end up losing half)
5 pairs of boxer shorts (I'm not a briefs guy!)
1 toothbrush
1 tube of toothpaste
1 razor
1 package of dental floss
1 small bottle of shampoo
1 small bottle of shower gel
1 towel
Deodorant
Small Medical Kit (safety is important!!!)
Miscellaneous
Female Travel Packing List
I'm not a woman, so I don't know what a woman wears, but Kristin Addis, our solo female travel guru, wrote this list as an addition to the basics above:
Clothing
1 swimsuit
1 sarong
1 pair of stretchy jeans (they wash and dry easily)
1 pair of leggings (if it's cold, they can go under your jeans, otherwise with a dress or shirt)
2-3 long-sleeve tops
2-3 T-shirts
3-4 spaghetti tops
1 light cardigan
Toiletries
1 dry shampoo spray & talc powder (keeps long hair grease-free in between washes)
1 hairbrush
Makeup you use
Hair bands & hair clips
Feminine hygiene products (you can opt to buy there too, but I prefer not to count on it, and most people have their preferred products)
For more on packing, check out these posts:
Aruba Travel Guide: Related Articles
Want more info? Check out all the articles I've written on backpacking/traveling the Caribbean and continue planning your trip: