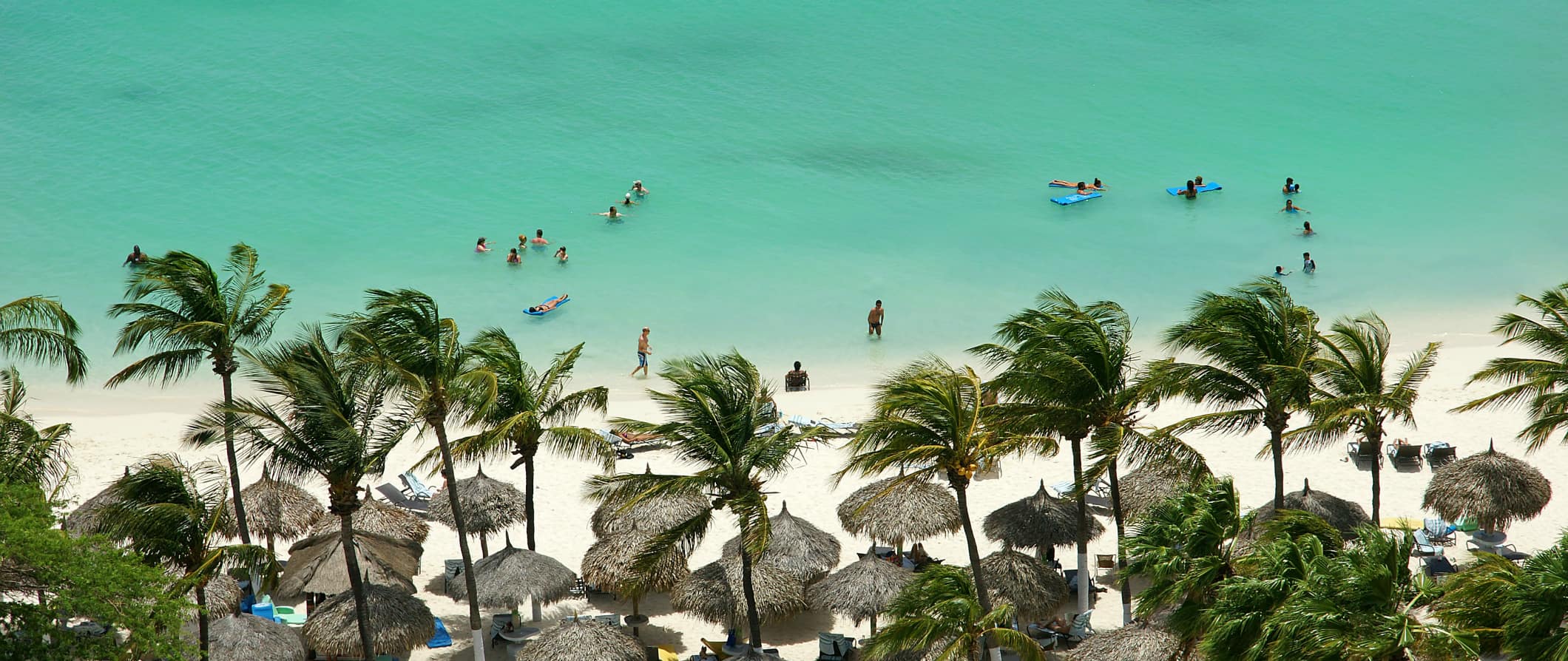 Aruba, located in the Netherlands Antilles, is filled with white sandy beaches, clear water, colorful fish, and picturesque views. Pastel colored Dutch houses juxtaposed against the natural backdrop transport you to a tropical version of Amsterdam. But, like most other Caribbean islands, Aruba is very expensive. This destination is where grandparents and honeymooners go to relax – and the island caters to that end of the tourism spectrum. You'll pay a premium for hotels, food, and activities in Aruba. However, by eating local food, staying in cheaper guesthouses, and cutting a few other expenses, you can make your trip to paradise a bit more affordable.
Top 5 Things to See and Do in Aruba
1. Snorkeling
Snorkeling is pretty much the number one thing to do on the island. The shores are filled with brightly colored coral, angel fish, clown fish, and even the occasional octopus. Many hotels offer their guests free use of snorkeling equipment. If you were to book a snorkeling cruise, expect to pay about 160 AWG per adult.
2. Oranjestad
Aruba's capital city is styled in typical Dutch architecture and plenty of pastel colored buildings. The downtown area is good for shopping while the harbor is the place to buy fresh fish. There are also a couple of museums in the city that highlight the history of the island.
3. Sail around
Outside of snorkeling and diving, sailing is probably the most popular activity here. For the best experience, take a sunset cruise on board a catamaran or hire a skipper with a group of friends. I'd recommend going with a group so you can split the price of the trip.
4. Scuba diving
There are a few dive sites such as the Antilles wreck and sunken airplanes just off Renaissance Island. You'll see a lot more coral and fish than you would just go snorkeling. Expect to pay around 170 AWG for a two tank dive.
5. Hike Hooiberg
Also known as Haystack Mountain and standing over 500 feet tall, this is the perfect place to look over the island and get panoramic pictures. On a clear day, you can see the coast of Venezuela.
Other Things to See and Do
(Click the title to expand the text)
1. Kayaking
For a relaxing way to explore Aruba's coast, try kayaking. Many hotels offer their guests free use of kayaks. Otherwise, expect to pay around 45 AWG per hour for a rental. The coastline has a lot of little coves to explore, so take your time!
2. Rent a quad
A quad really lets you get off the beaten track and explore some of the smaller beaches and jungles on the island. While getting a guide is an option, you are also free to roam around the island on your own.
3. Golf
Expensive holiday resorts and golfing go hand in hand, right? Expect to pay up to 180-285 AWG per round at the island's Championship Course, Tierra Del Sol, or just 55 AWG for a round of 9 holes at the Aruba Golf Club.
4. Archaeological Museum
This museum displays a variety of stone, shell, and ceramic artifacts from Aruba's native population that give you an idea of the island's customs, deep-rooted beliefs, and old traditions. This museum is open from 10am-2pm on weekdays, 10am-5pm on weekends, and it's closed on Mondays. Admission is free.
5. Find tranquility at the Peace Labyrinth
Sitting atop a bluff that overlooks the Caribbean Sea is the Peace Labyrinth, a place for silent and peaceful contemplation. Situated by a small chapel, you'll find yourself suddenly tranquil when visiting this intricate outdoor labyrinth to walk mindfully through. The grounds are free to wander through.
6. Donkey Sanctuary
Once a major mode of transportation, donkeys have lived on the island of Aruba for over 500 years. After cars were introduced to Aruba and more widely used, donkeys became less needed and the population hit record lows. Now, donkeys live primarily in this non-profit sanctuary. This is a fun place to spend the afternoon, especially if you have kids. This sanctuary is open daily fro 9am-4pm. Admission is free but you can make a donation to help support the donkeys in Aruba.
7. The Collapsed Natural Bridge
Once extending over 100 feet across and 25 feet high, this bridge was carved into the coral naturally by the sea until it collapsed in 2005. A very popular tourist attraction, this is an awesome viewpoint and lookout. Despite the collapse of the main attraction, there are many smaller bridges surrounding it where many of the guided island tours stop for a photo-op.
8. Take a tour by Jeep
One of the best ways to view the island is by taking a 4×4 tour that allows you to see parts of Aruba that lie off the beaten track, including the rugged north coast of the island. Renting your own jeep is a better and cheaper way to do this – let the adventures begin! If you do book a tour, expect to pay 80 AWG per child, and 140 AWG per adult.
Typical Costs
Accommodation
– Accommodation is extremely expensive in Aruba. Hostels aren't really an option here. A night in a cheap guest guesthouse starts at 90 AWG per night. If you're feeling fancy, a night in a budget resort hotel will start at 200 AWG. Airbnb is a great resource here. There'e a few shared room in someone's house available for about 65 AWG a night, and entire apartments can be rented for as little at 90 AWG for 2-4 people per night. My suggested place is:
Food – Lunch and casual meals begin around 27 AWG. Though you can find inexpensive restaurants that have 15-20 AWG priced meals, dinner (and drinks) in a moderately priced restaurant will start at 60 AWG per person. Basic groceries for the week (milk, eggs, bread, chicken, fruit, and veggies) will set you back about 100 AWG. When it comes to drinking, a beer in a restaurant/bar costs between 4-7 AWG, and picking up a bottle of wine from the market or store will cost about 30 AWG.
Transportation – The Arubus goes all around the island, and a ticket will cost you around 4 AWG (each way). Taxis start at 10 AWG. If you're staying a while, think about getting a Smart Card that saves you each trip. You can rent a car for about 90 AWG per day.
Activities – Jet skiing will cost you about 115 AWG for half an hour, and parasailing will be about 105 AWG for 15 minutes. A two tank scuba dive will cost around 160 AWG.
Suggested daily budget
200 AWG / 110 USD (Note: This is a suggested budget assuming you're staying in a hostel, eating out a little, cooking most of your meals, and using local transportation. Using the budget tips below, you can always lower this number. However, if you stay in fancier accommodation or eat out more often, expect this to be higher!)
Money Saving Tips
Eat local fish – You're on an island, so local specialties such as grouper, mahi-mahi, and snapper are less expensive than other seafood options (and it's fresh)!
Get food at the supermarkets – Buy food in the supermarkets, and cook your own meals. Restaurants are expensive here as they cater mostly towards travelers with a large budget.
Enjoy nature – Relax on the beach, go for a hike, or take in a sunset. Aruba's natural beauty is breathtaking and free so drink it in!
Travel off-season – September-November is the low season when accommodations and activities are markedly cheaper.
Book online – If you're planning on going diving, or doing any other expensive activities, be sure to check online for discounts before. You can usually find some deals if you do a bit of research.
My Must Have Guides For Traveling to Aruba
Photo credits: 6