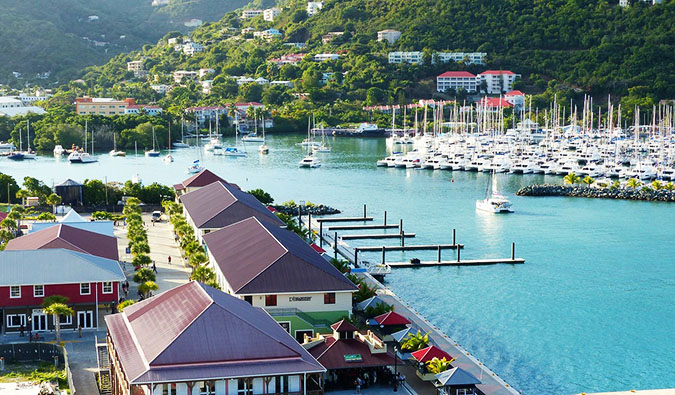 Last Updated: 03/17/20 | March 17th, 2020
Budget travel is like a puzzle to me. I roam the world, trying to put the pieces together, and turning some of the most expensive destinations in the world into budget friendly destinations.
I've been able to make Iceland, Japan, Sweden, and even Norway affordable.
Sometimes I fail, like when I was in Bermuda, a country whose luxury travel powers proved too great even for me to defeat.
Unfortunately, when I came to the U.S. and British Virgin Islands, I failed again.
While there are ways to make these islands semi-affordable, my visit taught me that they will never be a true budget destination. There are too many rich people, tax shelters, yachts, and a prioritized focus on mid-budget and luxury travelers.
But that doesn't mean all hope is lost.
There are some ways to lower your costs and avoid spending hundreds of dollars per day — which is what most people do here!
By following just a few guidelines, you can have a wonderful time on the islands and still maintain a budget.

How Much Did the Islands Cost Me?
After spending 22 days sailing around, I spent a total of $2,255.75 USD. That's an average of about $102 USD per day. When compared to my goal of $50 USD a day, that's pretty bad. I was shocked when I saw the math.
Sure, I splurged a bit — there were a few hotels and fancy meals in my itinerary — but I didn't realize just by how much I was off, considering I also got a bunch of free stays. Here's how the money broke down (in USD):
Activities: $140
Accommodation: $714.50
Drinks: $216
Transportation: $228
Taxis: $260.50
Food: $635.75
Miscellaneous (visas, sunscreen): $61
Why Did I Spend So Much?
While I was able to get free accommodation on a boat, the lack of budget accommodation really drove up my housing costs. Even with sharing the cost of hotels, some nights I was paying $60 USD. A last-minute change in plans and a flight to St. Thomas with bag fees meant an extra $80 USD.
And, while I cooked a bit, I splurged on some nice meals during Thanksgiving, ate a lot of seafood (so many lobsters!), and bought drinks for my Couchsurfing hosts (a rum drink here and there adds up fast).
Looking at the numbers, I know I could have done a little better with food and beverages (but not by much).

So How Do You Do It Cheaper?
While I might have failed on being super budget, you don't have to. Traveling the Virgin Islands is never going to be rock-bottom cheap or backpacking friendly, but with a little planning, it doesn't need to be a "luxury only" vacation.
My $100 USD a day was comfortable — from tasty fish and never-ending happy hours and snorkeling to white sand beaches and sailing. However, you could do it cheaper (around $75-85 USD per day) if you learn from my mistakes. Here are ways to save money while in the BVIs:

Accommodation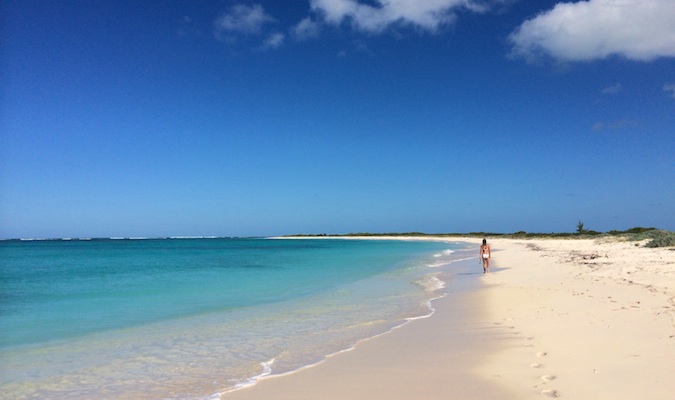 This is going to be the biggest obstacle to overcome. There are few Couchsurfing hosts, no hostels, and, in the BVIs, and a limited (but growing) number of hosts on Airbnb or similar services.
With hotels costing hundreds of dollars per night, it's not a good situation. Here's how to attack the problem:
Couchsurf – You can find plenty of hosts in the USVIs and a few on Tortola in the BVIs. Given that most hosts tend to work on boats, their schedules are erratic, and you're going to have a low response rate, so inquire well in advance. The flip side of that is that when they do respond, they almost always say yes.
But always have a Plan B.
Camp – There are a few campgrounds on the islands that can lower costs: Cinnamon Bay (St. John) (currently closed for renovations), Ivan's White Bay (Jost Van Dyke), and Mt. Victory Camp (St. Croix).
They cost an average of $75 USD a night for a cabin or $25-40 USD if you want to pitch your own tent.
Airbnb – Use Airbnb as a hotel alternative. Rooms start at around $65 USD a night and are your best option for affordable accommodation.
That said, most Airbnb's here are still expensive. There are some budget options if you book early though so if you can plan ahead you'll save a lot of money.
If you can't find a budget Airbnb, camping or sleeping on a boat is your next best option.
If you're on a tight budget, I wouldn't recommend visiting the islands alone. It's much better to go with a friend so you can split accommodation costs.
On the plus side, everyone on the islands is friendly and welcoming. The locals often invite you into their homes, give you rides, contact friends on other islands, and make you part of their family. One night while Couchsurfing, our host got his friend Hamish to give us a ride back home since our host was working. We ended up stopping along the way so Hamish could treat us to dinner.
There was also Oggie, who offered us a spot on his boat if we needed a place to crash; Kirby, who drove us around for a day; and Dan, who took us out on his boat for a sail.
It's a small community on these islands, and once you are "in" with a couple of people, they will do what they can to connect you to their friends on other islands and find you places to stay. I was impressed and amazed at how welcoming they were to strangers.

Transportation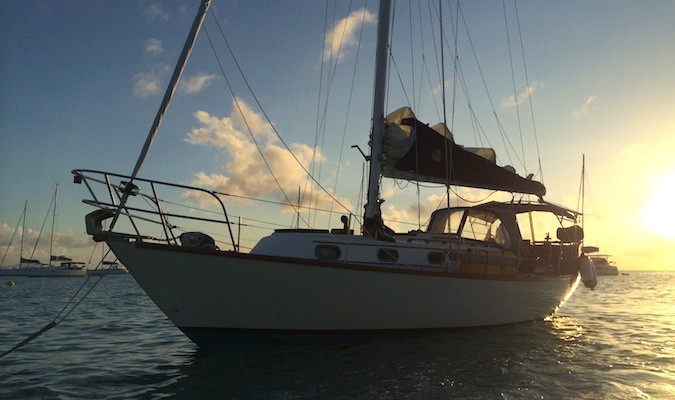 Hitchhike – Taxi prices, regulated by the government, are exorbitant (rides start at $15 USD!). If you aren't careful, you can easily spend upwards of $30-40 USD a day getting around.
An alternative is to just hitch. It's the preferred mode of transportation for locals and tourists alike. Since taxis and cars are expensive, many locals just share cars or hitchhike. Do the same. It's safe and drivers will take groups.
Rent a Car – If you're going to be hitting a lot of spots on the bigger islands like Tortola or St. Thomas, you're going to find it hard to get taxis in some of the more secluded places (they tend to stick around more crowded locations). Expect to pay between $45-55 USD per day for a small car.
Renting a car will give you more flexibility and, if you're splitting costs with friends, will be cheaper than taxis. My friend and I figured out the math toward the end of our trip and kicked ourselves for not thinking about it sooner.
Ask to be dropped off – Taking a day sail but plan on heading to the next island after? Most tour companies will drop you off at no extra charge if the island is nearby. It's a free ferry!
Hitchhike on boats – Want to go from island to island? Hitchhike on the boats and save thousands of dollars. It's actually easy to do. Here's how.
Take shared taxis – The larger islands, such as St. Thomas, St. John, Virgin Gorda, and Tortola, have shared taxi services locals use for just a few dollars each way. They travel between the major towns and, while infrequent, are a money-saver when you can get one.

Food and Drink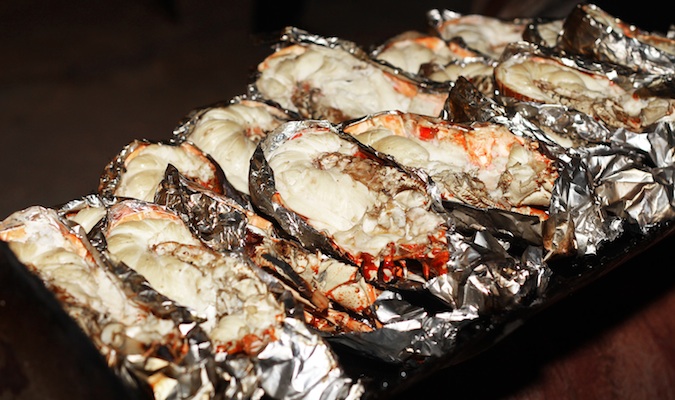 Cook your meals – The cheapest meal I saw around the islands was a small sandwich that cost $9 USD. In general, $10-15 USD will get you a fish or chicken plate or a burger. For main courses, steak, fish, or seafood, you're looking at $20 USD or more.
While groceries tend to be fairly expensive because they have to be imported, there are some cheap options. Five days' worth of food cost me around $60 USD and included pasta, chicken, some fruits and veggies, eggs, and bread.
Hit happy hour – $8 USD drinks add up, even if the pours are super heavy (tax-free rum!). Happy hour specials are half that, with many bars on St. John offering dollar specials. If you want to get sauced, do it early.
Stick to the local venues – The islands are filled with food trucks and tiny mom-and-pop restaurants by the side of the road that cater to locals, not tourists. These roadside stalls offer large, filling meals for about $10 USD. Be sure to find the chicken guy in the main square on St. Thomas. Delicious!

Activities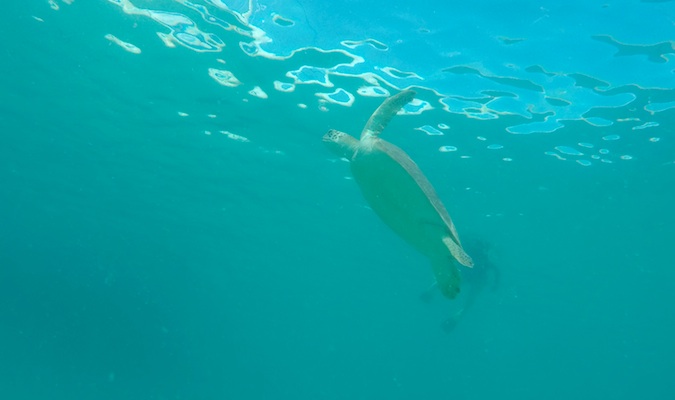 Buy your own snorkel gear – Snorkel rentals cost around $10 USD per day. Bring your own equipment to save money (buying gear on the islands will set you back $50!) while you're taking advantage of the offshore snorkeling opportunities.
Travel in the shoulder season – From October-November and May-June, prices on hotels, activities, and boat rentals are upwards of 50% less than they are during the high season. You get cheap prices and you get to avoid the crowds.
***
I wasn't able to keep my budget as low as I wanted to while on the islands. But that doesn't mean you need to make the same mistakes. With some planning, you can get by on $75-85 USD per day if you visit with friends and follow my advice above.
While visiting the Virgin Islands will never be a budget paradise, you can manage to see and do all the same things as people who book expensive vacations through Expedia and spend hundreds per day, for a fraction of the price. You just need to be smart about it!
Book Your Trip to the Virgin Islands: Logistical Tips and Tricks
Book Your Flight
Use Skyscanner or Momondo to find a cheap flight. They are my two favorite search engines because they search websites and airlines around the globe so you always know no stone is left unturned. Start with Skyscanner first though because they have the biggest reach!
Book Your Accommodation
You can book your hostel with Hostelworld as they have the biggest inventory and best deals. If you want to stay somewhere other than a hostel, use Booking.com as they consistently return the cheapest rates for guesthouses and cheap hotels. My favorite places to stay are:
Don't Forget Travel Insurance
Travel insurance will protect you against illness, injury, theft, and cancellations. It's comprehensive protection in case anything goes wrong. I never go on a trip without it as I've had to use it many times in the past. My favorite companies that offer the best service and value are:
Looking for the Best Companies to Save Money With?
Check out my resource page for the best companies to use when you travel. I list all the ones I use to save money when I'm on the road. They will save you money when you travel too.