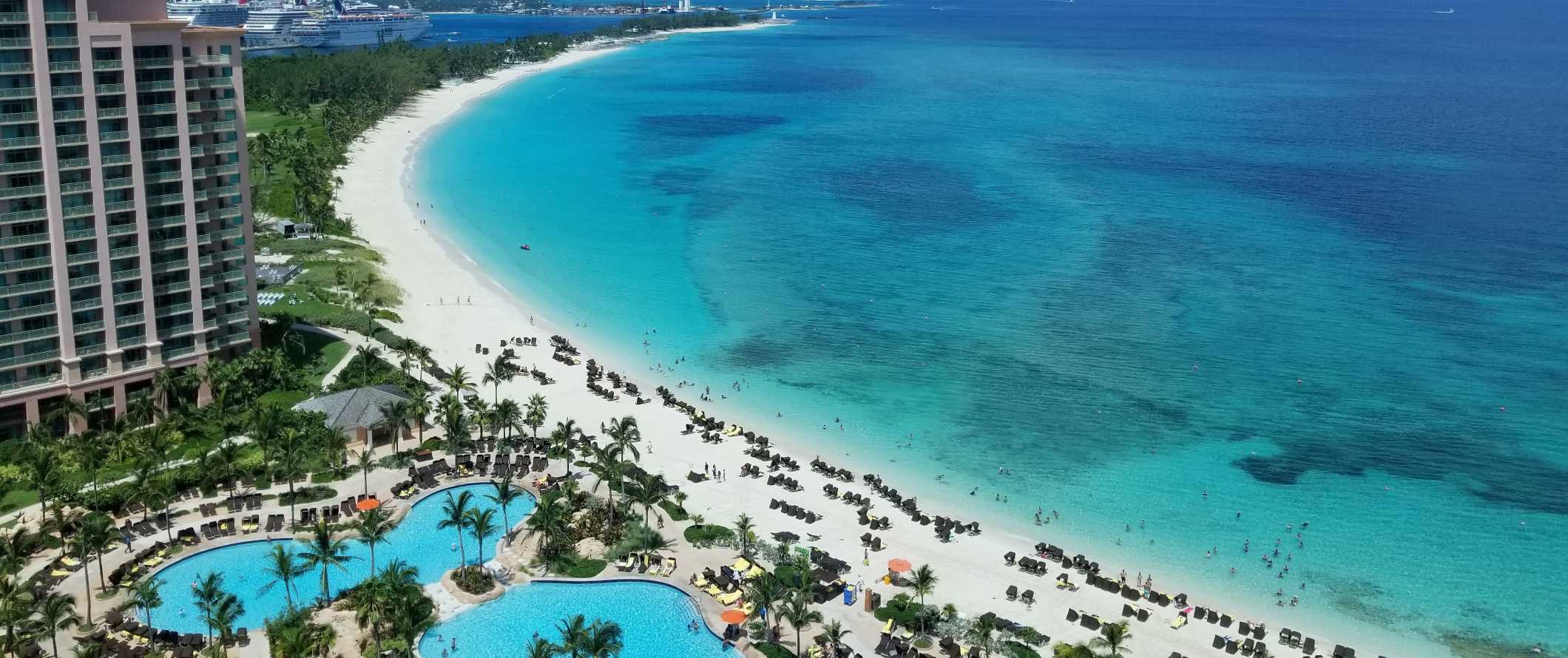 Postcard-perfect beaches, crystalline waters, and a plethora of resorts make the Bahamas a popular destination for millions of tourists every year — especially vacationing Americans and cruisers.
Composed of 700 islands, of which 31 are inhabited, the Bahamas offers more than just upscale resorts. There's a huge range of historical, cultural, and natural attractions in this country. But, like most islands in the Caribbean, it's not a cheap destination to visit.
Fortunately, while you can definitely come here to splurge, you don't have to go home broke if you plan ahead. There are plenty of things to see and do that don't cost an arm and a leg.
This travel guide to the Bahamas can help you save money and make the most of your time in this island paradise!
Top 5 Things to See and Do in the Bahamas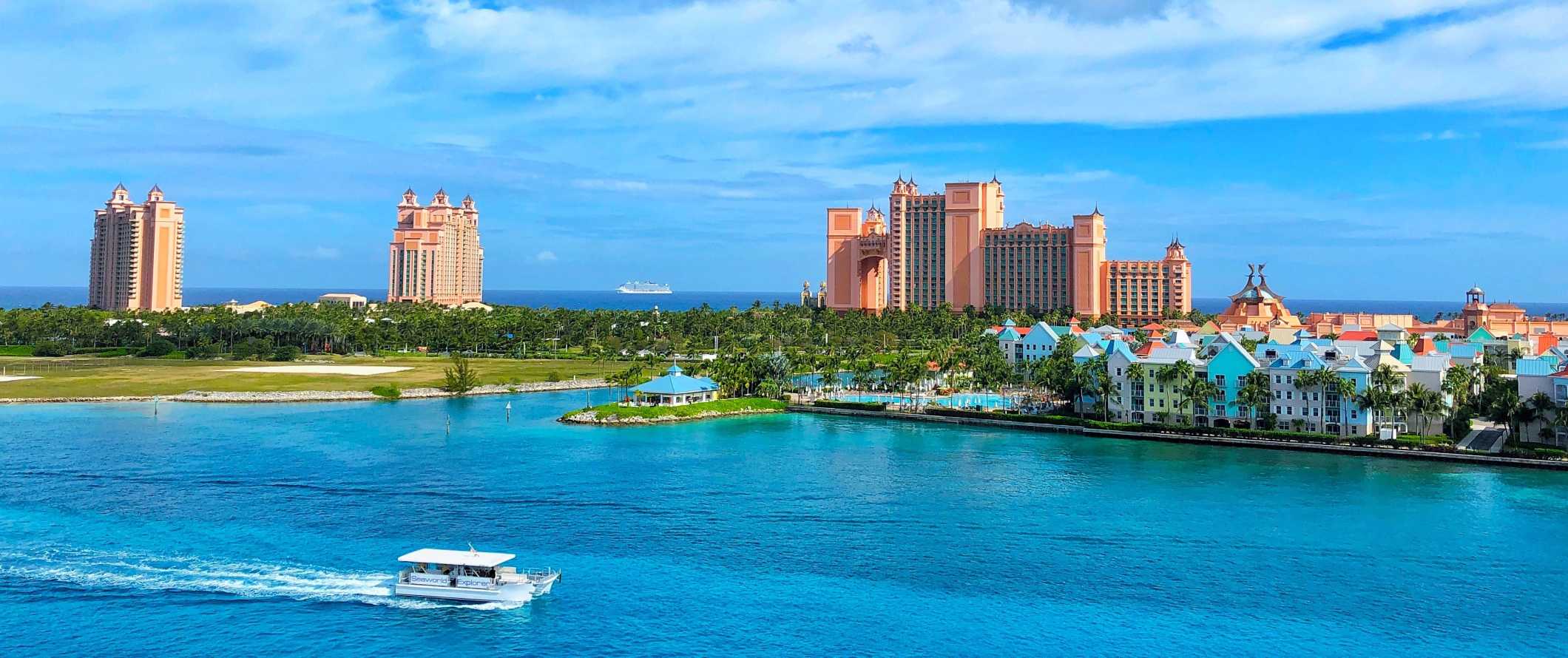 1. Go diving in the Tongue of the Ocean
The "Tongue of the Ocean" is an oceanic trench that runs between Andros Island and New Providence. The Andros Barrier Reef is the third largest barrier reef in the world and is spectacular for diving. This submerged geological feature is actually part of the underwater Great Bahama Canyon and the wall of the trench plunges from 120 feet (about 37 meters) to an almost 6,000-foot drop (nearly 2,000 meters) to the seabed where divers can see turtles, lobsters, tropical fish, and get up close and personal with reef sharks as they swarm in to feed. Two-tank drives are about 110-120 BSD.
2. Indulge at Atlantis
This is one of the most expensive hotels in the world but its water park is fun (albeit pricey) and makes for a nice day trip. It's a tropical luxury experience with perfect white sand beaches and incredible snorkeling. There are a variety of exhibitions and also interactive animal feedings. The Aquaventure Waterpark has 11 pools, huge water slides, river rapids, and rock climbing. If you're a foodie, there are 16 restaurants both fine dining and casual, including some celebrity chef establishments. A day pass to the waterpark is 250 BSD if you're not a hotel guest.
3. Celebrate Junkanoo
Every Boxing Day December 26 and New Year's Day, Bahamians celebrate their national festival, Junkanoo with vibrant parades, music, and costumes. The tradition comes from the history of enslaved African people who were granted holiday celebrations after Christmas and it continued after their emancipation. Today, it's a colorful celebration of life and culture that includes brass bands, drums, cowbells, and whistles, providing the soundtrack for thousands of people dancing in the streets. There's also a mini-festival held in June too.
4. Learn about pirates
The interactive Pirates of Nassau museum is dedicated to the history of piracy during the 'golden years' of 1690 to 1720. You'll walk around replica pirate ships, visit the dungeon, and learn about how pirates set up base here. There are plenty of exhibitions, including displays on female pirates, flags, pirate trials, and treasures and artifacts. There is even an escape room dedicated to the pirate Blackbeard (currently closed due to COVID so check before you go). It's cheesy but fun. Admission is 13.50 BSD.
5. Visit Harbour Island
Harbour Island, located off the northern tip of Eleuthera, is filled with ritzy resorts and stunning white-and-pink sandy beaches. This tiny island is known for having one of the best beaches in the Bahamas — and incredible weather. You can easily spend a day chilling or snorkeling, swimming, and even horseback riding on the pristine beach. It's even more expensive than other parts of the Bahamas, so if you want an upscale place for a holiday, this is it. Otherwise, stay on nearby Eleuthera Island and hop over on a day trip.
Other Things to See and Do in the Bahamas
1. Kayak the Exuma Cays Land and Sea Park
The Exuma Cays is a chain of over 365 islands in the middle of the Bahamas. It has been a protected land and sea park since 1959 — the first marine conservation park of its kind in the world. Spanning over 112,000 acres, the park is home to all kinds of seabirds, as well as groupers and lobsters (much of the area was overfished before the region became protected). Most guided trips are multi-day excursions and cost around 300-325 BSD per day. You can set out on your own kayaking trip for about 50 BSD per day with a rental from Out Island Explorers.
2. Tour the Garden of the Groves
Located on Grand Bahama Island, this 12-acre eco-tourism park is home to alligators, exotic birds, 10,000 different species of plants, four waterfalls, and dozens of lakes. It's a good place to wander and learn about the ecology of the islands. Admission is 17 BSD.
3. Explore Lucayan National Park
This 40-acre park in Grand Bahama is home to the world's largest underwater limestone cave system. Most caves are only accessible to experienced divers, although two caves are open for swimming. For everyone else, there are various hiking trails that wind throughout the pine forest and along Gold Rock Beach. Definitely visit Ben's Cave and Burial Mound Cave while you're here. Admission to the park is 11 BSD and guided tours are 15 BSD.
4. Hang out at Port Lucaya Marketplace
This 12-acre open-air shopping complex in Freeport has more than 60 shops, a dozen restaurants, 90 vendors, two dozen artists, hair braiders, and even live music. You'll find great bargains on hand-crafted goods and one-of-a-kind items. It's touristy, but the locals hang out here too, and there's plenty to keep you busy. Come here to browse, shop, and people-watch.
5. See Fort Charlotte
Fort Charlotte overlooks the harbor in Nassau and dates to the 1780s. Constructed by British Lord Dunmore, the fort has a large moat, cannons, hidden passageways, and dark dungeons to explore. It was never actually used for defense as it was over budget and poorly designed. For that reason, the fort was nicknamed "Dunmore's Folly" and abandoned entirely. It's free to visit.
6. Swim with the pigs
The Bahamas is the official home of the swimming pigs, a group of twenty or so world-famous pigs and piglets living on Pig Beach. Nobody knows how they got there as Big Major Cay is uninhabited and the pigs are not native to the island. You can only get there by boat, and tours aren't cheap — they start around 250 BSD from Nassau or George Town for a full-day trip, but you'll get lots of extras like snorkeling gear, lunch, and an open bar. A half-day tour with Four C's Adventures starts from about 160 BSD per person for three hours. And Pearl Island Bahamas has a 5-hour trip with lunch for 190 BSD. If you're traveling with friends you can also charter a boat, but it'll be significantly more expensive.
7. Tour the John Watling's Distillery
Located in an 18th-century estate, this distillery in downtown Nassau makes delicious homemade rum, which you can sample as you tour the facilities. If rum isn't your drink of choice, they also make a tasty vodka filtered with pink sand from Eleuthera. Tours are free.
8. Relax on the beach
If you just want to plop down on a sandy beach and relax with a tropical cocktail, you'll have plenty of options to choose from. Cable Beach and Jaw's Beach are both located near Nassau and are popular choices. Gold Rock Beach on Grand Bahama Island is worth the trip for crystal clear waters, a white sandy beach, and pure relaxation. The shallow waters with perfect visibility here make for some prime snorkeling opportunities too. On Eleuthera, don't miss French Leave Beach and Pink Sands Beach.
9. Take a food tour
One of the best ways to sample all the local dishes and learn some of the history and culture behind them is via a food tour. Tru Bahamian Food Tours is one of the most popular choices, offering a couple of different food tours in Nassau. Their main tour lasts five hours and stops at six different eateries, providing ample opportunity to indulge your foodie dreams.
10. See the Ocean Atlas
Located near Nassau, this sculpture by artist Jason deCaires Taylor is located 16 feet (5 meters) underwater. Standing 16 feet tall and weighing some 60 tons, it's the biggest underwater sculpture in the world, designed to hopefully stimulate coral growth in the area. You can swim or snorkel to see it up close.
For information about other Caribbean destinations, check out these guides:
Bahamas Travel Costs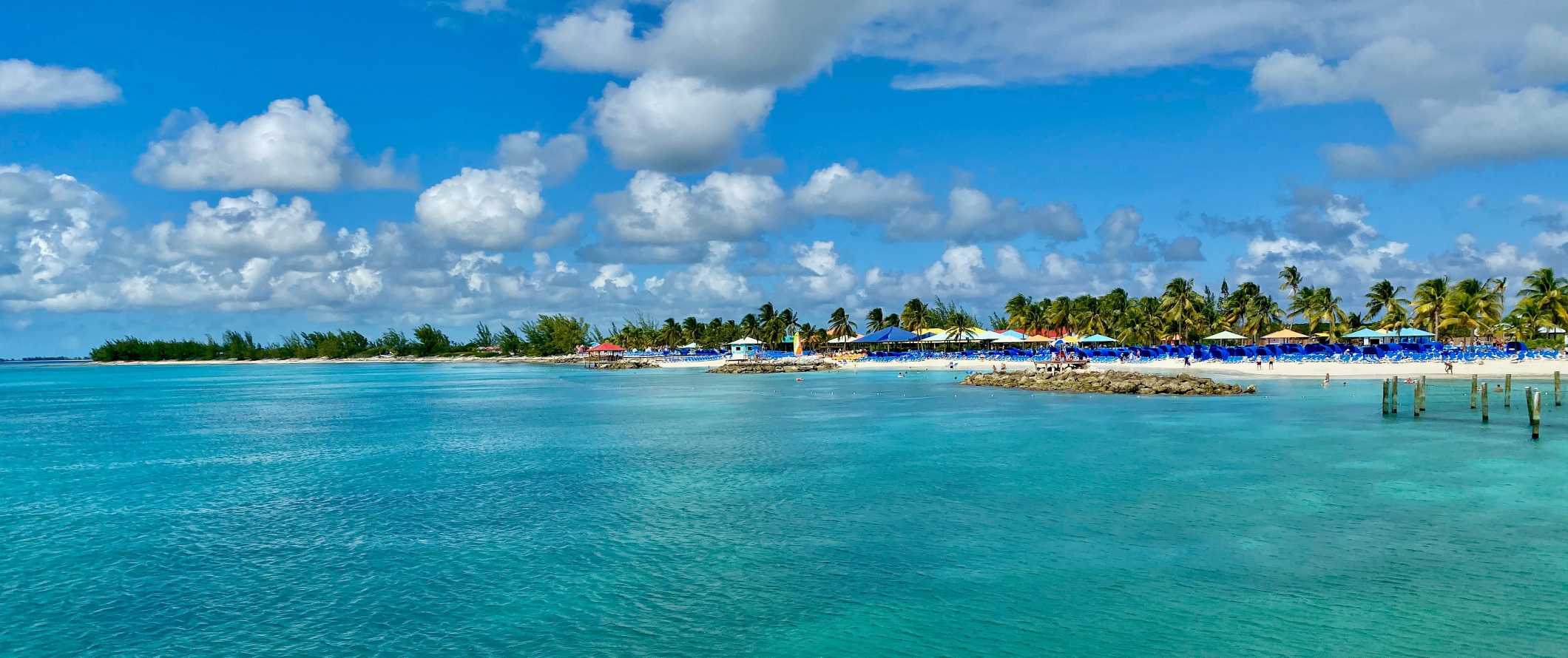 Hostel prices – Lodging in the Bahamas is expensive. There are virtually no hostels here since it's a luxury destination and camping on the beach or on public land is strictly prohibited. Your best bet is to go with either a budget hotel or Airbnb.
Budget hotel prices – Budget three-star hotels start at 100-150 BSD per night. Expect basic amenities like free Wi-Fi and AC. A few hotels also include free breakfast.
Airbnb is available in the Bahamas, with private rooms ranging from 100-140 BSD per night. An entire home/apartment averages 180-240 BSD per night. Book early or prices will double.
Food – Unsurprisingly, traditional cuisine in the Bahamas relies heavily on seafood. Fish, shellfish, and lobster are all common staples, though the national dish is conch (a large sea snail). Tropical fruits and pork round out the diet, with rum being the local drink of choice. Expect to see dishes like stewed fish, johnnycakes (a cornmeal flatbread), baked crab, peas and rice, and cracked conch (deep-fried conch).
While there are lots of places to splurge here, one of the best ways to eat cheap is to do a fish fry. For about 12-15 BSD, restaurants serve you a big plate of delicious seafood, potato salad, Bahamian macaroni and cheese, and peas and rice.
You can grab a breakfast of grits from a food cart for less than 3 BSD, while a plate of fish tacos or chicken wings from a food truck is around 10 BSD.
Bakeries and cafes serve filling fast food like Jamaican-style patties starting from 3 BSD. For meals like clam chowder or jerk chicken, expect to pay 8-15 BSD. Meals at a western restaurant start from 15 BSD for a burger with fries, while fast food (think McDonald's) costs about 8.50 BSD for a combo meal.
For fine dining, you'll spend 40-50 BSD for an entrée like lamb or pork loin from a resort or high-end restaurant.
Beer is around 5 BSD, as is a latte or cappuccino. Bottled water is 2 BSD.
If you plan on cooking your own food, expect to spend around 60-70 BSD per week for groceries. That gets you basic staples like rice, seasonal vegetables, and some chicken or seafood.
Backpacking the Bahamas Suggested Budgets
If you're backpacking the Bahamas, my suggested budget is around 140 BSD per day. This covers staying in a private Airbnb room, cooking all your meals, limiting your drinking, taking cheap public transportation to get around, and sticking to mostly free activities like swimming and hiking. If you find a spot at one of the hostels, plan on 100 BSD per day.
On a mid-range budget of about 195 BSD per day, you can stay in a budget hotel, eat out for most meals, have a few drinks, take the occasional taxi to get around, and do more paid activities like rent a kayak or go diving.
On a "luxury" budget of 340 BSD or more per day, you can stay in a nice three-star hotel, eat out anywhere you want, drink more, island hop, and do whatever activities you want. This is just the ground floor for luxury though. The sky is the limit!
Accommodation
Food
Transportation
Attractions
Average Daily Cost
Backpacker
100
15
10
15
140
Mid-Range
100
45
20
30
195
Bahamas Travel Guide: Money-Saving Tips
The Bahamas is expensive as it mostly caters to vacationers who want to splash out on luxury. However, with a little creativity, you can manage to visit without going bust. Here are some ways to save money in the Bahamas:
Stay with a local – Use Couchsurfing to stay with locals for free. It's not fancy, but you'll save money and get to connect with a local who can share their insider tips and advice. There aren't a lot of hosts here, however, so send your requests early.
Use nightclub passes – Many hotels and even taxi drivers will sell you a discounted pass to get into the clubs around town. This is a particularly good value if you are visiting on a weekend when cover charges may be 50 BSD at a swanky spot.
Drink rum – Imported alcohol is expensive in the Bahamas so stick to local rum if you're going to be drinking
Get free stuff – Many hotels offer free use of snorkeling equipment, include free breakfast, and arrange free or cheap organized excursions. Always ask to see what free stuff is available!
Bring a water bottle – The tap water here is safe to drink so bring a reusable water bottle to save money and reduce your plastic use. LifeStraw is my go-to brand as their bottles have built-in filters to ensure your water is always clean and safe.
Look for discounts – The Bahamas tourism website (nassauparadiseisland.com/deals) often lists great one-off deals, like discounted hotel rooms or book-a-third-night-free deals. Check it out before you book to see if anything catches your eye.
Cook your own food – Eating out for every meal will ruin your budget. Cook your own meals to save money. It won't be fancy, but you can use those savings for fun activities instead!
Where to Stay in the Bahamas
Budget accommodation is severely limited in the Bahamas so you'll need to plan ahead and book early. Here are a few suggested places to stay:
How to Get Around the Bahamas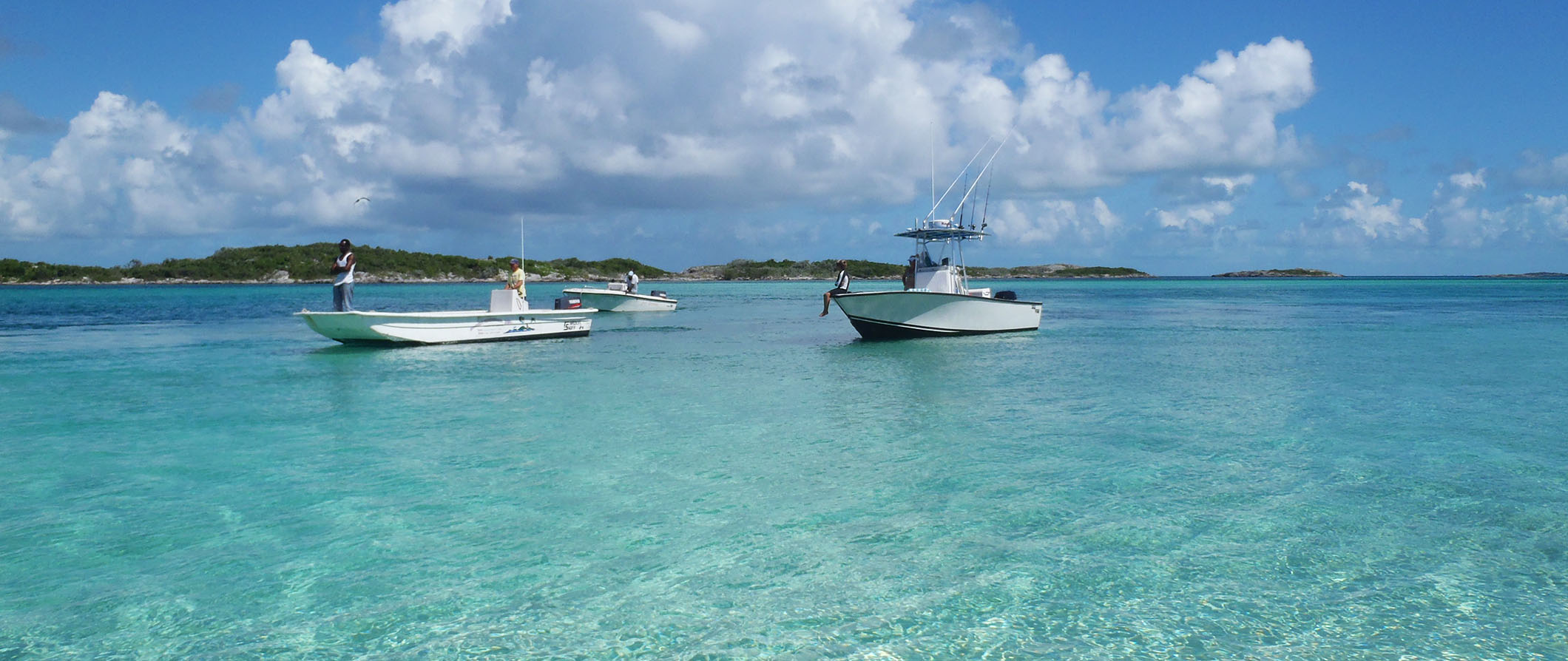 Fly – You can fly between islands quickly and conveniently, especially to the more remote areas. Bahamasair, Pineapple Air, and Western Air all operate within the islands. A flight from Nassau to Eleuthera takes 20 minutes and costs about 115 BSD, while Nassau to George Town (Exuma) is a 40-minute flight for around 135 BSD. The longest route is Nassau to Inagua, which is about 165 BSD and takes 90 minutes.
Ferry – The ferry service in the Bahamas is run by Bahamas Ferries, with frequent high-speed services between Nassau and Eleuthera, and less frequent services between Nassau and Andros, Long Island, and Grand Exuma. Some of these routes take a long time (Nassau to Long Island is 19 hours and only runs once a week). Prices vary so ask your accommodation for a current price list.
Bus – In Nassau, you can take private minibusses (also known as jitneys) everywhere, with fares between 1.25-2.50 BSD. It's a pretty casual service and there's no real timetable or set route so you'll have to ask the driver about your destination. Freeport also has jitneys to Port Lucaya but these services often do not run at night though.
Taxi – Taxis in the Bahamas are safe and reliable, and readily available everywhere in Nassau and Freeport (less so in smaller towns). Their base rate is 4.50 BSD and then 3.75 BSD per additional mile. They add up fast, however, so skip them if you can.
Water taxi – There are often water taxis navigating back and forth between Nassau and Paradise Island, as well as taxis that run shorter routes between Mangrove Cay and South Andros. Fares depend entirely on the company but usually cost around 20 BSD.
Car rental – This is one of the best ways to get around (especially if you're sharing a ride). Rentals aren't cheap, costing around 60 BSD per day, however, if you can share a ride you'll save money and have a lot of flexibility. Just remember that you'll be driving on the left! For the best car rental prices, use Discover Cars.
Hitchhiking – Hitchhiking is somewhat common on the more remote islands, though its popularity has waned in recent years. For more information and tips, use Hitchwiki.
When to Go to the Bahamas
Mid-December to mid-April is the country's peak tourist season and this is the best time to visit for hot temperatures as daily highs range between 26-28°C (80-84°F).
Although peak season is when room rates are the highest and tourist crowds are the thickest, I still recommend going during this time to avoid hurricane season (which is between June-November). Otherwise, you'll be at risk for tropical storms, and most of those months also fall into the region's rainy season, which will prevent you from enjoying all the Bahamas' natural wonders!
How to Stay Safe in the Bahamas
While the Bahamas are mostly considered safe, there are some areas of Nassau that experience more crime. Avoid the city's "over the hill" (south of Shirley Street) after dark, especially if you're alone.
That said, most of this crime is targeted at other Bahamians so you don't need to worry too much. Just follow normal common sense precautions. Don't leave your valuables out in the open at the beach (or anywhere). If you rent a vehicle, don't leave any valuables in it overnight as break-ins can occur.
Scams are rare but you can read about common travel scams to avoid here.
Solo female travelers should generally feel safe here. However, the standard precautions apply (never leave your drink unattended at the bar, never walk home alone intoxicated, etc.).
If you experience an emergency, dial 911 or 919 for assistance.
The most important piece of advice I can offer is to purchase good travel insurance. Travel insurance will protect you against illness, injury, theft, and cancellations. It's comprehensive protection in case anything goes wrong. I never go on a trip without it as I've had to use it many times in the past.
Bahamas Travel Guide: The Best Booking Resources
These are my favorite companies to use when I travel. They consistently have the best deals, offer world-class customer service and great value, and overall, are better than their competitors. They are the companies I use the most and are always the starting point in my search for travel deals.
Skyscanner – Skyscanner is my favorite flight search engine. They search small websites and budget airlines that larger search sites tend to miss. They are hands down the number one place to start.
Hostelworld – This is the best hostel accommodation site out there with the largest inventory, best search interface, and widest availability.
Booking.com – The best all around booking site that constantly provides the cheapest and lowest rates. They have the widest selection of budget accommodation. In all my tests, they've always had the cheapest rates out of all the booking websites.
Get Your Guide – Get Your Guide is a huge online marketplace for tours and excursions. They have tons of tour options available in cities all around the world, including everything from cooking classes, walking tours, street art lessons, and more!
SafetyWing – Safety Wing offers convenient and affordable plans tailored to digital nomads and long-term travelers. They have cheap monthly plans, great customer service, and an easy-to-use claims process that makes it perfect for those on the road.
LifeStraw – My go-to company for reusable water bottles with built-in filters so you can ensure your drinking water is always clean and safe.
Unbound Merino – They make lightweight, durable, easy-to-clean travel clothing.
Top Travel Credit Cards – Points are the best way to cut down travel expenses. Here's my favorite point earning credit cards so you can get free travel!
Bahamas Travel Guide: Related Articles
Want more info? Check out all the articles I've written on backpacking/traveling the Caribbean and continue planning your trip: