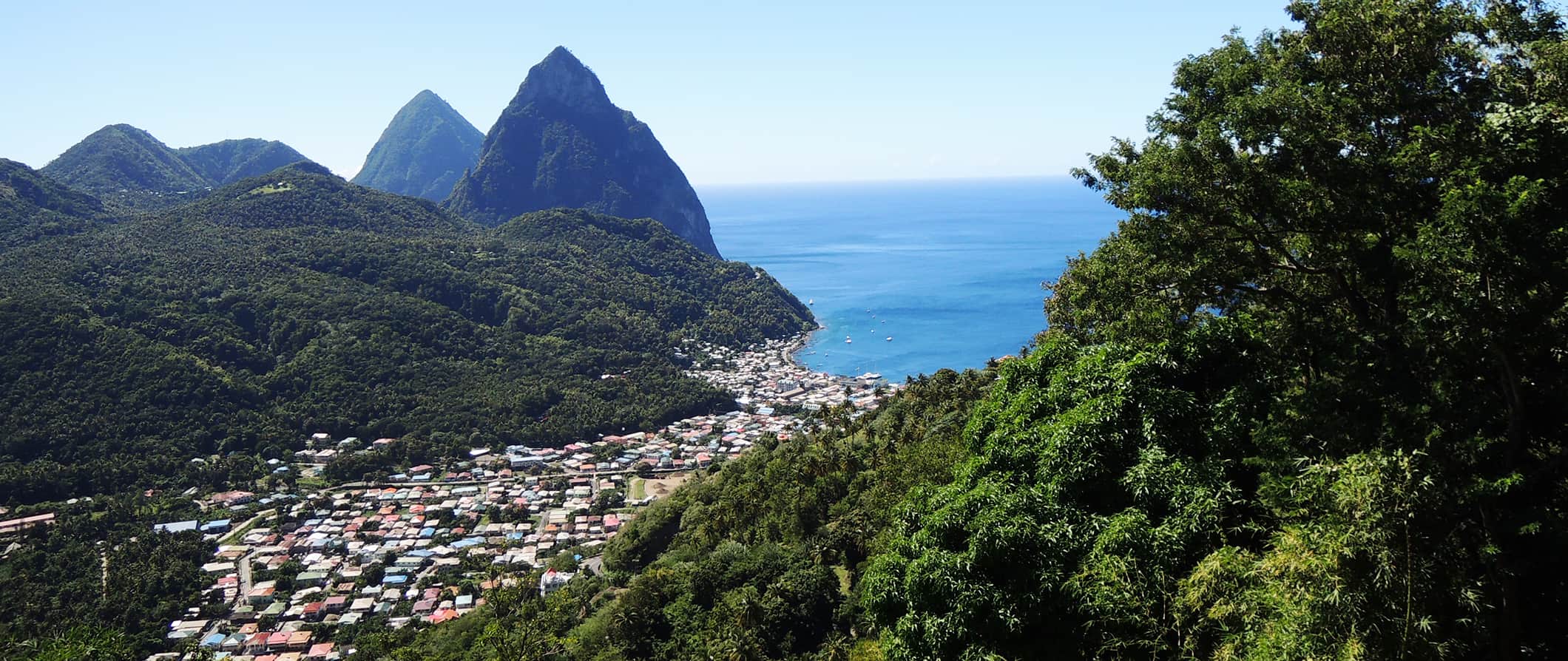 St. Lucia is best known as a romantic getaway. Who doesn't love a tropical island with long, sandy beaches, and beautiful, natural surroundings? The island is filled with beautiful birds, orchards full of bananas, coconuts, mango, and papaya trees, world class diving, white sand beaches, and crystal blue water. This place is paradise on earth and I love coming here (my cousins used to own a B&B here). Use this travel guide to plan your next trip!
Top 5 Things to See and Do in St. Lucia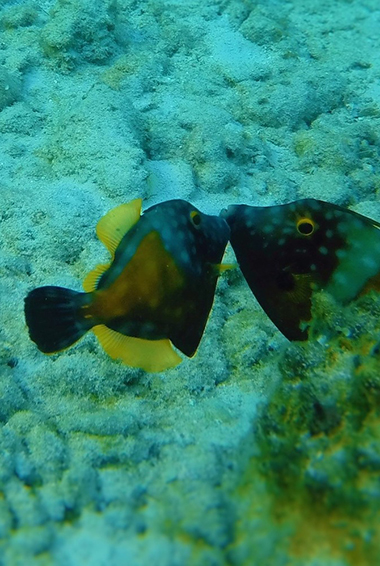 1. Go snorkeling and scuba diving
St. Lucia is a great place to explore the ocean. Its clear waters and vast array of sea creatures to study make it a relaxing and rare experience that you'll want to do again and again. Diving costs start around 260 XCD and snorkeling costs start around 240 XCD.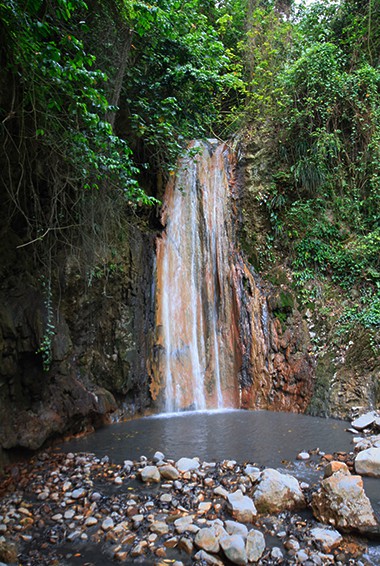 2. Experience Diamond Falls
The Diamond Falls waters are laced with minerals as its stream emanated from rainwater mixed with volcanism which also gives the 50 foot tall falls a beautiful colorful appearance. There are of course other waterfalls to admire on the island, but this one stands out from the rest. Admission is 19 XCD.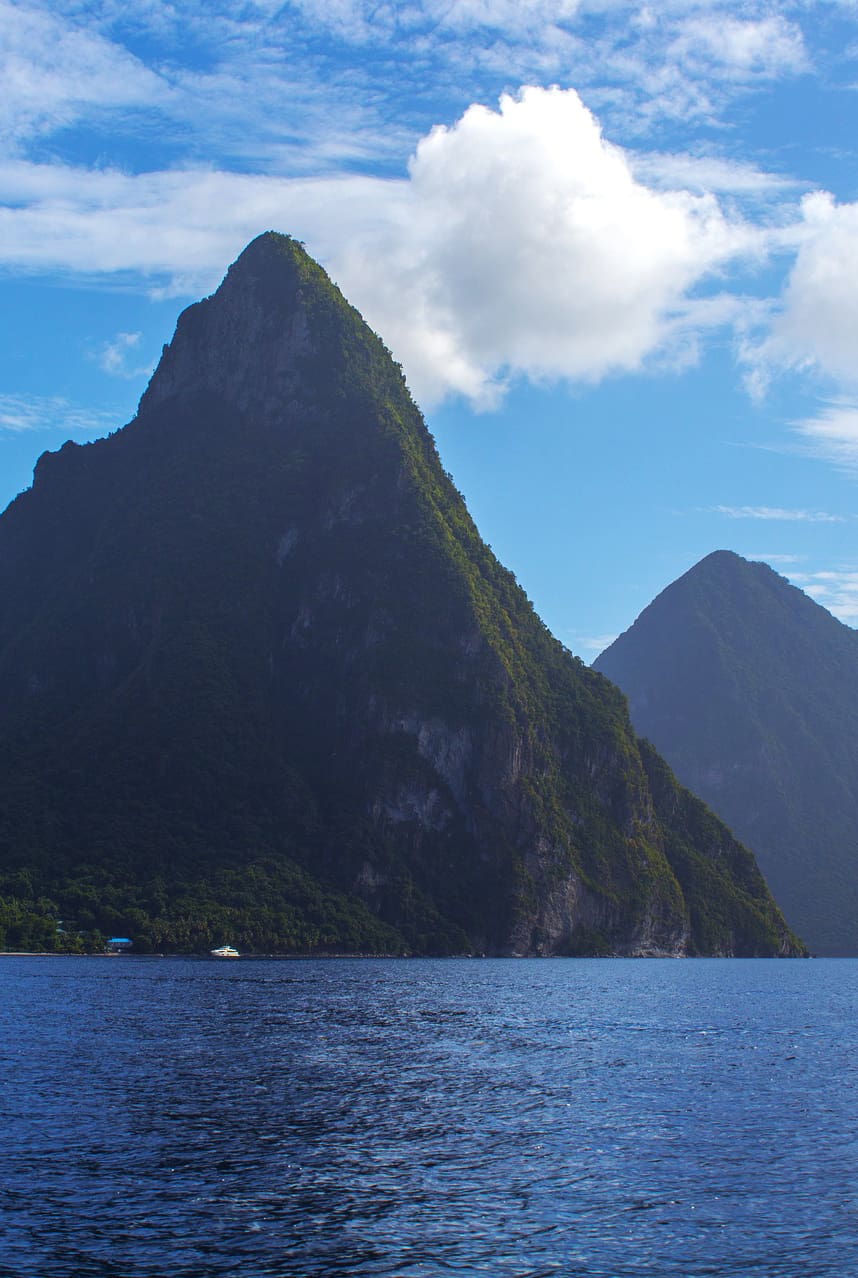 3. Tour the Pitons
The Pitons are two now dormant volcanoes, Gros and Petit Piton. Take a guided tour to them and marvel at the view from the top. The Gros Piton hike is a challenging 2 hours from the trailhead at 600 feet to the summit point at 2600 feet. It is a requirement to have a guide. A guided tour costs around 340 XCD.
4. Visit Castries
Castries is the capital of the island, and history buffs will enjoy its historical site of the La Toc Battery, its Cathedral, and the Central library. Check out the Morne Fortune (Hill of Good Luck) where the French began constructing a fortress which was then finished by the British in the 17th century.
5. See Pigeon Island
Pigeon Island, an islet situated on the west coast, is a nature park where there are marked trails with lots of historical sites like the remains of an 18th-century British fort and Fort Rodney. Admission is 19 XCD.
Other Things to See and Do
(Click the title to expand the text)
1. Go birdwatching
St. Lucia offers many opportunities to spot beautiful birds. The Bois D'Orange Swamp, the Rain Forest, and Boriel's Pond are the best places to go bird spotting. Local species include the St. Lucian Parrot, the White Breasted Thrasher, the St. Lucia Peewee, the St. Lucia Oriole, and the St. Lucia Wren.
2. Explore the weekly market in Castries
This is a large market where the vendors are more than happy to chat and tell you about their products. It is vibrant and has lots of interesting things to look at and to buy including baskets, mahogany statues and bowls, and souvenirs.
3. Hike the trails
The Barre de L'isle Rain Forest Trail includes a climb to the top of Morne la Combe (though it's steep). The hike takes three hours in total. The Union Nature Trail is one of the best trails to take.
4. Swim in the Sulfur Springs
These hot springs are just south of Soufriere and one of the main attractions on the island. There is a distinctive pool that water is constantly flowing through, so remember to take your swim suit. It's open daily from 9am-5pm. Access to the baths costs 13 XCD.
5. Go zip-lining
Looking for an adventurous break from sun-tanning? Try zip-lining through the rain forest canopy in St. Lucia. Expect to pay around 200 XCD for the use of twelve different zip-lines.
6. Tour the Marquis Estate
There are lots of plantation tours on the island, and visiting Marquis Estate is just one of those Saint Lucia has to offer. It is situated just outside Castries and is the largest estate on the island. The tour includes a visit to an old sugar mill as well as a guided tour along the north coast of the island, a boat ride on the Marquis River, and lunch in the working plantation house.
7. Visit Gros Islet
These weekly entertainment nights in the village of Gros Islet go on every Friday night for locals and visitors alike. There are street music and vendors selling local food, drinks and a general carnival atmosphere that puts everyone in a good mood. Other activities on the island include deep sea fishing, water-skiing, windsurfing, golf, tennis, and horse riding.
Typical Costs
Accommodation
– St. Lucia has no shortage of resorts, but for people looking for cheaper accommodation, budget hotels start at around 135 XCD per night. Use
Booking.com
as they consistently return the cheapest rates. Using
Airbnb
, you can find private rooms or even entire apartments starting around 125 XCD per night, although you'll find more inventory starting around 215 XCD and up. There's no hostels or campgrounds on the island.
Food – You'll find food typical of the Caribbean here: dishes with lots of beans, plantains, rice, sweet potatoes, coconut, pork beef, chicken, and fish. Lunch and casual meals cost between 12-25 XCD, with prices for dinner starting at 40 XCD. Fruit is cheap here, and delicious! Avoid restaurants near cruise ports and resorts, find the local markets and cook your food as often as you can. Rarely are the fancy meals worth their exorbitant price!
Transportation – Buses can be very unreliable and run infrequently, so taxis are what most people use unless you rent a car. A bus ride around the island will be about 7 XCD, with taxis costing around 5 XCD for a trip around Castries. Water taxis are available if you'd like to go between the coastal towns. You can also take the bus. A ride from Soufriere to Vieux Fort takes about 3 hours and costs 19 XCD.
Activities – In general, activities are inexpensive at around 10-25 XCD. Diving, however, is expensive. Expect to pay around 260 XCD for a single tank dive.
Suggested daily budget
300-500 XCD / $110-200 USD (Note: This is a suggested budget assuming you're staying in a cheap hotel, eating at the cheaper restaurants, cooking a meal or two, and using local transportation. If you stay in fancier accommodation or eat out more, expect this to be higher!)
Money Saving Tips
Go duty-free – St. Lucia has a wealth of duty-free shops where you can pick up discounted designer goods such as perfumes and jewelry, etc.
Book online – If you're planning on going diving, or doing any other expensive activities, be sure to check online for discounts before. You can usually find some deals if you do a bit of research.
Travel off season – From May-October, you'll find huge discounts on accommodation and activities. It's worth it to travel during the low season here.
Get food at the supermarkets – Buy food in the supermarkets, and cook your own meals. Restaurants are expensive here as they cater mostly towards travelers with a large budget.
Travel off-season – Prices for vacations plummet the third week in April. You can save 30% or more are possible during the "summer" season (April–December 21st).
My Other Must Have Guides For Traveling to St. Lucia