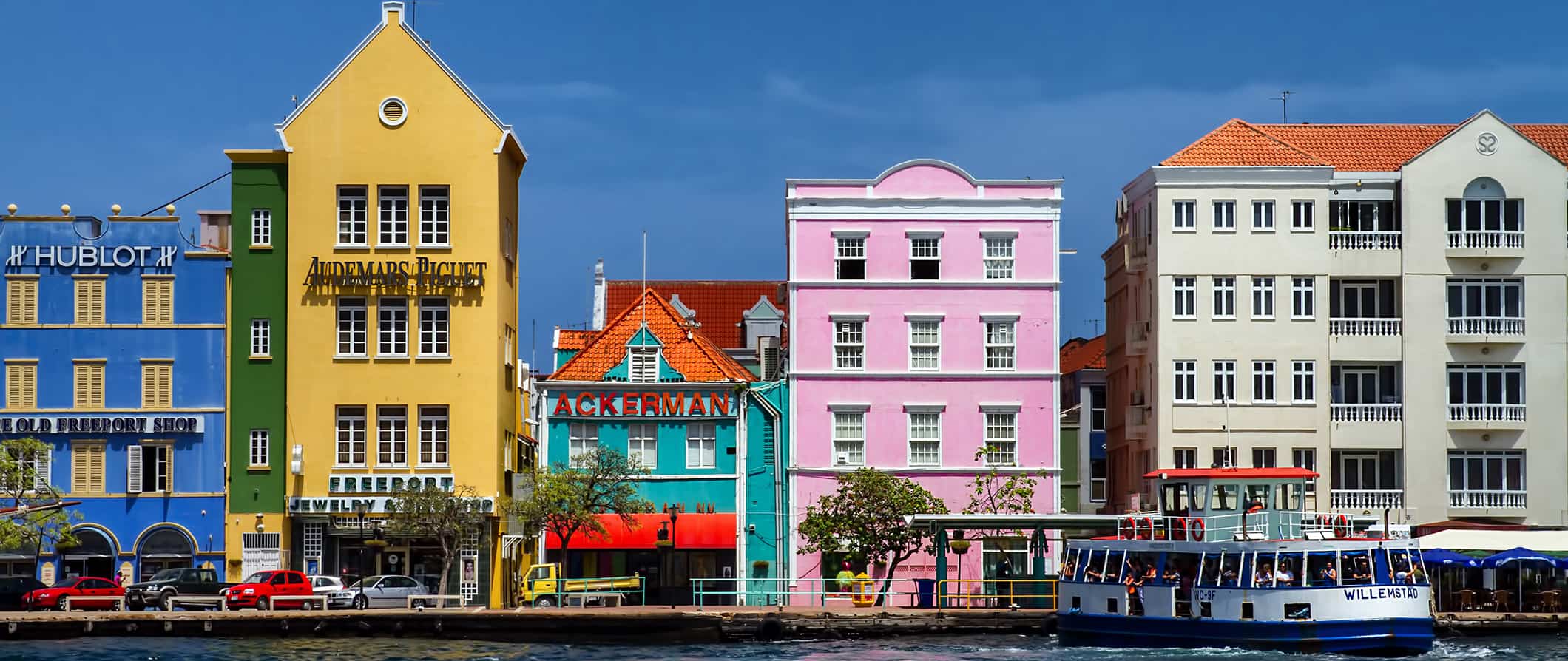 Teamed with Aruba and Bonaire, Curacao is one of the three "ABC" islands of the Lesser Antilles in the Caribbean. As the largest and most populated of the Netherlands Antilles, Curacao has the most going on and the most "social life." The island capital, Willemstad, is a bustling city with brightly colored Dutch architecture, and its Old Town area is a designated World Heritage site. There are a lot of resorts on the island but once you leave the resorts, you'll find a lot of delicious restaurants and more interesting activities. That being said, I didn't love Curacao. I liked it and I'm glad I went but I didn't love it the way other people do. I'm more in like with it. You'll just have to go and figure it out yourself!
Top 5 Things to See and Do in Curacao
1. Dive the Mushroom Forest & the Cave
As Curacao's best diving spot, Mushroom Forest teems with marine life. The base of the corals have been slowly eroded by waves, fish, sponges, and clams over time, creating the appearance of huge mushrooms growing on the ocean floor. In general, dives on Curacao for pre-certified divers costs between 100-200 ANG.
2. Get spooked by the Hato Caves
These eerie caves are steeped in history—escaped slaves would hide in them for weeks or even months at a time. You can take a guided tour and see the stalagmites, stalactites and cave drawings, which date back 1,500 years. Admission is 14 ANG and it's open daily from 9am-4pm.
3. Walk through Willemstad
The architecture here is really unique and the colors of the buildings are eye-catching and create a great opportunity for an afternoon stroll. It's like visiting a colorful and tropical version of Amsterdam (after all the Dutch did colonize the island). The town is pretty small so it won't take you long to wander the streets.
4. Bike or walk around Christoffel Park
Rent a mountain bike or walk around this expansive national park, which is filled with deer, 10 ft-high cacti, iguanas, rabbits, and rare plant life. Admission is 21 ANG and it's open daily from 7:30am-4pm, except Sundays, when it's open 6am-3pm.
5. Explore the Superior Producer underwater
This ship sank in 1978, and its cargo of whiskey and clothes washed up on the coast of Willemstad. These days, the shipwreck makes for one of the coolest dive spots around the island as the entire vessel has been taken over by coral and sea life. Generally-speaking, pre-certified divers can dive for 100-200 ANG in Curacao.
Other Things to See and Do
(Click the title to expand the text)
1. Relax on Daaiboo Beach
Curacao has beautiful beaches, but you might find some of the more popular hot spots too crowded. By sidestepping Blauwbaai (the obvious choice) and going for Daaiboo Beach, you'll get to enjoy white sands and a turquoise sea in relative peace and quiet.
2. Party at the Mambo Beach Club
There are plenty of nightclubs on the island, but for the best Caribbean beach party, go to Mambo Beach Club. The beach is transformed into an open-air nightclub where the trendy youth mix with tourists. Live music and DJs keeping the party going.
3. Join in the Curacao Carnival
January marks the beginning of the Curacao Carnival which is a mixture of a street party, theater, art, culture, history, cuisine, and folklore. The Carnival ends with the burning of King Momo at midnight. The life-sized, straw-filled effigy symbolizes infertility, sins, and bad luck. What's exciting is that this effigy isn't just burned, it's blown up in an explosion of fireworks.
4. Take a canoe safari
These leisurely trips give you plenty of time to explore the beauty of the shoreline while taking in the best snorkeling spots and visiting unspoiled beaches.
Typical Costs
Accommodation
– You can expect to pay about 30-55 ANG per night for a dorm room in a hostel and about 70-110 ANG for a private room that sleeps two. You can book your hostel with
Hostelworld
. A night in a room that sleeps two at a 2-star budget hotel starts at 110 ANG. This price includes basic hotel amenities, like television, private bathrooms, air-conditioning, and free WiFi. Use
Booking.com
as they consistently return the cheapest rates. The best way to get inexpensive accommodation here is to use
Airbnb
. It offers the best deal. You can rent entire homes (including studio apartments) starting at 50 ANG but you'll find more options starting around 90 ANG.
Food – Curacao has many upscale restaurants, but for travelers on a budget there are also many fast food chains and American style eateries. Sandwiches, burgers, and other cheap Western food cost about 17-26 ANG per meal. If you can, stick with local cuisine, especially at the markets in Willemstad. My favorite spot in the main market is Gracia Di Dios. For meals at the resorts or fancier restaurants, expect to pay 53 ANG or more for an entree with a drink. Groceries will cost about 125 ANG per week for basic foodstuffs like pasta, vegetables, chicken, rice, etc.
Transportation – A taxi from one end of Willemstad to the other will cost around 18 ANG. Taxis from Willemstad to Mambo Beach are about 52 ANG. If you're going to other points on the island, expect about 88 ANG. Buses are reliable and are about 2 ANG for a single fare to most parts of the island. However, buses outside the Willemstad area run very infrequently and, if you miss one, you'll be stuck waiting hours. (If you get stuck, many people will give you a ride back to Willemstad.) Renting a car is the best way to get around and will cost about 80 ANG per day.
Activities – Like most Caribbean islands, Curacao is popular with divers, snorkelers, and fishermen. These kinds of organized activities cost around 220 ANG. The Christoffel Park entrance fee is 21 ANG and the Sea Aquarium is 37 ANG.
Suggested daily budget
106 ANG / $60 USD (Note: This is a suggested budget assuming you're staying in a hostel, eating out a little, cooking most of your meals, and using local transportation. Using the budget tips below, you can always lower this number. However, if you stay in fancier accommodation or eat out more often, expect this to be higher!)
Money Saving Tips
Have a BBQ – BBQ-ing on the beach is a popular local activity and can help you save a lot of money on food.
Skip the taxis – The taxis here are very, very expensive. They should be avoided at all costs.
Rent a car – Getting your own set of wheels is the most economical and convenient way to get around to the far parts of the island. Not renting one was my biggest mistake when I visited Curacao.
Get food at the supermarkets – Buy food in the supermarkets, and cook your own meals. Restaurants are expensive here as they cater mostly towards travelers with a large budget.
Travel off-season – Prices for vacations plummet the third week in April. You can save 30% or more are possible during the "summer" season (April–December 21st).
My Must Have Guides For Traveling to Curacao