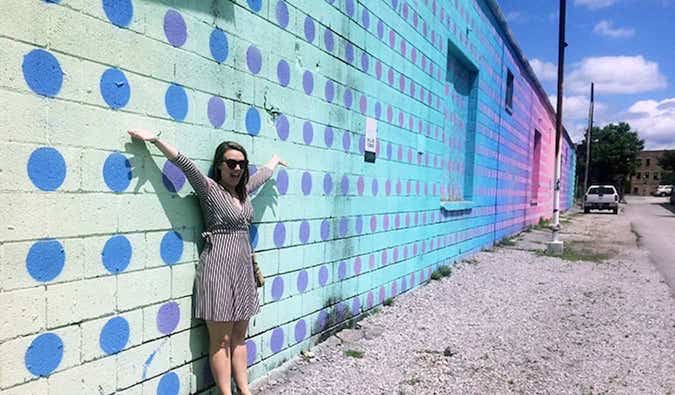 Posted: 02/18/19 | February 18th, 2019
I love the South. Over the years, it has become one of my favorite parts of the United States. Before I went traveling, I always had this perception that the southern states were backward. They were filled with racists, yokels, and obese, gun-loving, Jesus freaks. It was a perception born out of a quarter-century of living in New England and consuming mass media and stereotypes about a people and place I really didn't know anything about.
Then, at the start of my grand trip in 2006, I drove across the United States. As I made my way through the South, I fell in love with the region. I loved the food, the people, the scenery, the architecture. My perception of the South was wrong.
Yes, it has a lingering history of racism, poverty, and is more conservative than I personally am, but no place is perfect — and no place is like the stereotypes you see. Driving through the South was the first instance in which I really confronted the stereotypes about people and places I grew up with.
I repeated the road trip in 2015 and fell deeper in love with the region. And I oddly found Mississippi to be a complete hidden gem. As a Northerner, I did not expect that.
I realized that the Southern states — which encompass a massive section of the country — are not as culturally and politically monolithic as they once were. Every state is different, each offering the attentive traveler an eclectic mix of incredible food, foot-stomping music, and heart-warming hospitality.
Today, I want to introduce you to Caroline Eubanks. She's a friend and fellow travel writer whose work primarily focuses on the American South. Caroline has called the South home for her entire life, and in her new guidebook, This Is My South, she shatters all the stereotypes about the Southern United States while sharing her expert tips and suggestions to help you make the most of your next visit.
In this interview, we discuss all things Southern, why this book needed to be written, and why you shouldn't overlook this region of the country!
Nomadic Matt: Tell everyone a bit about yourself! How did you get into what it is you do?
Caroline Eubanks: I'm Caroline Eubanks, a native of Atlanta, Georgia. I went to college in Charleston, South Carolina and it was there I really fell in love with the American South, especially driving back and forth from my hometown past small towns on country roads. I started working for a newspaper when I lived there and started reading travel blogs (including Matt's!) so I was inspired to create my own. I leveraged guest posts into paid work and one job led to another. I've since been published by BBC Travel, Lonely Planet, Thrillist, Roads & Kingdoms, and Fodor's. I also started my own blog, Caroline in the City, in 2009, and later This Is My South in 2012. This is basically the only job I've ever had and the only one I wanted!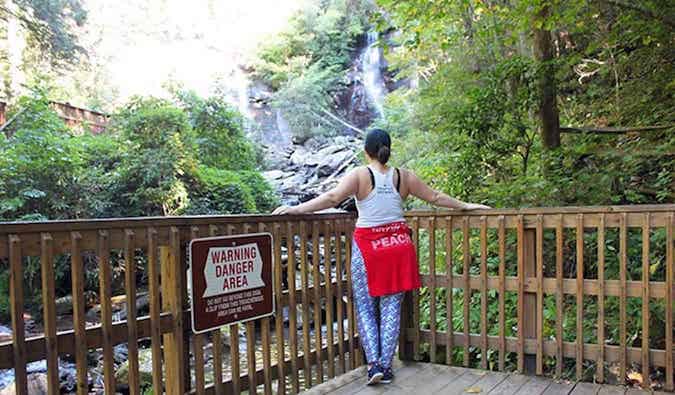 How did you start writing about the Southern USA?
I grew up taking road trips around the region with my family, whether that was to the Outer Banks or the Panhandle of Florida. After graduating from college, I went on a working holiday in Australia where I worked with a lot of people from all over the world. I would try to explain to them where I came from but most of the time they were only familiar with places like Miami and New York. And most travelers went to a few well-known destinations but nothing in between. So I started my website, This Is My South, to tell people about the lesser-known destinations that I love from my corner of the world. I also started focusing on the region in my freelance writing since the market wasn't quite so saturated.
Why do you think the south gets such a bad wrap?
A lot of it comes from the news. Of course, bad things happen here, but it's a large region so that's bound to happen. It becomes polarizing with elections but there are lots of different opinions, not just the ones that are the loudest.
I also think people assume that the movies and television shows about it are accurate. Gone with the Wind and Deliverance are not accurate representations at all. These remain what people most associate the region with, but there are large cities like Atlanta, Charlotte, and Nashville as well as the small towns. You wouldn't assume every Australian is like Crocodile Dundee or that every person from New Jersey was Tony Soprano, right?
What about the stereotypes about the South?
When I lived in Australia, I went to an expat July 4 party and I was talking to a guy from Ohio. When I said I was from Georgia, he joked that he was surprised to see I had all my teeth. When my parents were traveling in New York, someone asked about their crops. I realized how little people know about this part of the world. I started thinking about these perceptions of the South from both Americans and the world as a whole.
I wouldn't say that some of the stereotypes aren't true. There are obviously political divides, but I think there's a lot more to the South than what you read in the news. The people are overall welcoming and friendly. The region is home to some of the nation's top universities like Duke and Emory. There are young people creating murals in their small towns (like Kristin!) to drive tourism as well as immigrants from everywhere to Korea to India to Syria bringing their cuisines to meld with traditional regional dishes. And I think there's something just about everyone can come together on, especially in the South, like food.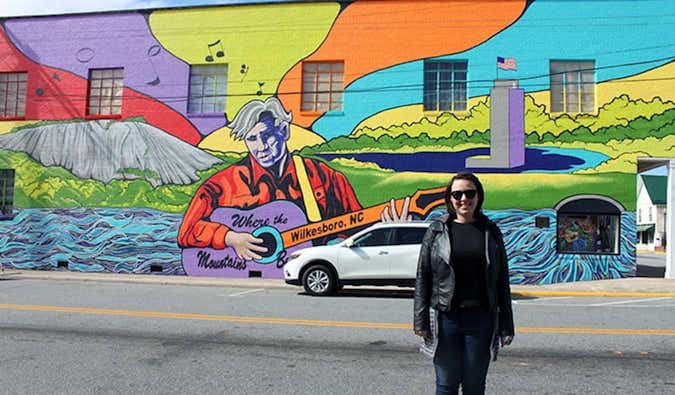 What are some of your favorite things about the south?
I always say the food, which is certainly one element. You'll find both comfort food like fried chicken and collard greens and "healthy" food as well as the cuisines of dozens of cultures. For example, there's a large Korean community near where I live in Atlanta so I can have authentic Korean barbecue before relaxing at a Korean spa. I love how food is a way that people show their affection.
I also love the general attitude and friendliness. People tend to know their neighbors and offer help when needed. And the music is unmatched by anywhere else in the country. Every genre can be found here. You don't have to go to a stadium to see impressive artists since there's usually someone playing at the local dive bar or coffee shop.
Why did you write this book?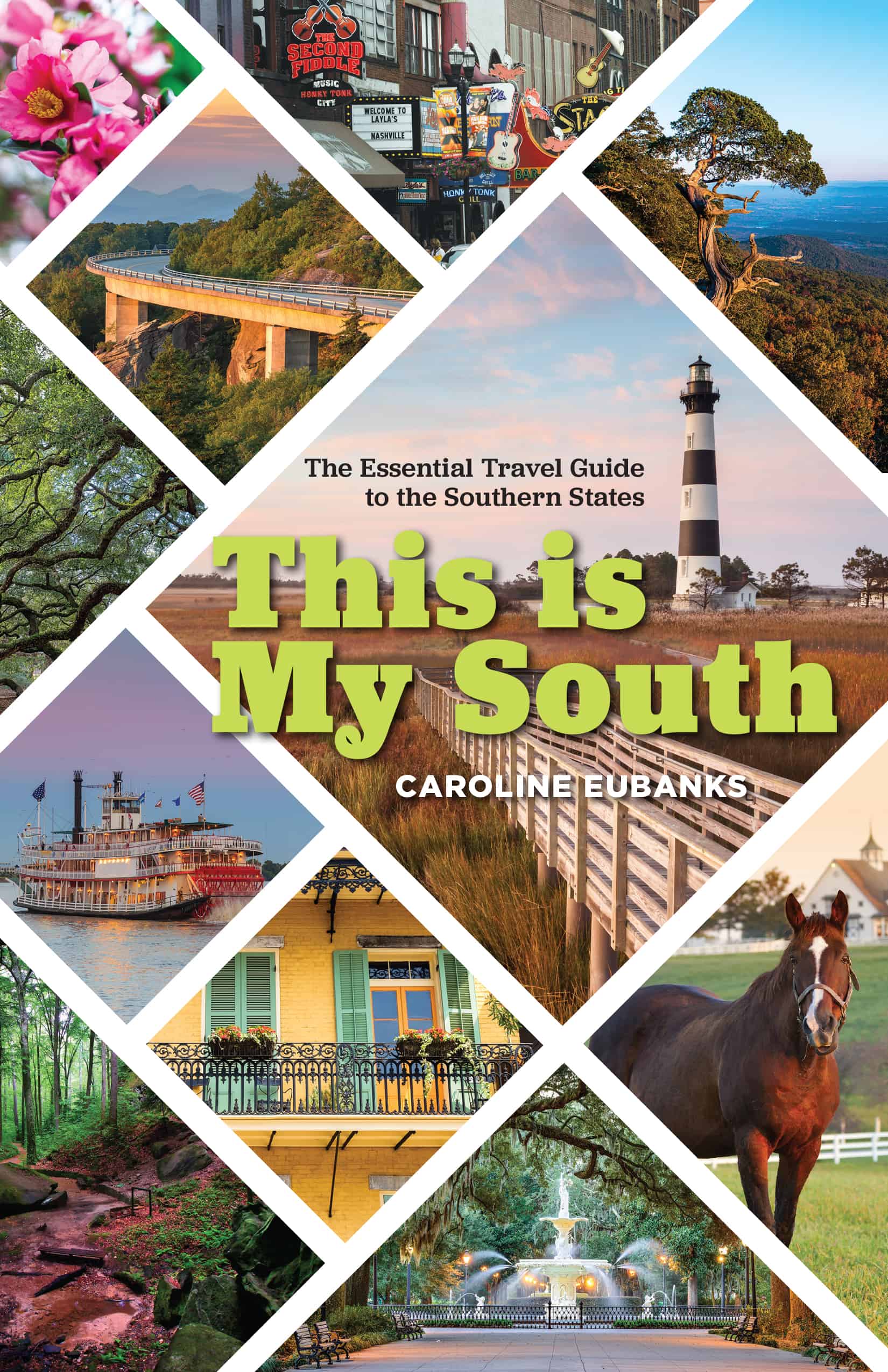 I wanted to show people the South that I know and love. I had thought about the idea of writing a guidebook but it actually came to life when I was contacted by a publisher after six years of running my website. They saw my work and wanted to create a guidebook in a similar format. Ever since I started writing, I've wanted to write a guidebook, so it was definitely a dream come true.
It was important to me that I have the flexibility to include the places I had fallen in love with in my travels, not just the popular ones. I have a section on the must-eat dishes from every state, quirky roadside attractions, unique accommodations like historic hotels and treehouses, and tours. I tried to emphasize responsible travel and small businesses, so you won't find those double decker bus tours or your big chain hotels.
I also wanted to include elements that I find lacking in other books, namely the history and odd pieces of trivia. For example, I have sections on the title of "Kentucky Colonel" and the legal loopholes that allow for casinos on and near the Mississippi River.
What do you hope travelers will walk away knowing from your book?
That it's more than one story. I hope that travelers will be inspired to visit some of the places they've heard about as well as ones not previously on their radar. I hope they'll challenge some of their preconceived notions about the region and give it a chance. I hope they'll come back for more since there's no way to see it all at once. And, of course, I hope that travelers will visit the places I write about and tell others about them!
What makes the south special?
So many things. There is unmatched biodiversity including the barrier islands on the North Carolina coast to the swamps of Louisiana to the Great Smoky Mountains of Tennessee. The Appalachian Trail runs through much of the region, starting in Georgia at Springer Mountain. It's a region where connecting with nature is a part of everyday life.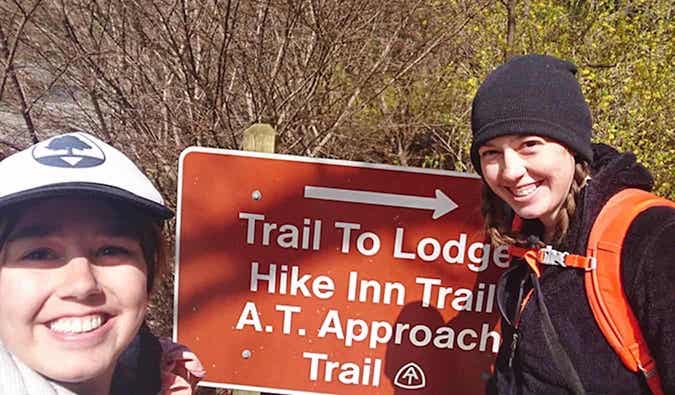 Food is also affordable and you can find it in unique places. Similar to the bodega eats in New York, the South sells surprisingly good food at gas stations, including fried chicken, Cajun meats, and Delta hot tamales. Dining is a major part of visiting the region as it's home to many different styles of cuisine that have influenced American food. You can find "Southern food" in both award-winning restaurants and mom-and-pop casual spots, so there's something for everyone.
The region is also important when it comes to history. It's where European travelers first arrived in America, specifically South Carolina and Virginia, and where they were met with Native American tribes. Much of the Civil Rights Movement took place here like the 16th Street Baptist Church in Birmingham, the Lorraine Motel in Memphis, and the Woolworth's counter in Greensboro. A number of notable politicians, including presidents Jimmy Carter and Woodrow Wilson, hailed from these states.
There's also a lot to offer music lovers since nearly every type of American music has roots in the blues of Mississippi. Icons like Elvis Presley and Johnny Cash were influenced by these musicians and infused their styles into their own music. In addition to rock and blues, the mountains of the South were where bluegrass and "old time" music started, eventually becoming modern country music. And, of course, Atlanta is known for its music industry, especially when it comes to hip hop and R&B. Artists like TLC, Usher, Goodie Mob, and Outkast rose to fame there.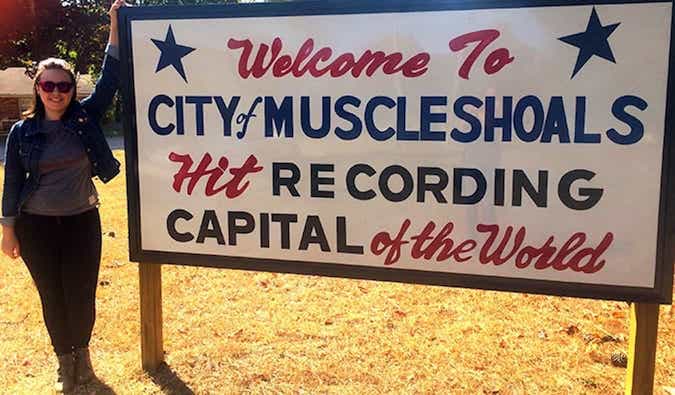 What are some budget travel tips for the area?
The South is generally a fairly cheap place to travel. The main expenditures are transportation and accommodation. Flights into major airports like Atlanta, Charlotte, Orlando, and New Orleans will be cheaper than smaller ones. The same goes for car rentals. Once in the South, it is possible to get around without a car by taking Amtrak and Megabus, but by car is certainly the preferred method of travel.
Certain cities will be more expensive for accommodations, especially Charleston. But you can look for alternative options like small bed and breakfasts, campgrounds with cabins, hostels, and Airbnb rentals. Keep in mind that rentals are limited in cities like New Orleans because of how it affects the local housing market. New Orleans is also great because you can stay at a trendy boutique hotel for under $100 per night.
Meals are cheap at most places unless you're visiting a fine dining restaurant. If you're looking for a meal on the go, visit a grocery store to save money. Most have deli counters and prepared foods. Lunch is a good time of day to try the more expensive restaurants, especially those award-winners that can be tough to get a reservation at.
What are some of your favorite off the beaten path destinations?
You don't have to go far from the well-known destinations like Charleston, New Orleans, and Nashville to see places not in most of the guidebooks. One of the places I always say is a favorite of mine is the Mississippi Delta, which is a number of towns that follow the river south of Memphis. This part of the country is highly important when it comes to music. It was here that artists like BB King and Robert Johnson found their sound and where the blues was developed. There are some funky accommodations like the Shack Up Inn, a collection of sharecropper cabins transformed into guest suites.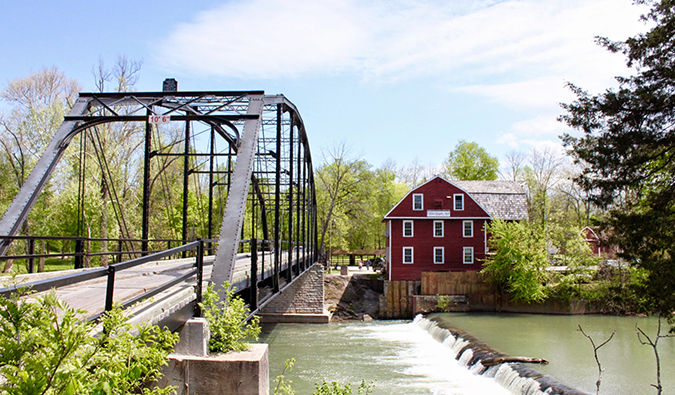 I was also surprised by Northwest Arkansas. This region is known for mountain biking, with trails connecting the towns, but also has an incredible craft brewery scene. Crystal Bridges Museum of Art has one of the best collections in the nation, if not the world, focusing on American works like those by Andy Warhol and Frank Lloyd Wright. Eureka Springs is a funky mountain town that looks straight out of a postcard from the 1800s.
I've also found some off-the-beaten-path areas within well-known destinations. In my hometown of Atlanta, I always recommend that visitors check out Buford Highway, the city's international dining corridor. When I lived in Charleston, I spent most of my time downtown, but on subsequent visits, I end up in the Park Circle area of North Charleston, an underrated part of the city. Just outside of Nashville is Franklin, a town with deep ties to the Civil War. It's just off the Natchez Trace Parkway and hosts musicians nearly every night of the week at Puckett's Grocery. They also host Pilgrimage, an annual music festival that has hosted the likes of Justin Timberlake and Jack White.
In every small town in between, there are quirky museums and landmarks you might miss if you limit your trip to the "big" destinations, like a museum devoted to ventriloquism in Kentucky and a memorial to the victims of the Trail of Tears in Alabama. You never know what you might find!
***
Caroline Eubanks is a travel writer and the author of This Is My South: The Essential Travel Guide to the Southern States. She writes about all things Southern at ThisisMySouth.com. You can also find her on Facebook, Twitter, and Instagram.
Book Your Trip: Logistical Tips and Tricks
Book Your Flight
Find a cheap flight by using Skyscanner or Momondo. They are my two favorite search engines because they search websites and airlines around the globe so you always know no stone is left unturned.
Book Your Accommodation
You can book your hostel with Hostelworld as they have the largest inventory. If you want to stay somewhere other than a hotel, use Booking.com as they consistently return the cheapest rates for guesthouses and cheap hotels.
Don't Forget Travel Insurance
Travel insurance will protect you against illness, injury, theft, and cancellations. It's comprehensive protection in case anything goes wrong. I never go on a trip without it as I've had to use it many times in the past. My favorite companies that offer the best service and value are:
Looking for the best companies to save money with?
Check out my resource page for the best companies to use when you travel! I list all the ones I use to save money when I travel – and I think will help you too!