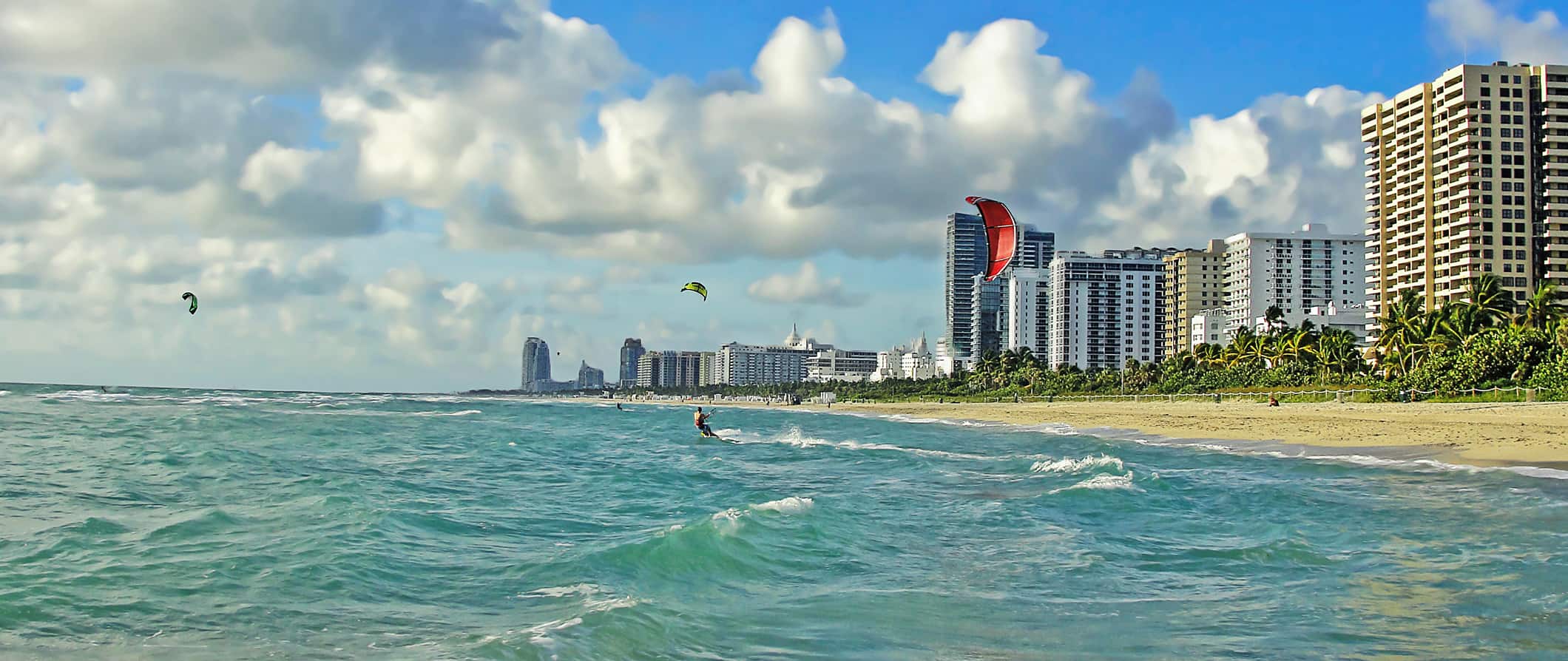 Miami is where everyone goes to play in Florida (and from the world too). Famous for cruises, South Beach, Cubans, beautiful people (thank you plastic surgery!), and wild clubs and parties, Miami is a wild and eclectic city. It is where you go for fun in the sun. It's not one of the cheapest American cities but it is definitely one of the most fun. I always enjoy my time in the city (and am happy when I leave). It's never boring!
Top 5 Things to See and Do in Miami
1. People watch on South Beach
From shopping to partying, this area of Miami Beach is well known for being trendy and full of shops and bars. South Beach can be more expensive than other areas, but it's worth checking out while you are there. Topless bathing is permitted. It is the quintessential Miami beach experience.
2. Visit the Ancient Spanish Monastery
Originally built in Segovia, Spain in 1141, this monastery was intended to be a part of William Randolph Hearst's property in California. Because the U.S. would not allow the monastery there, the monastery remained in New York Harbor until 1954, when businessmen bought the property and assembled it in Miami.
3. See Coral Castle
Coral Castle is a very unique attraction. This attraction was built by a Latvian-born Miami resident named Ed Leedskalnin as a monument to his lover. After 28 years of effort, he introduced his 1100-ton coral creation to the world. It's a bit of a trip from downtown, but well worth the time. Entrance costs $15 and it's open daily from 8am-6pm.
4. Visit the Everglades
Everglades National Park has 1.5 million acres of swamps, prairies, and sub-tropical jungles. It is one of the most unique public parks in the United States. It is home to 14 rare and endangered species, including the American Crocodile, the Florida Panther, and the West Indian Manatee. Entrance costs $25 per private vehicle and $8 per pedestrian/cyclist.
5. Visit Little Havana
If you're not around in March, simply pay a visit to Little Havana, Miami's Cuban neighborhood, which centers around "Calle Ocho" (SW 8th Street). Eat in one of the little restaurants; walk the vibrant streets, or get in some salsa dancing.
Other Things to See and Do
(Click the title to expand the text)
1. Visit the Vizcaya Estate
No visit to Miami is complete without a stop at the historical 50-acre Vizcaya estate. This European-style mansion offers a glimpse at life in turn-of-the-century South Florida. It's open daily (except Tuesdays) from 9:30am-4:30pm. Admission costs $18.
2. Lounge on the beach
Besides South Beach, some additional waves to check out. Good spots include Virginia South Beach, Haulover Beach (the only legal nude beach), and Bill Baggs Cape Florida State Park.
3. Go clubbing
There is a very active nightlife in Miami and if you like clubs, Miami is one of the best places in the world to go clubbing. There is usually a $20-30 cover to get into the clubs and most drinks are around $10 each.
4. Explore the Florida Keys
This archipelago stretches out along the south of Florida. Visit Key Biscayne, the northernmost island, for some great parks, beautiful views of Miami, and some swimming.
5. Stroll the Fruit and Spice Park
This park is the only one of its kind in the country. It contains 500 species of fruit and spice plants and trees on 30 acres of land. At certain points in the year, the park also hosts festivals, so check a calendar for details when you're in town. It's open daily from 9am-5pm and admission costs $8.
6. Check out Coral Gables
If you want a taste of the extravagant life, take a walk or drive through Coral Gables, one of the wealthiest neighborhoods in all of the United States. It was designed in the 1920s by George Merrick, and regulations ensure that all buildings in the area still adhere to the style that Merrick had envisioned for the community.
7. Explore the Art Deco Historic District
The Art Deco Historic District is an area of Miami Beach noted for its concentration of over 800 Art Deco buildings all within one square mile. Consider joining a walking tour which takes you past the white and pastel-colored stucco buildings beautifully restored to their former glory thanks to the Miami Design Preservation League. Walking tours start around $25 for about two hours.
8. Relax in Key Biscayne
If you feel like escaping the city, Key Biscayne is the place to do it. The Florida Keys' northernmost island is just a 15-minute drive from the city center, and is home to two waterfront parks, a bike path, and some incredible skyline views of Miami. If you want to spend the entire day, pack a picnic and hang out in Crandon Park or go swimming at the east end of the Key.