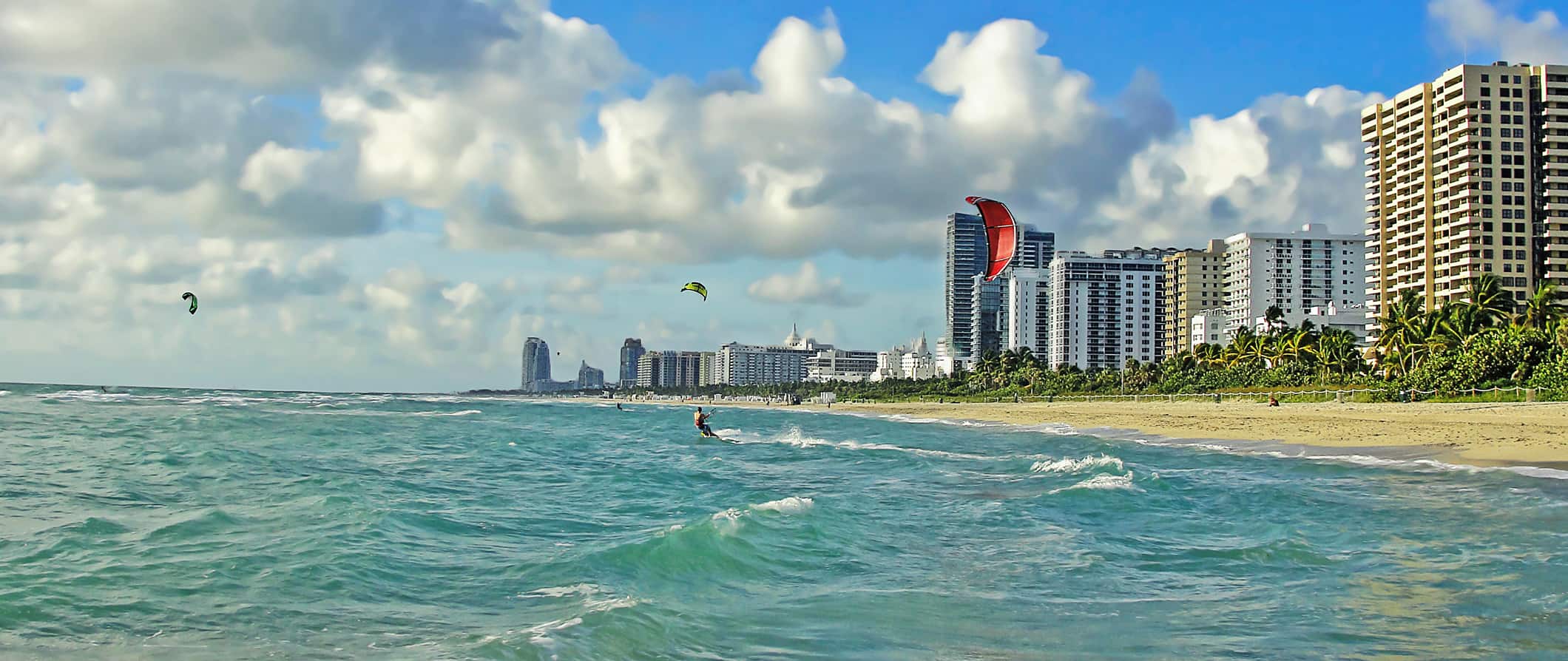 Miami is where everyone goes to play. Famous for cruises, South Beach, Cuban food, beautiful people, and wild clubs and parties, Miami is a wild and eclectic city. It is where you go for fun in the sun.
To be honest, I don't love Miami. It's the worst of NYC and Los Angeles all wrapped up into one place. I'd never live here.
That said, it's a go-go-go city that can be really fun and exciting for a few days. You can have some fun in the sun, eat incredible food, and enjoy some fabulous nightlife.
I find people love or hate Miami. While I'm definitely not on the love side, if I were stuck here for a weekend and I was looking to party, it wouldn't be the worst thing in the world. There's also a great beach and incredible food too. But definitely be prepared for a "scene", especially if you're staying on South Beach.
This travel guide to Miami will help you plan your trip, save money, and make the most of your time here.
Top 5 Things to See and Do in Miami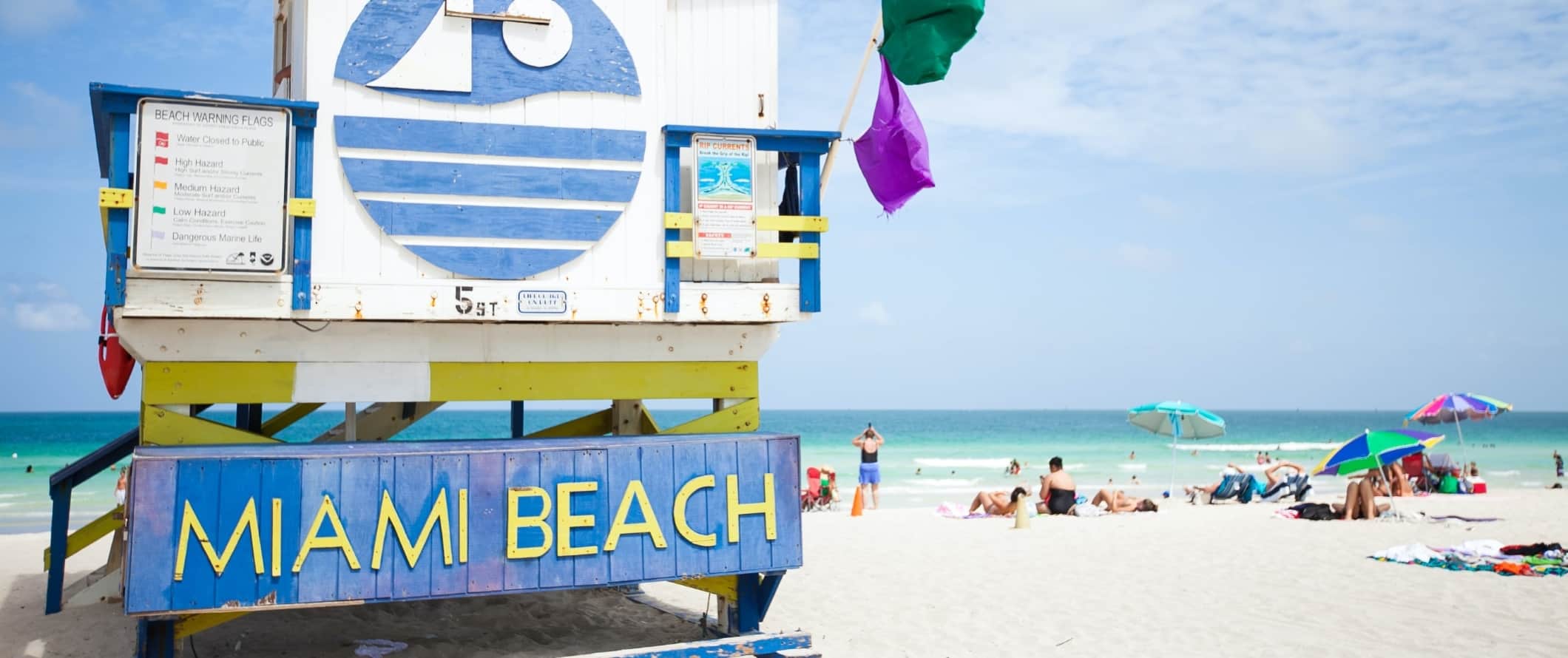 1. People watch on South Beach
From shopping to partying, this area of Miami Beach is well known for being trendy and full of unique shops, upscale hotels, and cool cocktail bars. Spend some time just strolling up and down the incredibly photogenic Ocean Drive along the beach, admiring its famous pastel-colored Art Deco architecture. South Beach is more expensive than other areas, but it's worth checking out while you are there. It's the quintessential Miami experience!
2. See the art in Wynwood
Wynwood is a former industrial neighborhood that has evolved into a cultural hub/trendy hotspot for graffiti and street art, as well as trendy shops, cool restaurants, chill cafes and coffee roasteries, artisan breweries, and art galleries. Keep an eye out for the Wynwood Walls, a collection of 40 murals from some of the world's best street artists. Admission to Wynwood Walls costs $12 USD, or $17 USD including a one-hour guided tour. The Museum of Graffiti, the first museum in the world dedicated to this art form, is also located in the neighborhood (admission is $16 USD).
3. See Coral Castle
Coral Castle was created by Latvian-born Miami resident Ed Leedskalnin as a monument to his lover who cancelled their wedding the day before they were meant to get married. Ed channeled his heartbreak into hand-carving 1,1100 tons of coral rock, creating various monuments and sculptures over the span of 28 years. He originally started building in Florida City, yet when a subdivision was planned nearby, he bought land further away, single-handedly moving the heavy coral carvings to Homestead (where Coral Castle is now). It's a bit of a trip from downtown, but well worth the time. Admission is $18 USD.
4. Explore the Everglades
Everglades National Park has 1.5 million acres of swamps, prairies, and sub-tropical jungles. It is one of the most unique and largest public parks in the United States. Designated as a UNESCO Biosphere Reserve and World Heritage site, it is home to 14 rare and endangered species including the Florida Panther, American Crocodile, West Indian Manatee, and more. Over 350 species of birds, 300 species of fish, 40 species of mammals, and 50 species of reptiles also live in this unique environment. Admission is $30 USD per vehicle. Taking an airboat is a popular activity to do here. Airboat tours cost around $25 USD.
5. Visit Little Havana
In the mid-1960s, an estimated 300,000 refugees fled Castro's Cuba, with most landing and settling in Miami, creating Little Havana, Miami's Cuban neighborhood, almost overnight. Today, over 1.2 million Cuban-Americans live in Miami, with Little Havana centering around "Calle Ocho" (SW 8th Street). Eat in one of the little restaurants and bakeries, walk the vibrant streets, enjoy a Cuba Libre (rum and coke) or Café Cubano (espresso shot sweetened with brown sugar), or get in on some salsa dancing. If you're a foodie, food tours around Little Havana cost around $69 USD.
Other Things to See and Do in Miami
1. Visit the Vizcaya Estate
No visit to Miami is complete without a stop at this historic 50-acre estate. This European-style mansion offers a glimpse at life in turn-of-the-century South Florida. It was built by industrialist James Deering as a way to show off his wealth to all his friends and is filled to the brim with Renaissance furniture, artwork, and tapestries. The 10-acre Formal Gardens were built to resemble France's Versailles, but with palm trees, rare orchids, and Cuban limestone. Admission is $25 USD (online advance tickets required).
2. Lounge on the beach
Besides the famous South Beach, there are lots of pristine beaches around Miami. Other great beaches include Virginia South Beach, Haulover Beach (the only legal nude beach), and Bill Baggs Cape Florida State Park. Arrive early on the weekends to beat the crowds. And don't forget your sunscreen!
3. Go clubbing
There is a very active nightlife in Miami, and if you like clubs, Miami is one of the best places in the world to go clubbing. There is usually a $30-40 USD cover to get in and most drinks are at least $15 USD so be prepared to splash out. Check out E11even, LIV Miami (the city's most famous), or Basement (complete with an ice-skating rink and bowling lanes).
4. Day trip to the Florida Keys
This archipelago stretches out along the south of Florida and offers stunning white-sand beaches, palm trees, and prime ocean real estate. Visit nearby Key Biscayne, the northernmost island located just 15 minutes from town, for some great waterfront parks, a scenic bike path, beautiful views of Miami, and some swimming spots. If you want to spend the entire day, pack a picnic and hang out in Crandon Park or go swimming at the east end of the Key. You need to arrange your own transportation to get here, though (the Keys are about two hours from Miami by car).
5. Wander Fruit and Spice Park
Established in 1943, this tropical botanical garden contains 500 species of fruit trees and spice plants spread out over 37 acres. The park is landscaped beautifully with lots of shaded paths. Spend some time just walking around and soaking up nature and smelling all the wonderful fruits and plants. They also host events and festivals here so check the website for details when you're in town. Admission is $10 USD. Guided tours are conducted every day at 11am, 1:30pm, and 3pm.
6. Check out Coral Gables
Coral Gables is one of the wealthiest neighborhoods in all the United States (folks like politician Jeb Bush and singer Marc Anthony have property here). It's home to tree-lined boulevards and opulent mansions. George Merrick designed the area in the 1920s and regulations ensure that all buildings still adhere to the style that Merrick had envisioned for the community. Other than admiring the architecture, stop by Fairchild Tropical Botanic Garden ($25 USD), visit the Lowe Art Museum (free), and swim in the opulent, historic Venetian Pool ($21 USD) while you're here.
7. Explore the Art Deco Historic District
The Art Deco Historic District is an area of Miami Beach noted for its concentration of over 800 Art Deco buildings all within one square mile (Art Deco was a popular architecture style from France, common between 1910-1939). Consider joining a walking tour that takes you past the white and pastel-colored stucco buildings beautifully restored to their former glory thanks to the Miami Design Preservation League. Walking tours of the district start around $30 USD and usually last a couple of hours.
8. Visit HistoryMiami
This is the largest history museum in the state and an insightful museum that takes visitors through the city's history — from its humble beginnings as a mosquito-filled swamp to the modern, bustling metropolis it is today. You can find exhibits here on everything from football to a whole gallery dedicated to folklore. Admission is $10 USD.
9. Explore Fairchild Tropical Botanic Garden
This 84-acre garden is home to tropical plants, flowers, and trees — including some rare species, such as the petticoat palm. You can explore on foot or hop on a 45-minute tram tour. There's also a "Wings of the Tropics" living exhibit with 40 different species of butterflies. They also host rotating exhibits, such as a Jurassic Garden that features life-sized dinosaurs scattered around the lush garden. It's $24.95 USD to visit.
10. Visit the Ancient Spanish Monastery
Built in Segovia, Spain in 1141, this monastery was intended to be a part of businessman and newspaper publisher William Randolph Hearst's property in California (Hearst saw it in Europe in 1925 and decided he wanted it for himself for his personal "castle"). However, after shipping the building to the US, there was an outbreak of disease. The US government was worried shipments from abroad would spread it so he was not allowed to unload his cargo. Then the Great Depression hit and Hearst had to sell the property. It remained in New York until 1954 when businessmen bought it and finally assembled it in Miami. Admission is $10 USD and guided tours are available on weekends.
11. Visit the Frost Science Museum
Upgraded in 2017 to a massive 250,000 square foot complex, the Frost Science Museum is a state-of-the-art museum with four different buildings dedicated to science, including a planetarium and a three-story aquarium. The aquarium takes you from the surface of South Florida's aquatic world down to the deepest depths, featuring everything from sharks to tuna to tropical fish. There are also exhibitions on dinosaurs, biology, and more! Admission is $29.95 USD.
12. Browse the Pérez Art Museum Miami
The PAMM is one of the biggest modern art museums in the city. Its new building on the Biscayne Bayfront is a whopping 200,000 square feet so there's a lot to see here, including a rotating permanent collection of over 1,800 items. Exhibitions include everything from paintings to kinetic sculptures. Don't forget to check out the outdoor hanging sculpture garden — its elaborate design took two months to assemble! Admission is $16 USD.
For more information on other cities in the United States, check out these guides:
Miami Travel Costs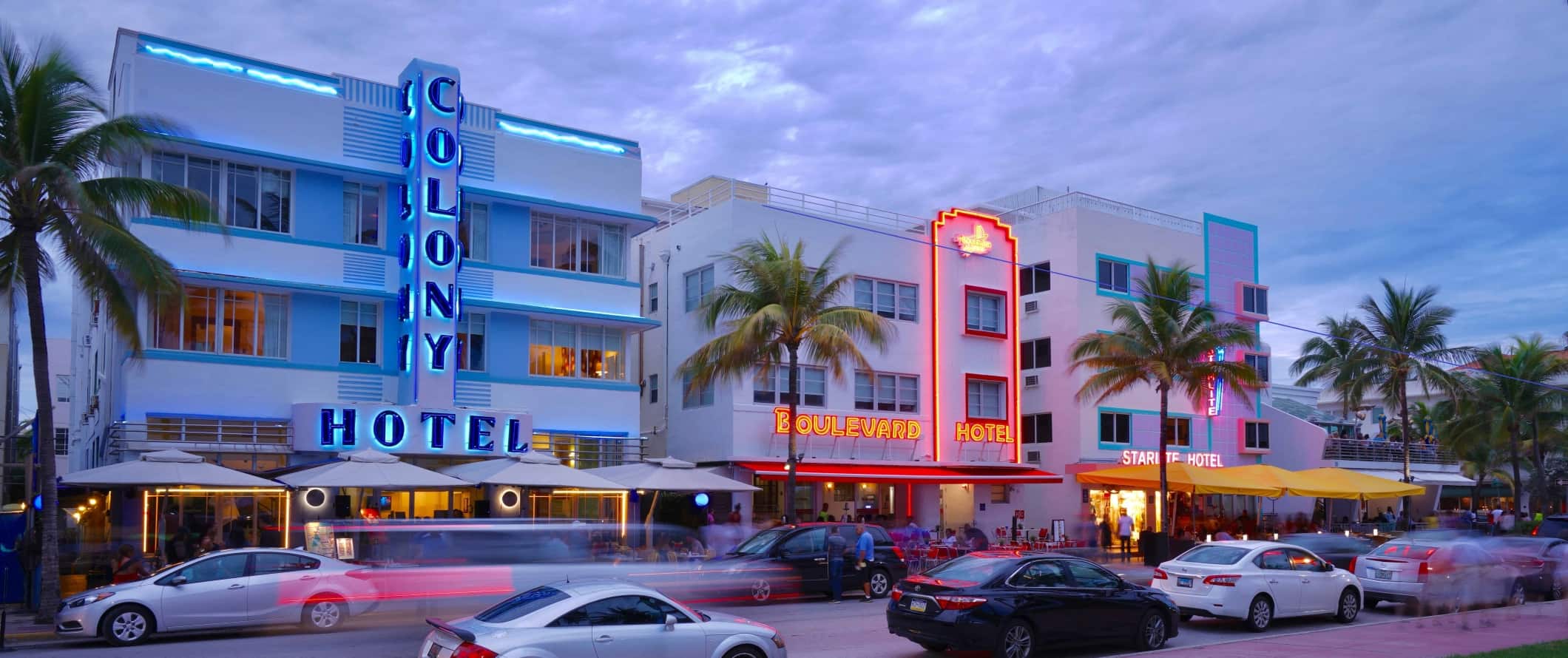 Hostel prices – A bed in a 4-6-bed dorm averages $30-40 USD per night in the off-season and $75-90 USD in peak season. For a room with eight beds or more, expect to pay $18-27 USD in the off-season and $40-50 USD in peak season. A basic private room with a shared bathroom starts at $110 USD in the off season and $160 USD in peak season.
Free Wi-Fi is standard but most hostels don't have full kitchens. Some offer free breakfast so book those if you're on a budget. Since partying is a big reason why many travelers come to Miami, most hostels have bars and swimming pools.
Camping is available outside the city in the nearby national parks (Everglades, Biscayne, Big Cypress) for $16-30 USD per night for a basic tent plot without electricity.
Budget hotel prices – Budget two-star hotels start at $150 USD per night in peak season. In the off-season, rooms start from $110 USD. Expect basic amenities like free Wi-Fi, TV, AC, and a coffee/tea maker. Many hotels, even of the budget variety, have pools.
There are lots of Airbnb options in Miami. A private room costs about $50-65 USD per night while an entire home/apartment starts at $90-125 USD. Expect prices to double if you don't book early.
Food – There's a lot of Caribbean flavor in Miami. In Little Havana, you can find delicious Cuban food for less than $10 USD. You can get a filling sandwich for $7 USD, and tacos or empanadas for $5 USD each. A small plate of jerk chicken goes for around $10 USD. A slice of pizza is $5 USD while fast food (think McDonald's) costs about $9 USD for a combo meal.
You can eat at a mid-range restaurant for $15-25 USD. Pasta dishes are around $15-20 USD, a burger or pizza is $12-18 USD, and seafood dishes generally start at $25 USD.
Beer costs around $8 USD, a glass of wine is $8-10 USD, and cocktails are $10-15 USD. For non-alcoholic drinks, a latte/cappuccino is $4.50 USD, soda is $2-3 USD, while bottled water is $1.50 USD.
If you want to splurge, be prepared to spend big. A tasting menu costs at least $55 USD and things like pasta dishes in high-end restaurants start at $30 USD. Steaks start at $50 USD while seafood starts at about $40 USD.
If you cook your own food, expect to pay $60 USD per week for basic staples like pasta, rice, vegetables, and some meat.
Backpacking Miami Suggested Budgets
If you're backpacking Miami, expect to spend $70 USD per day. This budget covers a hostel dorm, cooking your own meals, using public transportation to get around, limiting your drinking, and doing mostly free activities like hitting the beach. If you plan on partying or drinking, add at least $20 USD per day to your budget.
A mid-range budget of $195 USD per day covers staying in a private hostel room or Airbnb, eating out for most meals at cheap Cuban restaurants or fast food joints, enjoying a few drinks, taking the occasional taxi, and doing some paid activities like clubbing or museum visits.
On a "luxury" budget of $360 USD or more per day, you can stay in a hotel, eat out for all your meals at nicer restaurants, party at the club, rent a car to get around, and do as many tours and activities as you'd like. This is just the ground floor for luxury though. The sky is the limit!
Accommodation
Food
Transportation
Attractions
Average Daily Cost
Backpacker
$35
$15
$10
$10
$70
Mid-Range
$90
$60
$20
$25
$195
Luxury
$150
$120
$40
$50
$360
Miami Travel Guide: Money-Saving Tips
Miami is an expensive city, especially if you're staying near South Beach — and especially if you're here to party! Accommodation, drinks, meals out – they add up really quickly here. Definitely don't come here on a budget if you want to party! But, as with any major city, there are plenty of ways to cut your costs if you know where to look. Here are some ways to save money in Miami:
Look for package deals – Because Miami is a popular tourist destination, you can often find package deals for attractions and hotels. The official Miami and Florida tourism websites each have sections dedicated to travel deals.
Get the Go Miami Card – If you are going to see the main sights around Miami, get the Go Miami Card. You get free admission to over 30 major Miami attractions for one price. A one-day pass is $64 USD while a 5-day pass is $160 USD. You can save up to 45% if you choose the 5-day pass.
Stay with a local – Couchsurfing is the best way to get insider tips and free accommodation. You'll connect with a local who has a couch for you to stay on for free in exchange for sharing your culture and travel experiences with them. It's a win-win and a great way to lower your travel costs!
Take a free walking tour – This is a great way to learn the history behind the places you are seeing and to avoid missing any must-see stops. Free Tour Miami offers a daily tour that will introduce you to the main sights. Just be sure to tip your guide!
Look for the happy hours – The Ultimate Happy Hours website lists all the happy hour drink and food specials around Miami. It's updated with new info frequently!
Fly into Fort Lauderdale – Fort Lauderdale is just an hour north of Miami and flights there are often cheaper than to Miami.
Save money on rideshares – Uber and Lyft are cheaper than taxis and are the best way to get around a city if you don't want to take a bus or pay for a taxi.
Bring a reusable water bottle – The tap water is safe to drink here so bring a reusable bottle to save money and lower your environmental footprint. LifeStraw makes a bottle with a built-in filter so you can always ensure your water is clean and safe.
Where to Stay in Miami
There are plenty of hostels in Miami, which can help keepo your costs down. Here are some recommended places to stay:
For more hostel suggestions, check out my complete list of the best hostels in Miami!
How to Get Around Miami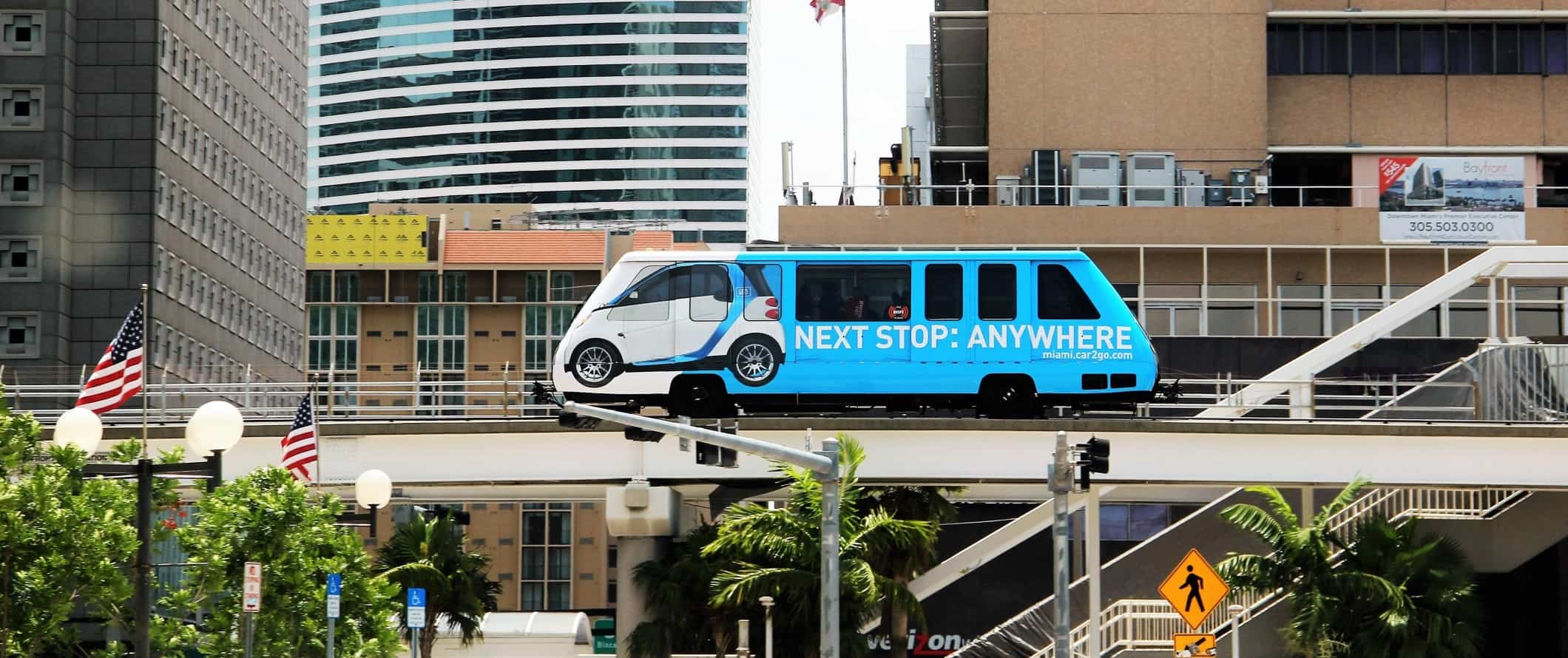 Public transportation – Miami has a free trolley service that navigates Miami Beach, Miami, Coconut Grove, Little Havana, and Coral Gables (you can see the schedule on miamigov.com/trolley).
Miami also has a local bus system is called Metrobus as well as a rail system called Metrorail. A ride on either costs $2.25 USD. You can purchase a ticket using contactless payment methods, the GO Miami-Dade Transit app, or get an Easy Card, which you can purchase from Metrorail stations (as well as some shops and pharmacies). You can't pay with cash on the metrorail, though you can on the bus (you need exact change though).
A one-day pass for the entire system is $5.65 USD while a 7-day pass is $29.25 USD. Both the Metrorail and Metrobus have free Wi-Fi too.
There's also a monorail, called Metromover, which is useful for getting around Downtown Miami. Its 21-mile route provides an excellent overview of the area. Trains run every 5-15 minutes and are free!
Taxis – Taxis are expensive here! Fares start at $3 USD and charge $2.70 USD per mile thereafter. Skip them if you can!
Ridesharing – Uber and Lyft are cheaper than taxis and are the best way to get around a city if you don't want to take a bus or pay for a taxi.
Bike rental – Miami's bike-sharing program is called Citi Bike. The city is not very bike-friendly though so I recommend only going this route if you're an experienced cyclist. A 30-minute access pass is $4.95 USD, while it's $6.95 USD for an hour. A one-day pass is $24 USD.
Car rental – Car rentals cost as little as $35 USD per day for a multi-day rental. Drivers need to be at least 21 years old. I would only rent a car for day trips outside the city. Traffic here is slow and parking is expensive. For the best rental car deals, use Discover Cars.
When to Go to Miami
Miami is relatively warm all year around. During the winter (December-February), the temperature is usually in the high 70s°F (high 20s°C) with very little precipitation. However, this is peak season for travel, meaning higher prices and bigger crowds.
Spring is the best time to visit, from the end of February through May (although don't come in March if you want to avoid Spring Break mayhem). It's still warm enough to hit the beach during this time (daily highs average 77°F/25°C), but with fewer crowds and lower prices.
Hurricane season is from June to the end of November. While this doesn't mean you should avoid visiting Miami during this time, you will want to keep an eye on forecasts and ensure you have travel insurance.
How to Stay Safe in Miami
Miami is a safe place to backpack and travel. Violent attacks are rare and tend to be confined to certain areas, like Liberty City, Overtown, and Opa-locka where gang violence is more common. Avoid these areas if you can, especially alone after dark.
As a tourist, you're most likely only going to encounter petty crime. Pickpocketing is common on the South Beach promenade, so be mindful of your belongings at all times. Don't bring valuables to the beach. Period. Thieves are known to take advantage of distracted visitors.
Scams here are rare but, if you're concerned about getting ripped off, you can read about common scams to avoid here.
Solo female travelers should generally feel safe here, however, the standard precautions apply (never leave your drink unattended at the bar, never walk home alone intoxicated, etc.).
If you're not a confident driver, avoid driving in Miami. Traffic is often bumper-to-bumper, and accidents are not uncommon. If you rent a car, don't leave any valuables in it overnight. Break-ins are rare but it's always better to be safe than sorry.
If you experience an emergency, dial 911 for assistance.
Always trust your gut instinct. Make copies of your personal documents, including your passport and ID. Forward your itinerary along to loved ones so they'll know where you are.
The most important piece of advice I can offer is to purchase good travel insurance, especially if you're visiting Miami during hurricane season (June to the end of November). Travel insurance protects you against illness, injury, theft, and cancellations. It's comprehensive protection in case anything goes wrong. I never go on a trip without it as I've had to use it many times in the past. You can use the widget below to find the policy right for you:
Miami Travel Guide: The Best Booking Resources
These are my favorite companies to use when I travel. They consistently have the best deals, offer world-class customer service and great value, and overall, are better than their competitors. They are the companies I use the most and are always the starting point in my search for travel deals.
Skyscanner – Skyscanner is my favorite flight search engine. They search small websites and budget airlines that larger search sites tend to miss. They are hands down the number one place to start.
Hostelworld – This is the best hostel accommodation site out there with the largest inventory, best search interface, and widest availability.
Booking.com – The best all around booking site that constantly provides the cheapest and lowest rates. They have the widest selection of budget accommodation. In all my tests, they've always had the cheapest rates out of all the booking websites.
Get Your Guide – Get Your Guide is a huge online marketplace for tours and excursions. They have tons of tour options available in cities all around the world, including everything from cooking classes, walking tours, street art lessons, and more!
SafetyWing – Safety Wing offers convenient and affordable plans tailored to digital nomads and long-term travelers. They have cheap monthly plans, great customer service, and an easy-to-use claims process that makes it perfect for those on the road.
LifeStraw – My go-to company for reusable water bottles with built-in filters so you can ensure your drinking water is always clean and safe.
Unbound Merino – They make lightweight, durable, easy-to-clean travel clothing.
Top Travel Credit Cards – Points are the best way to cut down travel expenses. Here's my favorite point earning credit cards so you can get free travel!
Miami Travel Guide: Related Articles
Want more info? Check out all the articles I've written on United States travel and continue planning your trip: