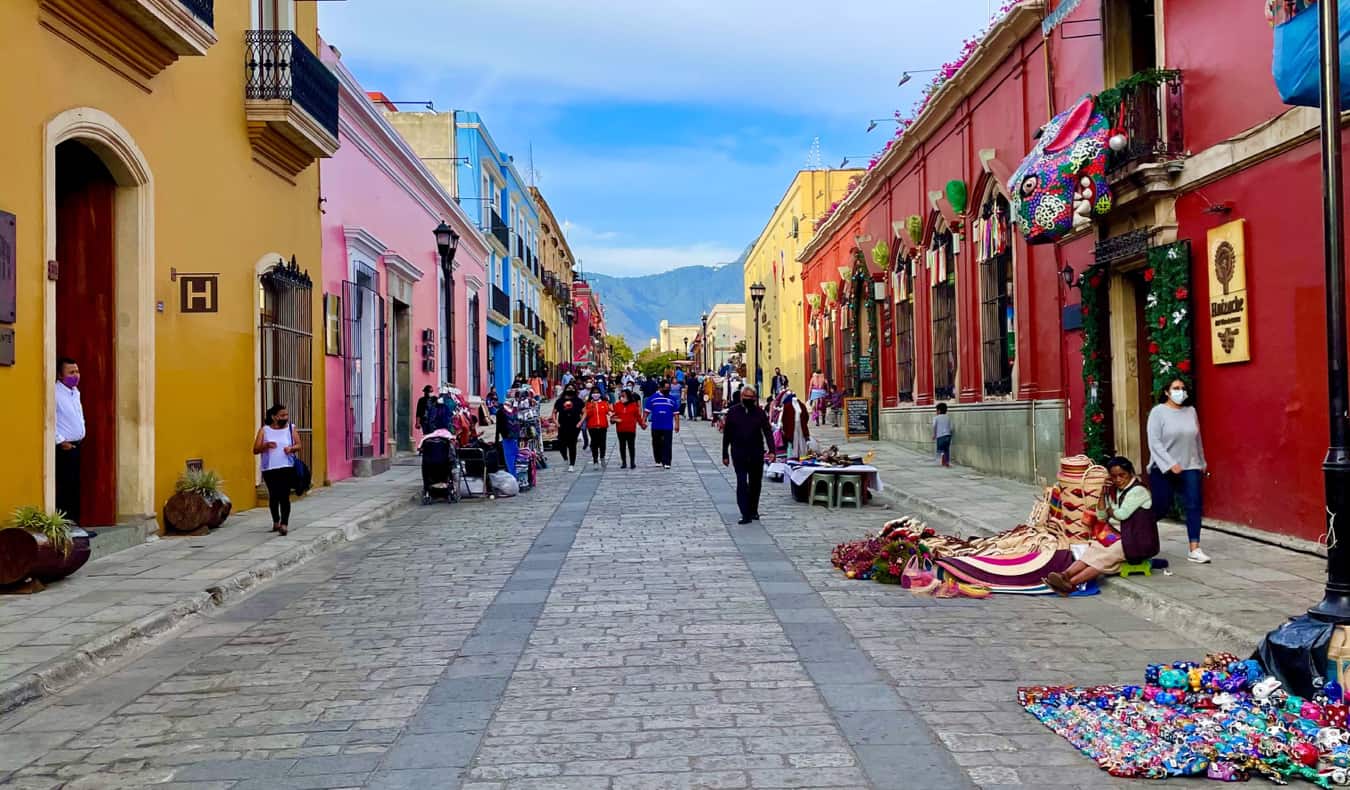 Posted: 1/26/21 | January 26th, 2021
Have you ever arrived at a destination and just knew it's for you? Something in the air just told you that this place is everything you dreamed it to be and you were going to be in love with it forever.
I've felt this way only a few other times before, in Paris, Hong Kong, and Tokyo.
And I felt that way again when I got to Oaxaca.
The city's energy and mine just synched. We were a pair. I could recognize the signs: a sense of unconditional joy emerged in my heart. My eyes constantly shifted to every shade of color, every movement, as if I had an insatiable hunger to take in everything. I was in love.
My two subsequent weeks there only deepened that feeling.
Oaxaca, a city in the central part of the Pacific coast of Mexico, is set in a valley surrounded by craggy mountains. (It is also the name of the state it lies in.) The area has been inhabited for thousands of years by indigenous Zapotec and Mixtec peoples. In 1440, the Aztecs arrived and annexed it, naming it "Huaxyacac," meaning "among the huaje" (a type of local tree). Less than a hundred years later, the Spanish conquered the region.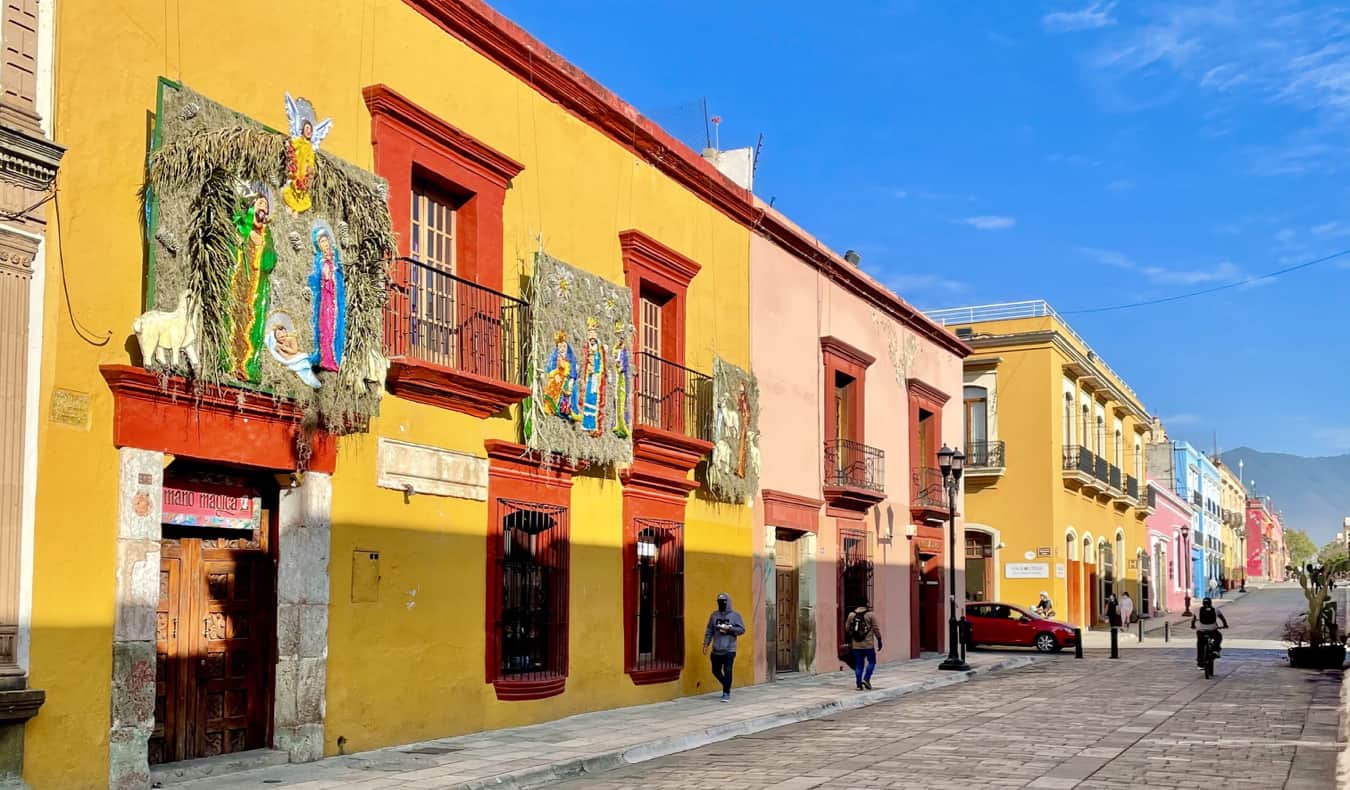 Fast-forward to today and Oaxaca has become a center for heritage tourism, owing to the many historical attractions (including Monte Albán, a UNESCO Heritage Site; and Mitla, a Zapotec archeological site) in the city and surrounding area. It is a city of colorful buildings, scenic rooftop restaurants and bars, street art, historic Spanish colonial churches, cobblestone streets, and many parks.
In the last decade, as mezcal has become incredibly popular, it's also become the hub for all things mezcal, with tourists reaching record numbers (pre-COVID). And, along with Mérida and Mexico City, it's considered one of the gastronomic centers of Mexico.
In short, the city had everything I like: history, booze, and food. Add to that, an attractive urban aesthetic that created an easy-on-the-eyes venue for consuming said food and drink, and you've got an ideal spot to spend a week or three.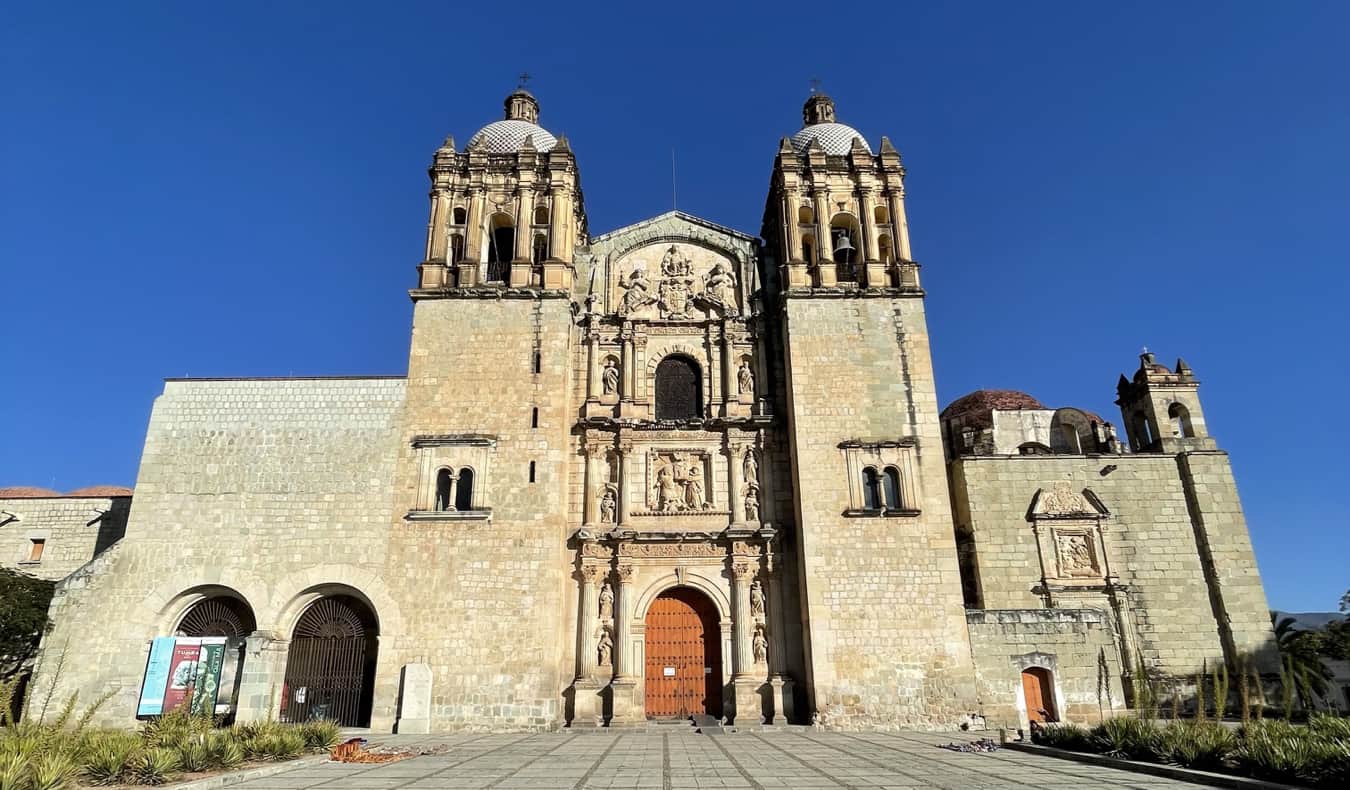 It wasn't that I loved Oaxaca because of the sites. There's a pandemic raging and I wasn't comfortable being around crowds. My friends who haven't had COVID were even less comfortable. While mask-wearing was prevalent, the closer we got to Christmas, the more crowded the city became, and it just felt like there were too many people around.
So there were no tours, crowded markets, or sightseeing in general for me, but there was dining, drinking, and seeing my friends who lived there.
This city of 300,000 inhabitants just had the je ne sais quoi that filled my spirit and my stomach.
Oaxaca is famous for its mole (a traditional marinade/sauce), tlayudas (a pizza-like street food), chiles rellenos (stuffed peppers), memelas (grilled corn cakes with bean, meat, and cheese toppings), and tetelas (triangular corn snacks filled with beans and cheese).
And I ate them all. Given the climate, the restaurants all had outdoor dining, so it was easy to do so safely. I couldn't walk a block without stopping and wondering, "Should I go there? Maybe a third dinner?"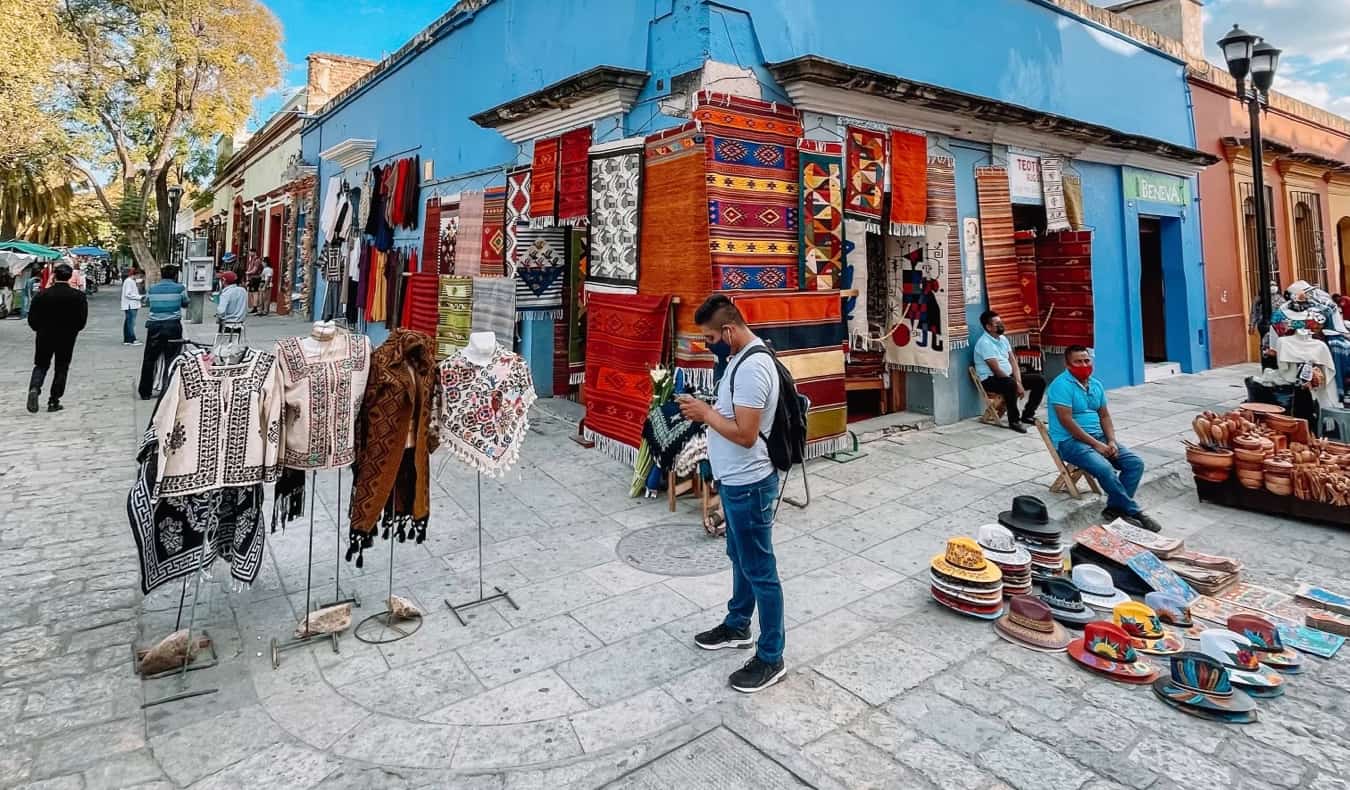 Wandering among the 10-peso (50-cent) taco stalls of the city, I also came across the famous hamberguesa: a burger topped with a hot dog, sliced cheese, Oaxaca cheese, ham, pineapple, lettuce, tomato, and jalapeño. It's all the delicious unhealthy foods you could ever want for 35 pesos ($1.75 USD). And it was the best burger I ever had in my life! I tried a few different versions, but the verdict was always the same: one more, please!
Then there's the famous Mercado 20 de Noviembre, a huge bazaar of little stalls and a famous Pasillo de Carnes Asades, or "Meat Alley," a gauntlet of grill stalls where the scents of hundreds of dishes waft in the air, all beckoning you to their source. In Oaxaca, it's best to graze, for there will be many tempting meals on offer.
And you should not limit yourself. (The number on the scale when I returned home showed me I followed my own advice.)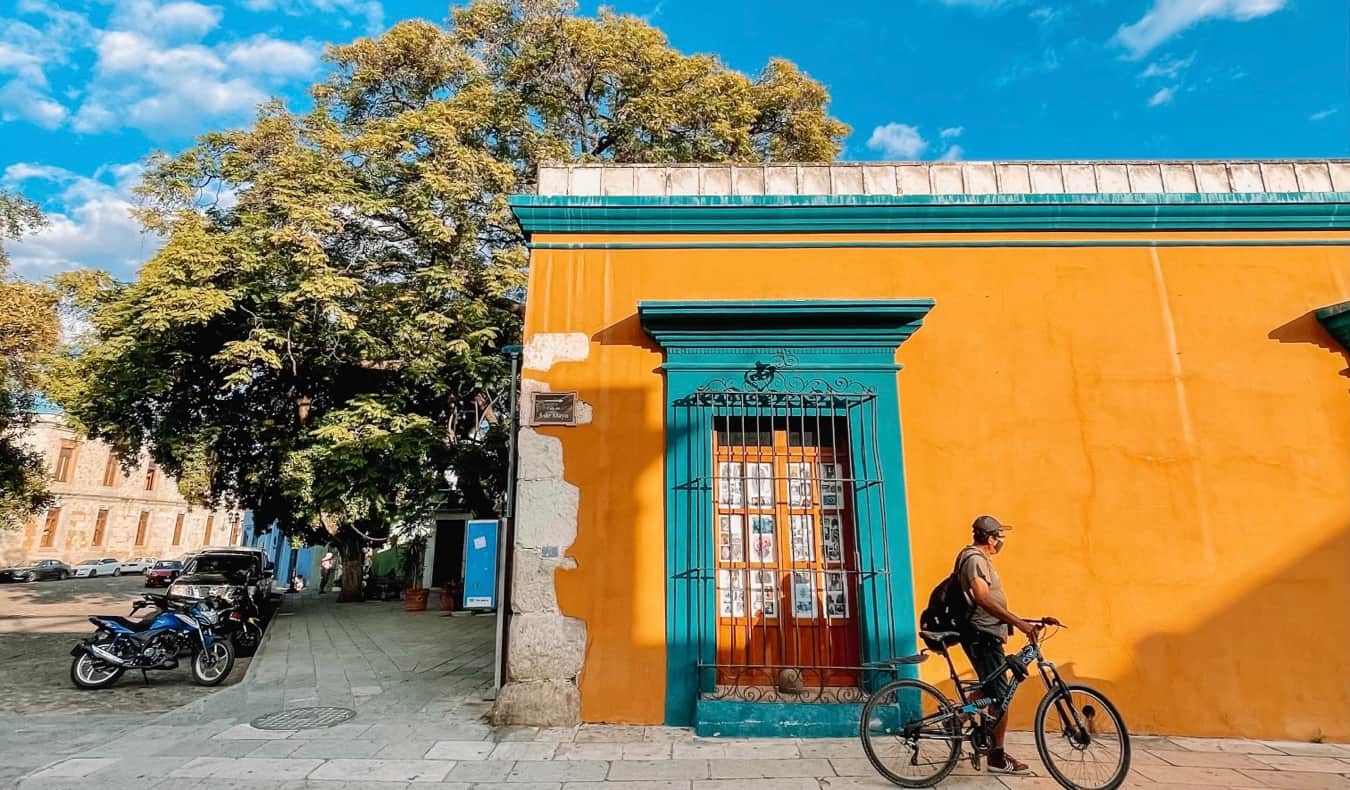 Then, there's the mezcal, the region's quintessential spirit. While it is produced in a few states, Oaxaca is the center of the mezcal world, and just a few hours away is the main producing area, near the town of Santiago Matatlán, where you can't walk anywhere without coming across a mezcalería. They're like pho stalls on the streets of Saigon, pubs in Prague, wine bars in Bordeaux, or Starbucks in any big American city: everywhere.
My friends Anna and Brooks from Rambling Spirits drove us around on a full-day tour, and I learned a lot about the drink. Like tequila, mezcal is made from agave, but unlike tequila, the heart of the plant is cooked in a pit in the ground before it's crushed. Then water is added, and it's allowed to ferment. Since it's cooked, mezcal has a much smokier flavor than tequila.
But, beyond the food and drink, were the wonderful and cheery people I met. From José, the mezcal production owner, to Asís, a local friend of a friend, to the staff of the hotel I lived at, to the hamberguesa maker I kept returning to, everyone was hospitable, warm, and welcoming. "You should stay" and then "Well, come back, ok?" were phrases I heard often.
And, if I didn't have to go home, I would have stayed the winter.
It was by far my favorite spot in Mexico and now holds a place my heart in a way I did not expect. I mean, I knew I would like it, but to love it so much? That was a surprise.
But, then again, it's the destinations that we have the least expectations about that turn out to be our favorites.
So, now, along with a very small handful of places in the world, I can add Oaxaca to the list: cities I will love for the rest of my life.
P.S. – All photos by my friend ExplorAddict. Give her a follow on Instagram!
Book Your Trip to Mexico: Logistical Tips and Tricks
Book Your Flight
Find a cheap flight by using Skyscanner. They are my favorite search engine because they search websites and airlines around the globe so you always know no stone is left unturned!
Book Your Accommodation
You can book your hostel with Hostelworld as they have the largest inventory. If you want to stay elsewhere, use Booking.com as they consistently return the cheapest rates for guesthouses and cheap hotels. My favorite place to stay in Oaxaca is:
Don't Forget Travel Insurance
Travel insurance will protect you against illness, injury, theft, and cancellations. It's comprehensive protection in case anything goes wrong. I never go on a trip without it as I've had to use it many times in the past. My favorite companies that offer the best service and value are:
Looking for the best companies to save money with?
Check out my resource page for the best companies to use when you travel! I list all the ones I use to save money when I travel — and I think will help you too!
Want More Information on Mexico?
Be sure to visit our robust destination guide on Mexico for even more planning tips!