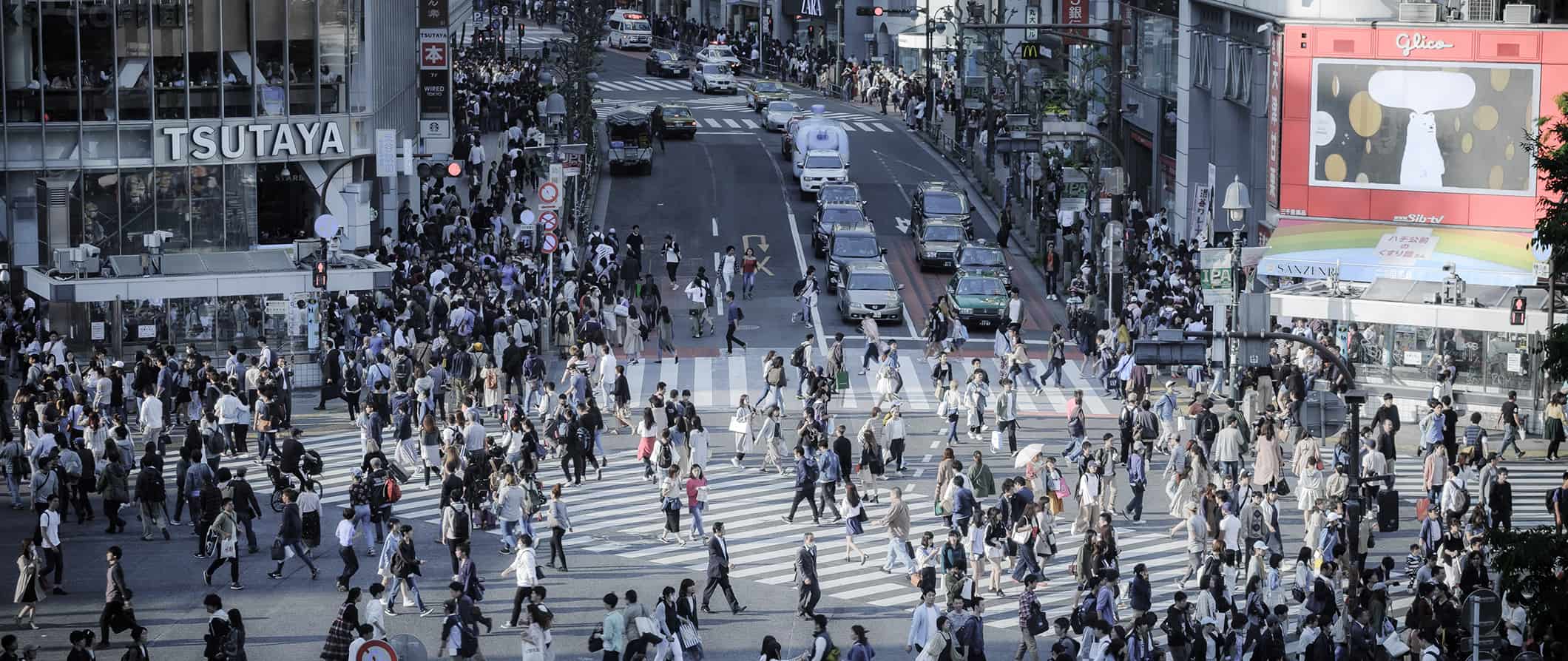 Tokyo is a crazy, frenetic, and amazing city. Here you can visit the imperial palace, the morning fish market, see the beautiful cherry blossoms, party in the Tokyo's trendy nightlife district, sing karaoke, and eat lots of amazing food….I mean it's Japan after all! I love Tokyo — it's one of my favorite cities in the world! I love the fast-paced modern city that still embraces its traditional roots. I love the orderly crowds when you expect chaos. Tokyo is a city like none other. It's not cheap, but this travel guide to Tokyo can help you navigate the city on a budget to make the most out of your visit (and hopefully fall in love with it too!).
Top 5 Things to See and Do in Tokyo
1. Admire Sensoji Temple
Legend has it that in 628, two brothers fished a statue of Kannon (the goddess of mercy) out of the Sumida River, and even though they put the statue back into the river, it always floated back to them. Sensoji, Tokyo's oldest and completed in 645 CE, was built nearby for them.
2. Visit the Tokyo Tower
Resembling the Eiffel Tower, the Tokyo Tower is taller than its European version and made entirely of steel. You can pay 1,600 JPY to go all the way to the top floor, but frankly the main observation deck (900 JPY) offers a view just as good.
3. Tsukiji Fish Market
Visit this world-famous fish market, and watch the vendors sell the fish that ends up as sushi in restaurants all over the world. It's hectic, crazy, and delicious. The tuna auction is now closed to tourists, but you can visit the market after the auction is over. Be sure to get there early in the morning and gorge on sushi for breakfast. Note: The inner fish market recently moved to Toyosu and is now known as the Toyosu Fish Market, however, the outer market (where you can find food and shops) is still in place.
4. Visit the Imperial Palace
The Imperial Palace, home to the Emperor of Japan, is a wonderful place to take a tour and learn about Japanese history and current events. It is surrounded by a beautiful park and garden. There's a guard change each day, which is similar to the changing of the guard at Buckingham Palace. Admission to the complex is free but requires advance booking.
5. Explore Ueno Park
Ueno Park is a great place to spend a free day. The park is covered in cherry blossom trees. The best time to come is when the trees are blossoming, and there is also a big festival at this time. You can also buy food from one of the many vendors.
Other Things to See and Do
(Click the title to expand the text)
1. Ueno Zoological Gardens
Located in Ueno Park, the Zoological Gardens is the oldest zoo in Japan and worth a visit for the day. The pandas are particularly rare and interesting to watch. Children get in free and adult tickets are 600 JPY. Admission is 600 JPY.
2. Watch a sumo match
Kokugikan is Japan's most famous sumo wrestling arena and is where tournaments are held three times yearly. A visit to one of the sumo stables nearby can be interesting but must be arranged well in advance.
3. Gaze at Mount Fuji from Hakone
Hakone is a great place to take in the view of Mount Fuji. There are numerous guesthouses, many with their own private onsen, in the area. It's a great place to get away from the business of the city and relax for a few days.
4. See the Hachiko Statue
The Hachiko Statue is a life-sized statue of a dog from 1925. The dog's owner died, but every day the dog still went to the train station to wait for him to return from work. It signals loyalty and devotion to the Japanese and is a popular monument. The statue stands in front of the Shibuya Station.
5. Shop at Akihabara Electric Town
For Tokyo, this is the Tsukiji Market of the electronics world. You can find pretty much anything you've ever imagined, as well as all of the things you've never even dreamed of. Many up-and-coming electronics are tested here, and there is a ton of cool stuff to browse.
6. Wander Roppongi Hills
A dream brought to life, this is a complex of architectural wonders. There are various buildings to see, all of which have been designed by leading architects, as well as various public art displays. This visual feast doesn't cost anything — all you have to do is catch a ride up the hill.
7. Drink in Golden Gai
If you are looking for something interesting to do at night, this little alleyway of back-street bars is a great place to start. There isn't much going on during the day here, but come sundown, these zigzag hallways and closet-sized beer rooms are filled with interesting people and cheap drinks. This is what you might consider "old-school" Tokyo.
8. Get on a suijo-bus
For centuries, Tokyo has been centralized around its rivers. One of the traditional ways to get around has always been via water-bus. This is a great alternative to the subway (when possible) and offers a different perspective of the bustling city. There are even floating restaurants, known as yakata-bune.
9. Visit the Great Buddha
Make a day trip to Kamakura, where you can see a 13m bronze statue of Buddha. It was initially built in a temple, but the temple was washed away – on several occasions – by storms. The statue now sits in the open air. Entrance is 200 JPY.
10. Check out a sento
A sento is a traditional Japanese public bath house. While they were originally built to accommodate those that did not have such facilities in-house, they are now a great place to go for some peace and relaxation. They are typically separated by gender. The Japanese are not shy in these places so you need to be comfortable with nudity! A budget-friendly sento will cost you just under 1,000 JPY.
11. Get touristy at Tokyo Disneyland
What can I say, I'm a sucker for Disney attractions! This is a great choice for anyone traveling with children, but also for any adults who just love to have fun at amusement parks! Adult admission is 7,400 JPY while child tickets cost between 4,800-6,400 JPY depending on their age.
Typical Costs
Hostel prices
– Most dorm beds in hostels costs between 2,000-5,000 JPY per night. While there are a few dingy hostels in the city, most will be clean and well-kept. WiFi is standard, and many will have cooking facilities, too. For an interesting budget stay, try a capsule hotel. You will be given a tiny capsule to sleep in, with shared bathroom facilities. They are often male-only, or at least separated by gender, and make for one of most unique experiences in the city. My suggested place is:
They have a number of locations, all of which are top notch.
Budget hotel prices – Private rooms cost between 7,000-11,000 JPY for a double room in a hotel which normally includes breakfast. Tokyo is a rather expensive city, so there isn't such thing as "budget" in town.
Average cost of food – Ramen noodle shops, miso and soba noodles, and donburi stalls range from 250-1,240 JPY and can be found everywhere. At many of these small shops you'll order from a vending machine, and some only have standing space. They may not be fancy, but they are cheap! Most restaurant meals cost around 1,850 JPY. Midrange restaurants will cost around 4,350 JPY. Sushi trains cost anywhere from 120-620 JPY per piece. Fast food is around 870 JPY, though you can find cheap meals (rice balls, ramen) at most convenience stores for under 400 JPY. You can also find a lot of pre-packed foods and snacks at 100 JPY shops (hyaku en). If you're ever at a loss for cheap restaurants, be sure to check the transportation hubs. All major bus/train stations will have a ton of fast and cheap restaurants. If you plan to cook for yourself, expect to spend 3,700-5,600 JPY per week on groceries.
Transportation – Tokyo has a world-class train system. The Yamanote Line hits all the city's spots and an all-day train ticket can be purchased for 750 JPY. The bus is another great way to explore the city, and bus stops are clearly marked. It costs 500 JPY when you board for an all day ticket, or 1,600 JPY for an all day train and bus combo ticket. Just make sure to see what lines qualify for your ticket as there are multiple companies in the city, each with their own passes. Flights from Tokyo connect to all around the country and beyond, making it a great hub to explore from.
Suggested daily budget
5,500-7,000 JPY (Note: This is a suggested budget assuming you're staying in a hostel, eating and cooking, and using local transportation. Using the budget tips below, you can always lower this number. If you stay in fancier accommodation or eat out more, expect this to be higher!)
Money Saving Tips
Skip the taxis – Since cabs can be expensive (870 JPY starting fare), use the public transportation to save money. It goes everywhere and late into the night!
Shop at the 100 Yen stores – There are many 100 Yen shops in Japan where you can grab set meals, groceries, water, toiletries, and household items. This is where you want to buy anything you need, allowing you to eat and shop on a budget!
Eat at 7-Eleven – The 7-Eleven, Family Mart, and other corner stores have a lot of pre-set meals for 120-370 JPY that make for a cheap lunch option. Additionally, supermarkets also have many set meals at similar prices. You can also find a lot of cheap meals at the major bus/train stations, as well (such as curry, ramen, and donburi).
Get a transportation pass – Chances are you'll be using a lot of public transportation to get around. If that's the case, be sure to get a transit day pass. All-day use of JR trains can be purchased for 750 JPY, and train-bus combo tickets are 1,600 JPY.
Couchsurf – Using sites like Couchsurfing that allow you to stay with locals not only gets you a free place to stay, but lets you interact and learn about local life. Make sure you ask early – the response rate in Japan is not always good!
Work for your room – Hostels in Japan let you work for your room. You'll spend a few hours in the morning cleaning, and you'll get free accommodation for as long as you want. The Khao San Hostel chain always has spots available.
Sleep in an internet/manga cafe – These 24-hour cafes are host to late-night gamers, partiers, and businessmen who didn't make it home after a night out. They rent by the hour, and so if you just need to kill some time but don't want to splurge on a hostel/hotel, consider a cafe. Some offer beds, though most will just have comfortable chairs. Food and snacks are generally included in the price. Rates can be as low as 1,500 JPY per night.
Save money on rideshares – Uber is way cheaper than taxis and are the best way to get around a city if you don't want to wait for a bus or pay for a taxi. The Uber Pool option is where can you share a ride to get even better savings (though you can get your own car too). You can save $15 off your first Uber ride with this code: jlx6v.
My Must Have Guides For Traveling to Tokyo