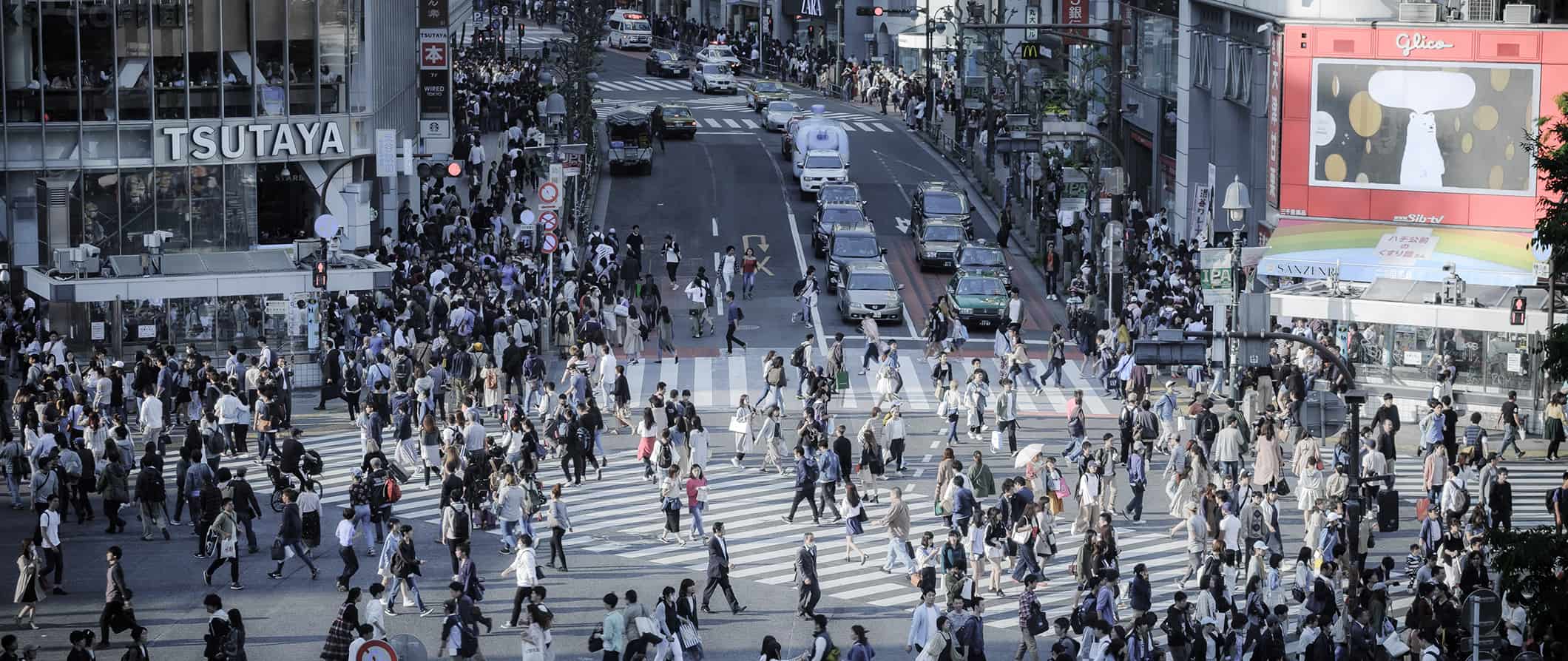 Tokyo is a crazy, frenetic, and astounding city. Here you can visit the imperial palace, the morning fish market, see the beautiful cherry blossoms, party in Tokyo's trendy nightlife district, sing karaoke, and eat lots of amazing food (it is Japan after all.)
I love Tokyo. It's one of my favorite cities in the world and I can't visit it enough! I love the fast-paced modern city that still embraces its traditional roots. I love the orderly crowds when you expect chaos.
Tokyo is a city like none other. Where else can you be in a city of ten million people but hear a pin drop? It's rare a person visits and doesn't enjoy their time here.
This travel guide to Tokyo can help you navigate the city on a budget to make the most out of your visit (and hopefully fall in love with it too!).
Top 5 Things to See and Do in Tokyo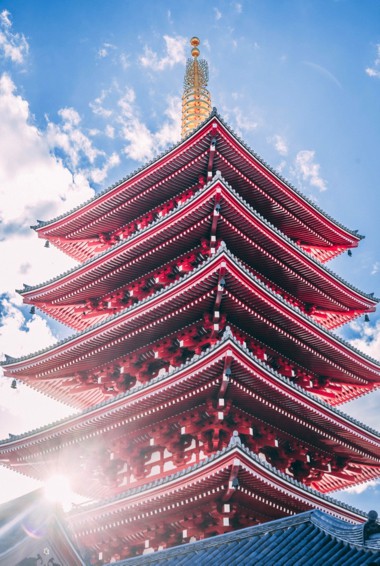 1. Admire Sensoji Temple
The original temple was built in the 7th century. The resurrected temple is beautifully painted and sits in a scenic spot near a five-story pagoda and the famous Kaminari Gate. There's a huge statue of Kannon, the goddess of mercy, inside the main hall . The grounds are open 24/7. The temple itself is open daily 6am-5pm.
2. Visit the Tokyo Tower
Built in 1957 and resembling the Eiffel Tower, the Tokyo Tower is made entirely out of steel. You can pay to go all the way to the top floor to take in the view, though the main observation deck offers a view that's just as stunning. Admission is 900 JPY for the main deck or 1,600 JPY for the top.
3. Tsukiji and Toyosu Fish Markets
In 2018, the world-famous Tsukiji fish market moved to Toyosu and is now twice the size. The daily fish auction here powers much of the world's sushi supply, and it is truly a sight to see. I have never seen more seafood I couldn't identify. In the old outer market, you can still find food and shops.
4. Visit the Imperial Palace
The Imperial Palace is the home of the Emperor of Japan. Formerly Edo Castle, the palace was built in the 15th century. When the Emperor moved the capital from Kyoto to Tokyo in 1869, he took Edo Castle for his new palace. While you can't go inside, the palace and its grounds are a peaceful place to wander.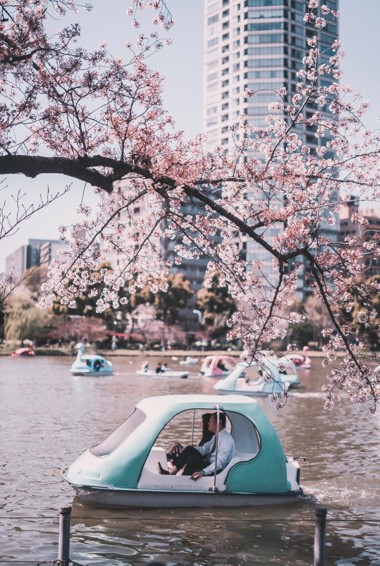 5. Explore Ueno Park
Ueno Park is covered in cherry blossom trees so the best time to come is when the trees blossom in April. The Tokyo National Museum is also located here and houses one of the world's largest collections of art and artifacts from Asia. Tosho-gu Shrine, which dates back to the 17th century, can be found in the park, as can the oldest zoo in Japan.
Other Things to See and Do in Tokyo
1. Watch a sumo match
Kokugikan, Japan's most famous sumo wrestling arena, hosts tournaments three times each year. The sumo wrestling that we see today dates back to the 17th century, though its origins date back even further. Even to this day, it's still one of the most popular traditions in the country. If you're in town at the right time, this is a must-do. Tickets sell out quickly so book early. To learn more about the sport, visit to one of the sumo stables (called "heya"). Here you'll get to see where the wrestlers train and live (visits must be arranged well in advance). Ticket prices vary but expect to pay around 2,200 JPY for a sumo match.
2. Gaze at Mount Fuji from Hakone
Hakone is a picturesque place to take in the view of Mount Fuji. Located just over an hour from Tokyo, Hakone is one of the best places to get away from the city, relax for a few days, and take in the view of Fuji-san, one of Japan's three holy mountains. There are numerous guesthouses in the area, many with their own private onsen (hot springs). It's a great romantic getaway spot if you're traveling as a couple. For a unique view of the region, grab a seat on the Hakone Ropeway ( tickets are 400 JPY).
3. See the Hachiko Statue
The Hachiko Statue is a life-sized statue of a dog from 1925. When the dog's owner died, Hachiko still went to the train station to wait for him to return from work. And he did so for over 10 years. The dog is a national hero in Japan and his story is well known as it highlights characteristics of loyalty and devotion (which the Japanese value highly). The statue stands in front of the Shibuya Station.
4. Shop at Akihabara Electric Town
This is the Tsukiji Market of the electronics world. You can find pretty much anything you've ever imagined, as well as all the things you've never even dreamed of. Many up-and-coming electronics are tested here. The area has a very futuristic feel to it, with tons of bright lights and huge billboards. It looks like something out of a sci-fi movie. There are also lots of local artists selling their music here too.
5. Wander Roppongi Hills
There are various buildings to see, all of which have been designed by leading architects, as well as various public art displays. A visit here is free — all you have to do is catch a ride up the hill. You'll find Mori Tower here, one of the tallest buildings in the city, as well as the Tokyo City View, which offers one of the best views in the city. Admission to the viewpoint is 1,800 JPY.
6. Drink in Golden Gai
This little alleyway of back-street bars is a lively place to drink at night. There isn't much going on during the day here, but come sundown, these zigzagging hallways and closet-sized beer rooms are filled with interesting people and cheap drinks. It has a bit of a red-light district feel to it as it lacks the polish of the rest of the city. But it is not to be missed.
7. Get on a suijo-bus
For centuries, Tokyo has been centralized around its rivers. One of the traditional ways to get around has always been via water-bus. This is a fun alternative to the subway and offers a different perspective of the bustling city. There are even floating restaurants, known as yakata-bune as well as lunch and dinner cruises that you can book. Expect to pay at least 6,000 JPY for a cruise with a meal, while the regular ferry costs as little as 600 JPY.
8. Visit the Great Buddha
Make a day trip to the small city of Kamakura to see a 13m bronze statue of Buddha. Built in 1252, the statue was initially constructed within a temple, but the temple was washed away on several occasions by storms so the statue now sits in the open air. You can even go inside the statue as well (there's nothing to really see inside but it's neat to be able to step inside a centuries-old work of art). The journey to Kamakura takes around an hour and is free with a Japan Rail Pass. Admission to see the Buddha is 200 JPY.
9. Check out a sento
A sento is a traditional Japanese public bathhouse. While they were originally built to accommodate those that did not have such facilities in-house, they are now a great place to go for some peace and relaxation. They are typically separated by gender. The Japanese are not shy in these places so you need to be comfortable with nudity! A budget-friendly sento costs just under 1,000 JPY. If you have tattoos you may not be allowed to enter (or you may have to cover them) so keep that in mind.
10. Get touristy at Tokyo Disneyland
I'll be honest, I'm a sucker for Disney attractions and Tokyo Disneyland doesn't disappoint. It's a fun choice for anyone traveling with children, but also for any adults who just love amusement parks (like me!). Opened in 1983, it has seven themed areas to explore and is the third most visited theme park in the world! You'll find many of the same classic rides from Disneyworld here, like Splash Mountain, Big Thunder Mountain, The Haunted Mansion, and everyone's favorite teacup ride, The Mad Tea Party. Admission is 7,400 JPY for adults and 4,800-6,400 JPY for children, depending on their age.
11. Have Dinner with Ninjas
For a unique dining experience, head to Ninja Akasaka. It's a ninja-themed restaurant designed like an Edo-era building from medieval Japan. The wait staff are clothed in stereotypical all-black "ninja" garb and trained in all sorts of tricks and simple illusions. You'll order your meal off of old scrolls while being entertained by the skillful tricks of your server. It's super fun and unlike any other restaurant I've ever been to!
12. Tokyo Metropolitan Teien Art Museum
Built in 1933, this small museum used to be the official residence of the Prince and Princess Asaka. The prince had studied in Paris and wanted to bring the art deco style to Japan, which explains the building's style and decorations. In 1983, the residence became a museum and is now home to a rotating series of modern art exhibitions. Admission is 200 JPY.
13. Try Superhero Go-Karting
Want to speed around the busy streets of Tokyo in a go-kart while wearing a costume? Of course, you do! MariCar (a play on Mario Kart) is a real-life Mario Bros. go-kart company that lets you dress up and race around the city in go-karts. As long as you have an International Driving Permit (which you can get if you have a valid driver's license before you leave home) you can take part. The course takes 1-2 hours and costs 9,000 JPY per person. There are multiple locations around the city too.
14. Visit a Quirky Café
Unsurprisingly, Tokyo has all sorts of amazing, weird, and wonderful cafés. Monster cafés, owl cafés, cat cafés, vampire cafés, dog cafés, religious-themed cafés, and much more! If you're looking for something unusual to do, see what weird and quirky cafés are near you (they're all around the city so you never have to go far to find one!). Some of the better cafes are Kawaii Monster Café, Vampire Café (vampire/goth-themed café), Christon Café (Christian-themed café), Dog Heart (dog café), and Cat Café Calico (cat café).
15. Eat at the Robot Restaurant
This restaurant is an absolute sensory overload. Lasers, robots, monsters, singing, dancing — it has it all! It may be a tourist trap (aka it's not cheap), but it is epic and unlike anything you've ever seen. It's incredibly lively and rambunctious and worth the price if you want to do something completely out of the ordinary. There are three performances a day on weekdays starting at 4:45pm, with afternoon matinees on weekends.
Tokyo Travel Costs
Hostel prices – Most hostels in Tokyo charge around 3,000 JPY per night for a bed in an 8-bed dorm. Free Wi-Fi is standard, as are lockers and self-catering facilities if you want to cook your own meals. Only a few hostels in the city offer free breakfast so if that's a priority be sure to book your hostel in advance.
For a private room in a hostel with a twin or double bed, expect to pay between 8,500-10,000 JPY per night.
Budget hotel prices – If you're looking for a budget hotel, expect to pay at least 6,500 JPY for a double bed at a two-star hotel. For a mid-range three-star hotel, prices start at 8,400 JPY per night while capsule hotels start at 3,000 JPY for a tiny pod that is essentially just a bed. It's not fancy, but it's a unique (and very Japanese) experience.
Private apartments/homes on Airbnb usually start around for 5,000 JPY per night though it's more common to find them for 7,000 JPY. For a single room, expect to pay at least 3,000 JPY per night.
Food – There are many cheap places to eat out in Tokyo, most of which offer ramen or soba noodles. These basic food options range from 300-1,250 JPY for a single dish. Mid-range restaurants (think three-course meals) cost around 2,500 JPY per person. Sushi trains cost between 100-700 JPY per piece. Fast food in Tokyo (think McDonald's or KFC) is around 700 JPY for a basic meal.
If you're on a budget, you can also find plenty of cheap meals and pre-packaged items at 7-Eleven — and even the locals eat them! Noodles, rice balls, tofu, and pre-packed sushi are all available for only a few hundred yen. If you are on a tight budget, 7-Eleven is your go-to "restaurant."
Buying groceries costs 4,000-5,500 JPY per week for basic staples like rice, vegetables, and fish. Just be sure to wash all your produce well. Japan uses a lot of chemicals on their produce as there is not much arable land in the country and agricultural practices rely on peak productivity (hence pesticides).
Backpacking Tokyo Suggested Budgets
Tokyo can be an expensive city to visit — even if you're a backpacker. To help you plan your trip, here are some suggested budgets and what you can expect to afford with each one.
If you're backpacking Tokyo, plan to budget between 7,600-8,200 JPY ($70-75 USD) per day. This is a suggested budget assuming you're staying in a hostel dorm, cooking some of your meals, eating at the cheap 100 yen shops or going to donburi shops, visiting free museums and temples, and using local transportation. If you Couchsurf, you can likely lower this down to around 6,000 JPY ($55 USD) per day.
On a more mid-range budget of 12,000-17,000 JPY ($110-155 USD) per day, you can stay in budget hotels or private rooms, eat out at budget restaurants, indulge in more drinks, visit more attractions, rent a bike, and just have some more breathing room in your travels.
On 30,000 JPY ($280 USD) per day, you can stay in traditional Japanese accommodations or hotels, eat at nice restaurants each day, splurge on some high-end accommodation, enjoy drinks as often as you want, take paid tours, and overall just have a more comfortable trip. If you're staying in international hotels in the city, I'd add another $50-100 a day to your budget.
This chart can give you an average breakdown of your expenses. Remember these are only guidelines. How you budget your money in Japan based on your own desires and logistics will determine how your budget will really come together!
Accommodation
Food
Transportation
Attractions
Average Daily Cost
Backpacker
$30
$10-15
$15
$15
$70-75
Mid-Range
$50-75
$20-40
$15
$25
$110-155
Luxury
$150+
$60-90
$30
$40
$280+
Tokyo Travel Guide: Money-Saving Tips
While Tokyo is one of the most expensive cities in the world there are still plenty of ways to save money while you're here. To help keep your budget intact, here are some quick tips to help you save money during your trip:
Skip the taxis – Since cabs can be expensive (they have a 475 JPY starting fare), use the public transportation to save money. It goes everywhere and late into the night!
Shop at the 100 Yen stores – There are many 100 Yen shops in Japan where you can grab set meals, groceries, water, toiletries, and household items. This is where you want to buy anything you need, allowing you to eat and shop on a budget. Just ask your hostel/hotel where the nearest "Hyaku En" shop is.
Eat at 7-Eleven – The 7-Eleven, Family Mart, and other corner stores have a lot of pre-set meals for 120-370 JPY that make for a cheap lunch option. Additionally, supermarkets also have many set meals at similar prices. You can also find a lot of cheap meals at the major bus/train stations, as well (such as curry, ramen, and donburi). Even the locals eat here.
Get a transportation pass – Chances are you'll be using a lot of public transportation to get around the city. If that's the case, be sure to get a transit day pass. All-day use of JR trains and subways cost 1,600 JPY.
Couchsurf – Using sites like Couchsurfing that allow you to stay with locals not only gets you a free place to stay but lets you interact and learn about local life. Make sure you ask early – the response rate in Japan isn't great. Try asking expats as they are generally more active on the platform.
Work for your room – Hostels in Japan let you work for your room. You'll spend a few hours in the morning cleaning, and you'll get free accommodation for as long as you want. The Khao San Hostel chain usually has spots available.
Sleep in an internet/manga cafe – These 24-hour cafes are host to late-night gamers, partiers, and businessmen who didn't make it home after a night out. They rent by the hour, and so if you just need to kill some time but don't want to splurge on a hostel/hotel, consider a cafe. Some offer beds, though most just have comfortable chairs. Food and snacks are generally included in the price. Rates can be as low as 1,500 JPY per night.
Buy food at night – After 8pm, supermarkets discount their fresh food as they have to get rid of it. If you buy your food after 8pm, you can save up to 50% on almost everything fresh.
Stay at a capsule hotel – If you're on a tight budget. stay at a capsule hotel. They are a little cheaper than hostels and will help you pinch pennies while you're here. Just don't expect anything fancy!
How to Get Around Tokyo
Bus – Buses are widely available in Tokyo, though you can usually get by without them as the subway and train system in the city is comprehensive. If you do need to take the bus, fares are around 210 JPY for adults and 110 JPY for kids. Toei is the main bus company providing service here. You can get a single-day bus pass for Toei lines for 500 JPY (you can get them from the driver). Buses usually run from 6am-10pm.
If you plan on using the buses often, you can get discounted fares by using a prepaid Pasmo card or Suica card, which would lower the fare to 206 JPY and save you fumbling for your change every time you ride.
Subway/Train – The metro and train system in Tokyo is one of the most incredible in the world. It ferries almost 9 million riders around the city each and every day and is known for being on time. The metro system is made up of 13 different lines with tickets starting at 170 JPY (165 JPY with a Pasmo or Suica prepaid card).
You can get a 24-hour pass for 800 JPY, a 48-hour pass for 1,200 JPY, and a 72-hour pass for 1,500 JPY. It works on all Tokyo Metro and Toei Lines (not JR Lines however).
Trains are available from 5am-12am and there are women-only cars for added security and safety as well. Things get busy at rush hour so try to avoid it if you can. It's from 7:30am-9:30am and 5:30pm-7:30pm on weekdays. There are also many JR trains in the city, so if you have a Japan Rail Pass you can travel around Tokyo for free.
Taxi – Taxis in Tokyo aren't cheap so I'd avoid them if you can. Fares start at 475 JPY and go up by 415 JPY per kilometer. Avoid them if you can!
Ridesharing in Tokyo isn't any cheaper so don't expect any savings here. DiDi is the go-to ridesharing app here and its prices are generally on par (or higher) than the JapanTaxi app. Unless you have no choice, skip rideshares and taxis.
Car rental – Unless you have a specific reason to rent a car, I would avoid it. Traffic here, while organized, is stop and go at the best of times. The city is really designed for public transportation and it is usually faster. That being said, if you wanted to rent a car prices start at 4,700 JPY per day for a small two-door vehicle.
Bicycle – Tokyo is a relatively safe city to bike in as there are lots of bike lanes and a ton of local cyclists who commute via bicycle. For a full-day rental, expect to pay between 1,000-1,200 JPY. Hourly rentals can usually be found for 200-300 JPY as well if you just need a short-term rental.
When to Go to Tokyo
The most popular time to visit Tokyo is in the summer, however, it can get quite warm during this time. Temperatures in June-August are around 32 C (89 F) and it is very humid. Even September is quite warm as well. You'll also have larger crowds as Tokyo is the most visited city in the country. Expect crowded public transportation during this time (more so than usual). If you visit during the summer, make sure you're up early to beat the crowds and that you've booked your accommodation in advance.
The shoulder seasons are probably the best time to visit Tokyo. April-May and October-November see cooler temperatures and only a little bit of rain. Keep in mind that late March to early April is cherry blossom season so expect massive crowds in the city's greenspace during that time. If you plan to visit then, be sure to book ahead!
While the winter in Tokyo is cold it is hardly unbearable. Temperatures usually sit around 10 C (50 F) during the day and drop down to around 2 C (36 F) during the night. The city is much quieter during this time as well. Snow isn't common and when it falls it usually melts within a day or two. Expect more rain than snow during the winter.
Additionally, keep in mind that typhoon season occurs from May to October. Japan is well-equipped to handle all types of typhoons, but be sure to purchase travel insurance in advance!
How to Stay Safe in Tokyo
Japan is a notoriously safe country. Even in Tokyo, a massive city home to 10 million people, there's virtually zero chance you're going to get robbed, scammed, or hurt. None. You're going to be super-duper safe here. In fact, Tokyo is consistently ranked as one of the safest cities in the world (it was rated the safest city in the world in 2019).
Your only real risk here is from mother nature. Earthquakes and typhoons are relatively common, so always make sure you know where your exits are when you arrive at your accommodation. Download offline maps to your phone as well in case you need to navigate the city in an emergency.
As a solo female traveler, you may have to watch out for lude behavior here and there. Some female travelers have reported inappropriate behavior, such as men asking personal questions or catcalling. Groping has been reported on the cramped subways here so you'll want to remain vigilant (though it is still quite rare).
Many train lines around the city now have "women only" cars during rush hour — you'll see pink signs directing where women should board. Should you need assistance, Japan's emergency number is 110. For non-emergency assistance, you can call the Japan Helpline at 0570-000-911 should you need assistance.
Always trust your gut instinct. If a taxi driver seems shady, stop the cab and get out. If your hotel is seedier than you thought, get out of there. You have every right to remove yourself from the situation. Make copies of your personal documents, including your passport and ID. Forward your itinerary along to loved ones so they'll know where you are.
If you don't do it at home, don't do it here!
The most important piece of advice I can offer is to purchase good travel insurance. Travel insurance protects you against illness, injury, theft, and cancellations. It's comprehensive protection in case anything goes wrong. I never go on a trip without it as I've had to use it many times in the past. You can use the widget below to find the policy right for you: