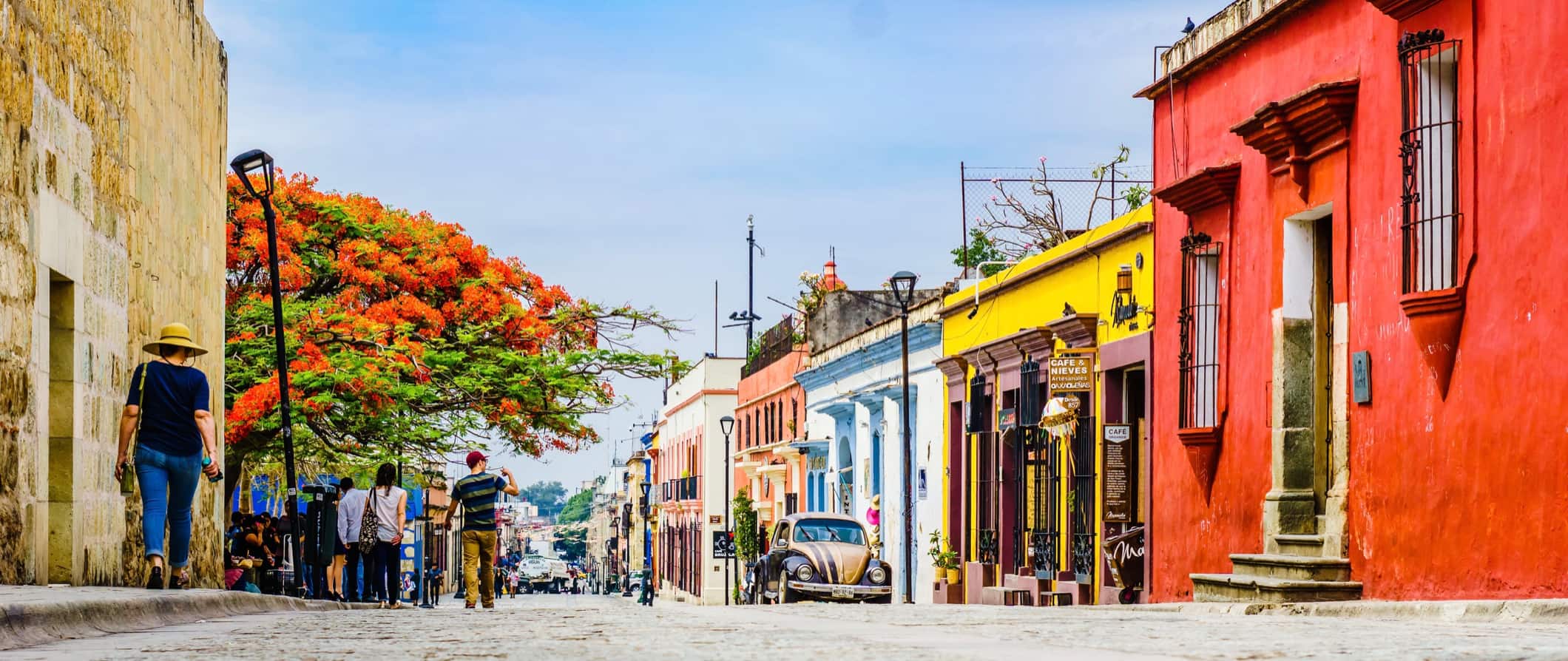 From the moment I arrived, I knew Oaxaca was a special place. The city's energy and mine just synched. We were a pair. I could recognize the signs: a sense of unconditional joy emerged in my heart. My eyes constantly shifted to every shade of color, every movement, as if I had an insatiable hunger to take in everything. I was in love.
Located in a valley surrounded by craggy mountains in southwestern Mexico, Oaxaca and its surrounds have been inhabited for thousands of years by indigenous Zapotec and Mixtec peoples. Today, Oaxaca is a center for heritage tourism, owing to the many historical attractions (including Monte Albán, a UNESCO Heritage Site; and Mitla, a Zapotec archeological site) in the city and surrounding area.
Oaxaca is a city of colorful buildings, scenic rooftop restaurants and bars, street art, historic Spanish colonial churches, cobblestone streets, and picturesque parks. It's also one of the gastronomic centers of Mexico and a hub for making mezcal in the country.
With plenty of out-of-this-world food, the best mezcal in the world, and tons of history, it's no surprise I fell in love with Oaxaca. It's a special place and you should spend as much time as you can when you visit.
This travel guide to Oaxaca will help you see all the sites, save money, and fall in love with it too.
Top 5 Things to See and Do in Oaxaca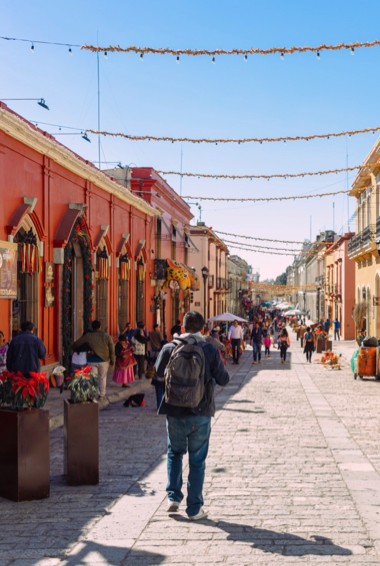 1. Wander the historic downtown
The entire downtown of Oaxaca was designated a UNESCO World Heritage Site in 1987. There are over 1,200 historic buildings here, most of which are hundreds of years old. Spend some time wandering to take in their vibrant colors and historic architecture.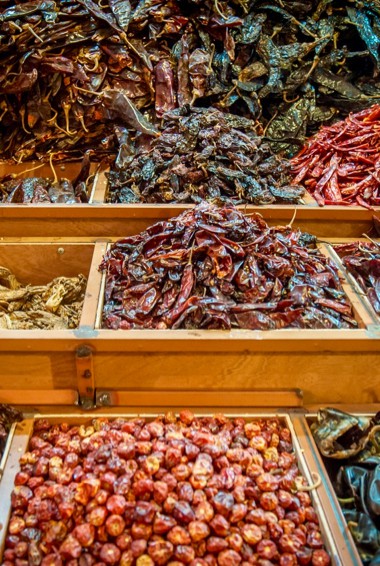 2. Explore Mercado 20 de Noviembre
This covered market is home to all kinds of delicious street food as well as fresh, local produce. Be sure to try some of the amazing grilled meats as they are a local favorite! It's open daily from 7am-9pm. Definitely eat here at least once.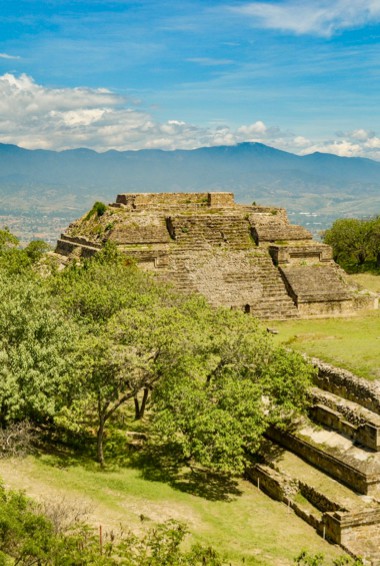 3. See Monte Albán
This pre-Colombian archeological site is located just 15 minutes outside the city. Founded in the 6th century BCE, it's a UNESCO World Heritage Site full of pyramids, terraces, and canals that span several miles. Admission is 70 MXN.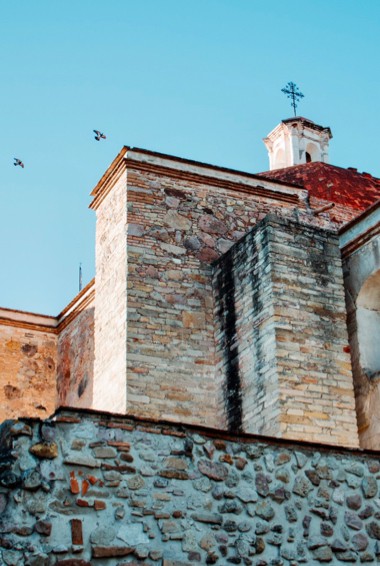 4. Explore Mitla
This pre-Colombian UNESCO site was built in 850 CE and was mostly destroyed by the Spanish when they arrived in the mid-16th century. However, some buildings were left intact, which you can get up close and explore (some of which date as far back as 400 CE). Admission is 75 MXN.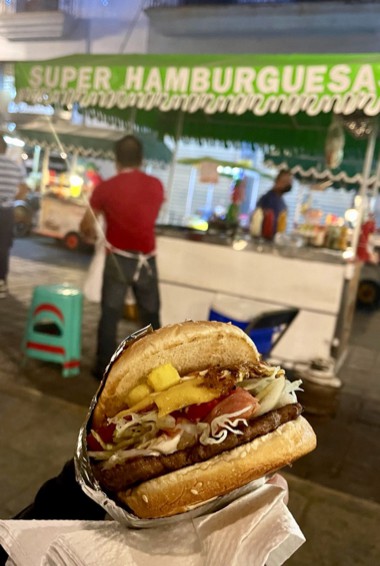 5. Try a street-stall hamberguesa
The hamberguesa is a delicious but unhealthy must-eat meal. It's a burger topped with a hot dog, sliced cheese, Oaxaca cheese, ham, pineapple, lettuce, tomato, and jalapeño. It's all the unhealthy foods you could ever want for just 50 pesos. Cangerburger sells one of the best.
Other Things to See and Do in Oaxaca
1. Learn about mezcal
Mezcal is the region's quintessential spirit. Made from agave, you can't go far without spotting a mezcaleria here. A great option is the Sacred Mezcal Experience with my friend Ian from Where Sidewalks End, which goes in-depth about different varieties of agave plants and the spirits they make (and of course tasting them). You learn about the day-to-day life of the farmers who produce mezcal and you even get to plant your own agave (which could live in their field for up to 25 years). What better reason to come back to Oaxaca than to see how your baby agave is doing?
2. Take a free walking tour
One of the first things I do when I visit a new city is take a free walking tour. They're the best way to see the main sights, get introduced to the city and culture, and connect with a local guide who can answer all your questions. Oaxaca Free Walking Tour offers free daily tours that show you the hidden gems of the city and what life is like for the locals who live here. Just make sure to tip your guide at the end!
3. See the Templo de Santo Domingo
This Baroque Roman Catholic church was started in 1572, though it wasn't completed until 1731. It was originally used as a Dominican church and monastery. During Mexico's revolutionary war, the church was annexed and used as a barracks and military building. It was transformed into a museum in the 1970s and is now home to all kinds of religious and pre-Colombian artifacts. The interior is incredibly ornate, with intricate carvings on the walls. Admission is free. Be sure to dress respectfully.
4. Wander the Botanical Garden
These gardens span over 2 acres and are located near the Church of Santo Domingo. The gardens feature different plants from across the state (Oaxaca is one of the most biologically diverse regions in the country). In addition to the flowers, trees, and cacti that dot the garden, there are also sculptures and works of art too. Self-guided tours are not allowed so you'll need to go with a guide (English tours are offered Tuesday, Thursday, and Saturday while Spanish tours are offered daily). Admission (including the tour) is 50 MXN.
5. Visit Puerto Escondido
Located on the Pacific Coast 6 hours away by car, Puerto Escondido is famous for its stunning beaches and rambunctious nightlife. If you're looking for a quick weekend getaway from Oaxaca, head here to lounge away the days and party all night. Playa Manzanillo and Puerto Angelito are the best beaches for swimming and lounging while Playa Zicatela is great for surfing. Avoid staying in the middle of Zicatela as it's boring. If you're backpacking, stay at the very south where all the hostels are. It's a lively area.
6. Take a food tour
If you're a foodie like me, one of the best ways to get a sense of the local food scene is to take a guided food tour. I highly recommend doing one here since Oaxaca is such a center for gastronomy. Oaxaca has some of the most diverse selection of dishes in Mexico. Oaxaca Eats runs several tours, most of which last around 4 hours. You'll get to sample 20+ dishes. Tour prices vary but expect to spend 1,800 MXN.
7. Wander the Sunday market
Mercado Tlacolula is one of the most popular markets in the region. It's essentially been in operation for centuries and is a good place to buy local crafts, produce, food, and everything in between. It's located 45-minutes outside the city so you'll need to drive there or take the bus, but it's absolutely worth the journey. There are thousands of people here and tons of amazing food to try. Don't miss barbacoa (stewed meat) and chicharrón (fried pork rinds).
8. Try a cooking class
If you want to learn how to make some of the amazing dishes you've eaten here, take a cooking class. Most classes take you to the market so you can buy fresh ingredients before you start cooking. Classes last around 5 hours and are hands-on and fully immersive. Usually, you'll make one appetizer, some salsa, a main mole dish (mole is a specific sauce and one of the region's specialties), and a dessert. Expect to spend around 1,600 MXN for a class.
9. Go hiking in Sierra Norte
Sierra Norte offers visitors over 100km of hiking trails spanning over 40 different trails. Located just two hours by car from Oaxaca, you'll also see a handful of Zapotec villages (Pueblos Mancomunados) along the way that offer village-to-village treks and homestays. At Sierra Nore, keep in mind that trails are not well marked so you'll need to hire a guide (going solo is possible but not recommended). Guides are incredibly knowledgeable and can point out wildlife (there are pumas, bobcats, armadillos, and more here), identify plants, and ensure you don't get lost as (plus, hiring a guide helps support the local economy). Multi-day tours (which trek from village to village) cost around 3,600 MXN per person for a 3-day tour.
10. Experience a Temazcal
Temazcal (meaning "house of heat") is a traditional Zapotec sweat lodge. You'll sit in a small domed hut that becomes increasingly warmer. You'll rub everything from clay to fresh fruit juices and peels on your skin as you heat up, cooling down by dunking yourself in cold water. It's a very meditative, spiritual experience with numerous health benefits. Visits usually last an hour and cost around 600+ MXN.
11. Celebrate Day of the Dead
The Day of the Dead (Día de Los Muertos) is one of the biggest celebrations/festivals in all of Mexico. It occurs between October 31st and November 2nd and is a time meant for remembering loved ones who have passed. Locals paint their faces, visit cemeteries, and give offerings. There are all kinds of celebrations and parades too. Oaxaca hosts one of the biggest festivals in all of Mexico. It's one of the best (and busiest) times to visit Oaxaca. Be sure to book your accommodation early as hotels and hostels sell out months in advance.
If you're visiting other cities in Mexico, check out these guides:
Oaxaca Travel Costs
Hostels – A bed in dorm costs between 200-250 MXN per night (regardless of how big the dorm is). Free Wi-Fi is standard and many hostels also include free breakfast. Most also have self-catering facilities too. Private rooms cost 400-600 MXN per night.
For those traveling with a tent, a basic plot for two people without electricity can be found outside the city for around 200 MXN per night. The campgrounds are 20 minutes outside the city by car.
Budget hotels – Budget two-star hotels with ensuite bathrooms start at 500 MXN per night. These include basic amenities like TV, AC, and free Wi-Fi.
Airbnb is also available here, with private rooms starting at 250 MXN per night (though they average closer to 750 MXN). Entire homes/apartments cost at least 350 MXN.
Food – You'll find a lot of rice, beans, fruits, and veggies like tomatoes, corn, avocado, and peppers in Mexican cuisine. Typical Mexican dishes include tacos, salsa, enchiladas, tamales (stuffed corn pockets), pozole (hominy stew topped with onion, avocado, and chili), and guacamole. Oaxaca is a gastronomical hub in Mexico and is known for unique dishes such as tlayudas (a tortilla filled with beans, lettuce, cheese and your protein of choice, grilled to be crispy on the outside), and mole (a sauce with lots of ingredients, sometimes including chocolate, and served with rice and tortillas).
Street stalls and markets are your best choice for authentic and inexpensive food. Tacos, quesadillas, sopas, tortas, and other street foods are generally 15-45 MXN. Sometimes, you'll find tacos for as cheap as 10 MXN. In Oaxaca, street food is the best — and most affordable — option.
Be sure to hit the markets here too. At the Mercado Sanchez Pascua, there is a tamale lady in the back who has some of the most delicious tamales in Oaxaca (try the salsa verde!). She is so popular she often is sold out by 10am.
At the Mercado La Merced, there is a restaurant called Rositas. They serve the classic enchiladas and entomatadas, but they also have an enomolada (tortillas slathered in the delicious mole negro) which are out of this world.
In the most famous market, Mercado 20 de Noviembre, there is a section full of BBQ stalls where you can order a plate full of meat and some veggies on the side, cooked right in front of you. All of these are authentic, traditional, delicious — and budget-friendly!
Surprisingly, there are not as many taco stands as you might expect around the city center but if you make your way up to the ADO bus station and look across the street, there is a long line of taco stalls set up. Most of them have the exact same fare — tacos al pastor, for 10 MXN each. At the far end, you will see one with pots full of bubbling stews of meat — tacos casuales — and they go for 15 MXN each. They are a great start, or end, to any night out.
A meal at a local Mexican restaurant serving traditional cuisine costs around 75-100 MXN. Look for the ones filled with locals as that is generally a sign that the food is really good. For comparison, a combo meal at McDonald's costs around 110 MXN.
A national beer is around 30 MXN while a latte/cappuccino is 45 MXN. Bottled water is 10 MXN.
Tap water is not safe to drink in Mexico. Bring a portable water purifier (LifeStraw makes a good one) to save money and reduce your reliance on single-use plastic.
If you plan to cook your meals, expect to pay between 500-575 MXN per week for basic staples like rice, beans, veggies, and some meat.
Some of my favorite restaurants are Boulenc, Los Danzantes, La Mezcaloteca, Tlayudas El Negro, Cactus Loncheria, Lechoncito de Oro, Santo Sabor Restaurante, Tastavins, Casa Taviche, Casa Oaxaca el Restaurante, and Praga Coffee Bar.
Backpacking Oaxaca Suggested Budgets
If you're backpacking Oaxaca, expect to spend 800 MXN per day. This budget gets you a hostel dorm, street food and self-cooked meals, local transportation, and a few cheap attractions, such as a visit to Monte Albán and a free walking tour. If you plan on eating out more or drinking lots of mezcal, you need to add another 100-300 MXN per day.
On a mid-range budget of 1,550 MXN per day, you can stay in a private Airbnb, eat at restaurants serving cheap traditional cuisine for every meal, have a few drinks, take the occasional taxi to get around, and do more paid activities like cooking classes or museum visits.
On a "luxury" budget of 3,200 MXN or more per day, you can stay in a hotel, eat out for all your meals anywhere you want, have plenty of drinks, take taxis everywhere or rent a car, and do some guided food or mezcal tours. This is just the ground floor for luxury though. The sky is the limit!
You can use the chart below to get some idea of how much you need to budget daily, depending on your travel style. Keep in mind these are daily averages – some days you'll spend more, some days you'll spend less (you might pay less every day). We want to give you a general idea of how to make your budget. Prices are in MXN.
Accommodation
Food
Transportation
Attractions
Average Daily Cost
Backpacker
250
250
100
200
800
Mid-Range
350
400
200
600
1,550
Luxury
800
1,000
500
900
3,200
Oaxaca Travel Guide: Money-Saving Tips
Like the rest of Mexico, Oaxaca is super affordable. However, with so many tempting eateries and mezcalerias, it's easy to go over budget on those two things (that's what happened to me and my entire group of friends). Here are some tips to help you save money in Oaxaca:
Shop at the markets for food – Oaxaca's markets are a great place to eat inexpensively and stock up on food for day trips. Binge on fresh fruit, tacos, and grilled meat — it's all super cheap!
Eat street food – Street food is the best food in the city — and the cheapest. Stick to street stalls to save money and enjoy the country's best eats. Most meals won't be more than 30 MXN.
Take a free walking tour – A free walking tour is the best way to see the main sights and connect with a local guide. Oaxaca Free Walking Tour offers daily tours that give you a solid intro to the city. Just be sure to tip your guide!
Stay with a local – Use Couchsurfing to connect with locals and find free accommodation. If you send your request in advance, you can likely find a host who can share their insider tips and knowledge with you.
Drink less – Alcohol is cheap in Mexico, but it's definitely more expensive at bars and clubs. Try to buy your alcohol from a local store instead of drinking at the bar if you're on a budget.
Skip the taxis – Oaxaca is easy to explore on foot and the bus goes pretty much everywhere you need it. Skip the taxis!
Being a water filter – Since the tap water here isn't safe to drink and single-use plastic is bad for the environment, bring a water filter. LifeStraw makes reusable bottles with a built-in filter so you can ensure your water is always clean and safe.
Where to Stay in Oaxaca
Oaxaca has plenty of affordable hostels. Here are some suggested places to stay if you're on a budget:
How to Get Around Oaxaca
On foot – Oaxaca is super pedestrian-friendly. Unless you're heading out to the nearby ruins, you can likely just walk everywhere in the downtown area.
Bus – Collectivos (shared taxis that drive set routes) are available around the city and usually cost around 15 MXN.
Taxi – Taxis start at 50 MXN and go up by region traveled. For example, anywhere in the historic center costs 50 MXN, even if you only travel 1 block or 10. If you want to go to the neighboring region of La Reforma from the historic center, it costs 70 MXN, and so on. A taxi to the airport should be about 150-200 MXN, depending on which region you're staying in (and what time of day/night it is, with nighttime being a bit higher). While affordable, they add up quickly so skip the taxis if you can.
Though Uber is not in Oaxaca, you can use a similar app called Didi. International credit cards don't seem to work with the app, so make sure you have close to the right amount of change as the suggested fare cost (taxi drivers don't usually have a lot of change).
Rides with this app exclusively use taxis.
Bicycle – Bike rentals can be found for around 100 MXN for a half-day rental. For a guided mountain bike trip, expect to spend around 1,300 MXN for a half-day excursion.
Car rental – Car rentals cost around 500 MXN per day. Unless you're going to do some day trips (or multi-day trips) outside the city (such as a trip to Puerto Escondido) then you likely don't need a car. Renters must be 21 years of age and have had their license for at least two years.
Some companies require renters to be over 25. Deposits on car rentals can also be quite steep, with some companies asking for $1,000 USD as a deposit
When to Go to Oaxaca
Oaxaca's elevation offers a relatively pleasant climate year-round. The most popular time to visit is December-January when many Canadian and American tourists flock south to avoid the winter. This is when the city is busiest and prices are highest. Daily highs are comfortable and not too hot, hovering around 25°C (77°F).
Expect crowds around the Day of the Dead (late October/early November). If you're visiting then, be sure to book your accommodation well in advance.
The summer sees more rain, though the weather is still warm and sunny. Expect daily averages around 26°C (79°F).
How to Stay Safe in Oaxaca
Oaxaca is generally one of the safest cities in Mexico. You don't find the kind of drug or tourist-related violence and thefts you find elsewhere. That being said, it is still always best to practice personal safety and never stop being aware of your surroundings.
Be sure to take a taxi home after a night out just to be safe. Also, don't carry all your valuables with you everywhere you go (unless it's to or from the airport). Leave your passport at your hotel and only take enough money with you for what you feel you need to do (and maybe a little extra for some fun spontaneity).
When possible, it's always best to walk with a friend or a small group. Avoid wearing flashy jewelry and waving around lots of money or high-end electronics (both during the day and at night).
Overall, dangerous crimes against tourists are uncommon here. The people who do tend to be involved in incidents are usually drinking, doing drugs, taking part in sex tourism. Avoid all of that and you'll greatly reduce your risks here.
If you rent a vehicle, never leave any valuables in it overnight. As a general rule, don't drive in Mexico at night. Crimes against drivers are much higher at night — even on busy highways.
If an emergency occurs, dial 911. If that doesn't work (since 911 isn't available everywhere), dial 066.
Worried about travel scams? Read about these 14 major travel scams to avoid.
Always trust your gut instinct. Avoid isolated areas at night, and be aware of your surroundings at all times. Make copies of your personal documents, including your passport and ID.
If you don't do it at home, don't do it here! Follow that rule and you'll be fine.
The most important piece of advice I can offer is to purchase good travel insurance. Travel insurance will protect you against illness, injury, theft, and cancellations. It's comprehensive protection in case anything goes wrong. I never go on a trip without it as I've had to use it many times in the past.