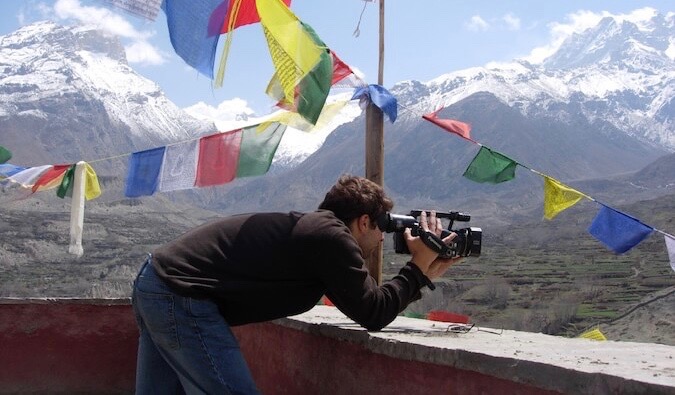 Updated: 10/9/20 | October 9th, 2020
A few weeks ago, I reviewed the movie A Map For Saturday. As you know, I loved the movie. I got in contact with the director/star, Brook Silva-Braga, and fresh from his trip in Africa, he was kind of enough to give me an interview.
Nomadic Matt: You took your trip in 2005. What made you decide to video tape it? What kind of reactions did you get on the road?
Brook: Well I had been working at HBO for a while and the only reservation I had about leaving for a year was what it would mean for my career. So bringing the camera was a way to say to myself, 'See, you aren't throwing away your career.' People reacted well to the camera especially once I learned to wait a while before bringing it out.
It also distinguished me a bit from the rest of the crowd but I think people didn't really imagine what I was doing would end up in theaters and on TV, I was just a guy with a camera.
In the movie, one of the central themes you hear from travelers is that they didn't want life to pass them by. I think that's true with anyone. Why do you think only some people travel while others stay in their office?
Well, I suppose it's a matter of priorities and background. My parents traveled quite a bit when they were younger and it was always something that was encouraged but not something I prioritized. It was a fluke business trip to Asia that introduced me to the Thai backpacking scene and really planted the seed to take a big trip.
If I hadn't met Bill and Paul on Ko Samui and heard about their RTW trip I probably would still be in an office myself.
I was happy to see you talked about the burnout you can face on the road. Everyone thinks it's a holiday but sometimes it is work and it wears on you. I experienced it quite a few times during my long haul. Did you get burnt out? How? What did you do about it?
I think people hit a wall, usually about six months in, and I was no exception. I stopped being interested in seeing more temples or churches or city squares.
The flip side of that was I became very, very comfortable living on the road. It came to feel like home even though it was a different physical place every few days.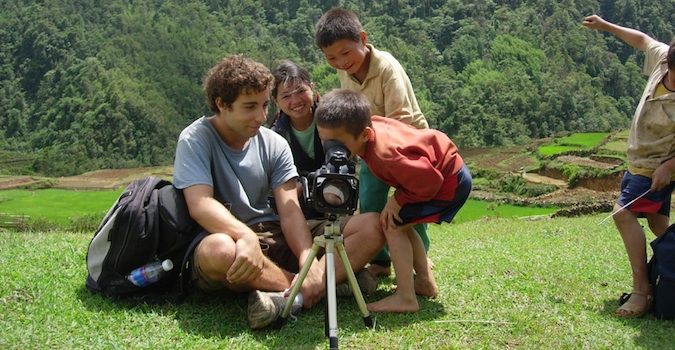 What was the one thing you walked away with from this whole experience?
I think I came away with different ideas about how I want to spend my life and an appreciation for the joys of free time. That perspective can also be a curse for many people who return from long trips and have trouble restarting their lives or careers, often for years after their trip. Even today I struggle to balance my professional and personal ambitions.
What have you been up to since the movie ended? Any new movie in the works? Are you inking major motion picture deals?
I actually just got back from a five-month trip through Africa and will spend the summer and fall editing "One Day in Africa," a documentary following five or six Africans from different backgrounds on one day in their life. There's a rural farmer, an expecting mother, a college student, etc. I hope to show a side of life in Africa that is more complex than the "look how bad it is" or "look how hopeful it is" variety we tend to see so often.
The movie leaves off in mid-2007 after the Paris premiere. Have you talked to any of the "co-stars" since then?
Yes, I'm still in touch with a lot of them. Sabrina (the German love interest) is coming to New York this fall and Lonnie (the Dane who cuts my hair at the end of the full-length version) is in NYC now and will be crashing on my couch next week.
I went to Europe last summer and tried to see as many friends there as possible. It's really helpful to see people within a year or two, or else that e-mail friendship tends to fade away.
In fact, you talked a lot about how the more time moved forward, the less the e-mails came. With the rise of Facebook, has that changed? Is the five-hour friend a thing of the past?
I don't think so. I just spent several weeks in Lilongwe, Malawi where I made a number of really good friends. But we haven't e-mailed or friend-ed each other in the week since I left. I think in the end we probably were 'Five-hour friends'…we filled a void for each other while we were there and now we've gone our own ways.
The last time I saw Jens was at the European premiere a year ago but he's still training to become a pilot for Lufthansa and as I understand it he'll be doing flight training out in Arizona though I didn't hear back from my last e-mail to him. Sabrina has moved back to her native Germany after a couple years in Amsterdam, she's visiting New York and not specifically to see me. I still e-mail Robert, who is a "Five-hour friend" from the movie. He's married now and living in his native Ireland.
I think that's true to an extent but Facebook certainly allows you to stay in touch and keep tabs on people easier. In the beginning, I tried to stay in touch with everyone but as you travel you begin to recognize that's not desirable. Anyways, how has A Map for Saturday changed your life?
Hmm, that's an interesting question that I don't think I've been asked before. I said before how the trip changed my life by making me appreciate the joys of free time. But it's been the success of the documentary that has allowed me to stay out of an office the last two years. So I guess A Map for Saturday has changed my life by giving me the freedom to live the life I want to live.
Since not all of us are award-winning directors, any advice for those who want to live out of the office?
Well, there are a lot of ways to make a living while you're away, it's useful to think a bit more broadly than "travel writer" or "travel photographer" because everyone wants those jobs and there aren't many of them. Many of us though have jobs where we can work our butt off for four or five months and then have enough cash to travel on a tight budget for the rest of the year.
***
To this day, over 13 years later, A Map for Saturday is still one of the best movies about long-term travel I've ever seen. It captures things about life on the road few other films ever examine. If you haven't seen it yet, be sure to check it out. While it is a little old now, the themes and stuggles it addresses are timeless.
If you want to get a glimpse of life on the road before your next trip, this is the movie to watch!

Get the Film!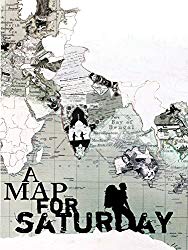 You can rent (or buy) the movie on Amazon by clicking here! It's my favorite travel movie and, if you want to really know what travel is like — or reminisce about your experience — GET THIS MOVIE!!!
Book Your Trip: Logistical Tips and Tricks
Book Your Flight
Find a cheap flight by using Skyscanner. It's my favorite search engine because it searches websites and airlines around the globe so you always know no stone is being left unturned.
Book Your Accommodation
You can book your hostel with Hostelworld. If you want to stay somewhere other than a hostel, use Booking.com as it consistently returns the cheapest rates for guesthouses and hotels.
Don't Forget Travel Insurance
Travel insurance will protect you against illness, injury, theft, and cancellations. It's comprehensive protection in case anything goes wrong. I never go on a trip without it as I've had to use it many times in the past. My favorite companies that offer the best service and value are:
Want to travel for free?
Travel credit cards allow you to earn points that can be redeemed for free flights and accommodation. They are what keep me traveling so much for so little. Check out my guide to picking the right card and my current favorites to get started and see the latest best deals.
Ready to Book Your Trip?
Check out my resource page for the best companies to use when you travel. I list all the ones I use when I travel. They are the best in class and you can't go wrong using them on your trip.