This is a guest post by Laura, our resident expert on female travel.
I've been fortunate enough to be inspired by many great women in the travel blogging community. And what better way to share female travel tips than to survey the experts! I asked other female travelers what their best travel tip is for other female travelers, and here are the results:
"If you want to exercise but aren't in an area where you can do it easily (run, bike, etc.), pack a jump rope. It's lightweight, and it can be used for tying up other things. And you can jump rope and actually stay in shape! One of my most memorable experiences was jumping rope on the roof of my guesthouse/hotel in Todra Gorge, Morocco — a beautiful view!" —Sherry of Ottsworld
"Female travelers often complain about creeps approaching while traveling around the world. For me, if I ever see a sketchy character on the street, pretending I am on the phone tends to keep the creeps away. It's important not to distrust everyone, but as I learned from the Sicilians, always have a suspicious stare about you. That stare will fade if you are more interested in the corner bar than the city you are in." —Suzy of Suzy Guese
"Even in summer, don't forget a scarf or pashmina. I prefer mine bright and patterned since the rest of my travel wardrobe is neutral. It can spice up an outfit, act as an extra layer in the cold, and cover you up if religious sites have dress codes." —Christine of C'est Christine
"Call home twice as much as you think you should! My parents worry so much more about me when I'm out of the country than [they do about] my brother, who's eight years younger. When I was in Costa Rica, I had to email every 48 hours or my mom would be a wreck. My brother? He disappeared in the Philippines for a month and they took it in stride." —Abby of Daydream Away
"A great way to keep yourself from feeling lonely while on the road is to join Couchsurfing. That way you will have a 'friend' in every country you travel to. Also, follow your intuition, which will only get stronger with each trip you take. The only time I did not follow my intuition was in India, and I ended up having a horrible experience. I left that experience not so much angry at what had happened, but rather angry with myself for not listening to my gut." —Andi of My Beautiful Adventures
"Switch to a Diva Cup for your period! It's a lot easier to use in questionably clean foreign toilets, you never have to carry around stacks of feminine products, you leave less of an environmental impact, and it can stand up to epic 12-hour bus rides. Here's my review with pros/cons and details." —Shannon of A Little Adrift
"Always pack condoms. Some women leave it up to the guy, which could land you in an awkward and frustrating sexual situation." —Jeannie of Nomadic Chick
"While traveling, act like you know where you are and where you are going, even if you don't. If you need to check out a map, step into a bathroom or out of the main drag, somewhere people might not notice." —Abbie of AbbieMood.com

"The 'My Boyfriend is Just Around the Corner' technique. In some parts of the world, a female traveler on her own can draw a lot of attention. I've gotten hissed at, whistled at, and even had a man tell me I was the blood pumping through his veins — if that isn't creepy, I don't know what is. Although usually meant as flattery, uninvited remarks can be quite uncomfortable, especially if the situation escalates. Reserved for those guys who just can't take subtle hints that you were enjoying your time without their attention, I call in the 'Well, I should go, my boyfriend/husband is just around the corner' technique. Most respectable guys will take the hint and back off. If worst comes to worst, use the 'boyfriend' as a way to leave the situation or to join a group of people nearby." —Bessie of On Our Own Path
"My best tip remains my safety whistle. Worth its weight in gold." —Jodi of Legal Nomads
"Don't be afraid to start chatting with just about anyone. Sure, approaching people as a solo female traveler can be daunting, but do your best to put on a brave face and strike up conversation with fellow travelers at the hostel, locals on the bus, the fantastic chef cooking your street cart snack, anyone! By talking to as many people as you possibly can throughout your journey, you come home with a whole new wealth of knowledge, not to mention a great group of new international friends." —Sarah of She's in Love with the World
"Be sure of yourself. Trust your gut, know your limits, and stand up for yourself when it seems necessary. Only you know what will make you a happy traveler, so don't let the critique of others influence your travel decisions. In other words, while some female travelers may find the old, controversial topic of sporting a fake wedding ring a waste of time, you might find it useful and comforting. Most of all, have a great time!" —Brooke of Brooke vs. the World and Why Go Australia
"After you pack, you should unpack half of your clothing, right? It's a great idea. If you're like me, you ambitiously try it out, saying, 'This will be the trip where I finally pack light!' But as the date gets closer, the unpacked items inevitably make their way back into the bag with the question, 'What if I need this?!' I've found that the best way to curb the last-minute desire to overpack is to remember that in almost any destination, inexpensive clothing and accessories that are fitting for the climate and country can be purchased upon arrival if needed. Visualizing a handicraft market helps me keep my luggage light, at least on the way to the destination." —Ekua of Girl, Unstoppable

"Trust your gut and be quick on your feet! Always trust your gut no matter the situation, be it an opinion on if you think someone you just met is sketchy or not or if you feel like skydiving or eating some kind of foreign food. You will be happy with your decision in the long run and possibly safer for it too. Be quick on your feet, and always think of a story about where you are headed and who are you meeting for nosy people asking too many questions. I constantly have people like cab drivers trying to ask me a million questions like this, and they are often followed by, are you married, where is your boyfriend, and so on. I always quickly respond, 'That is who I am going to meet right now.' —Cailin of Travel Yourself
And my tip? If you're traveling abroad, program the country's emergency number into your phone. And if you're not traveling with a phone, write it down and keep it handy. I feel comfort in knowing that I can act should an emergency situation arise.
Laura Walker runs the website A Wandering Sole. She's been backpacking around the world for seven months by herself and isn't afraid just because she's a girl. You can get more travel tips from her website or check back here every other Thursday for more stories by her.
Conquering Mountains: The Guide to Solo Female Travel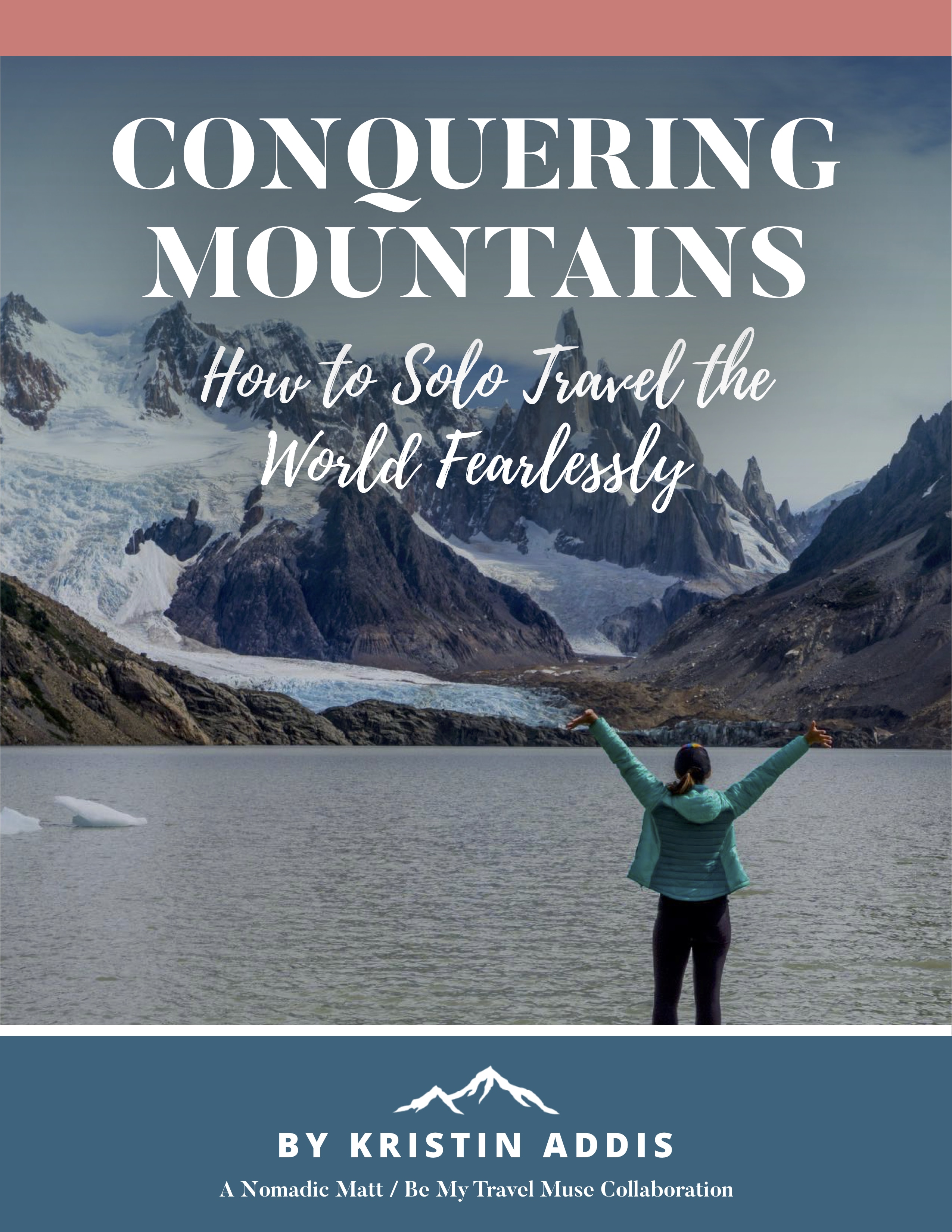 For a complete A-to-Z guide on solo female travel, check out Kristin's new book, Conquering Mountains. Besides discussing many of the practical tips of preparing and planning your trip, the book addresses the fears, safety, and emotional concerns women have about traveling alone. It features over twenty interviews with other female travel writers and travelers. Click here to learn more about the book and how it can help you, and you can start reading it today!