Sale!
Nomadic Matt's Guide to Iceland
$14.99
Last Updated: January 2019
Return policy: No risk, 7 Day, 100% Money Back Guarantee
Details: Over 190 pages of expert budget travel advice
---
See More of Iceland for Less!
Iceland. Its name conjures images of jagged mountain peaks, volcanoes with desolate lava fields, rolling hills with grazing sheep, and glaciers that stretched for miles. It's an exotic, otherworldly place that draws travelers from all over the globe.
From the moment I landed, Iceland was everything I had hoped it would be. I was welcomed and helped by kind strangers.
I've returned multiple times, drawn back by the people and the raw natural beauty of the terrain.
Iceland is at the top of everyone's bucket list.
That's why I wrote this guidebook!
I want to give you an insider's look at Iceland. To take you off the beaten path, away from the crowds (and prices) that swarm the southern region, to help you meet locals, eat delicious food, sit in free hot springs ten times better than the Blue Lagoon, find secret waterfalls, and hike trails where you can be alone with the natural beauty of Iceland under the gaze of the Northern Lights.
This guide is meant for travelers looking to see the local side of Iceland as you get off the tourist trail, save money, and get tips and tricks not found in mass market guidebooks.
You'll get to see Iceland the way it's meant to be seen.
This guidebook is available as a digital ebook or Kindle. Once you complete your purchase, we'll instantly email you a link to download your book, which will work on any device and can be used on as many times as you want!
How This Guidebook Will Help You
You'll discover the best things to see and do in Iceland's unique, beautiful, inexpensive, and overlooked sights so you can get the most out of your trip.
You'll learn all my money saving tips and advice on how to avoid tourist traps so you can get an authentic Icelandic experience on a budget.
You'll get the lowdown on all regions of Iceland – where to go and what to see, where to stay, eat, and shop – so you know which places suits your interests best!
You'll be able to party with locals with my curated list of bars, clubs, and lounges!
You'll get my robust curated list of restaurant and cafes that won't break your budget so you can eat better, more local, and for less!
Get a list of the best books, movies, and music related to Iceland so you can get excited about your trip.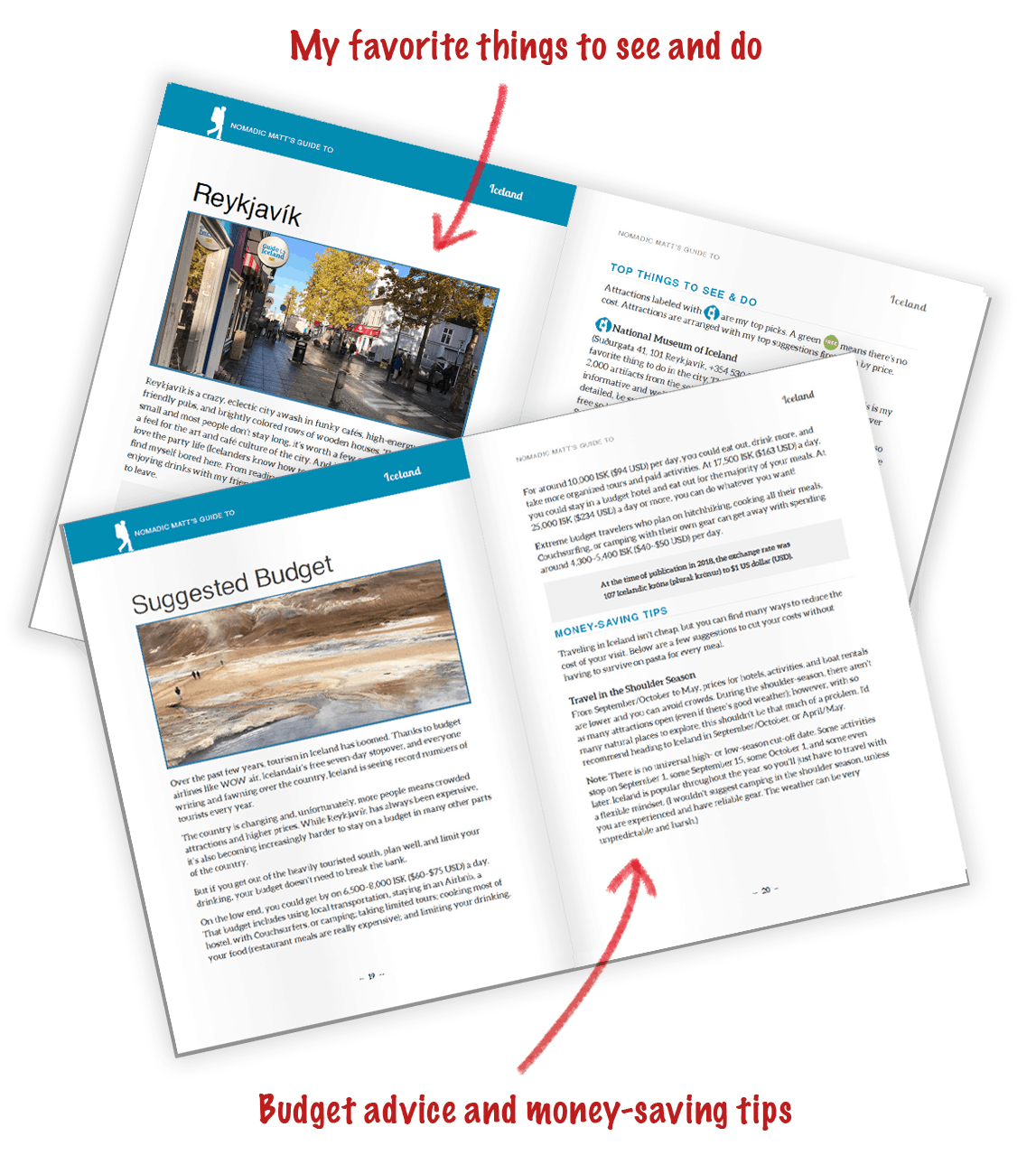 You'll discover how to plan your route with my suggested itineraries – whether you go for a weekend, four days, one week, two weeks, or one month.
You'll discover interesting facts about Iceland so you can better blend in like a local. Did you know 80% of the population believes in elves? Well, you do now!
You'll get my succinct list of unique budget-friendly places to stay so you can stay in fun, clean, and friendly accommodations.
You'll learn the best ways to get around the country with our in-depth transportation section so you can travel cheap, meet others, and get off the beaten track.
Get all the essential tips that make guidebooks so useful – information on tipping, visas, public holidays, embassies, currencies, emergency numbers, business hours, and more – so you can plan the trip of a lifetime!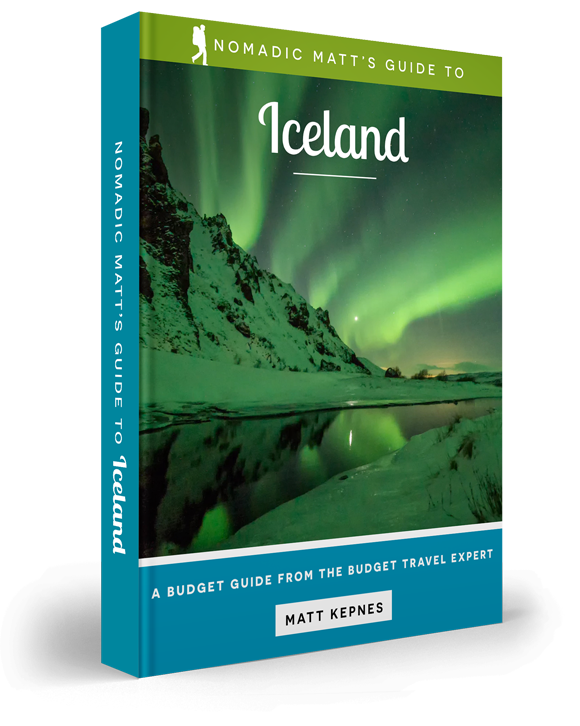 Get the Definitive Travel Guide to Iceland!!
This book cuts out the fluff and gets straight to the practical information you need to plan a trip. This guide can be used on your phone, Kindle, iPad, or computer so can access it on the road. Learn everything you need to know about Iceland for only $14.99 $9.99 — and save hundreds on your dream trip!
eBook PDF
Instant Download
$14.99 $9.99
Kindle
Buy from Amazon
$14.99 $9.99
---
Details: Over 190 pages of expert budget travel advice with maps
Last Updated: January 2019
Return policy: No risk, 7 Day, 100% Money Back Guarantee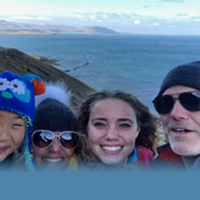 "My family and I would like to say thank you for the guide to Iceland that you wrote. We found it very helpful — especially the restaurant recommendations in Reykjavik. My kids liked Krua Thai so much that we visited twice! It's a beautiful country and we found your guide extremely valuable. It definitely enhanced our trip! Thank You!" – The Medford Family
Frequently Asked Questions
What makes your guide different?
It caters to budget travelers and those looking to save money when they travel and see more for less. This is not like mass market guidebooks that cater to all travelers. In addition, all of the information included in this guide is from first-hand experience!
What's the difference between this guide and the information on this site?
While this website has a lot of good information on Iceland, it doesn't offer specific accommodation, restaurant, or bar recommendations; neighborhood information; itineraries; or extensive money-saving tips. It doesn't give any sort of background on the history of Iceland, tell you anything about the culture there, or go over important information like customs, laws, visas, and emergency contacts. That kind of stuff can only be found in this ebook!
How will this save me money?
This guide was written for budget travelers by a budget traveler. It includes cheaper options for food, activities, and accommodation, as well as tips to save money while still having a high-quality travel experience. So, yes, it will save you money!
Is this guide available in print?
No, it is only available as an eBook or for
Kindle.
Are there special coupons inside?
Unfortunately, there are not. However, there are plenty of tips included to help you save money!
If I have any questions or concerns, can I contact you?
Of course! You can contact me via email anytime at matt@nomadicmatt.com.
How frequently is this guide updated?
This guide receives a complete front to back update twice a year. However, when we receive updates from readers, we push them live immediately so information is always as up to date as possible.
MORE TRAVEL GUIDES
My advice has been featured in:

| | |
| --- | --- |
| Select Book Format | eBook, Kindle |