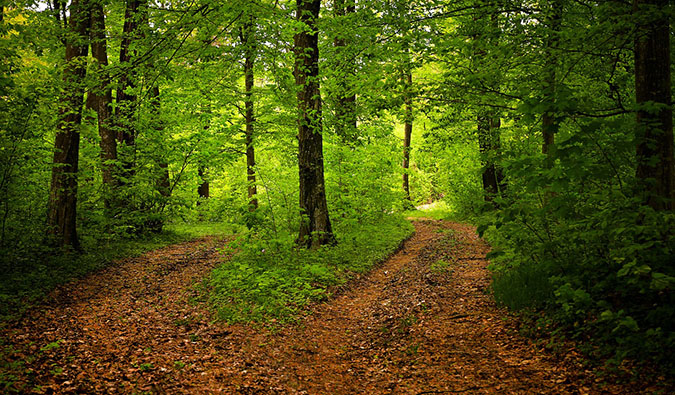 Posted: 01/23/2012 | January 23rd, 2012
With the end of my trip coming hard and fast, I'm at a crossroads. As I prepare to move on to the next stage of my life, two roads lie ahead of me, and I'm not sure which one to take.
I've always had this dream of living in Europe. I've traveled Europe a lot, but I want to live in one place, learn the language, and experience European life as a local, not a tourist.
I've always envisioned myself living in Paris, enjoying cheese and wine, sitting in smoke-filled cafés, and strolling down cobblestone streets at night with pretty French girls.
But I think the life I imagine in Paris is the one I've seen overly romanticized in movies. The Paris of the silver screen is different from the Paris of everyday life.
As I've come to that realization, the other city that most appeals to me in Europe is Stockholm.
Paris pulls me with its mystique, but really, Stockholm is a more realistic option. I have many friends there, the city is one of my favorite in the world, and I love and want to learn the language.
The thought of living there over the spring and summer really excites me. Sweden in the summer is bursting with life and energy. After all, they don't get a lot of nice weather up there, so when they do, the Swedes take full advantage of it.
But the fork in my road is not between Paris and Stockholm.
It's between Stockholm and New York City.
Or, as my friend Jason has told me, it's a choice between a veiled attempt at extending my trip and coming to terms with finally settling down.
And, in a way, he's right.
My soul burns for the Big Apple. There's not a day that goes by where I don't think about it. When people ask me where I call home, New York bursts out of my mouth without thinking.
There's nothing I don't love about New York City.
Seeing status updates from my friends and events I'm unable to attend make me homesick for it even more. As I write this now, I can't help but feel sad not being there. I belong there, and when all my journeys do end, it's there I will reside.
But you don't get do-overs in life. Opportunity knocks once. Doors open and close all the time, but when a door closes, it locks itself. As Robert Frost once wrote in The Road Not Taken:
"Yet knowing how way leads on to way, I doubted if I should ever come back."
Once you go down a path, there's no turning back.
If I move to NYC and skip Stockholm, will I ever get another chance to live in Europe as a (semi-)young, carefree guy?
Will I end up settling down, finding a girlfriend, and putting down roots and then miss my chance to, just for a bit, be wild and carefree in Europe?
Will I regret the missed opportunity? Or will I move to Stockholm and hate it?
Will I long for New York while I'm there? Will I resist putting down some roots because I know Stockholm wouldn't be forever? And would that become a self-fulfilling prophecy, where it's not forever because I resist making it that way?
As the clock ticks down to zero, I wonder if I'm really just trying to prolong my trip. Maybe I just want to be Peter Pan forever. When I go out, I see young, carefree backpackers and think to myself, "Can't I just stay in this world a little longer? Just one more month won't hurt."
After all, when my book comes out next year, I'll have to come back to America anyway. Stockholm would just be temporary. Is spending six months in Sweden just a way for me to spend another six months living out of my backpack, trying to be Peter Pan a little longer?
I know I want roots. I want to have a gym. I want friends to call. I want restaurants where I can become a regular. I want the local hangout.
But as the end nears, I'm afraid. Travel is all I know. It's part of who I am. I haven't settled in one place since I started traveling. Even when I stop for a while, I always know I'll be moving on again. While I'll never stop traveling, I'm worried I won't deal well with being settled in one place and having roots.
Maybe Stockholm is my "bridge" from traveler to semi-nomadic.
I had hoped that as I wrote this article, I might come to some conclusion. I've agonized over this post for weeks, but as I write this, I've realized I'm just as lost, unsure, and confused as ever. Writing out my thoughts and feelings didn't help to decide which road I want to wander down.
As I weigh both options, I want them both. I wish I could create a clone!
But I know how way leads to way; there's only one road I can take.
As January rolls into February and February rolls into my flight home, I'll have to decide soon which road I want.
For now, I'll just stare out at the fork in the road a little longer, waiting for a sign.


Book Your Trip: Logistical Tips and Tricks
Book Your Flight
Find a cheap flight by using Skyscanner. It's my favorite search engine because it searches websites and airlines around the globe so you always know no stone is being left unturned.
Book Your Accommodation
You can book your hostel with Hostelworld. If you want to stay somewhere other than a hostel, use Booking.com as it consistently returns the cheapest rates for guesthouses and hotels.
Don't Forget Travel Insurance
Travel insurance will protect you against illness, injury, theft, and cancellations. It's comprehensive protection in case anything goes wrong. I never go on a trip without it as I've had to use it many times in the past. My favorite companies that offer the best service and value are:
Want to Travel for Free?
Travel credit cards allow you to earn points that can be redeemed for free flights and accommodation — all without any extra spending. Check out my guide to picking the right card and my current favorites to get started and see the latest best deals.
Ready to Book Your Trip?
Check out my resource page for the best companies to use when you travel. I list all the ones I use when I travel. They are the best in class and you can't go wrong using them on your trip.