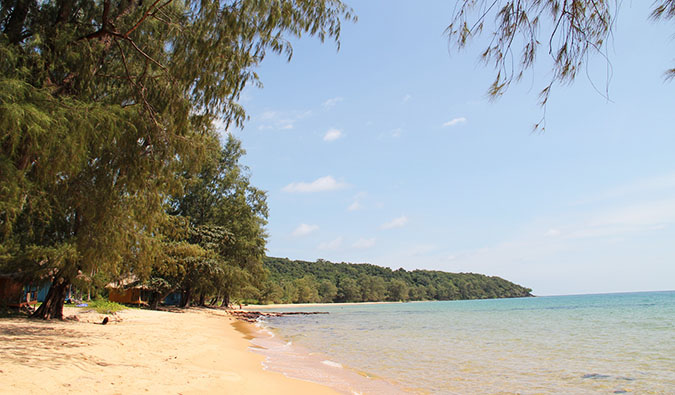 Posted: 03/15/2012 | March 15th, 2012
Last week, I took my own advice about not wasting time and spent my last few days in Cambodia on the seculuded Bamboo Island. I'm glad I did — it turned out to be the highlight of my trip and my first glimpse into Khmer (Cambodian) culture.
Bamboo Island is an hour off the country's southern coast, near the town of Sihanoukville (where I've been the last month). It's a small island that you can cross in 10 minutes and has only two beaches. There isn't a lot of snorkeling here. There's no Internet. No power except from 6pm to 11pm. No hot water. No fans. It's just you, the beach, a good book, and a handful of other people (there are only ten bungalows).
I spent my days on the beach, did a freestyle poetry night, the limbo, and caught up on the last season of the Family Guy. After a few stressful months of writing trying to meet my book deadline, it was just what I needed.
But what I enjoyed most was my night with the Cambodians on the island. I had come to the island with two friends because they knew the manager of the hotel and he was having a "bungalow warming party" to celebrate his newly built bungalow. It would be him, the local staff, and us.
After the kitchen staff had served the other guest, they shut down early and we all went over to the new bungalow for food and drinks. I ate — and ate some more. They kept putting food on my plate and drinks in my hand. Curry dishes were poured onto my plate, filling my mouth with fire, spice, and unknown chicken parts. Savory BBQ fish was passed to me. There were also grilled squid, shrimp, and vegetables.
I was struck at how different cultures outside the West always seem to eat. Like much of the world, the locals in Cambodia enjoy communal eating. A tarp is put down, dishes are brought out and placed in the middle, and everyone sits crossed-legged around the table, grabbing what they want. There's no my plate or your plate. My dish or your dish. It's a shared communal experience.
Back home, we all order our own dish. There's no sharing. It's a solitary way to each, which seems typical given our solitary nature. In the west, there's mine. Here, there was only ours.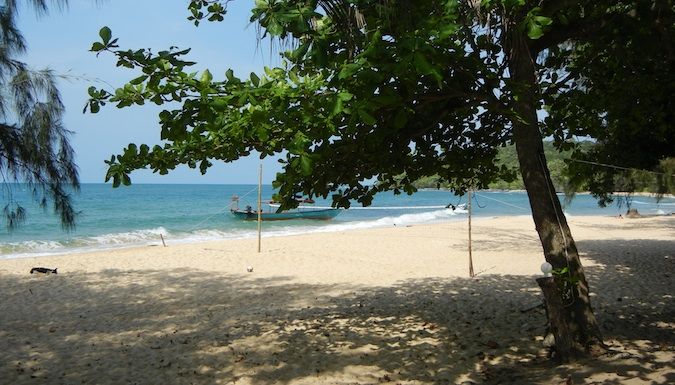 I was struck by not just how they ate, but what they ate as well. Like many rural communities I've visited, nothing here is wasted. The squid is cooked whole, the shrimp head is eaten, and no part of that chicken goes unused. This isn't unique to Cambodian culture; it happens throughout the world and is in stark contrast to the wastefulness of the West. Everything we eat is super-sized and thrown away. If it's not perfect or considered "icky", it's thrown away. Wasted even though it's perfectly fine.
I could wax on poetically about this, divining great meaning about society, culture, and values from how people eat. I won't though; instead, I'll simply say that sitting down, watching the Khmers eat, talk, laugh, and bringing me into their community was a blissful and joyous experience.
After dinner, when the plates were cleared away, the music cranked up, and the locals performed traditional dancing. Not for tourists but for the joy of it. Khmer dancing involves a lot of slow hand movements, finger turning, and grace. Everyone was pushed up off the ground, and my friends and I were made (taught) to dance. We followed the Cambodians as they gave us instructions; unable to speak Khmer, we simply learned by following along. There was no one there to say do "left, right, left" so we did our best to keep up. Note: I'm really bad at Khmer dancing.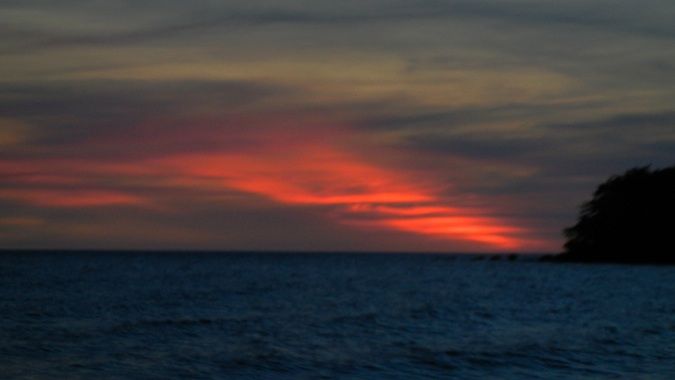 As the night continued, I learned some basic Khmer phrases, became buddies with one of the boatman and did a shot of some really bad Khmer liquor with one of the cooks.
Had I followed my original plans, I would have been on the island weeks ago, but I wouldn't have come to know the manager, having only recently been introduced to him through my mainland friends. Even if there'd been another party, I wouldn't have been invited. Getting stuck in Sihanoukville allowed me the chance to spend time with the locals in a way I wouldn't have been able to otherwise.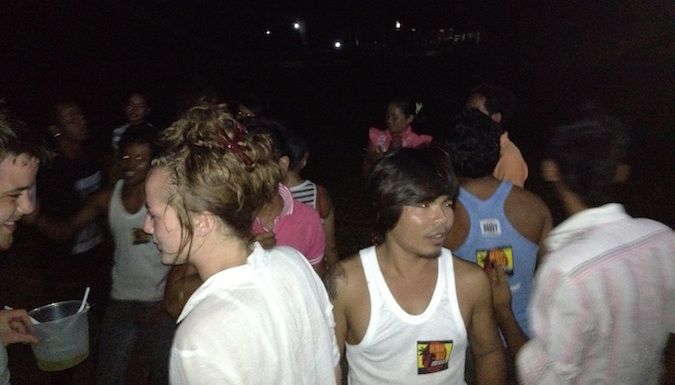 My time on Bamboo reminded me of what I learned in Greece, Bangkok, Amsterdam, and countless other places where I got stuck: culture only shows itself over time.
As travelers, we move around a lot. We scratch surfaces but never peel back the layers of the onion. There's only so much you can do in a few days. If you really want to understand a place on a deeper level, at some point, you need to just stop, stay put, and soak in your environment.
Even if it means missing other places you wanted to visit.
So I guess in that sense, the month that I spent locked in my room wasn't a waste of time that cost me my trip to Laos and Malaysia. That month was part of the journey to getting to know Cambodia a little more deeply.
Book Your Trip to Cambodia: Logistical Tips and Tricks
Book Your Flight
Use Skyscanner or Momondo to find a cheap flight. They are my two favorite search engines because they search websites and airlines around the globe so you always know no stone is left unturned. Start with Skyscanner first though because they have the biggest reach!
Book Your Accommodation
You can book your hostel with Hostelworld as they have the biggest inventory and best deals. If you want to stay somewhere other than a hostel, use Booking.com as they consistently return the cheapest rates for guesthouses and cheap hotels.
Don't Forget Travel Insurance
Travel insurance will protect you against illness, injury, theft, and cancellations. It's comprehensive protection in case anything goes wrong. I never go on a trip without it as I've had to use it many times in the past. My favorite companies that offer the best service and value are:
Looking for the Best Companies to Save Money With?
Check out my resource page for the best companies to use when you travel. I list all the ones I use to save money when I'm on the road. They will save you money when you travel too.
Want More Information on Cambodia?
Be sure to visit our robust destination guide on Cambodia for even more planning tips!