One of my favorite cities in the world is Amsterdam, and it has nothing to do with the colorful red lights that are so characteristic of the city. What I love about Amsterdam is that it reminds me of home, with its brick buildings, open skyline, history (the Pilgrims came from Leiden before they landed on Plymouth rock!), and similar attitude towards life. Over the years, I've visited Amsterdam many different times, and I've spent countless hours walking the city, making local friends, and living in the city for a few months in 2006. The city deserves more than just the two days in coffeeshops most people give it. But if a few days are all you have, here's an itinerary that will give you an idea as to what the city is really about:
Day 1
Free Walking Tour


A good way to orient yourself to the city is with a walking tour. You'll learn some history and be able to see where all these windy canal streets take you. I recommend the free New Europe walking tour. It covers a lot of ground and gives you a good general overview of the city.
Canal Tour


Amsterdam is a city tied to the water. The canals of Amsterdam are incredibly beautiful, and there's nothing like seeing the city from a boat. Skip the big canal boat tours you see around the city. They're overpriced, and you can hire a private boat tour for less. Look for guides around the Red Light District.
Van Gogh Museum– This may be one of the most popular tourist attractions in the city, but don't let the crowds deter you. The museum features many of Van Gogh's best works of art alongside an excellent biography of his life. The museum is laid out in chronological order starting with his earliest works. They also have paintings by other famous artists like Monet, Manet, and Matisse. I've been three times, but I love Van Gogh.
Rijksmuseum – Rijksmuseum is located right next to the Van Gogh Museum. Although it's constantly under renovation, the museum still features an extensive Rembrandt collection, and you'll be able to see the famous painting, The Night Watch. Besides Rembrandt, there's also a good collection of other classic Dutch painters.
Vondel Park


Amsterdam's largest and most popular park is a great place to walk, bike, people-watch, or relax, especially after a visit to a local coffee shop. There's a playground, places to play sports, and numerous areas for hanging out. During the summer, Vondel Park is filled with people.
The Heineken Experience
This museum used to be a lot better when it was cheaper and they offered more beer. It's not a working brewery, and in comparison to the Guinness Museum in Dublin, it's lame. The price of admission buys you three beers, and you'll learn a bit of the history of Heineken. There's even a video game.
Day 2
Anne Frank House


In all honesty, I don't like this place. I found it to be anti-climactic and overall, I felt the Jewish History Museum does a more thorough job of relating the events in Anne Frank's life to the Holocaust. You basically do a slow walk through the house. But if you don't mind waiting in line and you're curious about her, it might be worth the visit. Get there early to avoid a line.
The Jordaan Area– This heavily residential area is probably the most missed attraction in Amsterdam. I think it's the best area of the city. Although it's right near the city center, hardly any tourists enter this maze of restaurants, cafes, and stores. Make sure you walk around. It's peaceful and a great place to avoid the mass of tourists crowding the main streets.
The Tulip Museum


Located in a room inside a tulip shop, this little place does an interesting job of telling the history of tulips in Holland and the infamous Tulip craze. It's one of the best off-the-beaten-path attractions in Amsterdam. Best of all: you'll never find a crowd.
Amsterdam History Museum– This museum features a very thorough history of Amsterdam. It's big, and you'll need three or four hours to really see it. There are a lot of relics, maps, paintings, and audio visual information throughout the museum. My favorite is the computer graphic showing the growth and construction of the city over time.
Saint Nicholas Church- This is my favorite church in Amsterdam and one of my favorites in all of Europe. It's a baroque style church with nothing amazing about it, but the immense interior, its age, and the stained glass make it beautiful. You can sense the history inside.
Red Light District


Though much tamer than in previous years, the Red Light District is still an interesting area. You'll find all the seediness you'd expect, and even a few families. Just don't take pictures of the girls in the windows. Big bouncers might appear out of nowhere and smash your camera.
Day 3
Do a Bike Tour


Bikes go with Amsterdam like wine goes with France. The city loves bikes, and there are supposedly more bikes than people in Amsterdam. In fact, forget about keeping a lookout for cars. It's the bikes that will run you over! Seeing Amsterdam and its surrounding area from a bike is something I definitely encourage people to do.
Jewish History Museum– An often-overlooked museum, the Jewish History Museum tells the history of Jews and their prominent and influential position in Amsterdam. The exhibit on World War II does a great job of highlighting Dutch complacency, resistance, and guilt over the Holocaust.
Oosterpark


Everyone goes to Vondelpark to sit around, bike, or get high, but east of the main city center is a beautiful park with a lot fewer people and green space that is just as nice. It's about a 30-minute walk from the city center, but it takes you through residential areas of the city not often seen and way off the tourist map.
FOAM– This photography museum houses wonderful pictures and sees few crowds despite being in the main part of the city. It's a must for any photography lover. I really enjoyed all the black-and-white photographs and the outdoor garden.
(Optional activity: Coffee shops. I didn't include any in this list of things to do because there's more to Amsterdam than its famed smoke shops. If you do want to go to some, you'll find them all around the city. They're like Starbucks—one on every corner! I like Dolphin. Skip "The Grasshopper," though. They grossly overcharge.)
This list only touches the surface of things to do in Amsterdam. There are a lot of off-the-beaten-path activities you could include as well as many markets, shops, and museums to see. Three days in any city is never enough time to really see it, but given Amsterdam's compact nature, it's definitely enough time to hit all the "major" attractions here. You just won't hit anything else.
Get the In-Depth Budget Guide to Amsterdam!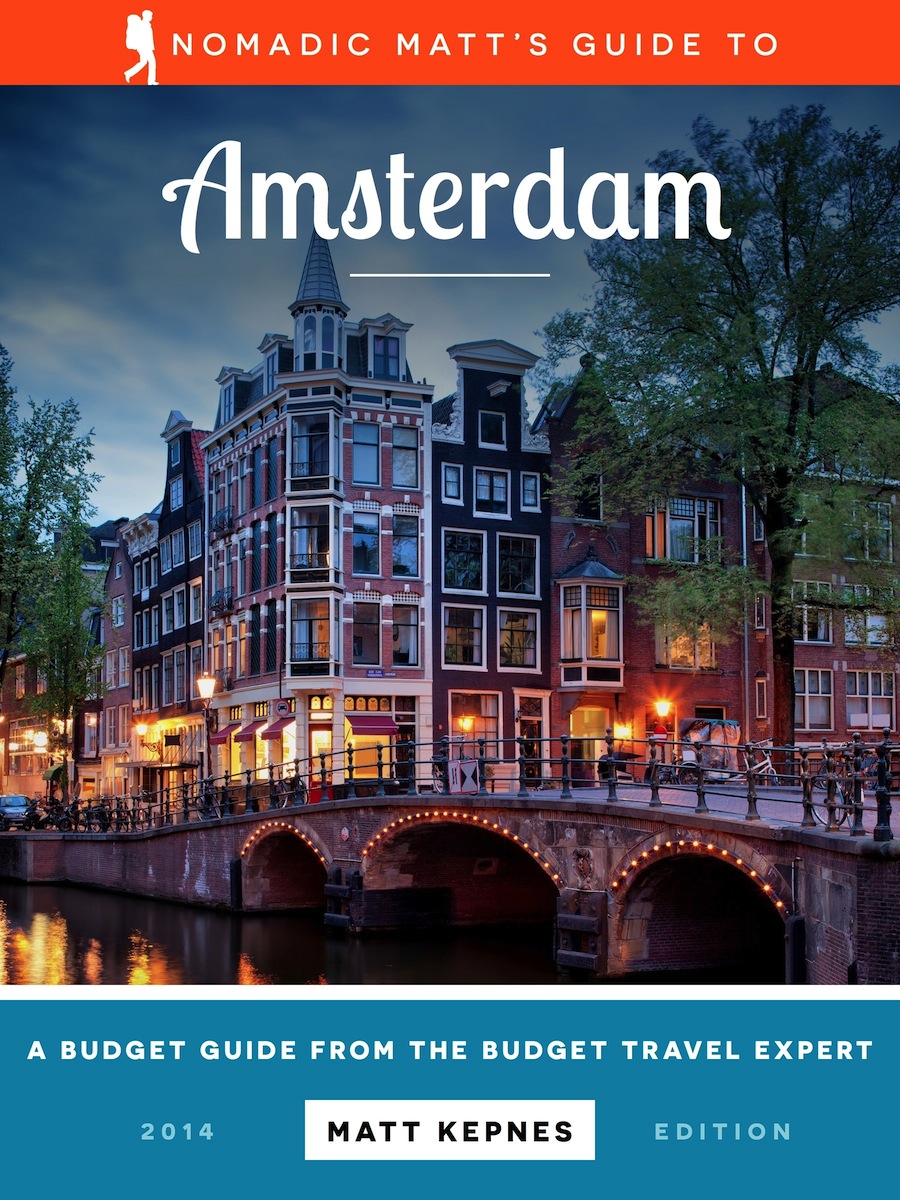 For more in-depth information and tips, check out my guidebook to Amsterdam (a city I used to call home). This book is written for budget travelers like yourself, cuts out the fluff found in other guides, and gets straight to the practical information you need to travel and save money. You'll find suggested itineraries, budgets, ways to save money, on and off the beaten path things to see and do, non-touristy restaurants, markets, and bars, and much more!! Click here to learn more and purchase the book.