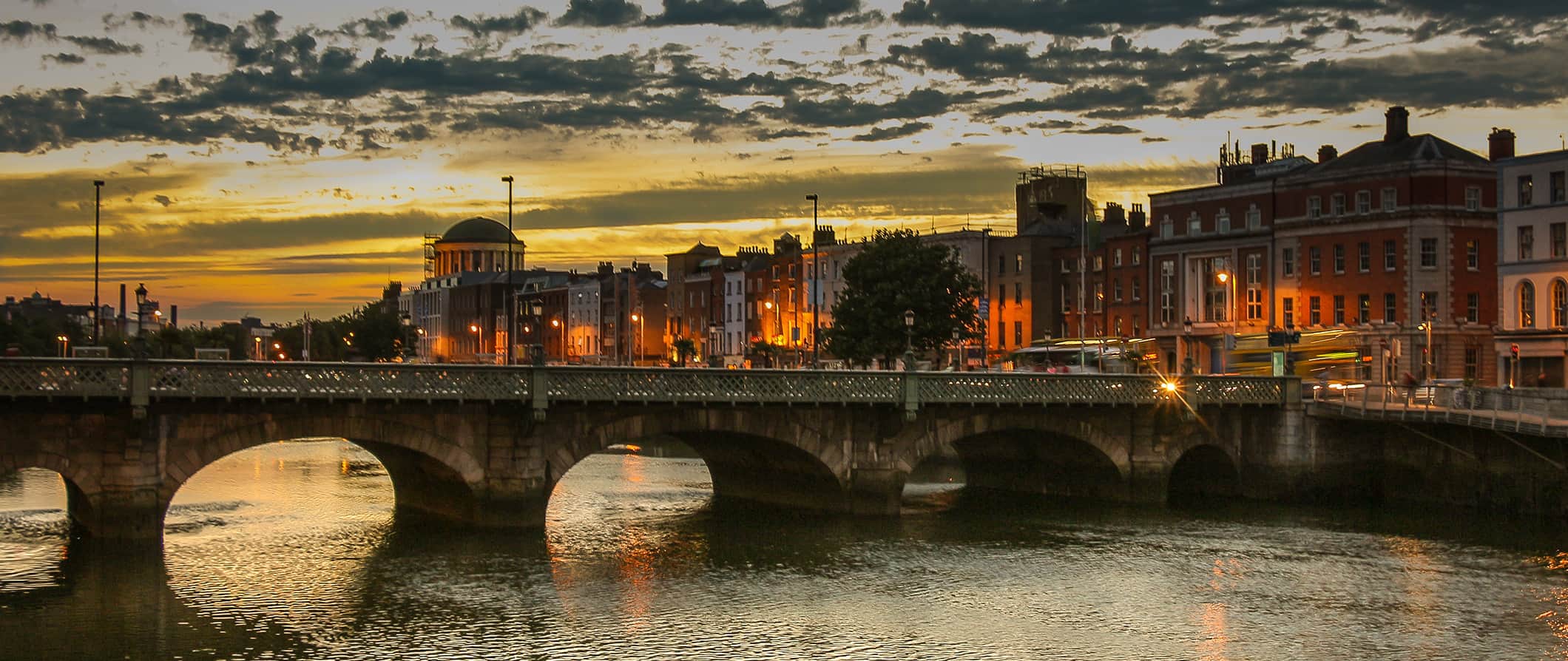 I love Dublin. I can't recommend a visit here enough. While the city isn't the prettiest in the world (and on a cloudy day it can feel downright gloomy), there is so much literary and cultural history here you can't help buy always feel inspired. This is just a fun city (probably helped by the fact the Guinness and Jameson factories are located here) with a lot of amazing pubs, nightlife, live music and dancing (so much Irish jigging), and an up and coming foodie scene. But, more than that, Dubliners are a friendly, inquisitive bunch always happy to show you a good time and crack a good laugh.
Top 5 Things to See and Do in Dublin
1. Tour the Guinness Storehouse
Wind through the museum while learning about the history and brewing process of Ireland's most famous export. Each entry ticket comes with a free pint (save it for the Gravity Bar for great views of the city). If you book tours online, you get a 10% discount and can skip the line. Admission is 14 EUR.
2. Relax in St. Stephen's Green
Spending an afternoon in St Stephen's Green is a good way to relax and watch the city go by. This stretch of greenery in the center of town is a welcome retreat where you'll find picnicking couples, duck ponds, and ample photo opportunities.
3. Take a tour of Trinity College
Trinity is Ireland's oldest university. The campus is beautiful and highly photogenic, right in the center of the city. The college also has an art gallery and displays the Book of Kells, an ancient manuscript dating to 800 AD. A guided tour is 13 EUR and includes admission into the Old Library Exhibition and the Book of Kells.
4. Kilmainham Gaol
Kilmainham is the city's famous former prison. The jail once held some of Ireland's most notorious prisoners, particularly Irish Nationalists and Republicans. The tour is just a few dollars and is a great deep dive into the country's storied history. Admission is 7 EUR. It's open daily from 9:30am-5:30pm with extended hours in the summer.
5. Temple Bar
Although it can be overcrowded and touristy, Temple Bar is the place to experience Dublin nightlife and Irish music at its finest. Performers, pubs, and independent shops line the streets of this busy area. This is the primary nightlife spot in the city and an ever-evolving cross-section of Irish culture.
Other Things to See and Do
(Click the title to expand the text)
1. Explore the Chester Beatty Library
Situated at the back of Dublin Castle, CBL boasts a wonderful and significant collection of exhibits which include Asian, Far-Eastern, and Islamic artifacts. CBL also has temporary exhibitions to complement its collection, together with lectures by invited guests, workshops, and relevant events, most of which also free to attend.
2. Learn about "Dublinia"
Take a fascinating tour of Viking and medieval Dublin. The exhibitions include medieval street scenes, Viking longboats, and the chance to experience the recreated sights and sounds of these bygone eras. Most tours also include a visit to Christchurch Cathedral. Admission is 8.50 EUR and it's open daily from 10am-6:30pm with extended hours in the summer.
3. Visit the Dublin Zoo
The zoo is one of Dublin's most popular tourist attractions and can be found inside the expansive Phoenix Park. It's the world's third oldest zoo, so worth a visit if you have extra time in the city. Admission is 17 EUR and is open from 9:30am to at least 4pm.
4. See Dublin Castle
At the heart of the city lies Dublin Castle, built in the 13th century. While it's not what you would imagine as a castle, it does depict Ireland's history pretty well. Today, the building is used for important governmental business, state receptions, and inaugurations. You can explore the grounds for free, but a self-guided tour at the State Apartments costs 6.50 EUR. The opening times for the castle are 10am-4:45pm daily, except for Sundays when it opens at 10:45am.
5. Go on a literary pub crawl
Dublin is famous for its literary greats – Oscar Wilde, George Bernard Shaw, and W.B. Yeats are just a few of this city's most famous writers. The literary pub crawl includes a walking tour, extracts from famous literature, and it culminates with street performances and a fun literary quiz. It costs 12 EUR.
6. Tour the Jameson Distillery
Whiskey is as famous as beer in Ireland, and if there is one thing to do in Dublin, it is to sample of the local flavor. Although Jameson isn't made in the city anymore, the Distillery visits are 2nd best to Guinness, where you can learn about the process and have a few samples at the end of the tour.
7. Wander through Phoenix Park
This massive grassy space is the largest enclosed city park in all of Europe. The homes of the U.S. Ambassador and the President of Ireland can be found here, as well as some wild deer, as it used to be a royal hunting ground. There is also a polo field and the Dublin Zoo within the park.
8. See Prehistoric Newgrange
This grassy knoll might look unimpressive, but below the surface, it houses a Stone Age passage tomb. Dating back to 3200 BC, this unusual construction is older than the pyramids.
9. Shop on Grafton and Powerscourt Center
This is one of Dublin's neatest shopping centers. Located just off of Grafton Street that has great shopping of its own, inside of a restored 18th-century townhouse, you can find anything from cafés and galleries to clothing stores and jewelry shops. While some places are pretty expensive, there are plenty of great bargains to be found as well.
10. Take a walking tour
I'm always a fan of walking tours as they give you a lot of insight and history to the destination. While there are many free walking tours in the city, if you want something deeper, try Context Travel. I really love their tours. They are lead by leaders in their field (i.e. a history tour is lead by a history professor) so you always walk away with a really deep understanding. I was a big fan of their tour on the 1916 revolt!
11. Listen to a Traditional Irish Music Session
While there are many pubs that feature live music, there are only a handful that feature impromptu jam sessions with local musicians. For an unpolished sampling of traditional Irish tunes, try heading to Hughes Pub. You'll get a traditional Irish experience like no other!
12. Sample the Perfect Pour
If you're serious about your Guinness, you'll want to make sure you head to a pub that serves the perfect pint. Guinness actually reviews all the pubs in Ireland regularly, ranking pubs on the quality of their pour. To make sure your pub serves the best pint, take a look for a red Guinness sign on the outside of the pub. Any pub with a red Guinness sign is rated by Guinness themselves to pour the perfect pint! Sláinte!
13. Take a day trip to the Cliffs of Moher
If you don't have time to fully explore the west coast during your visit, try taking a day tour to the Cliffs of Moher. The Cliffs are one of Irelands top attractions, and really should not be missed! Most tours will also include a stop in Galway, which will give you a little taste of life in western Ireland. Tours from Dublin will take the whole day as you literally need to cross the entire country, but if it's your only chance to see the Cliffs of Moher then you shouldn't pass it up! Expect to pay around €50 for a tour.
Typical Costs
Hostel prices – You can find 10-bed dorms for 13 EUR per night and 4-bed dorms for 15 EUR per night. Privates that sleep 2 average about 57 EUR per night. Most hostels provide free WiFi, free linens, and many include free breakfast. My suggested place is:
There are several great options around Temple Bar too.
Budget hotel prices – A night in a centrally located 2-star budget hotel starts around 50 EUR. Included in this price is a private bathroom, free WiFi, and breakfast is common as well. On Airbnb, shared rooms around 16 EUR per night. Entire homes (including studio apartments) average around 50 EUR per night.
Average cost of food – Casual meals like pub food and fast food cost around 9 EUR. A restaurant main dish with a pint will start at 18 EUR. If you go out early to lunch or dinner, you'll find many restaurants offer "early bird" specials where you can get good deals. A half-liter of domestic beer will cost around 5 EUR. Save money by eating the local fare at a farmer's market or picking up food for a picnic at a deli. If you cook your meals, expect to pay 60 EUR per week for groceries that will include pasta, vegetables, chicken, and other basic foods. Some of my favorite places to eat include Hatch and Sons, Church, Leo Burdock, and The Pig's Ear. Be sure to also check out Porterhouse in Temple Bar. They make their own beer and have decent pub food.
Transportation costs – Dublin has a very good public transportation system. For traveling within the city, consider the Luas (the tram). A single ticket costs from 1.90-3.10 EUR and a round-trip ticket costs 3.50-5.60 EUR. For unlimited 1-day travel, it costs 6.80 and for unlimited 7-day travel, it costs 24.90 EUR. For travel to the suburbs, there's the DART which costs about 2 EUR. There's also a travel card called the Leap Visitor Card. At 10 EUR, it costs more than the 1-day unlimited travel card, but if you're traveling from the airport, it includes transportation to and from there as well. Public bikes are available in the city center. A 3-day ticket costs 3 EUR and the first 30 minutes of hire is free. To avoid being charged, return the bike within 30 mins, and then take another out immediately after. It costs about 45-65 EUR to get to Cork from Dublin by train and takes about 2.5 hours. It costs about 35-55 EUR to get to Galway from Dublin by train and takes about 3 hours. Buses take about the same amount of time but will save you about 10 EUR.
Suggested daily budget
40 EUR / $42 USD (Note: This is a suggested budget assuming you're staying in a hostel, eating out a little, cooking most of your meals, and using local transportation. Using the budget tips below, you can always lower this number. However, if you stay in fancier accommodation or eat out more often, expect this to be higher!)
Money Saving Tips
Visit the free attractions – Dublin has plenty of free attractions, including the National History Museum, National Gallery, National Museum of Ireland-Archaeology, Chester Beatty Library, St Stephen's Green, and Phoenix Park.
Combine tickets – If you're going to spend quite a bit on attraction tickets, buy them together. Dublinia and Christchurch Cathedral tickets can be bought together for 13.25 EUR, a savings of 1.25 EUR.
Avoid taxis – With a call out charge of 4.50 EUR, traveling anywhere by taxi is going to be expensive. Stick to the public transportation.
Get the Rambler bus ticket – Visitors traveling between the airport and the city on Airlink 747 or 748 buses should consider buying the Rambler ticket. At the airport, it is available from the CIE counter (next to Tourist Information Centre) at Arrivals of Terminal 1. Elsewhere, shops displaying Dublin Bus logo sell the Rambler too. Rambler 1-Day Adult ticket costs 6.90 EUR, the same price as one-way adult cash fare, but can also be used on all Dublin Bus routes on the day for which the ticket is valid.
Ride Dublin bikes – Public bikes are available in the city center. A 3-day ticket costs 3 EUR and the first 30 minutes of hire is free. To avoid being charged, return the bike within 30 mins, and then take another out immediately after.
Get the Leap Visitor Card – At 10 EUR, it costs more than the 1-day unlimited travel card, but if you're traveling from the airport, it includes transportation to and from there as well. You can also use the same Leap Card in other Irish cities, like Galway.
Eat pub food – Eat at the pubs for good, hearty local Irish food that won't destroy your wallet.
Take the free walking tour – Dublin City Council organizes weekly and specialty walking tours that are free for all to participate. You can also find free tours leaving from Dublin Castle daily.
Get an OPW Heritage Card – For those of you that love to tour heritage sites, you should definitely pick up one of these. It guarantees access to main attractions, including most of the castles throughout the country. The card costs 25 EUR for adults.
Drink less – Ireland's strong pub culture will hit your wallet hard. Temper the cost by visiting happy hours, drinking at home, or skipping drinks altogether.
Cook your food – Supermarkets are the cheapest places to buy alcohol in Ireland. If you're staying a while, you'll be able to pick up some reasonably priced groceries here too.
Have an ISIC Card – To save 20-50% on the cost of admission to museums and other tourist attractions, be sure to present a valid student card. The ISIC is typically accepted in places where a foreign student ID is not.
Couchsurf – Nothing's cheaper than sleeping for free. Couchsurfing connects you with locals who will give you not only a free place to stay, but also a local tour guide who can introduce you to all the great places to see.
Save money on rideshares – Uber is way cheaper than taxis and are the best way to get around a city if you don't want to wait for a bus or pay for a taxi. The Uber Pool option is where can you share a ride to get even better savings (though you can get your own car too). You can save $15 off your first Uber ride with this code: jlx6v.
My Must Have Guides For Traveling to Dublin