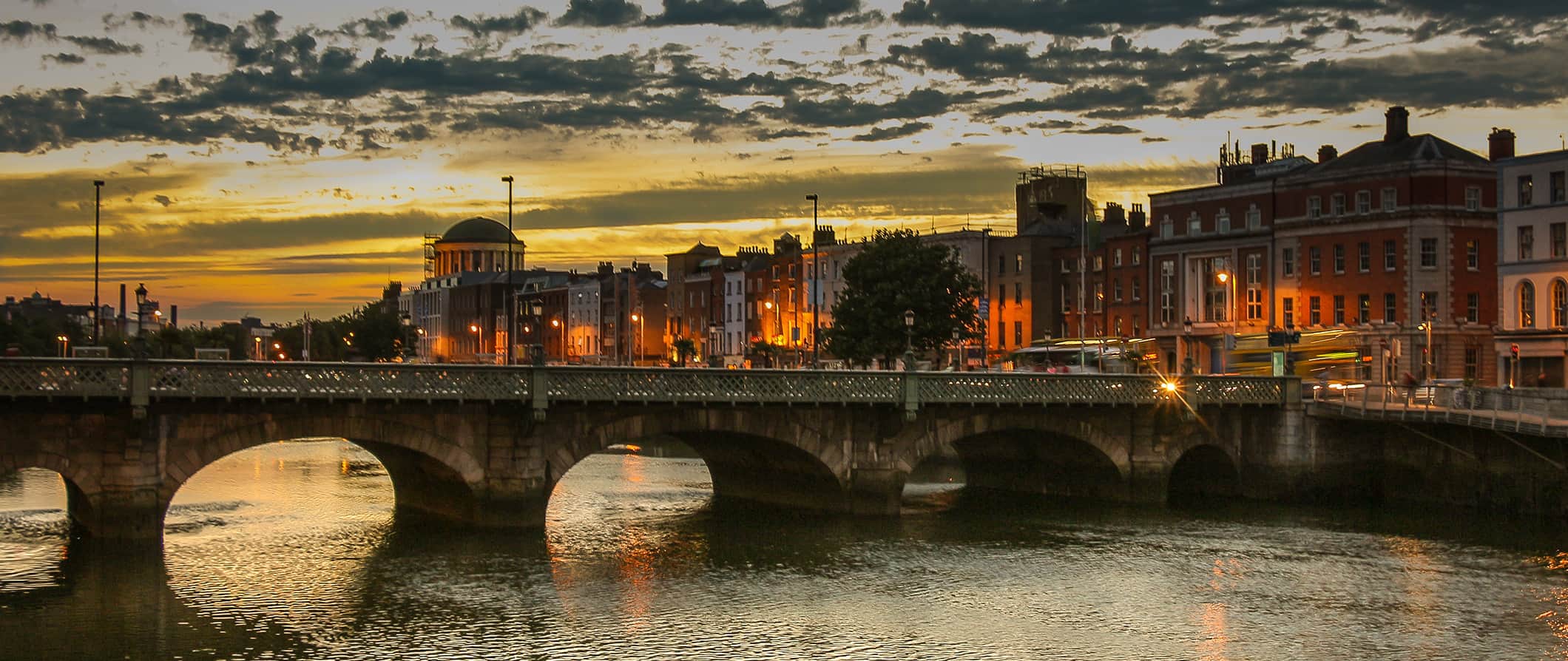 I love Dublin. I can't recommend a visit here enough. While the city isn't the prettiest in the world (and on a cloudy day it can feel downright gloomy), there is so much literary and cultural history here you can't help but always feel inspired.
Moreover, this is just a fun city (probably helped by the fact the Guinness and Jameson factories are located here) with a lot of remarkable pubs, an energetic nightlife, live music and dancing (so much Irish jigging), and vibrant food scene.
And Dubliners are a friendly, inquisitive bunch always happy to show you a good time and crack a good laugh.
It's a great place to visit and this travel guide to Dublin can help you plan an unforgettable trip there while helping you save money.
Top 5 Things to See and Do in Dublin
1. Tour the Guinness Storehouse
Learn the history and brewing process of Ireland's most famous export. Each entry ticket comes with a free pint (save it for the Gravity Bar for spectacular panoramic views of the city). If you book online, you get 10% off and can skip the line. Admission is €14 ($16 USD).
2. Relax in St. Stephen's Green
A central park located near Grafton Street, St Stephen's Green is one of the oldest commons in Dublin. In the northwest corner of the green, a garden for the blind with fragrant plants that are touch-friendly has been erected, all with accompanying signs in braille. Busts paying tribute to famous figures such as James Joyce, a memorial to the Great Famine, and statues are strewn through the par.
3. Take a tour of Trinity College
Founded in the late 16th-century, Trinity is Ireland's oldest university. The college also has an art gallery and displays the Book of Kells, an ancient manuscript dating to 800 AD. A guided tour is €12 ($13.50 USD) and includes admission into the Old Library Exhibition and the Book of Kells.
4. Kilmainham Gaol
Erected in the late 18th-century, Kilmainham is the city's famous former prison. The jail once held some of Ireland's most notorious prisoners. The tour is really worh taking too Admission is €8 ($9 USD).
5. Temple Bar
Although it can be overcrowded and touristy, Temple Bar is the place to experience Dublin nightlife. Performers, pubs, and independent shops line the streets of this busy area. Check out the famous The Temple Bar, Vintage Cocktail Club, and The Norseman.
Other Things to See and Do in Dublin
1. Explore The Chester Beatty
Situated at the back of Dublin Castle, The Chester Beatty boasts a wonderful and significant collection of Asian, Far-Eastern, and Islamic artifacts. You can admire Egyptian Books of the Dead, illuminated Ethiopian parchments, Jesuit travel journals, French manuscripts, and Iranian narrative paintings. They also host a lot of temporary exhibitions, lectures by invited guests, and workshops, most of which also free to attend.
2. Learn about "Dublinia"
Take a fascinating tour of Viking and medieval Dublin. The exhibitions at this historical recreation museum include medieval street scenes and Viking longboats. Climb to the top of St Michael's Tower, a 17th-century viewing tower with spectacular views of Dublin. Most tours also include a visit to Christchurch Cathedral. Admission is €12 ($13.50 USD) and it's open daily from 10am-5:30pm with extended hours in the summer.
3. Visit the Dublin Zoo
The zoo is one of Dublin's most popular tourist attractions and can be found inside the expansive Phoenix Park. It's the world's third oldest zoo and the zoo is known for its conservation efforts in Ireland and around the world. The zoo also participates in breeding programs for endangered species. Admission is €20 ($23 USD) and is open from 9:30am to at least 4pm.
4. See Dublin Castle
At the heart of the city lies Dublin Castle, which was completed in the early 13th-century. Built as a defense against future invasions, the castle acted as the English seat in Ireland. In 1673, the castle was destroyed by fire and was rebuilt in Georgian in style. The castle remained the seat of government until 1922 when Ireland became its own country. Today, the building is used for governmental business, state receptions, and inaugurations. You can explore the grounds for free but a self-guided tour of the State Apartments costs €8 ($9 USD). The opening times for the castle are 10am-4:45pm daily, except for Sundays when it opens at 10:45am. You can also do guided tours for €12 ($14 USD).
5. Go on a literary pub crawl
Dublin is one fo the most famous literary centers in the world. This city produced Oscar Wilde, George Bernard Shaw, and W.B. Yeats to name a few of this city's most famous writers. Run by The Dublin Literary Pub Crawl, this walking tour conducted by a couple of actors who perform scenes from some of Ireland's literary greats while you enjoy a drink. It costs €15 ($16 USD).
6. Tour the Jameson Distillery
Although Jameson isn't made in the city anymore, the Distillery lets you learn about the whiskey-making process and sample the product at the end of the tour. You can also take a whiskey blending class for €60 ($68 USD), or a whiskey cocktail class for €50 ($57 USD). The guided tour is €25 ($28 USD).
7. Wander through Phoenix Park
This massive park is the second-largest enclosed city park in all of Europe. The homes of the U.S. Ambassador and the President of Ireland can be found here (as well as some wild deer). There is also a polo field and the Dublin Zoo within the park. It's an ideal place for a quiet walk on a sunny day or a relaxing picnic.
9. Shop on Grafton and Powerscourt Center
Powerscourt Center is one of Dublin's neatest shopping centers. Located just off of Grafton Street, it is located inside an 18th-century Georgia house. Admire the rococo style hallway, the neoclassical style music room (now a bridal boutique), and ballroom (now an art gallery). While the intricate details within the house are quite stunning, the central courtyard, with its glass ceiling, and crystal chandeliers is where you'll find restaurants such as Little PYG, an Italian restaurant with pizzas starting at €11 ($12.25 USD).
10. Take a walking tour
I'm always a fan of walking tours as they give you a lot of insight and history to the destination. Dublin Free Walking Tour offers a walking tour of the south side or the north side of the city. The south side tour visits places such as Trinity College and Temple Bar, while the north side tour focuses on places such as the Moore Street Market and Spire of Dublin. The tours last 2-3 hours. While the tour itself is free, be sure to tip your guide at the end.
12. Take a day trip to the Cliffs of Moher
If you don't have time to fully explore the west coast during your visit, try taking a day tour to the Cliffs of Moher. The Cliffs are one of Ireland's top attractions. Most tours will also include a stop in Galway, which will give you a little taste of life in western Ireland. Tours from Dublin will take the whole day as you literally need to cross the entire country, but if it's your only chance to see the Cliffs of Moher then you shouldn't pass it up! Expect to pay around €50 ($57 USD) for a tour.
13. Visit Marsh's Library
Built in 1707, Marsh's Library is the first public library in Ireland. The library is located across from the cathedral in St Patrick's Close. It has three scholar alcoves (think "cages") where readers would get locked in when reading a rare book so that they wouldn't walk away with it. Guided tours are given daily. The entrance fee of €5 ($5.60 USD).
14. Go to the National Leprechaun Museum
This fun museum focuses on the folklore and mythology of leprechauns and faeries. The tour of the museum includes exhibits of giant furniture and other optical illusions. I had a lot of fun playing here with my friend. It was a surprisingly informative and fun museum. On Friday and Saturday nights, there is a DarkLand tour which featuring tales from the darker side of Ireland, including some grim Irish folklore (it's not suitable for kids). The museum is open daily 10am-6:30pm. It costs €16 ($18 USD) for the daytime tour and DarkLand tour costs €18 ($20 USD).
For more information on specific cities in Ireland, check out these guides:
Dublin Travel Costs
Hostel prices – You can find 10-bed dorms for €18 ($21 USD) per night and 4-bed dorms for €26 ($30 USD) per night. Privates that sleep 2 average about €90 ($102 USD) per night. Most hostels provide free wifi and many include free breakfast.
Budget hotel prices – A centrally located 2-star budget hotel starts around €90 ($102 USD). This price is a private bathroom, free wifi, and breakfast is common as well.
On Airbnb, shared rooms around €16 ($17 USD) per night. Entire homes (including studio apartments) average around €25 ($29 USD) per night.
Average cost of food – Dublin's food scene has been growing steadily over the last few years as waves of immigrants from all over Europe arrive in the city. While Irish food is always hearty, there are plenty of restaurants serving global cuisines such as Chinese, Japanese, Portuguese, Polish, Spanish, and more.
Fast food items start at around €4 ($5 USD), while a simple meal (like Irish stew or fish and chips) at a pub will set you back €9-14 ($10-16 USD). A meal at a more upscale restaurant, with a drink, will be upwards of €18 ($21 USD).
If you go out early to lunch or dinner, you'll find many restaurants offer "early bird" specials where you can get full meals for a fraction of the cost during regular dining hours. These specials are usually midweek and from certain times, like 6-7pm. For the best value food, visit the pubs!
Try Klaw in Temple Bar for oysters, Ramen Bar, or Chameleon, one of the oldest spots in Temple Bar, and a yummy Indonesian restaurant. Be sure to also eat at Hatch and Sons and The Pig's Ear.
If you want to cook your meals, expect to pay €50-60 ($57-69 USD) per week for groceries that will include pasta, vegetables, chicken, and other basic foods.
Backpacking Dublin Suggested Budgets
A backpacking budget of at least €55($62 USD) per day will cover staying in a hostel dorm, eating cheap pub food and cooking your meals, and using local transportation to get around everywhere. If you plan on drinking and partying a lot, budget more €10-20 ($11-22.25 USD) more per day.
On a mid-range budget of about €117 ($131 USD) per day, you will stay in a two-star hotel, a private hostel room, or a private Airbnb room. This budget will cover a few meals at an Irish pub throughout your trip as well as cooking some of your meals at your accommodations. You will take public transit but also an occasional taxi or Uber, and you'll visit at least two attractions per day.
On a luxury budget of at least €190 ($215 USD) per day, you'll get a 4-star hotel, private transportation, any restaurant you want, any sight or tour you want, and all the beer you can drink. At this amount, the sky is the limit!
You can use the chart below to get some idea of how much you need to budget daily, depending on your travel style. Keep in mind these are daily averages – some days you'll spend more, some days you'll spend less (you might spend less every day). We just want to give you a general idea of how to make your budget. Prices are in USD.
Accommodation
Food
Transportation
Attractions
Average Daily Cost
Backpacker
$21
$15
$11
$15
$62
Mid-Range
$56
$25
$20
$30
$131
Luxury
$60
$65
$30
$60
$215
Dublin Travel Guide: Money-Saving Tips
Dublin doesn't need to break the bank. While there's nothing here that will really cost a ton of money, it's still not the cheapest city in the world and you do need to watch your spending, especially on all those pints you'll probably be drinking. Here are some tips that can help you save money in Dublin:
Student discounts – A valid student ID will get you discounts of up to 50% to many attractions, museums, and buses throughout the country.
Drink less – Ireland's strong pub culture will hit your wallet hard. Temper the cost by visiting happy hours, drinking at home, or skipping drinks altogether.
Eat the pub food – Eat at the pubs for good, hearty local Irish food that won't destroy your wallet.
DoDublin Card – Valid for 72-hours, this card includes hop on hop off tour (good for 48-hours), Airlink Express 747 & 757, Dublin Bus Network, Luas, Dart and Commuter trains. The cost is €39.50 ($44.60 USD).
Get an OPW Heritage Card – For those of you that love to tour heritage sites, you should definitely pick up one of these. It guarantees free access to main attractions, including most of the castles throughout the country. The card costs €40 ($45 USD) for adults. This is a must for people visiting multiple cities in the country!
Couchsurf – Couchsurfing connects you with locals who will give you not only a free place to stay but also a local tour guide who can introduce you to all the great places to see. I love this service a lot and highly recommend you try to use it (at least to meet people) while in the country! Plus, free accommodation helps the wallet!
Eat early – Many restaurants have budget dinner options if you eat early (usually before 6pm). You won't have as much variety since it's a set menu, but it will be much cheaper.
Where To Stay in Dublin
Dublin has a lot of wonderful places to stay. There are cool B&Bs, hostels, and hostels. If you're looking to stay on a budget, here are my suggested places while you visit Ireland:
How to Get Around Dublin
Bus – There is an extensive bus system in Dublin, which runs through the city center and into the suburbs. Dublin Bus is used mostly for short-medium trips throughout Dublin, and Bus Eireann is used for longer bus trips within Dublin and into other areas of Ireland. Buses run 5:30am to Midnight, and a single ticket costs €2.15-3.80 ($2.45-4.30 USD). The Airlink Express travels from the airport to places such as Gardiner Street, O'Connell Street, College Green, Temple Bar, Christ Church, and Heuston Station. A single ticket costs €7 ($7.90 USD).
Tram – For traveling within the city, consider the Luas (the tram). There are two lines to choose from, red or green, and the trams run 5:30am to Midnight. A single ticket costs from €2.10-3.20 ($2.40-3.60 USD) and a round-trip ticket costs €3.70-5.50 ($4.20-6.20 USD). For unlimited 1-day travel, it costs €7.30 ($8.25 USD) and for unlimited 7-day travel, it costs €28 ($32 USD).
Rail – For travel to the suburbs, there's the DART (Dublin Area Rapid Transit) which operates 6am–Midnight each day, and travels from Kilcoole to Balbriggan, Dublin City Centre to Kilcock, and Dublin Heuston to Sallins and Naas. Single fares cost about €2 ($2.25 USD). The trains There's also a travel card called the Leap Visitor Card. At €10 ($11.30 USD), it costs more than the 1-day unlimited travel card, but if you're traveling from the airport, it includes transportation to and from there as well.
It costs about €45-65 ($51-74 USD) to get to Cork from Dublin by train and takes about 2.5 hours. It costs about €35-55 ($40-62 USD) to get to Galway from Dublin by train and takes about 3 hours. Buses take about the same amount of time but will save you about €10 ($11.30 USD).
Taxi – Taxis in Dublin can be quite expensive, with a daytime starting rate of €4.10 ($4.60 USD). The rate is then €1.03 ($1.15 USD) for each additional kilometer. After 15 km, the rate increases by 30%.
Ride-Sharing – Uber is available in Dublin. You can save $15 off your first Uber ride with this code: jlx6v.
Bike – Public bikes are available in the city center. A 3-day ticket costs €3 ($3.40 USD) and the first 30 minutes of hire is free. To avoid being charged, return the bike within 30 mins, and then take another out immediately after.
When to Go to Dublin
Dublin's mild, temperate climate makes for a good destination to visit year round while keeping in mind that you're pretty well guaranteed to encounter lots of rain throughout your visit. Winters can be drizzly with short daylight hours, but temperatures rarely fall below freezing and the average is 45°F (7°C) per day.
The summer months (from June to the end of August) are the warmest months, and Dublin is decked out in her full lush glory during this time. However, keep in mind that this is peak season, and you'll compete for space and hostel dorms/hotel rooms. Prices are inflated too. Average temperatures during this time are between 59-68°F (15-20°C), but sometimes can climb up to 77°F (25°C) or more.
Shoulder season (March to May and then September to November) are excellent times to visit. That being said, Saint Patrick's Day in March is huge in Dublin and the city is crowded with locals and tourists ready to get their party on. During this time hostels and hotels fill up quickly and prices spike. Temperatures are still mild, there's less congestion at tourist sites, and Ireland is just as beautiful as ever. You may expect more rainfall during this time, however. Pack accordingly.
How to Stay Safe in Dublin
Dublin is very safe, and the risk of violent crime is low. Scams and pick-pocketing occur around high traffic areas and tourist attractions like Temple Bar. Bag-snatching is common in crowds and tourist areas too. Don't leave valuables inside a car, as snatch and grabs on tourist vehicles is common in Dublin.
Areas in Dublin to avoid: Tallaght, Ballymun, Ringsend, Crumlin, Cork Street, Finglas, and Inchicore.
You can read about the 14 travel scams to avoid right here.
Always trust your gut instinct. If a taxi driver seems shady, stop the cab and get out. If your hotel is seedier than you thought, get out of there. Make copies of your personal documents, including your passport and ID.
If you don't do it at home, don't do it in Dublin!
The most important piece of advice I can offer is to purchase good travel insurance. Travel insurance will protect you against illness, injury, theft, and cancellations. It's comprehensive protection in case anything goes wrong. I never go on a trip without it as I've had to use it many times in the past. You can use the widget below to find the policy right for you:
Dublin Travel Guide: The Best Booking Resources
These are my favorite companies to use when I travel to Dublin. They are included here because they consistently find deals, offer world-class customer service and great value, and overall, are better than their competitors. They are the ones I use the most and are always the starting points in my search for travel deals.
Momondo – This is my favorite booking site. I never book a flight without checking here first.
Skyscanner – Skyscanner is another great flight search engline which searches a lot of different airlines, including many of the budget carriers that larger sites miss. While I always start with Momondo, I use this site too as a way to compare prices.
Airbnb – Airbnb is a great accommodation alternative for connecting with homeowners who rent out their homes or apartments.
Hostelworld – This is the best hostel accommodation site out there, with the largest inventory, best search interface, and widest availability.
Couchsurfing – This website allows you to stay on people's couches or spare rooms for free. It's a great way to save money while meeting locals who can tell you the ins and outs of their city. The site also lists events you can attend to meet people (even if you're not staying with someone).
Booking.com – The best all around booking site that constantly provides the cheapest and lowest rates. They have a no money down policy, great interface, and the widest selection of budget accommodation. In all my tests, they've always had the cheapest rates out of all the booking websites.
Intrepid Travel – If you want to do a group tour around Ireland, go with Intrepid Travel. They offer good small group tours that use local operators and leave a small environmental footprint. If you go on a tour with anyone, go with them. And, as a reader of this site, you'll get a discount when you click the link!
Rome 2 Rio – This website allows you to see how to get from point A to point B the best and cheapest way possible. It will give you all the bus, train, plane, or boat routes that can get you there as well as how much they cost.
Bla Bla Car – BlaBlaCar is a ridesharing website that lets you share rides with vetted local drivers by pitching in for gas. You simply request a seat, they approve, and off you go! It's a cheaper and more interesting way travel than by bus or train!
EatWith – This website allows you to eat home cooked meal with locals. Locals post listings for dinner parties and specialty meals that you can sign up for. There is a fee (everyone sets their own price) but this is a great way to do something different, pick a local's brain, and make a new friend.
World Nomads – I buy all my travel insurance from World Nomads. They have great customer service, competitive prices, and in-depth coverage. I've been using them since I started traveling in 2003. Don't leave home without it!
Dublin Gear and Packing Guide
If you're heading on the road and need some gear suggestions, here are my tips for the best travel backpack and for what to pack!
The Best Backpack for Travelers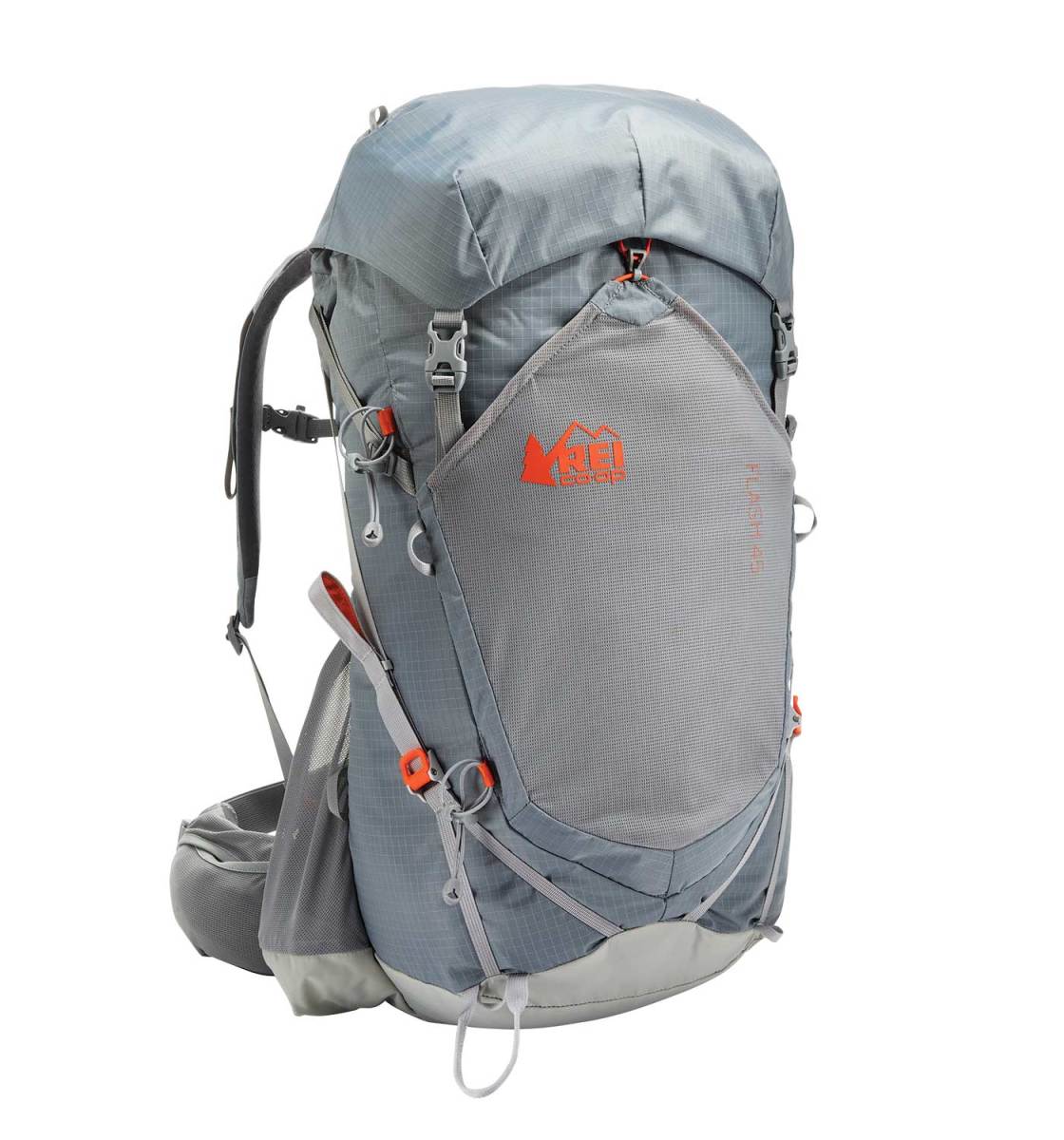 What's the best backpack for traveling long-term? I recommend the
REI Flash 45 Pack
. It's light and comfy, front loading, and fits perfectly in an airplane's overhead bin.
Size:
45-47L
Straps:
Thick and cushy with compression technology that pulls the pack's load up and inwards so it doesn't feel as heavy.
Features:
Removable top lid, large pocket at the front, hydration compatible, contoured hip belt
If you want something different, refer to my article on how to choose the best travel backpack for tips on picking a pack and other backpack suggestions.
What to Pack for Your Trip
Clothes
1 pair of jeans (heavy and not easily dried, but I like them; a good alternative is khaki pants)
1 pair of shorts
1 bathing suit
5 T-shirts
1 long-sleeved T-shirt
1 pair of flip-flops
1 pair of sneakers
6 pairs of socks (I always end up losing half)
5 pairs of boxer shorts (I'm not a briefs guy!)
1 toothbrush
1 tube of toothpaste
1 razor
1 package of dental floss
1 small bottle of shampoo
1 small bottle of shower gel
1 towel
Deodorant
Small Medical Kit (safety is important!!!)
Miscellaneous
Female Travel Packing List
I'm not a woman, so I don't know what a woman wears, but Kristin Addis, our solo female travel guru, wrote this list as an addition to the basics above:
Clothing
1 swimsuit
1 sarong
1 pair of stretchy jeans (they wash and dry easily)
1 pair of leggings (if it's cold, they can go under your jeans, otherwise with a dress or shirt)
2-3 long-sleeve tops
2-3 T-shirts
3-4 spaghetti tops
1 light cardigan
Toiletries
1 dry shampoo spray & talc powder (keeps long hair grease-free in between washes)
1 hairbrush
Makeup you use
Hair bands & hair clips
Feminine hygiene products (you can opt to buy there too, but I prefer not to count on it, and most people have their preferred products)
For more on packing, check out these posts:
Dublin Travel Guide: Related Articles
Want more info? Check out all the articles I've written on backpacking/traveling Dublin and continue planning your trip: