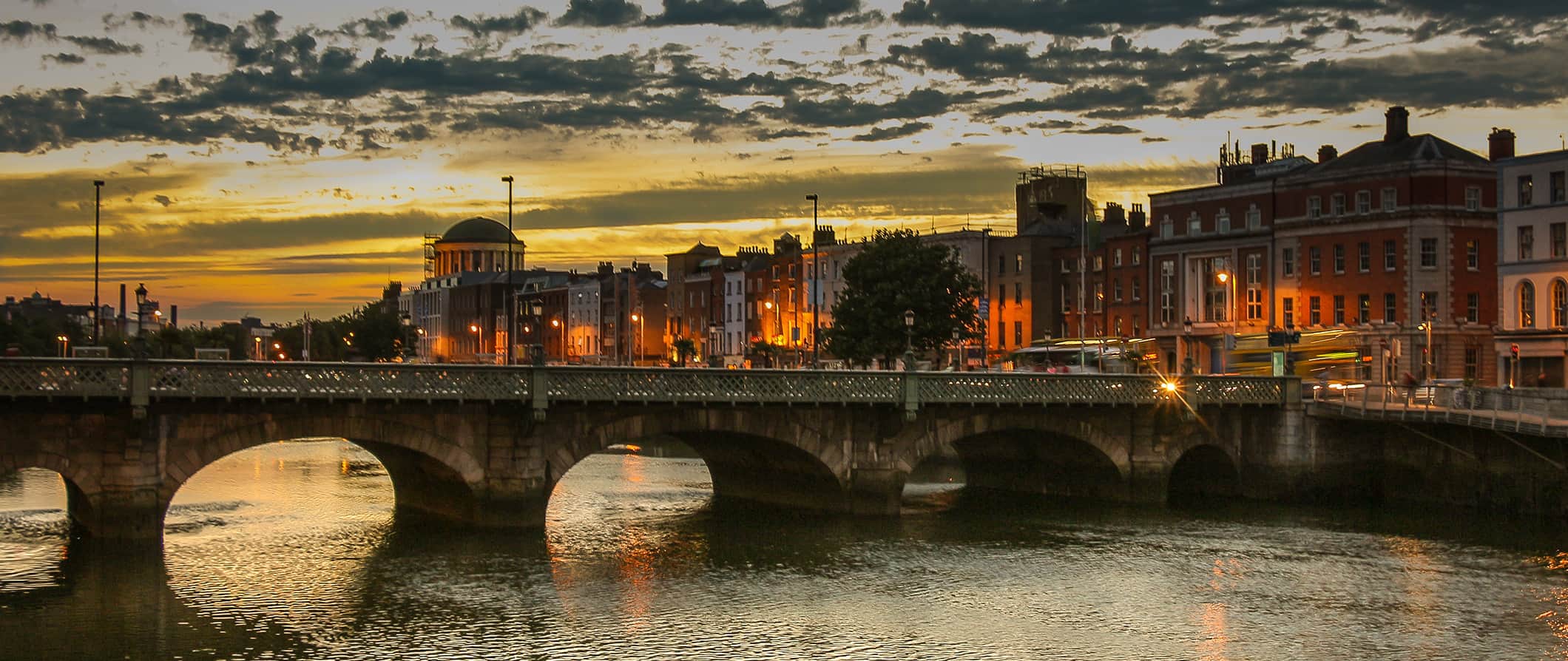 I love Dublin. While the city isn't the prettiest in the world (and on a cloudy day it can feel downright gloomy), there is so much literary and cultural history here you can't help but feel inspired as you explore. It's a lively city brimming with traditional pubs, live music and dancing (so much Irish jigging), and a hearty, vibrant food scene.
While Dublin does have something for everyone, I think history buffs and late-night revelers will get the most out of the city. Some of the world's most famous writers cut their teeth here and there is a sprawling pub scene that ensures you're never far from your next pint.
Best of all, Dubliners are a friendly, inquisitive bunch always happy to show you a good time.
You just simply can't go wrong with a few days in this city.
This budget travel guide to Dublin will help you plan your trip, save money, and make the most of your visit!
Top 5 Things to See and Do in Dublin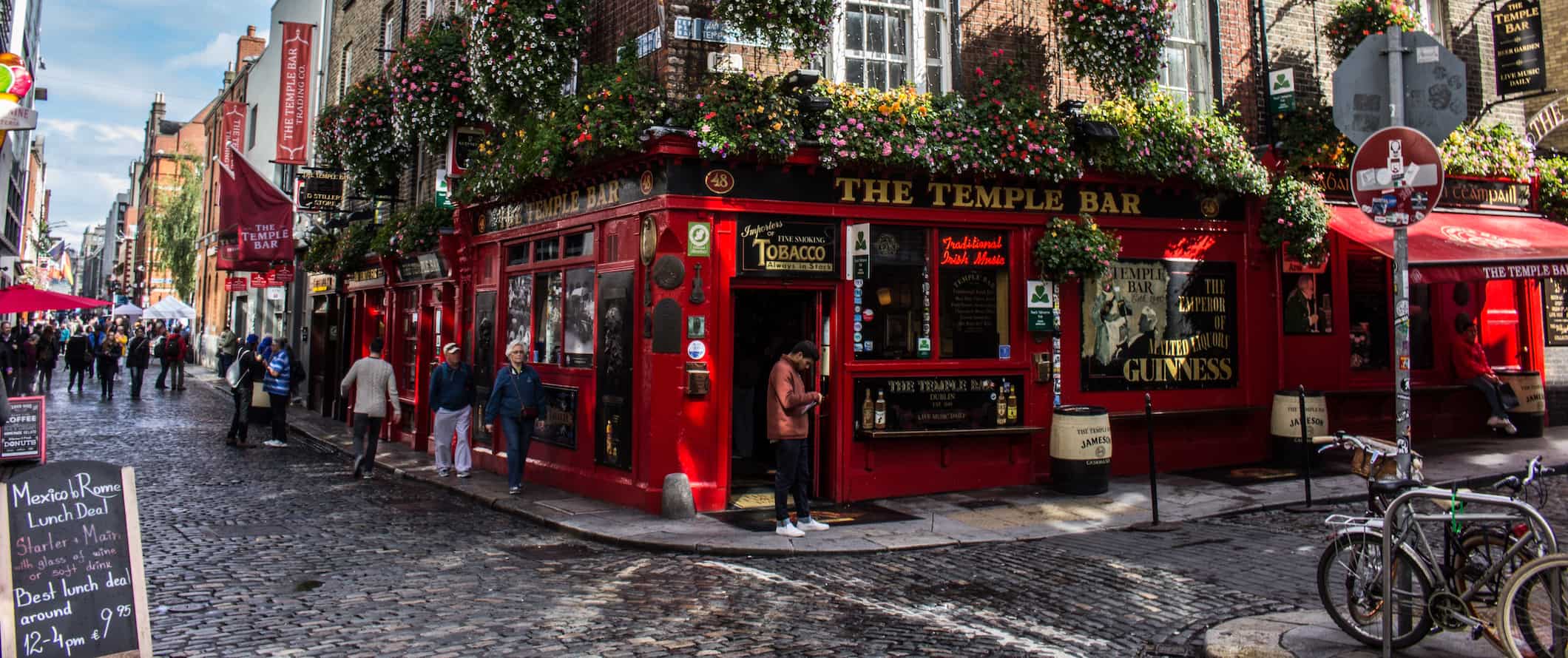 1. Tour the Guinness Storehouse
Learn the history and brewing process of Ireland's most famous export. Brewed in Ireland since 1759, Guinness is an Irish dry stout created by Arthur Guinness, that is beloved around the world. The Storehouse building dates to the early 1900s and Guinness originally used it as a fermentation house. Each entry ticket comes with a free pint which you can enjoy in their in-house bar. Explore seven floors within the building and enjoy spectacular panoramic views of the city. If you book online, you get 10% off and can skip the line. Admission is 15 EUR.
2. Relax in St. Stephen's Green
St. Stephen's Green is one of the oldest commons in Dublin. Located right in the heart of the city, it provides a relaxing escape from the hustle and bustle. The land was originally occupied by St. Stephen's church in the 13th century and was used to graze livestock. In the late 1600s, the City Assembly decided to turn the land into a public park, and by the 18th century, it had become a fashionable place to see and be seen by wealthy socialites. Stroll along the Beux Walk on the northern edge of the park, and you'll walk in the footsteps of Dublin's high society. The park has a sensory garden for the blind, busts paying tribute to famous figures like James Joyce, a memorial to the Great Famine (1845-1852), and other historic statues. Plenty of plants and animals call the natural oasis home, and on a sunny day it's one of the best places for people-watching and picnics.
3. Take a tour of Trinity College
Founded in the late 16th century, Trinity is Ireland's oldest university. It was founded by Queen Elizabeth I in 1592 and remains one of the most distinguished colleges in the world. The college has an art gallery and displays the Book of Kells, an ancient manuscript dating to 800 CE. The Old Library, which houses the Book of Kells, also houses the 1916 Proclamation of the Irish Republic along with a harp from the 15th century that has served as the model for Ireland's emblem. A guided tour is 29 EUR and includes admission into the Old Library Exhibition and the Book of Kells.
4. Tour Kilmainham Gaol
Erected in the late 18th century, Kilmainham is the city's famous former prison. The jail once held some of Ireland's most notorious prisoners and revolutionaries, including the leaders of the 1916 Easter Rising (an armed uprising against the British). You can even view the eerie Stonebreaker's Yard where 14 of the political prisoners were executed by firing squad. The prison closed in 1924 and was restored in the 1960s. The tour is really worth taking too; it takes about an hour and a half and afterward you'll be able to explore the museum on your own. Admission is 8 EUR.
5. Drink in Temple Bar
Although it's crowded and touristy, Temple Bar is the place to experience Dublin's nightlife. The area dates to the Middle Ages and fell into disrepair before being rebuilt in the 17th century. It was named after Sir William Temple, who was the provost of Trinity College in the early 1600s. The neighborhood runs along the River Liffey and performers, pubs, and independent shops line the streets. For drinks, check out the famous Temple Bar, Vintage Cocktail Club, and The Norseman. If you visit the area during the day, you'll often find it just as lively with street festivals and markets.
Other Things to See and Do in Dublin
1. Take a free walking tour
I'm always a fan of walking tours as they offer a lot of insight into the history of your destination. Dublin Free Walking Tour and Generation Tours offer regular tours that last 2-3 hours and cover the main highlights. It's the best way to get the lay of the land and ask a local expert all your questions. Just be sure to tip your guide at the end!
2. Explore The Chester Beatty
Situated at the back of Dublin Castle, The Chester Beatty boasts a wonderful and sizable collection of Asian, Far Eastern, and Islamic artifacts. You can admire Egyptian Books of the Dead, illuminated Ethiopian parchments, Jesuit travel journals, French manuscripts, Iranian narrative paintings, and more. They also host a lot of temporary exhibitions, lectures by invited guests, and workshops, most of which are also free to attend. It's one of the best museums in the country. Admission is free.
3. Learn about "Dublinia"
Dublin was founded by Vikings and this museum focuses on the city's Viking and medieval history. It's a historical recreation museum with exhibits like medieval street scenes and Viking longboats. They also have actors in costumes to bring it all to life (you can get dressed up in period clothing too). You can learn about crime and punishment in medieval Dublin, see period weapons and armor, and get a glimpse of actual artifacts on loan from the National Museum. You can also climb the 96 steps to the top of St. Michael's tower (a real medieval tower) to take in the view, however the tower is temporarily closed for renovations.
4. Visit the Dublin Zoo
Located in Phoenix Park, the Dublin Zoo opened in 1830 and spans almost 70 acres. It has several different areas, each with its own unique flora and fauna. Tigers, hippos, elephants, sloths, primates, pythons, and everything in between can be found here. It's both fun and educational and a perfect place to spend the day if you're traveling with kids. Admission is 21 EUR (18.25 EUR if you purchase them online).
5. See Dublin Castle
At the heart of the city lies Dublin Castle, which was completed in the early 13th century. Built as a defense against future invasions, the castle acted as the English seat of governance in Ireland. In 1673, it was destroyed by fire and was rebuilt in the Georgian style. The castle remained the seat of government until 1922 when Ireland gained independence. Today, the building is used for governmental business, state receptions, and inaugurations. You can explore the grounds for free but a self-guided tour of the State Apartments costs 8 EUR. You can also do guided tours for 12 EUR.
6. Go on a literary pub crawl
Dublin has a long history of producing incredible writers. This city produced Oscar Wilde, George Bernard Shaw, and W.B. Yeats to name just a few. The Dublin Literary Pub Crawl is a two-hour walking tour conducted by actors who perform scenes from some of Ireland's literary greats while you enjoy a drink at four different pubs along the way. It costs 15 EUR. They also run a weekly literary walk that visits iconic spots around the city that relate to Dublin's famous writers. These tours last two hours and cost 15 EUR.
7. Tour the Jameson Distillery
Jameson was one of Dublin's first distilleries, dating back to 1780. It's the world's best-selling Irish whiskey and although Jameson isn't made in the city anymore (it's made in Cork now), their distillery remains and hosts daily tours. You can learn about the whiskey-making process and sample the product at the end of the tour. Guided tours are 25 EUR. You can also take a whiskey blending class for 60 EUR.
8. Wander through Phoenix Park
This massive park is the second-largest enclosed city park in all of Europe. Spanning almost 1,800 acres, the homes of the U.S. Ambassador and the President of Ireland can be found here (as well as wild deer that have been living here for centuries). The park was created in 1662 and is also home to a polo field and the Dublin Zoo. It's an ideal place for a quiet walk or a relaxing picnic on a sunny day.
9. Shop on Grafton and Powerscourt Center
Powerscourt Center is one of Dublin's most popular shopping centers. Located just off Grafton Street, it's located inside an 18th-century Georgia townhouse that's been converted into a retail center. Admire the Rococo-style hallway, the Neoclassical music room (now a bridal boutique), and the ballroom (now an art gallery). While the intricate details within the house are stunning, the central courtyard, with its glass ceiling and crystal chandeliers, is even more eye-catching. Even if you don't want to buy anything, this is a cool place to browse.
10. Take a day trip to the Cliffs of Moher
If you don't have time to fully explore the west coast during your visit, try taking a day tour to the Cliffs of Moher. These cliffs, which stand a whopping 213 meters (700 feet) tall, are one of Ireland's top attractions and a stunning sight to see up close. Most tours also include a stop in Galway, which can give you a little taste of life in western Ireland. Tours from Dublin take the whole day as you literally need to cross the entire country, but if it's your only chance to see the Cliffs of Moher then you shouldn't pass it up! Tours start at 65 EUR.
11. Visit Marsh's Library
Built in 1707, Marsh's Library is the first public library in Ireland. The library is located across from the cathedral in St Patrick's Close. It has over 25,000 books and 300 historic manuscripts. Inside, you'll find three traditional scholar alcoves (think "cages") where readers would get locked in when reading a rare book so that they wouldn't walk away with it. Admission is 5 EUR.
12. Go to the National Leprechaun Museum
This quirky museum focuses on the folklore and mythology of leprechauns and fairies. A tour of the museum includes fun exhibits of giant furniture and other optical illusions. I had a lot of fun playing here with my friend and listening to the oral history of Ireland's famous folklore. It was surprisingly informative and fun. On Friday and Saturday nights, there is a DarkLand tour featuring tales from the darker side of Ireland, including some grim Irish folklore (it's not suitable for kids). It costs 16 EUR for the daytime tour and the DarkLand tour costs 18 EUR.
13. See Newgrange
Located 45 minutes north of Dublin by car, Newgrange is a prehistoric burial mound that dates back over 5,200 years (which makes it older than both Stonehenge and the Great Pyramids). Human remains, as well as other artifacts, were found in the massive tomb, which is composed of a ring of stone topped by dirt. Inside are several chambers and passageways. Every year on the Winter Solstice, a beam of light streams down the perfectly aligned entrance passage to illuminate the interior of the burial chamber. Admission is 10 EUR.
For more information on other cities in Ireland, check out these guides:
Dublin Travel Costs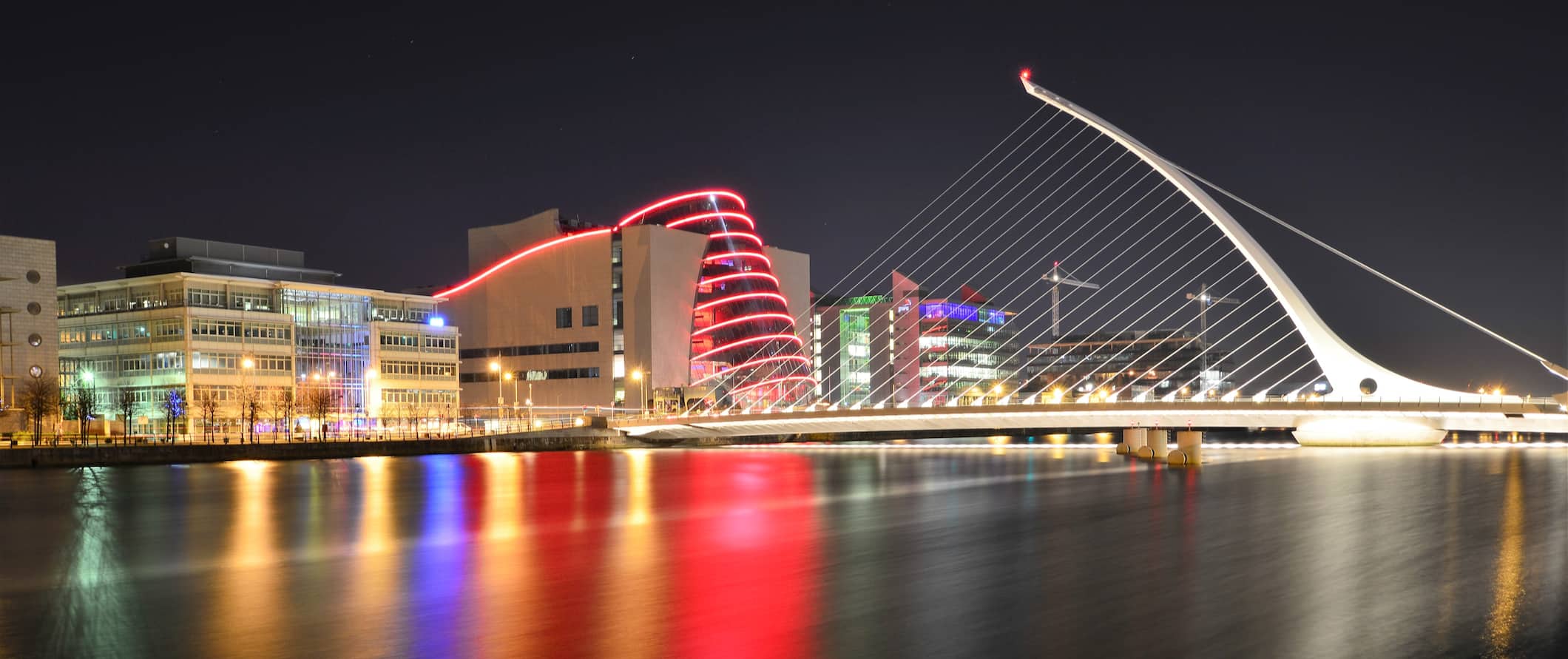 Hostel prices – A bed in a dorm with 8-10 beds starts at 32 EUR per night while 4-bed dorms cost 45 EUR. Private rooms average 100 EUR per night. Free Wi-Fi is standard and most hostels have kitchen facilities so you can cook your own meals.
For those traveling with a tent, a basic plot for two people without electricity can be found outside the city for around 15 EUR per night.
Budget hotel prices – A centrally located two-star budget hotel starts around 90 EUR. Expect basic amenities like free Wi-Fi and a basic free breakfast.
On Airbnb, private rooms start around 45 EUR per night though they average closer to 80-120 EUR per night. Entire homes start at around 75 EUR per night but are usually closer to 150-200 EUR per night (or more).
Food – Ireland is very much a "meat and potatoes" country. Cod, salmon, and oysters are some of the most popular seafood options, with other staple dishes being shepherd's pie, black pudding, bacon and cabbage, fish and chips, and meat stews. You'll find the heartiest food in the pubs, where portions are large and filling.
A traditional meal costs around 17-20 EUR. For a multi-course meal with a drink, expect to pay at least 40-50 EUR.
Fast food (think McDonald's) starts at 9.50 EUR for a combo meal. Pizza costs 10 EUR for a medium while Chinese food costs around 10-13 EUR for a main dish. Fish and chips can be found for as little as 6 EUR.
Beer is around 6 EUR while a latte/cappuccino is 3.60 EUR. Bottled water is 1.70 EUR.
Try Klaw in Temple Bar for oysters and Ramen Bar for ramen. Be sure to also eat at Hatch and Sons and The Pig's Ear.
If you want to cook your meals, expect to pay 45-65 EUR per week for groceries that include basic staples like pasta, rice, produce, and some meat or fish.
Backpacking Dublin Suggested Budgets
On a backpacking budget of 70 EUR per day, you can stay in a hostel dorm, cook all of your meals, limit your drinking, take public transportation to get around, and do free and cheap activities like free walking tours and visiting the Gaol. If you plan on drinking, add 5-15 EUR per day to your budget.
On a mid-range budget of 150 EUR per day, you can stay in a private hostel room or Airbnb, eat out for some meals at cheap fast food places, enjoy a couple of drinks, take the occasional taxi, and do more paid activities like touring Trinity College or visiting the Cliffs of Moher.
On a "luxury" budget of at least 285 EUR per day, you can stay in a hotel, eat out anywhere you want, drink more, rent a car for day trips, and do as many tours and excursions as you want. This is just the ground floor for luxury though. The sky is the limit!
Accommodation
Food
Transportation
Attractions
Average Daily Cost
Backpacker
35
15
10
10
70
Mid-Range
75
35
20
20
150
Dublin Travel Guide: Money-Saving Tips
Dublin isn't a super cheap city, but it doesn't need to break the bank either. Here are some tips to help you save money in Dublin:
Ask for student discounts – A valid student ID can get you discounts of up to 50% on attractions throughout the country. If you are a student, always ask for student discounts as many places offer them.
Drink less – Ireland's pub culture can hit your wallet hard. Temper the cost by visiting happy hours, drinking at home, or skipping drinks altogether.
Eat the pub food – Eat at the pubs for hearty Irish food that won't destroy your wallet. It's not healthy, but it's affordable and delicious!
Get the DoDublin Card – This tourism card includes access to six of the city's main attractions. If you're planning to see a lot, this card can save you money. It's 50 EUR.
Get an OPW Heritage Card – If you love to tour heritage sites, pick up this card. It provides free access to most of the castles throughout the country. The card costs 40 EUR. This is a must for people visiting multiple cities in the country!
Stay with a local – Couchsurfing connects you with locals who can give a free place to stay and introduce you to the city. It's a great way to save money and make new friends!
Eat early – Many restaurants have budget dinner options if you eat early (usually before 6pm). You won't have as much variety since it's a set menu, but it will be cheaper.
Take a free walking tour – Free walking tours are a great way to see the main sights on a budget. Dublin Free Walking Tour and Generation Tours offer regular tours that last 2-3 hours and cover the main sights. Just be sure to tip your guide at the end!
Bring a water bottle – The tap water here is safe to drink so bring a reusable water bottle to save money and reduce your plastic use. LifeStraw is my go-to brand as their bottles have built in filters to ensure your water is always clean and safe.
Where to Stay in Dublin
Dublin has a ton of fun, affordable hostels. Here are my suggested places to stay:
How to Get Around Dublin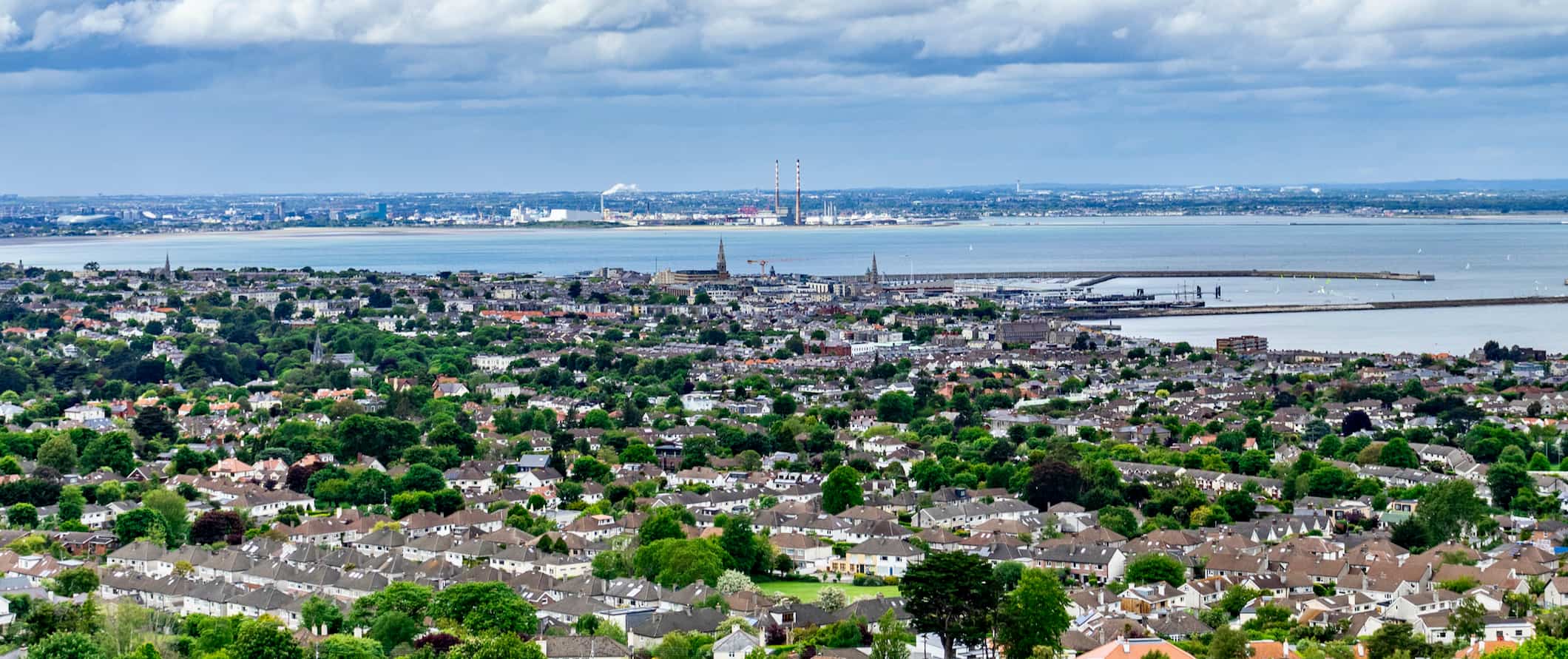 Public transportation – There is an extensive bus system in Dublin which runs through the city center and into the suburbs. Buses run from 5:30am to midnight and a single ticket costs 1.30-3.90 EUR depending on how far you go. A day pass is 8 EUR.
The Airlink Express bus travels from the airport to downtown. A single ticket costs 7 EUR.
The city also has a light rail system. There are two lines to choose from and trams run from 5:30am to midnight. A single ticket costs 2.10-3.20 EUR and a round-trip ticket costs 3.70-5.50 EUR.
For travel to the suburbs, there's the DART (Dublin Area Rapid Transit) which operates from 6am-midnight. Single fares cost 3 EUR.
Taxi – Taxis in Dublin can be expensive, with a daytime starting rate of 4 EUR. The rate is 2.41 EUR for each additional kilometer so skip them if you can!
Ridesharing – Uber is available in Dublin but is regulated so it's the same price as taxis. Skip them if you can!
Bicycle – DublinBikes has self-service bicycle rentals around the city. A day pass costs 3.5 EUR and the first 30 minutes are free (after which an hourly fee is charged).
Car rental – Car rentals can be found for as little as 25 EUR per day for a multi-day rental. However, you'll only need a car if you're leaving the city to explore. Drivers need to be at least 21 years old. Also, keep in mind that they drive on the left here.
For the best car rental prices, use Discover Cars.
When to Go to Dublin
Dublin's mild, temperate climate makes it a good destination to visit year-round, keeping in mind that you're guaranteed to encounter rain no matter when you visit!
The summer months (June-August) are the warmest so this is when the city is at its liveliest. However, keep in mind that this is peak season so you'll compete for accommodation. Prices are a little inflated too. Average temperatures during this time hover between 13-20°C (56-68°F) but sometimes can climb up to 25°C (77°F) or more.
Winters can be drizzly with short daylight hours, but temperatures rarely fall below freezing. It's chilly, grey, and grim. Some people find that unflattering, but I actually enjoy its moody charm. Just dress warmly and be prepared for lots of indoor activities.
Saint Patrick's Day in March is huge in Dublin and the city becomes crowded with locals and tourists ready to get their party on. During this time, hostels and hotels fill up quickly and prices spike. Temperatures are still mild and Ireland is just as beautiful as ever.
Overall, the shoulder season (April-May and September-October) is my favorite time to visit. Aside from St. Patrick's Day, you'll find prices to be a little lower and the city to be less busy. The weather is decent enough for exploring too. Just bring an umbrella!
How to Stay Safe in Dublin
Dublin is very safe and the risk of violent crime here is low. Petty theft and pick-pocketing can occur around high-traffic areas like Temple Bar as well as on crowded public transportation but as long as you keep an eye on your valuables you should be fine.
Some of the rougher parts of town you may want to avoid are Tallaght, Ballymun, Ringsend, Crumlin, Cork Street, Finglas, and Inchicore.
Scams here are rare, but if you're worried about getting ripped off you can read about common travel scams to avoid here.
Solo female travelers should generally feel safe here, however, the standard precautions apply (never leave your drink unattended at the bar, never walk home alone intoxicated, etc.).
Don't leave valuables inside a car if you rent a vehicle as snatch and grabs on tourist vehicles are common in Dublin.
If you do experience an emergency, dial 112 or 999 for assistance.
The most important piece of advice I can offer is to purchase good travel insurance. Travel insurance will protect you against illness, injury, theft, and cancellations. It's comprehensive protection in case anything goes wrong. I never go on a trip without it as I've had to use it many times in the past. You can use the widget below to find the policy right for you:
Dublin Travel Guide: The Best Booking Resources
These are my favorite companies to use when I travel. They consistently have the best deals, offer world-class customer service and great value, and overall, are better than their competitors. They are the companies I use the most and are always the starting point in my search for travel deals.
Skyscanner – Skyscanner is my favorite flight search engine. They search small websites and budget airlines that larger search sites tend to miss. They are hands down the number one place to start.
Hostelworld – This is the best hostel accommodation site out there with the largest inventory, best search interface, and widest availability.
Booking.com – The best all around booking site that constantly provides the cheapest and lowest rates. They have the widest selection of budget accommodation. In all my tests, they've always had the cheapest rates out of all the booking websites.
HostelPass – This new card gives you up to 20% off hostels throughout Europe. It's a great way to save money. They're constantly adding new hostels too. I've always wanted something like this and glad it finallt exists.
Get Your Guide – Get Your Guide is a huge online marketplace for tours and excursions. They have tons of tour options available in cities all around the world, including everything from cooking classes, walking tours, street art lessons, and more!
The Man in Seat 61 – This website is the ultimate guide to train travel anywhere in the world. They have the most comprehensive information on routes, times, prices, and train conditions. If you are planning a long train journey or some epic train trip, consult this site.
Rome2Rio – This website allows you to see how to get from point A to point B the best and cheapest way possible. It will give you all the bus, train, plane, or boat routes that can get you there as well as how much they cost.
FlixBus – Flixbus has routes between 20 European countries with prices starting as low 5 EUR! Their buses include WiFi, electrical outlets, a free checked bag.
SafetyWing – Safety Wing offers convenient and affordable plans tailored to digital nomads and long-term travelers. They have cheap monthly plans, great customer service, and an easy-to-use claims process that makes it perfect for those on the road.
LifeStraw – My go-to company for reusable water bottles with built-in filters so you can ensure your drinking water is always clean and safe.
Unbound Merino – They make lightweight, durable, easy-to-clean travel clothing.
Top Travel Credit Cards – Points are the best way to cut down travel expenses. Here's my favorite point earning credit cards so you can get free travel!
Dublin Travel Guide: Related Articles
Want more info? Check out all the articles I've written on backpacking/traveling Dublin and continue planning your trip: