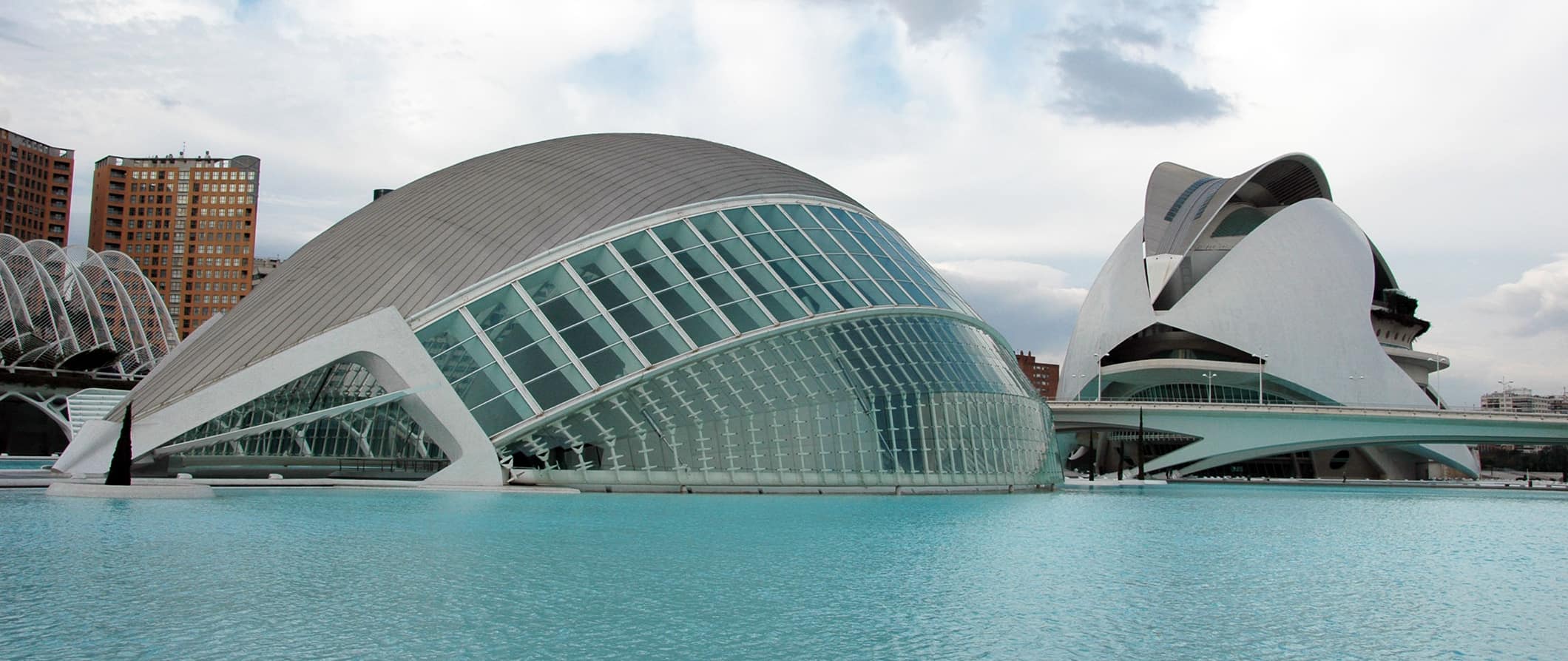 Valencia is a pretty amazing town. Initially, I wasn't attracted to Valencia — I came for the tomato fight in the nearby town of Bunol. However, Valencia grew on me. The more I wandered the streets, relaxed on the beach, stuffed my faced with paella on the seaside boardwalk, visited the futuristic art museum, and walked its historic streets, I fell in love. Valencia is a city that straddles the past and future quite well that creates a charm completely not found anywhere else in Spain!
Top 5 Things to See and Do in Valencia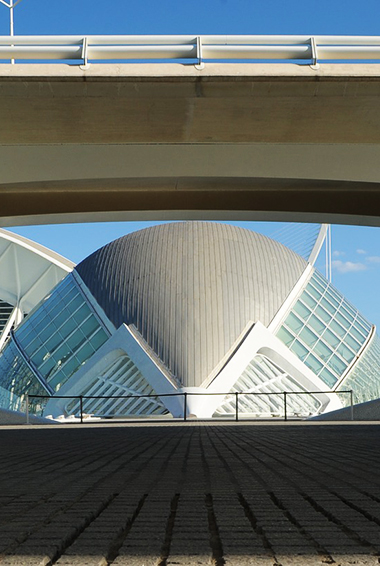 1. Visit the City of Arts and Sciences
The City of Arts and Sciences, a cultural and architectural complex, is a piece of art in itself. The futuristic look and design make it one of the most photographed places in the city. Admission is 6 EUR for adults, however, they offer free admission Friday nights and Sundays.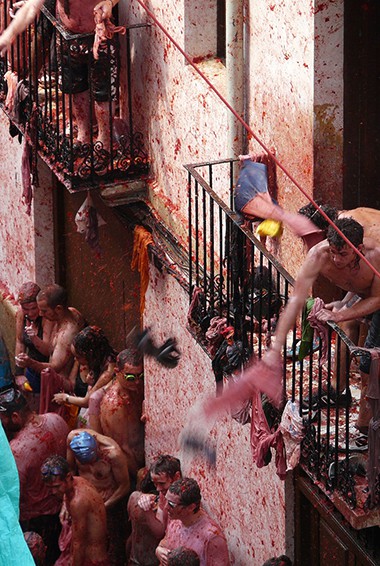 2. Throw tomatoes at La Tomatina
Held the last Wednesday of August in neighboring Bunol,
this celebration
brings thousands to the city, as people use Valencia as their base of operations. During the days leading up to and following the festival the city is packed with people and spirits are high. It's one of the greatest events I've ever been too!
3. Plaza de la Virgin
Here you can find the Valencia Cathedral with its Gothic architecture, which towers over the plaza. It's one of the nicer cathedrals I've seen. What I really enjoyed about Valencia was the wide, clean streets, the ancient winding streets of the Barrio del Carmen, and the typical Spanish-style buildings with their large doors, balconies, and windows.
4. Retreat to the Albufera
A lagoon several miles outside the city, this national park is full of beautiful nature including birds and fish. Locals will take visitors out on boat trips. You can take a city bus there in under an hour for just 1.50 EUR.
5. Cross Calatrava's Bridge
This was designed by Valencia's most famous son, Santiago Calatrava, who also designed the City of Arts and Sciences, the Hemisferic, and the Umbracle. It's a very modern and ultra-cool-looking bridge.
Other Things to See and Do
(Click the title to expand the text)
1. Wander Calle Caballero
La Marcha is the hot spot for all of the young people visiting the city, and Calle Caballero showcases Valencia's most social and fashionable citizens.
2. Peruse La Lonja
This is an old silk market where you can buy a lot of clothes. It is also close to downtown and the central market.
3. Celebrate Las Fallas
If you are in Valencia in March, you can partake in the biggest party in Valencia. The locals construct huge model heads and sculptures, then burn them down in a dramatic finale. This celebration goes on for days; be prepared to celebrate until all hours of the morning.
4. Cycle the Jardins Del Turia
Jardins Del Turia is a long stretch of park that runs through an old dried-up riverbed. It's dotted with sculptures, passersby, and buskers. Rent a bike, and spend a couple hours making your way through the park, stopping for a picnic lunch.
5. Lounge on the beach
Although this isn't as much of a beach destination as the Costa Blanca further south, you can still find beautiful sand at the beaches in Valencia. Malvarosa is the most popular place to hang out, but be prepared for high prices if you plan to eat along here.
6. Transport yourself to the future
The City of Arts and Sciences is the name given to a complex of ambitious, futuristic buildings that lie at the end of the Jardins del Turia. The architecture here is impressive, and you can also visit a museum and 3D movie theater here.
7. Eat paella
Valencia is the birthplace of one of the three main types of Spanish Paella – Valencian Paella. This dish has been around since the 1800s and is a sort of jambalaya. It's a major part of the culture, so don't leave without trying it.
8. Explore the port
The port of Valencia is often filled with international sailboats sporting flags from all over the world. Valencia has hosted numerous America's Cup Competitions, so the city has a great boating tradition. Take a wander around the port and soak up the maritime lifestyle.
Typical Costs
Hostel prices
– Dorms begin at 10 EUR per night, though most are around 12 EUR. There aren't a lot of hostels in Valencia. Private rooms in Valencia hostels average around 35-60 EUR for a double room (prices are a bit cheaper outside the summer months). Free WiFi is standard, and a few hostels in the city even off free breakfast. Camping is available just outside the city, with plots ranging from 6-15 EUR per night (prices are higher during the summer months). My suggested place is:
Budget hotel prices – Hotels start around 35 EUR per night, but 45-60 EUR is more common. While a few budget hotels in the city offer such things as free breakfast or a pool, most are pretty low-key so don't expect anything too luxurious! Airbnb is another good budget option in the city, with shared accommodation going for around 20 EUR per night. If you want an entire apartment or home, expect to pay 60-70 EUR per night.
Average cost of food – You can get cheap tapas and meals for around 6-12 EUR. That will include about 3 or 4 tapas. If you want wine, expect to spend about 17 EUR per meal. A good restaurant meal will set you back around 24 EUR. Cheap food like McDonalds and Maoz cost around 7 EUR. If you buy your own food, expect to spend about 30-40 EUR for a week's worth of groceries. If you plan to eat at the beach, expect to pay around 5 EUR for a sandwich and 35 EUR for a seafood dinner. Beer and wine are about half price if you buy it yourself (instead of at a bar or restaurant), with bottles of wine costing around 3.75 EUR and beer going for as little as 0.75 EUR.
Transportation – Buses and trains cost 1.50 EUR per single trip within the city limits. A 24-hour tourist card gives you discounts to attractions and free transit, and costs 13.50 EUR (48 and 72-hour cards are also available, for 18 EUR and 22.50 EUR respectively). Getting to and from the airport is straightforward, with one-way bus tickets cost 1.45 EUR. The metro also reaches the airport, with one-way tickets starting at 1.50 EUR. Bikes can be rented in the city, either per hour or per day, with prices varying depending on the season. Expect to pay around 10 EUR per day.
Suggested daily budget
40 EUR /42 USD (Note: This is a suggested budget assuming you're staying in a hostel, eating out a little, cooking most of your meals, and using local transportation. Using the budget tips below, you can always lower this number. However, if you stay in fancier accommodation or eat out more often, expect this to be higher!)
Money Saving Tips
Take a free walking tour – Like most of Spain, there many opportunities to take advantage of free walking tours. The tours provide an excellent overview of the history of the city.
Budget extra for food – Valencia has a lot of wonderful seafood restaurants and it's what the city is famous for. Splurge once in awhile and get a good meal down by the beach.
Visit the Mercado Central – This is the main fruit and vegetable market in Valencia. Buying snacks, small meals, and groceries here can cut down on your food budget.
Lunch at the Museum – The ground floor restaurant in the free Museo de Prehistoria serves a nice three-course lunch for only 10 EUR. Service starts at 2pm.
Couchsurf – While hostels are quite cheap in the city, staying with a local will save you some money. It's also a great way to connect with the local scene and get a better sense of the city and its people.
Get the tourist card – If you plan on seeing a lot of attractions and using a lot of public transportation then consider getting the Valencia Tourist Card. It comes in 1,2, and 3-day options and offers discounts all over the city in addition to free transportation and free entry into certain attractions.
My Must Have Guides For Traveling to Valencia