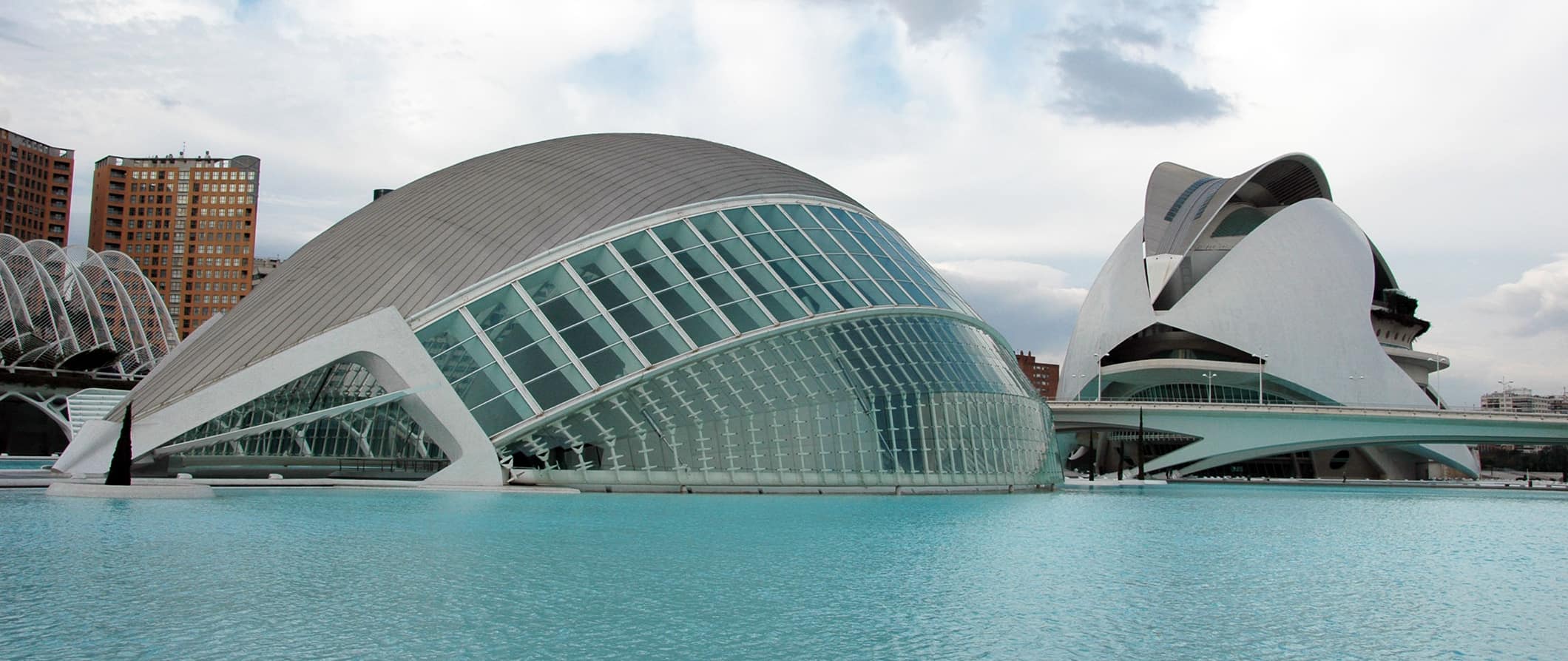 Valencia is a pretty amazing town. Initially, I wasn't I didn't really like it — I came for the famous La Tomatina in the nearby town of Bunol. To me, Valencia was just the place I was going to be sleeping.
However, the more I wandered the streets, relaxed on the beach, stuffed my face with paella on the seaside boardwalk, visited the futuristic art museum, and walked its historic streets, the more Valencia grew on me. Valencia is a cool city that straddles the past and future with historic streets, futuristic museums, and an awesome seaside boardwalk.
It's a great place to spend a few days…even if you aren't going to La Tomatina!
This travel guide to Valencia will help you plan your trip to the city.
Click Here for City Guides

Valencia
Top 5 Things to See and Do in Valencia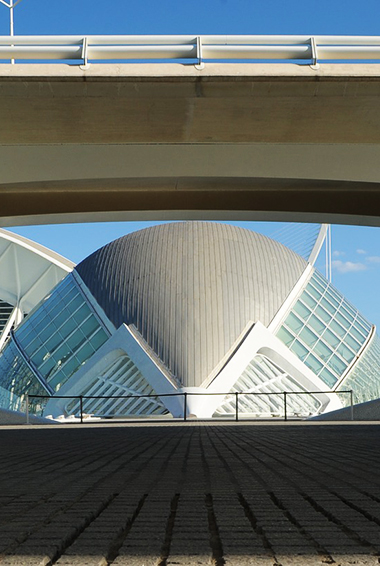 1. Visit the City of Arts and Sciences
Theis place is a piece of art in itself. The futuristic look and design makes it one of the most photographed places in Valencia. Admission to the Science Museum is €8 ($9 USD), but if you want to visit the cinema and the Oceanographic Park you, pick up a combo pass good for for €38.60 ($42 USD).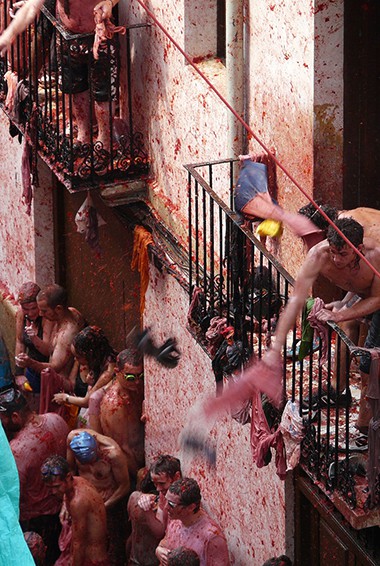 2. Throw tomatoes at La Tomatina
Held the last Wednesday of August in neighboring Bunol,
this celebration
brings thousands to the city, as people use Valencia as their base of operations. During the days leading up to and following the festival, the city is packed with people. It's one of the greatest events I've ever attended!
3. Plaza de la Virgen
Here you can find the Valencia Cathedral with its Gothic architecture. It's one of the nicer cathedrals I've seen. What I really enjoyed here were the ancient winding streets of the Barrio del Carmen, and the typical Spanish-style buildings with their large doors, balconies, and windows.
4. Retreat to the Albufera
A lagoon several miles outside the city, this national park is full of beautiful nature including birds and fish. Locals will take visitors out on boat trips. You can take a city bus there in under an hour for just €1.50 ($1.60 USD).
5. Cross Calatrava's Bridge
This was designed by Valencia's most famous son, Santiago Calatrava, who also designed the City of Arts and Sciences, the Hemisferic, and the Umbracle. It's a very modern and ultra-cool-looking bridge.
Other Things to See and Do in Valencia
2. Explore Central Market
Although this site originally started out as an open-air market, the city decided to move it indoors in the 19th century and officials hosted several architectural competitions to come up with a new design. The result was a brand new modernist style known as Valencian Art Nouveau, which somewhat resembles a cathedral with its roof's domes and the large cupola at the center. The entire building is filled with iron columns, bright ceramic tiling, and delicate stained glass. Shop for saffron, oranges, or take a break at the tapas bar to enjoy the people watching.
3. Visit La Lonja
Wander through this 15th-century former silk market and commodity exchange with soaring ceilings and incredible architecture. Walk through the main gate and into a cool courtyard filled with orange trees. Don't miss the Pavilion of the Consulate of the Sea, with its richly decorated ceilings and an elaborate stone staircase between two floors. Found in Old Town, it's just around the corner from the Central Market. It's €2 ($2.15 USD) to visit, but free on Sundays.
4. Celebrate Las Fallas
This festival in March is one of the biggest in Valencia, and celebrates the arrival of spring. Locals construct huge model heads and sculptures for Las Fallas de San José then burn them down in a dramatic finale. According to legend, this "build and burn" follows the Pagan tradition where people would gather their unwanted belongings in the streets and then burn away all this excess stuff to welcome spring. Las Fallas goes on for a full month so be prepared to celebrate until the wee hours of the morning.
5. Cycle the Jardins Del Turia
Jardin Del Turia is a long stretch of park that runs through an old dried-up riverbed. It's dotted with sculptures, passersby, and buskers. Rent a bike, and spend a couple hours making your way through the park, stopping for a picnic lunch.
6. Lounge on the beach
Although this isn't as much of a beach destination as the Costa Blanca further south, you can still find beautiful sand at the beaches in Valencia. Malvarosa is the most popular place to hang out, but be prepared for high prices if you plan to eat along here.
7. Eat paella
Valencia is the birthplace of one of the three main types of Spanish Paella. This rice dish — traditionally filled with rabbit, snails and green beans — has been around since the 1800s and it's a major part of the culture.
8. Explore the port
The port of Valencia is often filled with international sailboats sporting flags from all over the world. Valencia has hosted numerous America's Cup Competitions, so the city has a great boating tradition. Take a wander around the port and soak up the maritime lifestyle.
Valencia Travel Costs
Hostel prices – During peak season, a dorm bed in a four-six bed room will cost from about €23 ($25 USD). Free wifi is standard, and a few hostels in the city even off free breakfast. For a room with eight beds or more, expect to pay around €15 ($17 USD).
During the off-season, a bed in a room with eight beds or more will cost from about €10 ($11 USD) each night, while smaller rooms will cost €15 ($17 USD).
A basic private room for two with an ensuite bathroom starts at €60 ($65 USD) per night during peak season. Prices are about €50 ($55 USD) in the off-season.
Camping is available just outside the city, with plots ranging from €5-15 ($5.50-17 USD) per night (prices are higher during the summer months).
Budget hotel prices – Hotels start around €45 ($49 USD) per night but €60-80 ($65-87 USD) is more common. While a few budget hotels in the city offer such things as free breakfast or a pool, most are pretty basic so don't expect anything too luxurious!
Airbnb is another good budget option in the city, with shared accommodation (like a bed in a dorm) going for around €25 ($27 USD) per night, while a private room is about €48 ($52 USD) per night. If you want an entire apartment or home, expect to pay €130 ($90 USD) per night.
Food – You can get cheap tapas for around €6-12 ($7-13 USD) which will include about 3 or 4 tapas. If you want wine, expect to spend about €17 ($19 USD) per meal. If you go out for a meal of paella with drinks and appetizers expect to spend around €35 ($38 USD). Cheap food like McDonalds and Maoz cost around €7 ($8 USD). If you buy your own food, expect to spend about €30-40 ($33-44 USD) for a week's worth of groceries.
If you plan to eat at the beach, expect to pay around €5 ($5.50 USD) for a sandwich and €35 ($38 USD) for a seafood dinner. Beer and wine are about half price if you buy it yourself (instead of at a bar or restaurant), with bottles of wine costing around €4 ($4.50 USD) and beer going for as little as €1 ($1.10 USD).
Backpacking Valencia Suggested Budgets
If you're backpacking Valencia, expect to spend about €67 ($73 USD) per day. This budget will cover a hostel dorm, eating out once or twice but mostly cooking your meals (or at least eating super cheap), public transportation, free walking tours and activities, and maybe a few paid attractions.
On a mid-range budget of about €147 ($160 USD) per day, you'll get a two-star hotel, Airbnb, or a private room at a hostel as well as a couple of attractions per day, maybe a guided tour, some free walking tours, cheap eats and lunch specials, and a nice meal or two. You won't want for anything here but you won't be living large either!
If you want luxury, expect to spend at least €303 ($330 USD) per day and then just go up from there! You can stay in a four-star hotel, eat at high-end restaurants with cocktails, take food tours and taxis if you want them, and anything else you want. The sky's the limit with a luxury budget.
You can use the chart below to get some idea of how much you need to budget daily, depending on your travel style. Keep in mind these are daily averages – some days you'll spend more, some days you'll spend less (you might spend less every day). We just want to give you a general idea of how to make your budget. Prices are in USD.
Accommodation
Food
Transportation
Attractions
Average Daily Cost
Backpacker
$17
$25
$16
$15
$73
Mid-Range
$50
$45
$25
$40
$160
Luxury
$100
$100
$35
$95
$330
Valencia Travel Guide: Money Saving Tips
Food, drinks, and tours can really add up in Valencia if you aren't watching your spending carefully. If you want to save money, here are some of my suggestions on how to do so:
Take a free walking tour – Like most of Spain, there are many opportunities to take advantage of free walking tours. Free Tour Valencia offers a variety of free walking tours like the 2.5-hour Valencia Essentials tour which departs Plaza de la Virgen every day at 10:30am and 12pm (and an extra tour is offered Saturdays at 4pm). Booking is required even though it's free!
Budget extra for food – Valencia has a lot of wonderful seafood restaurants and it's what the city is famous for. Splurge once in a while and get a good meal down by the beach.
Visit the Mercado Central – This is the main fruit and vegetable market in Valencia. Buying snacks, small meals, and groceries here can cut down on your food budget.
Lunch at the Museum – The ground floor cafe in the free Museo de Prehistoria serves a nice three-course lunch for only €10 ($11 USD). Service starts at 2pm.
Couchsurf – While hostels are cheap in the city, staying with a local will save you some money. It's also a great way to connect with the local scene and get a better sense of the city and its people.
Get the tourist card – If you plan on seeing a lot of attractions and using a lot of public transportation then consider getting the Valencia Tourist Card. It comes in 1,2, and 3-day options that cost €15 ($16 USD), €20 ($22 USD) and €25 ($27 USD) and offers discounts all over the city in addition to free transportation and free entry into certain attractions.
Where to Stay in Valencia
There are several excellent hostels in Valencia. If you're not into hostel, you'll find a plenty of budget hotels here too. Here are my recommended places to stay:
How to Get Around Valencia
Valencia is a pretty small city, so walking is the best way to see everything but if you have limited time, public transportation can be useful.
Bus – Buses cost €1.50 ($1.60 USD) per single trip within the city limits. A 24-hour tourist card gives you discounts to attractions and free transit, and costs €15 ($16 USD) (48 and 72-hour cards are also available, for €20 ($22 USD) and €25 ($27 USD) respectively). Getting to and from the airport is straightforward, with one-way bus tickets cost €1.50 ($1.60 USD).
Metro – Valencia's underground subway is particularly useful in the summer months because of the air conditioning! A one-way ride will cost €1.50 ($1.60 USD) and the metro also reaches the airport.
Bicycle – Bikes can be rented in the city, either per hour or per day, with prices varying depending on the season. Expect to pay around €10 ($11 USD) per day.
Taxis – Taxis start at €1.25 ($1.35 USD) here, with normal tariff being €0.77 ($0.84 USD) per additional kilometre with a minimum rate of €2.75 ($3 USD) in the day and €5 ($5.50 USD) at night. Waiting time is €14.50 ($16 USD) per hour.
There is no Uber in Valencia.
When to Go to Valencia
Because of Valencia's temperate climate (it sees more than 300 days of sun a year), beach season extends from July to October and during this time it can get crowded. The best time to visit is in April and May when crowds haven't peaked but the weather is still warm enough for swimming.
In the winter months (December-February) the weather is still comfortable staying between 45°F and 65°F (7°C and 18°C) and the crowds have evaporated. During the off season hours for some museums are shortened. Keep in mind during the Las Fallas de San José festival in March hostels and hotels will book up quickly so allow plenty of time for planning.
How to Stay Safe in Valencia
Valencia is a safe place to visit. Violent crime is rare here so that won't be a problem, but like other Spanish cities, there is a problem with pickpocketing and petty theft, especially in the major tourist areas.
Tourist scams are prevalent as well so keep an eye out for groups of kids trying to distract you, as they're probably trying to take your money and be wary of people trying to take your luggage. They may try to charge you a large fee.
If you are worried about scams, read about these 14 major travel scams to avoid.
If you don't do it at home, don't do it when you're in Valencia.
The most important piece of advice I can offer is to purchase good travel insurance. Travel insurance will protect you against illness, injury, theft, and cancellations. It's comprehensive protection in case anything goes wrong. I never go on a trip without it as I've had to use it many times in the past. You can use the widget below to find the policy right for you:
Valencia Travel Guide: The Best Booking Resources
These are my favorite companies to use when I travel around Valencia. They are included here because they consistently find deals, offer world-class customer service and great value, and overall, are better than their competitors. They are the ones I use the most and are always the starting points in my search for travel deals.
Momondo – This is my favorite booking site. I never book a flight without checking here first.
Skyscanner – Skyscanner is another great flight search engline which searches a lot of different airlines, including many of the budget carriers that larger sites miss. While I always start with Momondo, I use this site too as a way to compare prices.
Airbnb – Airbnb is a great accommodation alternative for connecting with homeowners who rent out their homes or apartments.
Hostelworld – This is the best hostel accommodation site out there, with the largest inventory, best search interface, and widest availability.
Couchsurfing – This website allows you to stay on people's couches or spare rooms for free. It's a great way to save money while meeting locals who can tell you the ins and outs of their city. The site also lists events you can attend to meet people (even if you're not staying with someone).
Booking.com – The best all around booking site that constantly provides the cheapest and lowest rates. They have a no money down policy, great interface, and the widest selection of budget accommodation. In all my tests, they've always had the cheapest rates out of all the booking websites.
Eurail – If you are going to Europe and taking a lot of high speed or long distance trains, get a rail pass. I've used a rail pass three times and saved hundreds of dollars each time. The math just works.
Intrepid Travel – If you want to do a group tour around Europe, go with Intrepid Travel. They offer good small group tours that use local operators and leave a small environmental footprint. If you go on a tour with anyone, go with them. And, as a reader of this site, you'll get a discount when you click the link!
Rome 2 Rio – This website allows you to see how to get from point A to point B the best and cheapest way possible. It will give you all the bus, train, plane, or boat routes that can get you there as well as how much they cost.
FlixBus – German based Flixbus has routes between 20 European countries with prices starting as low €5 ($6 USD)! Their buses include WiFi, electrical outlets, and up to three 3 free bags.
BlaBlaCar – BlaBlaCar is a ridesharing website that lets you share rides with vetted local drivers by pitching in for gas. You simply request a seat, they approve, and off you go! It's a cheaper and more interesting way travel than by bus or train!
World Nomads – I buy all my travel insurance from World Nomads. They have great customer service, competitive prices, and in-depth coverage. I've been using them since I started traveling in 2003. Don't leave home without it!
Valencia Gear and Packing Guide
If you're heading on the road and need some gear suggestions, here are my tips for the best travel backpack and for what to pack!
The Best Backpack for Travelers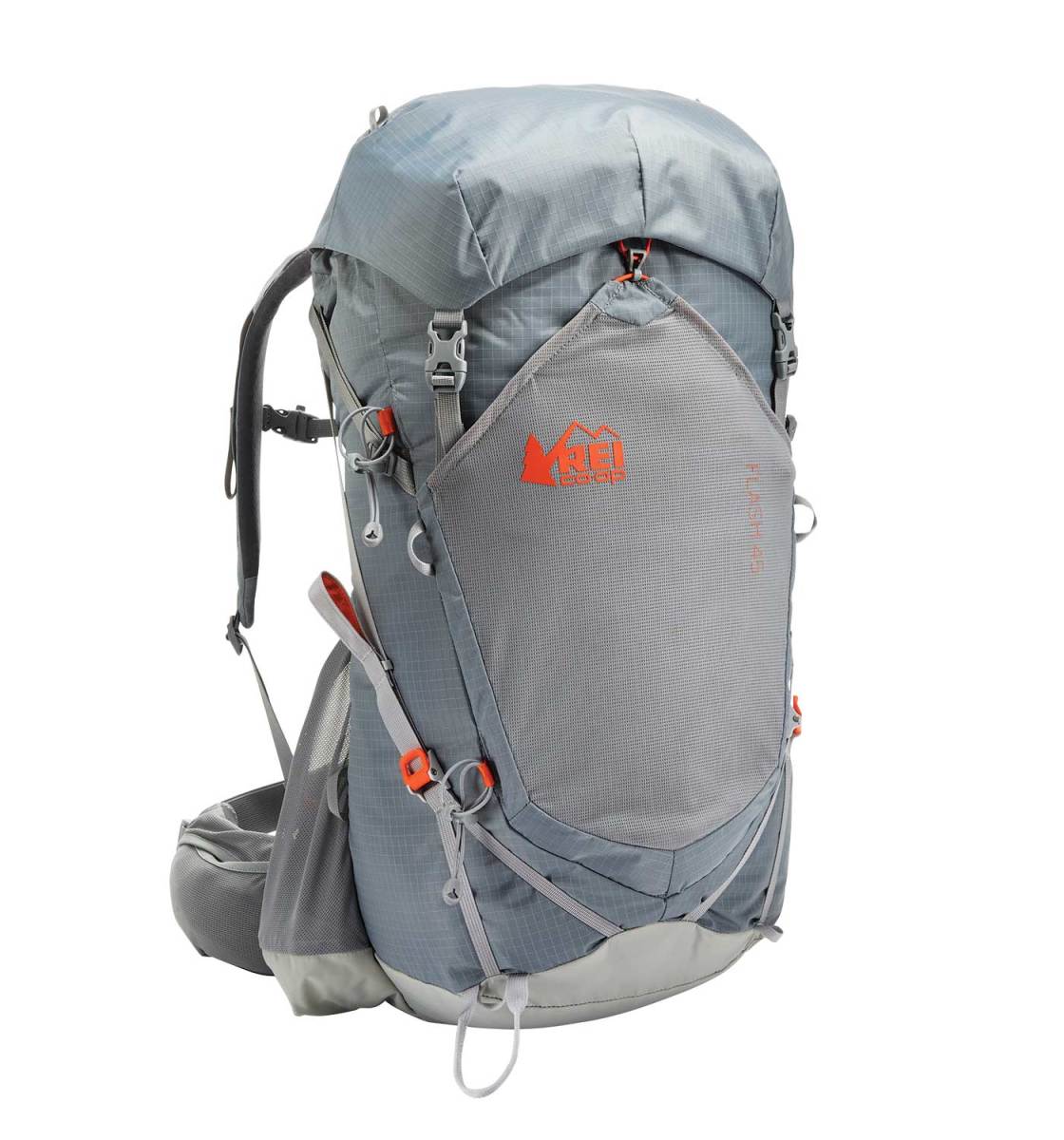 What's the best backpack for traveling long-term? I recommend the
REI Flash 45 Pack
. It's light and comfy, front loading, and fits perfectly in an airplane's overhead bin.
Size:
45-47L
Straps:
Thick and cushy with compression technology that pulls the pack's load up and inwards so it doesn't feel as heavy.
Features:
Removable top lid, large pocket at the front, hydration compatible, contoured hip belt
If you want something different, refer to my article on how to choose the best travel backpack for tips on picking a pack and other backpack suggestions.
What to Pack for Your Trip
Clothes
1 pair of jeans (heavy and not easily dried, but I like them; a good alternative is khaki pants)
1 pair of shorts
1 bathing suit
5 T-shirts (Unbound Merino is my preferred company. If you're a member of NM+, you can get 15% off your purchase)
1 long-sleeved T-shirt
1 pair of flip-flops
1 pair of sneakers
6 pairs of socks (I always end up losing half)
5 pairs of boxer shorts (I'm not a briefs guy!)
1 toothbrush
1 tube of toothpaste
1 razor
1 package of dental floss
1 small bottle of shampoo
1 small bottle of shower gel
1 towel
Deodorant
Small Medical Kit (safety is important!!!)
Miscellaneous
Female Travel Packing List
I'm not a woman, so I don't know what a woman wears, but Kristin Addis, our solo female travel guru, wrote this list as an addition to the basics above:
Clothing
1 swimsuit
1 sarong
1 pair of stretchy jeans (they wash and dry easily)
1 pair of leggings (if it's cold, they can go under your jeans, otherwise with a dress or shirt)
2-3 long-sleeve tops
2-3 T-shirts
3-4 spaghetti tops
1 light cardigan
Toiletries
1 dry shampoo spray & talc powder (keeps long hair grease-free in between washes)
1 hairbrush
Makeup you use
Hair bands & hair clips
Feminine hygiene products (you can opt to buy there too, but I prefer not to count on it, and most people have their preferred products)
For more on packing, check out these posts:
Valencia Travel Guide: Related Articles
Want more info? Check out all the articles I've written on Spain travel and continue planning your trip: