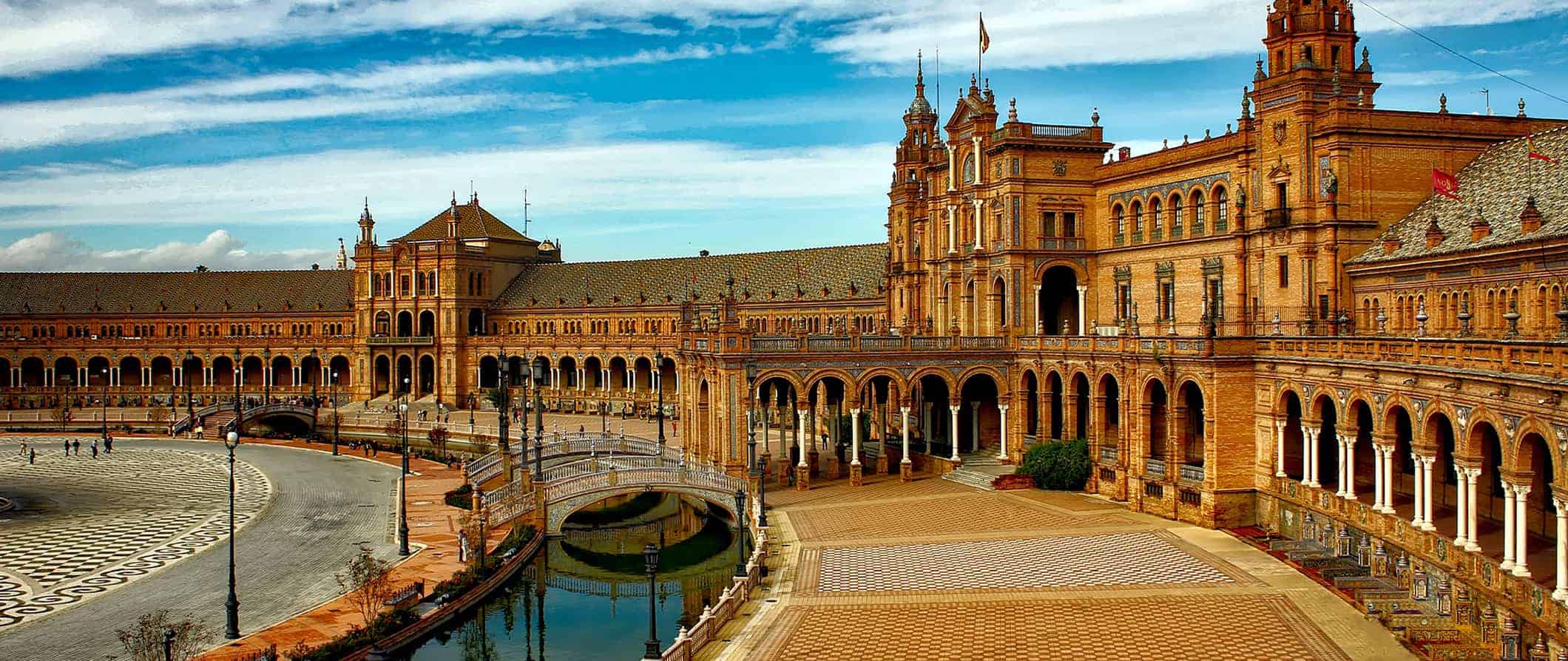 Seville is the artistic, cultural, and financial capital of southern Spain. It's a city full of gorgeous architecture, vibrant history, and wonderful food. I loved my visit to Seville.
Originally founded as a Roman city, Seville came to prominence after the Islamic conquest in 711. Today, the city is known for its flamenco dancing (which originated in Andalucía), its beautiful architecture that blends Islamic and European styles, and its scorching summers.
Seville is a big university town and is extremely popular with people studying abroad, making it a more affordable destination than cities like Barcelona or Madrid (it's not as crowded either).
This Seville travel guide will give you everything you need to know to eat well, save money, and see the best sights Seville has to offer!
Top 5 Things to See and Do in Seville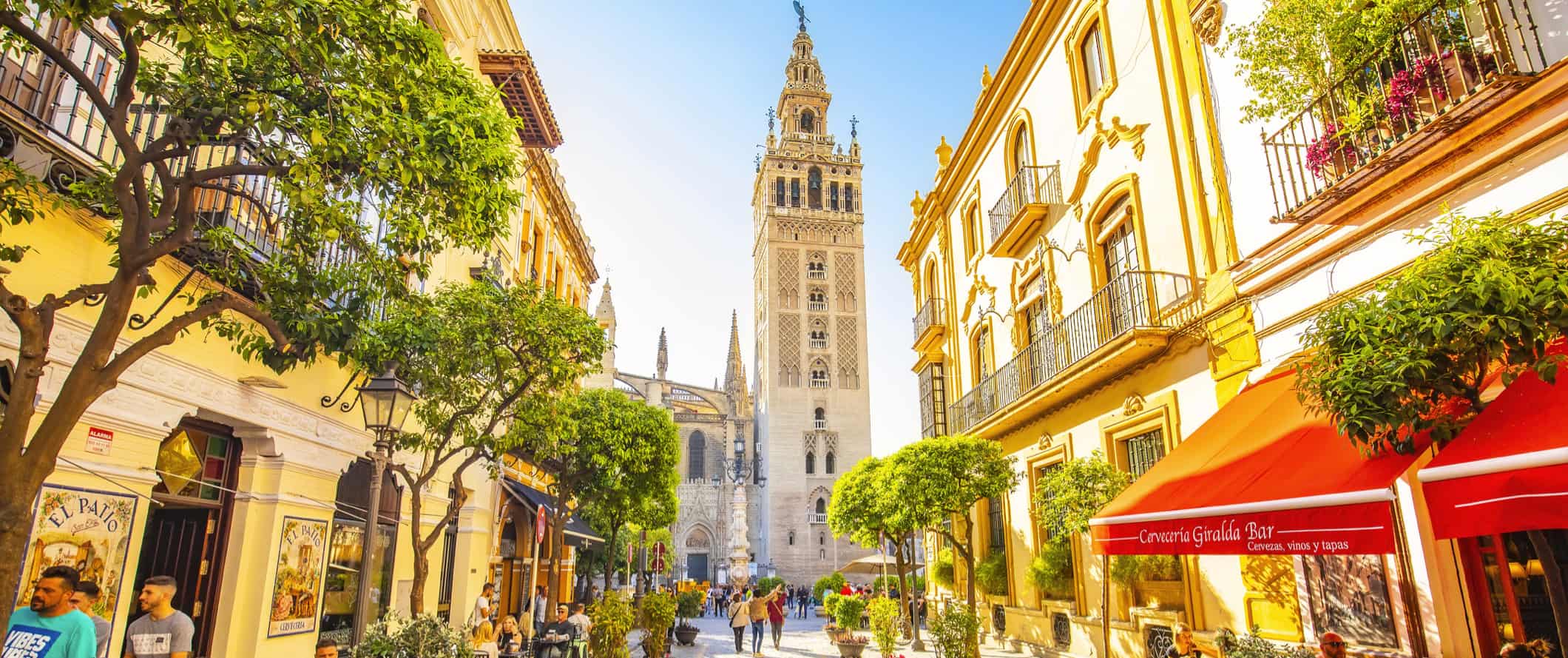 1. Tour Casa de Pilatos
Built in the 16th century, this beautiful Andalusian palace is a mix of Italian Renaissance and Spanish Mudejar styles. It houses a collection of 16th and 19th-century paintings, as well as a sculpture garden of Greek mythological figures. It's also the permanent residence of the Dukes of Medinaceli (a hereditary title in Spain) and boasts the world's largest collection of azulejo (a traditional glazed tile artwork). Numerous films have also been shot here, including Lawrence of Arabia, Kingdom of Heaven, and Knight and Day to name a few. Admission is 12 EUR.
2. Explore Parque de Maria Luisa
Located just in front of the iconic Plaza de España, this 100-acre public park offers the opportunity to browse gardens, patios, and sculptures. The park is Seville's main greenspace and is situated near the Guadalquivir River. Created in 1911, it's a relaxing place to lounge, picnic, and people watch. Don't miss the monument to Miguel de Cervantes, who wrote Don Quixote (the monument used to include statues of Don Quixote on his horse and Sancho Panza on his donkey but they have since disappeared).
3. Visit the Royal Alcázar
The Royal Alcázar of Seville (also known as al-Qasr al-Muriq) is the oldest residential palace in Europe still in use today. Dating to the 14th century, it's an important example of Moorish architecture. There are giant galleries, ornate rooms, and beautiful gardens. The palace was built for the Christian king Peter of Castile atop a Muslim fort after Christian armies reconquered the city in 1248. It's also a UNESCO World Heritage Site. General admission is 14.50 EUR. Free admission is available on Monday afternoons/evenings. Check the website for specific times.
4. Walk through the historic Jewish Quarter
Seville's Jewish Quarter is filled with small winding streets and is generally regarded as the most charming part of the city. The area gets pretty crowded but there are numerous small alleys and streets to explore where you can escape the crowds. Don't miss this part of town.
5. Take a food tour
To learn more about the history and culture behind Seville's cuisine, take a food tour. It's the best way to eat your way around the city sampling the best eats Seville has to offer while learning what makes the cuisine unique. Devour Tours runs in-depth food tours led by expert local guides that will introduce you to the food culture and its history. If you're a foodie like me who wants to learn more about the history and culture behind each dish, this tour is for you! Tours start at 89 EUR.
Other Things to See and Do in Seville
1. Visit the Catedral of Sevilla
This Roman Catholic cathedral dominates much of Seville's skyline. Surrounded by Andalusian orange trees, the Cathedral (also known as the Cathedral of Saint Mary of the Sea) is one of Seville's top tourist attractions. Lines can get long, partially because hours are limited around church services, so get there early. While you can just admire the stunning design and stained glass from outside, the Cathedral is where Christopher Columbus is buried, so it's worth going inside. The bell tower also offers a panoramic view of the city. Admission is 11 EUR if you purchase online and 12 EUR in person. The audio guide costs 5 EUR (4 EUR if you use the app).
2. Check out Plaza de España
One of Seville's most picturesque spots, Plaza de España was built at the northern edge of the Parque de María Luísa in the 1920s for the Ibero-American Exposition. The unique building mixes Baroque, Renaissance, and Moorish architectural styles, and there's a small canal with Venetian-like bridges and gondolas. The Plaza has gotten a lot of attention in the past few years because it has served as a backdrop in film and TV, such as Star Wars and Game of Thrones. The murals along the sweeping arc of the building depict the various regions and municipalities of Spain. It also has benches that depict the 49 provinces of Spain in ceramic tiles. Admission is free.
3. Visit the Iglesia de San Isidoro
While this church is less popular than the Catedral de Sevilla, the Iglesia de San Isidoro is considered one of Seville's most impressive churches. The 14th-century church was built on top of a former Arabic fortification and its fusion of Gothic and Mudejar styles is a common example of unique architecture in Andalucía. The intricate design makes this worth a visit. Admission is free but be sure to dress respectfully as it is a place of worship.
4. Enjoy some contemporary art
The Centro Andaluz de Arte Contemporáneo (CAAC) is a contemporary art museum located just across the river from the city center. Housed in a former Franciscan monastery that dates to the 15th century (and was later a ceramic tile factory), today the museum hosts a collection of Andalusian artists. There are rotating exhibitions so check the website to see what's on during your visit. Admission is 3.01 EUR, though there is free entry Tuesday-Friday from 7pm-9pm and on Saturdays from 11am-9pm
5. Learn about Spain's colonial history
The General Archives of the Indies is a 16th-century building and UNESCO World Heritage Site. Built in the Spanish Renaissance style, it contains a large collection of documents and artifacts related to Spain's colonization of the New World. Highlights include the personal diary of Columbus and the Treaty of Tordesillas, which divided the New World between Spain and Portugal. Admission is free.
6. Visit the Flamenco Museum
Flamenco music and dance is an important cultural element of southern Spanish culture, and the Flamenco Museum in Seville is a great way to learn more about this unique style of performance. The museum features many intricately designed flamenco dresses and illuminates the history behind the dance's origins. Admission to the museum is 10 EUR while live flamenco shows in the museum's theater are 25 EUR.
7. Admire fine art
The Museo de Bellas Artes is a fine arts museum with works from the Middle Ages through to the 20th century. The museum lies in the Macarena neighborhood in a building that dates to 1594. Two floors in the building are full of paintings, sculptures, furniture, and crafts — many by artists from Seville or Andalucía. Admission is 1.50 EUR and free if you're an EU citizen.
8. Take a Spanish class
Seville is a popular study abroad location for international students and there are a number of language schools catering to students from around the world. You can take Spanish courses for just a single week or longer. Many students choose Seville to study because of the big student population of the city, the affordability of the city, and the unique Andalusian culture. The CLIC language school offers a variety of courses for any number of weeks or months, plus affordable housing for those that want to stay with other students or in a homestay. A one-week intensive Spanish language course at CLIC costs as little as 205 EUR, though discounts are available depending upon a package or multi-week course.
9. Take in the view from the top of a mushroom
This large sculptural platform in the Plaza de la Encarnación used to be a car park but, in 2011, it was transformed into a massive public art project called Las Setas De Sevilla, or the Metropol Parasol. Resembling mushrooms (or more like a beehive in my opinion), the structure provides shade to the plaza below and there are two 85-foot panoramic platforms where you can take in the view. Admission to the platform is 10 EUR.
10. Hang out in Alameda
The best nightlife spot in Seville is in and around the Alameda de Hercules. The large, open-air plaza attracts many students and creative artist types who relax here drinking, playing music, and enjoying any of the tapas bars and outdoor seating that line the mall. Many of the restaurants and bars in the area offer live music and great deals on food & drinks too.
11. Relax on the Guadalquivir River
The first trip around the world originated in Seville when Portuguese explorer Ferdinand Magellan sailed out along the Guadalquivir River in 1519. The river was the main maritime route for Atlantic traffic for over 200 years, making Seville the mercantile center of the western world in the 16th century. These days you can enjoy rowing and canoeing on the river or just simply relax by the shore and take in the scene.
12. Take a bike tour
If you want to learn about the city's history and see the main sights, take a bike tour. Depending on how fancy you want the tour to be, you can spend 25-40 EUR for a three-hour guided bike tour of Seville. You'll cover a lot of ground, allowing you to see all the main sights in just a few hours. Sevilla Bike Tours runs morning and sunset tours daily for 30 EUR that are suitable for all ages.

For more information on other cities in Spain, check out these guides:
Seville Travel Costs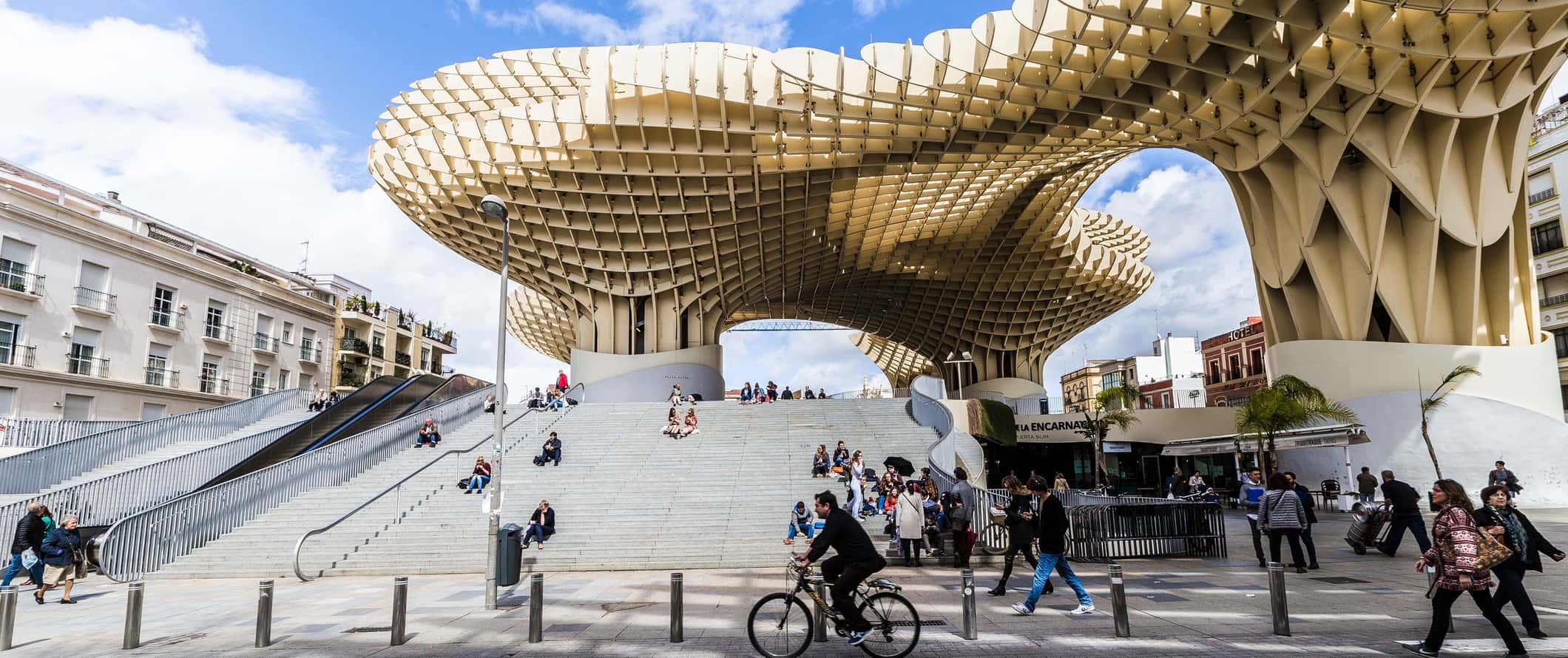 Hostel prices – Seville is very popular with backpackers, so there are lots of options for hostels. Many offer luxury & flashpacking-style amenities like rooftop pools and free breakfast. Most hostels are located in the city center or are a short walk from the city center. Hostels cost between 12-20 EUR for a dorm no matter the time of year. Private rooms cost between 55-75 EUR.
There are a few campgrounds outside the city, some offering private cabins with swimming pools for 40 EUR. For those with a tent, a basic plot for one person costs 5 EUR.
Budget hotel prices – Budget hotels cost 40-60 EUR per night, though prices are slightly higher (around 50-100 EUR per night) in peak tourist season and around Easter. Continental breakfast is usually included, as are basic amenities like TV and Wi-Fi.
Airbnb is available here as well, with private rooms starting at 30 EUR per night (but averaging double that). An entire apartment goes for at least 70 EUR per night though prices double if you don't book early. Many include air-conditioning — useful to have for the hot summer season.
Food – Spain has a strong food culture, where meals can last hours and dinner often isn't served until after 8pm. Each region in the country has its own local dishes and food culture, and Andalucía is no exception. Owing to its location on the coast, seafood is huge in this region, including shellfish and pescaito frito (fried fish). Gazpacho is also super common here, as is Iberian ham. Don't miss trying some of the local sherry too (William Shakespeare apparently loved it).
You can eat very cheap in Seville. Tapas bars offer great deals and a number of takeaway stands with falafel, shawarma, or other late-night snacks can be found for under 10 EUR. Most tapas bars offer small plates for anywhere from 5-10 EUR depending upon the type of dish.
If you want to splurge, there are many nicer tapas restaurants with more elaborate meals and innovative takes on typical Andalusian-style foods. Mid-range tapas restaurants serve small plates between 7-15 EUR and, again, two or three plates is usually enough food for one person.
For a mid-range meal including an appetizer and drink, expect to pay at least 20 EUR. For cheap fast food (think McDonald's), a combo meal costs around 8 EUR.
Beer costs as little as 2-3 EUR. A glass of sangria or wine costs 5 EUR. A latte/cappuccino is around 1.50 EUR while bottled water is under 1 EUR.
If you plan on cooking your own meals, expect to spend about 40-45 EUR for a week's worth of groceries. This gets you basic staples like pasta, rice, seasonal produce, and some meat.
Backpacking Seville Suggested Budgets
If you're backpacking Seville, expect to spend around 50 EUR per day. This budget covers a hostel dorm, cooking most of your meals, limiting your drinking, taking public transportation, and doing mostly free activities like relaxing in the park and seeing some of the churches. Add 10-15 EUR per day to your budget if you plan on drinking or partying a lot.
On a mid-range budget of about 135 EUR per day, you can stay in a private Airbnb or private hostel room, eat out at cheap restaurants for most meals, enjoy a few drinks, take the occasional taxi to get around, and do more paid activities like and museum visits or Spanish classes.
On a "luxury" budget of 250 EUR or more per day, you can stay in a hotel, eat out anywhere you want, drink as much as you'd like, take more taxis, and do as many guided tours as you want. This is just the ground floor for luxury though. The sky is the limit!
Accommodation
Food
Transportation
Attractions
Average Daily Cost
Backpacker
15
15
10
10
50
Mid-Range
60
40
15
20
135
Seville Travel Guide: Money-Saving Tips
Food, drinks, and tours can add up in Seville if you aren't watching your spending. This is one of the more expensive cities in Spain. Fortunately, there are plenty of ways to take advantage of free things to do here. Here's how to save money in Seville:
Get the Tarjeta TurÍstica pass – If you plan on using the bus or tram often, get this pass. A one-day pass costs 5 EUR and provides unlimited access to all public transport. A three-day pass costs 10 EUR.
Visit the Royal Alcázar on Monday – The Royal Alcázar has free admission on Mondays, so plan accordingly to save money. Specific times vary by season so check the website for an up-to-date schedule.
Buy your own alcohol – While drinks are hardly expensive at bars and restaurants in Seville (and in Spain as a whole), you can save yourself a lot of money if you buy your own beer and wine. Many locals buy their own bottles and drink in public at the Alameda de Hercules in the evenings, taking advantage of the street performers, buskers, and musicians that crowd the plaza on weekends.
Stay with a local – Couchsurfing is a great way to save money on accommodation while also getting some insight from a local. While hostels aren't too expensive in the city, this is still the best way to save money and deepen your travel experience.
Go on a free walking tour – Like most of Spain, there are many opportunities to take advantage of free walking tours. Seville has a number and many depart from Plaza del Salvador. You just need to tip your guide. My favorite is New Europe. Just remember to tip your guide at the end!
Visit the markets for groceries & cheap tapas – The Triana Market is one of the main food markets in Seville and has many fruit and vegetable vendors. There are food markets in each of the major Seville neighborhoods, and sometimes the smaller ones outside the main tourist trails even have small, local restaurants with great food deals. The Mercado de Feria is a favorite. Buying snacks, small meals, and groceries at the local neighborhood markets can cut down on your food budget.
Bring a water bottle – The tap water here is safe to drink so bring a reusable water bottle to save money and reduce your plastic use. LifeStraw is my go-to brand as their bottles have built-in filters to ensure your water is always clean and safe.
Where to Stay in Seville
Seville has a ton of hostel choices for any budget. My recommended places to stay are the following:
How to Get Around Seville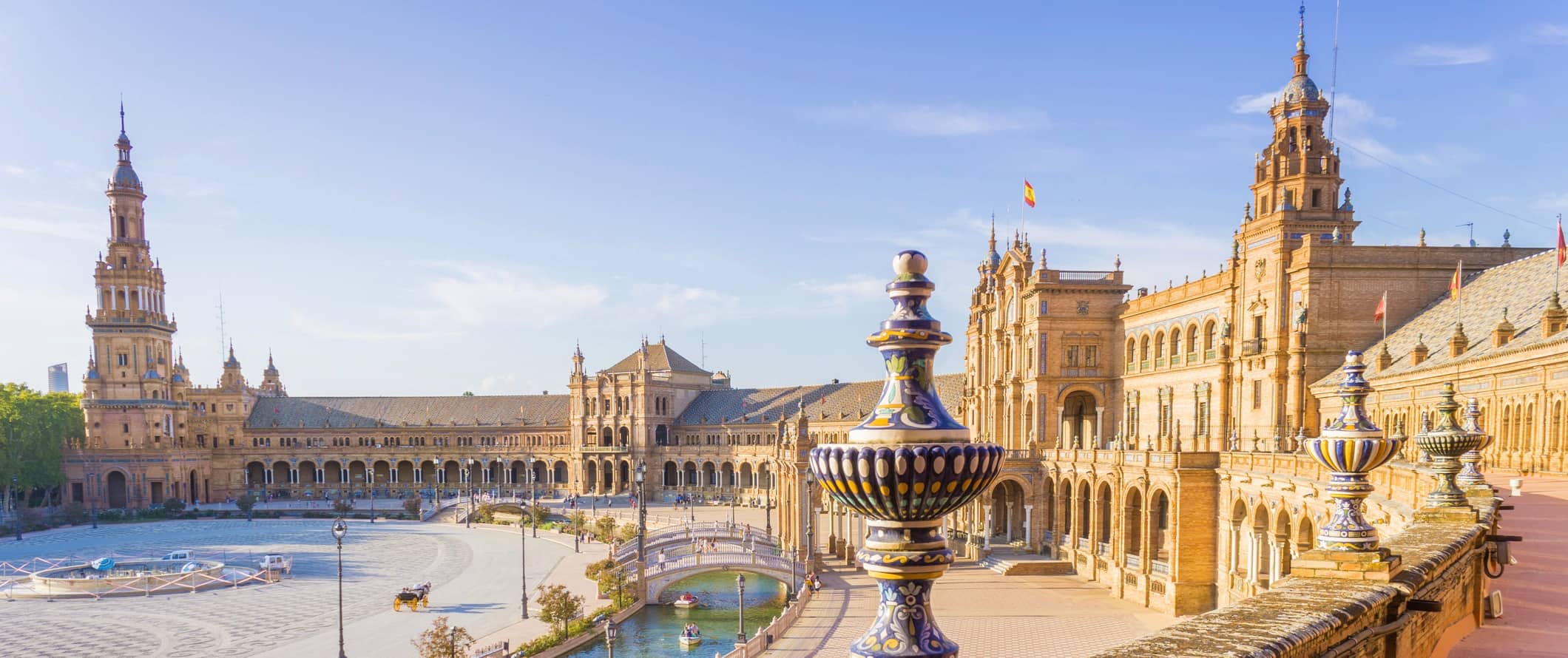 Seville's many tourist neighborhoods, or barrios, are all pretty close to one another and can be easily walked. However, since it gets super warm in the summer, taking the bus or tram is much more comfortable.
Public transportation – There is an extensive bus network that operates in Seville and can help you get from one edge of the city to another. Tickets can be bought on board and cost 1.40 EUR per trip. A one-day travel card, the Tarjeta TurÍstica, costs 5 EUR (10 EUR for a 3-day card).
Seville's tram system connects to some of the further out areas of the city (and it's air-conditioned). The tram is part of the same public bus system so tickets are the same price.
Bicycle Rental – Bike rentals are a great way to save money while seeing the sights from a new perspective. Rentals in Seville cost around 15 EUR per day.
Taxis – Taxis start at 2.50 EUR, with normal tariff being 1 EUR per additional kilometer. Skip them if you can as the prices add up fast!
Ridesharing – Uber is available in Seville but it won't save you a ton so skip it and stick to the bus.
Car rental – Car rentals can be found for as little as 25 EUR per day, however, you don't need a vehicle in Seville unless you're planning to leave the city and explore the region. Renters need to be a least 21 and have an International Driving Permit. For the best rental car deals, use Discover Cars.
When to Go to Seville
Like most of southern Spain in Andalucía, Seville gets a lot of sunshine and has hot summers. I think the best time to visit is between March and May when crowds haven't peaked but the weather is still warm and sunny.
The Easter season is especially popular in Seville because of the famous Feria (a large fair), which attracts hundreds of thousands of tourists and religious pilgrims. Part of the Semana Santa holy week, it's a beautiful time to visit because of the colorful dresses and the many street activities and parades, but it does get crowded and expensive during the holy week.
In the summer (June-August), the weather is hot and sunny, with daily highs reaching upwards of 38°C (100°F). While the city is lively during the summer, it can be very taxing to explore in the heat.
The winter months (December-February) offer more comfortable temperatures, usually around 7-18°C (45-65°F). The city is much quieter, making it a nice time to visit if you want to beat the crowds and don't mind some chilly days.
How to Stay Safe in Seville
Like most Spanish cities, Seville has a problem with pickpocketing and petty theft. The area around the Alameda de Hercules, a popular nightlife spot, was once very seedy and rife with crime and drug use, but that's been cleaned up a lot in the past decade. Still, watch your bags when going out at night and avoid dark, empty streets if alone. Always keep an eye on your possessions when on public transportation as well.
If you go out at night, only bring the money you need and leave the rest locked up in your accommodation.
Tourist scams are prevalent as well so keep an eye out for groups of kids trying to distract you, as they're probably trying to take your money. Additionally, be wary of people offering to carry your luggage. They may try to charge you a large fee.
When dining, keep your bags and belongings close and secure (especially when outside). Don't leave your things on the table when going up to order. They can disappear quickly.
Read more about common travel scams to avoid here if you're worried about getting ripped off.
Solo female travelers should feel safe here, however, the standard precautions apply (always keep an eye on your drink at the bar, never walk home alone intoxicated, etc.)
If you do experience an emergency, dial 112 for assistance.
Always trust your gut instinct and make extra copies of your important documents.
The most important piece of advice I can offer is to purchase good travel insurance. Travel insurance protects you against illness, injury, theft, and cancellations. It's comprehensive protection in case anything goes wrong. I never go on a trip without it as I've had to use it many times in the past. You can use the widget below to find the policy right for you:
Seville Travel Guide: The Best Booking Resources
These are my favorite companies to use when I travel. They consistently have the best deals, offer world-class customer service and great value, and overall, are better than their competitors. They are the companies I use the most and are always the starting point in my search for travel deals.
Skyscanner – Skyscanner is my favorite flight search engine. They search small websites and budget airlines that larger search sites tend to miss. They are hands down the number one place to start.
Hostelworld – This is the best hostel accommodation site out there with the largest inventory, best search interface, and widest availability.
Booking.com – The best all around booking site that constantly provides the cheapest and lowest rates. They have the widest selection of budget accommodation. In all my tests, they've always had the cheapest rates out of all the booking websites.
HostelPass – This new card gives you up to 20% off hostels throughout Europe. It's a great way to save money. They're constantly adding new hostels too. I've always wanted something like this and glad it finallt exists.
Get Your Guide – Get Your Guide is a huge online marketplace for tours and excursions. They have tons of tour options available in cities all around the world, including everything from cooking classes, walking tours, street art lessons, and more!
The Man in Seat 61 – This website is the ultimate guide to train travel anywhere in the world. They have the most comprehensive information on routes, times, prices, and train conditions. If you are planning a long train journey or some epic train trip, consult this site.
Rome2Rio – This website allows you to see how to get from point A to point B the best and cheapest way possible. It will give you all the bus, train, plane, or boat routes that can get you there as well as how much they cost.
FlixBus – Flixbus has routes between 20 European countries with prices starting as low 5 EUR! Their buses include WiFi, electrical outlets, a free checked bag.
SafetyWing – Safety Wing offers convenient and affordable plans tailored to digital nomads and long-term travelers. They have cheap monthly plans, great customer service, and an easy-to-use claims process that makes it perfect for those on the road.
LifeStraw – My go-to company for reusable water bottles with built-in filters so you can ensure your drinking water is always clean and safe.
Unbound Merino – They make lightweight, durable, easy-to-clean travel clothing.
Top Travel Credit Cards – Points are the best way to cut down travel expenses. Here's my favorite point earning credit cards so you can get free travel!
BlaBlaCar – BlaBlaCar is a ridesharing website that lets you share rides with vetted local drivers by pitching in for gas. You simply request a seat, they approve, and off you go! It's a cheaper and more interesting way to travel than by bus or train!
Seville Travel Guide: Related Articles
Want more info? Check out all the articles I've written on Spain travel and continue planning your trip: