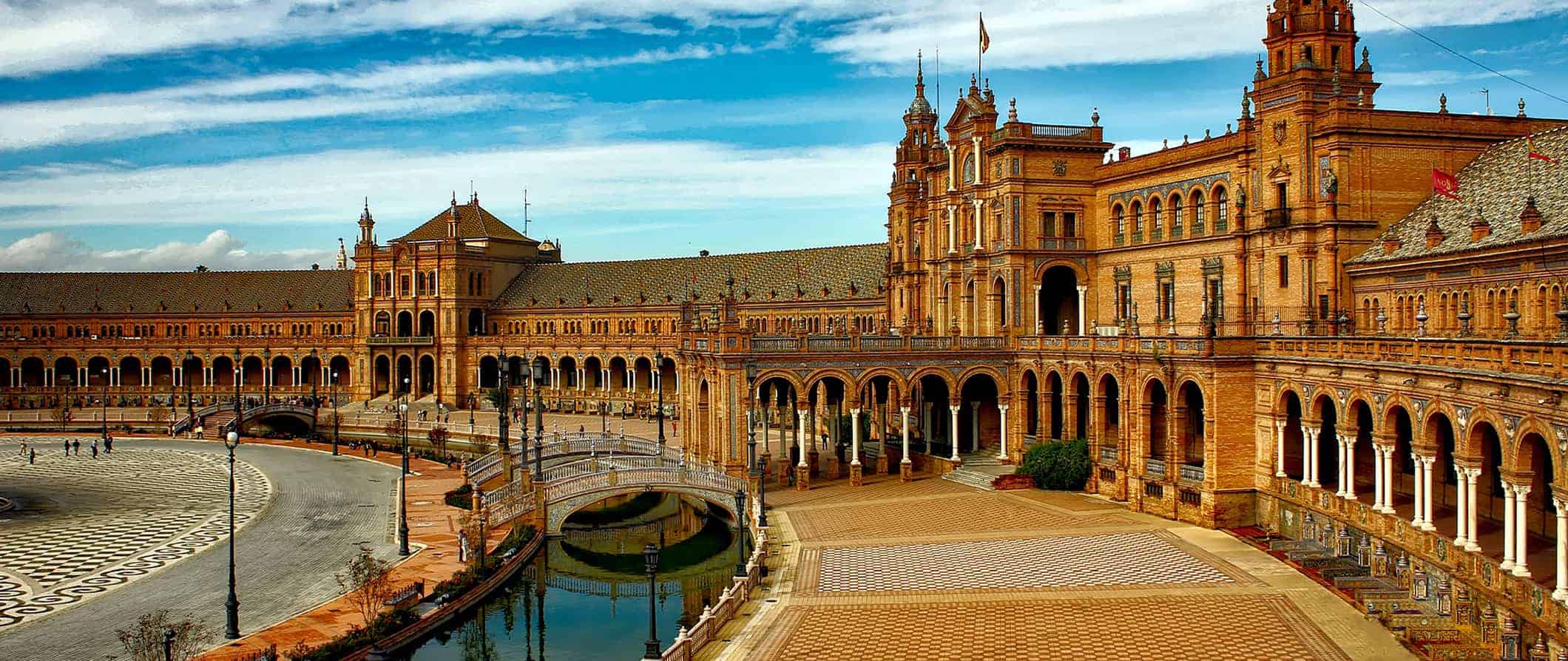 Seville is the artistic, cultural, and financial capital of southern Spain. It's a city full of architecture, history, and wonderful food. I loved my visit to Seville. Pretty much everyone does.
The city has some famous churches, winding streets, and great flamenco dancers. This is also a big university town and is extremely popular with people studying abroad. I love this city's architecture and youthful vibe.
This travel guide to Seville can give you everything you need to know to eat well, save money, and see the best sights the city has to offer.
Click Here for City Guides

Seville
Top 5 Things to See and Do in Seville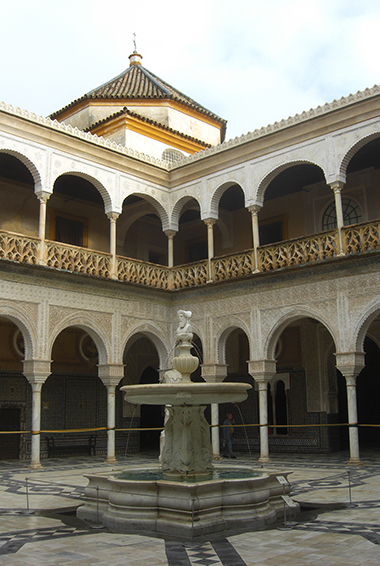 1. Tour Casa de Pilatos
Built in 1500 AD, this Andalusian palace was built in Italian Renaissance style and Spanish Mudejar style, and houses a collection of 16th and 19th century paintings, as well as a sculpture garden of Greek mythological figures. Admission is €10-12 ($11-13 USD).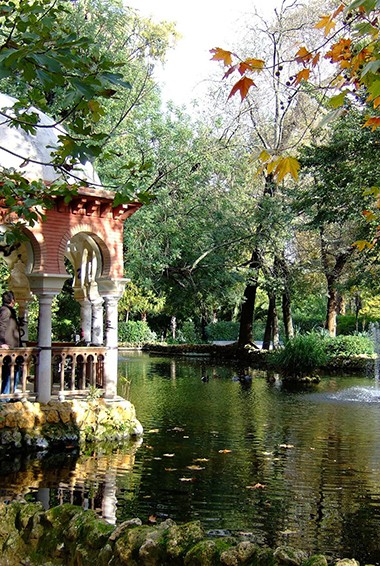 2. Explore Parque de Maria Luisa
Located just in front of the iconic Plaza de España, this large public park offers the opportunity for a wonderful day filled with gardens, patios and sculptures. You can do a guided tour if you want, but it's easy to visit on your own.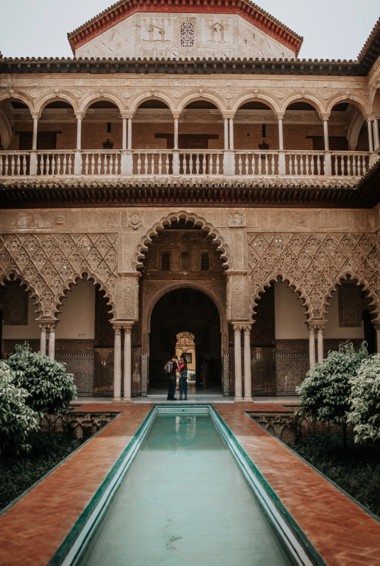 3. Visit the Alcázar
The Alcázar is the oldest residential palace in Europe still in use today. The UNESCO World Heritage Site is an important example of Moorish architecture, with many galleries, rooms, and a large. Admission is €11.50 ($12.40 USD).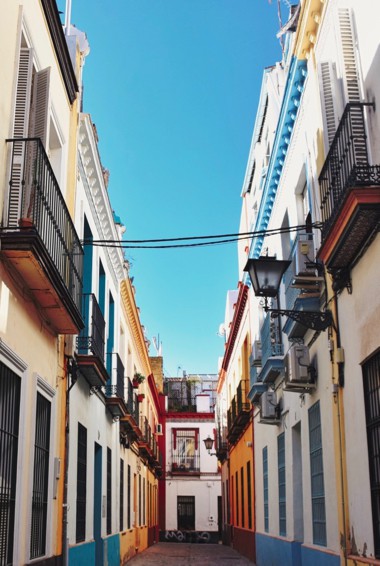 4. Walk through the historic Jewish Quarter
Located around the old Cathedral, the Jewish Quarter is filled with small winding streets and is generally regarded as the most charming part of the city. It's sometimes overcrowded with tourists, but there are still many small alleys and streets to explore.
5. Take a bike tour
Depending on how fancy you want the tour to be, you can spend €20-35 ($21.50–37.75 USD) for a three-hour guided tour of Seville. Getting around on a bike can be more relaxing than walking, especially in the hot summer days when it's almost painful to be outside in the strong Andalusian sun.
Other Things to See and Do in Seville
1. Visit the Iglesia de San Isidoro
While this church is less popular than the Cathedral de Sevilla, the Iglesia de San Isidoro is considered one of Seville's most impressive churches. The 14th-century church was built on top of a former Arabic base and the fusion of both Gothic and Mudejar styles is common in Andalucía. The artwork and architecture of Jimenez Bonilla and the temple's intricate design are worth the visit. Admission is €5 ($5.40 USD) and includes a guide.
2. Check out Plaza de Espana
One of Seville's most picturesque spots, Plaza de Espana was built at the northern edge of the Parque de Maria Luisa in the 1920s for the Ibero-American Exposition. The unique building mixes Baroque, Renaissance, and Moorish architectural styles, and there's a small canal with Venetian-like bridges and gondolas. The Plaza has gotten a lot of attention in the past few years because it has served as a backdrop in film and TV, such as Star Wars and Game of Thrones. The murals along the sweeping arc of the building depict the various regions and municipalities of Spain.
3. Visit the Cathedral of Sevilla
The Roman Catholic cathedral dominates the skyline when you stumble onto it. Surrounded by Andalusian orange trees, the Cathedral (also known as the Cathedral of Saint Mary of the See) is probably Seville's top tourist attraction (lines can get long, partially because hours are limited around services!). The architecture and stained glass are great to admire, but the Cathedral is also where Christopher Columbus is buried which is worth seeing. The bell tower also offers a panoramic view of the city. Admission is €9 ($9.70 USD), or €4 ($4.30 USD) for students 25 and under.
4. See contemporary art in an unusual setting
The Centro Andaluz de Arte Contemporáneo (CAAC) is a contemporary art museum, located just across the river from the city center. Housed in a former Franciscan monastery that dates from the 15th century, and once a ceramic tile factory, today the museum shows a collection of Andalusian artists. Admission is €3 ($3.20 USD), though there is free entry every evening from 7pm to 9pm, and all day on Saturdays.
5. Learn about Spain's colonial history
The General Archives of the Indies is a 16th-century building in Spanish Renaissance style that contains a large collection of documents and artifacts related to Spain's colonization of the New World. Highlights include the personal diary of Columbus and the Treaty of Tordesillas, which divided the New World between Spain and Portugal. Admission is free.
6. Visit the Flamenco Museum
Flamenco music and dance is such an important aspect of southern Spanish culture, and the Flamenco Museum in Seville is a great way to learn more about it. The museum features many intricately designed flamenco dresses, among other material objects and history about the dance's origins. Admission to just the museum is €10 ($11 USD) for adults. Live flamenco shows in the museum's theatre are €22 ($24 USD).
7. Admire fine art
The Museo de Bellas Artes is the fine arts museum in Seville and it houses a collection that dates back to the Gothic period. The museum lies in the Macarena neighborhood in a building that dates back to the 16th century. Two floors in the building are full of paintings, sculptures, and some furniture & crafts—many by artists from Seville or the Andalusian region. Admission is €1.50 ($2 USD) to enter, or free if you're an EU citizen.
8. Take a Spanish class
Seville is a popular study abroad location for many international students and there are a number of language schools catering to students from around the world. You can take Spanish courses for just a single week or longer. Many students choose Seville to study because of the big student population of the city, the affordability of the city, and the unique Andalusian dialect. The CLIC language school offers a variety of courses for any number of weeks or months, plus affordable housing for those that want to stay with other students or in a homestay. A one-week intensive Spanish language course at CLIC costs as little as €205 ($222), though discounts are available depending upon a package or multi-week course. If you're not interested in a language school, you can also join the weekly Couchsurfing meetup for language students in Seville (usually on Thursdays).
9. Take in the view from the top of a mushroom
One of Seville's newest architectural sites, there's a large sculptural platform in the Plaza de la Encarnación. The area used to be a car park but, in 2011, the plaza was transformed into a massive public art project called the Las Setas De Sevilla, or the Metropol Parasol. Resembling mushrooms (or more like a beehive in my opinion), the structure provides shade to the plaza below, and there are two panoramic platforms accessible to visitors. Admission to the platform is €3 ($3.20 USD).
10. Hang out in the Alameda de Hercules
The best nightlife spot in Seville is in and around the Alameda de Hercules (just referred to as the Alameda by locals). The large, open-air plaza attracts many students and creative artist types at night when you might stumble on groups of friends sitting on the ground drinking, playing music, or enjoying any of the tapas bars and outdoor seating that line the mall. Many of the restaurants and bars in the area offer live music and great deals on food & drinks. There are also a few gay and lesbian bars and clubs in the area.

Seville Travel Costs
Hostel prices – Seville is very popular with backpackers, so there are lots of options for hostels; many offer luxury & flashpacking-style amenities like rooftop pools and free breakfast. Most hostels are located in the city center or are a short walk from the city center, but still accessible via bus or bike. Hostels cost between €13-22 ($14–24 USD) for a dorm room no matter the time of year.
A private ensuite room in a hostel will be between €30-60 ($42-65 USD). There are a few campgrounds outside the city, some offering private cabins with swimming pools for €55 ($60 USD), but more simple campgrounds (including one accessible via bus) offers sites to pitch a tent for as little as €5 ($6 USD) with electricity and some additional costs.
Budget hotel prices – You can find a decent twin/double hotel room for anywhere between €40-70 ($43-75 USD) per night, though prices will be slightly higher around €50-100 ($54-108 USD) per night in peak tourist season and around the Easter holiday. Continental breakfast is usually included.
There are several Airbnb options in Seville, most in the city center but the cheapest ones will be in the area around Alameda de Hercules. A shared room in an Airbnb (like a hostel dorm) can be as low as €16 ($18 USD) per night even in peak tourist season, while a private room is about €22 per night ($24 USD). An entire apartment goes for between €42-69 ($45-75) per night and many include air-conditioning—useful to have for the hot summer season. Winter prices will be on the lower end, as little as €32 ($35 USD) per night for an entire Airbnb rental.
Food – You can eat very cheap in Seville, especially with so many tapas bars offering great deals, and a number of takeaway stands with falafel, shawarma, or other late-night snacks for as little as €7 ($7.5 USD). Most tapas bars offer small plates for anywhere from €3-8 ($3.25-9 USD) depending upon the type of dish (meat and fish will be on the more expensive end). Two or three tapas dishes is usually enough for a light meal. Cheap fast food (think McDonald's or Burger King) will cost around €7 ($7.50 USD) per meal.
Beers are generally served for as little as €1.50 ($2 USD) for a caña (small) size, which is the normal size to order when eating at a tapas bar or enjoying olives and other bar snacks.
There are many nicer tapas restaurants with more elaborate meals and innovative takes on typical Andalusian-style foods. A mid-range tapas restaurant will serve small plates between €7-15 ($7.50-15 USD) and, again, two or three plates is usually enough food for one person.
Backpacking Seville Suggested Budgets
If you're backpacking Seville, expect to spend about €38 ($40 USD) per day. This budget will cover a hostel dorm, public transit, street food, and cooking your own meals, and mostly free attractions. If you're traveling during the shoulder season, you can reduce this budget by a few dollars each day for accommodations.
A mid-range budget of about €83 ($90 USD) will cover staying in a private Airbnb room, eating out for most of your meals, public transit, and about one paid attraction each day.
On a luxury budget of about €240 ($260 USD) or more per day, you can get an excellent four-star hotel, eat at nice restaurants, have some drinks, and take a few taxis. You'll also enjoy a tour or a few attractions. The sky is the limit!
If you come in the low season, you'll save at least 25% on hotels.
You can use the chart below to get some idea of how much you need to budget daily, depending on your travel style. Keep in mind these are daily averages – some days you'll spend more, some days you'll spend less (you might spend less every day). We just want to give you a general idea of how to make your budget. Prices are in USD.
Accommodation
Food
Transportation
Attractions
Average Daily Cost
Backpacker
$15
$15
$5
$5
$40
Mid-Range
$25
$35
$15
$15
$90
Luxury
$100
$80
$30
$50
$260
Seville Travel Guide: Money Saving Tips
Food, drinks, and tours can add up in Seville if you aren't watching your spending carefully, though there are plenty of ways to take advantage of free things to do. If you want to save money when visiting Seville, here are some of my suggestions on how to do so:
Get the Tarjeta Turista pass – If you plan on using the bus or tram often, get this pass. A one-day pass costs €5 ($5.50 USD) and provides unlimited access on the public transport, while a 3-day pass costs just €10 ($11 USD).
Visit the Seville Cathedral on Monday – Seville's busiest tourist attraction is often crowded, and admission isn't cheap compared to other things to do in the city. But, on Mondays, the Cathedral offers free admission to enter. Show up early to avoid the crowds.
Buy your own alcohol – While drinks are hardly expensive at bars and restaurants in Seville (and Spain as a whole), you'll save yourself a lot of money if you buy your own beer and wine. Many locals buy their own bottles and drink in public at the Alameda de Hercules in the evenings, taking advantage of the street performers, buskers, and musicians that crowd the plaza on weekends.
Couchsurf – Couchsurfing is a great way to save money on accommodation while also getting some insight from the locals. While hostels aren't too expensive in the city, this is still the best way to save money.
Go on a free walking tour – Like most of Spain, there are many opportunities to take advantage of free walking tours. Seville has a number and many depart from Plaza del Salvador. You just need to tip your guide. My favorite is Sandeman's!/li>
Visit the markets for groceries & cheap tapas bars – The Triana Market is one of the main food markets in Seville and has many fruit and vegetable vendors. There are food markets in each of the major Seville neighborhoods, and sometimes the smaller ones outside the main tourist trails will even have small, local restaurants with great food deals. The Mercado de Feria is a favorite. Buying snacks, small meals, and groceries at the local neighborhood markets can cut down on your food budget.
Where to Stay in Seville
Seville has a ton of hostel choices for any budget. There is no shortage of places to stay here. My recommendations places to stay are:
How to Get Around Seville
Seville's many tourist neighborhoods, or barrios, are all pretty close to one another and can be easily walked, though sometimes with the hard summer heat (especially in the afternoons—remember, this is where afternoon siesta are very common!), taking the bus or tram will be much more comfortable.
Bus – There is an extensive bus network that operates in Seville and can help you get from one edge of the city to another. Tickets can be bought on board and cost €1.40 ($1.50 USD) per trip. A one-day travel card, the Tarjeta Turista, costs €5 ($5.50 USD), or it's €10 ($11 USD) for a 3-day card.
Metro – Seville's tram system connects to some of the further out areas of the city (and it's air-conditioned). The tram is part of the same public bus system, so tickets for each work on one another.
Bicyle Rental – The city bike system is called Servici and rentals can be found in multiple pick-up spots and parking stations. It costs €13.33 ($14.30 USD) plus a and €150 ($162 USD) security deposit to register for up to one-week of rentals. After the initial fee, it's free to use the bike for 30 minutes and then just €1-2 ($1.20–2.30) per hour after.
Taxis – In Seville, taxis are white with a yellow stripe. Taxis start at €1.20 ($1.30 USD) here, with normal tariff being €0.83 ($0.90 USD) per additional kilometer with a minimum rate of €3.25 ($3.50 USD).
Uber – Uber is available in Seville but again walking or cycling are the easiest way to get around in the compact city, especially considering many city center streets are pedestrian-only. At night, sometimes the streets popular with bars and restaurants are pedestrian-only and therefore you may have to walk a bit to catch an Uber pick-up. You can save $15 off your first Uber ride with this code: jlx6v.
When to Go to Seville
Like most of southern Spain in Andalusia, Seville gets a lot of sunshine and has hot summers. The best time to visit is between March and May when crowds haven't peaked but the weather is still warm and sunny. The Easter season is especially popular in Seville because of the famous Feria, which attracts hundreds of thousands of tourists and religious pilgrims. Part of the Semana Santa holy week, it's a beautiful time to visit because of the colorful dresses and the many street activities and parades, but it does get crowded and expensive during the holy week.
In the summer months (late June to September), the weather is hot and sunny, with average temperatures between 65°F at night and up to 100°F (between 18°C and 38°C) during the heat of the day. The winter months (December-February) are more comfortable with temperatures between 45°F and 65°F (7°C and 18°C).
How to Stay Safe in Seville
Like most Spanish cities, there is a problem with pickpocketing and petty theft, especially in the major tourist areas in Seville. The area around the Alameda de Hercules, a popular nightlife spot, was once very seedy with problems due to prostitution and drug use, but that's been cleaned up a lot in the past decade. Still, watch your bags when going out at night and avoid dark, empty streets if alone.
Tourist scams are prevalent as well so keep an eye out for groups of kids trying to distract you, as they're probably trying to take your money and be wary of people trying to take your luggage. They may try to charge you a large fee. When dining outside at small cafes and tapas restaurants, keep your bags and belongings close and secure. And don't leave them on the table when going up to the order window t buy more drinks or food!
Read more about 14 major travel scams to avoid so you don't fall for one.
The most important piece of advice I can offer is to purchase good travel insurance. Travel insurance will protect you against illness, injury, theft, and cancellations. It's comprehensive protection in case anything goes wrong. I never go on a trip without it as I've had to use it many times in the past. You can use the widget below to find the policy right for you:
Seville Travel Guide: The Best Booking Resources
These are my favorite companies to use when I travel around Seville. They are included here because they consistently find deals, offer world-class customer service and great value, and overall, are better than their competitors. They are the ones I use the most and are always the starting points in my search for travel deals.
Momondo – This is my favorite booking site. I never book a flight without checking here first.
Skyscanner – Skyscanner is another great flight search engline which searches a lot of different airlines, including many of the budget carriers that larger sites miss. While I always start with Momondo, I use this site too as a way to compare prices.
Airbnb – Airbnb is a great accommodation alternative for connecting with homeowners who rent out their homes or apartments. =
Hostelworld – This is the best hostel accommodation site out there, with the largest inventory, best search interface, and widest availability.
Couchsurfing – This website allows you to stay on people's couches or spare rooms for free. It's a great way to save money while meeting locals who can tell you the ins and outs of their city. The site also lists events you can attend to meet people (even if you're not staying with someone).
Booking.com – The best all around booking site that constantly provides the cheapest and lowest rates. They have a no money down policy, great interface, and the widest selection of budget accommodation. In all my tests, they've always had the cheapest rates out of all the booking websites.
Eurail – If you are going to Europe and taking a lot of high speed or long distance trains, get a rail pass. I've used a rail pass three times and saved hundreds of dollars each time. The math just works.
Intrepid Travel – If you want to do a group tour around Europe, go with Intrepid Travel. They offer good small group tours that use local operators and leave a small environmental footprint. If you go on a tour with anyone, go with them. And, as a reader of this site, you'll get a discount when you click the link!
The Man in Seat 61 – This website is the ultimate guide to train travel anywhere in the world. They have the most comprehensive information on routes, times, prices, and train conditions. If you are planning a long train journey or some epic train trip, consult this site.
Rome 2 Rio – This website allows you to see how to get from point A to point B the best and cheapest way possible. It will give you all the bus, train, plane, or boat routes that can get you there as well as how much they cost.
FlixBus – German based Flixbus has routes between 20 European countries with prices starting as low €5 ($6 USD)! Their buses include WiFi, electrical outlets, and up to three 3 free bags.
BlaBlaCar – BlaBlaCar is a ridesharing website that lets you share rides with vetted local drivers by pitching in for gas. You simply request a seat, they approve, and off you go! It's a cheaper and more interesting way travel than by bus or train!
World Nomads – I buy all my travel insurance from World Nomads. They have great customer service, competitive prices, and in-depth coverage. I've been using them since I started traveling in 2003. Don't leave home without it!
EatWith – This website allows you to eat home cooked meal with locals. Locals post listings for dinner parties and specialty meals that you can sign up for. There is a fee (everyone sets their own price) but this is a great way to do something different, pick a local's brain, and make a new friend.
Seville Gear and Packing Guide
If you're heading on the road and need some gear suggestions, here are my tips for the best travel backpack and for what to pack!
The Best Backpack for Travelers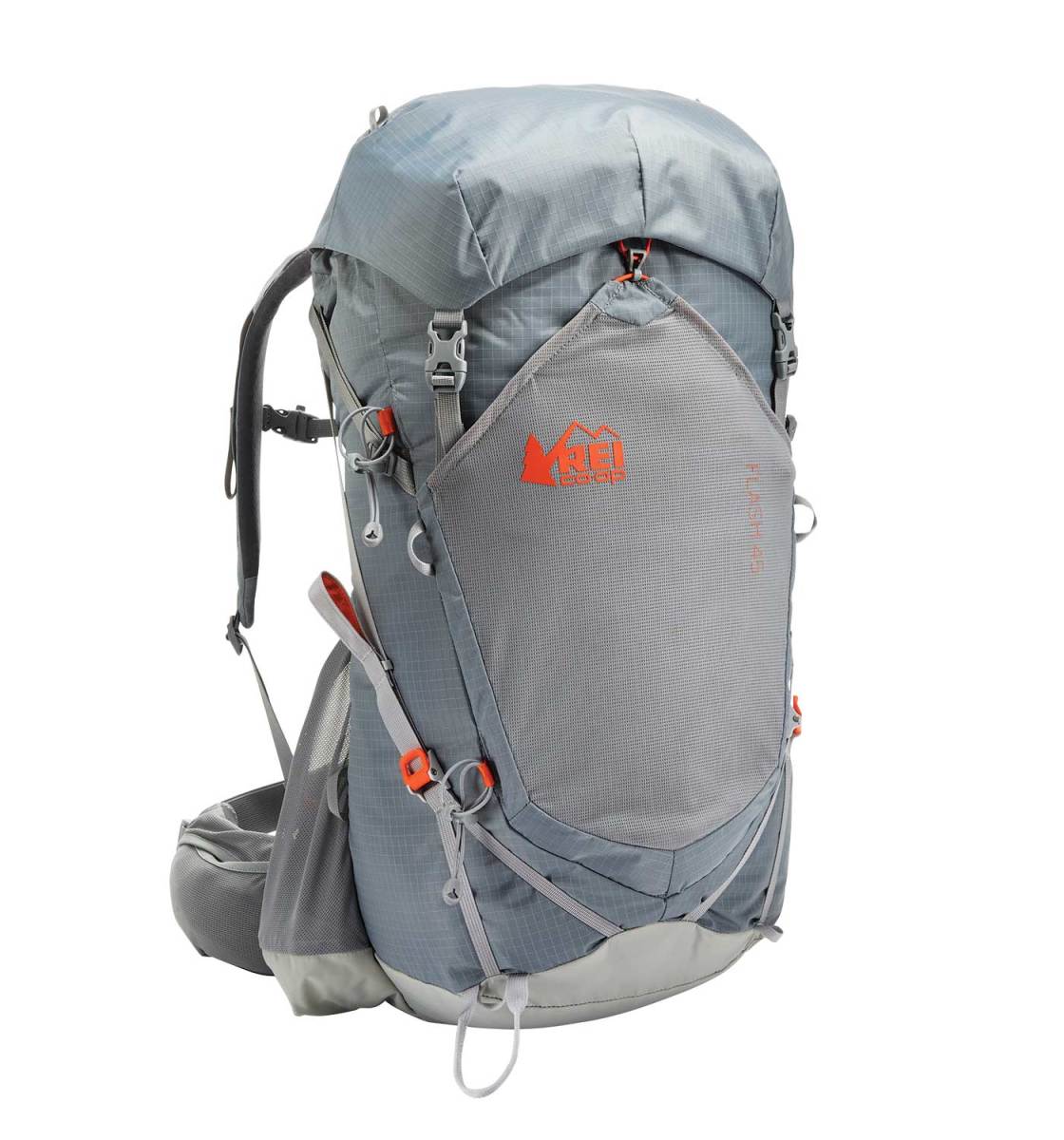 What's the best backpack for traveling long-term? I recommend the
REI Flash 45 Pack
. It's light and comfy, front loading, and fits perfectly in an airplane's overhead bin.
Size:
45-47L
Straps:
Thick and cushy with compression technology that pulls the pack's load up and inwards so it doesn't feel as heavy.
Features:
Removable top lid, large pocket at the front, hydration compatible, contoured hip belt
If you want something different, refer to my article on how to choose the best travel backpack for tips on picking a pack and other backpack suggestions.
What to Pack for Your Trip
Clothes
1 pair of jeans (heavy and not easily dried, but I like them; a good alternative is khaki pants)
1 pair of shorts
1 bathing suit
5 T-shirts (Unbound Merino is my preferred company. If you're a member of NM+, you can get 15% off your purchase)
1 long-sleeved T-shirt
1 pair of flip-flops
1 pair of sneakers
6 pairs of socks (I always end up losing half)
5 pairs of boxer shorts (I'm not a briefs guy!)
1 toothbrush
1 tube of toothpaste
1 razor
1 package of dental floss
1 small bottle of shampoo
1 small bottle of shower gel
1 towel
Deodorant
Small Medical Kit (safety is important!!!)
Miscellaneous
Female Travel Packing List
I'm not a woman, so I don't know what a woman wears, but Kristin Addis, our solo female travel guru, wrote this list as an addition to the basics above:
Clothing
1 swimsuit
1 sarong
1 pair of stretchy jeans (they wash and dry easily)
1 pair of leggings (if it's cold, they can go under your jeans, otherwise with a dress or shirt)
2-3 long-sleeve tops
2-3 T-shirts
3-4 spaghetti tops
1 light cardigan
Toiletries
1 dry shampoo spray & talc powder (keeps long hair grease-free in between washes)
1 hairbrush
Makeup you use
Hair bands & hair clips
Feminine hygiene products (you can opt to buy there too, but I prefer not to count on it, and most people have their preferred products)
For more on packing, check out these posts:
Seville Travel Guide: Related Articles
Want more info? Check out all the articles I've written on Spain travel and continue planning your trip:
Photo credits: 2 – Olivier Bruchez