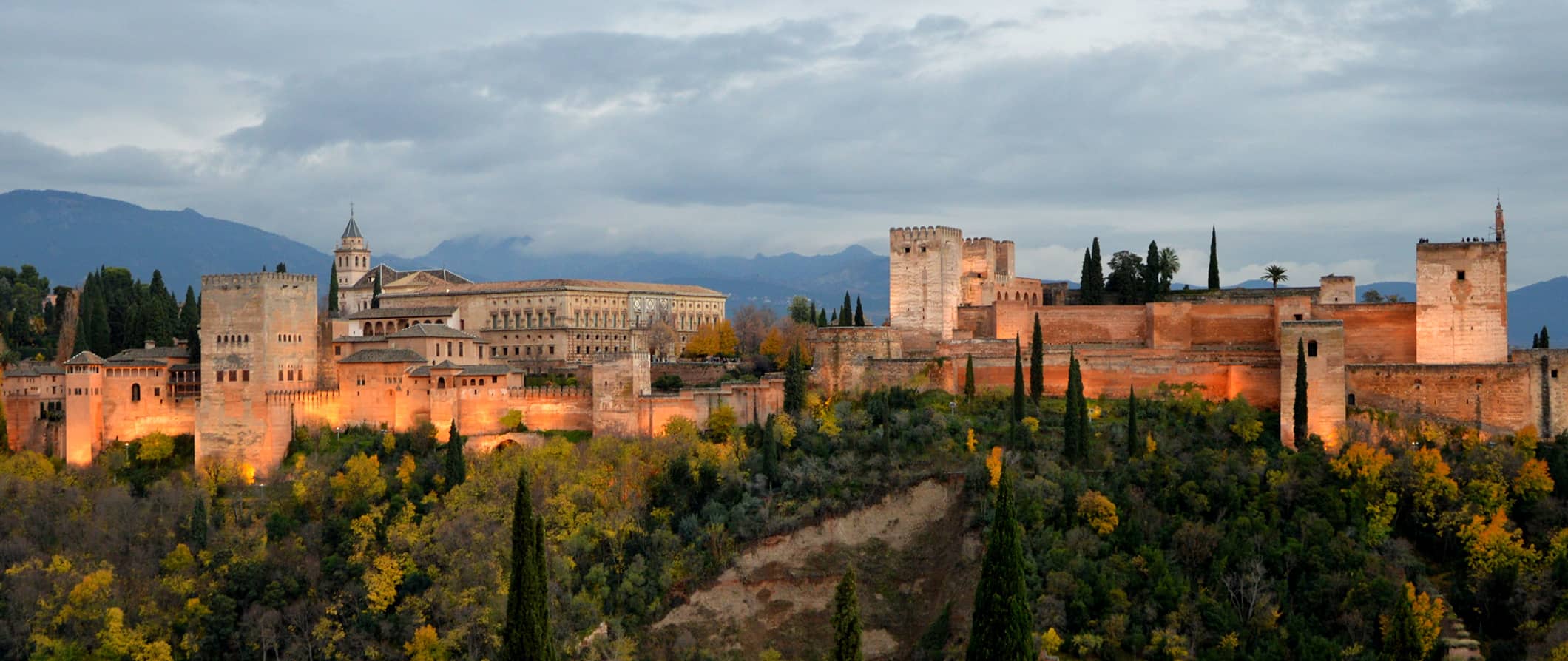 Granada is rich with history and spectacular architecture dating back to the Moors and Romans thousands of years ago. It's always been a city at a crossroads, where culture and ideas from North Africa and Europe collide. The city is still heavily influenced by its Moorish roots and you will smell hookahs, couscous, and incense everywhere you go. Be sure to visit the Alhambra and bike along the outskirts of the city to view the scenic country roads. There are countless museums, monuments and statues worth seeing and exploring, which are perfect for the budget-minded traveler. Granada is one of my favorite cities in Spain. It's a unique mix of cultures, the food is amazing, the architecture stunning, and the energy unlike anywhere else in the country.
Top 5 Things to See and Do in Granada
1. Explore the Sierra Nevada
Experience the highest mountain range in all of Europe. They aren't far and can be done as a day-trip but are better off as an overnight trip or a separate excursion. There are trails for both short, medium, and long hikes all of which range in difficulty. Guided tour rates vary depending on the season, but expect to pay at least 65 EUR.
2. Visit the Alhambra Palace
The Alhambra is a palace and a fortress from the Nasrid Dynasty. The Islamic architecture and artwork is very stunning and you get stunning views of the city. It's a good idea to order your ticket a few weeks in advance, as they tend to sell out quickly. Otherwise you can simply roam around the gardens.
3. Take in the view at Paseo de los Tristes
For a fantastic view of the Alhambra, walk down to the Paseo de los Tristes, which lies along the River Darro, and begins at the Bridge of the Chirimias. The road got its name ("Passage of the Mourners") because of the funeral processions that used to pass along the route.
4. Watch a Flamenco Show
Even if you're not into dance, watching a flamenco show is a wonderful cultural experience. It may be touristy, and not very cheap, but the passion with which which these dancers express themselves is reminiscent of an old and very important tradition, which finds its roots in this region of Andalucia.
5. Admire the Granada Cathedral
The Granada Cathedral has a stunning white-and-gold interior that reflects the historical power and wealth of the Spanish kingdom. The cathedral was built during the reign of Queen Isabella in the 16th century, and is an example of Spanish Renaissance style. Admission is 4 EUR.
Other Things to See and Do
(Click the title to expand the text)
1. Visit Mirador de San Nicolas
The square is also a nice lookout point, with a great view of Alhambra. It's a great place to catch the sunset after a day of exploring.
2. Check out Casa del Chapiz
These two 16th century mansions form into one, and there's a courtyard with several galleries that are great to visit.
3. Soak in a hammam (Arab bathhouse)
A modern spa reconstructing the ambiance and decorations of the ancient Moorish baths in Granada. It is a good way nowadays to relax and cool off. They are some of the best baths in Spain. Entry is usually around 20 EUR, not including a massage.
4. Go for tapas
Even the saying "ir de tapas" (going for tapas and a drink) has found an important place in the language and culture here. Tapas are an essential aspect of Spanish life, and extend beyond the idea of just going for dinner. It's a complete social experience. Order a few tapas between friends, grab a drink, and take in the social atmosphere around you.
5. Visit the Banuelo
After soaking in a modern hammam, you should pay a visit to the ruins of this historical Arab bath. The Banuelo lies at the base of the Alahambra, and was part of a private house. The ruins date back to the 11th century, and are free to visit.
6. Wander through the Albaicin
The Albaicin is the historical Arab quarter of the city. A walk through here, with its narrow streets and characteristic architecture, will make you feel like you've stepped into a completely different city.
7. Cycle around
Whether you cycle by yourself throughout Granada or cycle as part of a group, it's the best way to see the city. Cycling from Granada to Seville is spectacular and can be led by a tour guide. With a combination of flat terrain and hills, the scenery makes for a spectacular trip. Single-day rentals around the city cost around 12 EUR, while guided tours between Seville and Granada (lasting up to 7 days) cost around 1,500 EUR per person.
8. Visit the Monasterio de San Jerónimo
A visit to the 16th century Monasterio de San Jerónimo is a humbling experience. The building has beautiful stained glass, but even more impressive is the detailed painting of the interior. The monastery is still in use, but is open for visits for 3.50 EUR.
Typical Costs
Hostel prices
– Hostels are cheap and plentiful here and dorm rooms average 12-22 EUR a night. Private double rooms are around 25-50 EUR. Free WiFi is standard, and many hostels also include free breakfast. There are dozens of hostels in the city, so you shouldn't have too much trouble finding accommodation. Campgrounds with basic facilities are available outside the city, as well, however prices rival those of the hostels — if not more. You can book your hostel with
Hostelworld
.
Budget hotel prices – Most budget hotels start at 45-70 EUR for a double room. Even in the budget range there are many nice hotels available (even some with pools!), though there are also a few run-down places you'll want to avoid. Make sure you read the reviews before you book. Use Booking.com as they consistently return the cheapest rates. Airbnb is a great budget option in the city, with shard accommodations going for as little as 20 EUR per night. For an entire private home/apartment on Airbnb, expect to pay around 70 EUR.
Average cost of food – You can get cheap tapas and meals for around 6-13 EUR. That will include about 3 or 4 tapas. If you want wine included, expect to spend about 18 EUR per meal. A good restaurant meal will set you back around 24 EUR. Cheap food like McDonalds and Maoz cost around 6 EUR. If you buy your own food, expect to spend about 30-40 EUR for a week's supply of groceries.
Transportation – Bus rides typically cost 1.20 EUR each way and can take you wherever you need to go within city limits. You can buy travel bus cards for 5, 10, or 20 EUR, which will cut down the cost per individual ride by about 30%. Granada is smaller-sized city, so you wont have too much trouble walking most places during your stay. You can also explore the city by bicycle, with rentals starting around 12 EUR for the day.
Suggested daily budget
40 EUR / 42 USD (Note: This is a suggested budget assuming you're staying in a hostel, eating out a little, cooking most of your meals, and using local transportation. Using the budget tips below, you can always lower this number. However, if you stay in fancier accommodation or eat out more often, expect this to be higher!)
Money Saving Tips
Eat cheap – Many casual dining restaurants and bars will give you some free tapas if you are buying drinks.
Couchsurf – The best way to save on accommodation is the couchsurf. There are plenty of active hosts in the city, and it's a great way to get some local insight into the city. During the peak season be sure to send your requests early.
Buy travel cards – If you're going to be riding the bus often during your stay, get a travel card. They come in 5, 10, and 20 EUR amounts and will save you about 30%.
Shop local – For the cheapest produce and meat, shop at the local markets. It will be the freshest available, too!
Stay at a Hola Hostel – Hola Hostels is a network of hostels predominantly in South and Central America, though they now have locations in Europe. They offer a 10% discount to their members, as well as other local discounts for food and activities. Joining is free, and their hostels are also committed to environmentally sustainable practices.
My Must Have Guides For Traveling to Granada