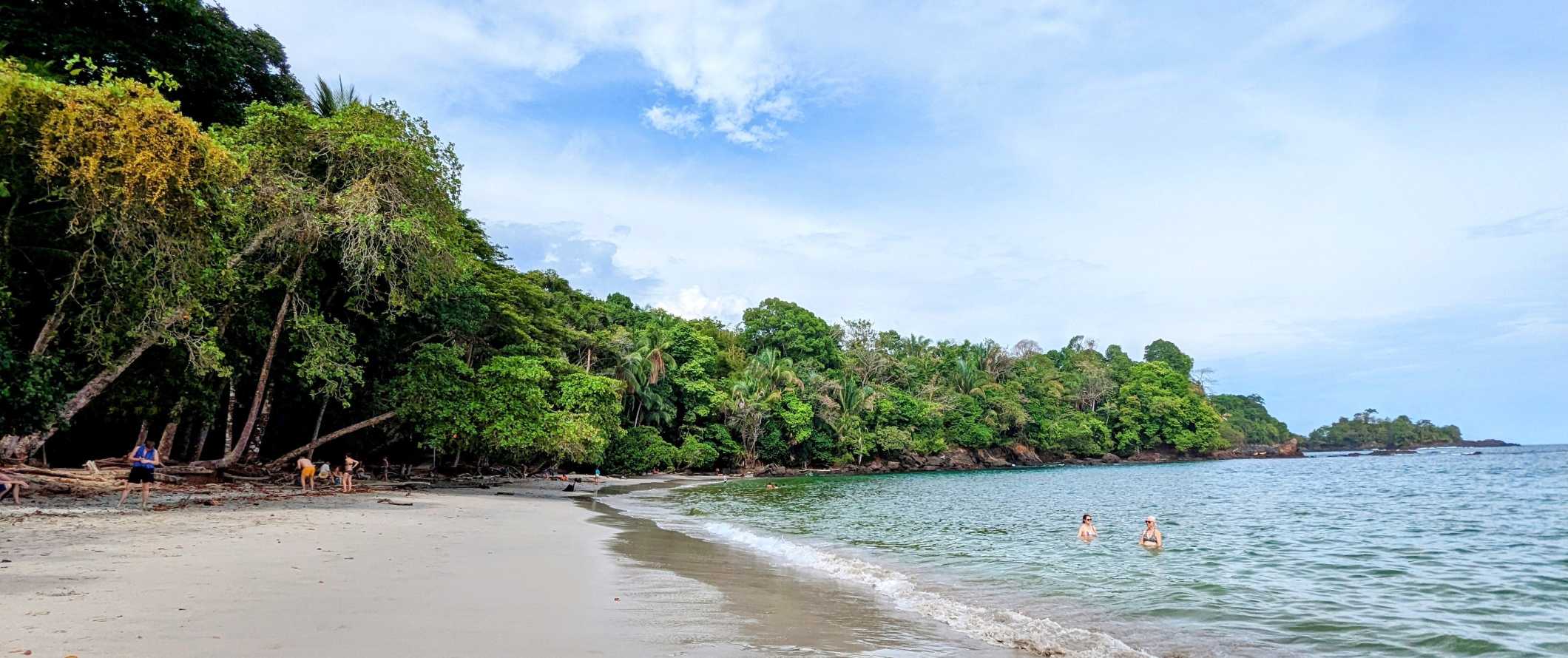 Manuel Antonio is one of Costa Rica's most popular beach towns. Everyone who comes to Costa Rica visits Manuel Antonio — and for good reason. Located on the Pacific Coast, it's a place where people come to vacation so you'll find very few cheap options here. Nevertheless, it's worth a visit because it's absolutely stunning.
I first came here in 2004. Since then, it's grown like crazy. The pristine beaches, soaring temperatures, and famous national park draw in hundreds of thousands of tourists per year.
Even though it has more tourists than other towns, Manuel Antonio still has fabulous diving, a fun nightlife, a beautiful national park with plenty of wildlife, awesome beaches, and plenty of sport-fishing opportunities.
While it's not as tranquil as it used to be, I wouldn't skip visiting. There are still many hidden spots in the national park where you can escape the crowds.
This travel guide to Manuel Antonio will give you the low down on everything you need to know to plan your visit.
Top 5 Things to See and Do in Manuel Antonio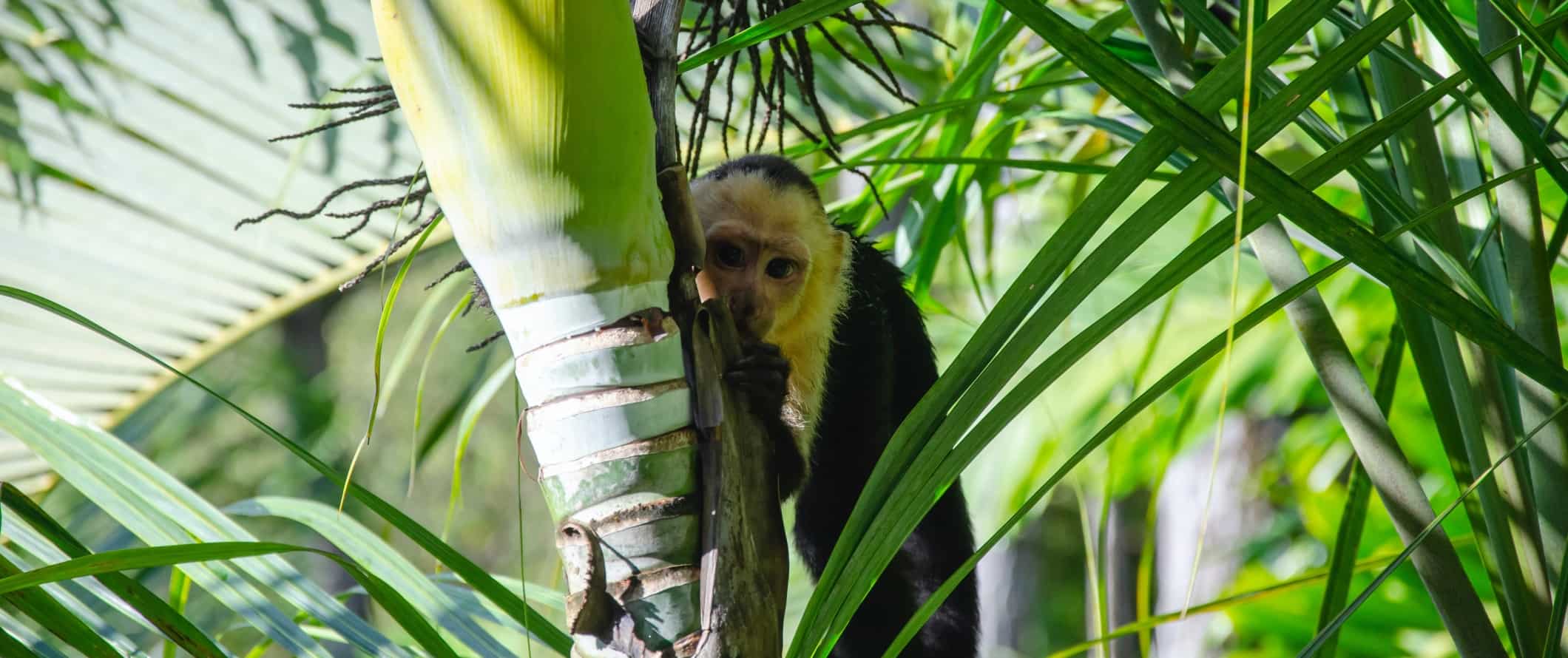 1. Visit Manuel Antonio National Park
Spanning 1,980 hectares (4,900 acres), this park is a combination of rich rainforest, picturesque beaches, and colorful coral reefs. Increased tourism has driven some wildlife away but you can still see many capuchins, sloths, basilisk lizards, iguanas, and squirrel monkeys. Entry is $18.08 USD for foreigners. You can only purchase tickets online, and be sure to get them in advance as there is a cap on how many people can visit the park each day, and tickets sell out fast. The park is open every day except Tuesday, 7am-4pm. Guided group tours of the park are $55-65 USD while private tours are $75-95 USD.
2. Relax on the beach
Most people come here to sunbathe on the pristine sandy beaches, including Playa Manuel Antonio and Playa Espadilla. Despite the increase in crowds, these beaches have remained clean and beautiful. In January, there are good waves for body surfing and you'll get year-round spectacular sunsets.
3. Take a sunset sailing trip
This is one of my favorite places in Costa Rica to see the sunset. It's absolutely stunning here, with vivid pinks and oranges filling the horizon. If you're sailing, you might also get to see humpback whales or see dolphins frolicking alongside the boat at the same time. Sunset tours start at $75 USD.
4. Zip across the canopy
One of the best ways to experience Manuel Antonio is from the jungle canopy. There are a number of companies here that have zip line tours, tree platforms, and suspension bridges. You can even rappel down the side of a giant Ceiba tree! El Santuario and Titi Canopy Tour are your best choices, with prices around $80 USD.
5. Explore Damas Island
A 30-minute boat ride from Quepos takes you to the jungle island of Damas and its mangrove swamps. Wildlife on the island includes boas, caimans, and various species of birds. On rare occasions you can even spot anteaters. Boat tours begin at around $70 USD per person and last 2-4 hours. You can book mangrove boat tours in advance here.
Other Things to See and Do in Manuel Antonio
1. Go surfing
Manuel Antonio isn't as known for its surfing in comparison to Costa Rican surfing hotspots like Jaco Beach and Hermosa, but the breaks here are ideal for beginners. Manuel Antonio Surf School offers both beginner and intermediate lessons, usually lasting around three hours and costing $79 USD for a group lesson or $100 USD for a private lesson. Once you've got the basics down, you can rent a board from any of the many stalls along the beach for around $10 USD per day.
2. Go diving or snorkeling
Local diving companies frequent over 20 dive sites around Manuel Antonio. You can see underwater volcanic formations and reefs teeming with all kinds of tropical fish and sea life, including manta rays, dolphins, orcas, and whales. Dives start at $124 USD for a two-tank dive while snorkeling starts at $65 USD. Oceans Unlimited and Rica Freedivers are two of the more popular companies.
3.Go fishing
On a guided fishing trip, you'll have the chance to fish for barracuda, marlin, tuna, snapper, and more. These trips are incredibly expensive, costing at least $450 USD for a half-day tour and upwards of $1,000 USD for a full-day trip, so this is only an activity for die-hard fishing fans!
4. Go white water rafting
The Class III and IV rapids (for intermediate and experienced rafters) of the Savegre River make for an adrenaline-packed day. You'll paddle through the jungle and see toucans, ospreys, parrots, and kingfishers as you make your way down the river. Experienced rafters can head to the Naranjo River as the rapids there are a lot faster. H20 Adventures has all sorts of rafting trips, costing $114-$144 USD.
5. Go dolphin and whale watching
Whale watching and dolphin tours take you to some of the most scenic spots along Costa Rica's Pacific Coast. If you come at the right time of year (November-March and July-September), you'll have the chance to see tons of humpback and pilot whales. If the weather works in your favor, you'll also be able to stop for a swim. Tours generally last around 4 hours and cost at least $75 USD.
6. Take a chocolate tour
La Iguana Chocolate offers tours where you can learn about how the country's most delicious chocolate is produced. You'll get to see the entire process, sample the goods, and try your hand at grinding raw cacao. The chocolate is fully organic and is blended with fruits and spices that also come from the farm. Tours last 2.5 hours and cost $34 USD. You can also opt to have a homecooked lunch there after the tour for an extra $10 USD.
7. Go hiking
There are plenty of hiking trails in Manuel Antonio that offer the chance to get close to some of the area's wildlife. The main trail in Manuel Antonio National Park is an easy one, measuring just 2 kilometers (1.3 miles) and connecting several beaches. The Punta Cathedral loop offers a more challenging trek with steep inclines leading to rainforest vantage points (it's still just one mile though). The Puerto Escondido trail is one of the longer ones at 6.4 kilometers (4 miles), and there's a good chance you'll encounter capuchin monkeys along the way.

For more information on other destinations in Costa Rica, check out these guides:
Manuel Antonio Travel Costs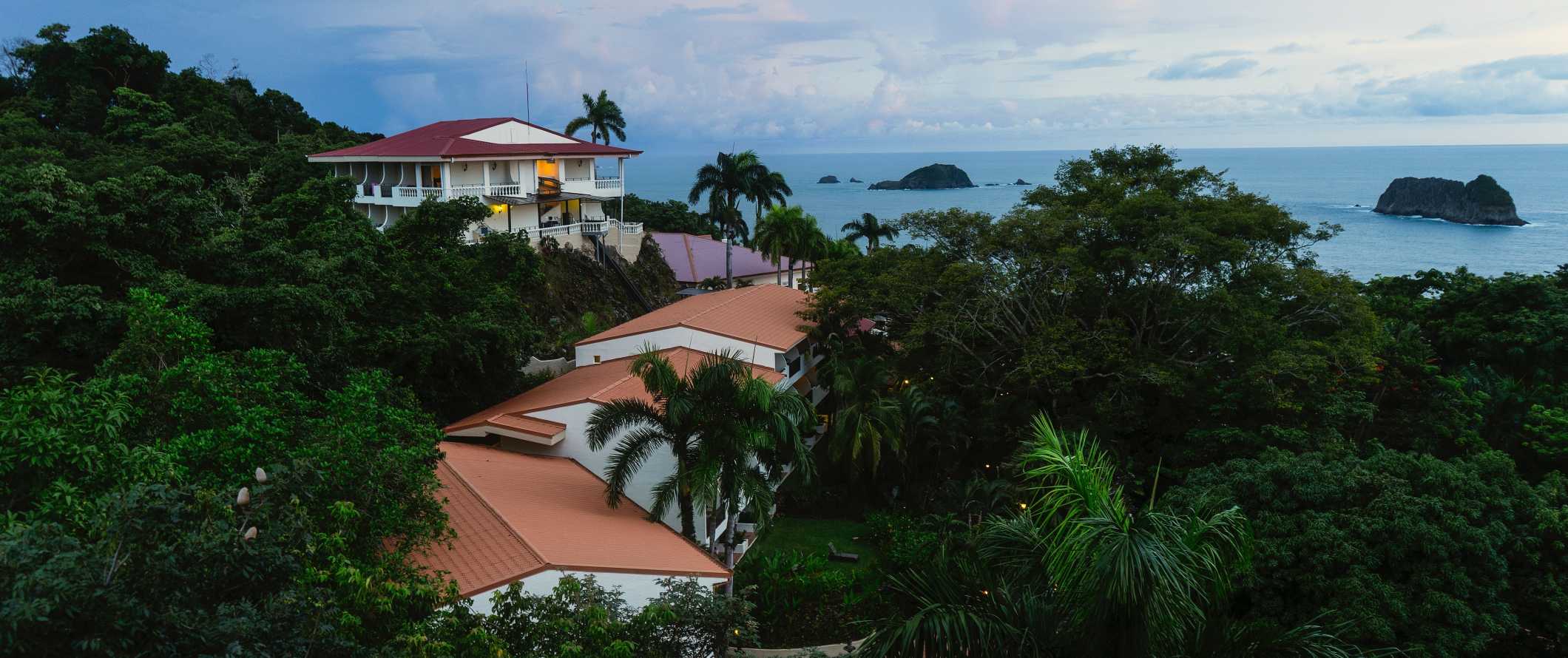 Hostel costs – During the peak season (December to April), a bed in a 4-6-bed dorm costs $18-28 USD. For a room with eight beds or more, expect to pay $16-21 USD. During the off-season (April-November), dorms with 4-6 beds cost around $15 USD while dorms with 8 beds or more are $12-14 USD.
Private rooms with an ensuite bathroom cost $65-85 USD in the off season, though expect to pay between $90-125 USD during peak season.
All hostels have free WiFi, and most have free breakfast as well as self-catering facilities. Some even have outdoor pools as well.
Budget hotel costs – Budget hotels start at $70-90 USD during peak season and $50-75 USD in the off-peak season. Expect basic amenities like free Wi-Fi, air-conditioning, and a TV. Many hotels, even budget options, also have a pool and/or free breakfast.
Airbnb is also available in the area, with private rooms starting at $35 USD per night (though they average closer to $70 USD). For entire homes/apartments, expect to pay at least $100-130 USD (again, the average is closer to double that so be sure to book early).
Food – Costa Rican cuisine is centered around rice and beans, which are usually eaten for every meal. Potatoes, plantain, pork, and beef are also popular. Gallo pinto (rice and bean stir-fry) is the national dish. You'll find it mixed with eggs for breakfast. Casado is a typical lunch dish, which consists of rice, beans, veggies, fresh salad, and your choice of meat. As Manuel Antonio is a beach town, you'll find an abundance of seafood dishes here too. Generally, the food here is quite mild.
Note: While you can easily pay for tours and entrance fees with USD, in smaller places such as local restaurants, you'll need colones (CRC). Prices in this section are in CRC to reflect this.
If you stick to street food and take-out, a meal costs roughly 3,500 CRC. A traditional casado (rice, beans, veggies, and meat) from the sodas (small family-run restaurants with inexpensive traditional meals) is usually about 4,500-5,500 CRC. If you're in Quepos on the weekend, hit up the Farmers Market for fruits, homemade pies, and other snacks for less than 3,500 CRC.
Sandwiches and wraps at grab-and-go spots cost around 3,500-4,500 CRC, while fast food burgers are 1,500-2,500 CRC. Light snacks like fried plantain or pastries from local bakeries are around 1,000-2,000 CRC. Fruit smoothies, which you can get made either with water or milk, are 2,000-2,500 CRC.
Otherwise, dining out is in Manuel Antonio can get pricey, especially at restaurants right along the beachfront.
Mid-range restaurants have appetizers like ceviche starting from 5,500 CRC and pasta dishes and burgers starting from 5,000-6,000 CRC, while fish dishes start at 7,500 CRC. A large pizza to share or a steak dish is around 10,000-13,000 CRC. A lobster dish starts at 15,000 CRC.
A domestic beer at a restaurant is around 2,000-2,500 CRC, a cocktail is 4,000-5,000 CRC, and a latte/cappuccino is around 2,000-2,500 CRC. Bottled water is 1,000 CRC.
Higher-end restaurants have entrees like mahi-mahi starting from 15,000 CRC, while a beef tenderloin is 18,500 CRC.
If you cook for yourself, a week's worth of groceries costs around 28,000-30,000 CRC. This gets you basic staples like rice, beans, veggies, and some meat.
Backpacking Manuel Antonio Suggested Budgets
If you're backpacking Manuel Antonio, expect to spend about $50 USD per day. This budget covers a hostel dorm, public buses, street food and cheap eats from cantinas and sodas, a visit to the national park, and free activities like relaxing on the beach.
A mid-range budget of $140 USD per day covers staying in a private hostel room or Airbnb, eating at sodas and enjoying some meals at restaurants on the beach, drinking a few beers, renting a bicycle, taking the occasional taxi, and doing some paid activities like a sunset tour or whale watching. You won't be living large on this budget but you won't really want for anything.
On a "luxury" budget of $290 USD or more per day, you can stay in a hotel, eat out anywhere you want, drink as much as you'd like, go diving or snorkeling, and rent a scooter or take taxis to get around. This is just the ground floor for luxury though. The sky is the limit!
If you visit outside of the busier dry months, you'll pay about 20% less for accommodation.
Accommodation
Food
Transportation
Attractions
Average Daily Cost
Mid-Range
70
30
10
30
140
Manuel Antonio Travel Guide: Money-Saving Tips
Manuel Antonio is one of the more expensive destinations in Costa Rica and it's easy to overspend if you're doing a lot of tours, eating fancy meals, or drinking (this is a big nightlife spot). Here are some suggested ways to save money while you're here:
Travel during the off-season – April-November is considered the rainy season and prices tend to be less expensive during this time. It's also less busy too.
Take advantage of happy hour – The bars along the main public beach in Manuel Antonio often have 2-for-1 deals. Ask your hostel/hotel staff for the best current spots.
Avoid tour activities – There are a lot of great (but expensive) group activities and tours in the area. Skip them and do cheap activities like hiking in the park instead. You'll save a fortune and still have fun.
Eat at the sodas – "Sodas" are small family-run restaurants that specialize in inexpensive local meals, usually costing around 3,500-5,500 CRC. These hole-in-the-wall restaurants offer the best value in the country.
Stay with a local – If you plan ahead, you can usually find a Couchsurfing host who can provide free accommodation during your visit. This way, you not only have a place to stay, but you'll have a local host that can share their insider tips and advice.
Pack a water bottle – The tap water in Costa Rica is generally safe to drink, though in Manuel Antonio it's advisable not to. Bringing a reusable water bottle with a built-in filter will help you save money (and thousands of plastic bottles) by purifying the tap water for you. My preferred bottle is LifeStraw.
Where to Stay in Manuel Antonio
Manuel Antonio has lots of great hostel options, making it easy to find budget accommodations here. Here are my suggested places to stay:
How to Get Around Manuel Antonio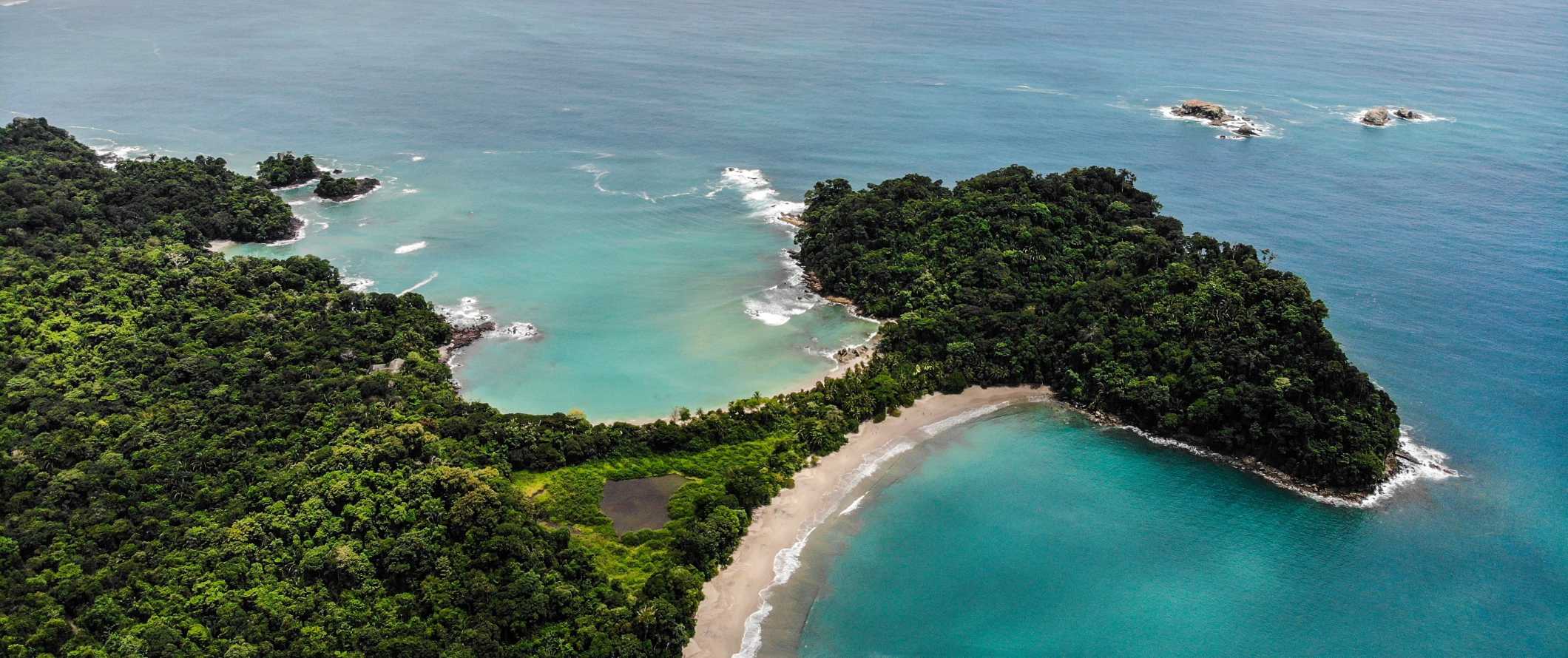 Walk – Within the main areas, Manuel Antonio is walkable, though the road between Quepos and Manuel Antonio is very much not so. With no shoulder and vehicles hurtling around hairpin turns, it's not a pleasant or safe place to walk for very long.
Public transportation – There is a bus that travels every half hour between Quepos (the gateway town to the national park) and Manuel Antonio from 5:45am until 7pm and then every hour until 9pm. Tickets cost 410 CRC each way (paid in local colones directly to the bus driver).
Scooter – A scooter is a good way to get around if you want convenience. Rentals start from $64 USD per day.
Bicycle – You'll find bicycle rentals at many hotels and roadside vendors for around $20 USD per day. However, take note that the road between Quepos and Manuel Antonio is very steep, windy, challenging, and there is no shoulder, so even experienced cyclists should proceed with caution when cycling here.
Taxi – A taxi from Quepos to Manuel Antonio costs about $8 USD. All the official taxis with meters are red with a big yellow sign — but that doesn't mean the drivers always use the meter. Negotiate your fare before you start driving just to be safe.
Rideshare – Uber is available here although there are few drivers so it can take a long time to get a ride. Taxis are much more plentiful and just as cheap.
Car rental – Car rentals cost around $40-50 USD per day for a multi-day rental. You really don't need one here though since it's easy to get around by bus, on foot, and by taxi. For the best car rental prices in Costa Rica, use Vamos (as a Nomadic Matt reader, you'll get 5% off by using our link).
When to Go to Manuel Antonio
The dry season in Manuel Antonio takes place from mid-December to April. This is peak season, and tourism is at its highest — especially during holiday weeks like Christmas and New Year's.
However, it's consistently sunny and hot during this time, with average highs of 27°C (81°F). If you want real hot weather, come between the end of February and May. In early May, the average highs are around 29°C (84°F).
May to the end of July is the shoulder season. It's rainier during this time, but the downpour doesn't last long, and hotel rates are lower. The rainforest is also full of life during this time.
The peak rainy season is from August to November, and although it doesn't rain every day, you might not be able to enjoy all the outdoor activities you want to experience if you visit during this time.
How to Stay Safe in Manuel Antonio
Costa Rica is one of the safest countries for traveling and backpacking in Central America. Violent crime is rare.
Solo travelers, including solo female travelers, should generally feel safe in Manuel Antonio. However, the standard precautions apply (never leave your drink unattended at the bar, never walk home alone intoxicated, etc.).
Petty theft (including bag snatching) is one of the most common types of crime here, so keep your valuables locked up and out of sight. This is especially true while you're hanging out at the beach. Other than that, there's not too much to worry about. If you're worried about travel scams though, you can read about the common ones to avoid here.
If you're renting a scooter or a bicycle, be cautious on the roads. They can be steep, winding, and with unpredictable traffic.
If you need emergency services, dial 911 for assistance.
And always trust your gut instinct. Make copies of your personal documents, including your passport and ID. Forward your itinerary along to loved ones so they'll know where you are.
For more in-depth coverage of how to stay safe in Costa Rica, check out this post we wrote that answers some frequently asked questions and concerns.
The most important piece of advice I can give is to purchase good travel insurance. Travel insurance will protect you against illness, injury, theft, and cancellations. It's comprehensive protection in case anything goes wrong. I never go on a trip without it as I've had to use it many times in the past.
Manuel Antonio Travel Guide: The Best Booking Resources
These are my favorite companies to use when I travel. They consistently have the best deals, offer world-class customer service and great value, and overall, are better than their competitors. They are the companies I use the most and are always the starting point in my search for travel deals.
Skyscanner – Skyscanner is my favorite flight search engine. They search small websites and budget airlines that larger search sites tend to miss. They are hands down the number one place to start.
Hostelworld – This is the best hostel accommodation site out there with the largest inventory, best search interface, and widest availability.
Booking.com – The best all around booking site that constantly provides the cheapest and lowest rates. They have the widest selection of budget accommodation. In all my tests, they've always had the cheapest rates out of all the booking websites.
Get Your Guide – Get Your Guide is a huge online marketplace for tours and excursions. They have tons of tour options available in cities all around the world, including everything from cooking classes, walking tours, street art lessons, and more!
SafetyWing – Safety Wing offers convenient and affordable plans tailored to digital nomads and long-term travelers. They have cheap monthly plans, great customer service, and an easy-to-use claims process that makes it perfect for those on the road.
LifeStraw – My go-to company for reusable water bottles with built-in filters so you can ensure your drinking water is always clean and safe.
Unbound Merino – They make lightweight, durable, easy-to-clean travel clothing.
Top Travel Credit Cards – Points are the best way to cut down travel expenses. Here's my favorite point earning credit cards so you can get free travel!
Manuel Antonio Travel Guide: Related Articles
Want more info? Check out all the articles I've written on Costa Rica travel and continue planning your trip: