Manuel Antonio is one of Costa Rica's most popular beach towns. Everyone who comes to Costa Rica visits Manuel Antonio! Located on the Pacific Coast, it's a place where people come to vacation so you'll find very few cheap options here. Nevertheless, it's worth a visit!
I first came here in 2004. Since then, it's grown like crazy. The pristine beaches, soaring temperatures, and famous national park draw in hundreds of thousands of tourists per year.
Even though it has more tourists than other towns and development has gotten a little out of control in the last few years, Manuel Antonio still has fabulous diving, a fun nightlife, a beautiful national park with plenty of wildlife, awesome beaches, and plenty of sport-fishing opportunities.
While it's not as tranquil as it used to be, I wouldn't skip visiting. There are still many hidden spots in the national park where you can escape the crowds.
This travel guide to Manuel Antonio will give you the low down on everything you need to know to plan your visit and save money!
Top 5 Things to See and Do in Manuel Antonio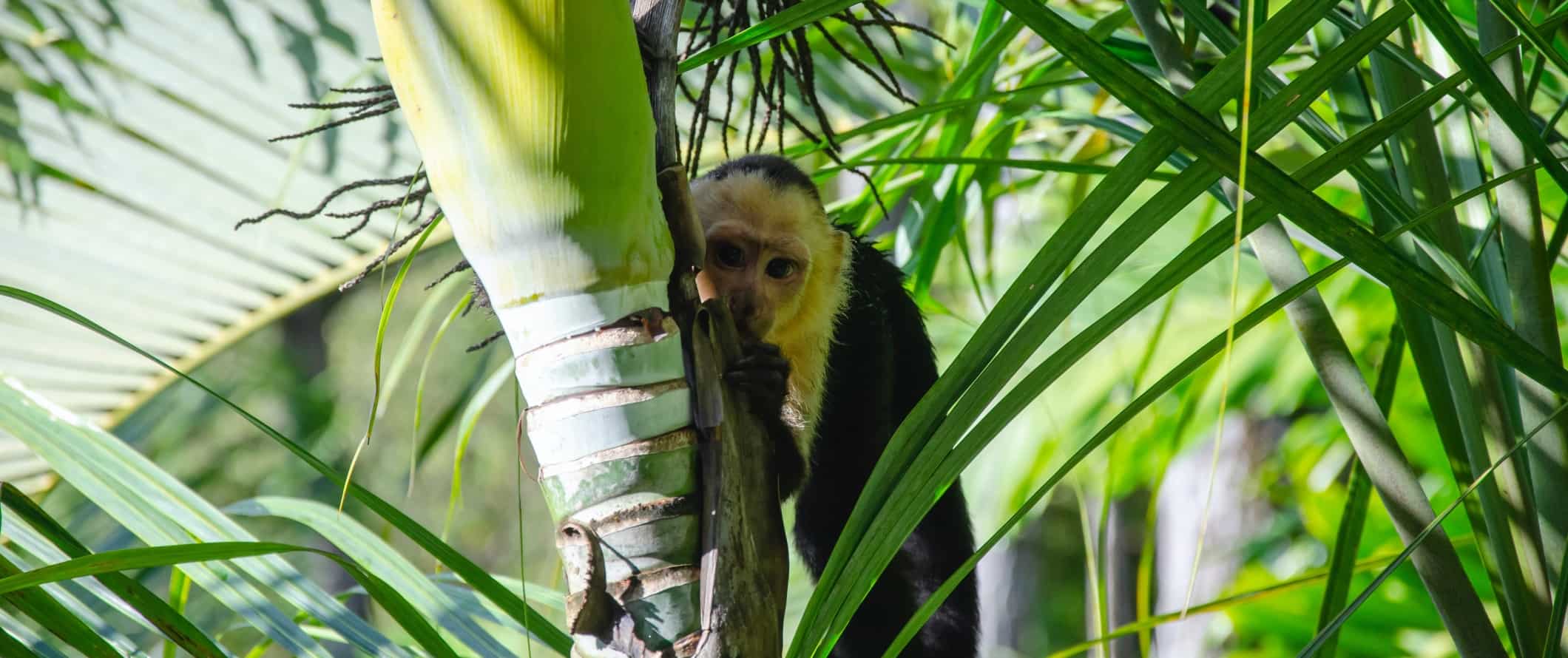 1. Visit Manuel Antonio National Park
Spanning 4,900 acres, this park is a combination of rich rainforest, picturesque beaches, and colorful coral reefs. Increased tourism has driven some wildlife away but you can still see many capuchins, basilisk lizards, iguanas, and squirrel monkeys. Entry is 10,000 CRC.
2. Relax on the beach
Most people come here to sunbathe on the pristine sandy beaches, including Playa Manuel Antonio and Playa Espadilla. Despite the increase in crowds, these beaches have remained clean and beautiful. In January, there are good waves for body surfing and you'll get year-round spectacular sunsets.
3.Go fishing
On a guided fishing trip, you'll have the chance to fish for barracuda, marlin, tuna, snapper, and more. These trips are incredibly expensive, costing at least 600,000 CRC for a full-day trip, so this is only an activity for die-hard fishing fans!
4. Zip across the canopy
One of the best ways to experience Manuel Antonio is from the jungle canopy. There are a number of companies here that have zip line tours, tree platforms, and suspension bridges. You can even rappel down the side of a giant Ceiba tree! El Santuario and Titi Canopy Tour are your best choices, with prices from 40,000 CRC.
5. Go to Damas Island
A 30-minute boat ride from Quepos takes you to the jungle island of Damas and its mangrove swamps. Wildlife on the island includes boas, caimans, various species of birds, and on rare occasions you can spot anteaters. Boat tours begin at around 40,000 CRC per person and last four hours.
Other Things to See and Do in Manuel Antonio
1. Go surfing
Manuel Antonio isn't as known for its surfing in comparison to surf hotspots like Jaco Beach and Hermosa, but the breaks here are ideal for beginners. Manuel Antonio Surf School offers both beginner and intermediate lessons, usually lasting around three hours and costing 41,000 CRC. They also do stand-up paddling lessons too.
2. Go diving
Local diving companies frequent over 20 dive sites around Manuel Antonio. You can see underwater volcanic formations and reefs teeming with all kinds of tropical fish and sea life, including manta rays, dolphins, orcas, and whales. Dives start around 65,000 CRC for a two-tank dive. Oceans Unlimited and Rica Freedivers are two of the more popular companies.
3. Take a sunset sailing trip
This is one of my favorite places in Costa Rica to see the sunset. It's absolutely stunning here, with vivid pinks and oranges filling the horizon. If you're sailing, you might also get to see humpback whales or see dolphins frolicking alongside the boat at the same time. Basic sunset tours start at 12,500 CRC.
4. Go white water rafting
The Class III and IV rapids of the Savegre River make for an adrenaline-packed day. You'll paddle through the jungle and see toucans, ospreys, parrots, and kingfishers as you make your way down the river. Experienced rafters can head to the Naranjo River as the rapids there are a lot faster. H20 Adventures has all sorts of rafting trips, starting from 76,500.
5. Go dolphin and whale watching
Whale watching and dolphin tours take you to some of the most scenic spots along Costa Rica's Pacific Coast. If you come at the right time of year (November-March and July-September), you'll have the chance to see tons of humpback and pilot whales. If the weather works in your favor, you'll also be able to stop for a swim. Tours generally last around 4 hours and cost at least 52,500 CRC.
6. Take a chocolate tour
La Iguana Chocolate offers tours where you can learn about how the country's most delicious chocolate is produced. You'll get to see the entire process, sample the goods, and try your hand at grinding the raw cacao. The chocolate is fully organic and is blended with fruits and spices that also come from the farm. Tours last 2.5 hours and cost 12,500 CRC.
7. Go hiking
There are plenty of hiking trails in Manuel Antonio that offer the chance to get close to some of the area's wildlife. The main trail in Manuel Antonio National Park is an easy one, measuring just 1.3 miles (2 kilometers) and connecting several beaches. The Punta Cathedral loop offers a more challenging trek with steep inclines leading to rainforest vantage points (it's still just one mile though). The Puerto Escondido trail is one of the longer ones at four miles (6.4 kilometers), and there's a good chance you'll encounter capuchin monkeys along the way.
For more information on other destinations in the country, check out these guides:
Get my best stuff sent straight to you!