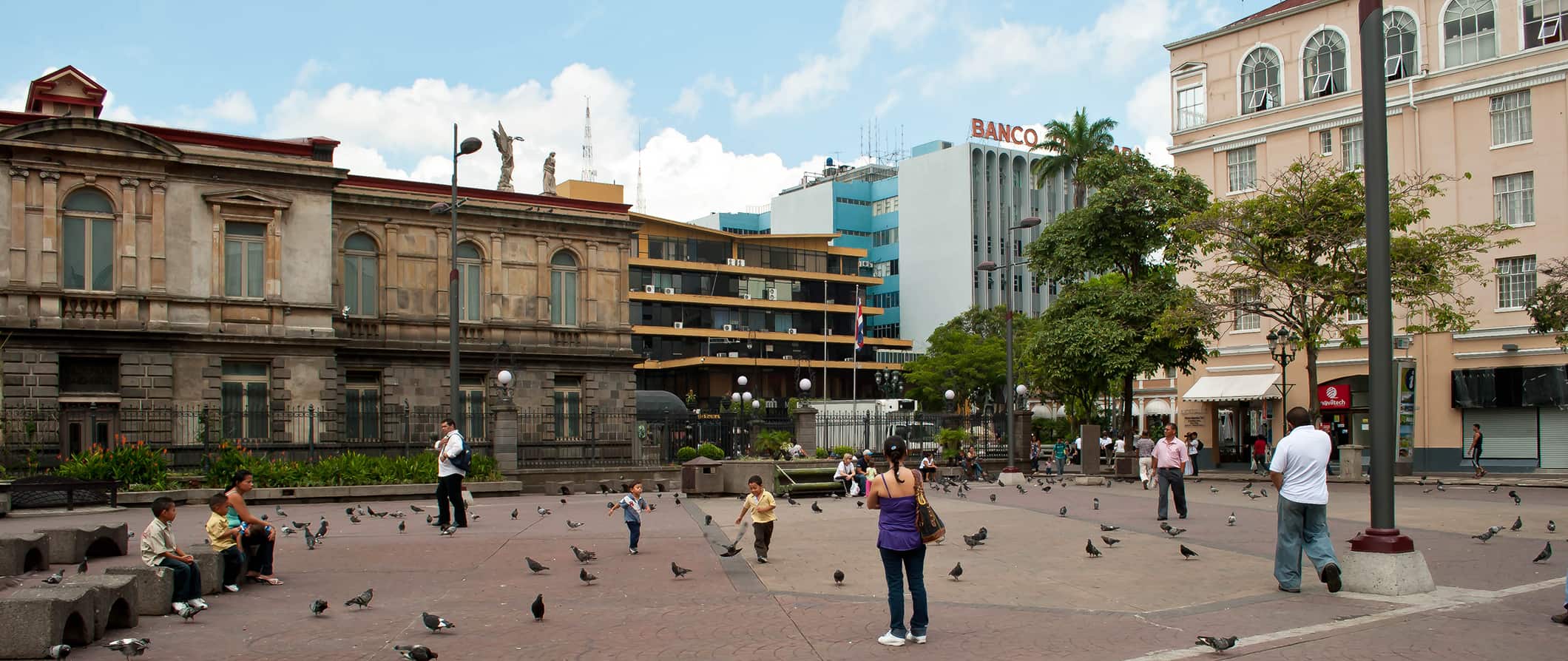 Costa Rica's capital city, San José, isn't that great. It's gritty, grimy, and good for only a few days. There are a few things to do to keep you busy before you move on to nicer parts of the country. There are some great museums, cool parks, pretty funky hostels with pools, a theater, and some kick ass restaurants but this city is a place for you to get your bearing before you move on to other parts of the country. If you spend 3 days here, you've been here too long.
Top 5 Things to See and Do in San José
1. Poas Volcano
The best day trip out of the city, this volcano isn't active but instead features a sulfur water-filled caldera. The water is so still and aquamarine, you almost think it's fake. The area has some easy hiking trails and will get plenty of pictures that make your friends' jaws drop. I highly recommend a visit.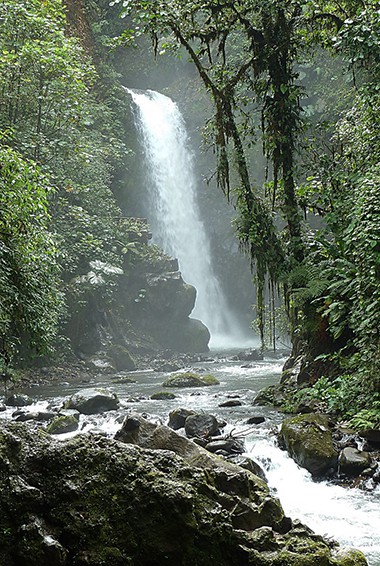 2. La Paz Waterfall Gardens
This is one of the most popular day tours from the city. Aside from waterfalls, there's also an aviary, hummingbird garden, butterfly garden, reptiles, and big cats. Admission isn't cheap, with adult entry costing 22,000 CRC per person.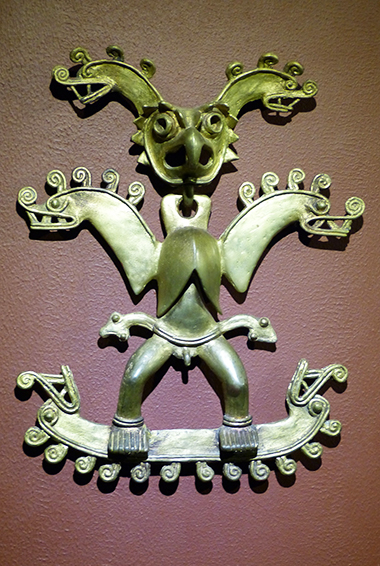 3. The Gold Museum
This museum has an extensive display of Pre-Columbian gold, as well as hundreds of exquisite glittering pieces to admire. Also included in your admission price is a numismatic museum featuring rare coins and bills, as well as an art gallery. Admission is 6,000 CRC for adults and 4,400 CRC for students. Kids under 12 enter free.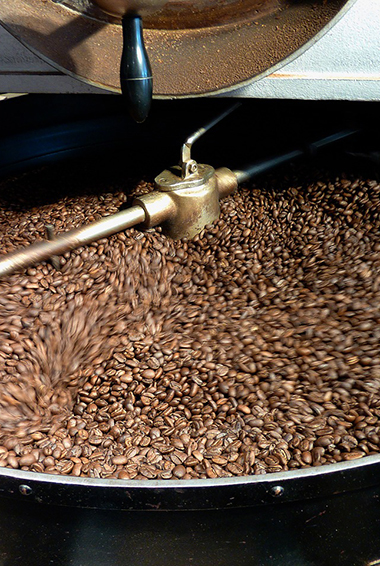 4. Doka Coffee Tour
Doka is a huge (4000 acre) working coffee plantation and offers visitors the chance to experience every step of the coffee making process. Many people combine a trip to the plantation with a trip to the Poas Volcano as you can do both easily in a day. Tours cost around 12,100 CRC per person.
5. Admire Costa Rica's art
A small (but free!) museum, the Museo de Arte Costarricense is located at the edge of Parque la Sabana. It offers a variety of permanent and temporary exhibitions of national and international artists. Most of the works inside are paintings, but there are also some interesting sculptures on the museum grounds.
Other Things to See and Do
(Click the title to expand the text)
1. National Center of Art & Culture
This sprawling museum occupies an entire block and houses the offices of the Cultural Ministry, several performing-arts centers, and the Museum of Contemporary Art and Design where you can see the work of cutting edge Costa Rican and Central American artists. This is also the place to see contemporary dance and theater. Admission is 1,700 CRC per person and is free on Mondays.
2. Costa Rican Art Museum
This art deco museum houses a permanent display of 3,200 national treasures which span the last two centuries. Traveling exhibits fill the remaining side galleries. There is also a garden of sculptures with works from Francisco Zuniga, Jorge Jimenez, and others. Many visitors combine a day of walking around the lush grounds of Sabana Park with a trip to the museum. Admission for foreign adults is 2,800 CRC and 1,650 CRC for students.
3. Canopy tours
Like most other Central American countries, Costa Rica is covered in dense rainforest terrain. A canopy tour involves gliding over the trees on a zip wire and is an exhilarating experience which offers you the rare chance to see the most active part of the rainforest – the upper tenth of the trees. Expect to pay around 25,000 CRC per person.
4. Jade Museum
The Jade Museum is located on the 11th floor of the National Insurance Building housing the world's largest collection of Pre-Columbian jade with pieces dating from 500 BC-800 AD. Thanks to recent lighting fixture upgrades, you'll see them in all their glory. The museum also offers an excellent view over San José and the Central Valley. Adult admission is 8,300 CRC while entry for children is 2,800 CRC.
5. Mercado Central
The Central Market is found in a bright yellow building on the Avenue Central – you can't miss it. Buy your souvenirs or check out local food among the hundreds of colorful stalls. I don't like the shopping here, but if you want to eat delicious, local food, you can't leave this city without visiting it. Make sure you know Spanish if you want to bargain, or you won't get any deals.
6. Hike through Chirripo National Park
If you're an avid hiker or up for a challenge, consider booking a multi-day trek through Chirripo National Park. This park lies in the middle of the Talamanca mountain range and will give you great exposure to the rainforest environment. Pack well, and be prepared and safe for unexpected conditions. Visitors require an entrance permit, which costs 9,900 CRC per person.
7. Explore the Orosi River Valley
If you need to get out of the city, consider taking a day trip to the Orosi River Valley, one of the most beautiful river valleys in the country. There are lots of little villages to explore along the way, and the river is very picturesque, making the area perfect for a lovely afternoon walk.
Typical Costs
Hostel prices
– You can expect to pay around 5,000 CRC per night for a dorm and at least 10,000 CRC for a private room. Most hostels include free WiFi and free breakfast and have kitchens in case you want to cook. My suggested places are:
If you're going to stay in a hostel in this city, stay at one of those! For those traveling with a tent, there are no campgrounds in the city.
Budget hotel prices – There are plenty of budget hotels in San José with prices starting as low as 12,000 CRC, but 27,000 CRC is more realistic for a place in the city center. You can find the best variety of listings on Booking.com. WiFi is generally included, as is free breakfast, and a few hotels even have a pool! Airbnb is also available in the city, with shared accommodation starting around 8,000 CRC per night. For an entire home or apartment, expect to pay closer to 16,000 CRC per night.
Average cost of food – Meals in restaurants typically cost between 1,600-5,875 CRC, but by eating at 'sodas' (family-run small restaurants) you can get a meal and drink for 1,600-3,000 CRC. Fast food has become very widespread in recent years, and if you need your McDonald's fix, you'll spend about 3,800 CRC. (Surprisingly, Taco Bell is really popular in the city!) If you plan on cooking your own groceries, expect to pay around 15,000-20,000 CRC per week on groceries.
Transportation costs – All the major attractions in the city are within walking distance of each other, but if you need a ride, taxi fares begin at about 640 CRC. It will rarely cost more than 2,670 CRC to get around the city center, however, if you want to go to the outskirts of town be prepared to pay around 7,500 CRC. A trip to the airport is about 13,400 CRC. Buses around the city are cheap with fares costing as little as 300 CRC. For intercity travel, the public bus from San José to Arenal and Monteverde both cost around 2,000 CRC.
Suggested daily budget
22,150 CRC / $40 USD (Note: This is a suggested budget assuming you're staying in a hostel, eating out a little, cooking most of your meals, and using local transportation. Using the budget tips below, you can always lower this number. However, if you stay in fancier accommodation or eat out more often, expect this to be higher!)
Money Saving Tips
Student cards – Many attractions offer reduced admission rates for students with a valid student card. If you are a student, make sure you bring yours to take advantage of the deals.
Skip taxis – Downtown San Jose is very walkable — even parts on the edge aren't more than a 30-minute walk. The taxis are overpriced and they often rip tourists off so skip them!
Eat at the Mercado Central – If you want to save money on food, eat at the central market. The food is cheaper than most other places in the city center and delicious. You can find meals starting at only 1,600 CRC.
Avoid the high season – Prices during the summer (and around the holidays) will be much higher than the rest of the year so visit during the low season to get the best prices.
Stay with a local by Couchsurfing – This is one of the few cities in the country where you'll have an easy time staying with a local as there are a decent number of hosts on the website. Not only will you save money but you'll get some insight from someone who lives in the area!
Save money on rideshares – Uber is way cheaper than taxis and are the best way to get around a city if you don't want to wait for a bus or pay for a taxi. The Uber Pool option is where can you share a ride to get even better savings (though you can get your own car too). You can save $15 off your first Uber ride with this code: jlx6v.
My Must Have Guides For Traveling to Costa Rica