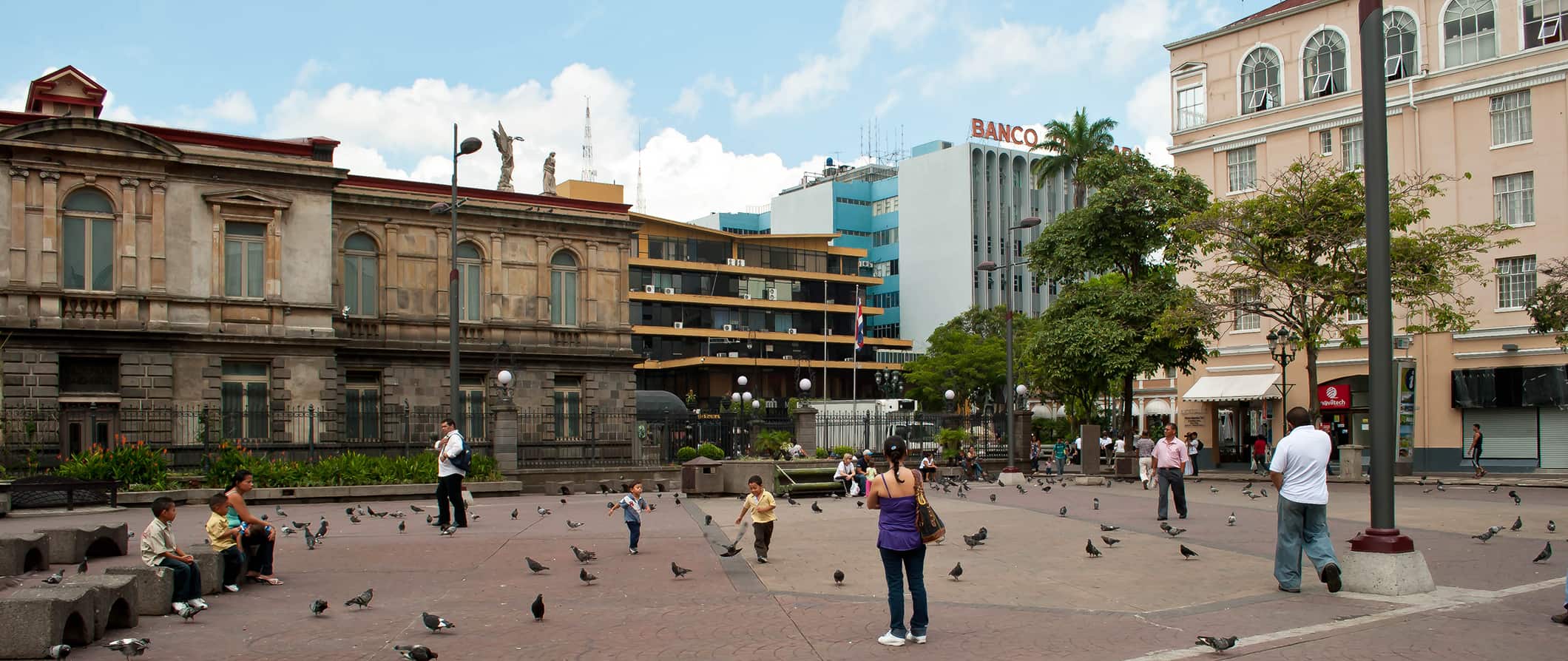 San José, the capital of Costa Rica, isn't my favorite spot to visit in the country. I usually tell people just to visit for a couple of days before moving on as there are much better places to visit in the country.
That said, there are a few things to keep you busy before you move on. The city has some great museums, cool parks, funky hostels with pools, a theater, and some kick-ass restaurants. It's a good place for a quick visit to get your bearings before you head off to explore the jungle or relax on the coasts.
This travel guide to San Jose will give you the low down on everything you need to know to plan your visit, stay safe, and save money!
Top 5 Things to See and Do in San José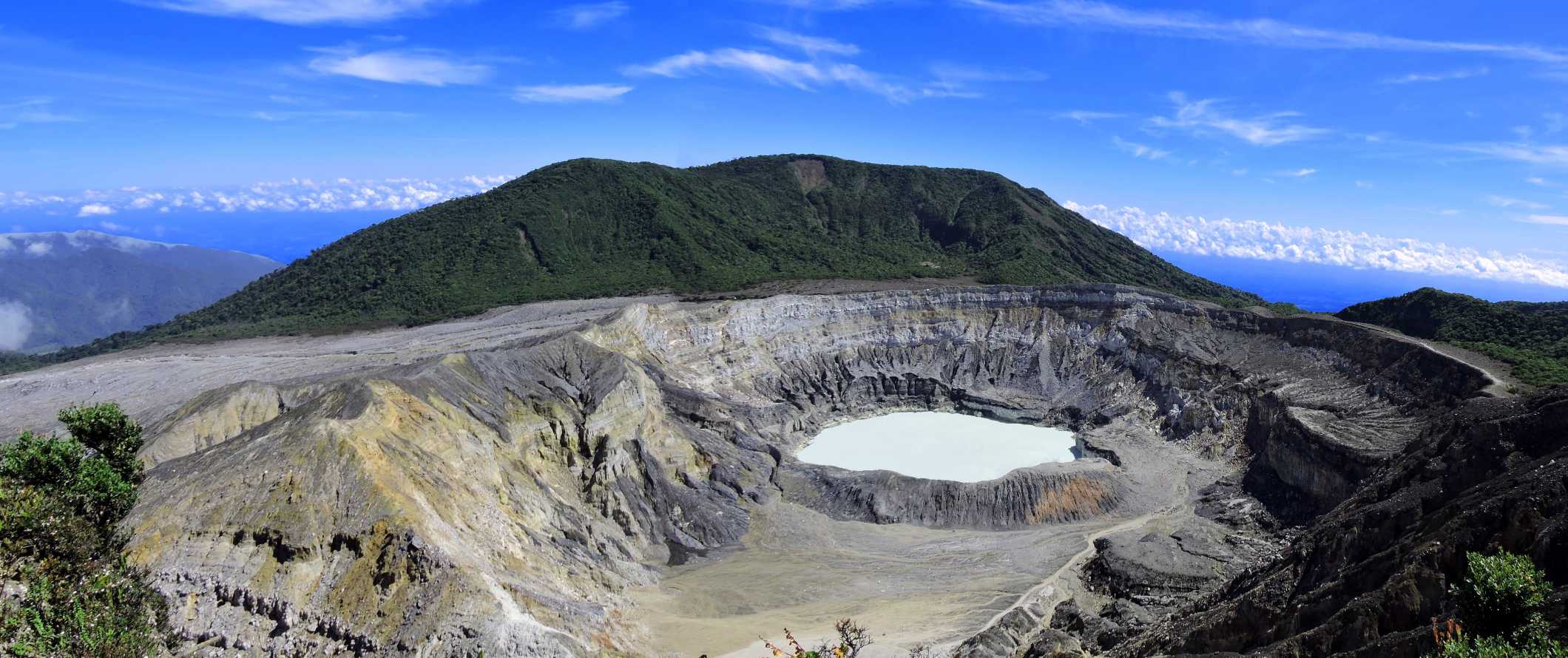 1. Explore Poas Volcano
Poas Volcano is the best day trip from the city. This volcano is active, with the last eruption (of gas, ash, and rocks, no lava) taking place in 2017 when visitors had to be evacuated. The volcano has a sulfur water caldera so still and aquamarine it almost looks fake. It takes about two hours to hike the forested paths around the caldera and the views are amazing. Entry is $15 USD and parking is around $4 USD. Note that there is a limited amount of visitors allowed in the park each day, so you must book your tickets online in advance (you can't buy them at the park).
2. Visit the Costa Rican National Museum
If you only visit one museum in the city, make it this one. Housed in the fortress that used to house the (now defunct) Costa Rican military, the bulk of the permanent exhibition traces Costa Rican history from Pre-Columbian times to the present day. It's in-depth and extremely well done, with all explanations in both English in Spanish. Come here for a comprehensive overview of the country's history before you see it in action on your travels around the country. In addition to the permanent collection, there are temporary exhibitions as well. Admission is $11 USD.
3. Visit Jade Museum
Located across the square from the Costa Rican National Museum is the Jade Museum, which has the world's largest collection of Pre-Columbian jade, with pieces dating from 500-800 BCE. The translucent jade carvings of fertility goddesses and animals are some of the collection's most impressive pieces. The museum also offers an excellent view of San José and the Central Valley. Admission is $16 USD.
4. Hang out on Central Avenue
Central Avenue is the heartbeat of San Jose. It's full of shops, restaurants, and bars. The street is busiest between 4-5pm daily as the locals get off work and come here to hang out, eat, and listen to live music. There are also vendors everywhere selling local goods, so it's a great place to do some souvenir shopping and people-watching.
5. Take a free walking tour
If you want to learn more about the history of San Jose while taking in the sights, take a free walking tour. You'll hear all about "ticos" culture (a term used to describe native Costa Ricans), visit some secret spots where the locals hang out and see some street art along the way. San José Free Walking Tour is the main operator — just don't forget to tip your guide at the end!
Other Things to See and Do in San José
1.Visit the Pre-Columbian Gold Museum
This museum has an extensive display of Pre-Columbian gold dating back to 500 BCE. There are hundreds of exquisite items and antiques to admire including jewelry, coins, trinkets, and religious icons. It's fascinating and educational. Admission is $15 USD.
2. Visit CENAC (Centro Nacional de la Cultura)
This sprawling complex occupies an entire block. It's home to the offices of the Cultural Ministry, several performing arts centers, and the Museum of Contemporary Art and Design (MADC), where you can see the work of cutting-edge Costa Rican and Central American artists. This is also the place to see contemporary dance and theater. Admission to MADC is $4 USD per person (cash only).
3. Take a food tour
Get to know Costa Rican cuisine by taking a food tour in the capital. San Jose Urban Tours offers a daytime 'Bites and Sights' walking tour ($32 USD) where you'll visit local markets, learn about traditional herbal remedies, enjoy a coffee tasting, and make your own plantain empanada. On their evening food tour, you'll enjoy a three-course locally prepared meal, a cocktail-making workshop, and a walking tour throughout the city, which also includes visits to local markets.
4. Explore the markets
The Central Market is a good place to buy souvenirs, browse colorful market stalls, and check out the local food scene. I don't like shopping here, but if you want to eat delicious food, you can't leave the city without visiting. Make sure you know Spanish if you want to haggle or you won't get any good deals. The Municipal Crafts Market is also another place to check out for souvenir shopping. Both markets open early in the morning and close at 6pm (the Central Market isn't open on Sundays).
5. Meander through Barrio Escalante
Barrio Escalante is the coolest area in the city. This up-and-coming neighborhood is where you'll find third-wave coffee shops, shops and galleries featuring the work of local artists and artisans, a diverse selection of restaurants, and some of the best hostels in the city. It's not very big, so you can easily explore the area within an afternoon and end up at one of the many breweries or cocktail bars in the evening (and if you like craft beer, you can join a craft beer tour that makes its way through Barrio Escalante as well as the surrounding neighborhoods).
6. Admire Costa Rica's art
The Museum of Costa Rican Art is a small museum that offers a variety of permanent and temporary exhibitions of national and international artists, including Francisco Amighetti and Lola Fernández. Most of the artwork inside consists of paintings, but there are also some sculptures. Admission is free.
7. Take the Doka Coffee Tour
Doka is a 4,000-acre coffee plantation offering visitors the chance to experience every step of the coffee-making process, from seeding to roasting (Costa Rica is one of the world's biggest coffee producers). Many people combine a trip to the plantation with a trip to the Poas Volcano as you can do both easily in a day, either on your own or via an organized tour like this one. Tours of the plantation start at $50 USD.
8. See the La Paz Waterfall Gardens Nature Park
This is a popular day trip from San Jose (it's just an hour from the city). Aside from the many waterfalls throughout the cloud forest, the nature park is also home to an aviary, hummingbird garden, butterfly garden, and a reptile area. Plan to stay at least two hours to see everything (though you could easily spend much longer). Admission is $50 USD.
9. Hike through Chirripo National Park
If you're an avid hiker or up for a challenge, consider booking a multi-day trek through Chirripo National Park, a huge swath of dense, lush rainforest. This park lies in the middle of the Talamanca mountain range and is home to Cerro Chirripó Grande, the highest peak in Costa Rica. Pack well, and be prepared for unexpected weather conditions. Visitors require an entrance permit, which costs $18 USD per person. A three-day hiking trip with a local guide costs around $350 USD per person.
10. Take a canopy tour
Costa Rica is covered in dense rainforest terrain (51% of the country is rainforest), and seeing it from the treetop canopy is a unique way to experience it up close. A canopy tour involves gliding over the trees on a zip line, giving you a chance to see the most active part of the rainforest – the upper tenth of the trees. Expect to pay around $140 USD per person with a company like San Luis Canopy Tour (includes round-trip transportation from the city as well as lunch).
For more information on other destinations in the country, check out these guides:
San José Travel Costs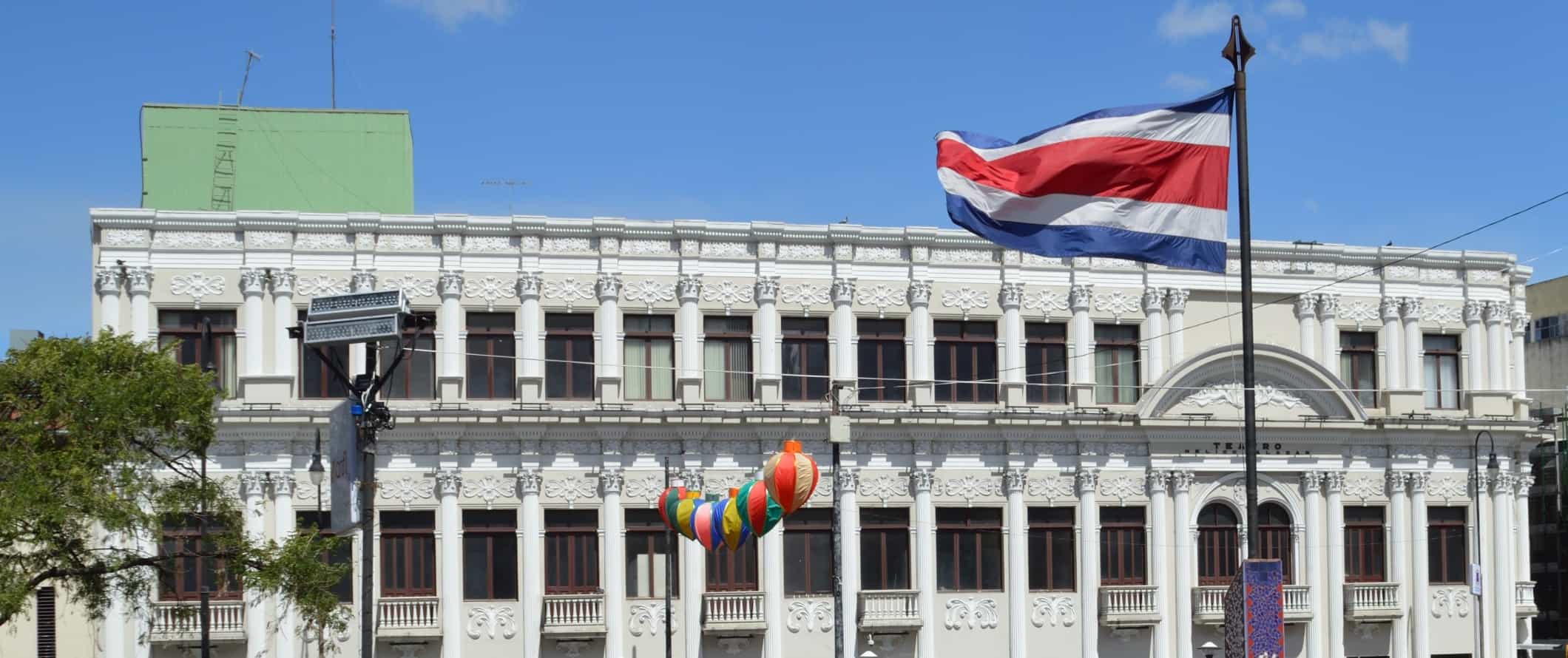 Hostel prices – A bed in an 8-10-bed dorm costs $10-14 USD per night. For a room with 4-6 beds, expect to pay $16-28 USD. A private room with a shared bathroom costs $30-50 USD while double rooms with an ensuite bathroom start at $60 USD. Prices are roughly the same all year.
Free Wi-Fi is standard and most hostels have self-catering facilities. Not many include free breakfast.
Budget hotel prices – Budget hotels cost $45-60 USD. Expect basic amenities like AC, a TV, and a tea/coffee maker. Many hotels offer free breakfast.
Airbnb is a budget-friendly option here and is plentiful around the city. Private rooms start at $30 USD per night while entire homes/apartments start at $50-50 USD. Expect prices to double (or triple) if you don't book early.
Food – Costa Rican cuisine is centered around rice and beans, which are usually eaten for every meal. Potatoes, plantain, pork, and beef are also popular. Gallo pinto (rice and bean stir-fry) is the national dish. You'll find it mixed with eggs for breakfast. Other popular meals include fried plantain and chicken and rice. Generally, the food here is quite mild.
Note: While you can easily pay for tours and entrance fees with USD, in smaller establishments, such as local restaurants, you'll need colones (CRC). Prices in this section are in CRC to reflect this.
You'll find lots of affordable street food vendors and fast-food places around San Jose. You can get a snack like an empanada for around 1,000 CRC, while fast food hamburgers or hot dogs are around 2,500 CRC. Personal pizzas or subs can be found for under 3,000 CRC while casado (a typical Costa Rican set meal) costs 3,000-5,000 CRC. A fast food combo at McDonald's costs about 4,500 CRC. Fresh fruit smoothies are around 2,000-3,000 CRC.
A filling dish of rice or noodles at a Chinese restaurant can be found for 3,500-6,000 CRC. At mid-range restaurants, a burger, personal pizza, or veggie pasta dish costs 8,000-9,000 CRC, a steak entree costs around 13,000-16,000 CRC, and seafood dishes start from 10,000-12,000 CRC.
Higher-end restaurants have dishes starting at 15,000 CRC and six-course menus ranging from 30,000-60,000 CRC.
A domestic beer is 2,500 CRC while craft beer is closer to 4,500 CRC. A cocktail is around 3,500-5,000 CRC and a glass of wine or sangria is around 3,500 CRC. A latte/cappuccino is 1,500-1,900 CRC and bottled water is 840 CRC.
If you cook for yourself, you'll spend around 22,000-26,000 CRC on groceries per week. This gets you basic staples like rice, pasta, bread, veggies, and some meat.
Backpacking San José Suggested Budgets
If you're backpacking San Jose, expect to spend about $35 USD per day. This budget covers a hostel dorm, public transportation, cooking your own food, and a couple of cheap activities like a walking tour or museum visit.
A mid-range budget of $100 USD per day covers staying in a private hostel room or Airbnb, eating out for all of your meals at cheap street stalls and sodas, using public transportation and taking the occasional taxi, enjoying a few drinks at the bar, and doing more expensive paid activities.
On a "luxury" budget of $225 USD or more per day, you can stay in a hotel, eat out for all your meals anywhere you want, take taxis everywhere, do more day trips outside the city, and drink as much as you like. This is just the ground floor for luxury though. The sky is the limit!
Accommodation
Food
Transportation
Attractions
Average Daily Cost
Mid-Range
50
30
10
10
100
San José Travel Guide: Money-Saving Tips
San Jose is one of the cheapest places in the entire country, and it's affordable all year around. Nonetheless, it never hurts to save money! Here are some suggested ways to save money during your visit:
Show your student card – Some attractions offer reduced admission rates for students with a valid student card. If you are a student, make sure you bring yours to take advantage of the deals.
Skip taxis – Downtown San Jose is very walkable. Even parts on the edge aren't more than a 30-minute walk. The taxis are overpriced and they often rip off tourists so skip them!
Eat at the Mercado Central – If you want to save money on food, eat at the central market. The food is cheaper than most other places in the city center and it's delicious.
Stay with a local – Couchsurfing connects you with a local who can host you for free. Not only will you save money but you'll get tips and advice from someone who lives in the area!
Save money on rideshares – Uber is way cheaper than taxis and is the best way to get around a city if you don't want to wait for a bus or pay for a taxi.
Take a free walking tour – Get to know the city and its history by taking a free walking tour. Just don't forget to tip!
Eat at the sodas – "Sodas" are small family-run restaurants that specialize in inexpensive local meals. These hole-in-the-wall restaurants offer the best value in the city.
Pack a water bottle – A reusable water bottle with a filter will help you save money and thousands of plastic bottles by purifying the tap water for you. My preferred bottle is LifeStraw.
Where to Stay in San José
There are lots of cheap hostels in San Jose, including plenty near the city center. Here are my suggested places to stay:
For more hostel suggestions, be sure to check out my list of the best hostels in San Jose!
How to Get Around San José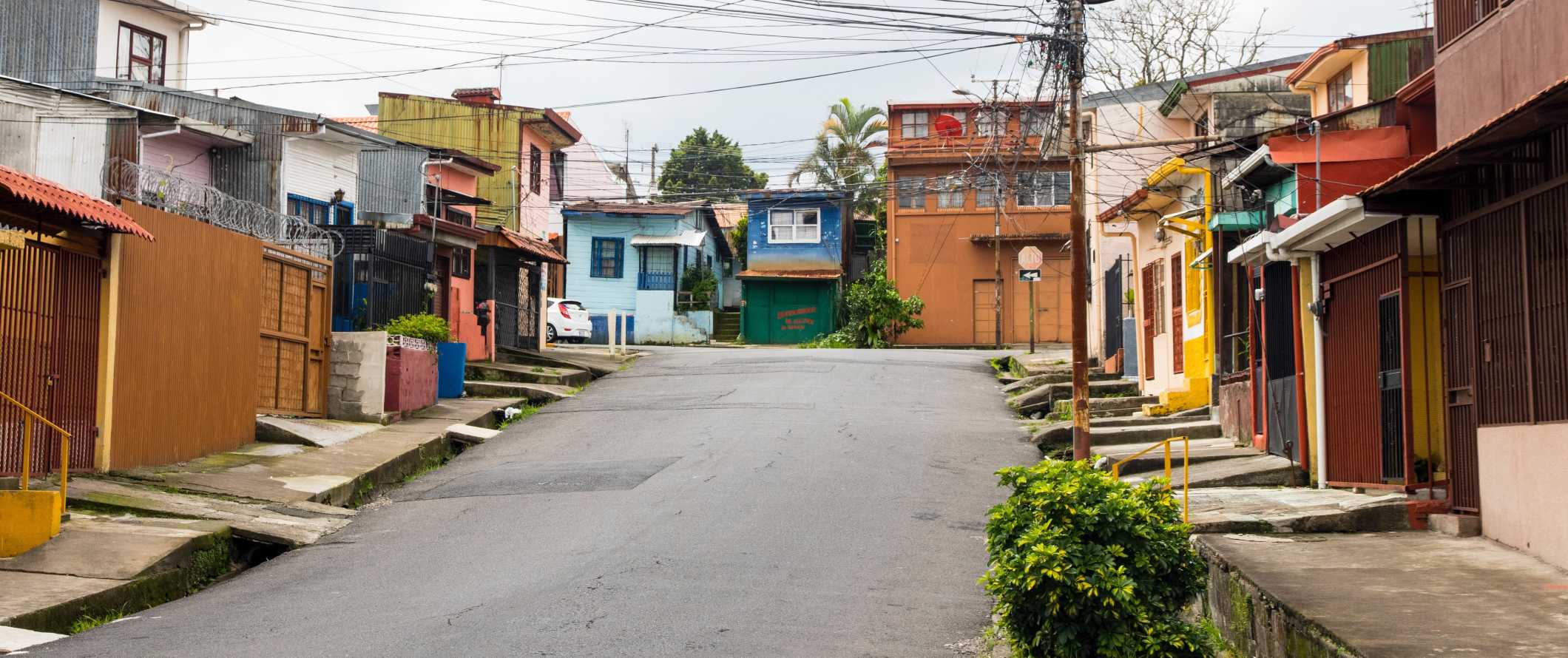 Walking – While you can definitely walk around within the main neighborhoods of San Jose, keep in mind that it is not the most pedestrian-friendly city. Crosswalks are few and far between, the sidewalks are not well maintained, and the areas between neighborhoods are a bit sketchy and not pleasant to walk through.
Public transportation – The public bus is the cheapest way to get around San Jose, with fares costing 200-450 CRC depending on where you're going. You're most likely to use the buses running along Avenida 2 and 3, or the Sabana/Cementerio bus from Parque La Sabana to downtown. The bus between downtown San José and the airport costs 800 CRC one way. (Prices in CRC as you'll need local change to pay the bus driver.)
Bicycle – San Jose isn't a great city to explore by bike as rentals are pricey and it's not super safe for cyclists. If you do want to bike, expect to pay upwards of $25 USD per day for a rental — but I wouldn't recommend it.
Taxi – You'll have no trouble hailing a taxi in San Jose, although drivers sometimes refuse to turn on the meters if they know you're a foreigner. Official rates start at 700 CRC per kilometer. Just make sure your driver turns on their meter before you begin.
Ridesharing – Uber is available all over San Jose and is generally cheaper than taxis.
Car rental – Car rentals cost around $25 USD per day for a multi-day rental. That said, driving in San Jose isn't ideal due to the poorly maintained roads, aggressive drivers, lack of road rules/signage, and risk of break-ins. I'd skip the rental here.
For the best car rental prices in Costa Rica, use Vamos (as a Nomadic Matt reader, you'll get 5% off by using our link).
When to Go to San José
San Jose typically serves as the gateway city to the rest of Costa Rica, so there's no bad time to visit. The dry season is from mid-December to April and daily highs average 30°C (86°F). This is the most ideal time to visit. It's also the busiest time to visit so book your accommodation in advance.
The rainy season is from May to November, but rainfall usually only occurs in short bursts throughout the day.
January is the coldest month, with an average daily low of 17°C (63°F).
If you're planning on exploring the area around Poas Volcano, the dry season is the best time to do so because visibility is the best.
How to Stay Safe in San José
Costa Rica is one of the safest countries for traveling and backpacking in Central America.
That being said, you'll still need to exercise caution. Petty theft (including bag snatching) is one of the most common crimes here, especially on public buses. Keep your bag on your lap and stay vigilant.
Solo female travelers should generally feel safe here, however, the standard precautions apply (never leave your drink unattended at the bar, never walk home alone intoxicated, etc.).
No matter your gender, don't wander around by yourself after dark. Downtown San Jose can be especially sketchy, with reports of armed muggings on the rise. Also, be cautious around the bus terminal and Parque Central. South of the park is the red-light district, which is another area you want to avoid completely at night (even if you're with someone else).
If you rent a car, do not leave any valuables in it overnight as break-ins are common. If cycling, always wear a helmet as the roads here are terrible and the drivers are aggressive.
Before you take a taxi, make sure your driver turns on the meter or negotiate a price before getting in. It's common for drivers to overcharge foreigners in San Jose.
If you're worried about getting scammed, you can read about common travel scams to avoid here.
If you need emergency services, the number to dial is 911.
For more in-depth coverage of how to stay safe in Costa Rica, check out this post we wrote that answers some frequently asked questions and concerns.
And be sure to purchase good travel insurance. Travel insurance will protect you against illness, injury, theft, and cancellations. It's comprehensive protection in case anything goes wrong. I never go on a trip without it as I've had to use it many times in the past.
San José Travel Guide: The Best Booking Resources
These are my favorite companies to use when I travel. They consistently have the best deals, offer world-class customer service and great value, and overall, are better than their competitors. They are the companies I use the most and are always the starting point in my search for travel deals.
Skyscanner – Skyscanner is my favorite flight search engine. They search small websites and budget airlines that larger search sites tend to miss. They are hands down the number one place to start.
Hostelworld – This is the best hostel accommodation site out there with the largest inventory, best search interface, and widest availability.
Booking.com – The best all around booking site that constantly provides the cheapest and lowest rates. They have the widest selection of budget accommodation. In all my tests, they've always had the cheapest rates out of all the booking websites.
Get Your Guide – Get Your Guide is a huge online marketplace for tours and excursions. They have tons of tour options available in cities all around the world, including everything from cooking classes, walking tours, street art lessons, and more!
SafetyWing – Safety Wing offers convenient and affordable plans tailored to digital nomads and long-term travelers. They have cheap monthly plans, great customer service, and an easy-to-use claims process that makes it perfect for those on the road.
LifeStraw – My go-to company for reusable water bottles with built-in filters so you can ensure your drinking water is always clean and safe.
Unbound Merino – They make lightweight, durable, easy-to-clean travel clothing.
San Jose Travel Guide: Related Articles
Want more info? Check out all the articles I've written on Costa Rica travel and continue planning your trip: