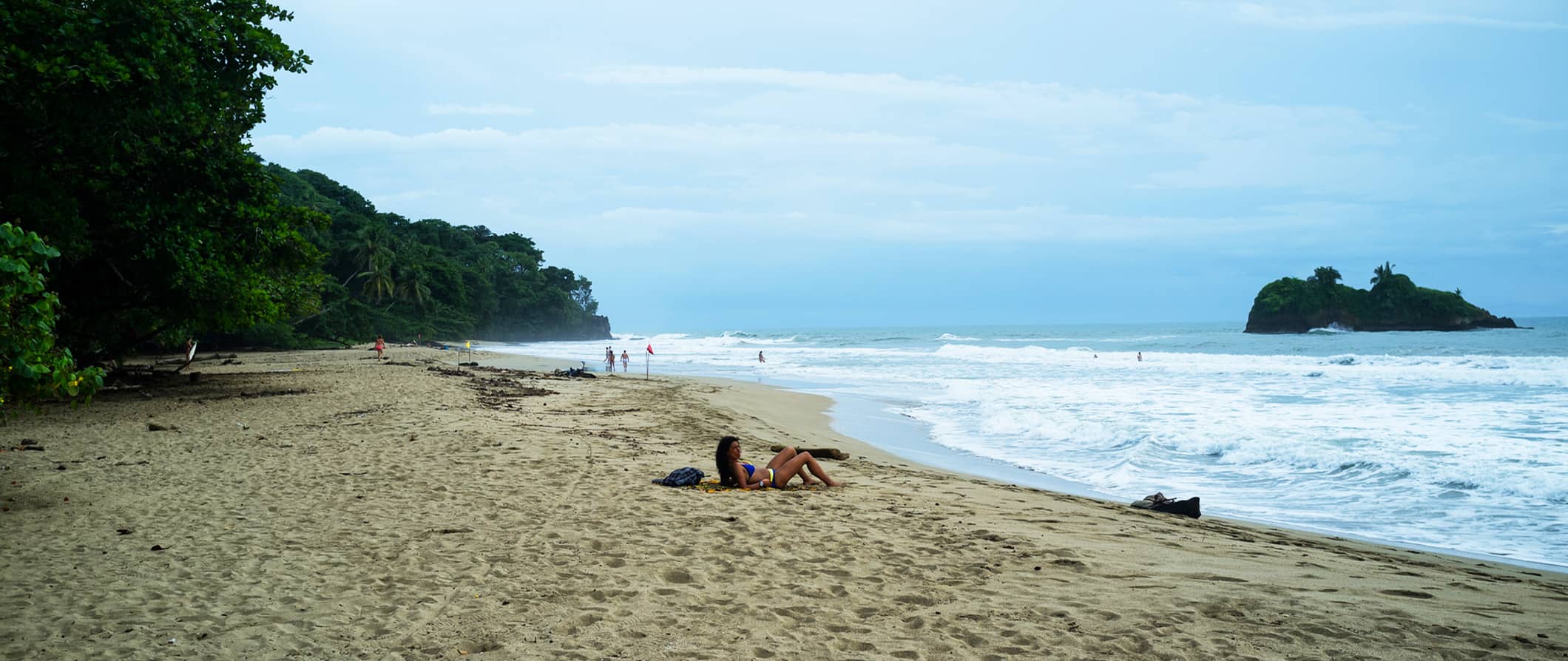 Pretty much everyone these days seems to visit Puerto Viejo while in Costa Rica. While its northern neighbor Tortuguero has traditionally been the main tourist draw in this region, Puerto Viejo has blossomed into a popular destination of its own.
And it's no surprise why!
Puerto Viejo offers excellent surfing, tremendous snorkeling and diving, crazy nightlife, cheap accommodation, and a lot of delicious food.
It's more crowded these days but the beaches outside the town are still beautiful and serene. Moreover, just a few hours from here is Cahuita National Park, a beautiful park for hiking and spotting wildlife.
This travel guide to Puerto Viejo can help you plan your trip, save money, and make the most of your visit!
Top 5 Things to See and Do in Puerto Viejo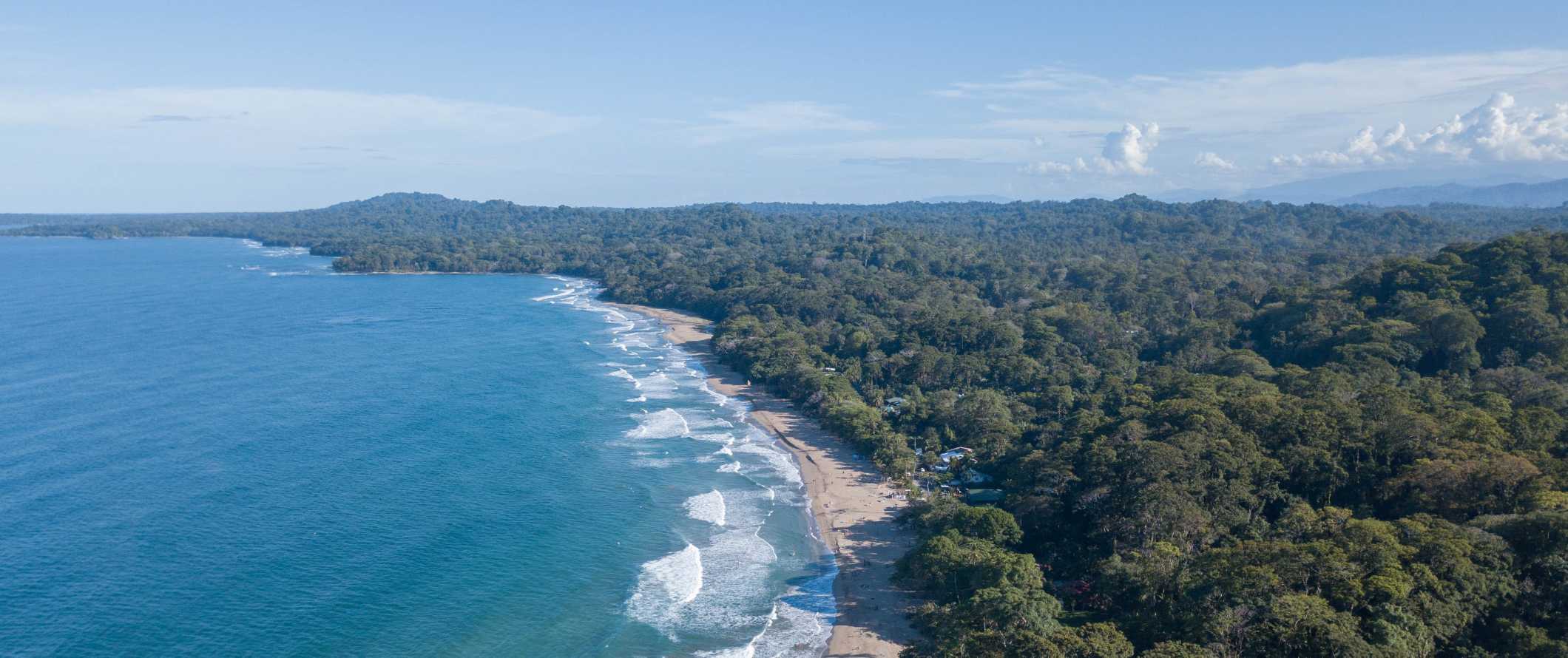 1. Explore Cahuita National Park
Cahuita National Park is about an hour north of Puerto Viejo. This conservation area covers 2,600 acres of land with a marine area of 55,000 acres. It's not surprising that the park is home to an incredible amount of nature and wildlife. There are over 35 types of coral in the reefs within the park (which span around 4 kilometers/2.5 miles) and there are around 135 different types of fish — which you can see if you go snorkeling in the area. The beaches are a nesting ground for sea turtles too. If you enter the park at Puerto Vargas, admission costs $5.65 USD, while if you enter at Playa Blanca (in the town of Cahuita), admission is by donation.
2. Hit the beach
This area is known for its immaculate beaches. Playa Cocles, Playa Grande Manzanillo, and Playa Negra are most popular for surfers and water sport enthusiasts. Playa Cocles is the most developed, but, with a mile of sandy beachfront here, you'll have no trouble finding a place to relax.
3. Try a yoga class
Puerto Viejo is an excellent place to take a yoga class. Many expats have moved to the area in recent years and have opened up yoga and wellness shops. Ama Ser (near Playa Cocles) has daily classes for $5 USD. There are also studios that offer retreats throughout the year if you want something longer and more in-depth.
4. Tour the Jaguar Rescue Center
This foundation works at rescuing and rehabilitating animals like jaguars and howler monkeys. The jaguars, which can weigh up to 250 pounds and live up to 15 years, are an endangered species and are not kept in captivity longer than necessary, so that means you may not always get to see a jaguar, but this center does offer the chance to see wildlife up close. Visits are by guided tour only, in English at 9:30am and 11:30am daily. Tours cost $25.13 USD.
5. Vist Finca La Isla
Finca La Isla is a permaculture farm and botanical garden where you can learn about permaculture farming, medicinal herbs and plants, get fresh organic juices and chocolate, and see a variety of exotic plants and animals. A self-guided tour is $5 USD while a guided tour is $10 USD. It's just a couple of kilometers west of the center of town.
Other Things to See and Do in Puerto Viejo
1. Take a surfing lesson
Puerto Viejo is the most famous surfing area on Costa Rica's Caribbean coast. Though the waves aren't as challenging as they are on the Pacific Coast, it's easier to learn here — and a lot cheaper too. Surf the Jungle offers two-hour beginner group lessons for $60 USD and private lessons for $80 USD. Their 7-day surf camp (which includes surf coaching, all meals, accommodation, local tours, and yoga classes) is $2,500 USD per person.
2. See endangered iguanas
Head to Kekoldi Indigenous Reserve (where the indigenous Bribi tribe lives) just outside of Puerto Viejo to tour the Green Iguana Project. You can explore the facility and learn all about the endangered Green Iguana and how indigenous locals have started rebuilding the iguana's population — from reproduction to raising to releasing them into the wild. While you're here, you'll also learn about Bribri culture, including how they grow and use local medicinal plants. It's $15 USD to visit.
3. Bike to Manzanillo
For $10 USD, you can rent a bike for a day and cycle the picturesque 13-kilometer (8-mile) road to Manzanillo and back. The road is relatively flat and (mostly)-paved. Along the way, you can pause at secluded beaches, stop for roadside sugarcane juice, and pop in at the Jaguar Rescue Center. It's a safe and well-worn road, and you're likely to encounter lots of other cyclists and walkers along the way.
4. Go fishing
Costa Rica offers some of the world's best sport fishing. Whether you're an avid fisher or a newbie, there are plenty of options to hit the high seas to fish for tarpon, mackerel, grouper, and more. Be sure to ask about snorkeling possibilities for a combined fishing/snorkeling tour. Trips vary in length and price, with most lasting a full or half day. Expect to pay at least $400-600 USD for a half-day fishing charter.
5. Hike the Gandoca-Manzanillo Wildlife Refuge
Gandoca-Manzanillo Wildlife Refuge spans 45 square kilometers (18 square miles), including a 10-kilometer (8-mile) stretch of beach, mangrove swamps along the Caribbean, and plenty of lush jungle. Turtles, crocodiles, parrots, and caimans all call this place home, so it's an excellent place to spot wildlife. Turtle nesting season is from March to May, which is the best time to see them up close. Admission is free but if you want to hike, it's best to hire a guide because the trails aren't well mapped. Plus, the guides are incredibly skilled at spotting camouflaged wildlife that you might miss. Entrance to the park is by donation, and guides cost between $50-60 USD.
6. Go whitewater rafting on the Rio Pacuare
The Rio Pacuare stretches 108 kilometers (67 miles) and makes for a thrilling whitewater rafting day trip. Here you'll find both Class 3 and 4 rapids, offering plenty of fun as well as some big drops. You'll spend hours paddling down the river between deep valleys and along dense jungle forest. Rios Adventure Travel will pick you up from your accommodations in Puerto Viejos for a full day of paddling on the river, including two meals, for $95 USD per person.
7. Go snorkeling
There are lots of excellent snorkeling locations around Puerto Viejo, including in Cahuita National Park, where you'll find some of the biggest coral reefs in the country. Gandoca-Manzanillo Wildlife Refuge is another option if you want to snorkel closer to the shore. On clear, sunny days, you'll encounter tropical fish, coral, turtles, and more. Snorkeling tours generally are $55-65 USD, which includes all equipment and entrance fees.
8. Take a chocolate workshop
Cacao has been grown in the Puerto Viejo area for over 400 years. You can participate in this tradition by taking a chocolate-making workshop, where you'll learn the entire process behind making chocolate, from cultivating cacao, to roasting, to making the chocolate bars themselves. Talamanca Chocolate, an 8-acre cacao and fruit farm, offers a 3-hour workshop for $34 USD. If you really want to dive in for a longer period of time, they also offer 1-month chocolate-making apprenticeships.

For more information on specific destinations in the country, check out these guides:
Puerto Viejo Travel Costs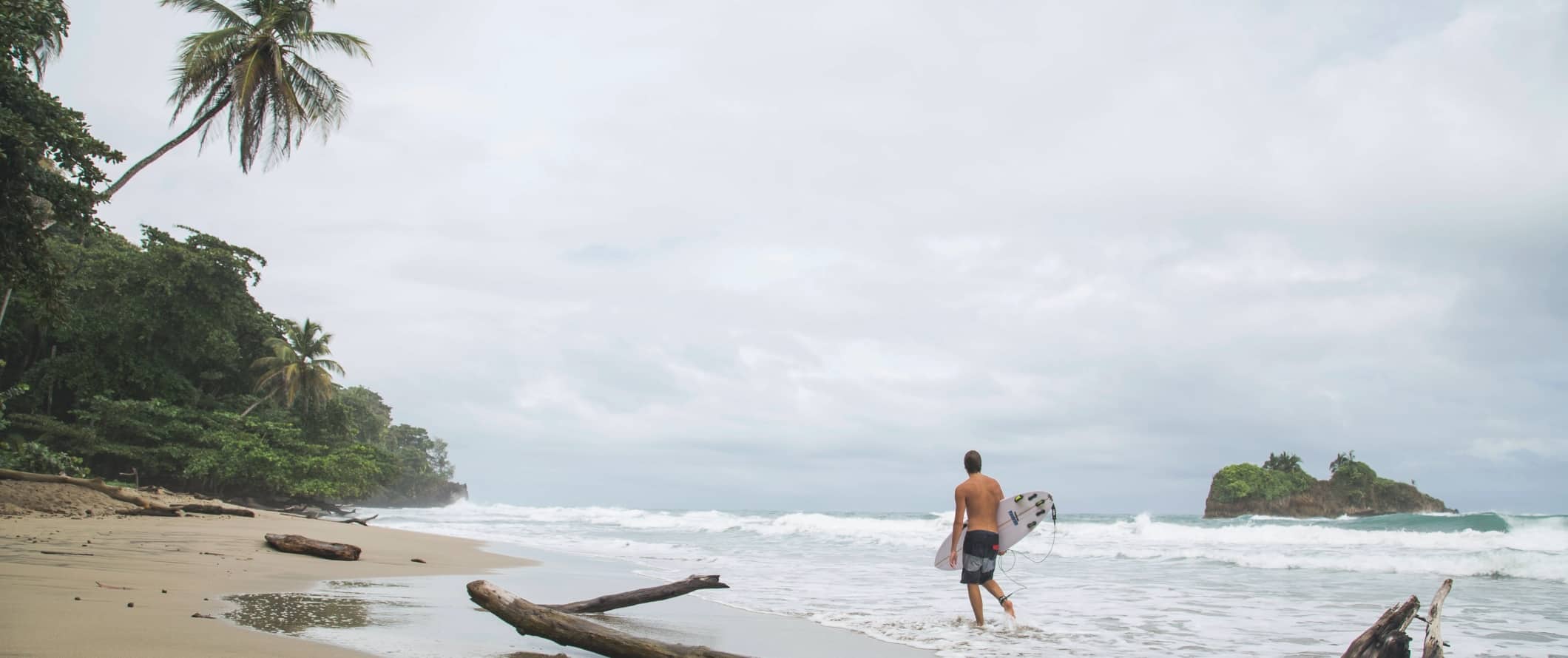 Hostel prices – During peak season, a bed in a dorm with 4-6 beds costs $19-35 USD per night, while a bed in a dorm with 8 or more beds costs $13-17 USD. A basic twin private room for two people with a shared bathroom is $30-40 USD while a private room with an ensuite bathroom costs $45-55 USD per night (and up, for more luxurious options). Expect to pay more if you want a dorm or room with more amenities (like air-conditioning rather than just a fan). Prices drop a bit, though not by much, in the off-season.
Free Wi-Fi is standard and most hostels have self-catering facilities as well as have a bar/restaurant on site. Most do not include breakfast.
Some hostels (like Rocking J's and Oasis) rent out basic tents for around $10-12 USD per person if you're on a tight budget and want to camp.
Budget hotel prices – Nightly rates for a budget two-star hotel with a private bathroom start at $50-65 USD. Most have pools and AC.
Airbnb is also an option here with private rooms and small, basic bungalows costing around $50-60 USD per night while entire homes/apartments start at $110 USD. Expect prices to double if you don't book in advance.
There are a lot of campgrounds in the area where you can pitch a tent for around $10 USD per night. Most have shower facilities and some even have Wi-Fi.
Food – Costa Rican cuisine is centered around rice and beans, which are usually eaten for every meal. Potatoes, plantain, pork, and beef are also popular. Gallo pinto (rice and bean stir-fry) is the national dish. You'll find it mixed with eggs for breakfast. Casado is a typical lunch dish, which consists of rice, beans, veggies, fresh salad, and your choice of meat.
Note: While you can easily pay for tours and entrance fees with USD, in smaller places such as local restaurants, you'll need colones (CRC). Prices in this section are in CRC to reflect this.
If you're on a budget, you can eat cheaply by sticking to sodas (small locally-owned restaurants selling traditional food). You can usually find empanadas for 1,000 CRC or less, while fuller meals like casado (rice, beans, veggies, and meat) cost about 3,500-5,000 CRC, while breakfast plates are around 3,500-4,300 CRC. Basic seafood dishes like seafood soup or a fish filet are 6,500-8,000 CRC.
A sandwich at a sit-down cafe is 4,500-6,000 CRC. At a Chinese takeout place, you can find filling meals like noodles or fried rice for around 5,000 CRC.
The more expensive restaurants are close to the beach. At a mid-range restaurant, a large pizza is 8,000-11,000 CRC, while seafood main courses or a plate of grilled meat costs around 9,000-11,000 CRC. Lobster dishes start at 15,000 CRC. Vegetarian dishes, a burger, pizza, and pasta cost around 6,000-8,500 CRC.
In terms of drinks, a beer is around 1,700-2,200 CRC and a cocktail is 4,500-6,000 CRC. Lattes/cappuccinos cost around 1,700 CRC while bottled water is 925 CRC. Fruit juices and smoothies cost 2,000-3,000 CRC depending on whether you get it made with water or milk.
If you cook for yourself, you'll spend upwards of 25,000 CRC on groceries per week. This gets you basic staples like rice, pasta, bread, veggies, and some meat.
Backpacking Puerto Viejo Suggested Budgets
If you're backpacking Puerto Viejo, expect to spend around $45 USD per day. This budget covers a hostel dorm, public buses, eating street food and cheap eats from cantinas and sodas, and doing mostly free activities like relaxing on the beach.
A mid-range budget of about $110 USD per day covers staying in a private hostel room or Airbnb, eating at sodas and sometimes having meals at restaurants on the beach, drinking a few beers, renting a bicycle, taking the occasional taxi, and doing some paid activities like visiting the Jaguar Rescue Center. You won't be living large on this budget but you won't really want for anything.
On a "luxury" budget of $230 USD or more per day, you can stay in a hotel, eat out anywhere you want, drink as much as you'd like, go diving or snorkeling, and rent a car or take taxis to get around. This is just the ground floor for luxury though. The sky is the limit!
Accommodation
Food
Transportation
Attractions
Average Daily Cost
Mid-Range
50
30
10
20
110
Puerto Viejo Travel Guide: Money Saving Tips
Puerto Viejo has become a more expensive destination in the last few years as tourism here has grown. That said, it's still quite affordable compared to the rest of the country. Here are some ways to save money while you're here:
Camp – There are a lot of campgrounds in the area where you can camp for around $10 USD per night. This is the best way to keep your accommodation costs down.
Avoid the high season – Prices are higher in February-March and September-October (and during holidays) so be sure to travel during the low season to take advantage of lower prices!
Rent a bike – For about $10 USD each day you can rent a bike (multi-day rentals give you even better rates). This is all you need to get around the area and it will save you money taking taxis or buses. Just remember to lock up your bike when you've parked it!
Pack a water bottle – A reusable water bottle with a filter will help you save money and thousands of plastic bottles by purifying the tap water for you. My preferred bottle is LifeStraw.
Where to Stay in Puerto Viejo
Puerto Viejo has a seemingly endless supply of hostels and budget hotels. Here are my suggested places to stay in Puerto Viejo:
How to Get Around Puerto Viejo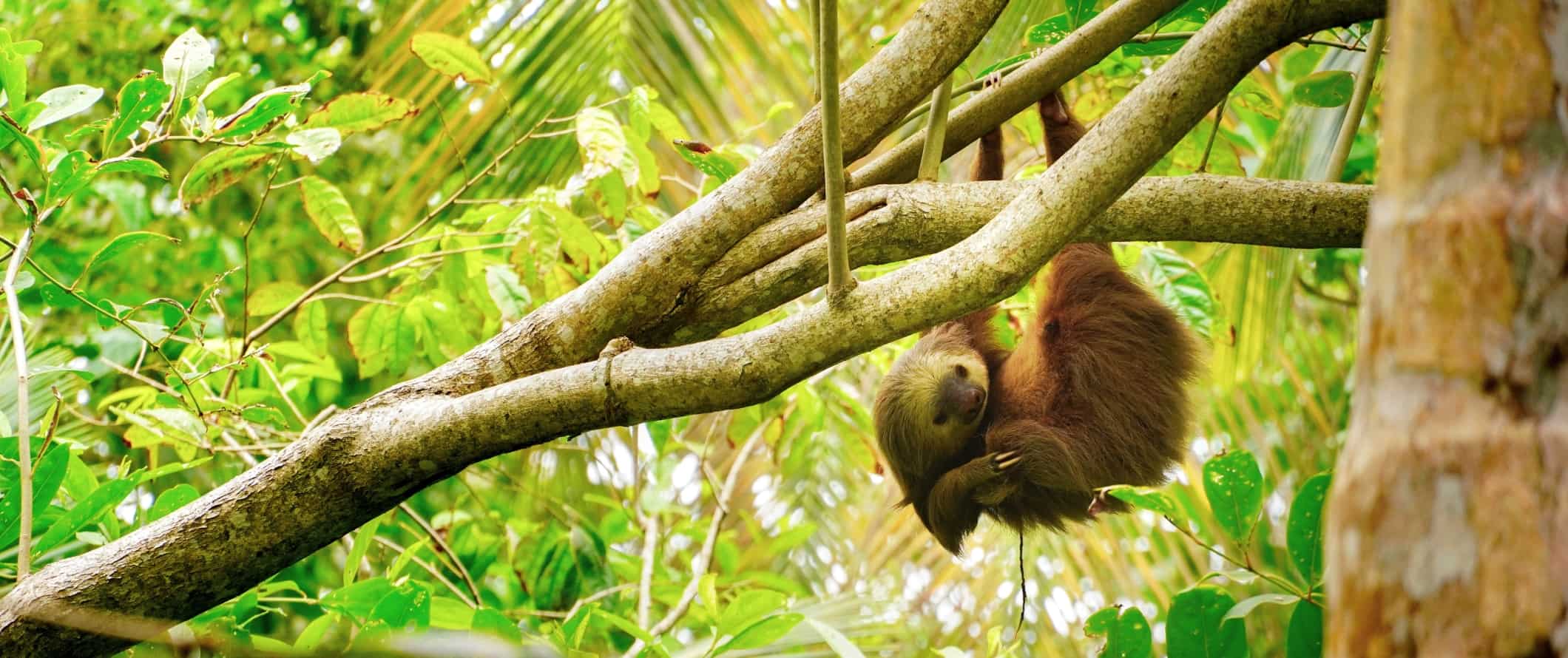 Walking – Puerto Viejo is a small enough town that you can get around entirely by foot.
Bus – You'll need to take a bus if you want to get to places like Cahuita or Manzanillo. Buses depart from town several times a day, with tickets costing between $1-2 USD.
Bicycle – Biking is probably the most common (and fastest) way to get around Puerto Viejo. Lots of accommodations and shops have bike rentals, usually starting at about $10 USD per day (you'll get even better rates on multi-day rentals).
Taxi – Taxis are affordable here and are often the best way to get to beaches and other attractions, especially if you're splitting it with a few people. A taxi from Puerto Viejo to Punta Cocles is around $7-8 USD. be sure to ask your hotel/hostel staff how much you should expect to pay. That way, you won't get ripped off when you negotiate your rate.
Car rental – Car Rental – Car rentals are surprisingly affordable in Costa Rica. You can rent a car for as little as $30-45 USD per day. However, the roads here are not always great and drivers can be aggressive. Make sure you have insurance if you do rent a vehicle.
For the best car rental prices in Costa Rica, use Vamos (as a Nomadic Matt reader, you'll get 5% off by using our link).
When to Go to Puerto Viejo
Puerto Viejo's temperatures are pretty consistent year-round, with daily highs around 30°C (86°F). Even the nights are warm, averaging around 23°C (74°F). The waves are best for surfing between December and March.
This part of Costa Rica is pretty dry, but the rainiest months are from November to January and then April to August. Rainfall is the heaviest in January, so you might want to avoid coming during this time (although prices are slightly cheaper).
February and March are dry months and the most popular for tourists escaping the winter to hit the beaches and surf. September and October are also very dry, with near-constant sunshine, and so many locals from San Jose and elsewhere in Costa Rica tend to visit during this time. If you're visiting in September or October, book your accommodations well in advance (especially for a weekend visit).
How to Stay Safe in Puerto Viejo
Costa Rica is one of the safest countries for traveling and backpacking in Central America. Violent crime is rare, however, exercise caution just to be safe. Keep your eyes on your bags at all times, as petty theft is common. Don't wear flashy jewelry or other valuables in public.
Solo female travelers should generally feel safe here, however, the standard precautions apply (never leave your drink unattended at the bar, never walk home alone intoxicated, etc.).
The town itself is small and there isn't much threat of violence, but don't stay out late after dark alone, especially on the beaches. If you must, stick to the main area where the busy bars and restaurants are. If you're renting a bicycle, be sure to lock it up whenever you're not riding it.
Taxis here are unmarked, and while there are usually set rates to get between destinations, you should negotiate your price with the driver before you get in so you don't get overcharged. You can read about common travel scams to avoid here.
Costa Rica's natural wonders can be unpredictable. If you're hiking in the jungle, be aware of where you're stepping. There are poisonous snakes and spiders out here. When in doubt, hire a guide. If you're not a strong swimmer, stay out of the water. The currents and waves off the coast here are very strong.
For more in-depth coverage of how to stay safe in Costa Rica, check out this post we wrote that answers some frequently asked questions and concerns.
If you need emergency services, dial 911.
And be sure to purchase good travel insurance. Travel insurance will protect you against illness, injury, theft, and cancellations. It's comprehensive protection in case anything goes wrong. I never go on a trip without it as I've had to use it many times in the past.
Puerto Viejo Travel Guide: The Best Booking Resources
These are my favorite companies to use when I travel. They consistently have the best deals, offer world-class customer service and great value, and overall, are better than their competitors. They are the companies I use the most and are always the starting point in my search for travel deals.
Skyscanner – Skyscanner is my favorite flight search engine. They search small websites and budget airlines that larger search sites tend to miss. They are hands down the number one place to start.
Hostelworld – This is the best hostel accommodation site out there with the largest inventory, best search interface, and widest availability.
Booking.com – The best all around booking site that constantly provides the cheapest and lowest rates. They have the widest selection of budget accommodation. In all my tests, they've always had the cheapest rates out of all the booking websites.
Get Your Guide – Get Your Guide is a huge online marketplace for tours and excursions. They have tons of tour options available in cities all around the world, including everything from cooking classes, walking tours, street art lessons, and more!
SafetyWing – Safety Wing offers convenient and affordable plans tailored to digital nomads and long-term travelers. They have cheap monthly plans, great customer service, and an easy-to-use claims process that makes it perfect for those on the road.
LifeStraw – My go-to company for reusable water bottles with built-in filters so you can ensure your drinking water is always clean and safe.
Unbound Merino – They make lightweight, durable, easy-to-clean travel clothing.
Top Travel Credit Cards – Points are the best way to cut down travel expenses. Here's my favorite point earning credit cards so you can get free travel!
Puerto Viejo Travel Guide: Related Articles
Want more info? Check out all the articles I've written on Costa Rica travel and continue planning your trip: