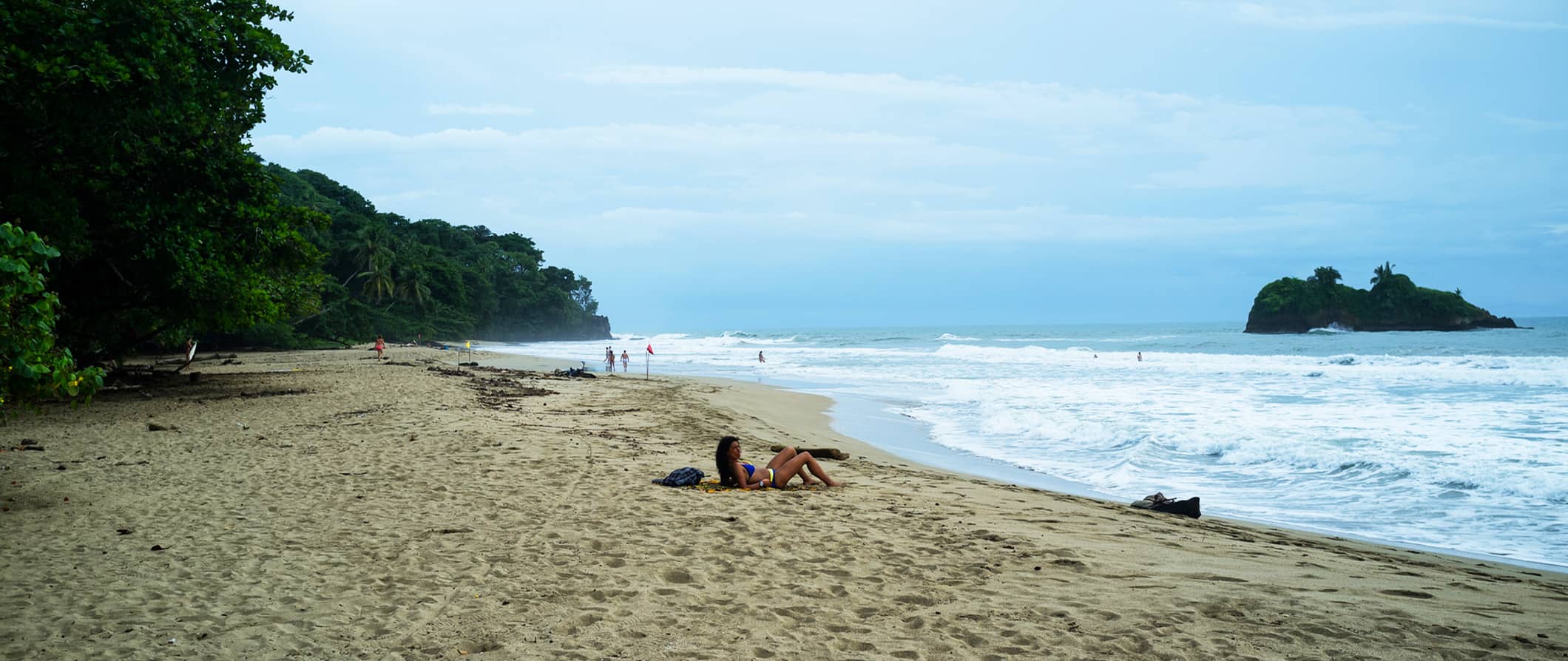 Pretty much everyone these days seems to visit Puerto Viejo while in Costa Rica. While Tortuguero in the north may get all the attention, this part of Costa Rica's Caribbean Coast has exploded in recent years for excellent surfing, tremendous snorkeling and diving, great nightlife, cheap accommodation, and a lot of delicious food options.
It's more crowded these days but the beaches outside the town are still beautiful and serene. Moreover, just a few hours from here is Cahuita National Park, a beautiful park for hiking and monkey spotting. This area is still a cheaper alternative to the more expensive and touristy Pacific side of the country.
This travel guide to Puerto Viejo will give you the low down on everything you need to know to plan your visit.

Puerto Viejo
Top 5 Things to See and Do in Puerto Viejo
1. Explore Cahuita National Park
Cahuita National Park
is about an hour north of Puerto Viejo. This conservation area covers 1067 hectares, including 240 hectare of reef. There are 5 miles (8 kilometers) of hiking trails here through the jungle and along beaches. You might include monkeys, pacas, opposums, and porcupines. It's 2,895 CRC ($5 USD) to visit.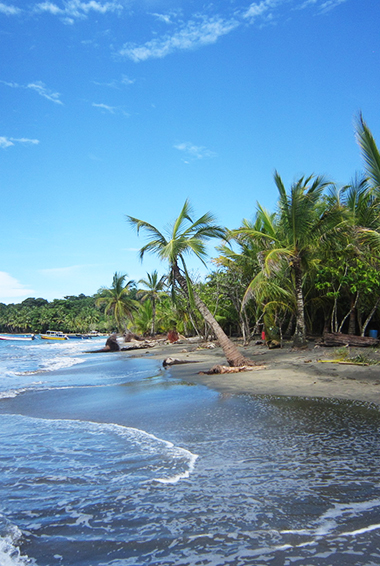 2. Hit the beach
This area is known for its immaculate Caribbean beaches. Playa Cocles, Playa Grande Manzanillo, and Playa Negra are most popular for surfers and watersport lovers. Playa Cocles is the most developed, but there's over a mile (about two kilometers) of sandy beachfront here, so you'll have no trouble finding a place to relax.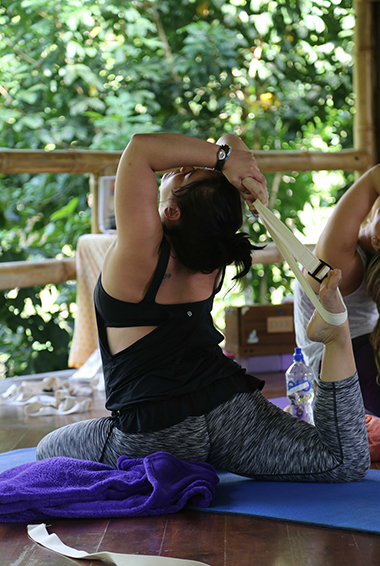 3. Try a yoga class
Many expats have moved to the area in recent years, and have opened up a lot of yoga and healing shops. Puerto Viejo is a great place to take a yoga class. Om Yoga near Playa Cocles has several classes per day at about 6,945 CRC ($12 USD) each. They also have week-long retreats throughout the year.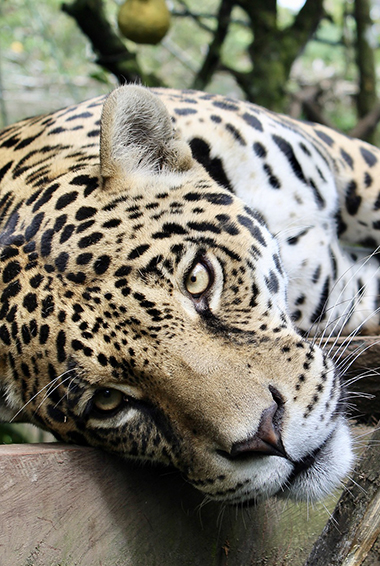 4. Tour the Jaguar Rescue Center
This foundation works at rescuing and rehabilitating animals like jaguars and howler monkeys. The animals are not kept in captivity longer than necessary, so that means you may not always get to see a jaguar, but this center does offer the chance to interact with wildlife. A tour of the rescue center is 11,575 CRC ($20 USD).
5. Vist Finca La Isla
Finca La Isla is an ecologically-friendly farm and botanical garden where you can learn about medicinal herbs and plants, get fresh organic juices and chocolate, and see a variety of exotic plants and animals. Self-guided tours cost 3,470 CRC ($6 USD), while a guided tour costs around 6,945 CRC ($12 USD).
Other Things to See and Do in Puerto Viejo
1. Take a surfing lesson
Puerto Viejo is the most famous surfing area on the Caribbean coast. Though the waves aren't as challenging as they are on the Pacific Coast, it's easier to learn and a lot cheaper here. The Caribbean Surf School has beginner lessons for about 28,930 CRC ($50 USD) for two hours. You can also try stand-up paddling lessons.
2. See the endangered iguanas
Head to Kekoldi Indigenous Reserve (where the Bribi tribe lives) just outside of Puerto Viejo and tour the Green Iguana Project. You can tour the facility and learn all about the endangered Green Iguana and how the native people have started rebuilding their population, from reproduction to raising, until they're released into the wild. While you're here, you'll also get to learn about Bribri culture, including how they use different medicinal plants. It's about 8,025 CRC ($14 USD) to visit.
3. Bike to Manzanillo
For about 5,710 CRC ($10 USD), you can rent a bike for a day and cycle the picturesque 8-mile (13-kilometer) road to Manzanillo and back. The road is relatively flat and (mostly)-paved, and along the way, you can pause at secluded beaches, stop for roadside sugarcane juice, and stop in at the Jaguar Rescue Center. It's a safe and well-worn road, and you're likely to encounter lots of other cyclists and walkers along the way.
4. Go fishing
Costa Rica offers some of the world's best sport-fishing. Whether you're an avid fisher or a newbie, there are plenty of options to hit the high seas to fish for tarpon, mackerel, grouper, and more. Trips vary in length and price, so be sure to ask about snorkeling possibilities for a combined tour. Expect to pay at least 55,000 CRC ($95 USD) per person (exclusive tours will cost more).
5. Hike the Gandoca-Manzanillo Wildlife Refuge
Gandoca-Manzanillo Wildlife Refuge covers a huge territory, including an 8-mile (10-kilometer) beach, one of the few mangrove swamps in the Caribbean, and plenty of jungle. Turtles, crocodiles, parrots, and caimans (and many more) animals call this place home, so it's an excellent place to watch for wildlife. The turtle nesting season here is from March to May. If you want to hike, it's best to hire a guide because the trails aren't well mapped or cleared. Plus, the guides are incredibly skilled at spotting camouflaged wildlife that you might miss! Guides are usually between 2,310-31,760 CRC ($40-55 USD).
6. Go whitewater rafting on the Rio Pacuare
The Rio Pacuare makes for a thrilling whitewater rafting day trip with its Class 3-4 rapids. You'll spend hours paddling down the river between deep valleys and along dense jungle forest. Rios Tropicales will pick you up from your accommodations in Puerto Viejos for a full day of paddling on the river, including a meal. Trips are about 75,065 CRC ($130 USD) per person.
7. Go snorkeling
There are lots of excellent snorkeling places around Puerto Viejo, including in Cahuita National Park, where you'll find some of the biggest coral reefs in the country. In Cahuita, you can hop on a boat tour for about 17,325 CRC ($30 USD) per person. Gandoca-Manzanillo Wildlife Refuge is another option if you want to snorkel closer to the shore. On clear, sunny days, you'll encounter tropical fish, coral, turtles, and more (you'll have to bring your own equipment).
Puerto Viejo Travel Costs
Hostel prices – During peak season, a bed (in any size dorm) will cost about 8,565 CRC ($15 USD) per night. If you want a dorm with more amenities (like air-conditioning), you could pay up to 13,130 CRC ($23 USD) per night. Off-season, prices tend to be about 5,710 CRC ($10 USD) per night for rooms with 8+ beds, while dorms with 4-8 beds cost about 6,850 CRC ($12 USD) per night.
A basic twin private room for two people costs between 17,125-22,835 CRC ($30-40 USD) per night in peak season. In the off-season, prices are about 21,070 CRC ($27 USD) per night.
Some accommodations (like Rocking J's and Oasis) also rent out basic tents costing about 15,415 CRC ($11 USD) per person.
Budget hotel prices – Nightly rates for a budget two-star hotel room with a private ensuite bathroom start at about 37,105 CRC ($65 USD) in peak season. In the off-season, budget rooms start from 31,400 CRC ($55 USD).
Puerto Viejo has lots of Airbnb properties. A shared room (like a bed in a dorm) averages about 12,560 CRC ($22 USD) per night, while a private room is about 25,690 CRC ($45 USD) per night. A full apartment averages about 45,670 CRC ($80 USD) per night.
Average cost of food – You can eat cheaply here if you stick to cantinas and sodas (small locally-owned restaurants selling traditional food). You can usually find tacos or empanadas for 855 CRC ($1.50 USD) each or less, while fuller meals like casado (rice, beans, veggies, and meat) or rice and beans cost about 3,200 CRC ($5.60 USD). A burger is about 2,400 CRC ($4.20 USD). Beer will be about 2,000 CRC ($3.40 USD).
There's not really any high-end dining around Puerto Viejo, but the more expensive restaurants are close to the beach. Seafood main courses will cost about 9,500 CRC ($16 USD), while a plate of grilled meats is about 15,000 CRC ($26 USD). Vegetarian dishes and pizzas are from 5,500 CRC ($10 USD).
If you cook for yourself, you'll spend between 11,415-20,000 CRC ($20-35 USD) on groceries per week, which will get you basics like meat, bread, eggs, cheese, some veggies, and fruit.
Get my best stuff sent straight to you!