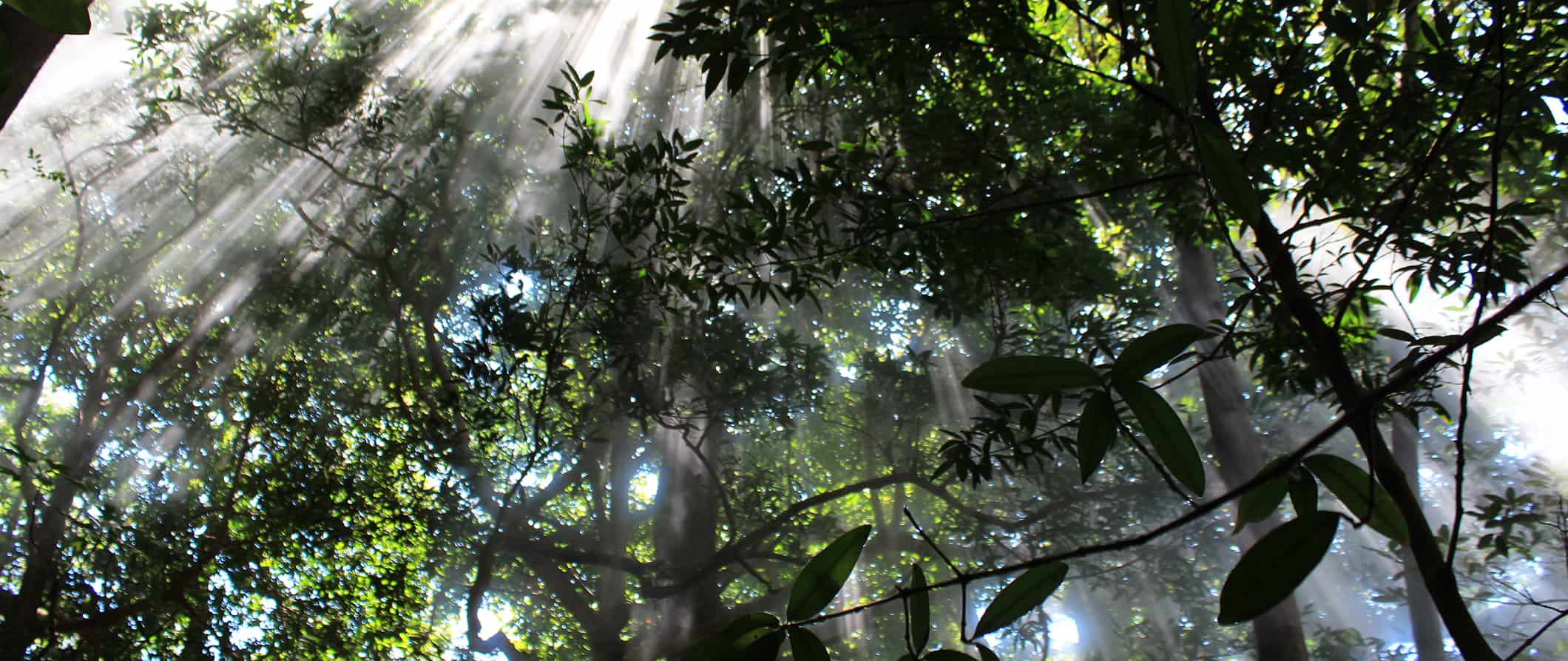 In 1983, a National Geographic article described Monteverde (which means Green Mountain) as the perfect place to see the Resplendent Quetzal, a beautiful (and rare) bird important to Mesoamerican mythology. From that moment on, hordes of eco-tourists descended on this small village in Costa Rica, ready to bask in its birdwatching and stunning cloud forest.
Today, Monteverde is one of the main centers of tourism in the country.
Even though it can get a little crowded, I loved my time there. The cloud forest is beautiful (and, if you avoid the birders, you can find plenty of paths to yourself), there's lots of wildlife, there are some delicious restaurants in the area (local produce is super fresh thanks to the quality of the soil), and there are even some interesting night hikes you can do to spot nocturnal wildlife.
Monteverde is one of my favorite places in Costa Rica. I still dream of the coffee I had there – and I'm not even a coffee drinker!
This travel guide to Monteverde will give you the low down on everything you need to know to plan your visit, stay safe, and save money!
Top 5 Things to See and Do in Monteverde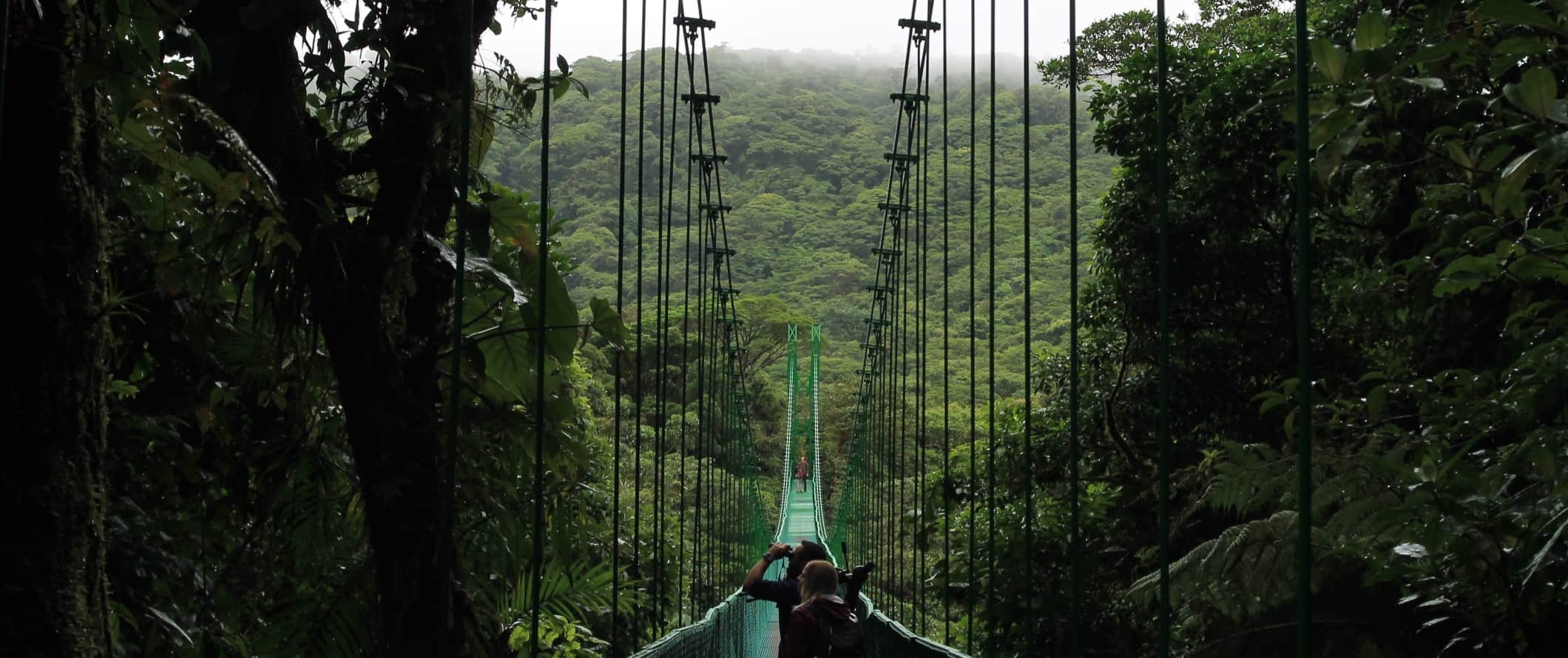 1. Visit the Cloud Forest Reserve
Shrouded in constant mist, the Monteverde Cloud Forest Biological Preserve is Monteverde's most popular attraction. It's home to the world's largest orchid collection, big jungle cats, thousands of species of plants and insects, as well as the famous Resplendant Quetzal. Fun fact: the reserve makes up for 2.5% of the world's biodiversity! You can hike the paths on your own as the trails are pretty easy, well-marked, and well-maintained. One of the most popular trails (Sendero Camino) leads to a viewpoint that overlooks the Continental Divide. If you really want to see wildlife though, it's best to go with a guide who can show you animals and birds in the dense canopy that you otherwise would miss. Admission is $25 USD while tours start at $35 (not including admission). After your visit, be sure to stop in at the free Hummingbird Gallery next to the reserve, where tons of hummingbirds of all colors and sizes buzz all around you (there's also a great cafe, Cafe Colibri, here as well).
2. Go on a coffee tour
Take a tour to learn about every stage of the sustainable coffee farming process, from seed germination to roasting. There are a few different tours here, but the only one dedicated entirely to coffee is the Café Monteverde Farm & Roastery Tour (the others demonstrate sugar and chocolate-making processes in addition to coffee). At the end, you'll get to do a delicious coffee-tasting session of five different coffees! Even if you're not a coffee drinker (I prefer tea myself), it's a tour worth doing. Tours last 2.5 hours, where you'll take a tour around the coffee plantation, seeing the different stages of coffee growing and roasting. You'll also learn how they implement eco-friendly practices and collaborate with the surrounding community through different responsible tourism endeavors. It costs $38 USD (you can also get transportation to and from your accommodation for an extra $5 USD).
3. Take a canopy tour
Costa Rica is a hub for zip lining and adventure sports in the region. Walk across a series of suspension bridges through the treetops or zip line your way around the forest for a birds-eye view of the beautiful landscape. Sky Adventures (the company I went with) offers suspension bridge excursions for $44 USD while zip lining is $85 USD. A package that includes suspension bridges, zip lining, and the Sky Tram is $170 USD.
4. Experience the rainforest by night
A guided night walk offers the chance to spot and learn about some of the countless nocturnal animals that call the forest home, including tarantulas, armadillos, and stick bugs. It's a cool way to see a different side of the jungle as your guide will point out animals, insects, and plants that you might not have noticed otherwise. Faro Travel Costa Rica has night tours of the cloud forest from $38 USD.
5. See the butterfly garden
The Monteverde Butterfly Garden is located between Santa Elena and the Monteverde Cloud Forest Reserve. Consisting of four separate butterfly gardens containing 40 different species, there's also a medicinal plant garden and a leafcutter ant colony here as well. It's both educational and fun. Admission is $18 USD, which includes a guided tour with a butterfly expert.
Other Things to See and Do in Monteverde
1. Go hiking in the Santa Elena Reserve
For a less crowded trek than the Monteverde Cloud Forest, head to the nearby Santa Elena Reserve. It's also a cloud forest, and there are more than 13 kilometers (8 miles) of trails available with varying difficulty. The Santa Elena Reserve offers better views of the Arenal Volcano (especially on the Youth Challenge Trail) and attracts more birds to its sunnier spots. The aptly named Enchanted Trail, which straddles both the Pacific and Caribbean, is a likely spot for spotting three-wattled bellbirds and howler monkeys. Park entry is $16 USD.
2. Watch the sunset from Cerro Plano View Point
At the top of the Tilaran mountain range, you can see both the Pacific Ocean and the Atlantic Ocean from the Cerro Plano View Point. This is one of the best places to see the sun set behind the mountains with the islands in the distance, and with the sky lit up in vivid pinks and oranges. It's free, but you'll have to get there by taxi or car (though parking on the road can be difficult, so walking or a taxi is best).
3. Visit the Bat Jungle
The Bat Jungle in Monteverde offers an informative look at the world and the habits of these nocturnal creatures in a controlled (simulated) rainforest environment. One of the neatest features is a sonar microphone that allows visitors to listen live to the bats as they're using their echolocation. It's a very family-friendly activity if you're traveling with kids, though it's enjoyable no matter what your age. Admission is $12 USD which includes a 45-minute tour with a bat expert.
4. Visit the Orchid Garden
The rainforests of Costa Rica have the highest concentration of orchids in the world. Over 1,400 species grow throughout the country, and 500 of these can be found in Monteverde alone. Started over 30 years ago by a single orchid aficionado, the Monteverde Orchid Garden today houses 450 different species, a good amount of which are in bloom on any given day that you visit. Admission, which includes a guided tour, costs $14 USD.
5. Hike to the Monteverde Waterfall (Catarata Los Murciélagos)
For a quick little jaunt that's within easy walking distance of the main town of Santa Elena yet not nearly as well-traveled as the cloud forest reserves, take a hike to the Monteverde Waterfall. It's just a 15-20 minute walk on well-maintained trails and over some picturesque bridges. At the end, you'll arrive at a tranquil waterfall and swimming hole. Don't forget to keep an eye out for wildlife as you make your way along the trail! Admission is $6 USD, which goes to maintenance of the trails as well as conservation efforts.
6. See sloths up close at the Sloth Sanctuary
Selvatura Adventure Park is one of the main nature and adventure parks in Monteverde. In addition to offering ziplines, suspension bridges, and guided walks of the forest, Selvatura is home to the Sloth Sanctuary. Over 20 rescue sloths (that cannot be reintroduced into the wild for various reasons) live in the sanctuary now, and on a guided tour, you'll learn more about these unique animals that are one of Costa Rica's national symbols. Admission is $39 USD.
For more information on other destinations in the country, check out these guides:
Monteverde Travel Costs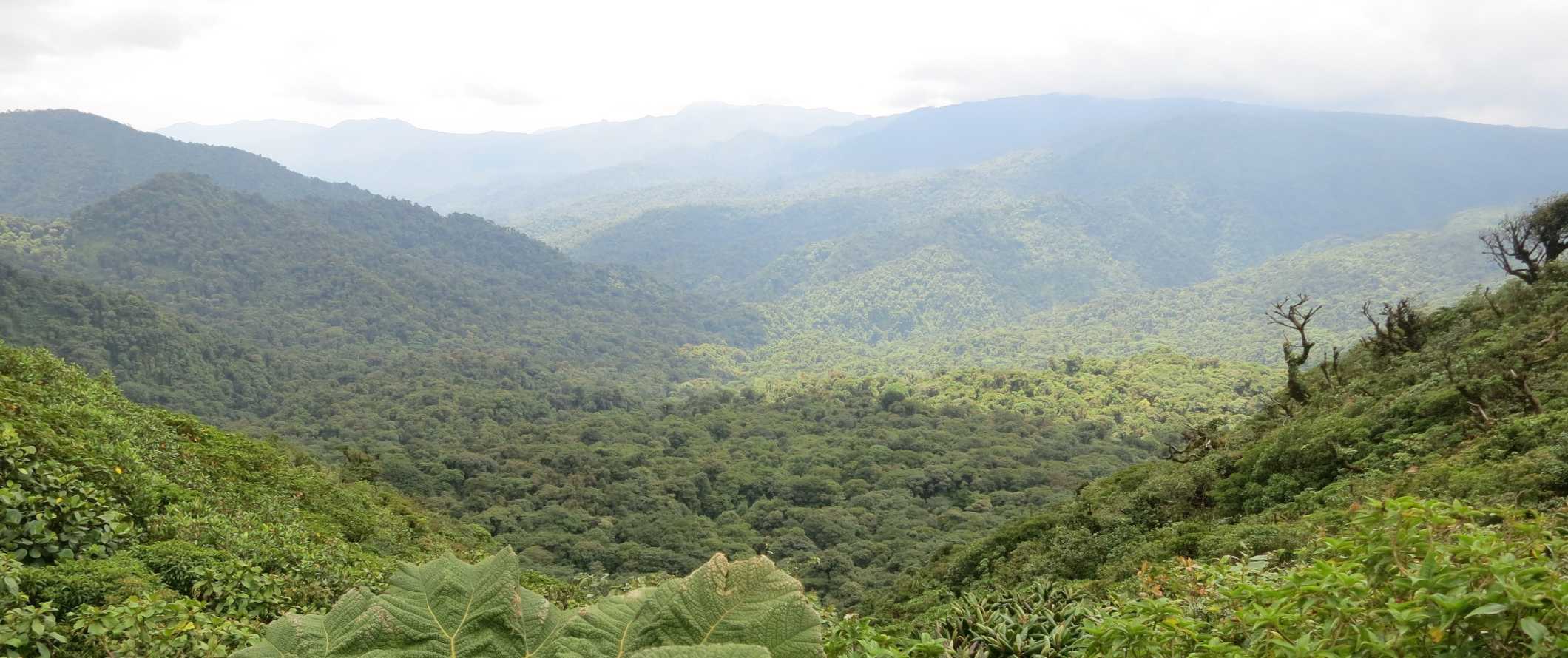 Hostel prices – During peak season, hostels cost $11-16 USD per night for a room in a dorm with 4-8 beds. Off-season, prices tend to be about the same, though you can sometimes find beds as cheap as $9 USD.
Free Wi-Fi is standard and most hostels have self-catering facilities. A few also include free breakfast and have pools. Private rooms cost $28-40 USD per night in both the peak and the off-peak seasons.
You can't camp in the nearby nature reserves; however there are some campgrounds nearby. The main campground is Camping Verde, where it costs $10 USD to pitch a tent for the night.
Budget hotel prices – Budget hotel rooms with a private bathroom start at $45-60 USD in peak season. In the off-season, budget rooms start at $35 USD. Expect your typical amenities, like TV and air-conditioning. Most hotels also have free breakfast and an outdoor pool.
Airbnb is plentiful around Monteverde. Most are entire homes/apartments, with prices starting $75-125 USD per night. There are some private rooms, mostly homestay experiences, with prices starting at $45 USD per night. Expect prices to double if you don't book in advance.
Food – Costa Rican cuisine is centered around rice and beans, which are usually eaten for every meal. Potatoes, plantain, pork, and beef are also popular. Gallo pinto (rice and bean stir-fry) is the national dish. You'll find it mixed with eggs for breakfast. Casado is a typical lunch dish, which consists of rice, beans, veggies, fresh salad, and your choice of meat.
Note: While you can easily pay for tours and entrance fees with USD, in smaller places such as local restaurants, you'll need colones (CRC). Prices in this section are in CRC to reflect this.
The small sodas and other family-owned restaurants sell the cheapest food here, and you'll have no problem finding traditional meals like casado or gallo pinto for around 4,000-5,000 CRC.
Sandwiches and wraps cost around 3,000-4,500 CRC, while fast food burgers are 1,500-2,500 CRC. Light snacks like fried plantain or pastries from local bakeries are around 1,000-2,000 CRC. Fruit smoothies, which you can get made either with water or milk, are 1,600-2,500 CRC.
Mid-range restaurants have appetizers like ceviche starting from 4,500 CRC and pasta dishes and burgers starting from 7,500 CRC, while fish dishes start at 8,000 CRC. A large pizza to share or a steak dish is around 10,000-13,000 CRC.
There aren't many higher-end restaurants in Monteverde, but at these, expect to pay around 13,000-15,000 CRC for a seafood entree or steak. The San Lucas Treetop Dining Experience, undoubtedly the finest-dining establishment in Monteverde, costs 90,000 CRC for a 9-course seasonal menu highlighting food from different regions of Costa Rica.
Coffee is king in Monteverde, costing around 1,800-2,200 CRC for a latte or cappuccino and 1,200-1,500 CRC for a regular black coffee or espresso.
A glass of local beer costs around 1,500-2,000 CRC, a glass of house wine is 2,500-3,500 CRC, and a cocktail is 4,000-5,000 CRC. In restaurants, bottled water is around 1,000-1,500 CRC.
If you cook for yourself, a week's worth of groceries costs between 25,000-28,000 CRC. This gets you basic staples like rice, beans, veggies, and some meat.
Backpacking Monteverde Suggested Budgets
If you're backpacking Monteverde, expect to spend about $50 USD per day. This budget covers a hostel dorm, taking public buses, cooking some meals and eating some street food, limiting your drinking, and doing cheap activities like hiking.
A mid-range budget of $140 USD per day covers staying in a private hostel or Airbnb room, eating out for all of your meals at cheap local sodas, doing some tours (like night tours), visiting the cloud forests, enjoying a couple of drinks out, and taking the occasional taxi to get around.
On a "luxury" budget of about $245 USD or more per day, you can stay in a hotel, do as many guided and private tours as you'd like, eat out anywhere you want, drink more, and take taxis anytime you need to. This is just the ground floor for luxury though. The sky is the limit!
Accommodation
Food
Transportation
Attractions
Average Daily Cost
Backpacker
15
10
10
15
50
Mid-Range
50
30
20
40
140
Monteverde Travel Guide: Money-Saving Tips
Monteverde is very popular among travelers and its prices reflect that fact. It's not the most expensive destination in the country, but it can get pricey during peak season. Here are some suggested ways to save money in Monteverde:
Visit during the shoulder season – To save money on accommodation, visit during the shoulder season. Prices are a little lower and there are fewer crowds.
Avoid tour activities – There are a lot of great (but expensive) group activities and tours in the area. Skip them and do free activities instead (such as hiking). Although you might have to pay park entry fees, it's much cheaper than guided tours.
Eat at the sodas – "Sodas" are small family-run restaurants that specialize in inexpensive local meals. These hole-in-the-wall restaurants offer the best value.
Student discounts – As in most parts of the country, some tourist attractions offer student discounts if you show them a valid student ID. It never hurts to ask so be sure to check if you're a student.
Pack a water bottle – A reusable water bottle with a filter can save money (and thousands of plastic bottles) by purifying the tap water for you. My preferred bottle is LifeStraw.
Where to Stay in Monteverde
Despite being a small place, Monteverde has lots of budget-friendly options for backpackers. Here are some of my suggested places to stay:
How to Get Around Monteverde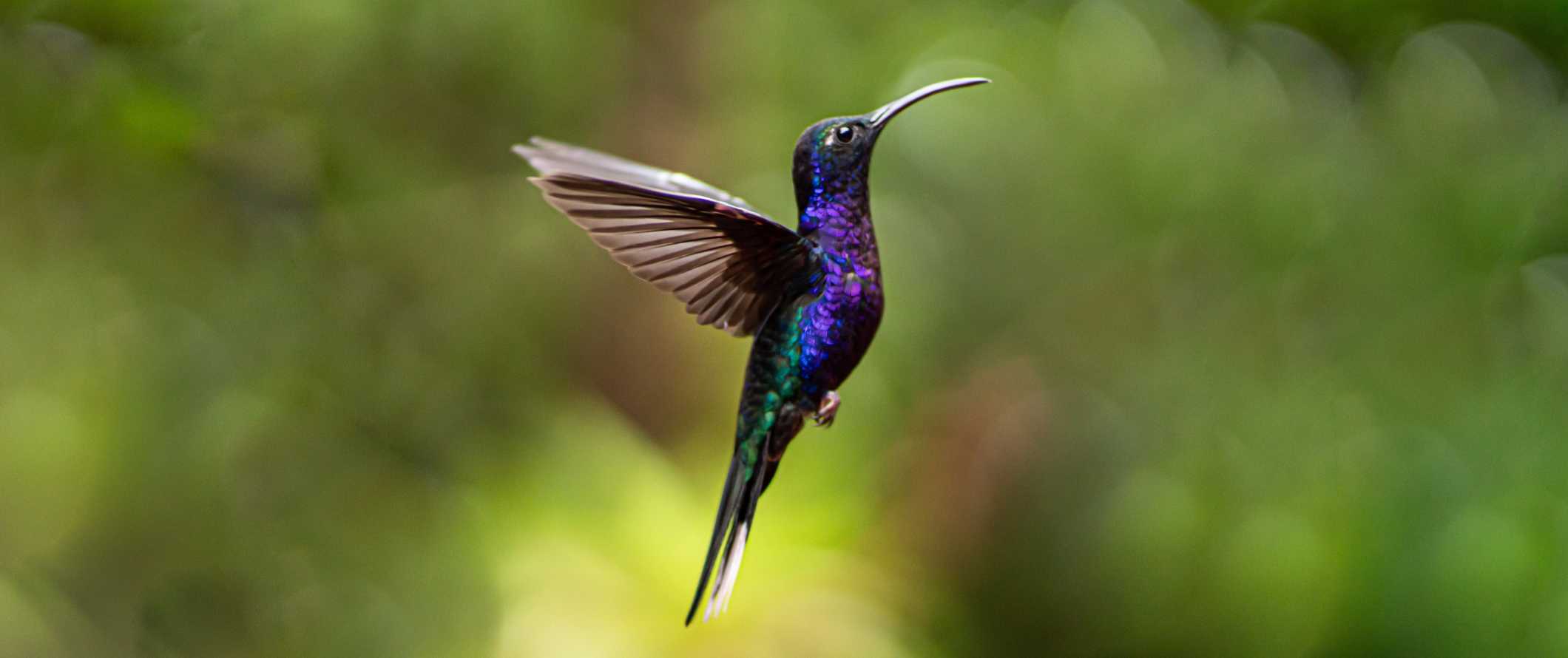 Walking – The main town of Santa Elena (where most hostels and budget hotels are located) is walkable. Some areas don't have sidewalks though, so you'll be walking in the streets. Drivers are very used to this though, and always yield to pedestrians. Traffic doesn't move quickly here anyway as the streets are narrow, windy, and hilly.
Bus – The bus is the most economical way to get around Monteverde. There's one bus that runs between downtown Santa Elena, the Monteverde Cloud Forest, and Curi-Cancha Reserve several times a day for $2 USD each way. You can get picked up anywhere in downtown Santa Elena.
There's also a public shuttle bus that can pick you up at your accommodations and take you the Santa Elena Reserve for $6 USD round-trip. Just ask your hotel/hostel to call them to reserve your pick-up.
Bicycle – The roads can be quite dangerous around Monteverde so I don't recommend renting a bicycle here (there's only one place that rents mountain bikes anyway).
Taxi – You can get taxis anywhere in Santa Elena and Monteverde. The prices are set, and you'll be able to see the list of prices when you're in the taxi. From Santa Elena to the Monteverde Cloud Forest, it's $10 USD while downtown Santa Elena to the Santa Elena Cloud Forest is about $20 USD.
Shuttles – Most tours and activities in Monteverde offer shuttles with round-trip transportation from your accommodation. Usually this is included in the price of your tour, though sometimes it's an additional small fee of $5 USD round-trip.
Car rental – Car rentals are surprisingly affordable in Costa Rica. You can rent a car for as little $30-45 USD per day. However, the roads here are not always great and drivers can be aggressive. Make sure you have insurance if you do rent a vehicle.
For the best car rental prices in Costa Rica, use Vamos (as a Nomadic Matt reader, you'll get 5% off by using our link).
When to Go to Monteverde
Because most of the area is covered in cloud forest, the weather isn't great year-round. Expect the daily temperature to be around 22°C (72°F), with daily highs around 28°C (82°F), though at night it can get down to 15°C (60°F). Winds and cloud cover make the temperatures feel even cooler, so be sure to bring layers.
Expect rain from May to October, though especially in the last two months of the rainy season. Be prepared for downpours all night followed by sunny mornings.
The "dry" season starts mid-December and lasts until the beginning of May. The peak months are between December and March. It does still rain (lightly) during this time, however, so bring a rain jacket with you.
The shoulder season (November and April) usually offers lower prices and decent weather, so consider visiting then if you're on a tight budget.
If you're visiting Monteverde specifically to see the Resplendent Quetzals, visit in March, which is their breeding season.
How to Stay Safe in Monteverde
Costa Rica is one of the safest countries for traveling and backpacking in Central America. Violent crime is rare, however, travelers should still exercise caution. Petty theft (including bag snatching) is one of the most common types of crime here.
Monteverde is pretty small but you should still be careful at night. Leave your passport and valuables at your accommodation when you go out and only take as much money as you need.
Solo female travelers should generally feel safe here, however, the standard precautions apply (never leave your drink unattended at the bar, never walk home alone intoxicated, etc.).
If you plan on hiking, stick to the designated trails or hire a guide. It's way too easy to get lost in the jungle (plus you don't want to disturb the delicate habitat).
Although taxis technically have set charges, clarify the price with the driver before your journey begins. This gives them little opportunity to overcharge you. When in doubt, ask your hostel/hotel staff the approximate rate before you leave so you don't get ripped off.
If you experience an emergency, dial 911 for assistance.
For more in-depth coverage of how to stay safe in Costa Rica, check out this post we wrote that answers some frequently asked questions and concerns.
And be sure to purchase good travel insurance. Travel insurance will protect you against unexpected cost associated with illness, injury, theft, and cancellations. It's comprehensive protection in case anything goes wrong. I never go on a trip without it as I've had to use it many times in the past.
Monteverde Travel Guide: The Best Booking Resources
These are my favorite companies to use when I travel. They consistently have the best deals, offer world-class customer service and great value, and overall, are better than their competitors. They are the companies I use the most and are always the starting point in my search for travel deals.
Skyscanner – Skyscanner is my favorite flight search engine. They search small websites and budget airlines that larger search sites tend to miss. They are hands down the number one place to start.
Hostelworld – This is the best hostel accommodation site out there with the largest inventory, best search interface, and widest availability.
Booking.com – The best all around booking site that constantly provides the cheapest and lowest rates. They have the widest selection of budget accommodation. In all my tests, they've always had the cheapest rates out of all the booking websites.
Get Your Guide – Get Your Guide is a huge online marketplace for tours and excursions. They have tons of tour options available in cities all around the world, including everything from cooking classes, walking tours, street art lessons, and more!
SafetyWing – Safety Wing offers convenient and affordable plans tailored to digital nomads and long-term travelers. They have cheap monthly plans, great customer service, and an easy-to-use claims process that makes it perfect for those on the road.
LifeStraw – My go-to company for reusable water bottles with built-in filters so you can ensure your drinking water is always clean and safe.
Unbound Merino – They make lightweight, durable, easy-to-clean travel clothing.
Monteverde Travel Guide: Related Articles
Want more info? Check out all the articles I've written on Costa Rica travel and continue planning your trip: