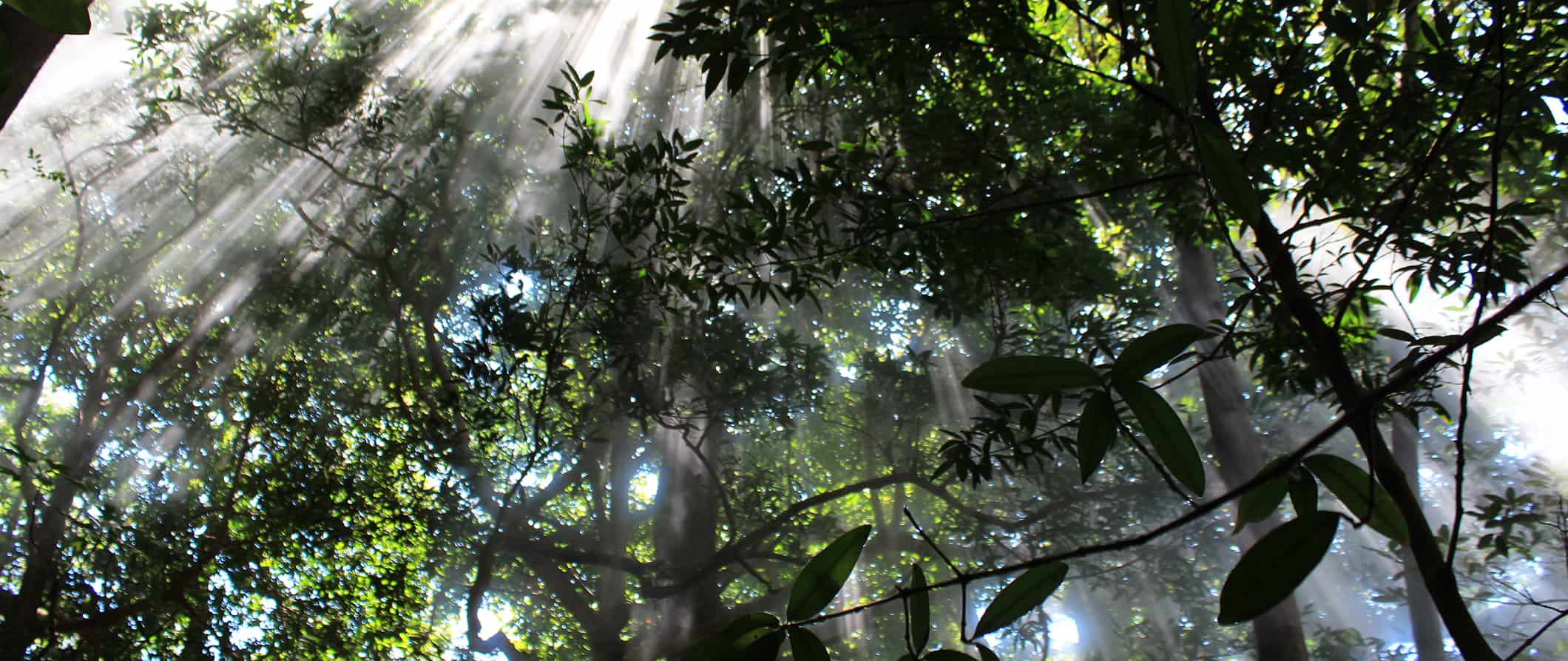 In 1983, a National Geographic article described Monteverde (which means Green Mountain) as the perfect place to see the Resplendent Quetzal, a beautiful and rare bird of paradise. From that moment on, hordes of eco-tourists descended on this small village in Costa Rica, ready to take in its birdwatching attractions and famous Cloud Forest. Now, this town is one of the mains centers of tourism in the country. While the crowds are a disadvantage, there is nothing else like the cloud forest in the country, there's a lot of wild life, delicious restaurants in the area (local produce is super fresh thanks to the quality of the soil), a famous zip line, and some interesting evening hikes by flashlight. Monteverde is one of my favorite places in Costa Rica. I always found this town a nice base to visit the surrounding rainforest. And I still dream of the coffee I had here – it was like drinking liquid chocolate. Mmmmm.
Top 5 Things to See and Do in Monteverde
1. The Cloud Forest Reserve
The cloud forest is Monteverde's most popular tourist attraction. The area is home to the world's largest orchid collection, big jungle cats, thousands of species of plants and insects, as well as the famous Quetzal. Admission is 11,000 CRC, with discounts available for students.
2. Wildlife watching
This town is a birdwatcher's paradise. Although there are over 400 species in the area, most tourists crave a sighting of the Resplendent Quetzal. The forest's dense and humid conditions make it difficult to spot small mammals, but outside of the forest, you're likely to see (or hear!) howler monkeys, sloths, and squirrels.
3. Canopy tours
One of the most popular ways to see the forest is to walk across a series of suspension bridges through the canopy or zip line around. While there are a few operators doing the same thing now, the most famous company is SkyTrek (I went with them). Prices vary but expect to pay around 49,000 CRC per person.
4. Experience the rain forest by night
A night walk in the rain forest gives you the chance to spot some of the countless nocturnal animals (everything from tarantulas to coatis to stick bugs) that call forest floor home. Most guides will provide flashlights, but you may want to bring your own to increase the quality of your photo opportunities.
5. Butterfly garden
Situated between Santa Elena and the Cloud Forest is the Monteverde Butterfly Garden. Consisting of four separate butterfly gardens, a medicinal plant garden, and a leaf cutter ant colony, there's quite a lot to see. Admission is 8,300 CRC for adults, with discounts available for students and children.
Other Things to See and Do
(Click the title to expand the text)
1. Monteverde Music Festival
This festival is held in January and February each year. For around 5,500 CRC, you'll get to experience classical, jazz and Latin music at the Bromelias Music Garden and Monteverde Institute. All proceeds go towards teaching music and arts in local schools.
2. Go hiking
The Cloud Forest is obviously a great place to go hiking, but for a less crowded trek, head to the nearby Santa Elena Reserve. There are more than 8 miles of trails available with varying difficulty. The Santa Elena Reserve offers better views of the Arenal Volcano and attracts more birds to its sunnier spots. I suggest hiking both reserves to get the most out of the region.
3. Coffee & sugar tours
There are several tour options for those looking for a glimpse into the practices and processes of harvesting coffee and sugar cane in the region, with the El Trapiche tour being amongst the best. You'll get a ride in an ox-drawn cart, and depending on the season, you may even get to pick a bushel of raw coffee beans. The coffee in this region is like chocolate. It's delicious! I hate coffee and this made me a convert. Tours cost around 16,000 CRC and last a few hours.
4. Monteverde Serpentarium
Home to over 40 species (including venomous and non-venomous snakes, poisonous frogs, toads, lizards, and turtles), this is the place to go if you're captivated by cold-blooded creatures. Located in the Cloud Forest, the Serpentarium is a nice little addition to a day's zipping or skywalking. Entrance is 6,600 CRC per person and includes a guided tour. Self-guided entrance is only 4,900 CRC, with discounts available for students.
5. Visit the bat jungle
The Bat Jungle in Monteverde offers an informative look at world and habits of these nocturnal creatures in a controlled rainforest environment. One of the neatest features is a sonar microphone that allows visitors to listen live to the bats using echolocation. Admission is 6,000 CRC for adults and 4,900 CRC for students.
6. Swim at San Luis Waterfall
This is a three-hour hike through the rainforest to get to the 330 ft. waterfall, but you can also arrange a horseback ride to the falls. You're welcome to swim upon arrival, but be warned — the water is chilly!
Typical Costs
Hostel prices
– Prices start at around 5,700 CRC per night for a dorm bed and 15,000 CRC for a single room including a bathroom. Free WiFi is standard, and most hostels also offer free breakfast. About half of the hostels offer self-catering facilities for those interested in cooking their own food. Camping is also available in the area, though it's prohibited to camp in the reserve. Expect to pay around 2,700 CRC for a basic plot. You can book your hostel with
Hostelworld
.
Budget hotel prices – Hotel prices start at 16,000 CRC per night for a twin room, including breakfast. Most hotels will be over 20,000 CRC per night, however. Use Booking.com as they consistently return the cheapest rates. Airbnb is available in the area, though there are very few options available for shared accommodation. What shared accommodation there is begins at 8,000 CRC per night, while a private room will cost around 18,000 CRC per night and an entire home/apartment around 29,000 CRC.
Average cost of food – Food in a "soda" restaurant (ie mom and pop joints) typically cost about 1,600 CRC for a local dish. Main courses in most budget restaurants, especially in the main town, cost around 5,000 CRC. The popular tourist restaurants cost around 10,000 CRC per meal (with a drink), so avoid them if you want to stay on a budget. If you plan on cooking for yourself, a week's worth of groceries will cost around 15,000-20,000 CRC. This includes basic staples like pasta, rice, vegetables, and some meat.
Transportation costs – Traveling by bus from San José will cost 3,300 CRC if you take the regional bus. The nicer charter buses will charge you around 27,000 CRC each way. If you are coming from (or going to) La Fortuna, buses cost around 1,500 CRC. Local buses cost 1,100 CRC to the Cloud Forest from Santa Elena. A taxi from Santa Elena to the Cloud Forest Reserve will typically cost 4,800 CRC. Car rentals are available in the area, though the roads outside of Santa Elena are unpaved so make sure you get a 4WD vehicle with a spare tire — chances are you may need it!
Suggested daily budget
22,150-24,900 CRC / 40-45 USD (Note: This is a suggested budget assuming you're staying in a hostel, eating out a little, cooking most of your meals, and using local transportation. Using the budget tips below, you can always lower this number. However, if you stay in fancier accommodation or eat out more often, expect this to be higher!)
Money Saving Tips
Student discounts – As in most parts of the country, tourist attractions offer student discounts if you show them a valid student ID when paying.
Camp out – You can save on accommodation by pitching a tent at La Colina lodge for around 2,700 CRC per night.
Take a public bus – Public buses from San José cost just under 3,000 CRC. This offers a great saving on the cost of private shuttle buses which costs 27,000 CRC so avoid that and save lots of money!
Avoid the high season – Prices will be much higher during the summer months (and also during holidays) so travel during the off-season to avoid the highest prices.
My Must Have Guides For Travel to Costa Rica