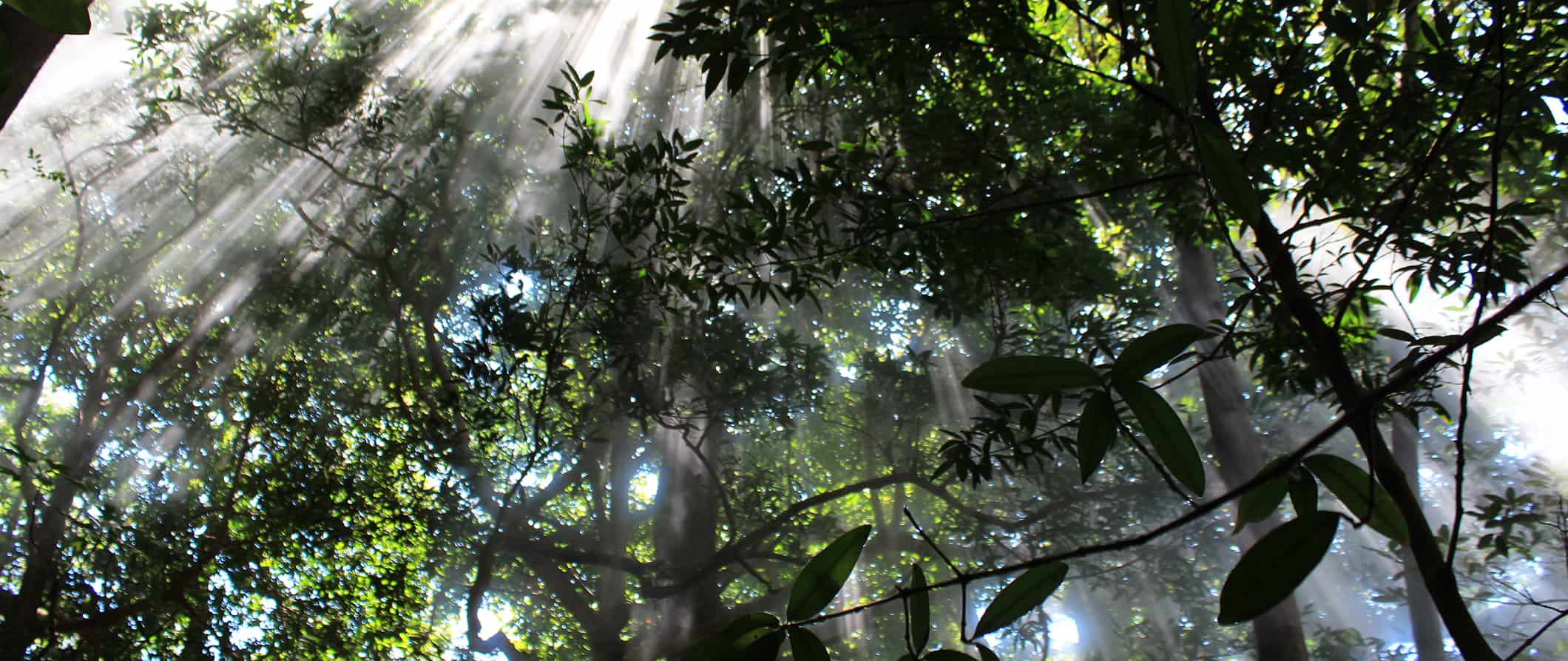 In 1983, a National Geographic article described Monteverde (which means Green Mountain) as the perfect place to see the Resplendent Quetzal, a beautiful (and rare) bird important to Mesoamerican mythology. From that moment on, hordes of eco-tourists descended on this small village in Costa Rica, ready to bask in its birdwatching and stunning cloud forest.
Today, Monteverde is one of the mains centers of tourism in the country.
Even though it can get a little crowded, I loved my time there. The cloud forest is beautiful (and, if you avoid the birders, you can find plenty of paths to yourself), there's lots of wildlife, there are some delicious restaurants in the area (local produce is super fresh thanks to the quality of the soil), and there are even some interesting night hikes you can do to spot nocturnal wildlife.
Monteverde is one of my favorite places in Costa Rica. I still dream of the coffee I had there – and I'm not even a coffee drinker!
This travel guide to Monteverde will give you the low down on everything you need to know to plan your visit and save money on your trip.
Top 5 Things to See and Do in Monteverde
1. Visit the Cloud Forest Reserve
Shrouded in constant mist, this cloud forest is Monteverde's most popular attraction. It's home to the world's largest orchid collection, big jungle cats, thousands of species of plants and insects, as well as the famous Quetzal. Fun fact: the reserve makes up for 2.5% of the world's biodiversity! Admission is 15,400 CRC.
2. Go on a coffee tour
Take a tour and learn about every stage of their sustainable farming process, from seed germination to roasting. At the end, you'll visit the Monteverde Coffee Lab and Roastery for a delicious coffee tasting session! Even if you're not a coffee drinker, it's a tour worth doing. Tours last 2.5 hours and cost 21,600 CRC.
3. Take a canopy tour
Walk across a series of suspension bridges through the treetops or zip line your way around the forest. SkyTrek (the company I went with) offers suspension bridge excursions for 25,200 CRC while zip lining is 52,400 CRC.
4. Experience the rain forest by night
A night walk offers the chance to spot some of the countless nocturnal animals that call the forest floor home, including tarantulas, armadillos, and stick bugs. It's a cool way to see a different side of the jungle. Night Walks Santamaria has tours from 18,500 CRC.
5. See the butterfly garden
The Monteverde Butterfly Garden is located between Santa Elena and the Cloud Forest Reserve. Consisting of four separate butterfly gardens containing 40 different species, there's also a medicinal plant garden and a leafcutter ant colony here as well. Admission is 9,600 CRC.
Other Things to See and Do in Monteverde
1. Go hiking in the Santa Elena Reserve
For a less crowded trek, head to the nearby Santa Elena Reserve. It's also a cloud forest, and there are more than eight miles (13km) of trails available with varying difficulty. The Santa Elena Reserve offers better views of the Arenal Volcano (especially on the Youth Challenge Trail) and attracts more birds to its sunnier spots. The aptly named Enchanted Trail, which straddles both the Pacific and Caribbean, is a likely spot for spotting three-wattled bellbirds and howler monkeys. Park entry is 9,900 CRC.
2. Visit the Herpetarium
Located downtown, this natural museum is home to over 30 different species of reptiles and amphibians, including venomous and non-venomous snakes, poisonous frogs, toads, lizards, and turtles. There are all kinds of simulated environments here where you can get up close and personal with the wildlife — wildlife you likely wouldn't want to encounter in the wild! It's super informative. Admission is 7,400 CRC and includes a guided tour. Self-guided entrance is only 5,550 CRC.
3. Swim at San Luis Waterfall
To get to this epic 330-foot waterfall, you'll have to hike three hours through a section of the rainforest around Santa Elena. The trail can be muddy and slippery, so make sure you have good hiking or walking shoes. The waterfall at the end is a vivid blue, and the pool at the bottom is perfect for a swim (even though the water can be cold). You'll have to pay the Santa Elena Reserve fee to get there (9,900 CRC).
4. Watch the sunset from Cerro Plano View Point
At the top of the Tilaran mountain range, you can see both the Pacific Ocean and the Atlantic Ocean from the Cerro Plano View Point. This is one of the best places to see the sun set behind the mountains with the islands in the distance, and with the sky lit up in vivid pinks and oranges. It's free, but you'll have to get there by car or taxi.
5. Visit the Bat Jungle
The Bat Jungle in Monteverde offers an informative look at the world and the habits of these nocturnal creatures in a controlled (simulated) rainforest environment. One of the neatest features is a sonar microphone that allows visitors to listen live to the bats as they're using their echolocation. Admission is 8,000 CRC.
For more information on other destinations in the country, check out these guides:
Get my best stuff sent straight to you!