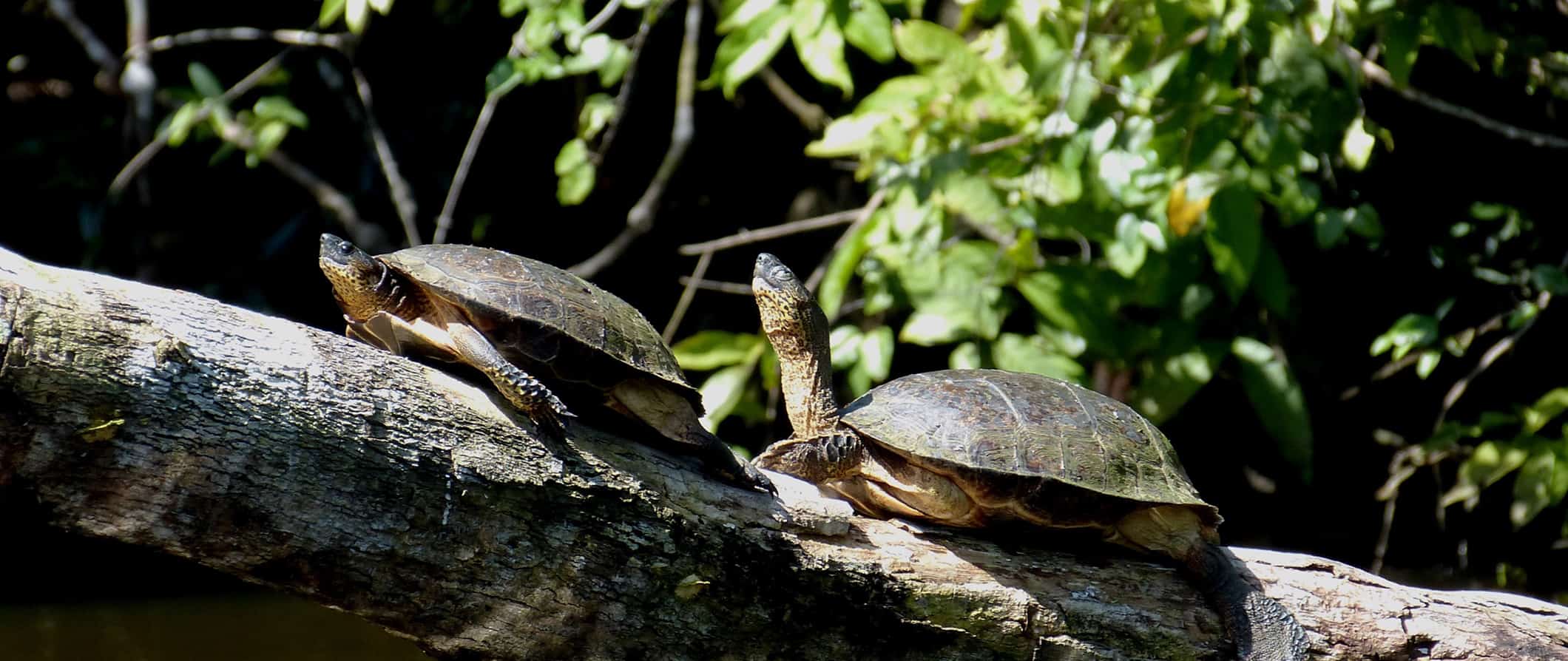 Tortuguero, which means "region of turtles" in Spanish, is one of the country's most important nesting sites for the Leatherback, Loggerhead, and Hawksbill sea turtles. Taking a tour of the beaches offers visitors the chance to see baby turtles scrambling toward the shore for the first time.
Surrounded by jungle, Tortuguero feels like a place far from civilization. It's the perfect spot to relax, disconnect, and commune with nature. While it's still in the top 5 of most visited national parks in Costa Rica, much fewer visitors come here as it's so remote. The tiny village of Tortuguero is centered around the tourists who do come here, yet it's a much more laidback, nature-focused crowd than you'll find on the more popular beach towns on the Pacific Coast (there are no late nights drinking here as everyone gets up early to spot wildlife)!
I highly recommend visiting Tortuguero when you are in Costa Rica. The national park, which spans over 300 square kilometers (115 square miles), is home to a lush Amazon-like rainforest with over 800 species of wildlife, including tapirs, ocelots, jaguars, coatis, manatees, and more!
This travel guide to Tortuguero will help you plan your trip, save money, and make the most of your time in this lush paradise!
Top 5 Things to See and Do in Tortuguero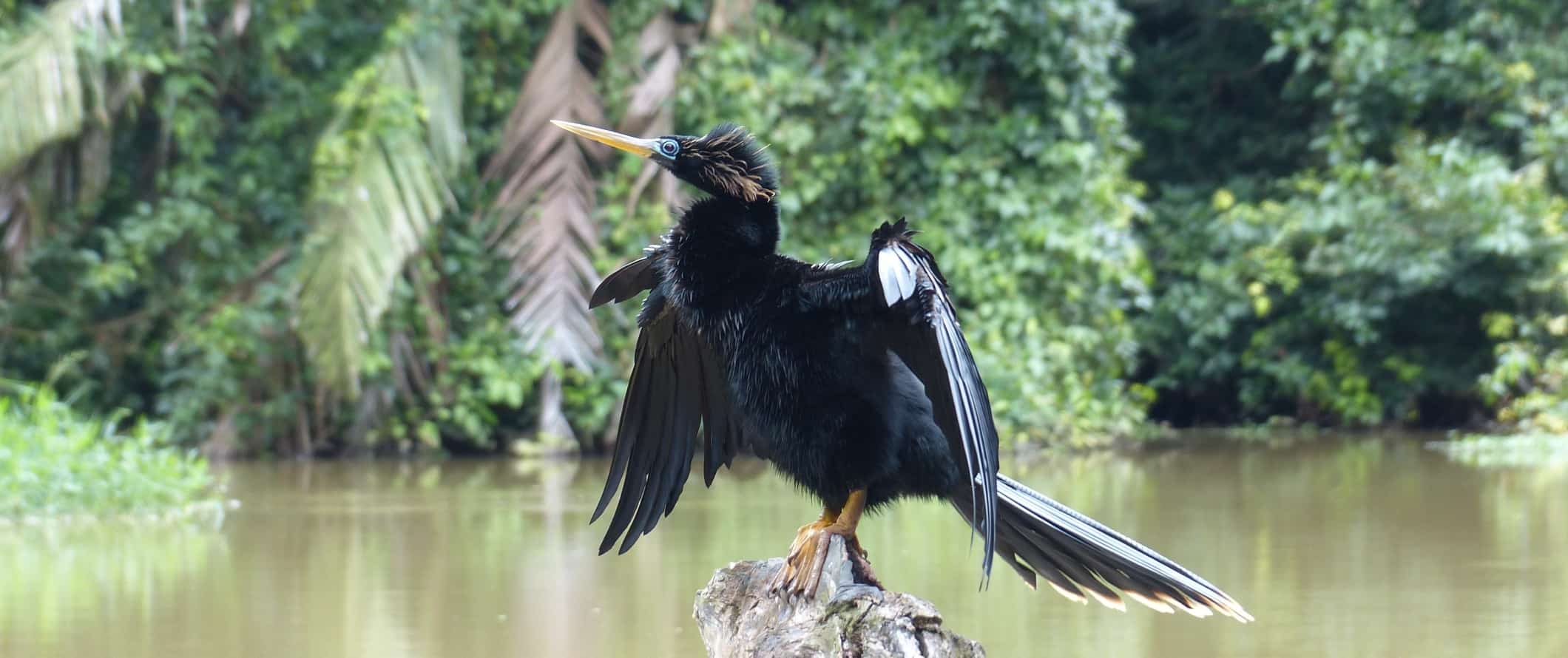 1. Visit Tortuguero National Park
Established in 1975, this national park is a significant turtle nesting site and one of the most important in the world for endangered green turtles. There is also a ton of other wildlife here, including jaguars, ocelots, toucans, eagles, monkeys, and more! There are a couple of trails you can hike but boat tours are pretty much the only way to get around. Admission is $15 USD. Boat tours are $30-45 USD.
2. Go canoeing or kayaking
If you are keen to explore the waterways at your own leisurely pace, consider setting off in a canoe or kayaks. This way you'll be able to explore some of the harder-to-reach areas and allows you to get away from the crowds of motorboats. There are several places in town to rent your own, which usually costs about $20 USD per day (a two-hour tour with a guide costs around $30-40 USD).
3. Chill on the beach
This is Costa Rica after all, so be sure to spend some time relaxing by the ocean. Tortuguero Beach is where most people hang out. It's considered one of the most stunning beaches in the country. You can't swim here, however, as there have been lots of shark attacks and the currents are very strong, but it's great for relaxing with a picnic and a book.
4. Go on a bird-watching tour
There are over 300 bird species in Tortuguero. Keep an eye out for green ibises, great potoos, scarlet macaws, green macaws, and kingfishers. It's hard to spot these birds on your own though (especially if you're not a birder and don't know what you're looking for), and it's really best to go with a local guide that can point out different species and explain more about them. Guided tours start from $65 USD.
5. Do a turtle tour
Green turtles are the most common species here, but you might also see Leatherbacks, Hawksbill, and Loggerhead turtles. During nesting season (July-October), Tortuguero is busy with turtle-watching tourists so be sure to book in advance. This is definitely the highlight of the region and should not be missed! Turtle tours take place at night and are around $35-45 USD.
Other Things to See and Do in Tortuguero
1. Visit Turtle Hill
Tortuguero Cerro (it's actually a small, inactive volcano) is the highest point on the Caribbean side of Costa Rica. The hike up to the summit of the hill is steep but on paved pathways, so it's not too strenuous. As you make your way through the jungle, look out for howler monkeys and blue jeans poison dart frogs, both of which are common here. There are several hundred steps to climb to reach the top, where you'll be rewarded with a panorama view of the landscape. You can get to the base of Tortuguero Cerro to start your hike by taking a 10-minute boat ride from the village. The entrance to the park here costs $2 USD.
2. Broaden your turtle knowledge
Though it may be small, the Sea Turtle Conservancy (formerly Caribbean Conservation Corporation's Visitors' Center and Museum) in Tortuguero village is filled with information on turtles, as well as on flora and fauna in the area. It's small but super informative and a good place to start learning about the region's wildlife. Admission is $2.50 USD. They also provide eight-day volunteer stays where you can work directly with the turtles for $1,890 USD (this includes food, lodging, volunteer training, and local tours).
3. Take a short hike
The two-mile Gavilan Trail lets you get up close to the nearby jungle. The trail isn't too challenging, however, make sure to rent rubber boots at the entrance to the trail because it tends to get muddy. If you want a guided hike deeper into the jungle, you'll pay about $75-95 USD for a full day.
4. Take a night tour
Night tours offer the best chance of catching a glimpse of the many nocturnal creatures that inhabit the area. You'll meander down trails while the tour guide shines a spotlight to illuminate crocodiles, frogs, caimans, crabs, bats, and more. It's a unique way to explore the jungle and get a new perspective on the wildlife that calls it home. Expect to pay around $35-40 USD.
5. Go fishing
All the canals here offer plenty of fishing opportunities. The lodges, as well as some independent operators in town, can even cook what you catch for dinner. Common fish here include tarpon, snook, red snapper, rainbow bass, and barracuda. Tortuguero Adventures can quote you a rate based on your budget (you can go fishing in a canoe, kayak, or go out in a larger motorboat, depending on how much you want to spend).
6. Take a canopy tour
After exploring the waterways, consider getting an aerial view of the rainforest by taking a canopy tour. The zip lines and suspended bridges allow you to get up close and personal with the vegetation and wildlife at the top of the rainforest.Plus, it's super fun! While the Tortuguero area is not as well known for zip lining as places like Monteverde and Arenal, it's a great place to try it if you want to zip line at a reduced cost (it's half the price here than these more popular spots). There's just one place to zip line in Tortuguero, where tours start around $35 USD.

For more information on other destinations in Costa Rica, check out these guides:
Tortuguero Travel Costs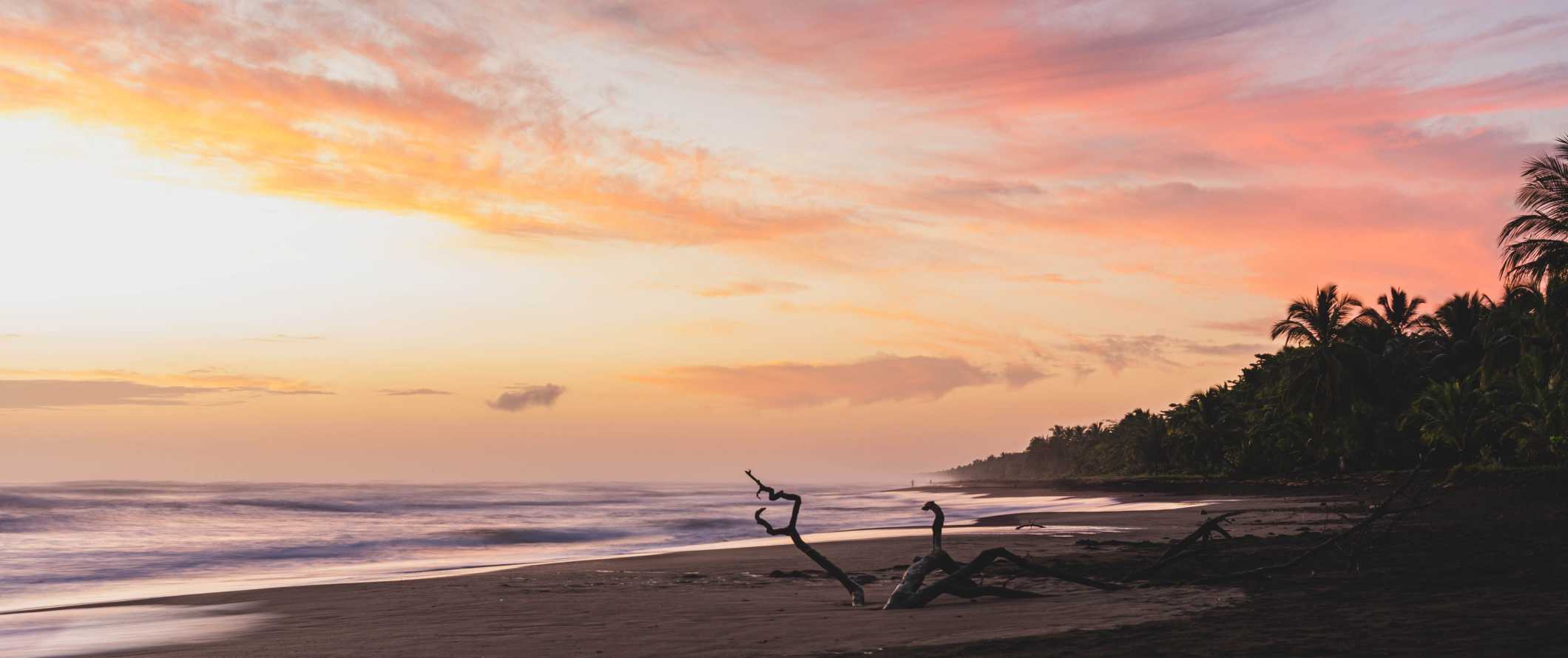 Hostel prices – There are only a couple of hostels here, and prices are the same all year around. It costs $12-15 USD per night for a bed in a 4-6-bed dorm. Private rooms with an ensuite bathroom cost around $30-45 USD.
Expect basic facilities with free WiFi and communal kitchens, but not free breakfast.
Budget hotel prices – Nightly rates for hotels are around $40-60 USD. Expect basic amenities like free Wi-Fi and a coffee/tea maker. Some budget hotels also have pools or include free breakfast.
Most hostels and hotels offer discounts on tours and transportation when you book with them.
Airbnb is available here, however, the options are limited and expensive. Expect to spend $60 USD for a private room and at least $100 USD for an entire apartment, at a minimum. I wouldn't suggest using Airbnb here though (most listings you'll find on Airbnb are for hotels or hostels anyway). You're better off sticking to hostels and lodges with organized tours as it is next to impossible to explore Tortuguero on your own.
Food – Costa Rican cuisine is centered around rice and beans, which are usually eaten for every meal. Potatoes, plantain, pork, and beef are also popular. Gallo pinto (rice and bean stir-fry) is the national dish. You'll find it mixed with eggs for breakfast. Casado is a typical lunch dish, which consists of rice, beans, veggies, fresh salad, and your choice of meat. As it's located on the coast, seafood and fish dishes are common in Tortuguero.
Note: While you can easily pay for tours and entrance fees in USD, in smaller places such as local restaurants, you'll need colones (CRC). Prices in this section are in CRC to reflect this.
Tortuguero's village has small family-owned sodas and restaurants catering to travelers. Stick to the sodas to save money, as a lot of the other restaurants can get pricey due to the remote location and difficulty of importing food here.
At sodas, casado (rice, beans, veggies, and meat) goes for about 4,300-5,500 CRC, while a basic fast food burger, personal pizza, or burrito is around 3,500-4,000 CRC. Seafood dishes start at 6,000 CRC. You can get pastries and baked goods for as little as 1,500 CRC.
At mid-range "Western" restaurants, you can get pasta dishes for around 6,000 CRC, a burger for 7,000-7,500 CRC, grilled chicken for 8,000 CRC, and a steak is at least 10,000 CRC. Seafood dishes start at 10,000 CRC for a basic fish dish, all the way up to lobster starting at 26,000 CRC.
A domestic beer costs around 1,800-2,200 CRC, a cocktail is 3,500-4,200 CRC, a glass of wine is 3,000 CRC a latte is 1,500 CRC, and bottled water is around 1,000 CRC. Smoothies cost around 1,500-2,500 CRC.
If you're staying at a lodge, sometimes you can opt to have meals (or at least breakfast) included in the price. Chances are, you'll be eating, sleeping, and doing tours from whatever place you decide to stay.
If you cook for yourself, you'll spend at least 30,000 CRC on groceries per week, which gets you basic staples like rice, pasta, bread, veggies, and some meat. Groceries (like all food) is expensive here and supplies are limited.
Backpacking Tortuguero Suggested Budgets
If you're backpacking Tortuguero, expect to spend about $55 USD per day. This budget covers a hostel dorm, a few water taxis, street food and self-catered meals, a couple of cheap beers, entry to the national park, and free activities (like hanging on the beach).
A mid-range budget of about $115 USD covers staying in a private hostel room or budget hotel, eating out for more meals, a guided tour (such as hiking, fishing, bird-watching), a few more water taxi rides, and some drinks out at the bar.
On a "luxury" budget of about $195 USD or more per day, you can stay in a hotel, eat any meals you want, drink as much as you'd like, take more guided tours, and explore as much as you want. This is just the ground floor for luxury though. The sky is the limit!
Accommodation
Food
Transportation
Attractions
Average Daily Cost
Backpacker
15
15
10
15
55
Mid-Range
50
30
10
35
125
Tortuguero Travel Guide: Money-Saving Tips
There aren't too many ways to save money in Tortuguero, as you're likely here to do some tours and see the sights. Here are some suggested ways to save money in Tortuguero:
Take advantage of happy hour – Some places around the village have great drink specials. Ask your hotel/hostel staff where to find them.
Eat at the sodas – "Sodas" are small family-run restaurants that specialize in inexpensive local meals, usually costing around 3,000-3,500 CRC. These hole-in-the-wall restaurants offer the best value in the region.
Pack a water bottle – A reusable water bottle with a filter will help you save money and thousands of plastic bottles by purifying the tap water for you (the tap water isn't safe to drink without a filter). My preferred bottle is LifeStraw.
Book early – Tours booked last minute will likely be expensive — especially during the busy turtle-hatching season. Book your tours in advance to avoid paying more than necessary.
Where to Stay in Tortuguero
There aren't a lot of accommodation options in Tortuguero, but luckily there are a few budget-friendly places. It's best to stay in or near the village of Tortuguero as that's where all tours and boats leave from. Here are of my suggested places to stay:
How to Get Around Tortuguero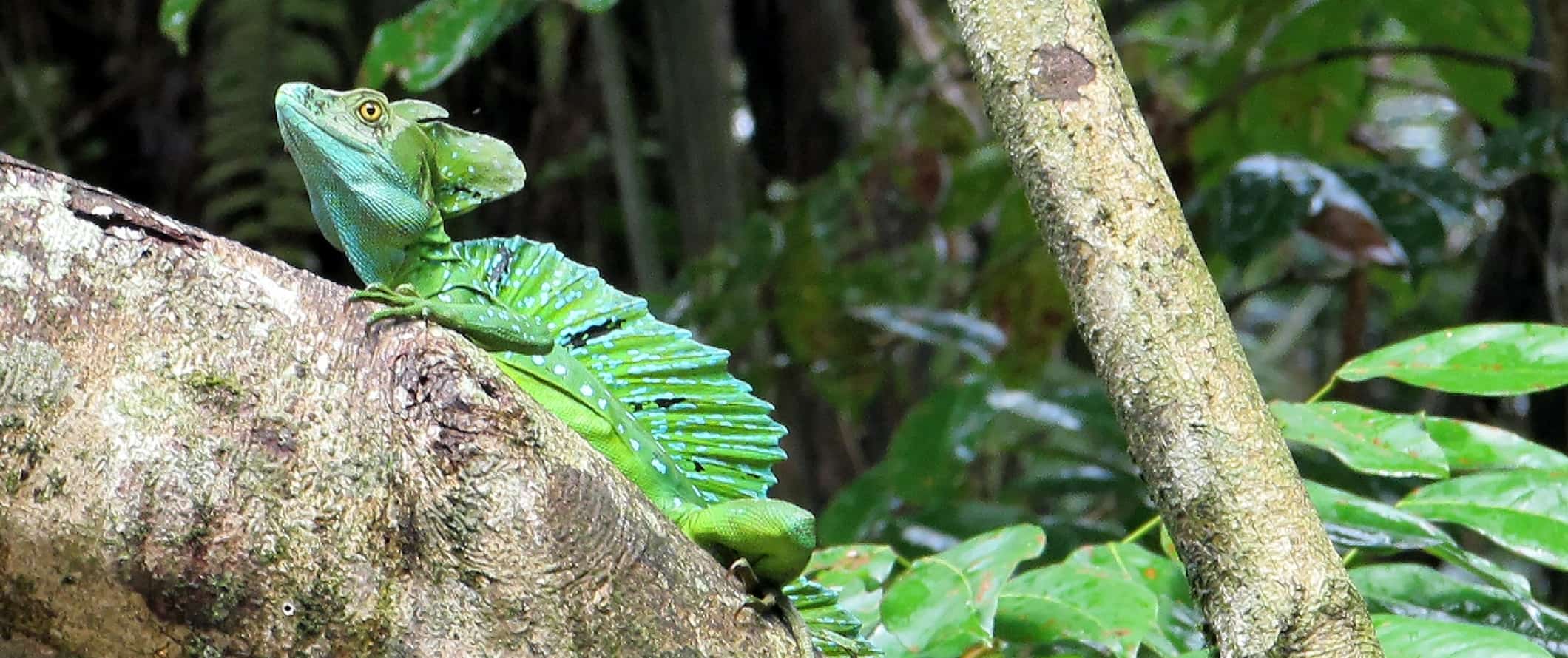 Walking – There are no motor vehicles in the village of Tortuguero, just one main, pedestrianized street. To access the rest of the national park, you'll need to travel by boat.
Water Taxi – There are no roads around Tortuguero — the only way to get around is by a water taxi on the local waterways. Prices depend entirely on where you're going, but expect to pay at least 2,000 CRC.
Your accommodation may also offer options for you to get around, via tours or their own water taxi service so be sure to check with them on arrival. Tours also include pickup from your accommodation if not at an easily accessible meetup point.
When to Go to Tortuguero
Tortuguero is very hot and humid year-round, with daily temperatures often around 32°C (89°F). It's also one of the wettest places in Costa Rica — hence all the flora and fauna! It rains year-round, but December and January are the rainiest months.
September, October, and February are the driest months.
If you're here specifically for the turtles, July-October is the best time to visit. In November, you might see baby turtles hatching. Keep in mind that accommodations fill up during this time as people are keen to see the turtles. Make sure you book your hostel and tours way in advance (especially since accommodations are limited), and expect inflated prices if you book last minute.
If you're here during prime turtle-viewing times, expect crowds.
How to Stay Safe in Tortuguero
Costa Rica is one of the safest countries for traveling and backpacking in Central America. Tortuguero has a small population, and it's very isolated, so petty crime here is a lower risk than other places due to the lack of people around.
Solo female travelers should feel safe here, however, the standard precautions apply (never leave your drink unattended at the bar, never walk home alone intoxicated, etc.).
Don't swim at Tortuguero Beach. Shark attacks and powerful currents make the waters here very dangerous. The locals don't do it, and neither should you.
If you're booking a tour, make sure you're getting a qualified guide. Only licensed guides are allowed to lead tours. Some scammers will do anything to get you to book a tour with them, including giving you false information about the safety of certain routes and other tour companies. When in doubt, do your research ahead of time or consult with the people at your accommodations.
If you're worried about getting scammed, you can read about common travel scams to avoid here.
If you experience an emergency, dial 911.
For more in-depth coverage of how to stay safe in Costa Rica, check out this post we wrote that answers some frequently asked questions and concerns.
And be sure to purchase good travel insurance. Travel insurance will protect you against illness, injury, theft, and cancellations. It's comprehensive protection in case anything goes wrong. I never go on a trip without it as I've had to use it many times in the past.
Tortuguero Travel Guide: The Best Booking Resources
These are my favorite companies to use when I travel. They consistently have the best deals, offer world-class customer service and great value, and overall, are better than their competitors. They are the companies I use the most and are always the starting point in my search for travel deals.
Skyscanner – Skyscanner is my favorite flight search engine. They search small websites and budget airlines that larger search sites tend to miss. They are hands down the number one place to start.
Hostelworld – This is the best hostel accommodation site out there with the largest inventory, best search interface, and widest availability.
Booking.com – The best all around booking site that constantly provides the cheapest and lowest rates. They have the widest selection of budget accommodation. In all my tests, they've always had the cheapest rates out of all the booking websites.
Get Your Guide – Get Your Guide is a huge online marketplace for tours and excursions. They have tons of tour options available in cities all around the world, including everything from cooking classes, walking tours, street art lessons, and more!
SafetyWing – Safety Wing offers convenient and affordable plans tailored to digital nomads and long-term travelers. They have cheap monthly plans, great customer service, and an easy-to-use claims process that makes it perfect for those on the road.
LifeStraw – My go-to company for reusable water bottles with built-in filters so you can ensure your drinking water is always clean and safe.
Unbound Merino – They make lightweight, durable, easy-to-clean travel clothing.
Top Travel Credit Cards – Points are the best way to cut down travel expenses. Here's my favorite point earning credit cards so you can get free travel!
Tortuguero Travel Guide: Related Articles
Want more info? Check out all the articles I've written on Costa Rica travel and continue planning your trip: