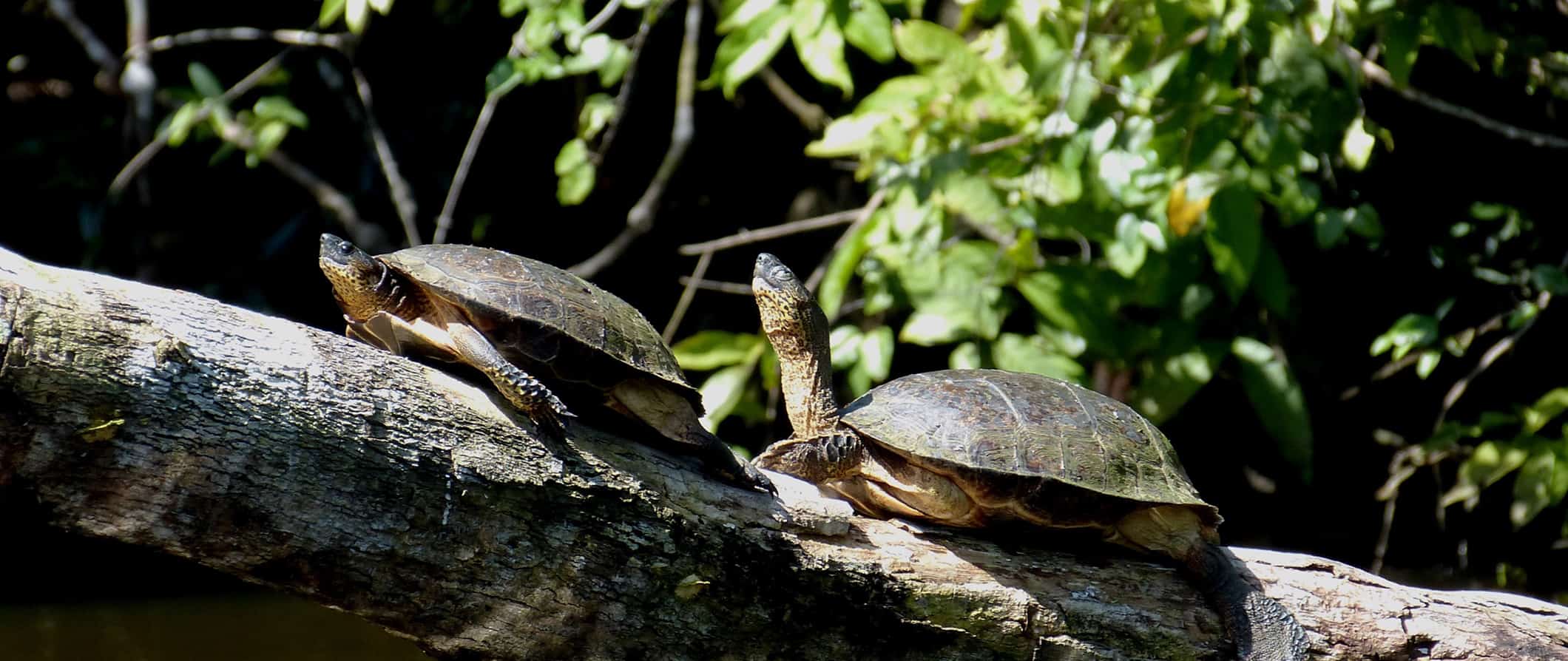 Tortuguero, which means "region of turtles" in Spanish, is one of the country's most important nesting sites for the leatherback, green, loggerhead, and hawksbill sea turtles. From November to January, night tours of the beaches offer visitors the chance to see baby turtles scrambling towards the shore for the first time.
I highly recommend visiting Tortuguero when you are in Costa Rica. The area is also Costa Rica's Amazon-like rainforest, and you can take many boat tours around the canals to see over 800 species of wildlife, especially many types of birds.
I really love the area for its jungle feel and, thanks to the canals and region, you're really away from civilization here so it's a nice break from the touristy beach towns of the rest of the country.
This travel guide to Tortuguero will give you the low down on everything you need to know to plan your visit!

Tortuguero
Top 5 Things to See and Do in Tortuguero
1. Visit Tortuguera National Park
This national park is a significant turtle nesting site, and one of the most important in the world for endangered green turtles. There are a couple of trails you can hike but boat tours are pretty much the only way to get around. Admission is 8,435 CRC ($15 USD) per person, and boat tours start from 14,200 CRC ($35 USD).
2. Take a night boat tour
Night tours are the best chance of catching a glimpse of the many nocturnal creatures that inhabit the area. You'll meander down the waterways while the tour guide shines a spotlight to illuminate crocodiles, frogs, caimans, crabs and bats. Tortuga Lodge offers a good one for 21,335 CRC ($38 USD).
3. Chill on the beach
This is Costa Rica after all, so be sure to spend some time relaxing by the ocean! Tortuguero Beach is where most people hang out, and it's considered one of the most stunning beaches in the country. But nobody swims here, not even the locals — there have been lots of shark attacks, and the currents are very strong!
4. Go on a bird-watching tour
There are over 300 identified bird species that call Tortuguero home. Keep an eye out for green ibis, great potoo, scarlet macaw, green macaw, and kingfishers. The Pacific Southwest Research Station has a handy checklist of birds to look for. Otherwise tours start from 36,490 CRC ($65 USD).
5. Turtle tours
Turtle tours take place between 8 PM to 12 PM, and begin around 44,915 CRC ($80 USD). Green turtles are the most common species here, but you might also see Leatherbacks, Hawksbill, and Loggerhead turtles. During nesting season, Tortuguero is pretty crowded with tourists so be sure to book way in advance.
Other Things to See and Do in Tortuguero
1. Visit Turtle Hill
Tortuguero Hill (it's really a mountain) is the highest point on the Caribbean side of Costa Rica and can be reached by a 10-minute boat ride from the village (it should only cost a few dollars — ask your accommodations). The hike up to the steep summit of the hill takes around two hours, but once at the top, you'll get a great aerial view of the area and its many canals. It's not an easy hike, but you're almost certain to encounter wildlife along the way.
2. Go canoeing
If you are keen to explore the waterways at your own leisurely pace, consider setting off on your own in a canoe. There are loads of places in town to rent out canoes, which will usually cost about 11,228 CRC ($20 USD) per day. Canoeing will let you explore some of the harder-to-reach areas, and will allow you to get away from the crowds of motorboats.
3. Take a canopy tour
After having exhausted the waterways, consider getting an aerial view of the rainforest by taking a canopy tour. The ziplines and suspended bridges will allow you to get up close and personal with the vegetation and wildlife nearer the top of the rainforest. Tours start at about 19.649 CRC ($35 USD) with Tortuguero Adventures.
4. Go fishing
With all the canals here near the sea, you'll have many fishing opportunities. The lodges, as well as some independent operators in town, allow you to do small scale fishing. The lodges will even let you cook what you catch for dinner. Catches include tarpon, snook, red snapper, rainbow bass, and barracuda! Tortuguero Adventures will quote you a rate based on your budget, so talk to them first.
5. Broaden your turtle knowledge
Though it may be small, the Caribbean Conservation Corporation's Visitors' Center and Museum in Tortuguero village are filled with information on turtles, as well as on flora and fauna in the area. Admission is only 1,125 CRC ($2 USD), and all proceeds go toward turtle conservation and protection.
6. Take a short hike
The two-mile Gavilan Trail lets you have a private, quiet moment with the jungle surroundings. Make sure to rent rubber boots at the entrance to the trail because it tends to get quite muddy. If you want a guided hike deeper into the jungle, you'll pay about 25,265 CRC ($45 USD) for a full day.
Tortuguero Travel Costs
Hostel prices – There's only one accommodation with dorm rooms here, and it's Aracari Garden Hostel. During peak season, a bed in a five bed room (or more) will cost about 7,385 CRC ($13 USD) per night. Prices are the same in the off-season.
Hostels and lodges here often work the price of tours into their prices, especially since you need to get around Tortuguero by boat. So if you want to stay in Aracari Garden Hostel for two nights and do two tours, that'll cost you 42,595 CRC ($75 USD).
A basic private room with an ensuite bathroom costs between 11,230-14,035 CRC ($20-25 USD) per night during peak season. Prices are also about the same in the off-season.
Budget hotel prices – Nightly rates for a budget two or three-star hotel room start at about 19,650 CRC ($35 USD) in peak season. In the off-season, budget rooms start from about 16,845 CRC ($30 USD).
There are limited Airbnb options in Tortuguero but don't use them. You're better off sticking to hostels and lodges with organized tours as it is next to impossible) to explore Tortuguero on your own.
This isn't a cheap part of the country so just accept that and pay for the all inclusive lodging! The region is worth it!
Average cost of food – Tortuguero's small village has lots of small family-owned sodas and restaurants catering to travelers. You can get pastries and baked goods for as little as 1,120 CRC ($2 USD). Casado (rice, beans, veggies, and meat) goes for about 2,805 CRC ($5 USD), while a burger with a side and a drink can cost up to 4,490 CRC ($8 USD). Personal pizzas cost about 5,055 CRC ($9 USD).
At mid-range restaurants, you can get meat, seafood, or spicy chicken dishes for about 8,420 CRC ($15 USD). Pasta dishes or soup will start from about 4,490 CRC ($8 USD). A beer will cost about 2,805 CRC ($5 USD).
That said, since you'll probably here with a lodge, they tend to also include most meals in their prices too. Chances are, you'll be eating, sleeping, and doing tours from whatever place you decide to stay.
Get my best stuff sent straight to you!