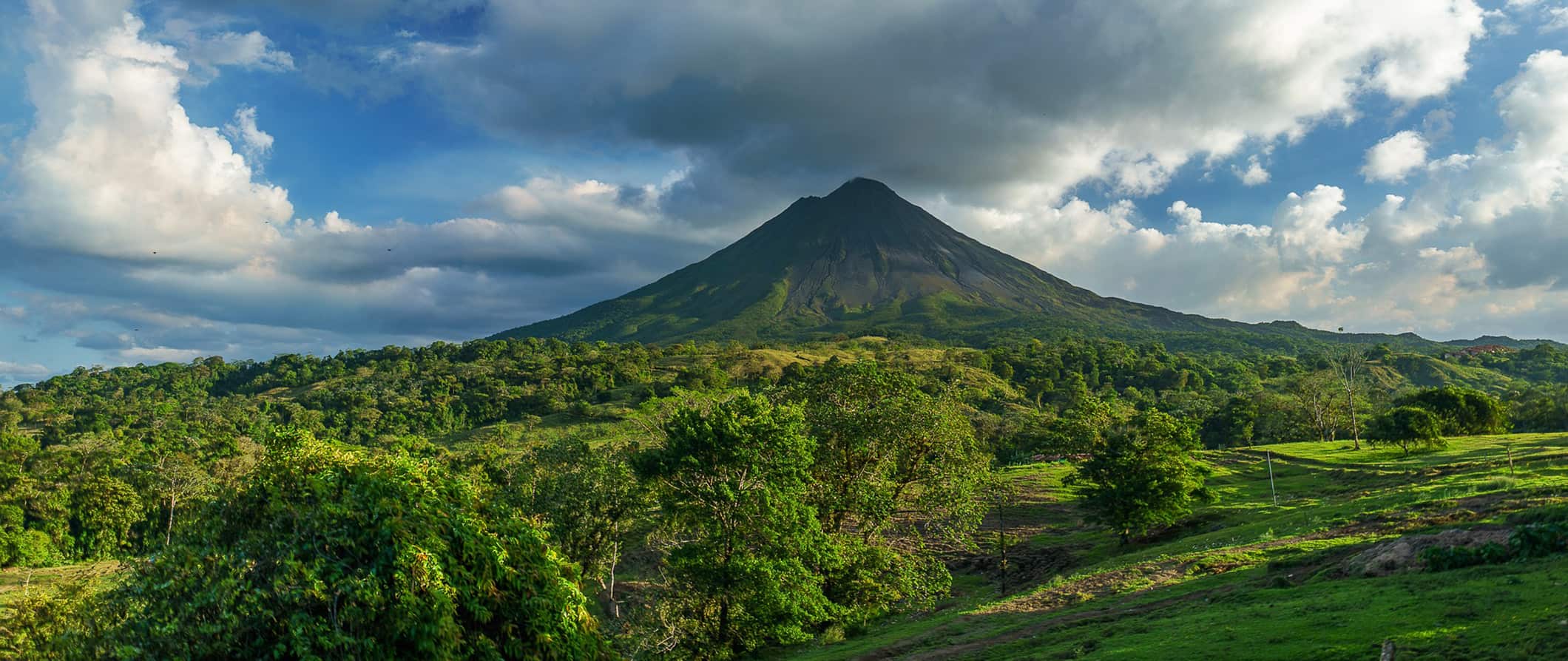 One of Costa Rica's most popular tourist destinations is the area of Arenal. There's good reason so many people visit here. There's beautiful hiking here, geothermal springs, a gorgeous lake to view sunset from, caves to explore, and the popular La Fortuna waterfall.
Since this area of Costa Rica is so popular, prices tend to be higher here than elsewhere in the country but you can still find good deals around. Most visitors stay in nearby La Fortuna as accommodation is cheaper than at the foot of the volcano.
Despite all the crowds, I still am a big fan of the region. Some of the best hiking in the country is here and I could spend hours at the waterfall.
This travel guide to Arenal will give you the low down on everything you need to know to plan your visit!

Arenal
Top 5 Things to See and Do in Arenal
1. Visit Arenal National Park
This is huge national park has endless hiking trails, lots of wildlife, and a great view of the sunset as it set over the lake. Just don't be like me and get
lost around the volcano!
Entrance to the park is 5,500 CRC ($10 USD) per person.
2. Enjoy the hot springs
Spend an evening lounging in one of the hot springs at the base of the volcano. There are a lot of hot springs in the area ranging in price and quality. There is also a free hot spring (although it's more like a hot creek) at Río Chollín, near the Tabacón Resort.
3. Visit Cano Negro Wildlife Refuge
Take a boat tour down the Frío River to the Cano Negro Wildlife Refuge to go wildlife watching, swimming, and/or rafting. Prices begin around 42,000 CRC ($70 USD) and you can easily arrange a trip through your hostel/hotel.
4. Go bird watching
This area is one of the best in the country for bird watching. Here you can see toucans, parrots, woodpeckers, and parakeets. Tours start from around 42,000 CRC ($70 USD). If you're into this, don't miss birdwatching here. Desafio is a great tour company.
5. Admire La Fortuna Waterfall
This waterfall is huge, with a big pool of water at the base, and the cold water is pretty refreshing after spending some time descending in the hot sun! Make sure you have sturdy footwear as the descent to the fall requires a walk down a steep, long staircase!
Other Things to See and Do in Arenal
1. See the hanging bridges
You can get an incredible bird's eye view of the jungle via the hanging bridges. While you're up there in the canopy, you can really get a sense of all the biodiversity in the area! Prices begin around 15,217 CRC ($26 USD) for entry, but guided tours (with the entry fee included) start from 23,400 CRC ($40 USD).
2. Go ATV riding
Explore Arenal through the back roads and hidden trails around the volcano that are only accessible via an ATV. Trips usually last about three hours and allow you see a few waterfalls along the way. Prices start around 98,327 CRC ($168 USD) for a four-hour tour from a company like Original Arenal ATV or Power-Wheels Adventures.
3. Float down the Peñas Blancas River
You can take a leisurely rafting trip down the Peñas Blancas River and deep into the jungle, where you'll have the opportunity to observe monkeys, caimans, crocodiles, sloths, iguanas, and tortoises. The trip is fairly leisurely and takes half a day, with prices starting from about 35,117 CRC ($60 USD).
4. Go caving
The Venado Cave is one of the most extensive cave systems in the country, stretching for nearly 2,000 meters. You'll crawl through tight spaces and shimmy through narrow rooms showcasing interesting rock formations and even fossils. Tours start from 50,919 CAD ($87 USD).
5. Attend Fiestas del la Fortuna
This festival takes place in the town of La Fortuna every February and includes two full weeks of craft fairs, horse shows, live music, discos, carnival rides, and lots of greasy local carnival food.
Arenal Travel Costs
Hostel prices – During peak season, a dorm bed will cost about 11,705 CRC ($20 USD) per night. Off-season, prices tend to be between 5,852-8,780 CRC ($10-15 USD) per night.
A basic twin private room costs about 26,337 CRC ($45 USD) per night in peak season. In the off-season, prices are closer 21,070 CRC ($36 USD).
If you're camping, a tent site starts from 3,510 CRC ($6 USD) per person at Essence Arenal.
Budget hotel prices – Nightly rates for a budget two or three-star hotel room with a private ensuite bathroom start at about 46,826 CRC ($80 USD) in peak season. In the off-season, budget rooms start from 35,117 CRC ($60 USD).
There are lots of Airbnb options around Arenal. A shared room (like a bed in a dorm) averages about 9,365 CRC ($16 USD) per night, while a private room is about 36,873 CRC ($63 USD) per night. A full apartment averages about 52,090 CRC ($89 USD) per night.
Average cost of food – You can eat cheaply here if you stick to street stalls selling foods like pupusas, corn on the cob, and pinchos (meat on a stick). These things are like 1,755 CRC ($3 USD). Tacos are about 1,170 CRC ($2 USD) apiece. Other traditional meals like casado (rice, beans, veggies, and meat) cost about 3,000 CRC ($5.15 USD). You can get burgers for less than 4,250 CRC ($7.25 USD). Beer will be about 2,000 CRC ($3.40 USD).
Higher-end restaurants will have entrees like a fish filet starting from 12,100 CRC ($21 USD), while a Costa Rican seafood stew is from 10,900 CRC ($19 USD). There's a lot of restaurants that cater to foreign tourists and you'll them about double the price of smaller "local" restaurants.
If you cook for yourself, you can spend as little as 15,000-20,000 CRC ($25-35 USD) on groceries per week, which would include some meat, bread, eggs, cheese, some veggies, and fruit.
Get my best stuff sent straight to you!