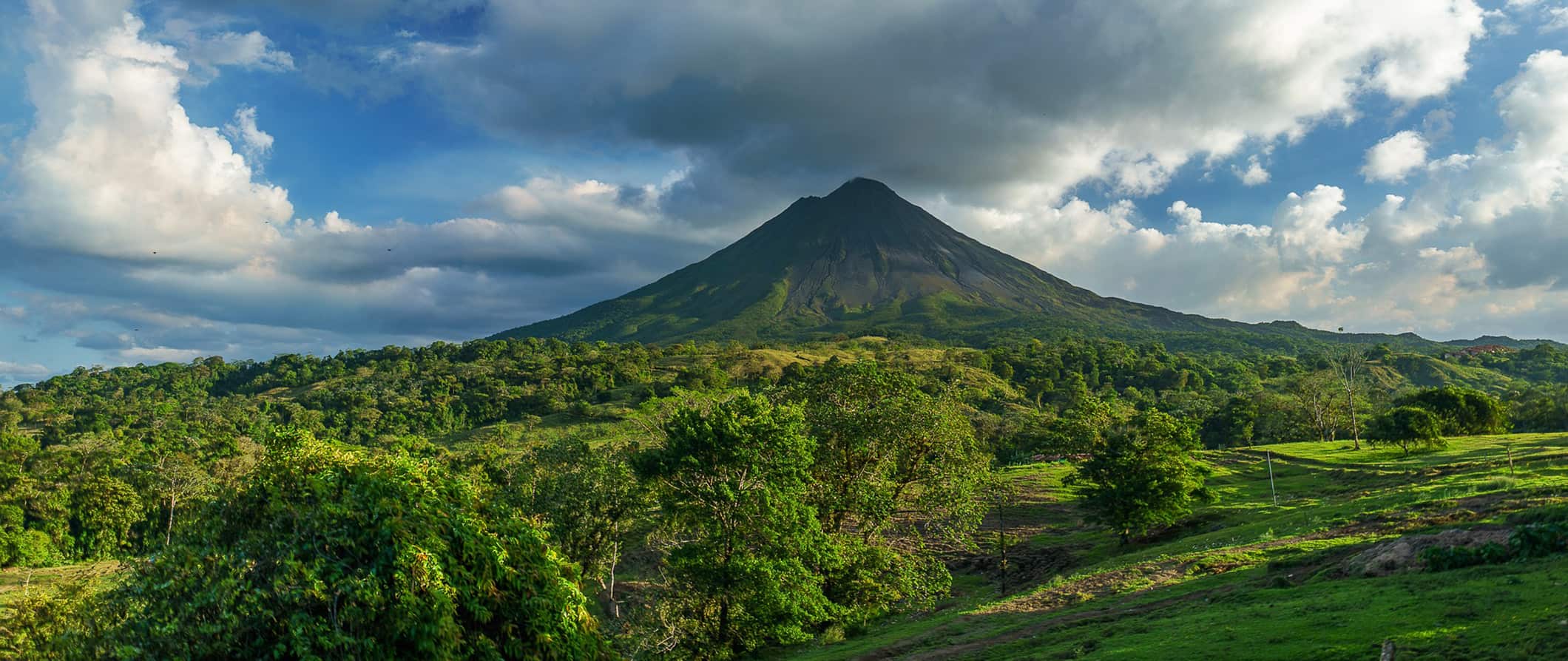 Arenal is one of Costa Rica's most popular tourist destinations. Home to stunning hikes, geothermal springs, a gorgeous lake with picturesque sunsets, caves to explore, and the popular La Fortuna waterfall, this region has seen a massive influx of visitors in recent years.
Since this region is so popular, prices tend to be higher compared to the rest of Costa Rica. Yet despite the crowds (and prices), I am still a big fan of the area. Some of the best hiking in the country is here and I could spend hours upon hours relaxing at the waterfall.
Most visitors stay in nearby La Fortuna as accommodation is cheaper and it's just a ten-minute drive away. It's the best place to base yourself for your visit.
To help you make the most of your trip, this travel guide to Arenal will help you plan your trip, save money, and make the most of your time in this popular destination!
Top 5 Things to See and Do in Arenal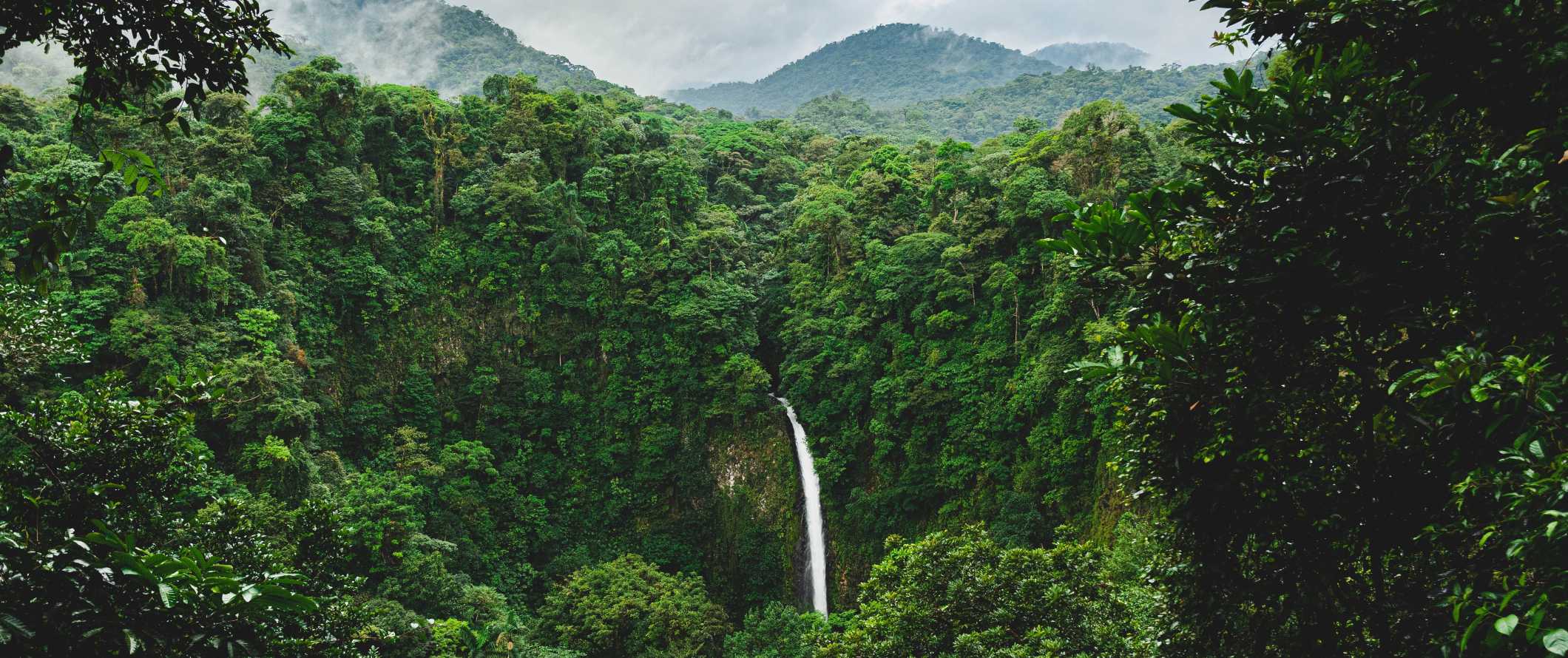 1. Explore Arenal Volcano National Park
Founded in 1991, this vast national park spans 121 square kilometers (46 square miles) and is home to both Arenal Volcano as well as the inactive Chato Volcano that last erupted thousands of years ago. The national park has endless hiking trails (including the aptly named Lava Flow Trail, where you can hike the lava flows from the devastating 1968 eruption of Arenal), lots of wildlife, and a great view of the sunset over the lake. Just don't be like me and get lost hiking around the volcano! Keep your eyes peeled for monkeys, deer, coati, and snakes. The park is especially known for being home to hundreds of species of birds, including the elusive resplendent quetzal. Admission is $15 USD.
2. Enjoy the hot springs
Spend an evening lounging in one of the hot springs at the base of the volcano. There are a lot of hot springs in the area ranging in price and quality, from $12 USD at the cheapest (Los Laureles Hot Springs) all the way up to $80 USD at the most expensive (Tabacón Resort). There is also a free hot spring (although it's more like a warm creek) at Río Chollín, near the Tabacón Resort. You can either take a taxi here from town or park along the side of the road. You can also take a packed day tour that includes the hot springs (at the resort), Arenal Volcano, La Fortuna, and a traditional lunch at the Maleku indigenous reserve.
3. Visit Cano Negro Wildlife Refuge
Take a boat tour down the Frío River to the 800-hectare (1,975-acre) Cano Negro Wildlife Refuge to go wildlife watching, swimming, and/or rafting. As one of the most important and biodiverse wetlands in the world, expect to see monkeys, caimans (a reptilian cousin of the alligator), iguanas, crocodiles, sloths, and tons of birds! Prices for a boat tour are around $65-90 USD. Visiting the refuge on your own is $5 USD, however, it's highly recommended to go with a guide who can easily spot and point out the many camouflaged animals.
4. Go bird watching
This area is one of the best in the country for bird watching, with almost all of Costa Rica's 900 species of birds represented here. Try to spot toucans, parrots, woodpeckers, and parakeets. If you're a birder, this is an amazing opportunity — there is so much biodiversity here! Even if you're an avid birder though, it's always best to go with an experienced local guide as you'll see many more birds that way (they know where specific species of birds like to hang out and can point out camouflaged birds through the canopy). Tours start from around $70 USD for a half-day tour.
5. Relax at La Fortuna Waterfall
This waterfall is huge, dropping almost 75 meters (250 feet) into a big pool of water at its base. Swimming in the cold water is super refreshing after spending some time hiking in the hot sun! Make sure you have sturdy footwear as the descent to the fall requires a walk down a steep, long staircase. Admission is $18 USD.
Other Things to See and Do in Arenal
1. Do a canopy tour
You can get an incredible bird's eye view of the jungle via hanging suspension bridges. While walking through these hanging bridges in the dense canopy, you can really get a sense of all the biodiversity here (Costa Rica is one of the most biodiverse places in the world, home to 5% of the world's species). It's a great way to spot wildlife. Mistico Hanging Bridges Park and Sky Adventures are the two parks with hanging bridges in the area. Prices begin around $28 USD, but guided tours (with the entry fee included) start from $45 USD, up to $70 USD for a half-day tour which includes hiking in the national park as well. If you'd rather do a zip-lining canopy tour, expect to pay $70-90 USD.
2. Go ATV riding
Explore Arenal through the back roads and hidden trails around the volcano that are only accessible via an ATV. Trips usually last about three hours and allow you to see a few waterfalls along the way. You'll get to stop to swim and have a snack as well. Original Arenal ATV is the best company to go with. Prices start at $105 USD for one person or $138 USD for two people, for a tour that lasts around 2.5 hours.
3. Float down the Peñas Blancas River
Take a leisurely rafting safari down the Peñas Blancas River and deep into the jungle, where you'll have the opportunity to observe monkeys, crocodiles, sloths, tortoises, and more. Many companies also pair safaris with a local farm tour or cooking classes. Prices start from about $60 USD for a half-day tour and $120 USD for a full-day tour. You can even take a twilight wildlife safari to see animals that only come out at night, such as sloths, opossums, bats, howler monkeys, and owls.
4. Go caving
The Venado Cave, which formed over 15 million years ago, is one of the most extensive cave systems in the country, stretching for nearly 2,000 meters (6,500 feet). Located just one hour from La Fortuna, here you can take a spelunking tour where you crawl through tight spaces and shimmy through narrow rooms showcasing interesting rock formations and even fossils. Admission is $28 USD and guided tours start from $100 USD for a half-day tour that includes pickup from your accommodation. Expect to spend around 2-4 hours exploring.
5. Go canyoning
If you don't mind heights and want to get your blood pumping, go canyoning (rappelling). You can scale down huge 60-meter (200-foot) waterfalls and cliffs deep in the jungle. You need to be in good physical condition and willing to get wet and dirty. Desafio Adventure Company is the most popular company to go with. Tours last 4-5 hours and cost around $100 USD, while a combination canyoning and rafting tour costs $155 USD.
6. Take a chocolate tour
The cacao tree was known as the "Gift of the Gods" to the indigenous peoples of Costa Rica because of the integral role that cacao played in the culture, from ceremonial to economic uses (in some places it was used as a type of currency). Learn more about the history, culture, and traditions on the rainforest chocolate tour ($30 USD). You'll get to assist in making chocolate, from the harvesting of the fruit, drying and grinding the seeds, and of course, enjoying it at the end!
7. Take a cooking class
One of my favorite ways to learn about a new culture is through its cuisine, and taking a cooking class is one of the best ways to do that. Taking home new recipes is also a great souvenir from your trip! In this 3-hour cooking class, you'll learn about typical Costa Rican produce and ingredients, and then prepare a few traditional dishes like picadillos (a spicy stew), tortillas, and guisados (a meat dish).
8. Visit Rio Celeste
Named for its bright celestial blue waters, Rio Celeste is a stunning natural phenomenon of a river flowing through Tenorio Volcano National Park (about an hour outside the town of La Fortuna). Hiking the park's trails, you'll pass this seemingly dyed turquoise river several times, stopping at main attractions like the impressive waterfall, an area with bubbling hot springs, and the spot at the end of the trail where the turquoise river meets a normal river (you can see a clear delineation where these waters mix, which is pretty cool). The main trail is just 3.2 kilometers (2 miles) long and is pretty easy, though keep in mind that the path down to the waterfall consists of over 150 steep steps both up and down. Park admission is $12 USD, while a full-day tour that includes transportation, entrance fees, lunch, and a local guide costs $85 USD.

For more information on specific destinations in Costa Rica, check out these other guides:
Arenal Travel Costs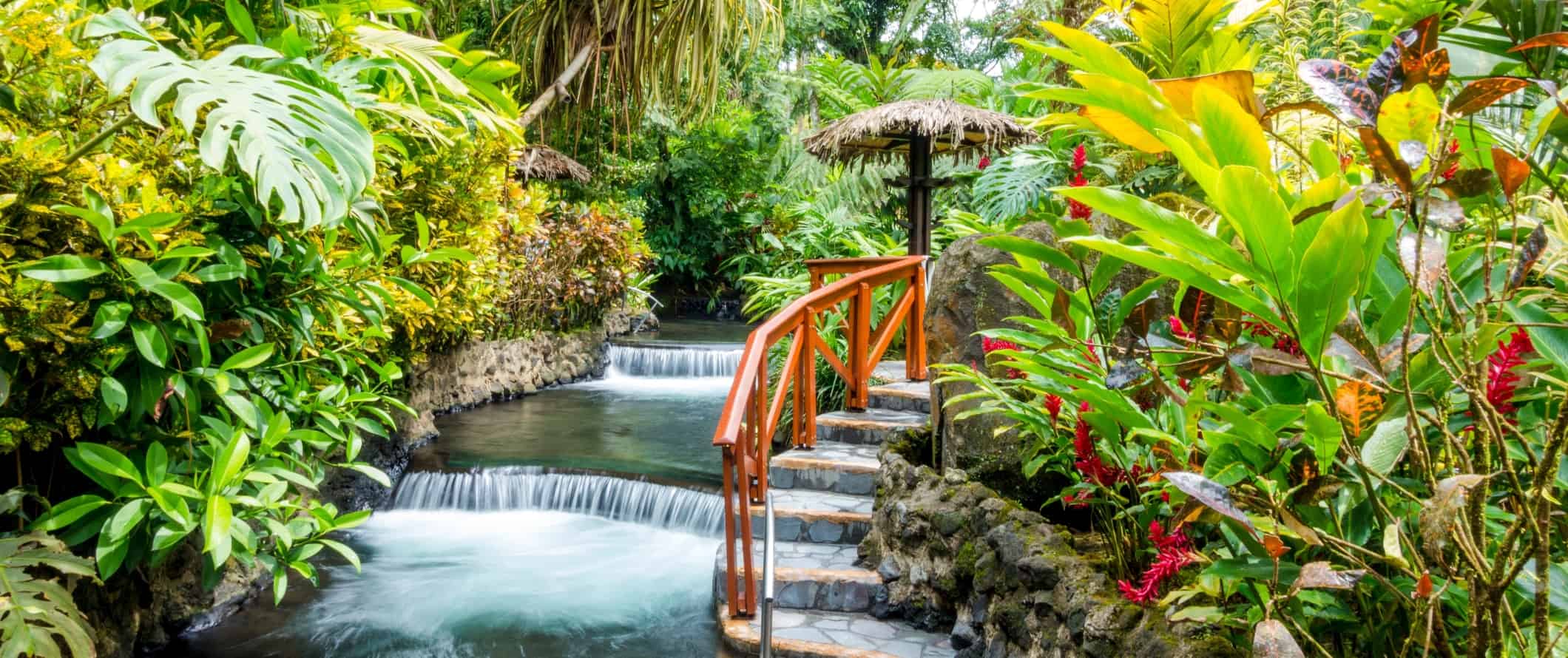 The majority of accommodations around Arenal are in La Fortuna, which is a 10-minute drive from Arenal. It's the best place to base yourself during your visit.
Hostel prices – Prices vary greatly depending on the season and amenities offered. During peak season, a bed in a 4-6-bed dorm costs $20-40 USD per night, while in the off-season, prices tend to be between $16-30 USD. Private rooms start at $55-75 USD per night in peak season. In the off-season, prices are closer to $45-60 USD.
Free Wi-Fi is standard and many hostels also have swimming pools and self-catering facilities. Only some hostels offer free breakfast.
If you're traveling with a tent, a basic tent plot without electricity starts at $5-10 USD per night.
Budget hotel prices – Budget two- and three-star hotels with a private bathroom start at $60-80 USD in the high season and $40-50 USD in the low season. There are lots of Airbnb options around Arenal as well. A private room costs around $40-60 USD per night while an entire home/apartment starts at $90-125 USD per night.
Food – Costa Rican cuisine is centered around rice and beans, which are usually eaten for every meal. Potatoes, plantain, pork, and beef are also popular. Gallo pinto (rice and bean stir-fry) is the national dish and something you'll be eating a lot of. You'll find it mixed with eggs for breakfast. Casado is a typical lunch dish, which consists of rice, beans, veggies, fresh salad, and your choice of meat.
Note: While you can easily pay for tours and entrance fees with USD, in smaller places such as local restaurants, you'll need colones (CRC). Prices in this section are in CRC to reflect this.
Traditional meals like casado (rice, beans, veggies, and meat) cost around 4,000-5,000 CRC while fast food (burgers, empanadas, wraps, etc.) costs between 2,000-4,000 CRC. Chinese takeout is around 4,500-5,000 CRC for a filling meal of fried rice or a chicken dish.
There are a lot of restaurants that cater to foreign tourists, many of which cost double the price of smaller "local" restaurants, so skip them if you're on a budget. At these "Western" style restaurants, expect an appetizer like ceviche to cost 5,000 CRC, a steak to cost 8,500-10,000 CRC, fish dishes to cost 7,000-8,500 CRC, and pasta dishes to start at 6,000 CRC.
A beer at a bar/restaurant costs 1,500-2,500 CRC, a glass of wine or a cocktail is 3,000-4,000 CRC, and a latte/cappuccino is 1,700 CRC. Bottled water is around 1,000 CRC.
If you cook for yourself, expect to pay at least 28,000 CRC on groceries per week. This covers basic staples like rice, beans, produce, and some fish or meat.
Backpacking Arenal Suggested Budgets
If you're backpacking Arenal, expect to spend around $55 USD per day. This budget covers a hostel dorm, cooking your own meals, eating some street food, and free activities (like the free hot springs and hiking). If you plan on drinking, add $5-10 USD to your daily budget.
A mid-range budget of about $140 USD covers staying in a private hostel room or Airbnb, eating out for most of your meals at cheap sodas, doing some paid activities like zipling, taking the occasional taxi to get around, and enjoying a couple of drinks at the bar.
On a "luxury" budget of around $285 USD or more per day, you can stay in a hotel, take private guided tours, eat anywhere you want, drink as much as you'd like, and take private taxis everywhere or rent a vehicle. This is just the ground floor for luxury though. The sky is the limit!
Accommodation
Food
Transportation
Attractions
Average Daily Cost
Backpacker
20
15
10
10
55
Mid-Range
60
30
20
30
140
Arenal Travel Guide: Money-Saving Tips
It's easy to spend a lot of money in Arenal. As one of the most visited areas in Costa Rica, prices for tours and accommodation tend to be more expensive. All the outdoor activities can add up quickly. To help you keep on budget, here are some suggested ways to save money in Arenal:
Travel off-season – April-November is considered the rainy season, and as a result, prices are a lot cheaper (and it's a lot less crowded). If you're on a budget, consider visiting then.
Avoid tour activities – There are a lot of great (but expensive) activities and tours in the area. Skip them and do free activities like hiking and visiting the free hot springs instead.
Eat at the sodas – "Sodas" are small family-run restaurants that specialize in inexpensive local meals. These hole-in-the-wall restaurants offer the best value in the country.
Camp – Most of the resorts and hostels in many places let you camp on their property for a small fee. If you're traveling with a tent, this is the best way to keep your accommodation costs down.
Pack a water bottle – A water bottle with a purifier can help you save money (and thousands of plastic bottles) by purifying the tap water for you. My preferred bottle is LifeStraw.
Bundle your tours – If you are going to splurge on tours and excursions, see if you can get a discount by bundling activities. Some companies offer discounts if you do more than one excursion.
Where to Stay in Arenal
Arenal has no shortage of hostels and budget accommodations. Here are my suggested places to stay:
How to Get Around Arenal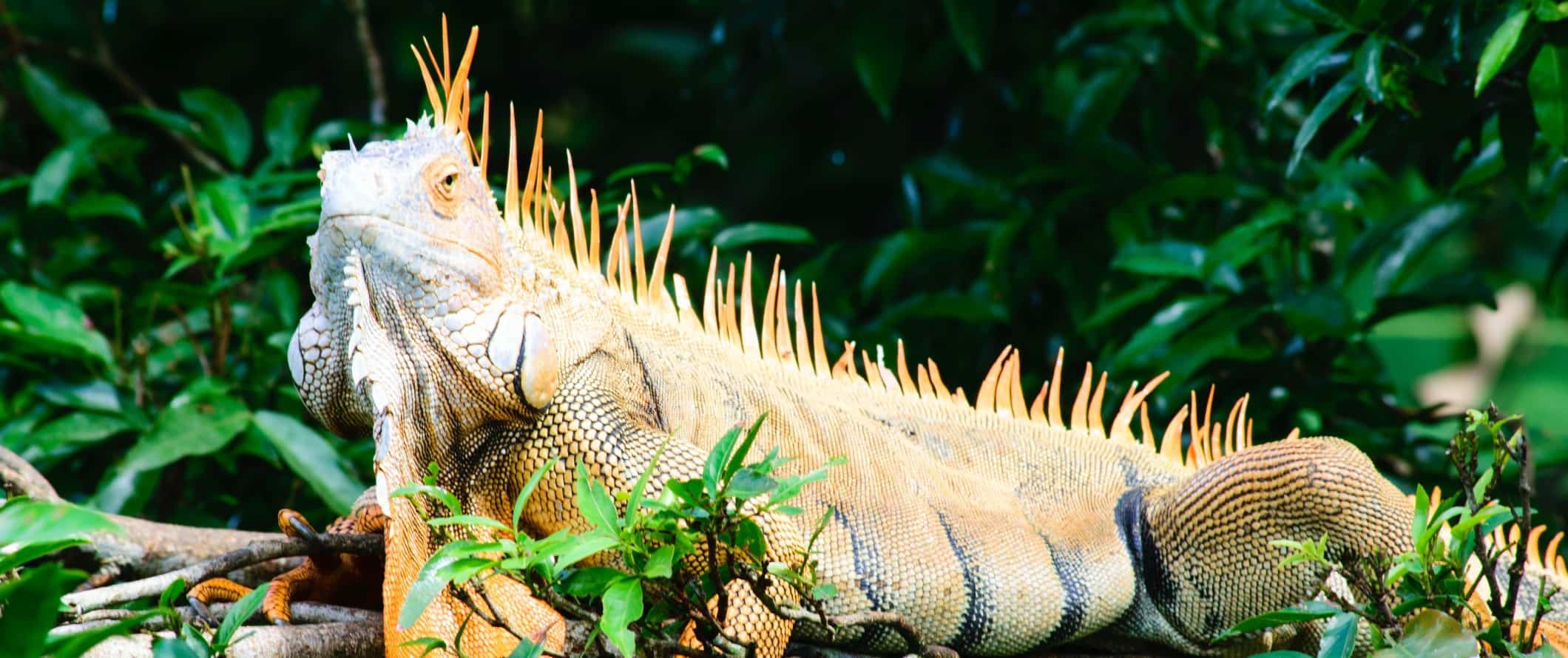 Walking – The town of La Fortuna is small and walkable, with tons of restaurants, bars, cafes, hostels, and hotels lining the streets.
Bus – While there are public buses in the area, they aren't useful for sightseeing due to their infrequent schedules and lack of reliability. No public bus goes to the national park.
Bicycle – Many of the hotels and hostels around Arenal offer bicycle rentals. You can often find rentals for around $20 USD per day.
Taxi – There are a lot of taxis here and they are one of the best ways to get around — but they aren't cheap. A taxi from La Fortuna to Arenal Volcano National Park is around $25 USD. It's $16 USD for the hot springs. You can arrange a pick-up time to take you back to town too.
Car Rental – You can rent a car for as little as $40 USD per day, though this can skyrocket to $85 USD in the high season. The roads aren't that great (there are lots of potholes) but they are driveable. Just drive cautiously and make sure you have insurance.
For the best car rental prices in Costa Rica, use Vamos (as a Nomadic Matt reader, you'll get 5% off by using our link).
Shuttles– Most tours and activities in the area offer shuttles with round-trip transportation from your accommodation. Usually this is included in the price of your tour, though sometimes it's an additional small fee of $5-10 USD round-trip.
Hitchhiking – Hitchhiking is possible here if you're an intrepid traveler. It's not super common but it's definitely possible. Check out Hitchwiki for more info.
When to Go to Arenal
The dry season takes place from mid-December to April. This is peak season and tourism is at its highest. There's almost non-stop sunshine and temperatures are always pleasant ranging from 24-29°C (75-85°F). If you want really hot weather, visit between February and April, when temperatures can get as high as 36°C (97°F). Expect crowds and higher prices though.
The rainy season is from May to November, with temperatures in the range of 21-27°C (70-80°F). This is when it's cheapest to visit the area. It doesn't rain all the time and the days (especially the mornings) are still usually pretty sunny. However, if you plan to do a lot of hiking and outdoor adventures, the rainfall may interrupt your plans (especially in the afternoons). No matter what you plan to do, bring a raincoat. The rain tends to lighten during June and July.
The shoulder season from September to the end of October is an excellent time to come for cooler temperatures and consistently nice weather. Plus, you'll avoid the crowds of travelers!
How to Stay Safe in Arenal
Costa Rica is one of the safest countries for traveling and backpacking in Central America. Violent crime is rare, though petty theft can occur so always keep your eyes peeled and valuables secure, just to be safe.
There are some common scams around too, including a taxi cab scam where a driver tells you the meter is broken once the ride has already begun. Always make sure the meter is running before you take a taxi. To avoid getting ripped off, you can read about other common travel scams to avoid here.
Solo female travelers should generally feel safe here, however, the standard precautions apply (never leave your drink unattended at the bar, never walk home alone intoxicated, etc.).
If you go out for the night, only bring the money and ID you need. Leave your wallet at home just to be safe.
If you rent a car, don't leave any valuables in it overnight as break-ins can occur. Make sure you have car insurance as well as the roads here aren't great.
When hiking, make sure you have a map and that you stay on the trails. Also, always check the weather before you leave so you can prepare accordingly. Bring a hat and water.
If you experience an emergency, dial 911 for assistance.
For more in-depth coverage of how to stay safe in Costa Rica, check out this post we wrote that answers some frequently asked questions and concerns.
Be sure to purchase good travel insurance. Travel insurance will protect you against unexpected costs due to illness, injury, theft, and cancellations. It's comprehensive protection in case anything goes wrong. I never go on a trip without it as I've had to use it many times in the past.
Arenal Travel Guide: The Best Booking Resources
These are my favorite companies to use when I travel. They consistently have the best deals, offer world-class customer service and great value, and overall, are better than their competitors. They are the companies I use the most and are always the starting point in my search for travel deals.
Skyscanner – Skyscanner is my favorite flight search engine. They search small websites and budget airlines that larger search sites tend to miss. They are hands down the number one place to start.
Hostelworld – This is the best hostel accommodation site out there with the largest inventory, best search interface, and widest availability.
Booking.com – The best all around booking site that constantly provides the cheapest and lowest rates. They have the widest selection of budget accommodation. In all my tests, they've always had the cheapest rates out of all the booking websites.
Get Your Guide – Get Your Guide is a huge online marketplace for tours and excursions. They have tons of tour options available in cities all around the world, including everything from cooking classes, walking tours, street art lessons, and more!
SafetyWing – Safety Wing offers convenient and affordable plans tailored to digital nomads and long-term travelers. They have cheap monthly plans, great customer service, and an easy-to-use claims process that makes it perfect for those on the road.
LifeStraw – My go-to company for reusable water bottles with built-in filters so you can ensure your drinking water is always clean and safe.
Unbound Merino – They make lightweight, durable, easy-to-clean travel clothing.
Top Travel Credit Cards – Points are the best way to cut down travel expenses. Here's my favorite point earning credit cards so you can get free travel!
Arenal Travel Guide: Related Articles
Want more info? Check out all the articles I've written on Costa Rica travel and continue planning your trip: