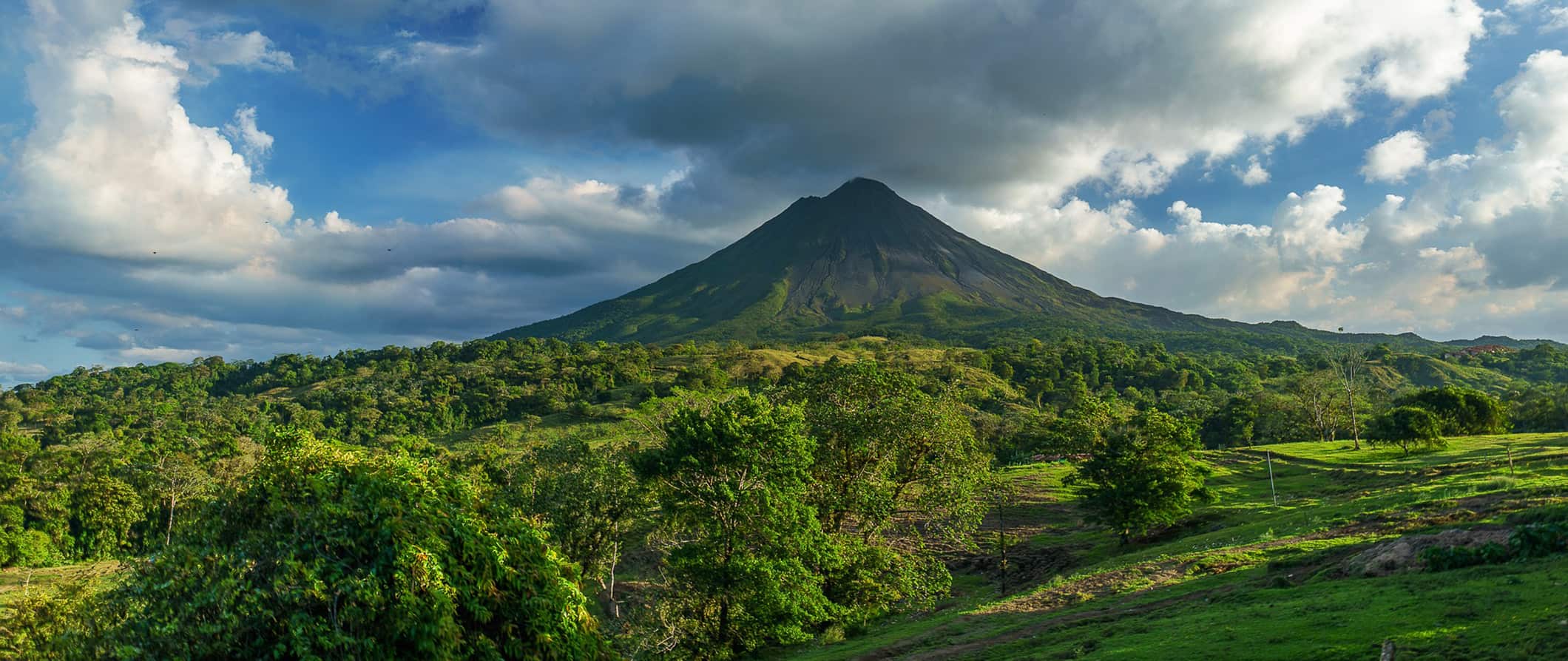 One of Costa Rica's most popular tourist destinations is Arenal. There's beautiful hiking in the area, geothermal springs, a gorgeous lake, and the popular La Fortuna waterfall. Most of the activities in this region center around the national park with bird watching tours and trekking. Most visitors to the Arenal Volcano National Park stay in nearby La Fortuna as accommodation is cheaper than the hotels at the foot of the volcano. Since this area is so popular, prices tend to be higher here than elsewhere in the country but you can still find good deals around.
Top 5 Things to See and Do in Arenal
1. Arenal National Park
This is a great national park with amazing trails, lots of wildlife to see, and a great view of the sunset from the rocks overlooking the lake. Just don't be like me and get
lost in the jungle
around the volcano! Entrance to the park is 5,500 CRC per person.
2. Enjoy hot springs
Spend an evening lounging in one of the hot springs at the base of the volcano after a long day of hiking. There are a lot of hot springs in the area ranging in price and quality from cheap to luxurious. There is also a free hot spring at Río Chollín, near the Tabacón Resort.
3. Cano Negro Wildlife Refuge
Consider taking a boat tour to the Cano Negro Wildlife Refuge to go wildlife watching, swimming, and/or rafting. You'll get up early in the morning, and come back late at night as the place is pretty far away but it is good value for your money. Prices begin around 42,000 CRC.
4. Go bird watching
The early morning bird watching tours will have you up at 5 am to catch site of the rainforest's winged inhabitants before the crowds descend in the national park. Chances are you'll see toucans, parrots, woodpeckers, and parakeets. Tours cost around 39,000 CRC.
5. Admire La Fortuna Waterfall
This waterfall is one of my favorites. It's huge, there's a lot of swimming below it, and the cold water is pretty refreshening after spending some time descending to the base in the hot sun! Make sure you have sturdy footwear as the descent to the fall requires a walk down a steep, long staircase!
Other Things to See and Do
(Click the title to expand the text)
1. See the hanging bridges
You can get incredibly close to the crater of the volcano by taking a tour via the hanging bridges while seeing what life is like up in the canopy by taking in the sights and sounds of the rainforest. Prices begin around 14,00 CRC.
2. Try bungee jumping
Aside from the usual crazy jumping, you can do water touchdowns, catapulting and harness swinging, all with terrific views of Arenal in the distance. Package deals start at 39,000 CRC and include two activities.
3. Go ATV riding
Explore the beauty through the back roads and hidden trails that are only accessible via an ATV. These trips usually last about three hours and allow you to take in a few waterfalls too. Expect to pay around 47,000 CRC.
4. Take a safari float trip
You can travel down the Penas Blancas River where you'll have the opportunity to observe various species of bird, crocodiles, sloths, iguanas, and tortoises. The trip is fairly leisurely and takes half a day. Prices start around 66,000 CRC.
5. Go caving
There are very good cave systems nearby the area that provide some excellent opportunities to get underground. One of my favorite activities here is putting on a headlamp and heading below ground to explore caves and underground rivers. The spaces are small, so if you're claustrophobic, this isn't for you.
6. Fiestas del la Fortuna
This festival takes place in nearby La Fortuna every February and includes bullfights (Costa Ricans don't harm the bulls so don't feel bad about going), craft fairs, horse shows, live music, discos and lots of local food.
Typical Costs
Hostel prices
– Accommodation is expensive here because of all the tourists. Expect to pay around between 5,500-7,000 for a dorm room and 20,000-45,000 CRC for a private room. You'll likely end up staying in La Fortuna, where the overwhelming majority of hostels are. WiFi is standard, and a couple hostels even include free breakfast. There are a few campgrounds in the area (predominately hostels or resorts that allow campers) and most charge between 2,700-5,600 CRC per night. You can book your hostel with
Hostelworld
.
Budget hotel prices – Rooms at budget hotels begin around 20,000 CRC for a private room with a bathroom in the town of La Fortuna, and start around 42,000 CRC near the park. Use Booking.com as they consistently return the cheapest rates. Airbnb is also available in the area, with shared accommodation starting around 10,000 CRC per night while a private home or apartment starts at 23,000 CRC per night. The budget-friendly rentals will all be in La Fortuna, while those closer to the park will be more expensive.
Average cost of food – The cheapest food is in the main town of La Fortuna. Main courses in budget restaurants will cost 3,900 CRC on average, while soda restaurants (cheap local food) starts around 1,600 CRC. For a nicer meal, expect to play closer to 20,000 CRC per person, including a drink. Fast food (think McDonald's) will cost around 3,500 CRC. If you plan on cooking for yourself, a week's worth of groceries will cost you around 15,000-20,000 CRC.
Transportation costs – The public bus from San José takes 3.5 hours and costs 2,000 CRC. The bus from La Fortuna costs around 800 CRC, while a taxi will cost around 2,200 CRC. Bike rentals are also available in La Fortuna, costing around 3,300 CRC for a half day. Since La Fortuna isn't a large town, it is easy to get around on foot without much trouble.
Suggested daily budget
22,150-27,700 CRC / 40-45 USD (Note: This is a suggested budget assuming you're staying in a hostel, eating out a little, cooking most of your meals, and using local transportation. Using the budget tips below, you can always lower this number. However, if you stay in fancier accommodation or eat out more often, expect this to be higher!)
Money Saving Tips
Travel off-season – Late April-November is considered the rainy season, and as a result, prices tend to be less expensive and the region less crowded.
Avoid tour activities – There are a lot of great but expensive group activities and tours in the area. Skip them, and do the free activities such as hiking the park, the La Fortuna waterfall, and a few of the hot springs.
Eat at the sodas – These are small, family-run restaurants that specialize in inexpensive meals, usually costing around 1,065 CRC, and that includes a drink. They offer the best value in the area.
Skip the taxis – Taxis are overpriced, so stick to taking the public bus when you explore the area. La Fortuna is also quite small, so you should be able to walk everywhere with ease.
My Must Have Guides For Traveling to Costa Rica