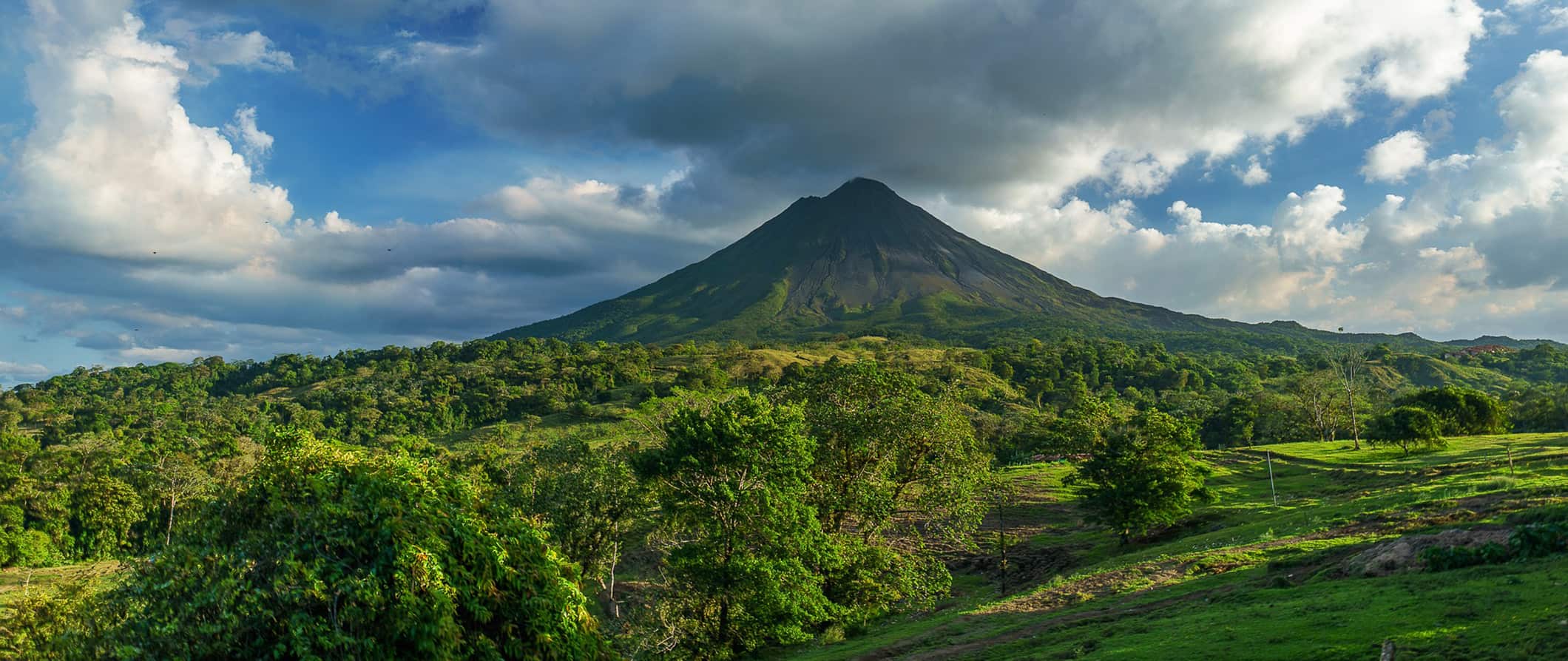 Arenal is one of Costa Rica's most popular tourist destinations. Home to stunning hikes, geothermal springs, a gorgeous lake with picturesque sunsets, caves to explore, and the popular La Fortuna waterfall, this region has seen a massive influx of visitors in recent years.
Since this region is so popular, prices tend to be higher. Yet despite the crowds (and prices), I am still a big fan of the area. Some of the best hiking in the country is here and I could spend hours upon hours relaxing at the waterfall.
Most visitors stay in nearby La Fortuna as accommodation is cheaper and it's just a ten-minute drive away. It's the best place to base yourself for your visit.
To help you make the most of your trip, this travel guide to Arenal will give you the low down on everything you need to know to plan your visit and save money in the process!
Top 5 Things to See and Do in Arenal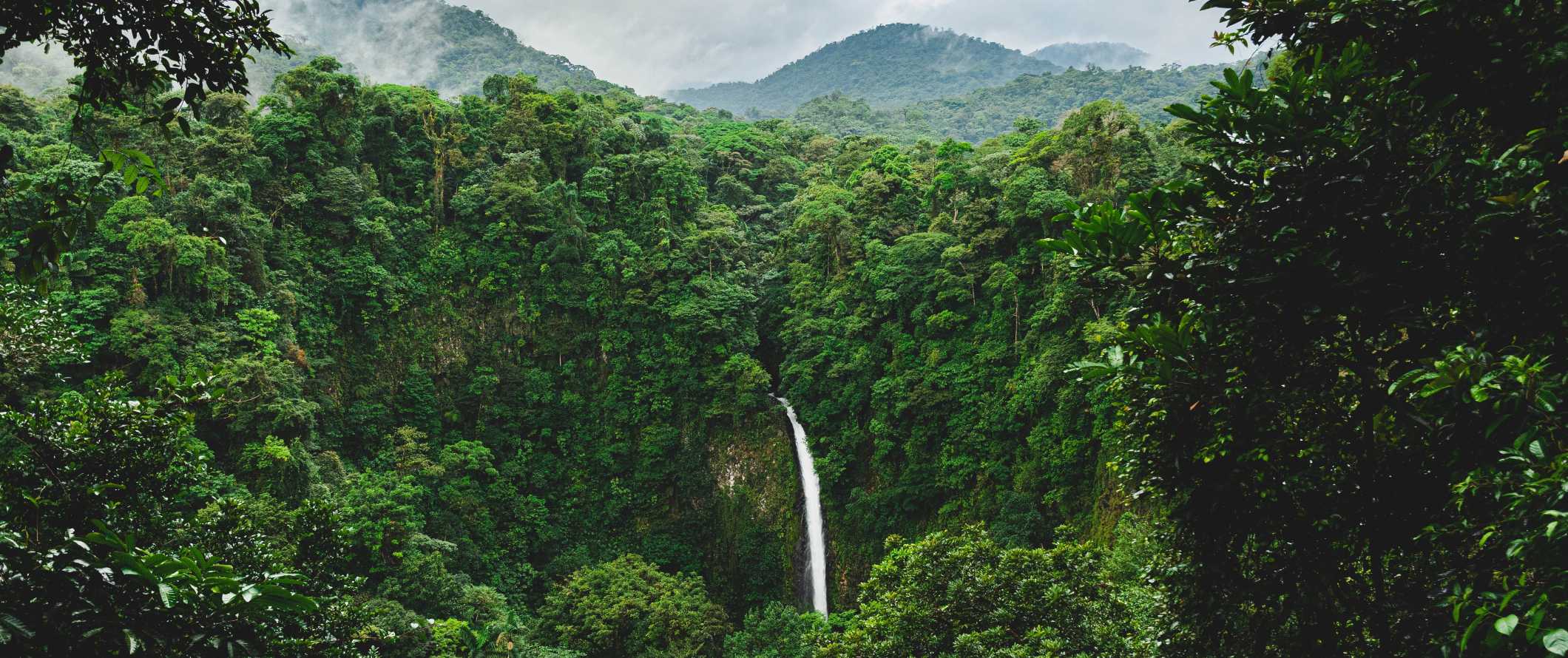 1. Explore Arenal Volcano National Park
Founded in 1991, this huge national park spans 121 square kilometers (46 sq mi) and has endless hiking trails, lots of wildlife, and a great view of the sunset over the lake. Just don't be like me and get lost hiking around the volcano! keep your eyes peeled for monkeys, jaguar, deer, coati, and snakes. Admission is 9,250 CRC.
2. Enjoy the hot springs
Spend an evening lounging in one of the hot springs at the base of the volcano. There are a lot of hot springs in the area ranging in price and quality. There is also a free hot spring (although it's more like a hot creek) at Río Chollín, near the Tabacón Resort.
3. Visit Cano Negro Wildlife Refuge
Take a boat tour down the Frío River to the Cano Negro Wildlife Refuge to go wildlife watching, swimming, and/or rafting. Expect to see monkeys, caimans, iguanas, crocodiles, sloths, and tons of birds! Prices begin around 40,000 CRC.
4. Go bird watching
This area is one of the best in the country for bird watching. Here you can see toucans, parrots, woodpeckers, and parakeets. Tours start from around 43,500 CRC. If you're a birder, this is an amazing opportunity — there is so much biodiversity here!
5. Relax at La Fortuna Waterfall
This waterfall is huge, dropping almost 250 feet (75m) into a big pool of water at its base. The cold water is super refreshing after spending some time hiking in the hot sun! Make sure you have sturdy footwear as the descent to the fall requires a walk down a steep, long staircase!
Other Things to See and Do in Arenal
1. Do a canopy tour
You can get an incredible bird's eye view of the jungle via hanging suspension bridges. While in the canopy, you can really get a sense of all the biodiversity here. It's a great way to spot wildlife too. Prices begin around 16,000 CRC, but guided tours (with the entry fee included) start from 23,400 CRC. If you'd rather do a zip-lining canopy tour, expect to pay 51,000 CRC.
2. Go ATV riding
Explore Arenal through the back roads and hidden trails around the volcano that are only accessible via an ATV. Trips usually last about three hours and allow you to see a few waterfalls along the way. You'll get to stop to swim and have a snack as well. Prices start around 65,000 CRC. Original Arenal ATV is the best company to go with.
3. Float down the Peñas Blancas River
Take a leisurely rafting safari down the Peñas Blancas River and deep into the jungle, where you'll have the opportunity to observe monkeys, crocodiles, sloths, tortoises, and more. The trip is super leisurely and takes half a day, with prices starting from about 37,000 CRC. Many companies also pair this with a local farm tour or cooking classes.
4. Go caving
The Venado Cave, which formed over 15 million years ago, is one of the most extensive cave systems in the country, stretching for nearly 2,000 meters. Located just one hour from La Fortuna, here you can crawl through tight spaces and shimmy through narrow rooms showcasing interesting rock formations and even fossils. Entry is 17,300 CRC and guided tours start from 52,500 CRC. Expect to spend around 2-3 hours exploring.
5. Attend Fiestas del la Fortuna
This annual festival takes place in the town of La Fortuna every February and includes two full weeks of craft fairs, horse shows, live music, carnival rides, and lots of greasy local carnival food. It's super fun and there's a lot to see and do. Just make sure to book your accommodation in advance as things fill up fast!
6. Go canyoning
If you don't mind heights and want to get your blood pumping, go canyoning (rappelling). You can scale down huge 200-foot waterfalls and cliffs deep in the jungle. Tours last 4-5 hours and cost around 60,000 CRC. You need to be in good physical condition and be willing to get wet and dirty too. Desafio Adventure Company is the most popular company to go with.
For more information on specific destinations in the country, check out these other guides:
Get my best stuff sent straight to you!