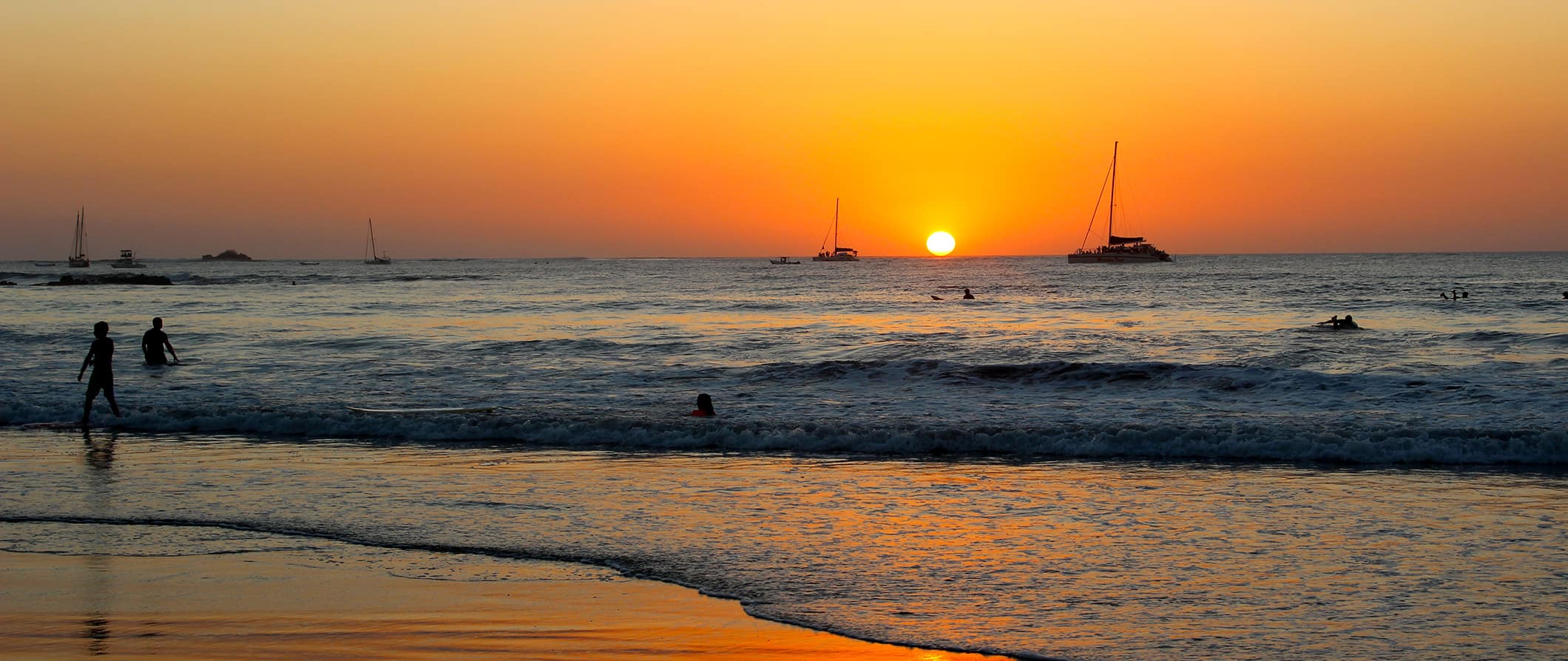 Tamarindo is a popular resort beach town located in the Guanacaste district of Costa Rica. The area is filled with lots of tour operators, resorts, and surf shops (the area is famous for its surfing).
Visiting Tamarindo was an interesting experience and, while there were a few budget options, the area is more expensive than other parts of the country because of all the resorts and development.
Tamarindo makes for a good stop before you head to other parts of the Nicoya peninsula, which are often less crowded and cheaper. It has some cool roadside stops, a wide beach, some luxury clubs and bars, and lots of beauty but I didn't find myself drawn to this place. I think it's perfect if you have more money to spend and are looking for a resorty trip but, for the budget or backpack traveler, come through, spend a night or two, and move on.
This travel guide to Tamarindo will give you the low down on everything you need to know to plan your visit!

Tamarindo
Top 5 Things to See and Do in Tamarindo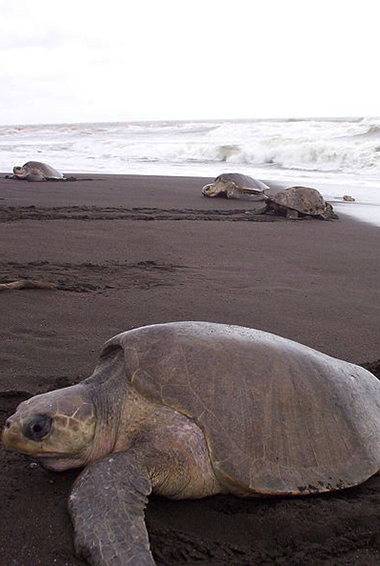 1. Visit Las Baulas National Marine Park
Baulas are leatherback turtles, and this national park is the nesting spot for about 800 females. Nesting season is between October through March, while the hatchlings usually emerge in April. There's also a mangrove in the park with lots of other wildlife too. Entry is 6,870 CRC ($12 USD) per person.
2. Go surfing
Surfers travel here to hit up Playa Negra, Witch's Rock, and Ollie's Point. Lessons are available at dozens of places in the village. A three-day beginner course will cost around 206,070 CRC ($360 USD) per person, while group lessons are usually 25,758 CRC ($45 USD) per person.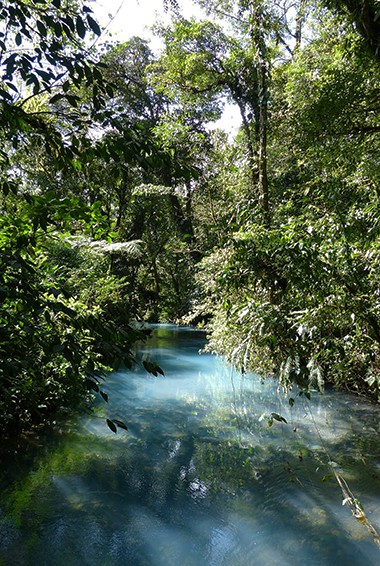 3. Go rafting or tubing
For Class II/III rapids, you'll head out to the Colorado River. For Class III/IV rapids, the Tenorio River is the place to go, and if you just want something simple, you can catch Class I/II rapids at the Corobici River. Prices vary but expect to pay upwards of 54,380 5 ($95 USD) per person for a full day experience.
4. Hit the beach
Playa Tamarindo is the easiest choice for a day of relaxation and some fun in the sun. Sunbathe, read, swim, relax in a hammock, and just generally unwind. If the beach is too crowded for you, nearby Playa Avellanas is a quieter option (although all the surfers hang out here!).
5. Go fishing
Most tours are available in half-day (four hours), 3/4 (six hours), or full-day (9 hours) packages. They include snorkeling and fishing equipment, light snacks, and drinks. Except to pay at least 100,000 CRC ($178 USD) per person for a chartered experience.
Other Things to See and Do in Tamarindo
1. Catch some live music
When the sun goes down, Tamarindo comes to life. Go to Monkey Bar on Fridays for some great live salsa bands and a DJ later in the evening. Yucca Bar (inside Hotel Pasatiempo) frequently has open mic nights, as well as local bands covering American and British pop music on other nights. Both bars are consistently packed with locals and tourists, making for an excellent atmosphere! There is usually something going on every night of the week, so ask locals where the best spots are to check out.
2. Go sunset sailing
Head out on a catamaran for a sunset sailing trip. The boats are stocked with a bar and provide snacks as you take in the amazing North Pacific sunset. Tour companies like Iguana Surf will even take you to a secluded bay area for some snorkeling before the sun sets. Expect to pay around 55,115 CRC ($98 USD) per person.
3. Go ATV riding
There are a few ATV tour operators in town where you can hop on an ATV tour and ride into the hills above town, along paths dotted with iguanas and other wildlife. There are various routes, including mountainous terrain, beaches, and forest, as well as that all-important sunset tour. Action Tours' two-six hour tours cost between 36,555-81,545 CRC ($65-145 USD)!
4. Go zip-lining
There is barely anywhere in Costa Rica that doesn't offer zip-line tours, but if you haven't had a chance to go on one yet, head to Monkey Jungle. Their zipline and canopy tour is located in a tropical forest, where you can launch off of seven cables in the mountainside into the treetop canopy. You've got a good chance of coming face to face with congo monkeys, lizards, wild boards, armadillos, and even small deer. These tours start at about 36,555 CRC ($65 USD).
5. Take a kayaking tour
The same company that does ATV tours (Action Tours) also runs scenic 2.5-hour kayaking trips. You'll paddle peacefully through the estuary separating Tamarindo Beach and Playa Grande, where you're likely to spot crocodiles, tropical birds, and even monkeys. Tours cost 22,495 CRC ($40 USD) per person.
Tamarindo Travel Costs
Hostel prices – During peak season, a bed in a four-six bed room will cost as much as 11,245 CRC ($20 USD) per night. For a room with eight beds or more, expect to pay around 8,780 CRC ($15 USD). During the off-season, a bed will cost about 8,435 CRC ($15 USD) each night, no matter how big the room is.
A basic private room with a shared bathroom costs from 25,305 CRC ($45 USD) per night during peak season. Prices are also about the same in the off-season.
There's nowhere to really camp in Tamarindo, and it's forbidden on the beaches due to the delicate turtle habitats.
Budget hotel prices – Nightly rates for a budget two or three-star hotel room start at about 42,180 CRC ($75 USD) per night in peak season. In the off-season, budget rooms start from 36,555 CRC ($65 USD).
Tamarindo has lots of Airbnb options. A shared room (like a bed in a dorm) averages about 16,310 CRC ($29 USD) per night, while a private room is about 39,930 CRC ($70 USD) per night. A full apartment averages about 120,350 CRC ($214 USD) per night, but you can find plenty of apartments under 61,860 CRC ($110 USD) per night if you don't book last minute.
Average cost of food – You can find affordable food in Tamarindo if you stick to street food or small family-owned restaurants, where meals like pizza cost 5,625 CRC ($10 USD). Sandwiches cost about 3,375 CRC ($6 USD) and burritos are 2,250 CRC ($4 USD) each. If you're thirsty, grab a smoothie for 1,685 CRC ($3 USD). A burger combo is about 3,500 CRC ($6.25 USD).
At mid-range restaurants, traditional casado (rice, beans, veggies, and meat) from the sodas is usually about 3,375 CRC ($6 USD). Pasta dishes will cost from about 6,500 CRC ($12 USD), and a beer to wash it down is about 1,200 CRC ($2.15 USD).
Higher-end restaurants will have seafood entrees starting from 9,560 CRC ($17 USD), while meat dishes like filet mignon is from 11,500 CRC ($20 USD). Vegetarian meals and pasta go for about 9,000 CRC ($16 USD). A cocktail is from 4,100 CRC ($7 USD).
If you cook for yourself, you'll spend between 25,305-28,120 CRC ($45-50 USD) on groceries per week, which will get you basics like meat, bread, eggs, cheese, some veggies, and fruit.
Get my best stuff sent straight to you!