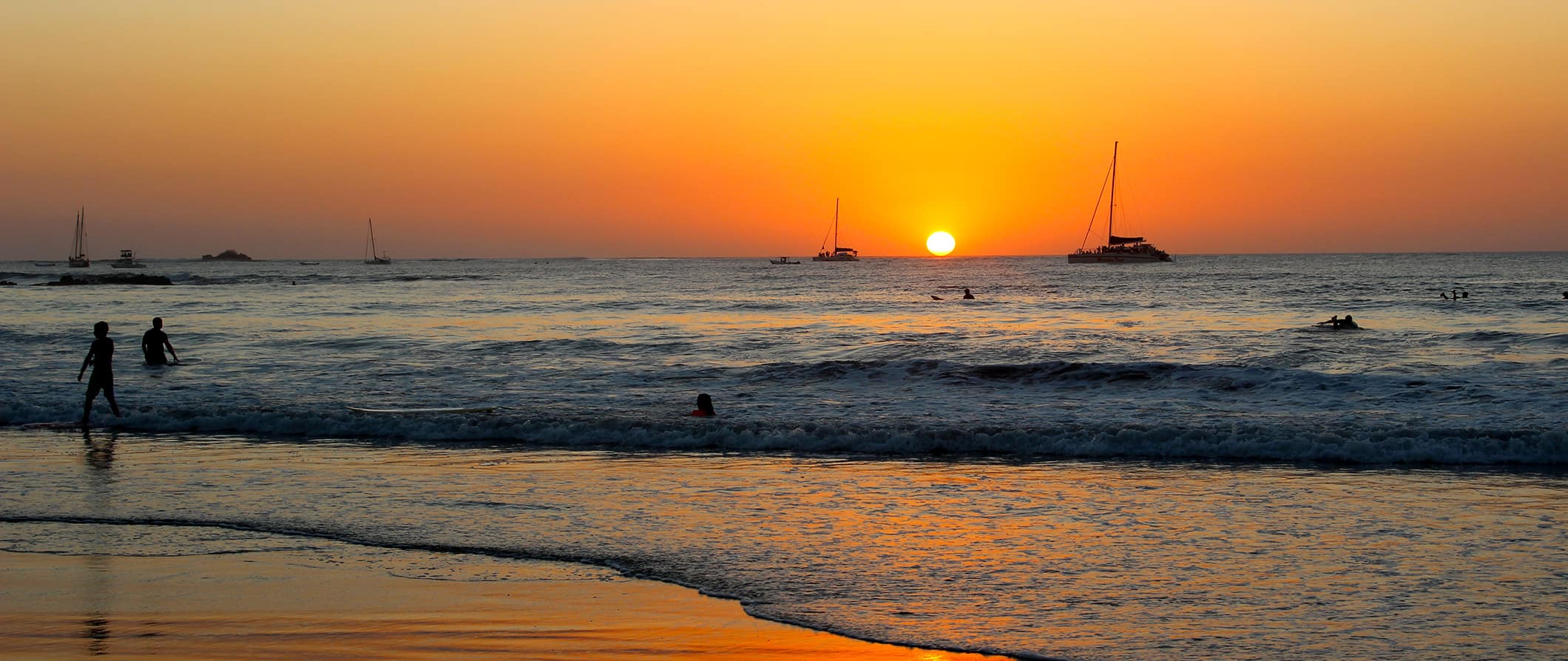 Tamarindo is a popular resort beach town located in the northwest of Costa Rica. The area is famous for its surfing and is filled with adventure tour operators, luxurious ocean-side resorts, and laid-back surf shops.
While there are a few budget options here, the region is generally more expensive than other parts of the country due to all the resorts.
I think Tamarindo makes for a good stop before you head to other parts of the Nicoya peninsula, which are often less crowded and cheaper. It has some nice beaches, luxury clubs and bars, and lots of natural beauty — but I didn't find myself drawn to this place.
If you have more money to spend and are looking for a resort-style trip, this is a good region to spend time in. However, backpackers and budget travelers can likely just spend a night or two before moving on.
This travel guide to Tamarindo gives you the low down on everything you need to know to plan your visit, stay safe, and save money!
Top 5 Things to See and Do in Tamarindo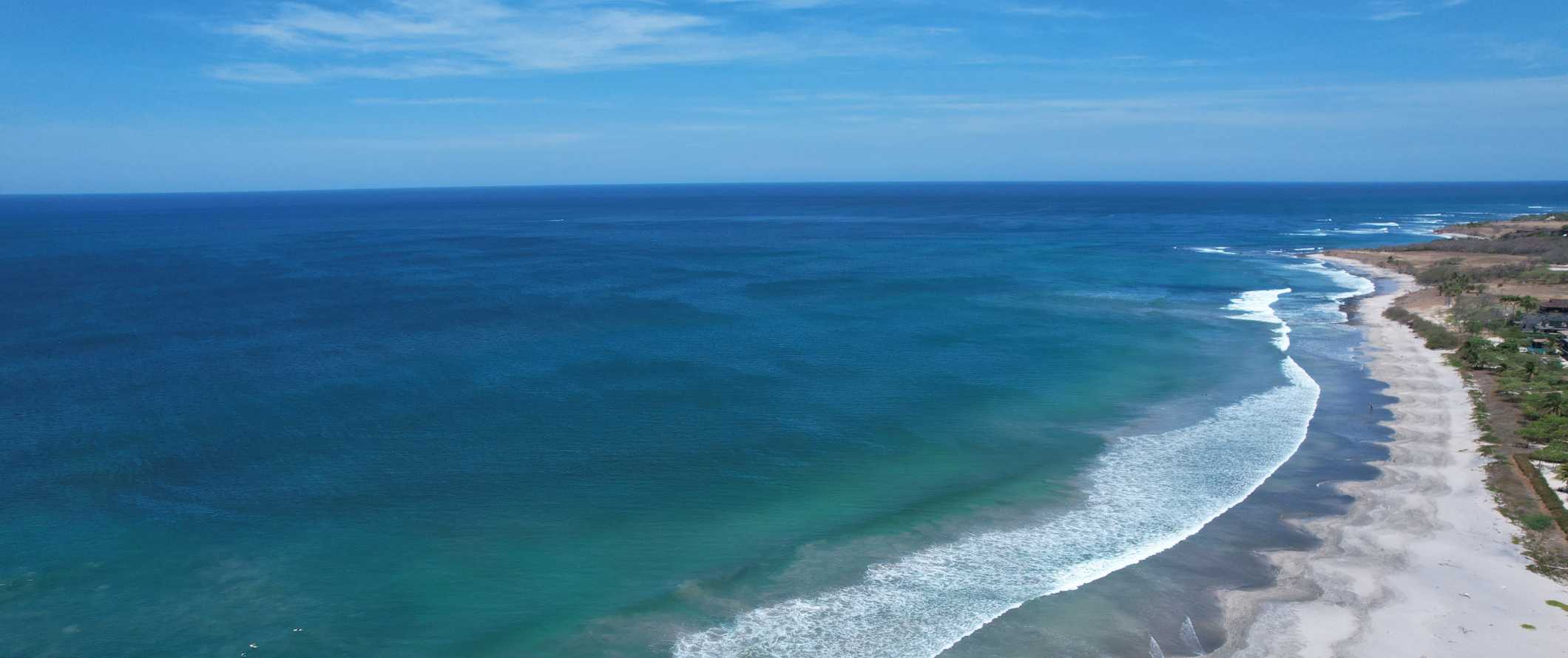 1. Visit Las Baulas National Marine Park
Baulas, for which the park is named, are leatherback turtles. The largest living turtle, these behemoths can get up to 1.8 meters long and weigh up to 500 kilograms (1,100 pounds). This national park is the largest Pacific Coast nesting spot for these turtles in all of the Americas. Nesting season is October through March; the hatchlings usually emerge in April. There's also a mangrove in the park with lots of other wildlife too, such as iguanas, dolphins, monkeys, and crocodiles. Entry is to the park is $10 USD. Boat tours cost around $80 USD.
2. Go surfing
Tamarindo is one of the most popular surf towns in the entire country, and it's great for both beginners and pros alike. Surfers travel here to hit up Playa Negra, Witch's Rock, and Ollie's Point. If you want to try your hand at surfing, Witch's Rock Surf Camp offers a 7-day all-inclusive camp starting at $1,600 USD. Group lessons at Iguana Surf are usually $50 USD per person, while board rentals start at $10 USD per day.
3. Go rafting or tubing
If you're looking for an adrenaline rush, try whitewater rafting. Class III/IV rapids can be found on the Tenorio River and make for a fun day trip. If you want something more laid-back, you can catch Class I/II rapids on the Corobici River. Prices vary but expect to pay upwards of $120 USD per person for a full-day excursion (lunch included), or $145 USD for a full-day tour that includes both rafting and zip lining.
4. Hit the beach
Playa Tamarindo is the best choice for a day of relaxation and some fun in the sun. Sunbathe, read, swim, relax in a hammock, and unwind with a view. If this beach is too crowded for you, nearby Playa Avellanas is a quieter option (although all the surfers hang out there).
5. Go fishing
For anglers, fishing tours are available in half-day (four hours), 3/4 (six hours), or full-day (9 hours) packages. They include snorkeling and fishing equipment, light snacks, and drinks. Popular catches include Mahi-Mahi, Red Snapper, Yellowfin Tuna, and more. Tours cost $450-1,000 USD for a half-day charter (for 4-6 people).
Other Things to See and Do in Tamarindo
1. Catch some live music
When the sun goes down, Tamarindo comes to life. The Crazy Monkey Bar is usually packed with locals and tourists alike, making for an excellent atmosphere. But there are lots of places to hang out and there is usually something going on every night of the week. Ask your hotel/hostel staff for their favorite spots and the best current happy hour deals.
2. Go sunset sailing
Head out on a catamaran for a sunset sailing trip. Boats have stocked bars and provide snacks as you take in the amazing North Pacific sunset. Tour companies like Iguana Surf can even take you to a secluded bay area for some snorkeling before the sun sets. Expect to pay around $89 USD per person for a classic sunset cruise, or $108 USD for a cruise like this one that includes snorkeling and an open bar.
3. Take an ATV tour
There are a few ATV tour operators in town where you can hop on a four-wheeler and ride into the hills above town. There are various routes, including mountainous terrain, beaches, and forests, as well as that all-important sunset tour. Expect to see plenty of wildlife. Action Tours offers tours that cost $70 USD for a two-hour tour and $150 USD for a six-hour tour. Rates are cheaper per person when booking a double ATV vs a single.
4. Go zip-lining
Ziplining is popular all around Costa Rica, but if you haven't had a chance to go on one yet, head to Monkey Jungle. Their zipline and canopy tour is located in a tropical forest where you can catapult down seven cables in the mountainside through the treetop canopy. You have the chance to see monkeys, lizards, armadillos, and even small deer. Tours start at $65 USD.
5. Take a kayaking tour
The same company that does ATV tours (Action Tours) also runs scenic 2.5-hour kayaking trips. You can paddle peacefully through the estuary separating Tamarindo Beach and Playa Grande, where you're likely to spot crocodiles, tropical birds, and even monkeys. Tours cost $45 USD per person.
6. Go Diving
The Catalina Islands, located just 30-40 minutes off the coast, are a diver's dream, with a diverse array of marine life, including manta rays, sharks, and tons of different types of fish. The area is also known for its volcanic rock formations and excellent visibility, meaning its a great place to dive year round. Diving tours start at $125 USD for certified divers, which includes all equipment. If you're not a certified diver, you can do a discovery dive for $165 USD or join a tour and snorkel instead (starting at $75 USD).
7. Hang out at the Tamarindo Night Market
Every Thursday from 6-9pm, the Tamarindo Night Market sets up just outside of town. Browse the stalls of local artisans and fresh produce, stop in at the food trucks and craft beer stands, and enjoy the live music from local bands.

For more information on other destinations in the country, check out these guides:
Tamarindo Travel Costs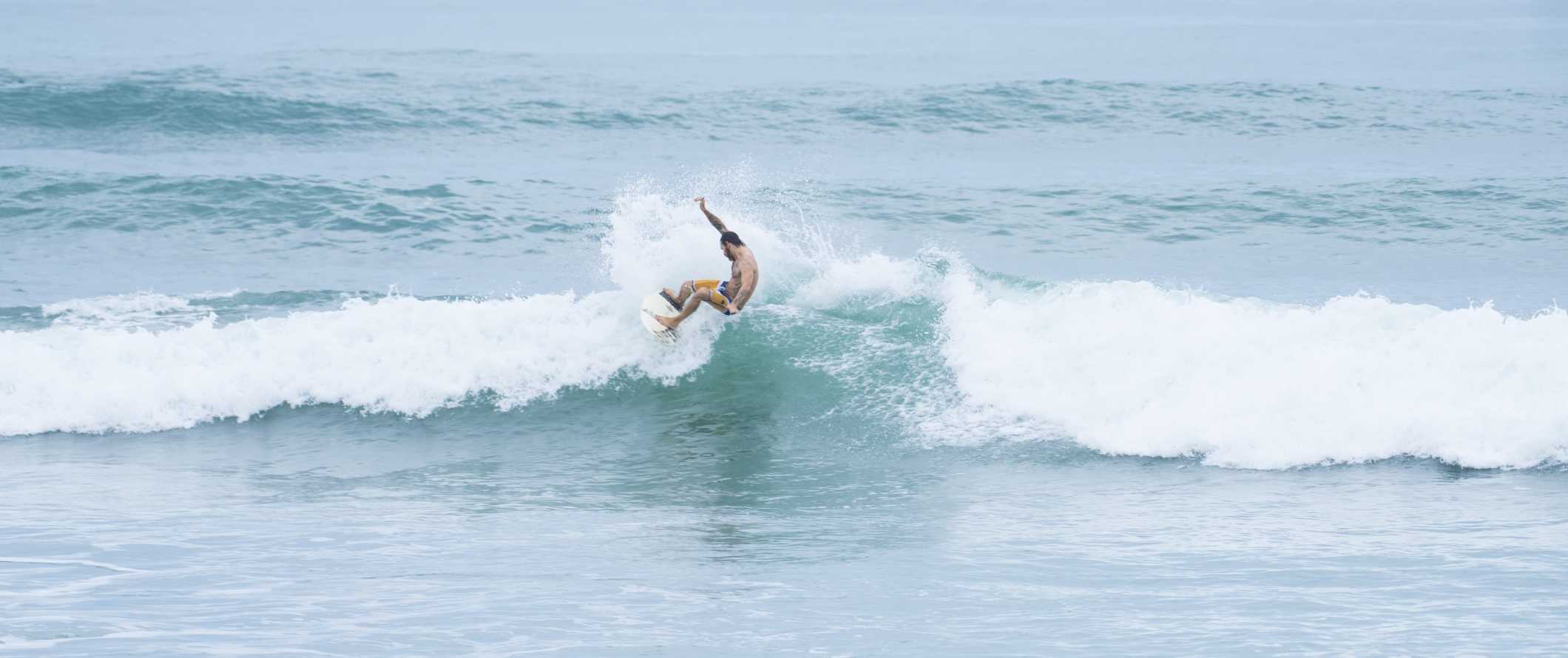 Hostel prices – A bed in a dorm costs around $15-25 USD per night, no matter how big the room. Private rooms with a shared bathroom cost $50-65 USD (rooms with private bathrooms cost around $75-$100 USD). Prices are about the same no matter the season (some hostels close in the off-season though).
Free Wi-Fi is standard and several hostels here also have pools. Most have self-catering facilities, and while most do not include free breakfast, a few do, so be sure to check when booking if that is important to you.
While it's forbidden to wild camp on the beaches due to the delicate turtle habitats, there are a few campgrounds in the area if you're traveling with a tent. Expect to pay around $10 USD for a plot that includes electricity, showers, and even free Wi-Fi. Campground Piratas Place and Camping Paradise Point are the two main campgrounds.
Budget hotel prices – Budget two- and three-star hotels start at $75 USD per night in peak season. In the off-season, prices are around the same, dropping a bit to $65 USD.
In terms of amenities, all hotels include free Wi-Fi and air conditioning, most have pools and on-site restaurants, and many also include free breakfast.
Tamarindo also has lots of Airbnb options. A private room costs around $40-50 USD per night while entire homes/apartments start at $80 USD and go up from there (you can find some very luxurious Airbnbs here if you're interested).
Food – Costa Rican cuisine is centered around rice and beans, which are usually eaten for every meal. Potatoes, plantain, pork, and beef are also popular. Gallo pinto (rice and bean stir-fry) is the national dish. You'll find it mixed with eggs for breakfast. Casado is a typical lunch dish, which consists of rice, beans, veggies, fresh salad, and your choice of meat.
Note: While you can easily pay for tours and entrance fees with USD, in smaller places such as local restaurants, you'll need colones (CRC). Prices in this section are in CRC to reflect this.
Traditional casado (rice, beans, veggies, and meat) from a soda (small local restaurant) is usually about 4,500-5,000 CRC, which is also the cost of a filling meal at a Chinese takeout place.
Sandwiches cost around 4,500 CRC and burritos are around 3,000 CRC. Fruit smoothies, which you can get made either with water or milk, are 2,000-3,000 CRC.
At mid-range restaurants, a pasta dish, burger, or salad is 6,000-7,000 CRC, a pizza is 7,000-9,000 CRC, and a steak starts at 10,000 CRC. Seafood entrees start from 13,000 CRC. Expect to pay around 20,000-25,000 CRC for a higher-end meal with a drink, with the highest prices at restaurants on the waterfront.
Domestic beer is around 2,000 CRC, craft beers start at 2,700 CRC, and a cocktail is 4,000-5,500. A latte/cappuccino costs 2,000 CRC and bottled water is 1,100 CRC.
If you cook for yourself, expect to spend between 20,000-30,000 CRC per week on groceries. This gets you basic staples like rice, beans, veggies, fruit, and some meat.
Backpacking Tamarindo Suggested Budgets
If you're backpacking Tamarindo, expect to spend about $55 USD per day. This covers a hostel dorm, taking the public bus, cooking most of your meals, eating some street food, and free activities (like the beach and the national park).
A mid-range budget of about $140 per day covers staying in a private hostel room or Airbnb, eating out for all your meals at local sodas, taking some tours, having a few drinks, renting a bike each day, and taking the occasional taxi to get around.
On a "luxury" budget of about $260 USD or more per day, you can stay in a hotel, eat out anywhere you'd like, drink more, take more private tours (like rafting or fishing trips), and take taxis everywhere or rent a car/scooter. This is just the ground floor for luxury though. The sky is the limit!
Accommodation
Food
Transportation
Attractions
Average Daily Cost
Backpacker
20
15
10
10
55
Mid-Range
50
40
20
30
140
Tamarindo Travel Guide: Money-Saving Tips
Tamarindo is one of the more expensive destinations in Costa Rica, so it's easy to overspend if you're doing a lot of tours and excursions. Here are some suggested ways to save money in Tamarindo:
Take advantage of happy hours – There are lots of happy hours in town with 2-for-1 deals. Ask your hotel/hostel staff for recommendations.
Avoid tour activities – There are a lot of great (but expensive) group tours in the area. Skip them and do the free activities such as hitting up the beach and hiking.
Eat at the sodas – "Sodas" are small family-run restaurants which specialize in inexpensive local meals, usually costing around 5,000 CRC. These hole-in-the-wall restaurants offer the best value in the country.
Combine tours – You can often get discounted rates for activities if you are combining two tours in one day. This is especially true for activities like zip-lining and ATVing.
Shop around – Because there are so many places offering the same activities (such as surfing or diving), shop around for the best price in town (especially if you're doing a multi-day surf camp).
Pack a water bottle – A reusable water bottle with a filter can help you save money (and thousands of plastic bottles) by purifying the tap water for you. My preferred bottle is LifeStraw as it ensures your water is always clean and safe.
Visit in the off-season – Accommodation is often cheaper if you don't visit during the busy peak months. Just make sure to book early to find the best deals!
Where to Stay in Tamarindo
There are plenty of beachside budget accommodations in Tamarindo. As it does get busy during peak season, you'll want to book in advance. Here are some of my suggested places to stay:
How to Get Around Tamarindo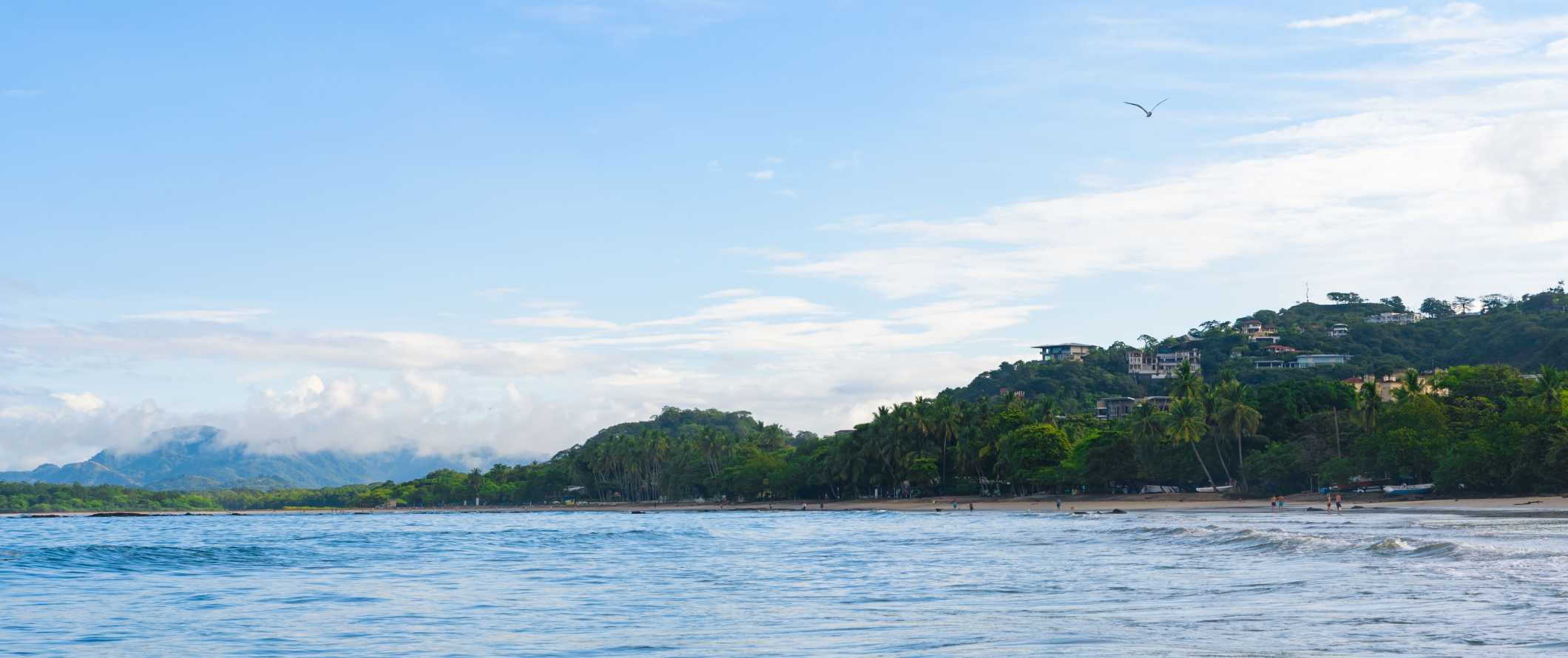 Walking – Tamarindo is small and very walkable, with countless restaurants, bars, and accommodation options clustered just steps away from the beach.
Bus – There are a few local buses that run between Tamarindo and the beaches. Expect to pay around 1,300 CRC for a ticket (you'll need cash in colones).
Bicycle – Tamarindo is easy to explore by bike. There are several bicycle rental shops around town (including Kelly's Surf Shop and HandleBar) where it costs $10-15 USD per day to rent a beach cruiser bicycle.
Golf Carts – If you can get a few people to pitch in, golf carts are an affordable way to get around. Tamarindo Golf Cart Rentals has four-seaters available for $60 USD per day or $420 USD per week. Plus, they're electric, so no need to buy gas!
Taxi – There are always taxis parked in front of Tamarindo's central plaza. Some have meters, but others will prefer to negotiate rates. Ask your hotel/hostel staff for approximate rates so you don't get ripped off.
Ride sharing – Tamarindo also has Uber but there are not that many rides available so be sure to leave yourself plenty of time if you'd prefer to use Uber.
Car Rentals – Renting a car costs around $50 USD per day for a multi-day rental. The roads around Costa Rica can be a little rough, however, so drive carefully and watch out for aggressive drivers.
For the best car rental prices in Costa Rica, use Vamos (Nomadic Matt readers get a 5% discount by using our link).
When to Go to Tamarindo
Tamarindo is at its busiest (and most expensive) when the giant leatherback turtles come to nest between October and March. Book your accommodations and tours well in advance if you're visiting during this time.
It's typically hot and humid all year in Tamarindo, with temperatures staying pretty consistent. April is the warmest month, with temperatures hovering around 36°C (97°F).
The dry season here runs from December to April, while May to November is the rainy season. Rainfall is at its heaviest in September and October. If you want lower prices and fewer crowds, come during the rainy season.
How to Stay Safe in Tamarindo
Costa Rica is one of the safest countries for traveling and backpacking in Central America. Solo female travelers should generally feel safe here, however, the standard precautions apply (never leave your drink unattended at the bar, never walk home alone intoxicated, etc.).
That said, you'll still want to exercise caution here. Petty theft like bag snatching is one of the most common types of crime here. Don't flash your valuables around in public, and don't bring them to the beach.
If you go out at night, only bring the cash that you need. Leave the rest of your money and credit cards at your accommodation.
Don't roam around town or on the beach alone after dark. Avoid doing drugs or taking part in sex tourism.
If you're taking a taxi, negotiate the fare with your driver before getting into the cab. Otherwise, you're at risk of getting ripped off. Always ask your hostel/hotel staff how much you should expect to pay so you know when you're getting ripped off.
If you're worried about getting scammed, you can read about common travel scams to avoid here.
If you experience an emergency, dial 911 for assistance.
For more in-depth coverage of how to stay safe in Costa Rica, check out this post that answers some frequently asked questions and concerns.
And be sure to purchase good travel insurance. Travel insurance will protect you against unexpected costs due to illness, injury, theft, and cancellations. It's comprehensive protection in case anything goes wrong. I never go on a trip without it as I've had to use it many times in the past.
Tamarindo Travel Guide: The Best Booking Resources
These are my favorite companies to use when I travel. They consistently have the best deals, offer world-class customer service and great value, and overall, are better than their competitors. They are the companies I use the most and are always the starting point in my search for travel deals.
Skyscanner – Skyscanner is my favorite flight search engine. They search small websites and budget airlines that larger search sites tend to miss. They are hands down the number one place to start.
Hostelworld – This is the best hostel accommodation site out there with the largest inventory, best search interface, and widest availability.
Booking.com – The best all around booking site that constantly provides the cheapest and lowest rates. They have the widest selection of budget accommodation. In all my tests, they've always had the cheapest rates out of all the booking websites.
Get Your Guide – Get Your Guide is a huge online marketplace for tours and excursions. They have tons of tour options available in cities all around the world, including everything from cooking classes, walking tours, street art lessons, and more!
SafetyWing – Safety Wing offers convenient and affordable plans tailored to digital nomads and long-term travelers. They have cheap monthly plans, great customer service, and an easy-to-use claims process that makes it perfect for those on the road.
LifeStraw – My go-to company for reusable water bottles with built-in filters so you can ensure your drinking water is always clean and safe.
Unbound Merino – They make lightweight, durable, easy-to-clean travel clothing.
Top Travel Credit Cards – Points are the best way to cut down travel expenses. Here's my favorite point earning credit cards so you can get free travel!
Tamarindo Travel Guide: Related Articles
Want more info? Check out all the articles I've written on Costa Rica travel and continue planning your trip: