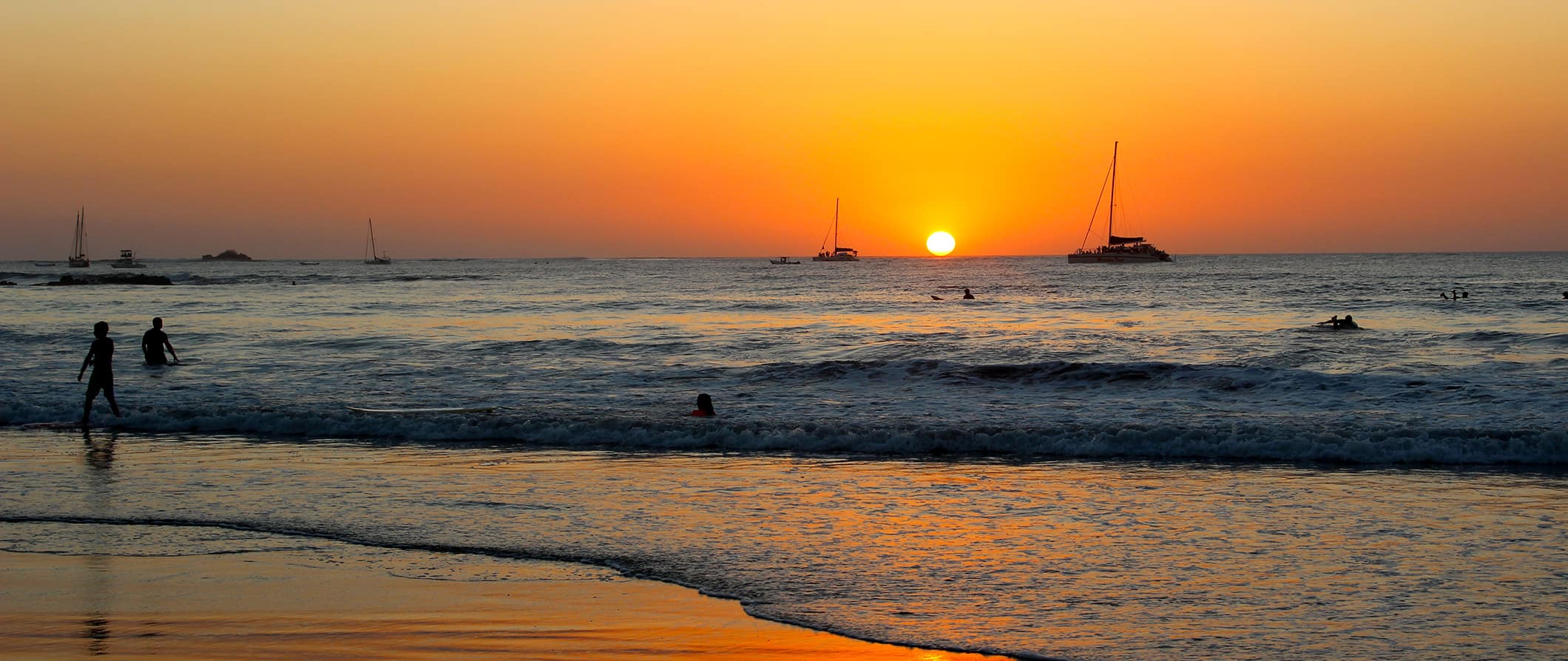 Tamarindo is a popular resort beach town located in the Guancaste district of Costa Rica. The area is filled with lots of tour operators, resorts, and surf shops. Tamarindo is famous for its surfing and wide breaks. However, the area is more expensive than other parts of the country because of all the resorts and development, and therefore I suggest you not spend a lot of time here. It makes for a good major town to stop at before you head to other parts of the Nicoya peninsular, which are often less crowded and cheaper. Just be aware of that before you travel here but it is a good destination to visit in itself.
Top 5 Things to See and Do in Tamarindo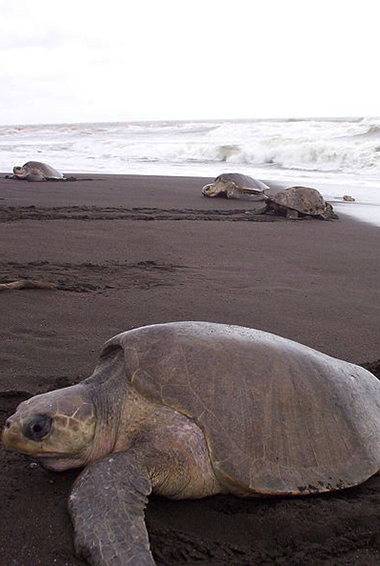 1. Las Baulas National Marine Park
Baulas are leatherback turtles and this national park is the nesting spot for about 800 females. Aside from turtle spotting, the park offers the perfect place to spend an afternoon kayaking. You're sure to see wildlife as the park also contains mangroves and an estuary. Entry is 5,500 CRC per person.
2. Surfing
Surfers travel here to hit up Playa Negra, Witch's Rock, and Ollie's Point. Lessons are available at dozens of places in the village, and the beach itself is perfect for beginners because the waves aren't too crazy. A 3-day beginner course will cost around 115,000 CRC per person, while group lessons are usually 24,000 CRC per person.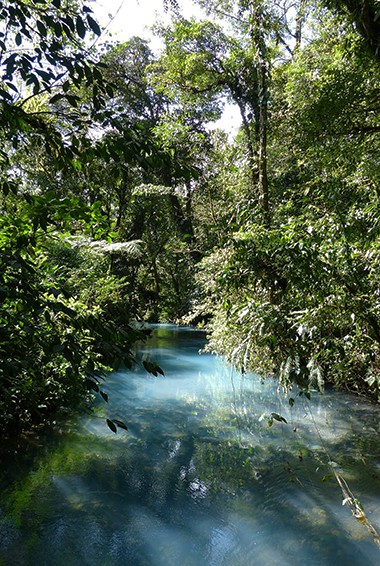 3. Go rafting or tubing
For Class II/III rapids, you'll head out to the Colorado River, for Class III/IV, the Tenorio River, and if you just want something simple, you can catch Class I/II rapids at the Corobici River. Prices vary depending on the duration of the tour, but expect to pay upwards of 69,000 CRC per person.
4. Hit the beach
The obvious choice for a day of relaxation is Playa Tamarindo. Sunbathe, read, swim, relax in a hammock, and just generally unwind. If the beach is too crowded for you, consider taking a trip along the coastline to nearby Playa Avellanas.
5. Turtle watching
Night tours to the Baula National Park are the best place to see the turtles laying their eggs on the beach. You'll likely see Ridley or Leatherback turtles on this two hour walking tour. Adults should expect to pay around 27,000 CRC, while kids will pay round 12,000 CRC.
Other Things to See and Do
(Click the title to expand the text)
1. Nightlife
Nightlife in Tamarindo is pretty good. Go to Monkey Bar on Fridays for some great local bands and Yucca Bar on Wednesdays for their open mic nights. Both nights will be packed with locals and tourists, making for an excellent atmosphere! There is usually something going on every night of the week, so ask locals where the best spots are to check out.
2. Fish for a big catch
Sport fishing is not cheap in Tamarindo. Most tours are available in half-day (four hours), 3/4 (six hours), or full-day (9 hours) packages. They include snorkeling and fishing equipment, light snacks, and drinks. Except to pay at least 100,000 CRC per person for a chartered experience.
3. Sunset sailing
Head out on a catamaran for a sunset sailing trip. The boats are stocked with a bar and provide snacks as you take in the amazing North Pacific sunset. Expect to pay around 46,000 CRC per person.
4. ATV riding
There are a few ATV tour operators in town to rent a bike and ride your quad bike into the hills above town along paths dotted with iguanas. There are various routes including mountainous terrain, beaches and forest and also that all important sunset tour. Most rides last a few hours and cost around 27,000 CRC per person.
5. Go zip-lining
There is barely anywhere in Costa Rica that doesn't offer zip-line tours, but if you haven't had a chance to go on one yet, you may want to consider doing it in Tamarindo. The zip-lining here does not offer the same lush, scenic jungle experience as certain other areas, so don't expect jaw-dropping views, but you're still likely to have a thrilling experience. Prices will vary, but expect to pay around 33,000 CRC per person.
Typical Costs
Hostel prices
– Hostel dorms cost around 8,500 CRC while private rooms begin around 25,000 CRC per night. All have wi-fi and most have kitchens too. For those traveling with a tent, there are a few campgrounds around and you can expect to pay around 7,000 CRC per night for a plot.
Budget hotel prices – Budget hotels begin at 32,000 CRC per night for a double room with bathroom and air conditioning. There are a lot of expensive resorts here that are beautiful, but cost 54,000 CRC or more per night. Free WiFi is common, and a few places even off free breakfasts. Airbnb offerings can be found all around the area, with shared accommodation prices starting around 11,000 CRC per night while entire apartments can be rented for about 44,000 CRC per night.
Average cost of food – Casados (meals of the day) will typically cost around 2,300 CRC at the local street stalls. For a taste of Western food, you can expect to pay about 4,000 CRC. Sit down meals will cost between 6,000-11,000 CRC per person, depending how many courses you order. Food prices here tend to be more expensive than elsewhere in the country because of all the high-end resorts in town. Smoothie stands are common and cost around 1,700 CRC each. Grocery stores and fresh produce stands are also available around town for those who want to cook their own meals. A week's worth of groceries (basic food stuffs) will cost around 15,000-20,000 CRC.
Transportation costs – The public bus from San José takes about 6 hours and costs around 5,500 CRC. For a faster coach bus (usually with air conditioning) expect to pay closer to 17,000 CRC per person. Flights can be found from San Jose for as little as 16,000 CRC per person (one way) if booked is advance. The ride is under an hour, and most hotels or lodges can arrange pick-up. As for the town itself, it's small and walkable so skip taxis to save a buck or two.
Suggested daily budget
27,700 CRC / 50 USD (Note: This is a suggested budget assuming you're staying in a hostel, eating out a little, cooking most of your meals, and using local transportation. Using the budget tips below, you can always lower this number. However, if you stay in fancier accommodation or eat out more often, expect this to be higher!)
Money Saving Tips
Take the public bus – There are plenty of private shuttle services that run from San José and Tamarindo. Using the public bus service is less luxurious but about one tenth of the price — use it!
Combine tours – You can often get discounted rates for activities if you are combining two tours in the one day. Ask for discounts.
Surfing – Because there are so many places offering surf lessons, shop around for the best price in town. It's normal for there to be up to a 8,000 CRC difference between surf companies for similar types of lessons so be sure to shop around!
Eat local – Food in Tamarindo is pretty expensive because of all the resorts, so it's better to eat at a local hole-in-the-wall restaurant. You can eat a casado, a traditional Costa Rican meal with rice, black beans, plantains, salad, a tortilla, and protein such as chicken, for very little. Walk off the main road towards the back end of town for more local fares and reasonable prices!
My Must Have Guides For Traveling to Costa Rica
Articles About Costa Rica