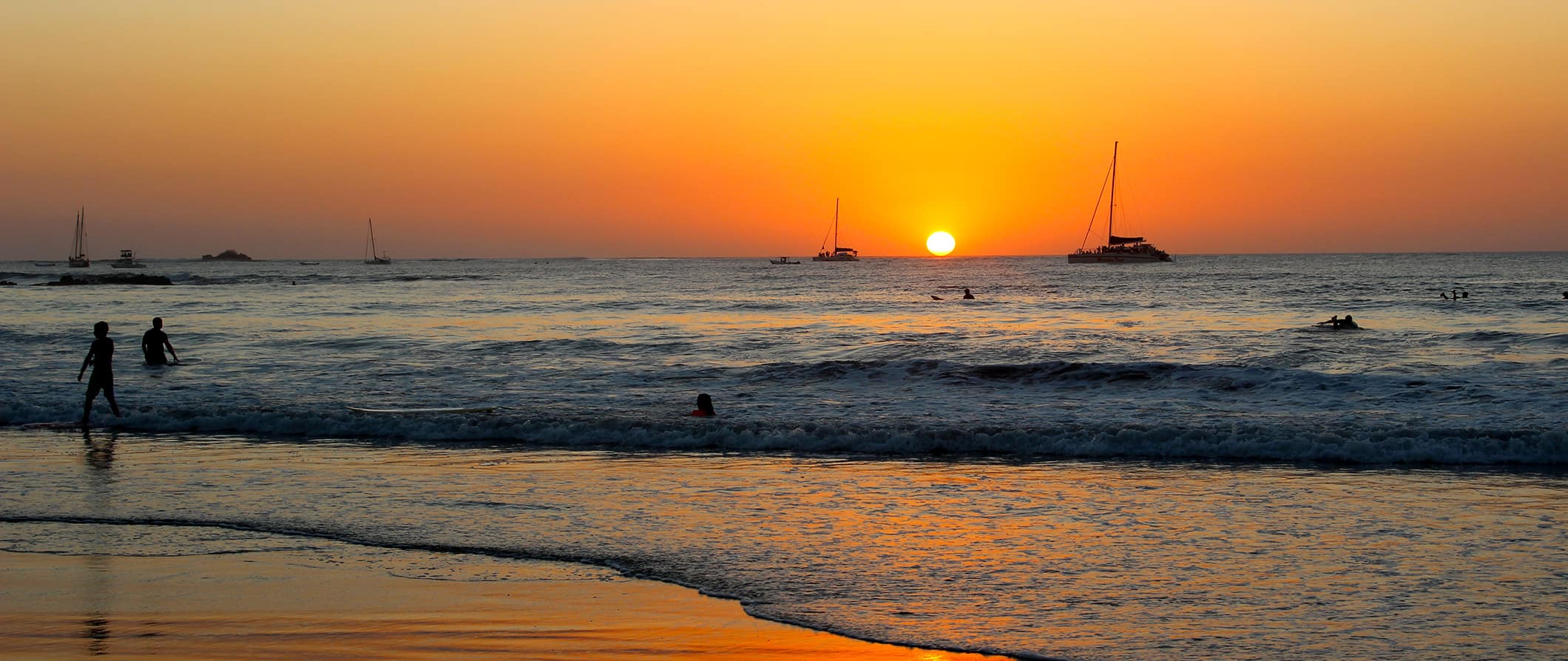 Tamarindo is a popular resort beach town located in the northwest of the country. The area is famous for its surfing and is filled with adventure tour operators, luxurious ocean-side resorts, and laid-back surf shops.
While there are a few budget options here, the region is generally more expensive than other parts of the country due to all the resorts.
I think Tamarindo makes for a good stop before you head to other parts of the Nicoya peninsula, which are often less crowded and cheaper. It has some nice beaches, luxury clubs and bars, and lots of natural beauty — but I didn't find myself drawn to this place.
If you have more money to spend and are looking for a resort-y trip, this is a good region to spend time in. However, backpackers and budget travelers can likely just spend a night or two before moving on.
This travel guide to Tamarindo gives you the low down on everything you need to know to plan your visit and save money.
Top 5 Things to See and Do in Tamarindo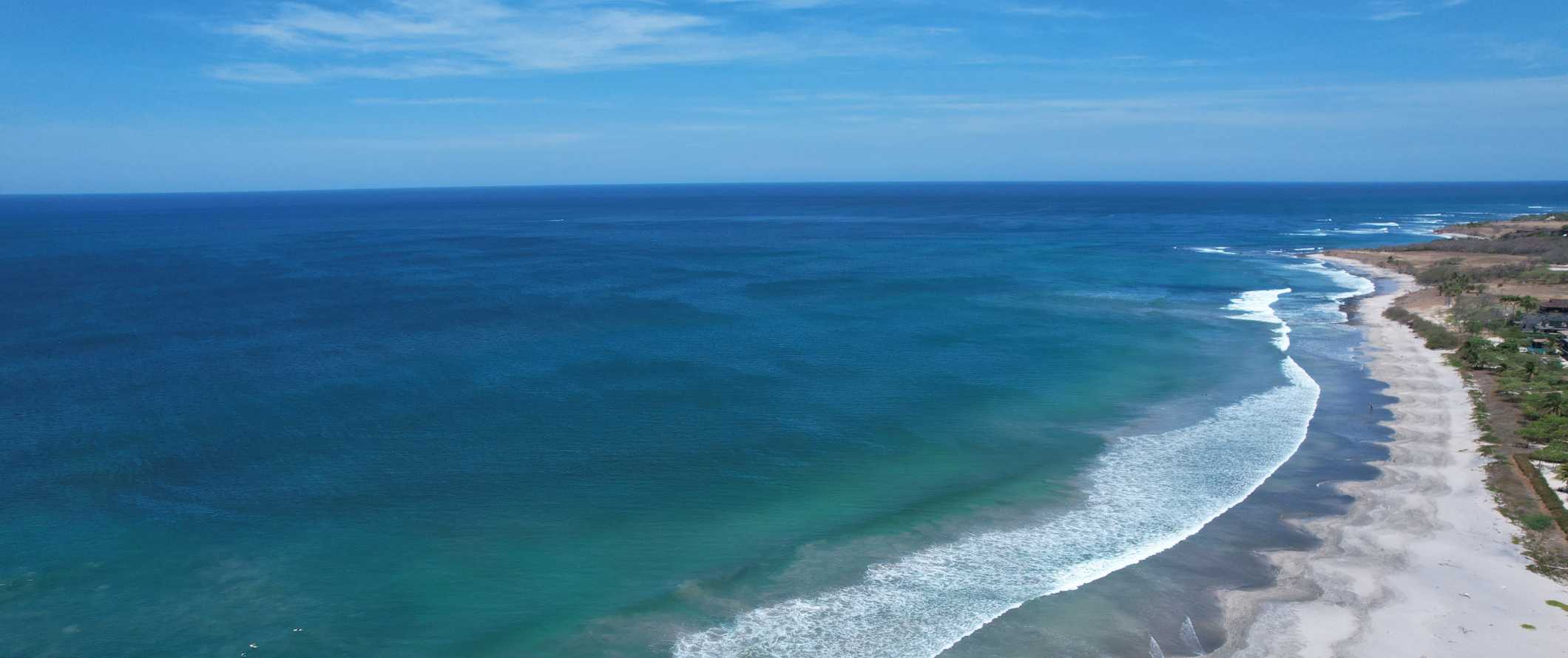 1. Visit Las Baulas National Marine Park
Baulas are leatherback turtles, and this national park is the nesting spot for hundreds of females. Nesting season is October through March; the hatchlings usually emerge in April. There's also a mangrove in the park with lots of other wildlife too, such as iguanas, dolphins, monkeys, and crocodiles. Entry is free.
2. Go surfing
Surfers travel here to hit up Playa Negra, Witch's Rock, and Ollie's Point. If you want to try your hand at surfing, Blue Trailz Hostel and Surf Camp offers a 3-night dorm camp for 83,000 CRC. Group lessons are usually 27,600 CRC per person.
3. Go rafting or tubing
If you're looking for an adrenaline rush, try whitewater rafting. Class III/IV rapids can be found on the Tenorio River and makes for a fun day trip. If you want something more laid-back, you can catch Class I/II rapids on the Corobici River. Prices vary but expect to pay upwards of 77,000 CRC per person for a full-day excursion.
4. Hit the beach
Playa Tamarindo is the best choice for a day of relaxation and some fun in the sun. Sunbathe, read, swim, relax in a hammock, and unwind with a view. If this beach is too crowded for you, nearby Playa Avellanas is a quieter option (although all the surfers hang out there).
5. Go fishing
Most fishing tours are available in half-day (four hours), 3/4 (six hours), or full-day (9 hours) packages. They include snorkeling and fishing equipment, light snacks, and drinks. Popular catches inclide Mahi-Mahi, Red Snapper, Yellowfin Tuna, and more. Tours cost 77,000 CRC per person for a chartered 4-person experience.
Other Things to See and Do in Tamarindo
1. Catch some live music
When the sun goes down, Tamarindo comes to life. The Crazy Monkey Bar is usually packed with locals and tourists alike, making for an excellent atmosphere. There is usually something going on every night of the week, so ask your hotel/hostel staff where the best spots are.
2. Go sunset sailing
Head out on a catamaran for a sunset sailing trip. Boats have stocked bars and provide snacks as you take in the amazing North Pacific sunset. Tour companies like Iguana Surf can even take you to a secluded bay area for some snorkeling before the sun sets. Expect to pay around 55,000 CRC per person.
3. Take an ATV tour
There are a few ATV tour operators in town where you can hop on four-wheeler and ride into the hills above town. There are various routes, including mountainous terrain, beaches, and forest, as well as that all-important sunset tour. Expect to see plenty of wildlife. Action Tours' offers tours lasting 2-6 hours that cost 40,000-101,000 CRC.
4. Go zip-lining
Ziplining is popular all around Costa Rica, but if you haven't had a chance to go on one yet, head to Monkey Jungle. Their zipline and canopy tour is located in a tropical forest where you can catapult down seven cables in the mountainside through the treetop canopy. You have the chance to see monkeys, lizards, armadillos, and even small deer. Tours start at 30,000 CRC.
5. Take a kayaking tour
The same company that does ATV tours (Action Tours) also runs scenic 2.5-hour kayaking trips. You can paddle peacefully through the estuary separating Tamarindo Beach and Playa Grande, where you're likely to spot crocodiles, tropical birds, and even monkeys. Tours cost 25,000 CRC per person.
For more information on other destinations in the country, check out these guides:
Get my best stuff sent straight to you!